Archives Quarter II, 2018

This page is the archived News Page from the April to June 2018 period. All contents have been dispatched in the respective stamp description pages. However there may still remain open questions. Any complementary information is welcome. As soon as an information is archived, the text will not be changed anymore. So if additional information are linked to the below, this will be displayed as a new heading in the currently open News page.
---
June 11 , 2018
The web site went through a major refurbishment. There was almost one year of information to be updated. This included:
- Archiving of the Quarter III, 2017 News, Quarter IV, 2017 News and Quarter I, 2018 News page
- Creating the Quarter I, 2018 New Issues quarter page
- Updating Quarter II, 2017, Quarter III, 2017 and Quarter IV, 2017 new issues pages
- Updating and cleaning the upcoming issues section
I hope this will help you better identify all joint issues from the past year.
---
June 11 , 2018
Latest news collected with the help of Don Birschel (USA), Jaap Sarelse (The Netherlands), Xu Kai (PR China) and Li Binhan (PR China). Thanks to all of them.
The Romania - Thailand stamps issued on May 31, 2018 to celebrate the 45th anniversary of bilateral relationships feature traditional folks costumes. The Thailand stamps were issued in panes of se-tenant pairs [2px4] and the Romanian stamps in panes of 32 stamps (16 pairs) and miniature sheets of [2px2]. Official mixed FDCs do exist as well.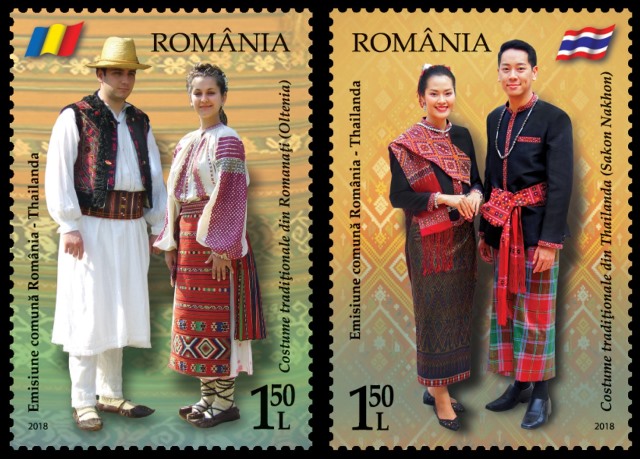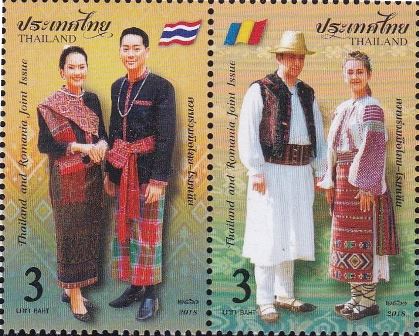 The first Indian stamps from the expected India - South Africa joint issue were finally released on June 7, 2018. This issue is honoring two celebrities anniversary: the birth centenary of the South African Oliver Regnald Tambo and birth centenary and 50th year of death anniversary of the Indian Deendayal Upadhyaya. It was said in the recent past that this joint issue could also be extended to the celebration of Nelson Mandela's birth centenary in 2018 and Mahamat Gandhi's 150th birthday in 2019, but nothing concrete has been seen so far. You will find below the image of the Indian souvenir sheet released so far.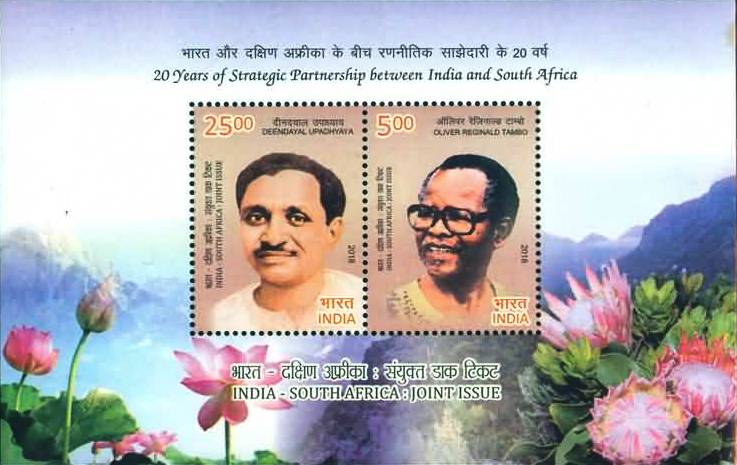 On June 9, 2018, Azerbaijan and Pakistan released a joint issue dedicated to mosques. The stamp feature the Wazir Khan Mosque in Lahore, Pakistan and the Heydar Mosque in Baku, Azerbaijan. So far no news from Azerbaijan.
The Hong Kong-Zhuhai-Macao bridge inauguration joint stamps that were expected to be released on February 26, 2018, actually were not released yet despite the fact that the design of some Hong Kong stamps have been released and the postal administrations have confirmed the production of a common package. The latest news tell that the stamps could be released during the month of July 2018 but without confirmation from the three entities.
---
May 27, 2018
This monthly update provides all information collected in the past weeks thanks to Enzo Cafaro (Italy), Jaap Sarelse (The Netherlands), Larry Dodson (USA), Gérard Le Moal (France), Niket Bubna (USA), JF Hoffmann (Germany) and Grzegorz Omelanczuk (Poland).
First of all we want to inform you that the supplement XII (2018) to the catalogue has been released for already a month and is available from stampsonline.it. The supplement has 64 pages as it includes also the PostEurop stamps. It is sold at €7.00 plus postage fees.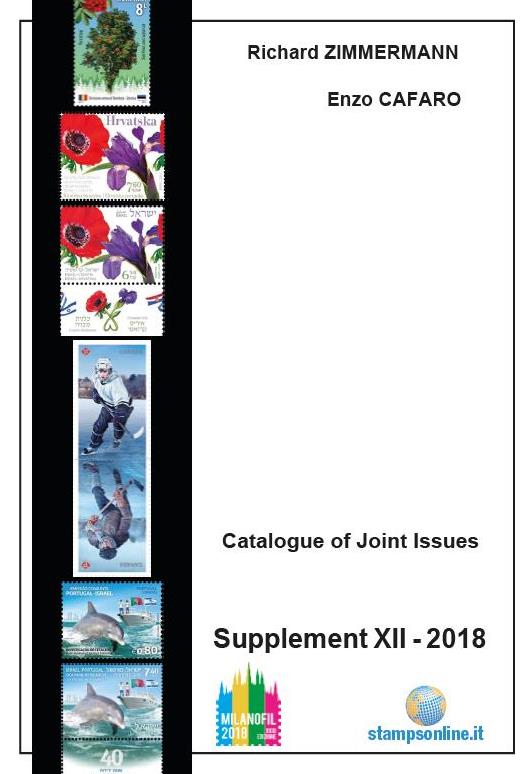 Among the new stamps to be issued in the near future and that we have not reported yet, we can add a joint issue between Malta and the Vatican State (Padre Pio, fourth quarter 2018). Russia has almost postponed by 2 to 4 weeks all its joint issues with different countries (China PR, Greece, Singapore) and has added a new issue with Guyana (October 16, 2018). Belarus and Kyrgysztan will issue stamps in November 2018 at the occasion of 25 years of relationship.
The Russia-Singapore joint issue planned for release on June 15, 2018 (apparently postponed from originally June 1, 2018) will be on the theme of modern architecture. The stamps will show Gardens by the Bay (Singapore) and Zaryadye Park (Russia).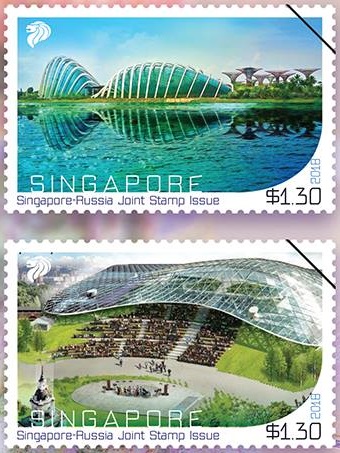 The joint issue between Armenia and India was delayed and is awaiting issuance. First day covers have reached post offices in India and show Berd dance from Armenia and Manipuri Jagoi dance from India.
The joint issue between India and South Africa could be expanded to include Nelson Mandela and Mahatma Gandhi. Mandela's birth centenary is in 2018 and Gandhi's 150th birth anniversary in 2019. So, it's possible that this joint issue could have four personalities being commemorated at once. We will confirm this information as soon as possible.
A joint issue between French Andorra and Spanish Andorra will take place on June 22, 2018, celebrating the Festivals of fire at the summer solstice (night of San Juan).
May 16, 2018 was the release date of the Japan-Russia joint issue. The stamps depict flowers however the main reason of the issue is the Year of Russia in Japan and the Year of Japan in Russia. The Russian stamps are issued in a miniature sheet containing 7 pairs and a label [5x3] from which at the best 6 horizontal pairs and one vertical pair can be cut out. The Japanese stamps are issued in miniature sheets of 5 pairs.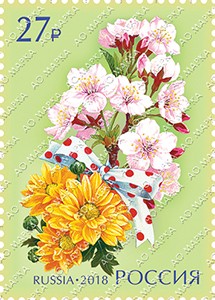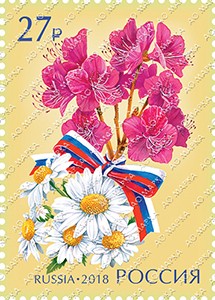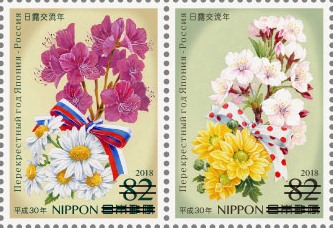 The Slovakia - Vatican joint issue was released as planned on May 3, 2018 in form of souvenir sheets with a single identical stamp.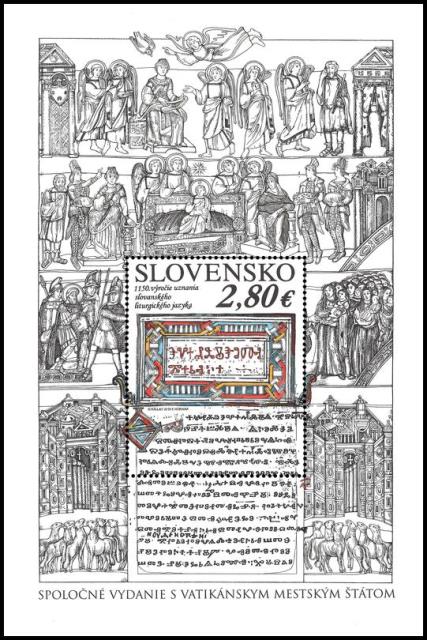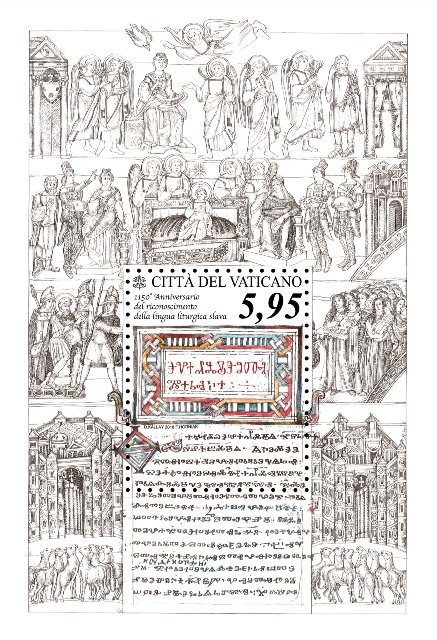 The Thailand Turkey joint issue was released on May 12, 2018. Thailand issued a miniature sheet with five pairs of se-tenant stamps while Turkey released a souvenir sheet with the same design stamps.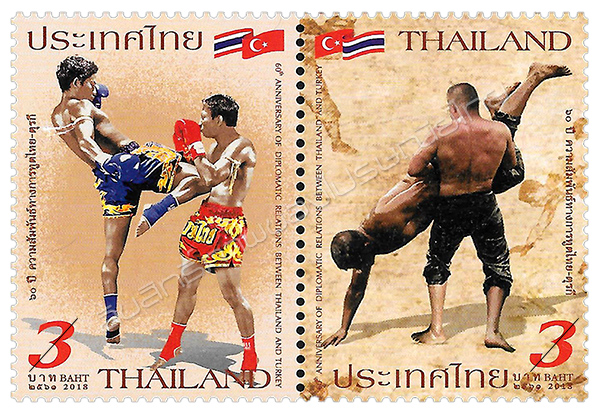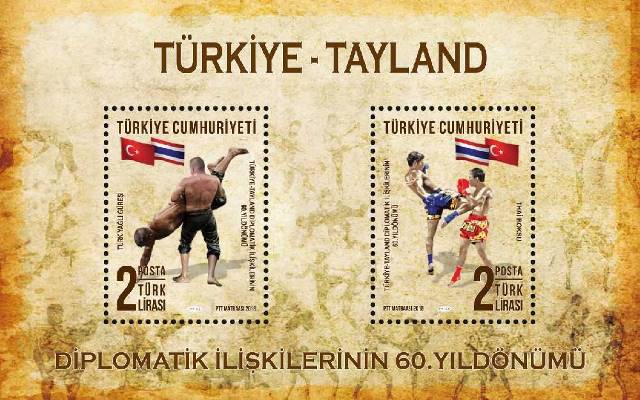 At the beginning of last year, we announced the possibility of a joint issue involving Japan and the Maldives at the occasion of their 50th anniversary of relationship. Very quickly we removed this issue from the list as we understood that all stamps from Maldives are issued by a printer not located in Maldives, Stamperia, and that all these stamps never reach the Maldives anyway. Maldives belong to these countries which accepted to have all their stamps printed by a third party and most of these stamps have nothing to do with true philately.
It happens that Japan issued a miniature sheet at this occasion on November 14, 2017, with 10 different stamps all representing Maldives landscapes and local animals. No stamps related to Japan confirmed that this could not become a joint issue.
Surprisingly, we recently discovered that by end of 2017 the Maldives issued a miniature sheet with 8 stamps all related to Japan and in a design that has nothing to do with all other Maldives stamps. It looks like this souvenir sheet is a real Maldives philatelic product on the contrary to all other 490 (!) stamps issued during the year 2017. On top of it, this miniature sheet contains the only commemorative stamps from the Maldives issued during this year. We would be glad to add these stamps to the list of joint issues for the year of 2017, providing that we discover the exact date of issue. If someone can help and provide this information this would be great. Here are the two items:

---
April 29, 2018
Sorry for the long period since last update, I was far from my computer and just back home recently. In the meantime I receive a lot of mails related to news about recent Joint Issues and I will try to summarize everything here:
The 140th anniversary of the end of the Russian-Turkish war (1877-1878) was celebrated by Bulgaria and Russia on March 20, 2018 with a souvenir sheet produced by each country. Even if the two souvenir sheets are not identical, this issue will be considered as twin [T1]. In fact the Russian souvenir sheet contains three stamps while only two are part of the Bulgarian souvenir sheet. The stamps show the portraits of Nikolai Grigoryevich Stolenov (1831-1912), commander of the defense of the Shipka Pass, Count Iosif Vladimirovich Gurko (1828-1901), Russian general, liberator of Bulgaria and Eduard Ivanovich Totleben (1818-1884), Russian general and military engineer. The Bulgarian souvenir sheet shows portraits of Stolenov and Totleben. Bulgaria issued this souvenir sheet also on a special paper with UV visible fibers and numbered from 0001 to 5500. This souvenir sheet is also available as black print.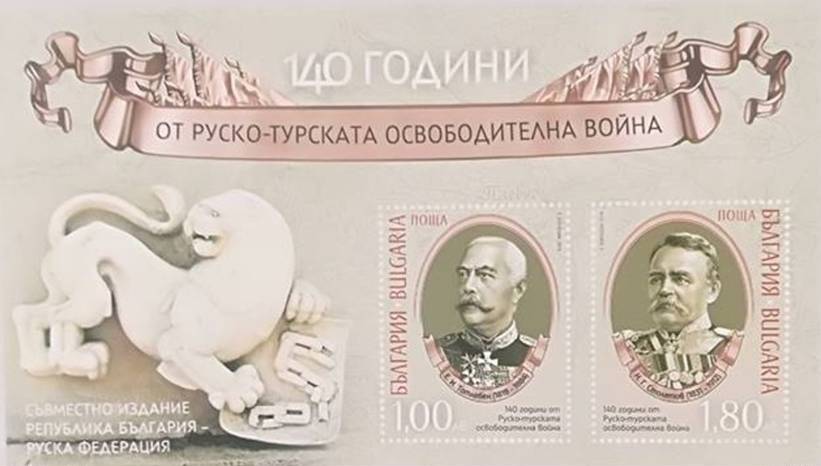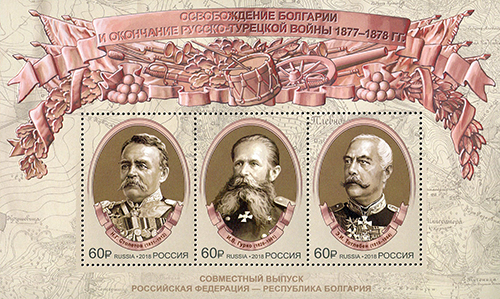 Bulgaria philatelic administration told Jaap Sarelse (The Netherlands) that they dropped out of the discussion with India about a joint issue to be released in April 2018. India has decided to release their stamp on April 6, 2018. This will probably remain a unilateral issue.
Jaap asked also Belarus Post about the issue date of their joint issue with Azerbaijan. The date is not fixed yet but could be the end of May 2018 following the election of their President which will probably result in a change of Minister of Post.
No news from the Armenia - India joint issues that was supposed to be released on March 21, 2018. Nothing issued so far.
At the occasion of the 25th Andorran Constitution anniversary, Andorra Spain issued a stamp on March 14, 2018 and French Andorra issued a stamp on March 9, 2018. Stamps are different. There was no claim of a joint issue character either, so this pair will not be considered as joint. Information provided by Rindert Paalman, The Netherlands.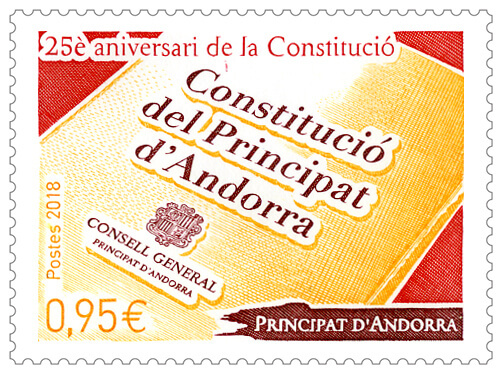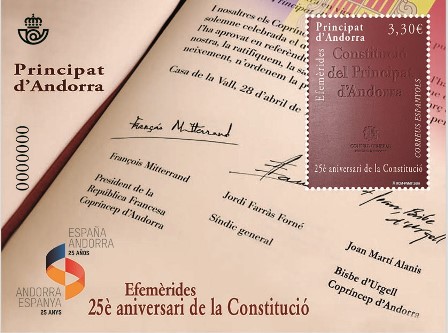 Jaap Sarelse provided information about a special item produced in Russia, in form of a golden stamp with the design of the December 5, 2013 stamps issued by Russia jointly with Monaco. This item (sale's value is about € 19.00) will be described in the catalogue, but must not be considered as part of the joint issue. So far we will consider it as a private origin item.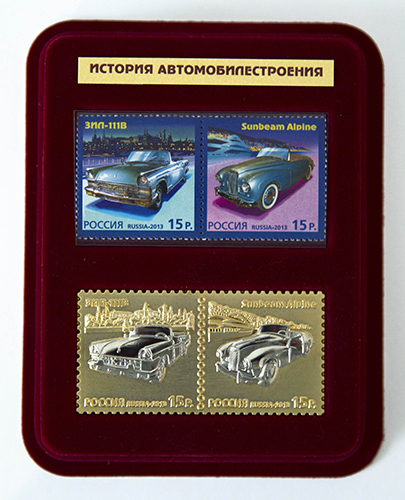 Jaap discovered also another item related to the June 28, 2010 Russia - Serbia issue and showing icon paintings. This new item is a folder containing two sheets of the Russian stamps with one normal on paper and the other printed on a wooden sheet. This item will be reported in the catalogue but considered as a private origin document. It can be found sometimes on eBay or Delcampe at a price of about € 25,00.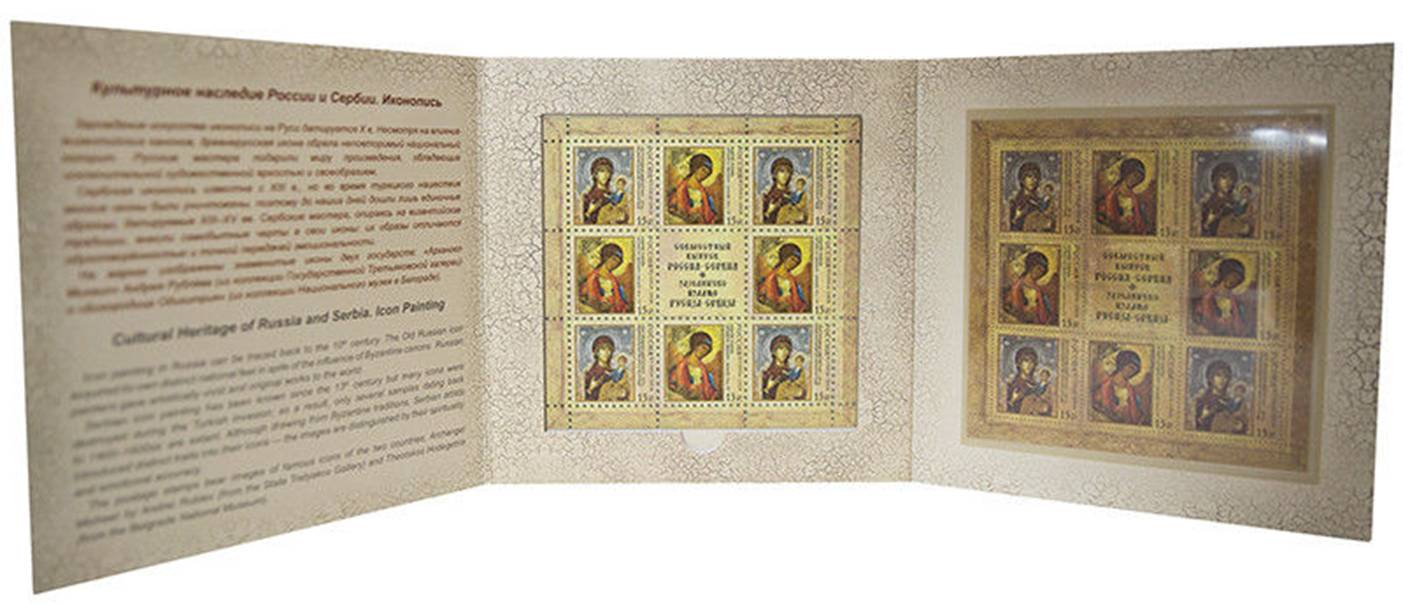 In the meantime I have also to report that the Supplement XII to the catalogue has been printed and is now available from Enzo Cafaro cafaroenzo@libero.it who introduced the quotation values and took over all printing costs. This new supplement entirely in color has 48 pages and describes in full details all stamps issued during the year 2017. I am just waiting to get my own sample in order to show a picture of the cover ;-).
---
April 1 , 2018
The News from the period January to March 2018 have been archived.
---
All previous information reported in this section is to be found in the News Archives.