Joint Stamp Issues - News
The most recent information about Joint Stamp Issues is reported here. The very most recent data will always be displayed at the top. This information will mainly deal with issues to come, in other words issues to watch, and for which not enough data are yet available to be transferred in the description sections. It will also contain discoveries from collectors. All possible sources will be explored and if someone has data to share, those will be reported here as well. However this page cannot be interactive, as information does not appear at regular intervals (and the webmaster is not available daily). Furthermore, most of the information will need to be checked before being posted. Different colors will highlight modifications compared to initial texts if information exchanges with collectors provide contradictory opinions or supplementary data. Whenever possible or relevant, links with the original source will be provided. However, these links will not be re-checked for activity. At the end of each quarter, this page will be archived and from that point not updated anymore as the final and updated information will be available in the catalogue section (see on the left side "years" section)
---
February 21, 2020
Complementary news from Enzo Cafaro, Italy, regarding the Oman A Quds stamps. Actually a first stamp was released on November 14, 2019 by this country and some first day covers were produced until it was discovered that the stamp contained an error (arab spelling of Al-Quds). After only two hours of sale the stamps were retrieved from the sale. A new reprint came on the market and was brought for sale hence with the new release date of February 9, 2020 in miniature sheets of 8 stamps (5,400 stamps) and 2,500 souvenir sheets. On below's images, the wrong spelling is on the right side. Note however that the FDC that is on display with date November 14, 2019 shows a cancellation of the right design stamp meaning that the official date of issue remains November 14, 2019.


Complementary information obtained from Jaap Sarelse The Netherlands: The Sao Tomé and Principe stamps from the joint issue with Portugal (Einstein's eclipse) were released on May 16, 2019 (proof through FDC). As this is the same day of issue as Portugal we can now confirm that this issue is to be considered as a true twin issue [T1].
The ACTNOW issue that was initiated by the UN and that will be released during the Milanofil exhibition (March 27-28, 2020) is closely followed by Enzo Cafaro. In the meantime the first designs appeared on the net with images provided for Belarus (one stamp) and Slovakia (one stamp and the same stamp part of a miniature sheet with one stamp and 9 labels). This later is presently announced as a joint issue with Italy. So far other countries that have announced their participation include Albania - Armenia - Azerbaijan - Croatia - Italy - Kyrgyzstan - Malta - San Marino - UNO and Vatican.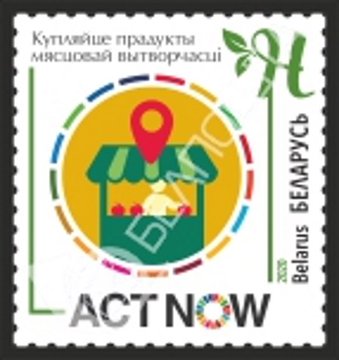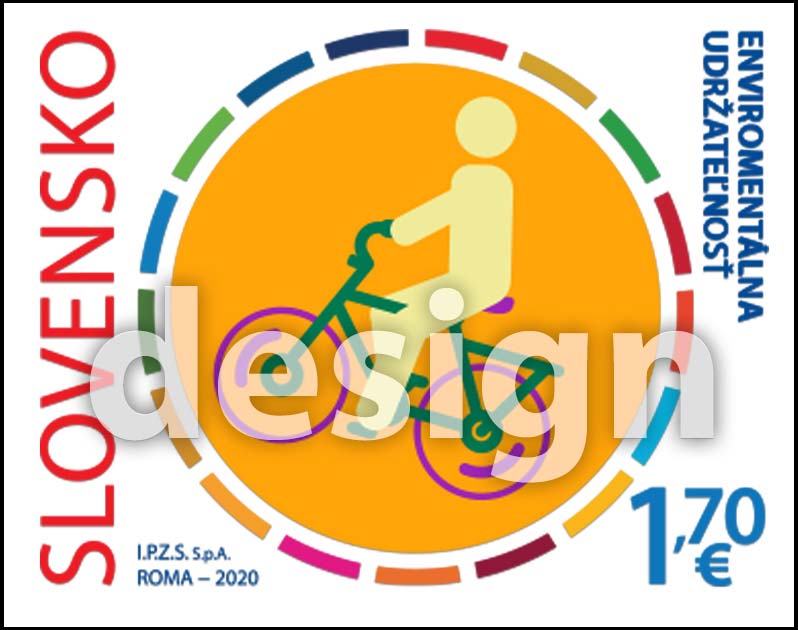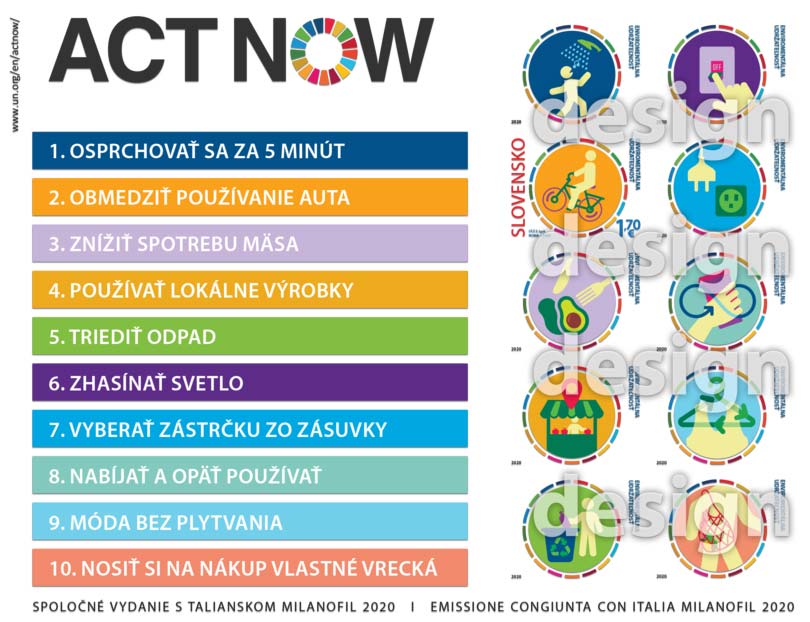 ---
February 16, 2020
From Kenneth Sequeira (Dubai): Oman Post released the Al-Quds stamp on November 14, 2019 (and apparently available only since February 9, 2020), same day as for Qatar.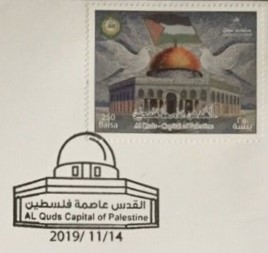 From Rindert Paalman, the Netherlands, in addition to the information abouth the joint commemorative cover from China and Macau 2020 Year of the rat: Macao Post and Telecommunications Bureau and China National Philatelic Corporation jointly issued a commemorative envelope of the issue "Lunar Year of the Pig", meaning 2019. It has been affixed with one set of five Macau stamps and one set of two Chinese stamps of the same issue and cancelled with the postmarks of Macao and China respectively. Both cancellations are from January 5, 2019, the date of issue of the stamps.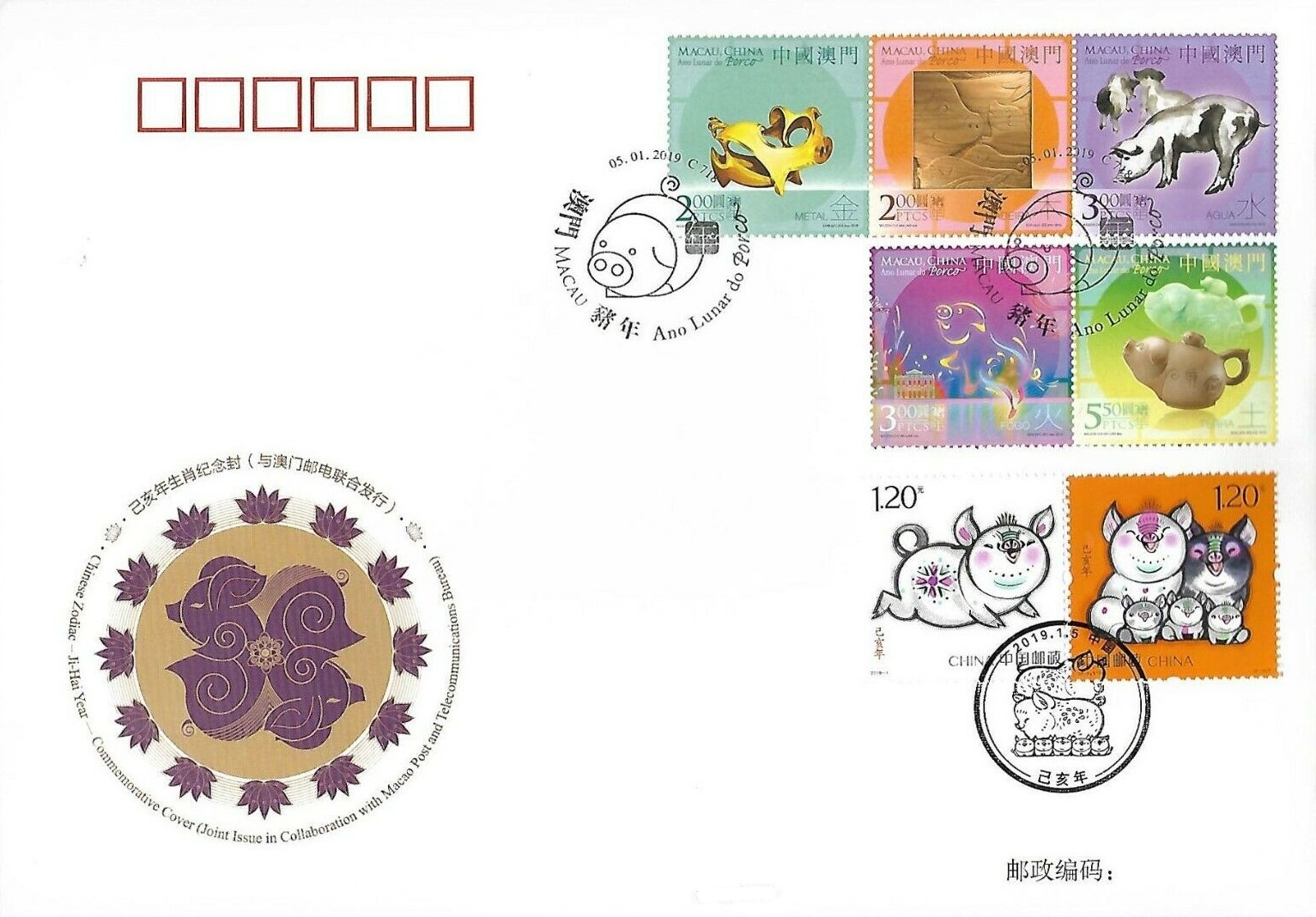 ---
February 16, 2020
On May 29, 1919, a 6 min total solar eclipse was observed in the Southern hemisphere, from Brazil to Eastern Africa. This eclipse was observed on the Principe island by a scientific team with the aim to confirm Einstein's general theory of relativity (bending of the light during an eclipse). Upon successful conclusion of the experiment, since then this eclipse is called the Einstein eclipse. Portugal issued two stamps and one souvenir sheet at this occasion, all released on May 16, 2019. Chen Wenchao (China PR) just discovered that the postal administration of Sao Tomé and Principe issued the same stamps and miniature sheets as Portugal, adding a new joint issue in the already long list of 2019 issues. Thanks Chen for this nice discovery.
In absence of exact date of issue for the Sao Tome stamps, we are not yet able to tell if this stamp series will be considered as twin [T] or concerted [C]. We are also looking for better quality images.
Brazil issued also a stamp on this topic on the real day of anniversary, namely May 29, 2019, but with a different design and therefore in absence of claim from the Brazilian postal administration, we cannot consider this stamps as being part of the joint issue.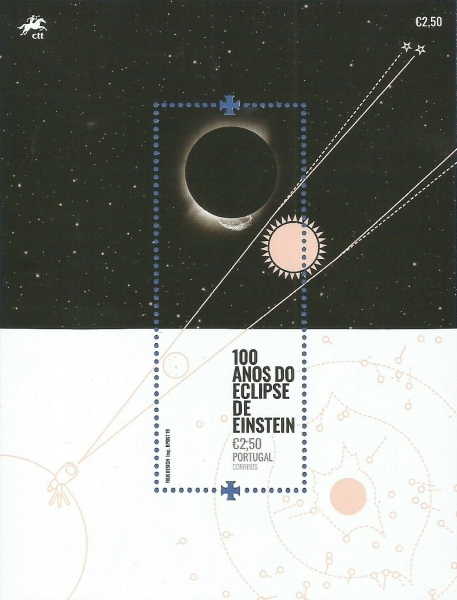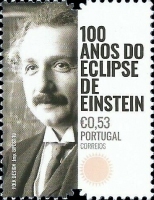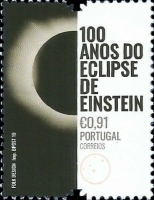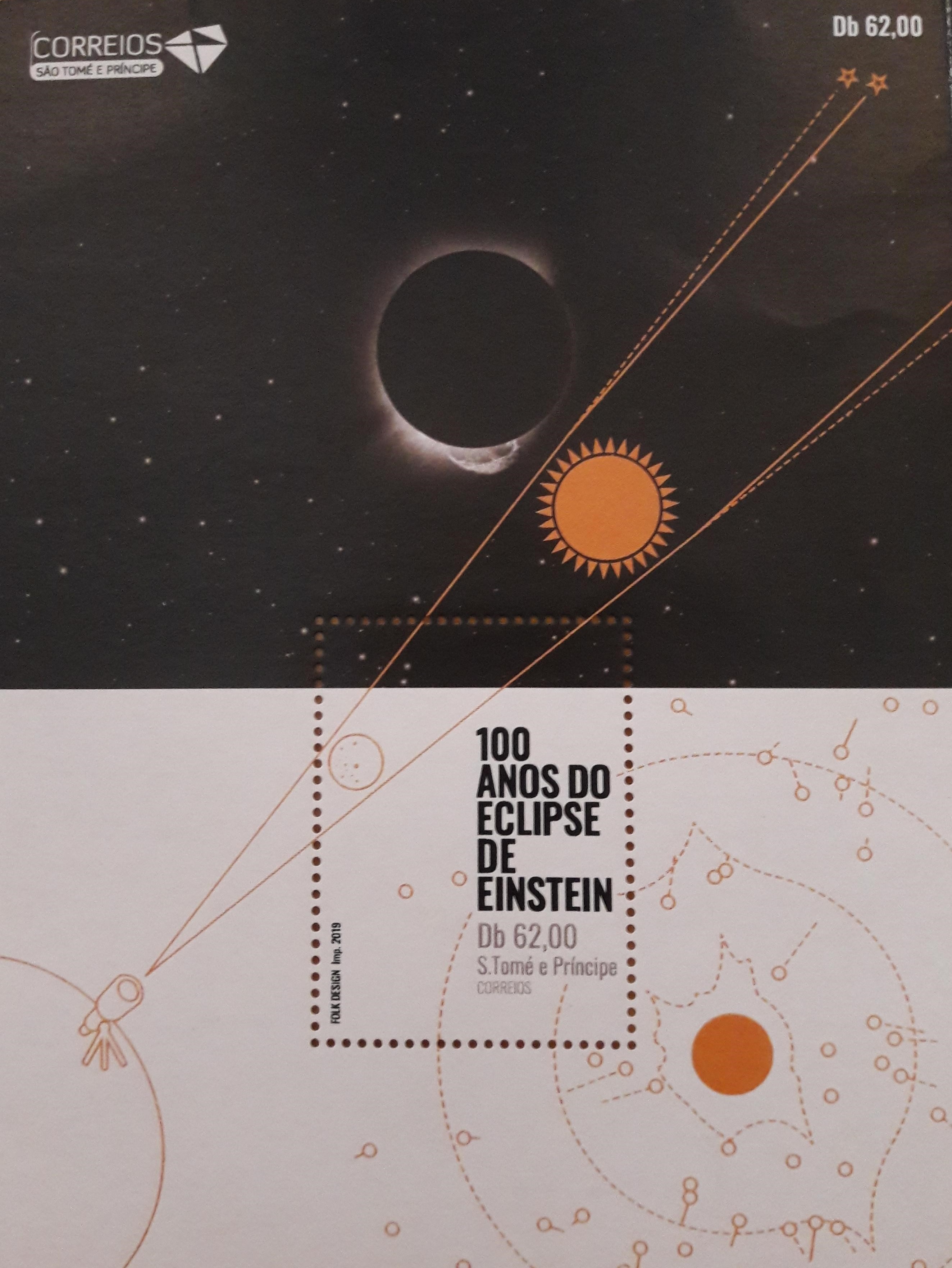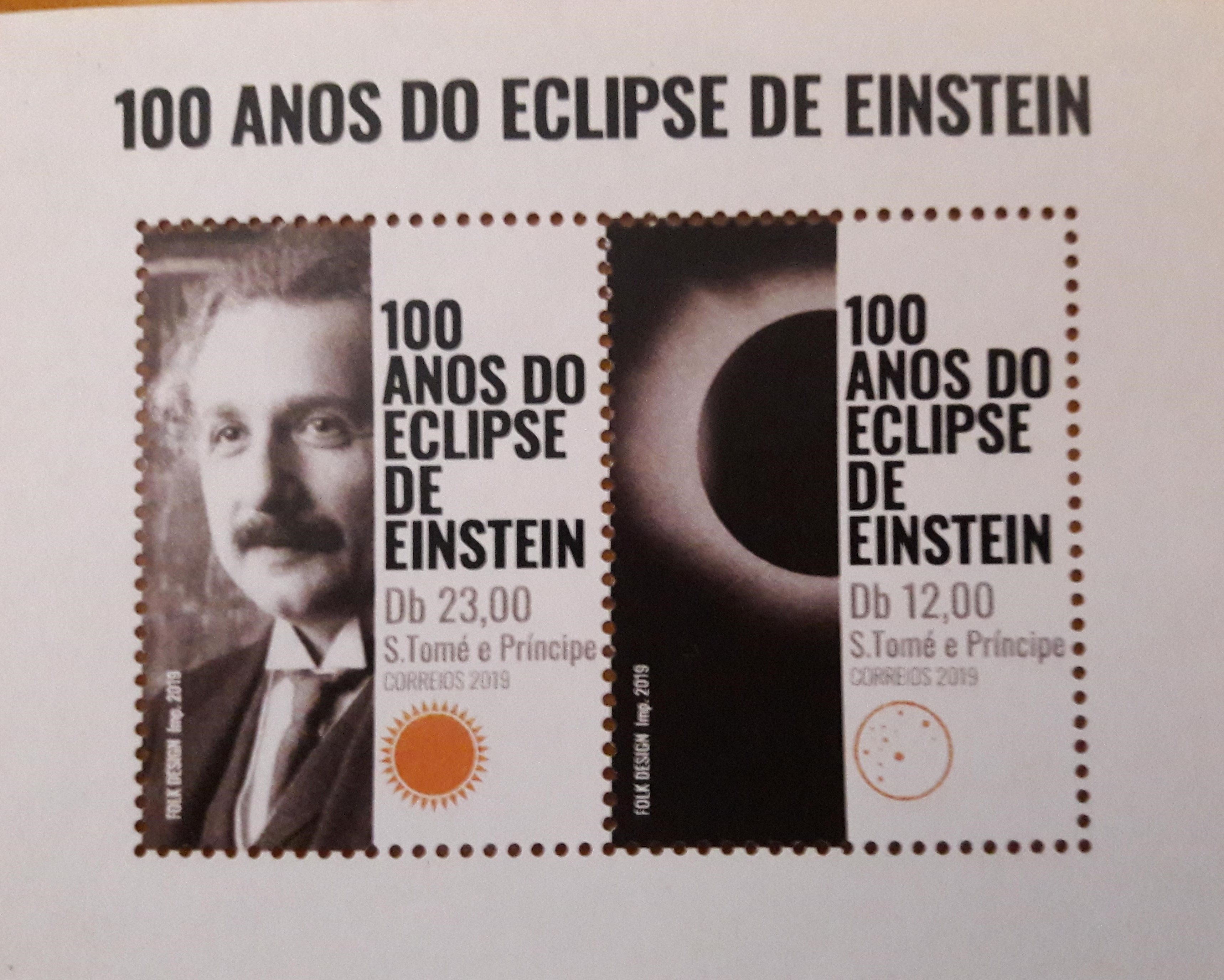 Benjamin Busch (France) provided additional information about the ICAO 75th anniversary stamps from Benin. This country issued 3 stamps (and not two), but the exact date of issue still remains unknown. We continue not to consider this issue as joint.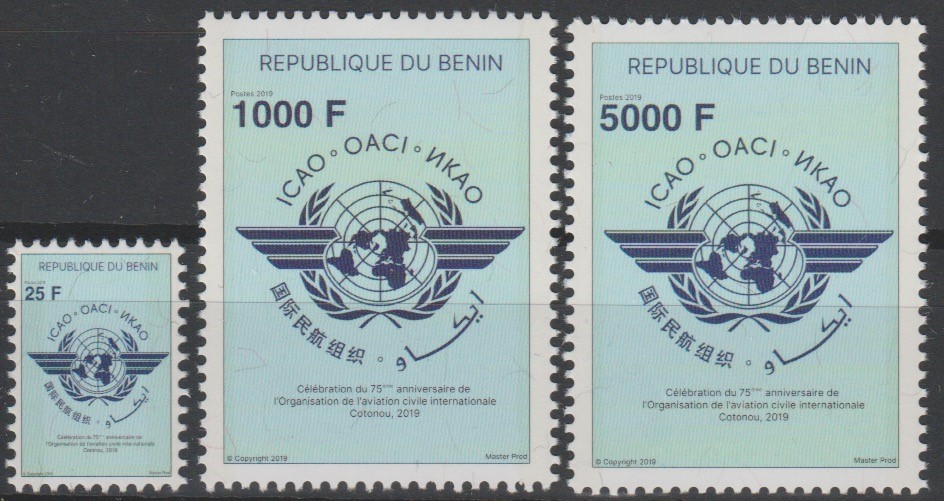 ---
February 9, 2020
The web site has been upgraded. The following pages are now available:
- The Quarter IV News archives has been created: News QIV 2019
- The new issues from Quarter IV were also filed in a new page: New issues QIV-2019
RZ collaborated also to a paper on Joint Issues written by Birgit Freudenthal in the German Philatelic Journal (Deutsche Briefmarken-Zeitung) 2/2020 pages 12-14 entitled "Parallel issues - Where countries make common cause - Joint issues not only complement Topical collecting" ("Parallelausgaben - Wo Länder gemeinsame Sache machen - Gemeinschaftsausgaben ergänzen nicht nur die Thematik"). Thanks to Birgit for having mentioned our society and this website.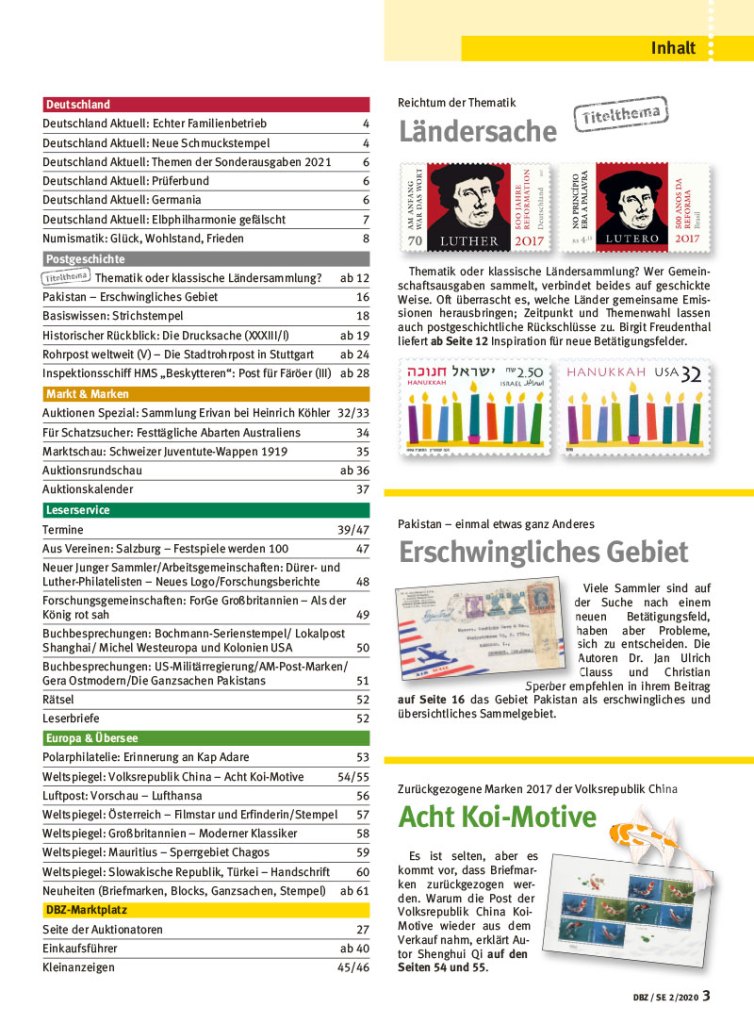 ---
January 28, 2020
Latest information collected from different places:
The first joint issue in 2020 was released on January 23, 2020 and involves Croatia and Ireland (information provided by Janko Stampfl, Slovenia). This issue is related to the 2020 Capitals of Culture Galway and Rijeka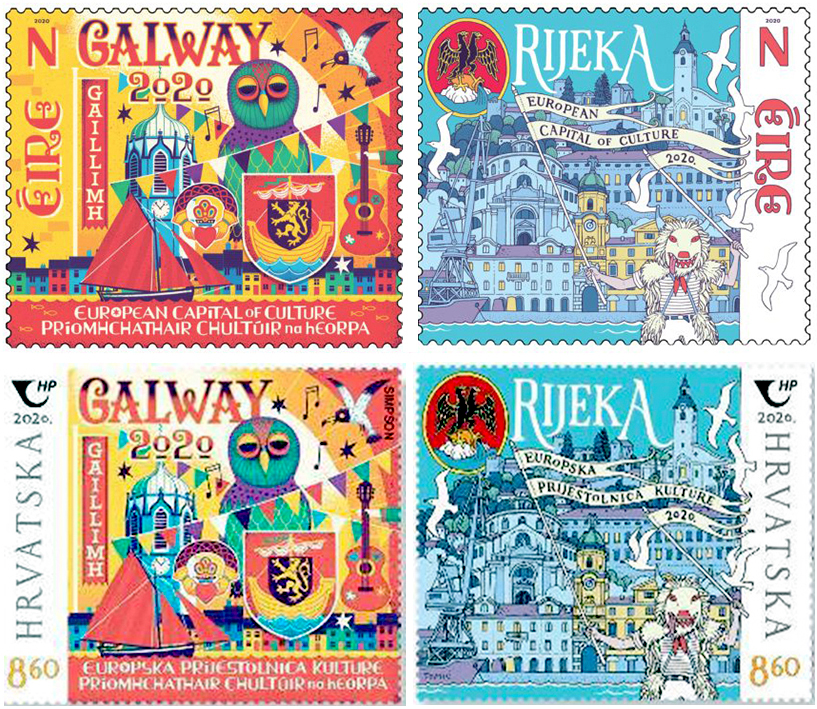 On January 5, and January 3, 2020, China PR and Macau issued respectively 2 and 4 stamps at the occasion of the Year of the Rat. These stamps are different, but both administrations came to an agreement to create 20,000 mixed FDCs bearing the 6 stamps, transforming this issue in a parallel issue.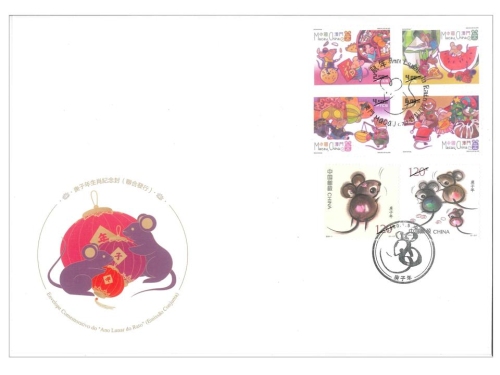 The Antarctic Continent discovery belongs to the Russian Antarctic expedition of 1819−1821 on the Vostok and Mirnyi sloops commanded by Faddei Bellingshausen (1778−1852) and Mikhail Lazarev (1788−1851). On July 16, 1819, the expedition went to sea. The Antarctic coast was actually discovered on January 28, 1820. Two hundred years later, on January 28, 2020, Estonia and Russia celebrate this anniversary with a joint souvenir sheet showing both heroes (Estonia 124x70 mm, printed 14,000).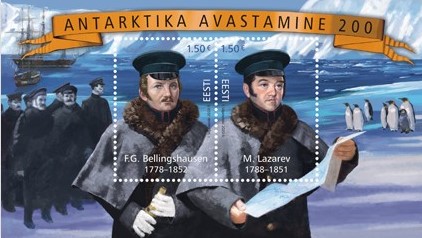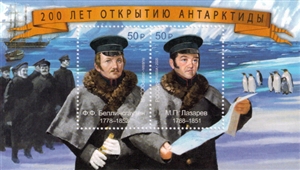 An additional EMS stamp was also found by Nedjmeddine Boudaren, Algeria: Peru will release a stamp on February 3, 2020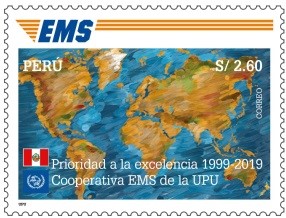 The Gandhi stamps continue to raise some concern and questions. Unfortunately we are obliged to maintain the initial statement: these stamps are considered as belonging to an omnibus series and therefore are not a true joint issue (twin, concerted or parallel). They will be described only in the Omnibus stamp chapter which is intended for people collecting also these very large series with common topics. Additionally, the collectors interested in collecting the siamese leaflets must understand that these stamps were printed in a limited edition and for that reason we will not give a quotation. Each collector has to know if it is important for him to have it in his collection. We do not recommend these stamps as part of a joint issue collection, in the same sense we do not tell collectors that a collection is not complete as long as all varieties are not included. In the meantime we learned that the limited edition of 200 series of siamese leaflets is in fact divided in three subtypes, one in gold (50 series of 3 sheetlets - numbered from 001 to 050/200), one in silver (50 series, 051 to 100/200) and the remaining 100 as Regular issue (101-200/200). Additional 40 sheets became also available as imperforate sheetlets numbered 01 to 10/40 (Gold), 11 to 20/40 (Silver) and 21 to 40/40 (Regular).
Almost the same countries released an additional set of stamps related to Gandhi's 150 birthday in form of different single stamps available in similar miniature sheets of 10 stamps with two Inpex related labels. These miniature sheets are also available with neutral white labels and as imperforate. These series discovered by Don Birschel (USA) were re-issued at the occasion of the stamp show Inpex (December 18-22, 2019), with additional imprint on the neutral label from previously issued stamps. They include so far Angola (original date of issue with neutral labels: December 20), Central Africa (October 21), Guinea (October 16), Guinea-Bissau (December 10), Niger (November 4), Sao Tome and Principe (October 22), Sierra Leone (October 30) and Togo (November 5) and are produced at the same place by the same dealer, as above. The stamps with neutral labels were issued at the dates provided between brackets, while the stamps with Inpex labels were issued on December 18, 2019. These products will also be reported as omnibus series in the catalogue with a warning note.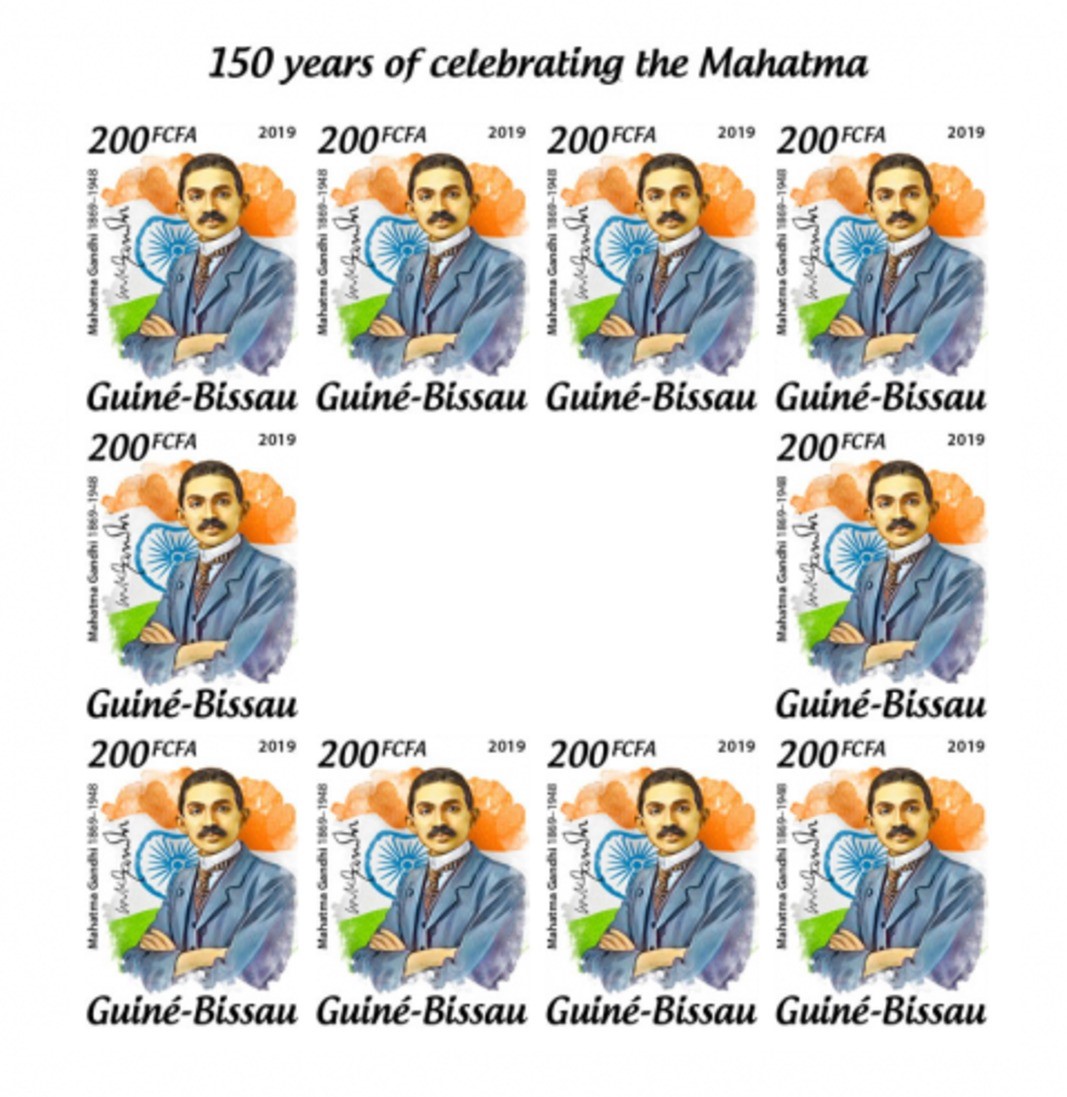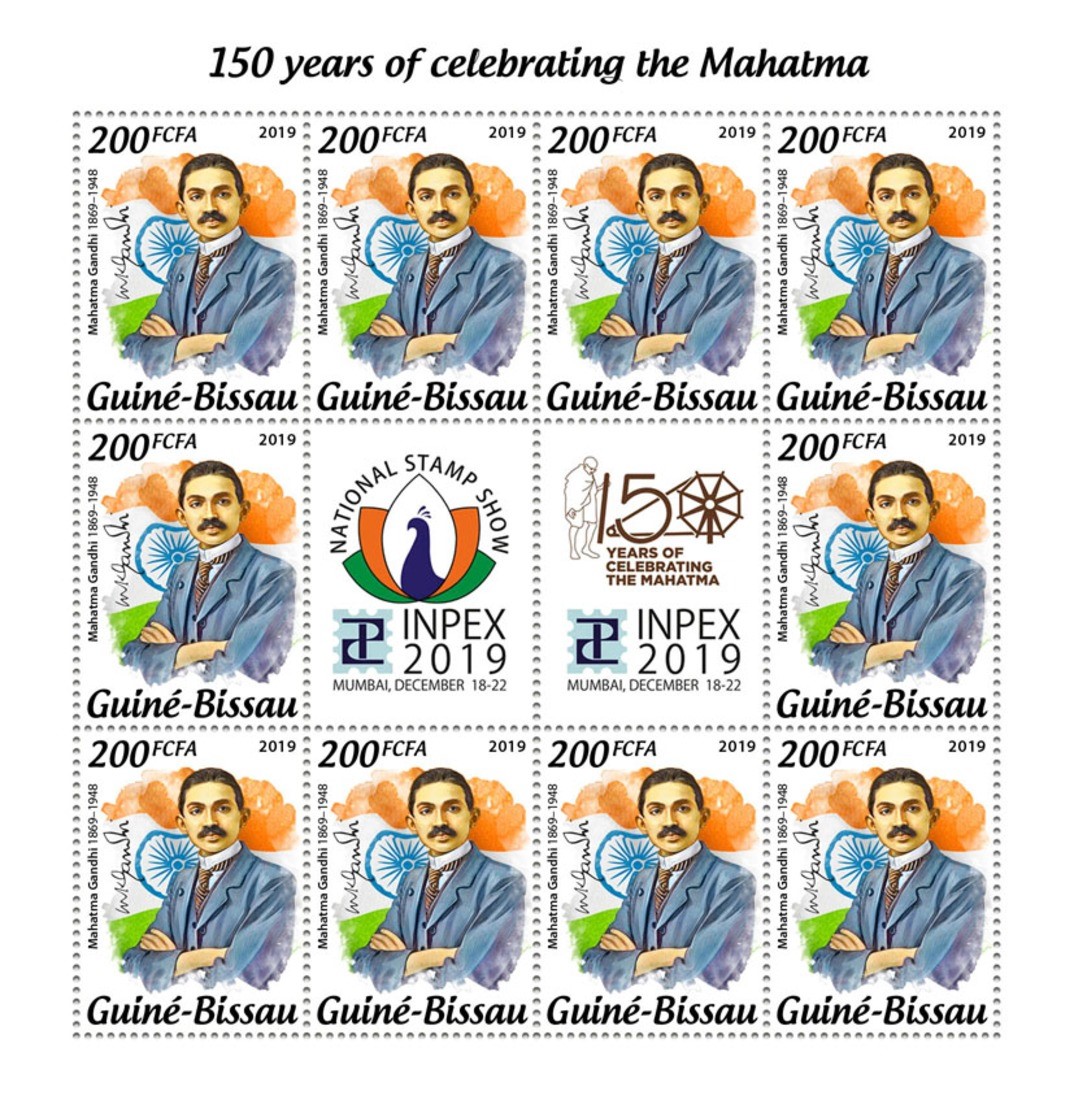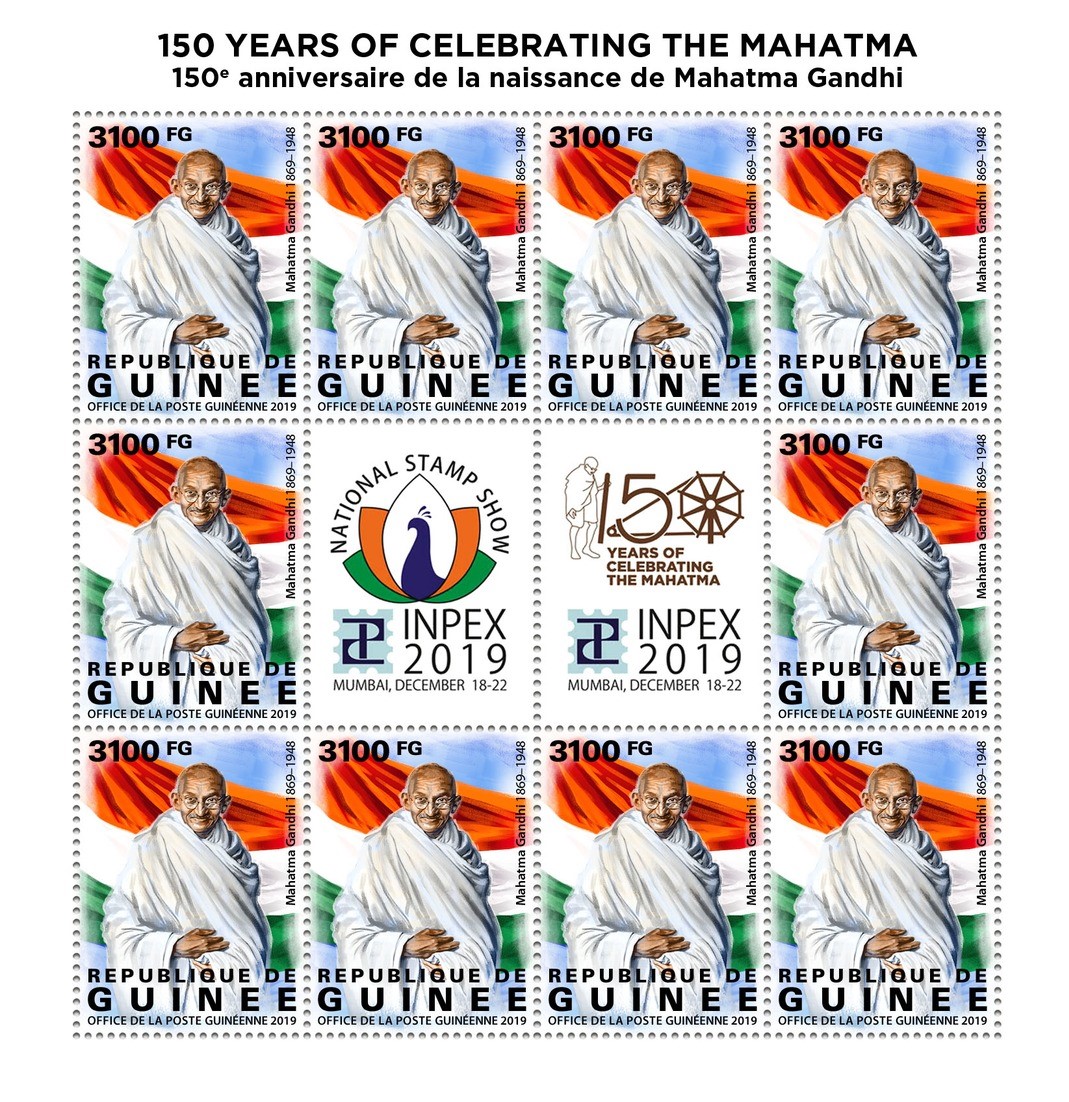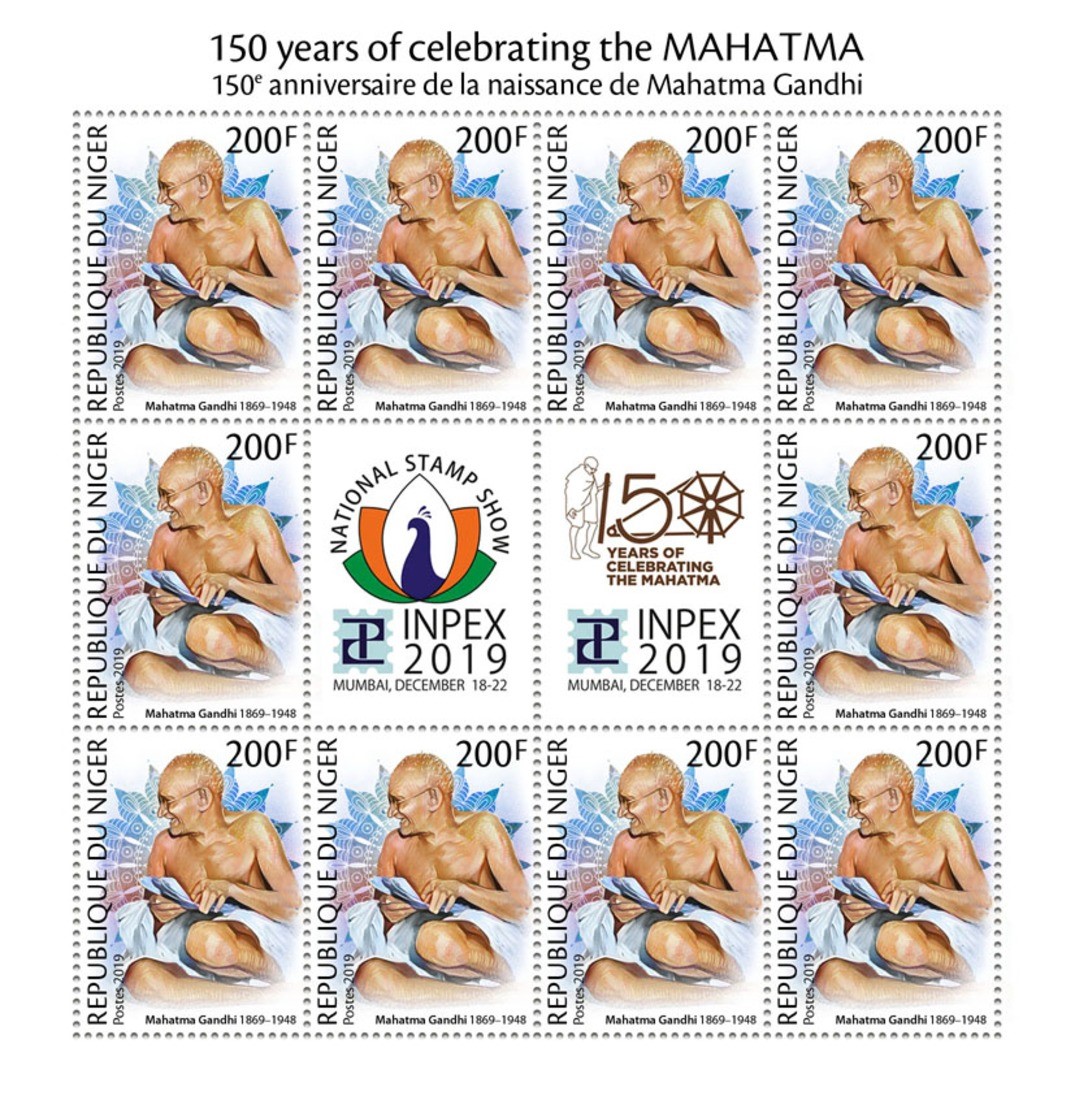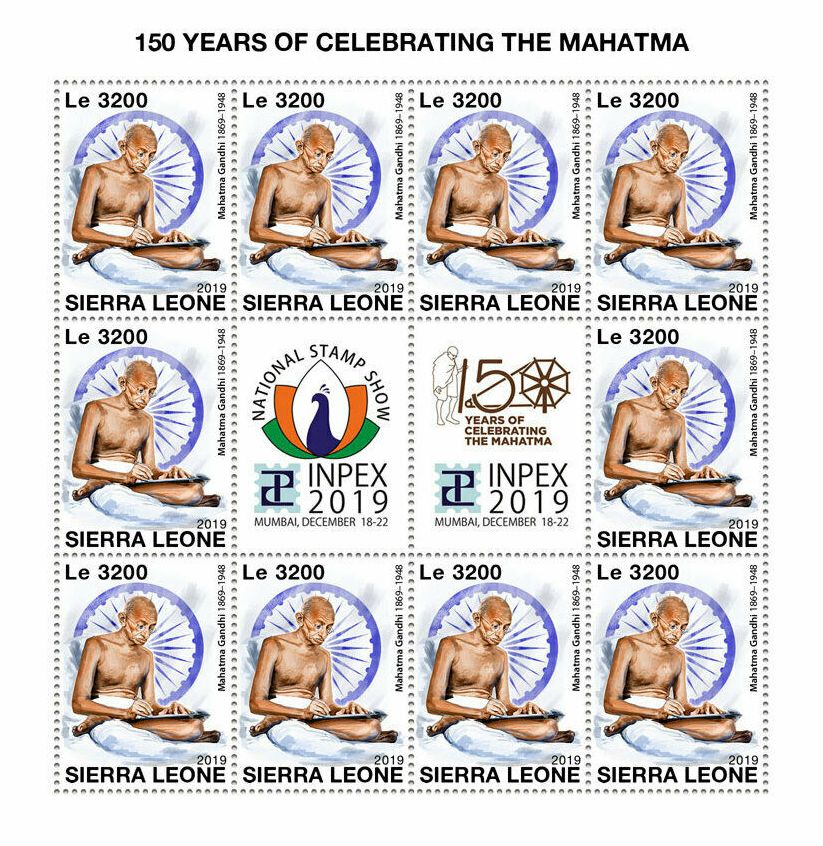 ---
January 14, 2020
News from Adam Paish (UK): Togo joined the 'EMS Cooperative' collection with an 800F stamp and a souvenir sheet with a 3300F stamp that were supposedly released on November 5, 2019.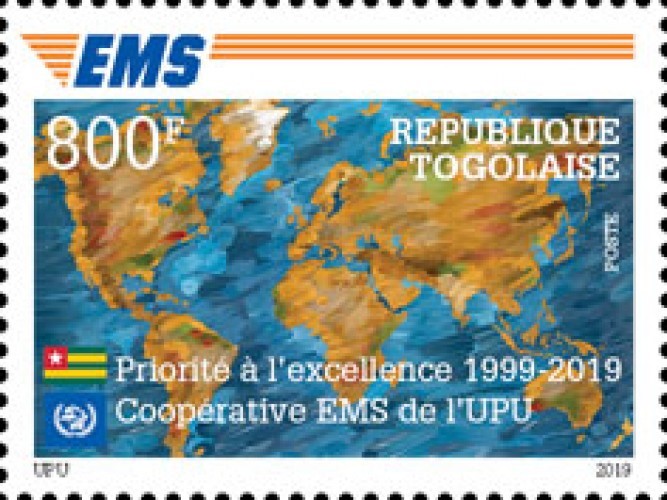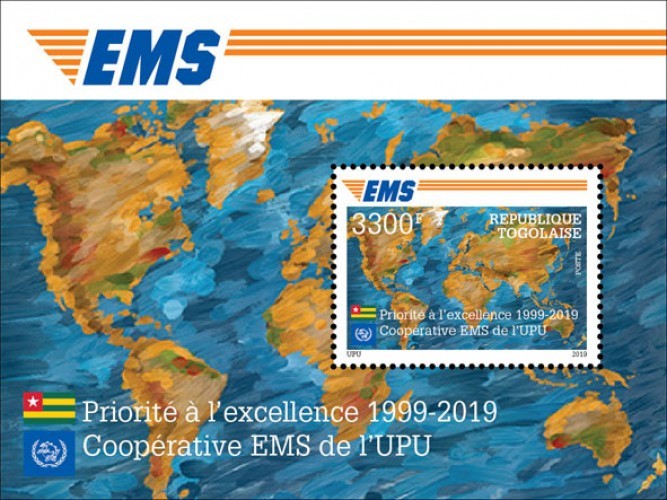 Adam found also a couple of 2019 pre-stamped/prepaid postcards with joint-issue themes sold by the postal administration of Armenia. Both have imprinted 240-dram stamps that cover the standard cost for mailing postcards internationally. The first one, issued on June 17, 2019, is an illustrated double-sided card for the seventieth anniversary of the Council of Europe (an edition of 1,000 which is now sold out). Actually, we have not (yet) considered the 70th European Council anniversary stamps as joint because no postal administration has claimed it is joint, resulting in issues at very diverse dates of issue and different designs (but the logo).
The second card, issued on December 19, 2019, features the UPU 145th anniversary joint design (an edition of 500). Apparently there is no illustration on the reverse of this card. This one has definitely to be integrated in the EMS joint issue series.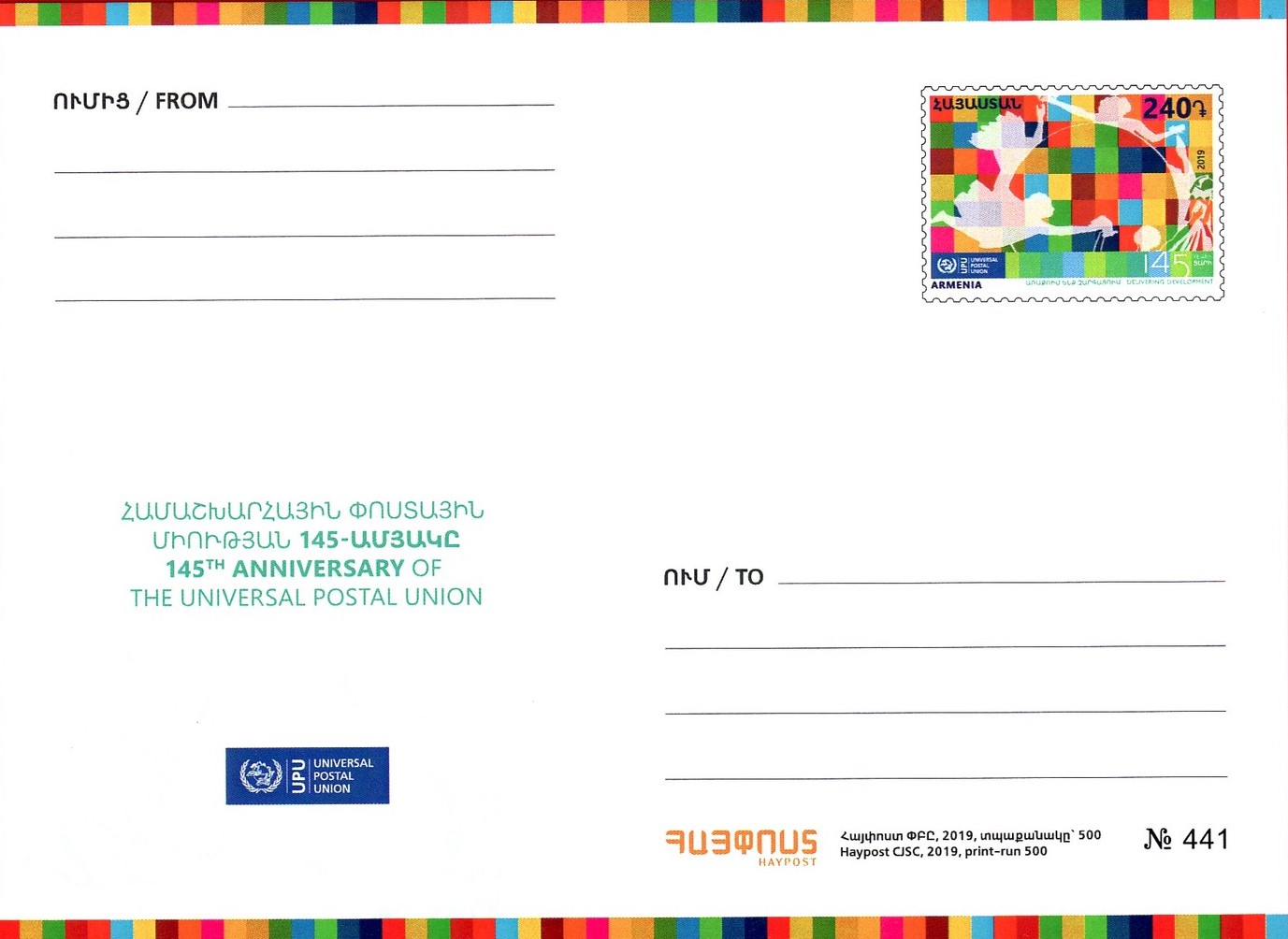 Dominique Josse is a French collector who limits his joint stamp issue collection to joint issues involving France and French territories. However he spends a lot of time with these stamps as he tries for each pair to create true mixed FDC covers. He just sent the samples of mixed (private) FDCs he created over the past 15 months which include :
- Croatia - France from November 8, 2018, bearing all four stamps showing glassware
- France - Romania from November 27, 2018, with the four stamps honoring the General Berthelot
- France - Poland from April 2, 2019 bearing both souvenir sheets in honour of Captain Charles de Gaulle and General Josef Haller
- France - Morocco from April 26, 2019 bearing also both souvenir sheets representing paintings
But above all he was able to create a mixed cover based on the Egypt -France Suez Canal anniversary joint issue which bears the Egyptian and the French stamps, both cancelled from October 3, 2019. This is a private mixed cover that has a unique characteristics as no official mixed FDC have been proposed and therefore is very rare. Congratulations Diominique for having succeeded in creating this unique piece for collectors.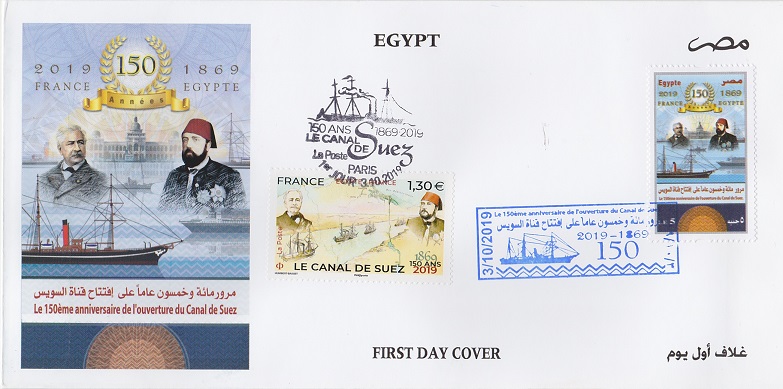 ---
January 8, 2020
Both Nedjmeddine Boudaren (Algeria) and Enzo Cafaro (Italy) provided the picture of a souvenir sheet bearing 10 stamps from 5 different countries (Djibouti, Niger, Guinea-Bissau, Sierra Leone and Centrafrica) issued during the year 2019 at the occasion of the 150th birthday of Mahatma Gandhi. In fact there were 9 participating countries to this issue which produced in total 30 different stamps in form of souvenir sheets containing a block of 4 identical stamps each. The thirty stamps were reportedly also assembled by ten resulting in three sheets issued in a limited quantity of 200 each, among which only one has been seen so far. This item could be considered as a siamese souvenir sheet, and it is available as perforated and non-perforated. However this criteria is not sufficient to consider this issue as joint.
January 14, 2019: In the meantime, Jaap Sarelse (The Netherlands) could provide the pictures of the additionnal two sheetlets.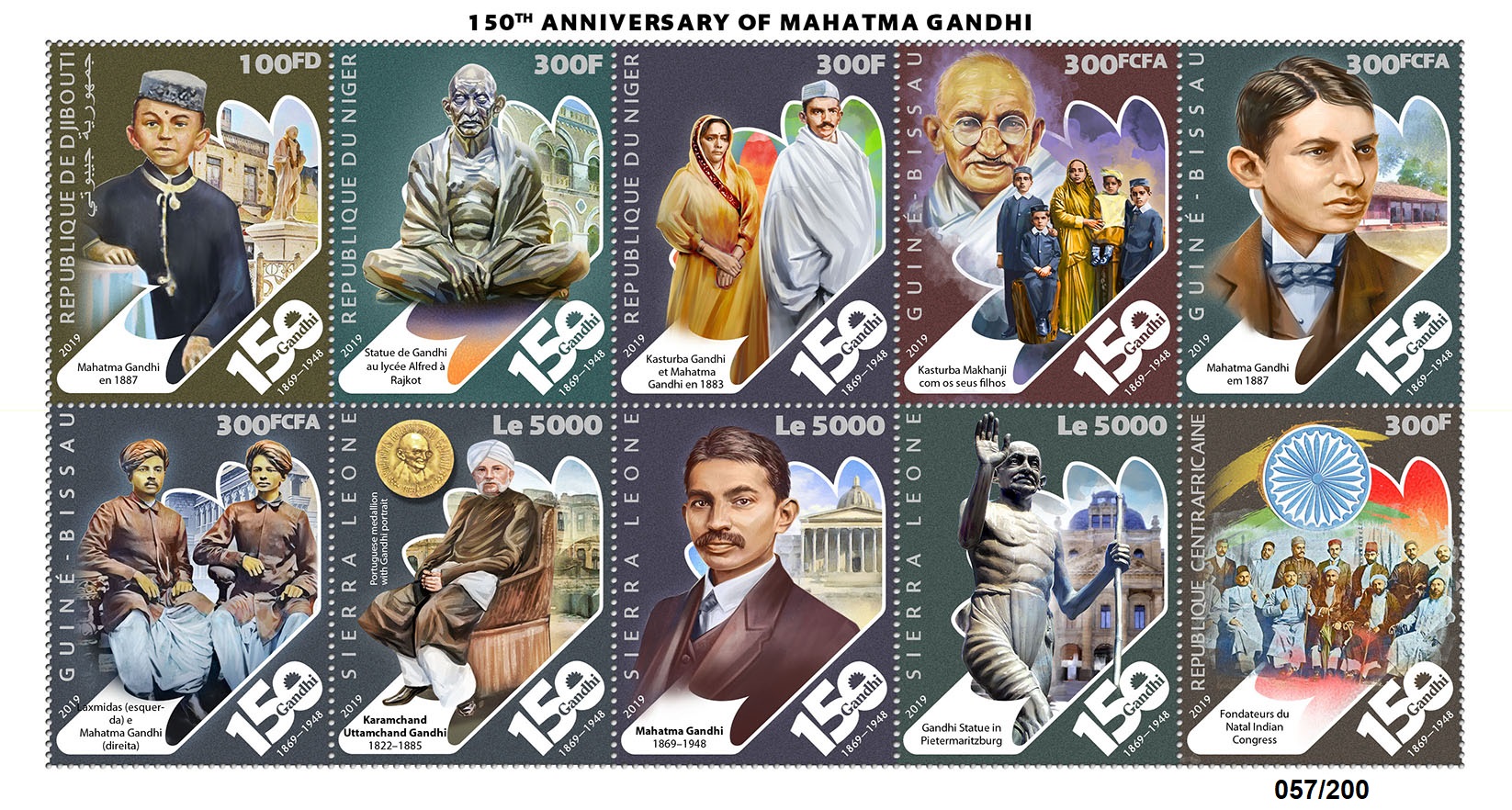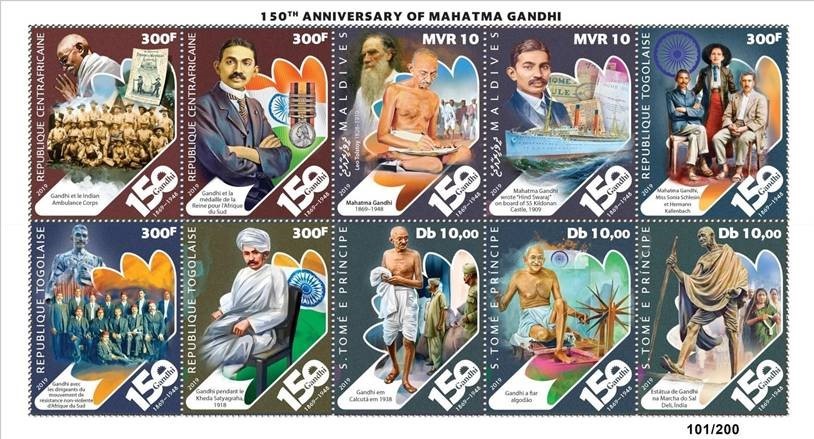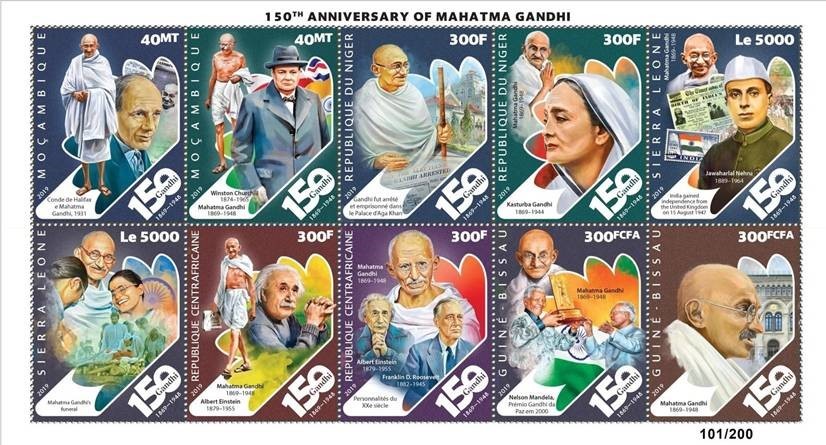 As early as May 19, 2019 we reported in the News pages of this site about these stamps with the following wording:
"In February 2019 an omnibus series dedicated to this topic [150th birthday of Mahatma Gandhi] has already been released (information provided by Don Birschel, USA), but as stamps have only a common design and as their production is controlled by a dealer [Stamperija], also as there is no real link between the involved countries other than the centralized printing company, we cannot consider this issue as joint. For those who are still interested, so far the following countries have already been released: Djibouti (1 souvenir sheet - February 27, 2019); Central Africa (3 souvenir sheets - March 21, 2019); Guinea Bissau (3 souvenir sheets - February 19, 2019); Niger (2 souvenir sheets - February 27, 2019); Sao Tome (3 souvenir sheets - April 10, 2019); Sierra Leone (3 souvenir sheets - February 27, 2019)."
The souvenir sheets produced by each country contain each a block of 4 identical stamps with different designs. In fact there are 30 of these souvenir sheets that have been issued in total, that can be identified at the top of each one with the title and number with the word "Moment x/30". In total 9 countries participated to this issue and in addition to the siamese souvenir sheets mentionned above, and the countries already listed, one has to add as new countries the Maldives (2 souvenir sheets - June 15, 2019), Mozambique (2 souvenir sheets - April 10, 2019) and Togo (3 souvenir sheets - August 30, 2018). Additionnally Central Africa, Guinea Bissau and Sierra Leone issued in total 5 souvenir sheets each (and not 3) and Niger 4 instead of 2, with issue dates of the additional souvenir sheets respectively May 23, July 17, May 30 and April 24, 2019. This brings the total of souvenir sheets as expected to 30. We do not recommend to buy these stamps as they are a pure product of a printer (no claim of any of these postal administration as being joint issues) and we will report this issue in a summarized form in the Omnibus Series chapter which provides information about large stamp series which are usually not considered as true joint issues. Here are some examples of these souvenir sheets: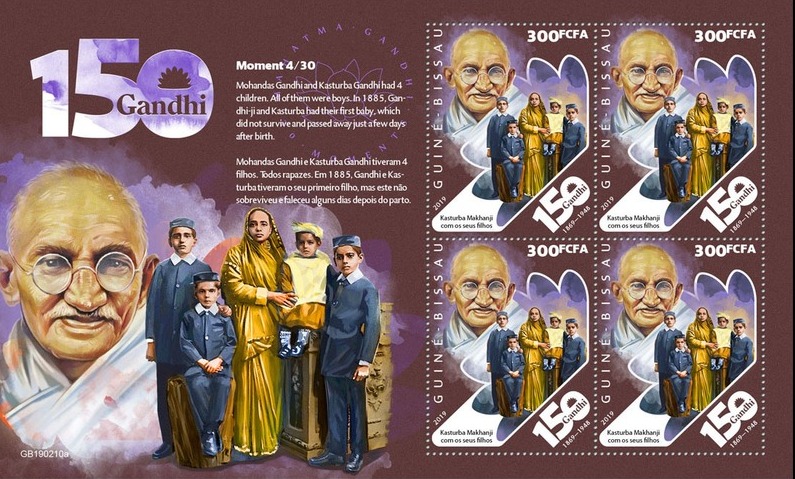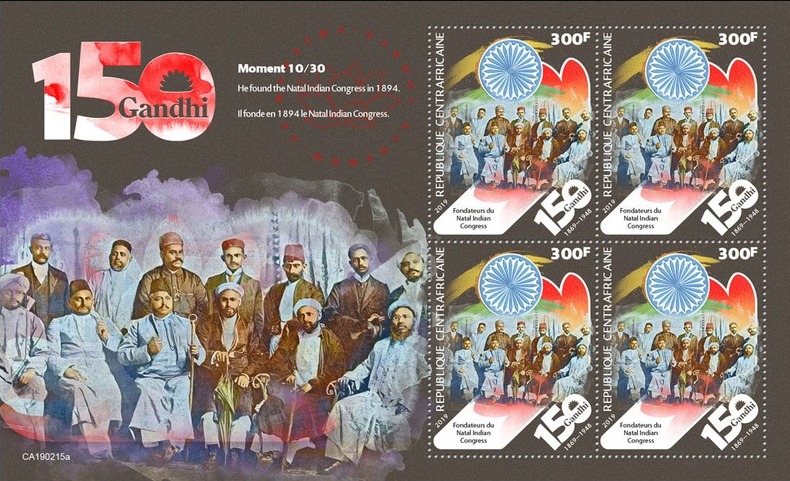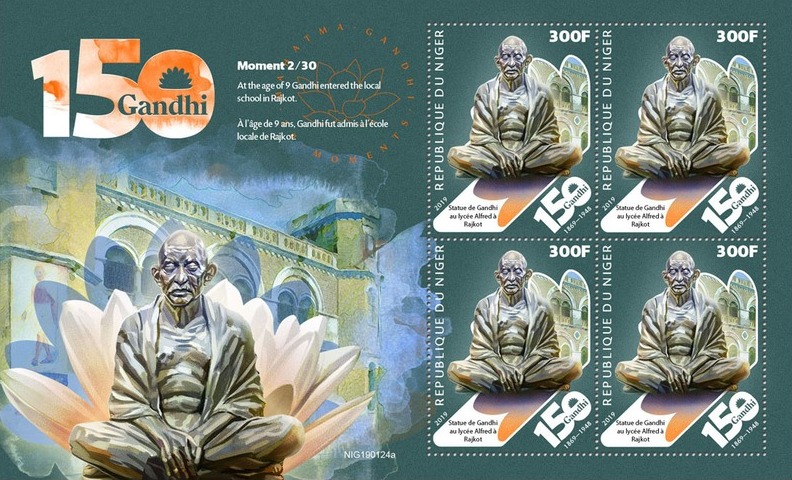 The list of involved countries can be summarized as follow: Central Africa (March 21) - Djibouti (February 27) - Guinea Bissau (February 19 and July 17) - Maldives (June 15) - Mozambique (April 10) - Niger (February 27 and April 24) - Sao Tome (April 10) - Sierra Leone (February 27 and May 30) - Togo (August 30) and the souvenir sheets containing a block of four identical stamps are numbered under "Moment x/30" as follow: Central Africa (10/30, 11, 12, 27, 28), Djibouti (1); Guinea Bissau (4, 5, 6, 29, 30), Maldives (13, 14), Mozambique (21, 22), Niger (2, 3, 23, 24), Sao Tome (18, 19, 20), Sierra Leone (7, 8, 9, 25, 26) and Togo (15, 16, 17). Catalogue number [O20190227].
Cesar Ittmann (The Netherlands) found a new stamp from Kazakhstan to be added to the series of EMS anniversary stamps, that was issued on December 31, 2019.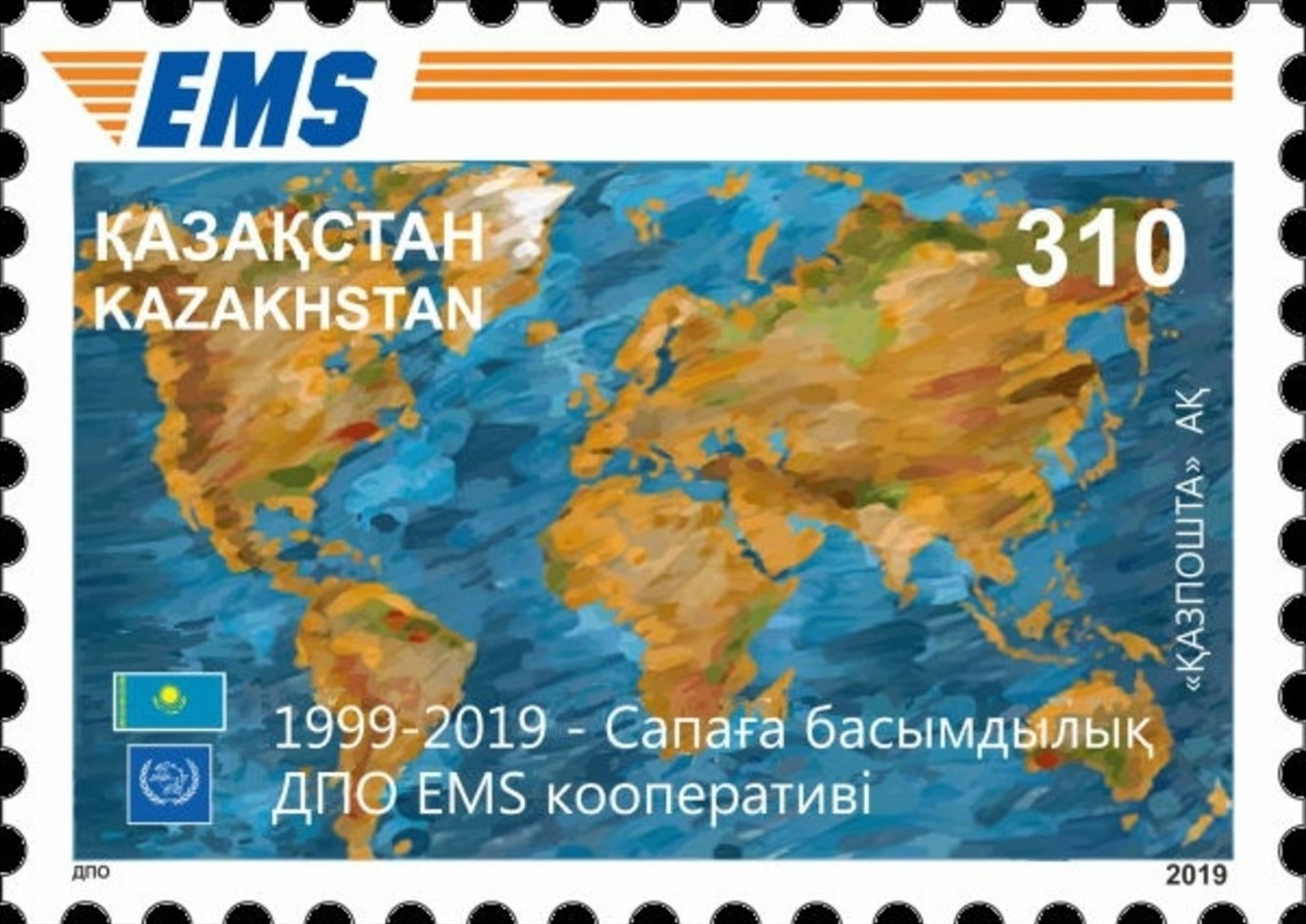 ---
January 1, 2020
The News from the period October to December 2019 have been archived.
---
All previous information reported in this section is to be found in the News Archives.