Joint Stamp Issues - News
The most recent information about Joint Stamp Issues is reported here. The very most recent data will always be displayed at the top. This information will mainly deal with issues to come, in other words issues to watch, and for which not enough data are yet available to be transferred in the description sections. It will also contain discoveries from collectors. All possible sources will be explored and if someone has data to share, those will be reported here as well. However this page cannot be interactive, as information does not appear at regular intervals (and the webmaster is not available daily). Furthermore, most of the information will need to be checked before being posted. Different colors will highlight modifications compared to initial texts if information exchanges with collectors provide contradictory opinions or supplementary data. Whenever possible or relevant, links with the original source will be provided. However, these links will not be re-checked for activity. At the end of each quarter, this page will be archived and from that point not updated anymore as the final and updated information will be available in the catalogue section (see on the left side "years" section)
---
February 12, 2021
At the occasion of the philatelic exhibition Monacophil 2019, Malta issued a postal card bearing the stamp showing the Verdala Palace in Siggiewi, Malta, identical to the stamp from the joint issue with Romania from October 14, 2019. So far, this postal stationery has never been reported here. The item is illustrated with the Prince's Palace in Monaco, bears the text "MONACOPHIL 2019 | THE PRINCE'S PALACE - MONACO | 28-30 NOVEMBER 2019" and is canceled from the first day of the exhibition. On the backside, appears the mention "Occasion Card No . 58". Apparently this item was only available as pre-cancelled.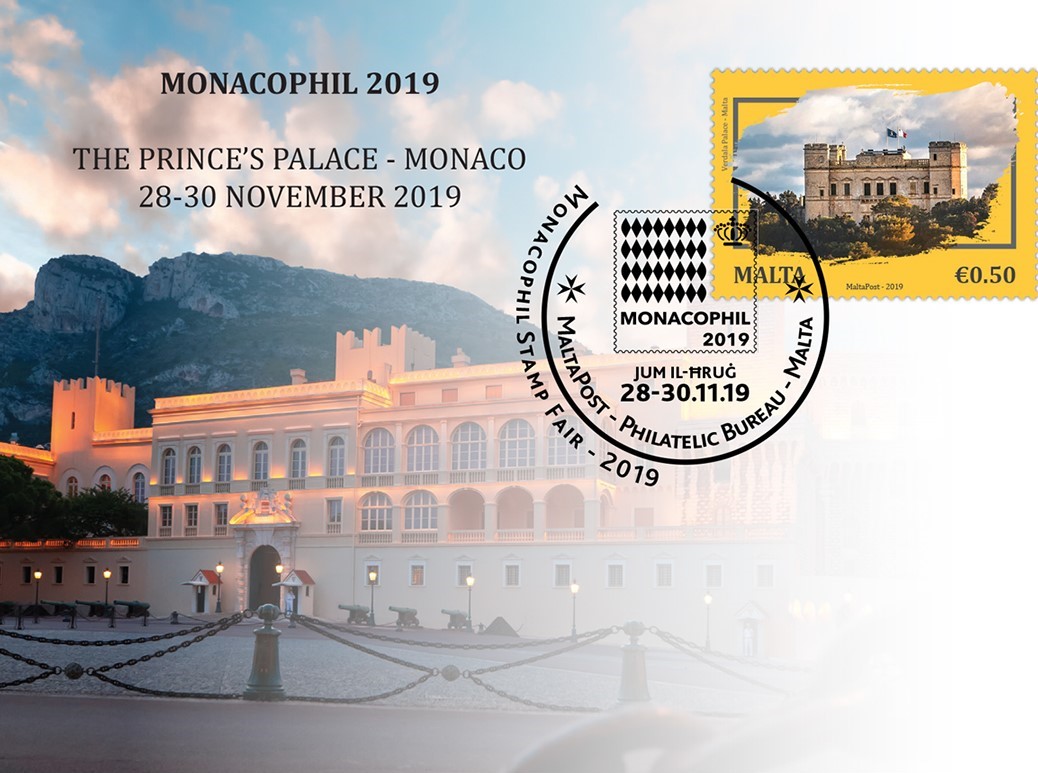 This gave us the opportunity to screen all the "Occasion cards" still displayed on the Malta philatelic web site https://www.maltaphilately.com/en/products/phi/occ to discover that another stationery card had been issued in the past, namely 'Occasion card N° 36' in Essen 2014 (May 8-10, 2014), bearing the stamp from the joint issue with Israel (January 28, 2014), also not reported so far (date of issue May 8, 2014).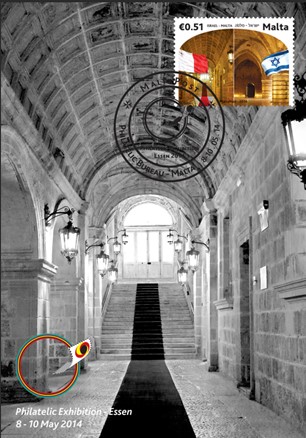 Jaap Sarelse (the Netherlands) and Enzo Cafaro (Italy) provided information about the following new issues:
The images of the Visegrad group stamps (Czech Republic, Hungary, Poland, Slovakia), to be released on February 15, 2021, became available, confirming this is a true twin issue.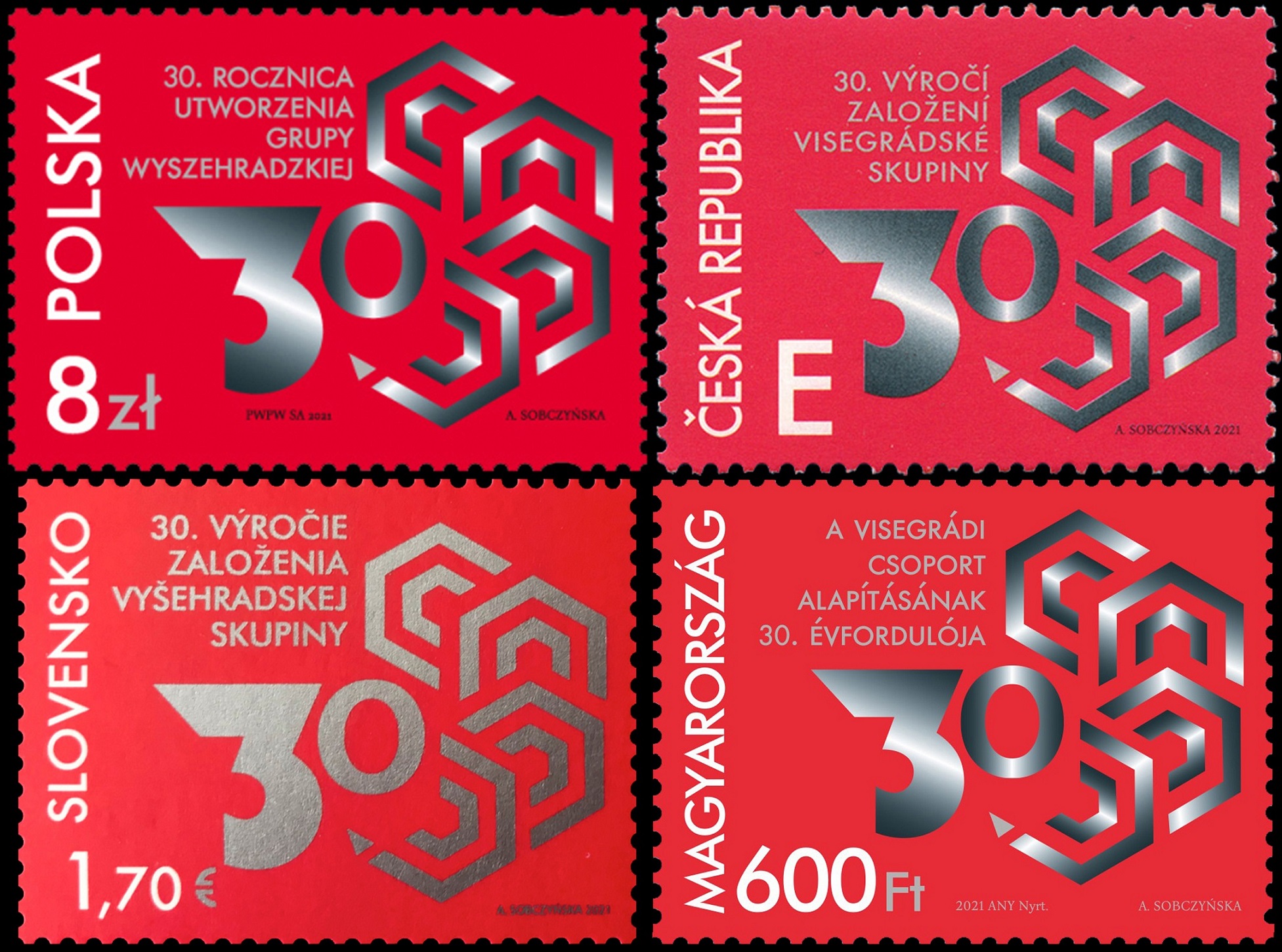 Eventually, Saudi Arabia released also its stamps at the occasion of the 75th anniversary of the Arab League, in form of a block of 4 stamps. Exact date of release remains for the time unknown (apparently first week of February 2021, even if year '2020' appears on the stamp).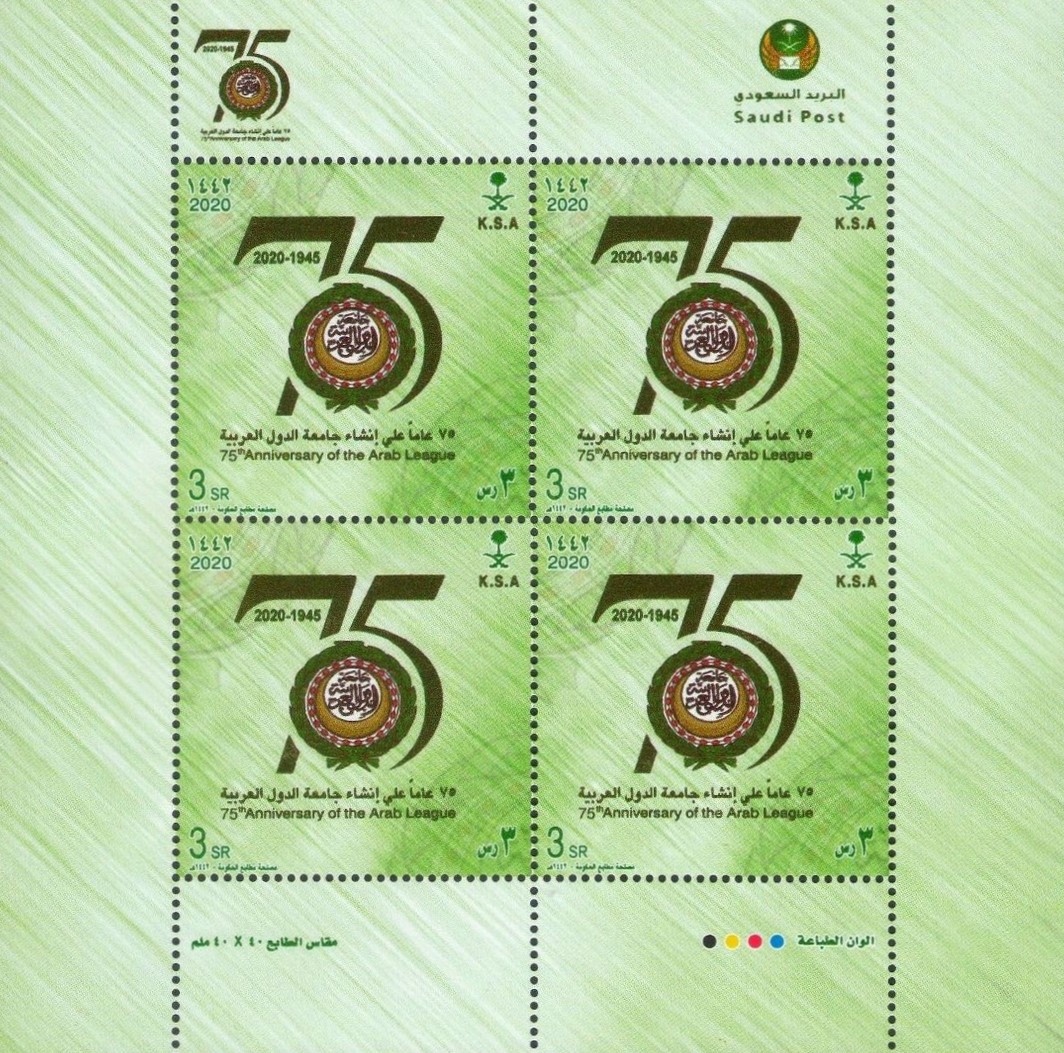 Information provided by Wayne Chen (USA):
In 2021, legendary engraver C.Z. Slania would have turned 100 years old. Each of the three postal administrations from Denmark, Faroe Islands and Greenland will issue a souvenir sheet engraved by Martin Mörck and printed in intaglio. The three souvenir sheets will also be available in a joint souvenir folder. Faroe Islands Post has announced its issue date on August 12, 2021. (Source: Faroe Islands Post and Post Greenland 2021 stamp programs). So far, only a first (bad quality) picture of the Faeroe Islands souvenir sheet is available.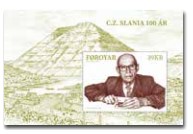 ---
January 26, 2021
The lusitanophone (Portuguese-speaking) countries celebrated the 25th anniversary of the existence of AICEP (Association of lusitanophone countries) with the issue of an identical stamp on April 27, 2015 and seven countries participating. On May 5, 2020, Portugal issued a similar stamp celebrating the 30th anniversary and we were expecting other countries joining. It is only this week that Jaap Sarelse (the Netherlands) discovered an identical stamp issued by Cape Verde. By looking closer it seems that this stamp was issued on November 25, 2020 (to be confirmed) resulting in this issue to be considered as concerted [C]. At the same time, we are now expecting some of the other countries participating also to this joint issue, all among the countries listed on the stamp, namely Angola, Brazil, Equatorial Guinea, Guinea Bissau, Mozambique, Sao Tome-Principe and Timor Leste.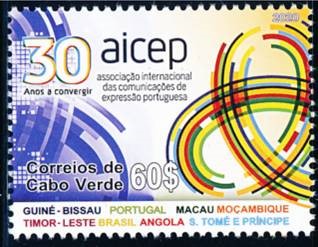 Mohammed Qayed (UAE) informed us about the imminence of the issue of the 75th anniversary of the Arab League by Saudi Arabia (first week of February 2021). Let us wait until we have access to the picture of this stamp.
We discovered also the reproduction of the Cuba stamps (although of very bad quality) issued on December 3, 2020 in parallel to the Vietnam stamps, confirming the Twin character.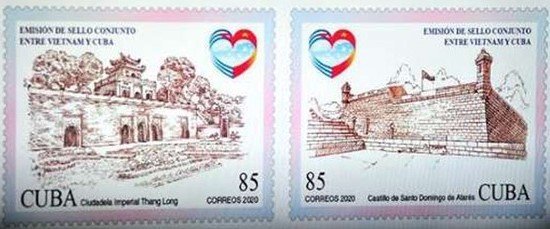 Jaap Sarelse discovered also a stamp from Cuba issued on October 12, 2020, belonging to the family of stamps issued on October 9, 2019 and celebrating the 145th anniversary of the UPU.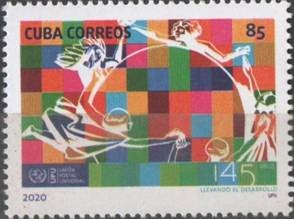 ---
January 13, 2021
The web site was updated and the catalogue pages for Quarters III and IV, 2020 are now available (2020). We are still looking for information regarding stamps issued by Cape Verde, Cuba, Ethiopia and Mongolia in 2020. All these countries are supposed to have released jointly stamps during QIV 2020 (respectively with Portugal, Vietnam, China PR and Slovakia/Mongolia) with probably delayed availability as a consequence of the COVID pandemic. Any information is welcome.
---
January 12, 2021
At this beginning of the year, I would like to share a first good news. A new catalogue of joint issues is under preparation and we hope we will be able to announce its availability by mid of the year. Integrating the past 15 years of new issues production is not an easy task but gives us also the opportunity to reconsider some parts of the classification system. In particular, we already mentionned that we will avoid using the term "Siamese" [S], to be systematically replaced by "Se-tenant". There is now also to consider a new way to present more specifically non-accepted, territorial and omnibus issues and to develop in more details the concept of Borrowed issues to better understand the real impact of abusive issues. This is now explained in more details in the following paragraph.
The number of stamps with the same design and created centrally has increased drastically over the past 20 years. Most of these stamps are produced by two major companies (Stamperija in Vilnius, Lithuania and IGPC in New York, USA) which have signed agreements with some countries to produce their stamps. Among the most well-known countries having their entire production of stamps delegated to one of these companies, we can include Antigua and Barbuda, Central African Republic, Chad, Djibouti, Dominica, Gambia, Grenada, Grenada of Grenadines, Guinea, Guinea Bissau, Guyana, Liberia, Maldives, Marshall, Mozambique, Niger, Nigeria, Palau, Papua New Guinea, Saint Vincent and Grenadines or Sierra Leona. This list is of course not exhaustive. There is a financial interest for both the country and the printer to produce as many as possible issues on the basis of topics that have usually absolutely no relation with the issuing countries. For the country itself, it avoids creating a local philatelic agency as all work can be subcontracted, but above all it participates in the creation of value in the same way the country can produce more banknotes. The printer, not even speaking about intermediates, receives a fee for the service and probably proportional to the production volume. In this sense, as this production value remains uncontrolled, these stamps are considered as abusive, not only for collectors, but from an economical and financial point of view for the country. This activity and the production of stamps are absolutely not illegal, and these stamps are not to be considered as fake. They do have a real value in the sense they can officially be used on mail. Unfortunately, these stamps very rarely, if not never, reach the post offices of the officially originating countries and can only be acquired through dealers. Taking in account the topic and the number of stamps produced during a year, by buying these stamps collectors simply contribute to enrich printers, local intermediates, dealers and, at little level, the country, but for no service in exchange. Do not forget that these stamps are supposed to pay officially for a postal service.
Catalogue printers are puzzled as well with these issues, but most of them continue to describe these items although in a summarized form. This does not really help collectors in differentiating stamps that were printed for postal use and stamps printed just for collectors. We have to avoid that philately becomes a collection of cinderellas paid for a high price that is even printed on it. With the development of communication through other channels than post, the real use of stamps has also decreased, and it will come a point at which countries considered today having a 'serious' philatelic issuing program, will produce a volume of stamps needed to postage use smaller than the one sold to collectors. The philatelists have a real role to play here, but as long as some collectors will continue buying these stamps, the offer will continue to exist. Here we can make the difference between real philatelists and simple collectors.
Concerning joint issues, and up to now, we felt spared by these abusive issues in the joint issue collection. The definition of true joint issues implies the agreement of at least two postal administrations to create a common stamp. As a consequence, in the Joint Issue catalogue, the stamps issued by those countries for which it was clear that stamps were issued with a same design and/or at a same date without clear involvement of the countries themselves, were considered as Omnibus series [O] even if only as low as 3 or 4 countries were involved. In other words, if filed in the chapter [O], philatelists got the message that these stamps are not true joint issues. However, it seems the message was still not clear. Stamps issued by these agencies appeared last year that were clearly taking the designs of some official joint issues (e.g. ActNow, Family Remittance), puzzling even more philatelists. The original joint issue was acknowledged as such, but how to consider countries not officially involved in the first decision round and producing later stamps with the same design ?
Since the beginning, we have a way to describe these stamps, namely to consider them as stamps produced with a Borrowed Design [BD]. BD is a sub-class of non-accepted joint issues, but still reported in the catalogue with a limited description, to avoid recurring questioning about the status of such stamps. Most of the Omnibus series that are not based on territorial or colonial considerations are in fact borrowed design. We must clearly make the difference between designs that were proposed by a group of countries (e.g. the common designs of EU-CEPT-PostEurop or Arab League stamps) and released even at different dates by these countries, which are true joint issues, from stamps released at a central place with a common design (e.g. 2020 COVID stamps).
The main consequence of this different way of considering these issues will affect the whole catalogue as some stamps filed up to now as [O] or [N] will be attributed the new classification [B]. Note that the letter [B] was used so far to describe "folders, books and special items", but as this chapter remained very small, it was easier to switch the older [B] definition to the letter [F] for folders.
The new catalogue under preparation will include these changes which will also apply from January 1st, 2020 to the news in these web pages. We hope this new way of presenting questionable issues will facilitate the understanding of the definition of a true joint issue.

---
January 5, 2021
Some additional information became available regarding the "Birth Centenary of the Father of the Nation Bangabandhu Sheikh Mujibur Rahman" issue reported earlier. We have not found any claim from the different involved countries that these stamps were made with a common aim as a joint issue. The countries Bhutan, Bangladesh and surprisingly Nigeria issued identical stamps respectively on March 17, 2020, March 17, 2020 and August 17, 2020. More recently, India issued also a stamp with the same design on December 17, 2020.
Same design is not sufficient to attribute the status of joint issue, but identical design allows these stamps to be reported in the catalogue in the section 'Borrowed design' [BD]. It appears that all these stamps are actually based on the Mujibur year official logo, explaining the identical design:
Logo: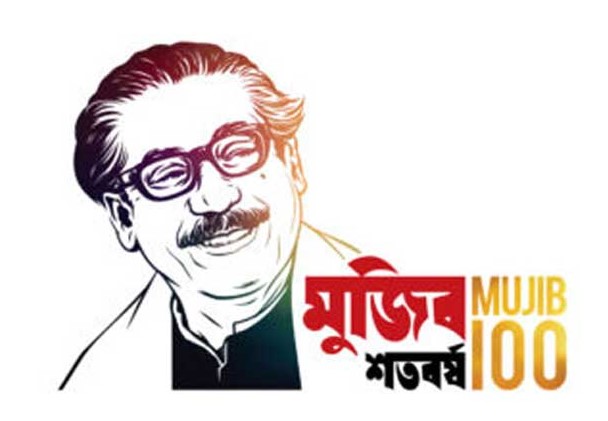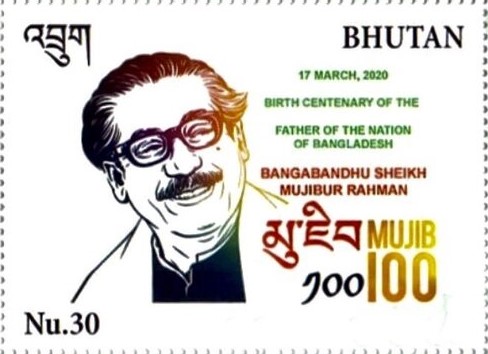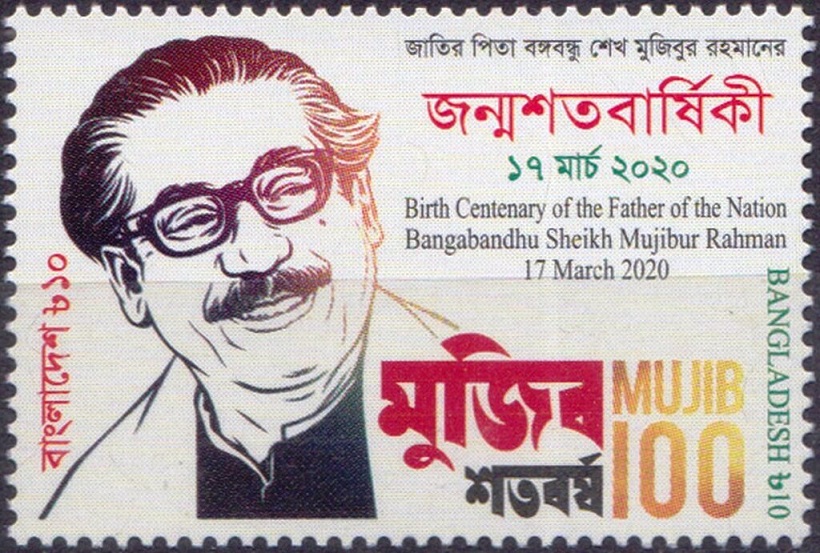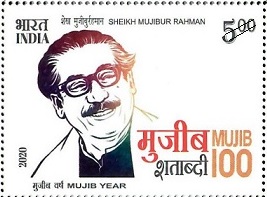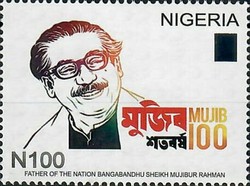 Cesar Ittman (The Netherrlands) could provide the design of the Visegrad Group 30th anniversary founding issue that will be released by February 15, 2021, involving Czech Republic, Hungary, Poland and Slovakia.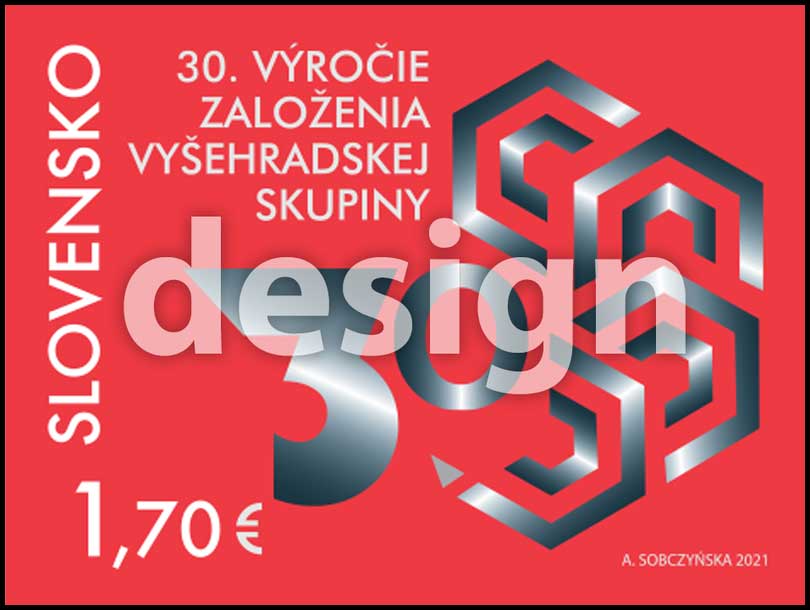 Don Birschel (USA) found a joint issue we missed. The stamps are celebrating the 50th anniversary of the Cape Verde Association. Portugal and Cape Verde released on October 18, 2020 a stamp each with the same design. Despite the fact that the term 'joint issue' is written on the stamp, the Cape Verde stamps have not been seen so far, but stamps are probably identical.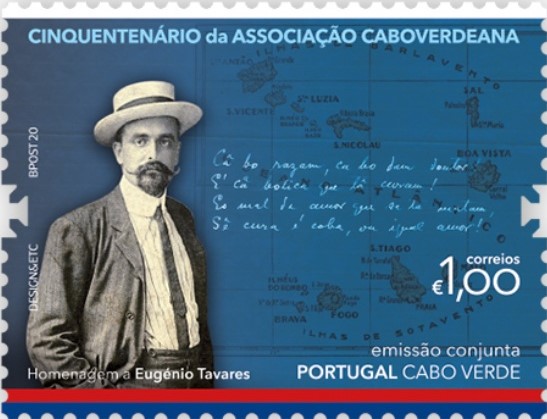 Jaap Sarelse and Rindert Paalman (The Netherlands) found the following mixed FDC. It was produced at the occasion of the 200th anniversary of the discovery of Hawaii by Captain Cook and bears stamps related to the event: 5 stamps from Niue with first day cancellation from January 18, 1978, three stamps from the Cook Islands, first day cancelled from January 20, 1978 and two stamps from the USA, also first day cancelled from January 20, 1978. The item has been produced at the occasion of the philatelic exhibition HAPEX-78 (Hawaii). All stamps are first day cancelled and this is a mixed FDC which means both Jaap and Rindert have discovered a new series of true parallel [P] joint issue that has never been reported up to now. Congratulations.
Actually, other countries have issued stamps at the occasion of this event during the year 1978, but among all these countries only the following have issued stamps around the January 18-20, 1978, period, namely Aitutaki (January 19, 3 stamps and a miniature sheet, native art from Hawaii), Norfolk Island (January 18, 3 stamps representing Cook and British flag), Penrhyn (January 19, 2x4 stamps and 2 miniature sheets representing a set of four native art pieces and four indigenous birds) and Wallis and Futuna (2 stamps from 1976 - independency of the USA - overprinted with a text referring to the discovery of Hawaii). Unfortunately, none of these stamps can be considered as part of the joint issue. To include them we will need either a statement from the postal administration(s) that there is a joint characterand not only a celebration of a common event, or mixed first day covers involving several of the above stamps are discovered.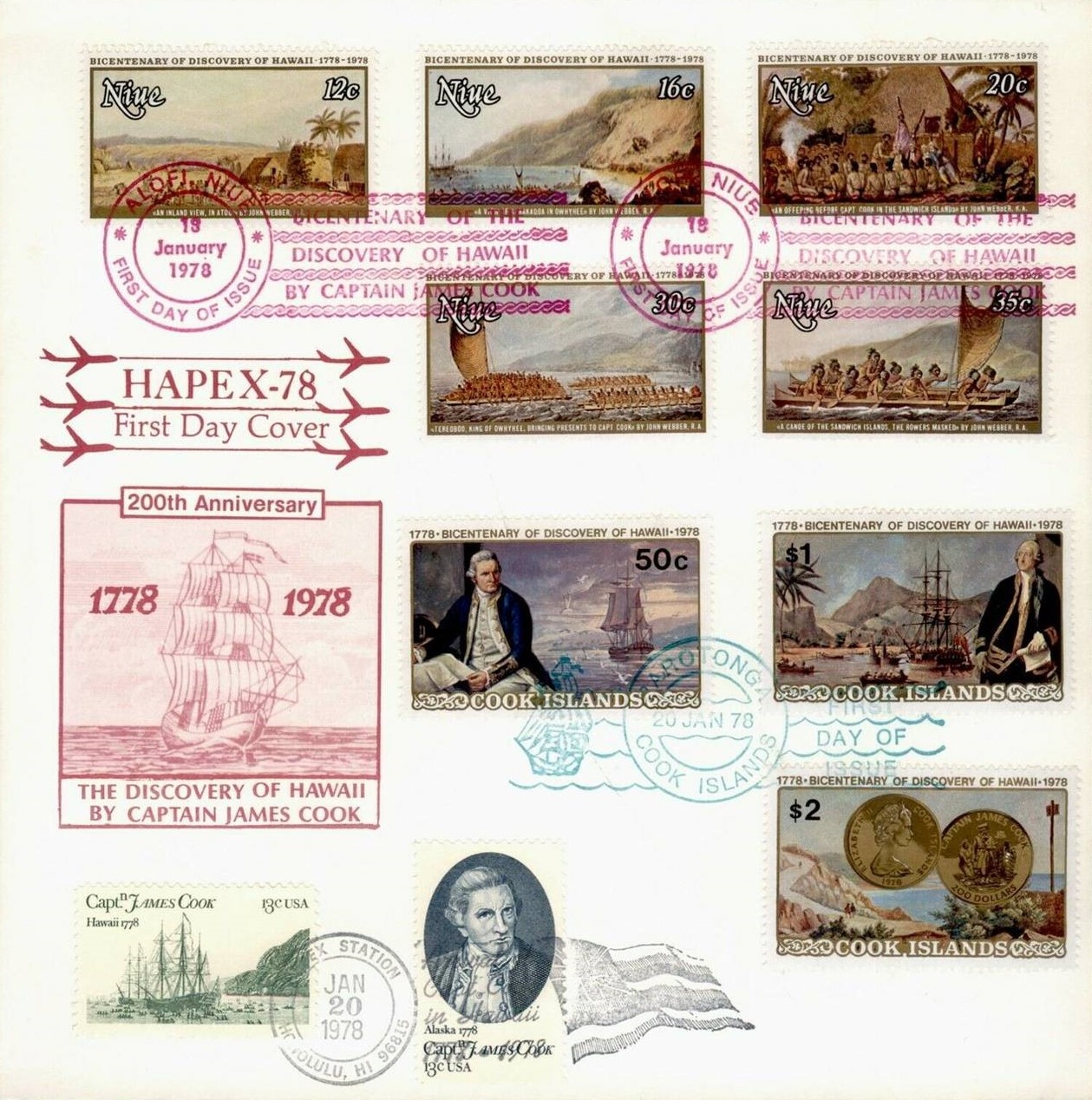 ---
January 1, 2021
The News from the period October to December 2020 have been archived.
---
All previous information reported in this section is to be found in the News Archives.