Archives Quarter III, 2020
This page is the archived News Page from the July to September 2020 period. All contents have been dispatched in the respective stamp description pages. However there may still remain open questions. Any complementary information is welcome. As soon as an information is archived, the text will not be changed anymore. So if additional information are linked to the below, this will be displayed as a new heading in the currently open News page.
---
September 14, 2020
The News and New issue pages have been updated. New issues from Quarter I, 2020 and Quarter II, 2020 are now available in their respective sections.
In the meantime, we obtained from Tofail Amin (Bangladesh) the confirmation that the stamps from Bangladesh and Bhutan, both issued on March 17, 2020 at the occasion of the "Birth Centenary of the Father of the Nation Bangabandhu Sheikh Mujibur Rahman" are not joint issues. None of both postal administrations do claim a joint character. We will report these stamps in the catalogue just for information, in the [N] (non-approved) section, as accidental joint issue. We still do not know why both designs became so close. Of course, the similar Nigeria stamp issued in August is not joint as well.
The Brazil - Israel joint issue was released on September 8, 2020. The landscape picture shows on one half the strand of Jaffa, Israel, on the other one the strand of Recife, Brazil.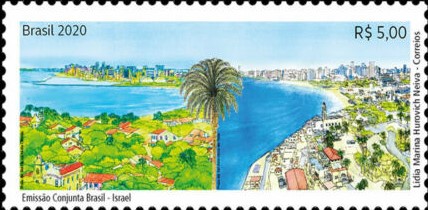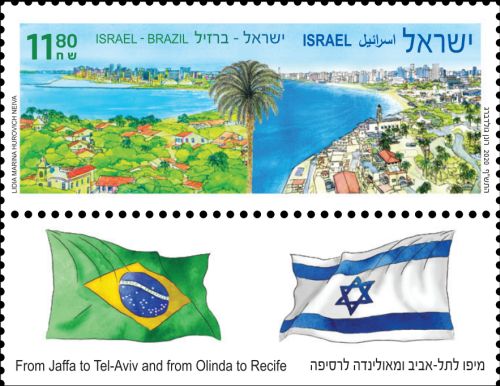 On September 10, 2020, Ivory Coast and the Vatican State issued identical stamps at the occasion of the 50th anniversary of their relationship.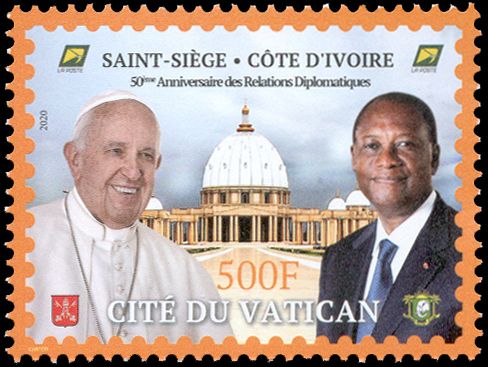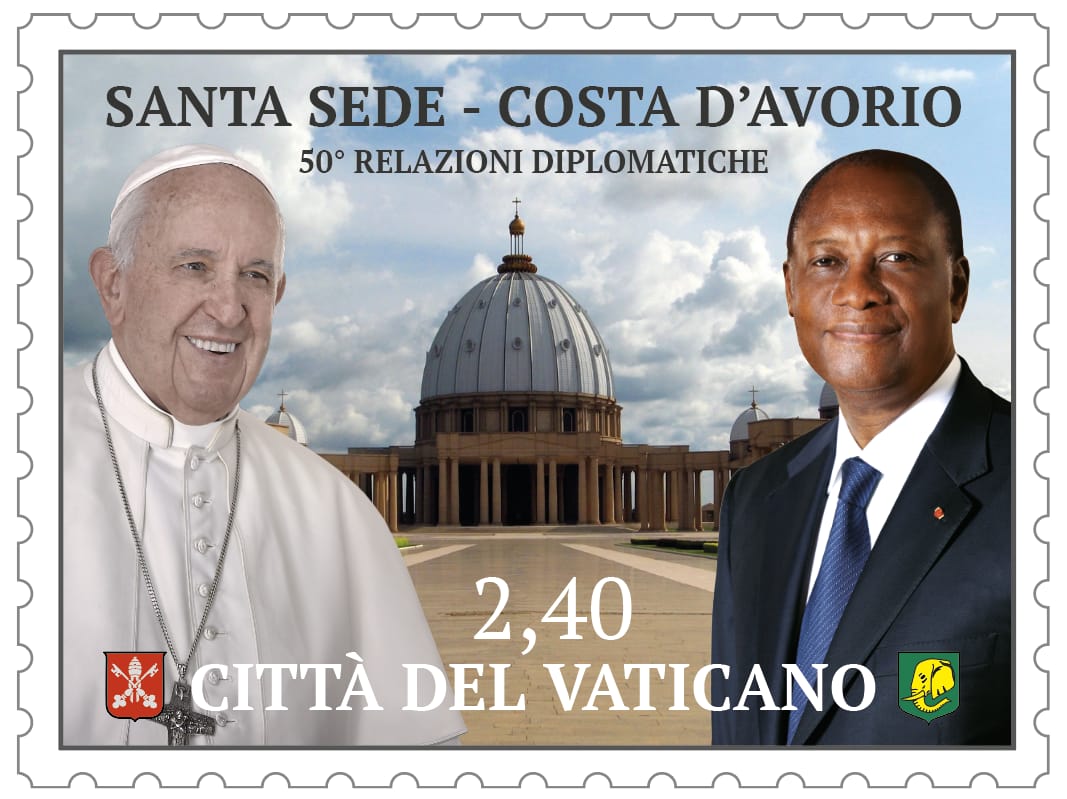 On October 16, 2020, the Vatican State will also issue a stamp at the occasion of the 100th birthday of Pope John-Paul II, in collaboration with Poland. Vatican will issue a miniature sheet of 6 stamps and two times three different labels. More to come.
Finally, the Catalogue Supplement XIV - 2020 is available. Sorry for all this delay. The document was ready by early March, but printing became complicated in this period of pandemic and in particular in Italy. Enzo Cafaro made his best to have the document ready. Unfortunately, this still took almost 5 additional months. For those who want to buy it directly, please contact Enzo through his web site www.stampsonline.it where you will find all details (actually, presently the images are not updated but prices remain unchanged). In the worst case, just send a mail to Enzo Cafaro at cafaroenzo@libero.it.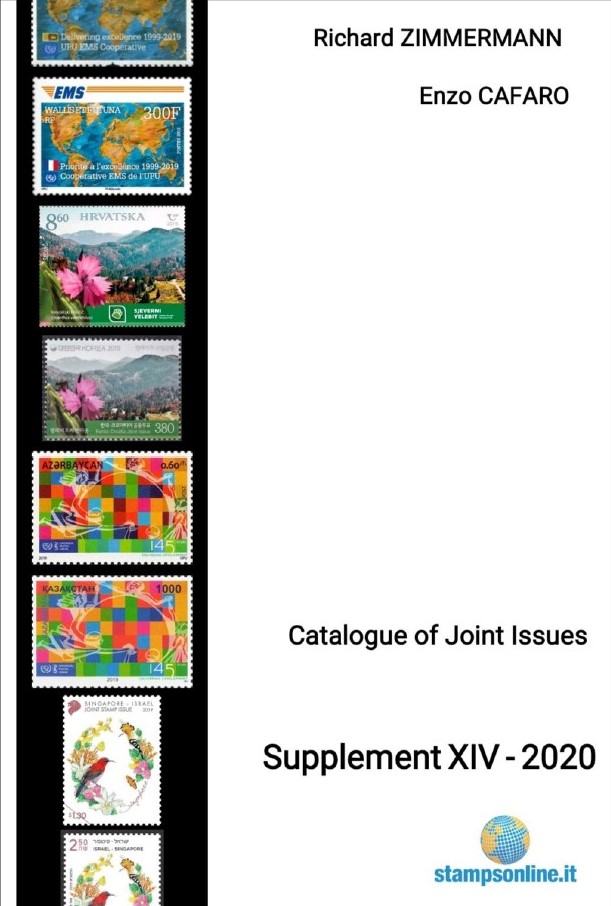 In March 2018, the postal service of Zambia released two stamps which took the form of the first 2010 SAPOA FIFA K4050 Namibia flag stamp with a K4.05 or K5.00 surcharge applied [S20100409]. The non-overprinted stamp is part of the original joint issue and these two stamps will just be mentionned in this entry, together with the original joint issue, but cannot be considered as joint itself.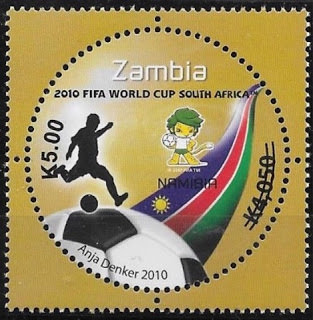 Kazem Alamdari from Iran discovered a series of new Covid issued recently and apparently printed on fabric and not paper. Countries involved so far include Burkina Faso, Burundi, Djibouti, Guinea Bissau, Mali, Niger and Sao Tome and Principe. Like former larger series of COVID stamps issued in the past months, there is no evidence that these stamps have been produced with the approval of the countries printed on the stamps. Before taking them in account, we need to collect more information. Any additional data is welcome.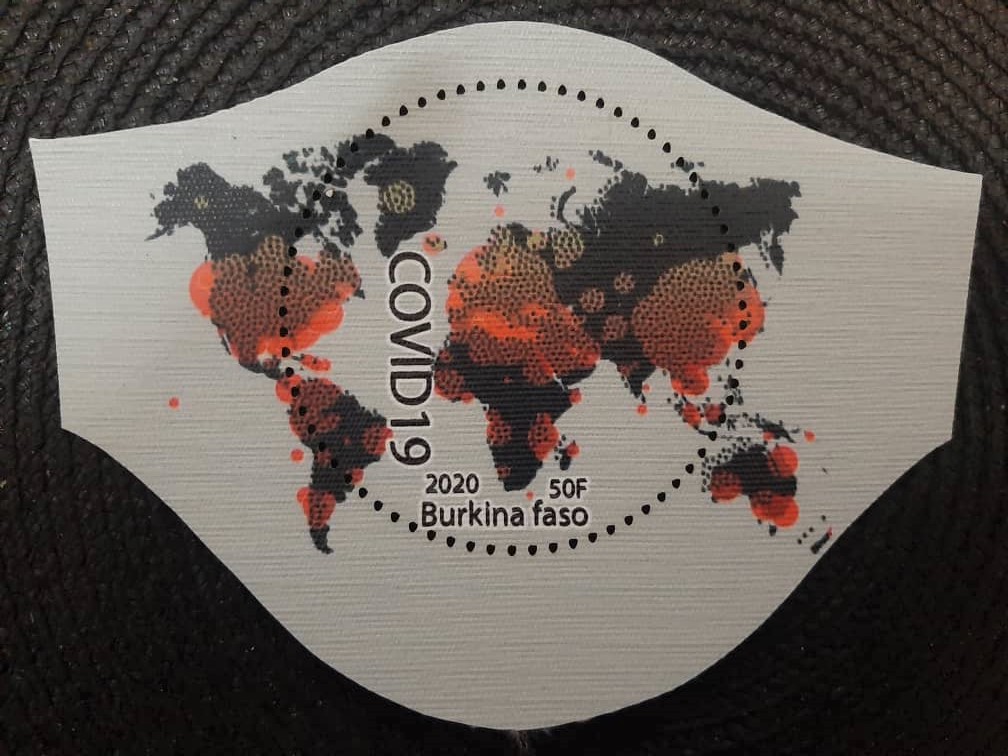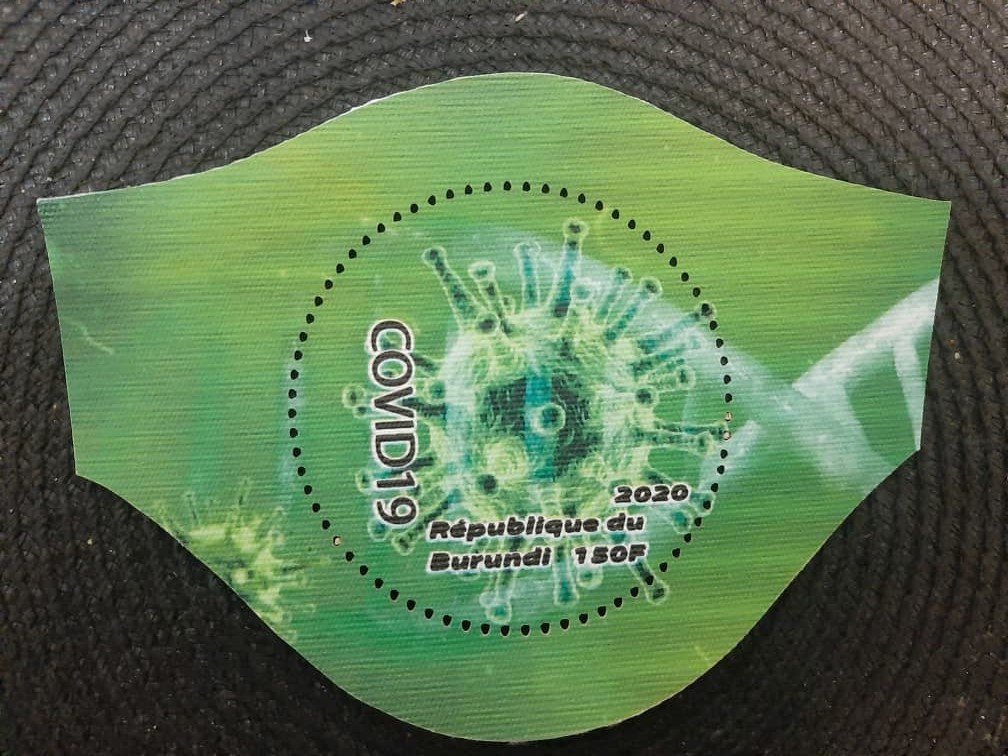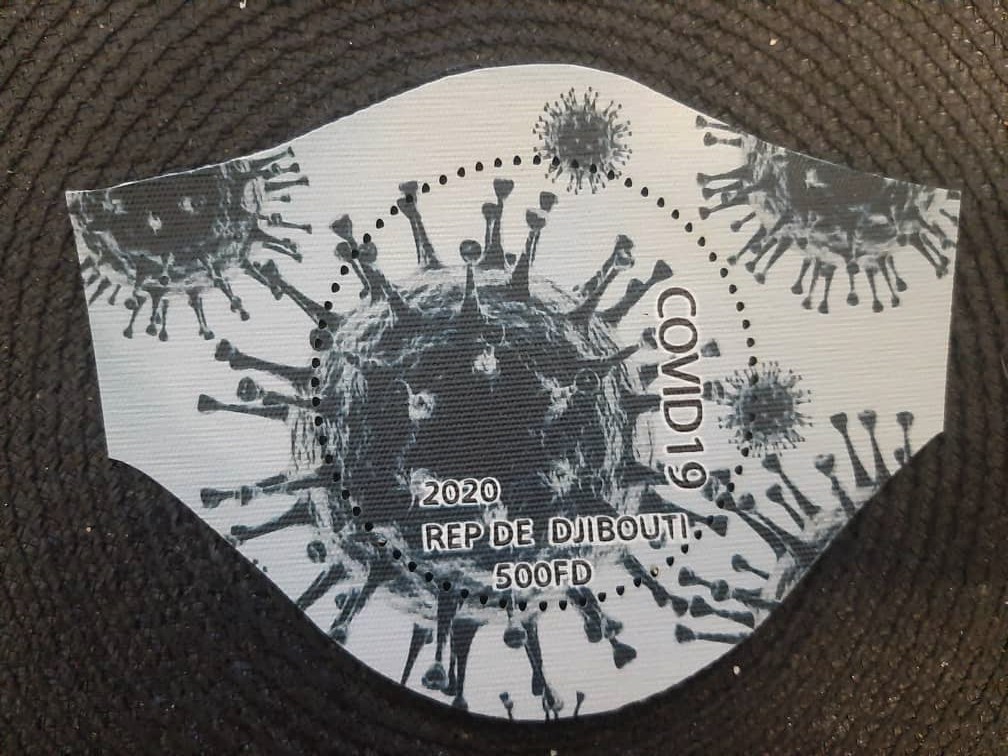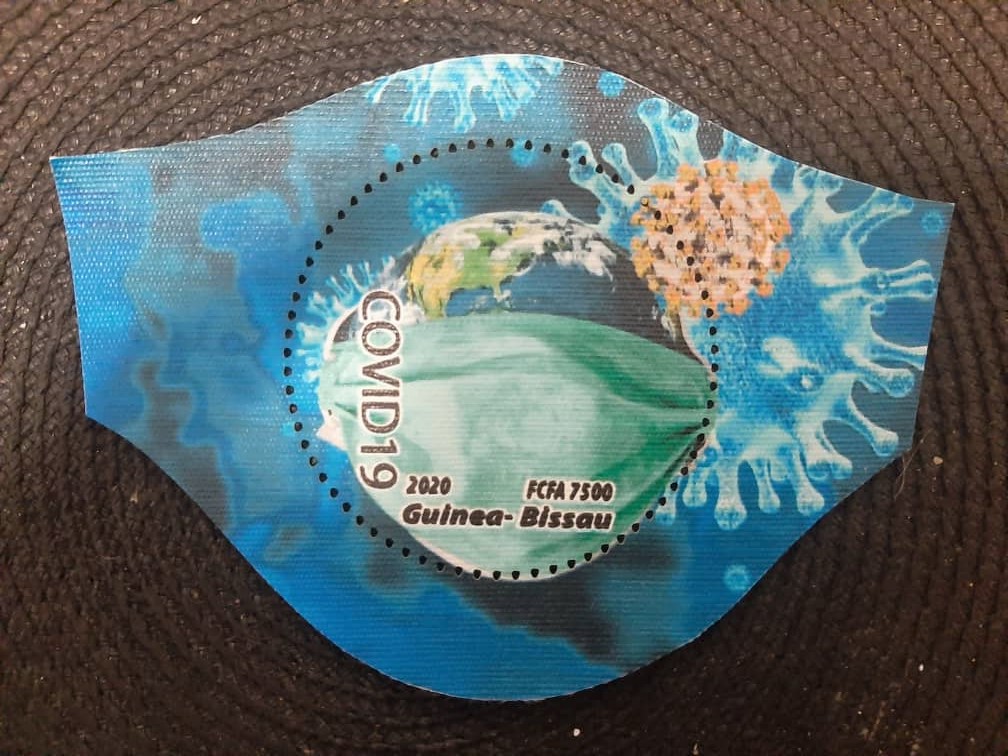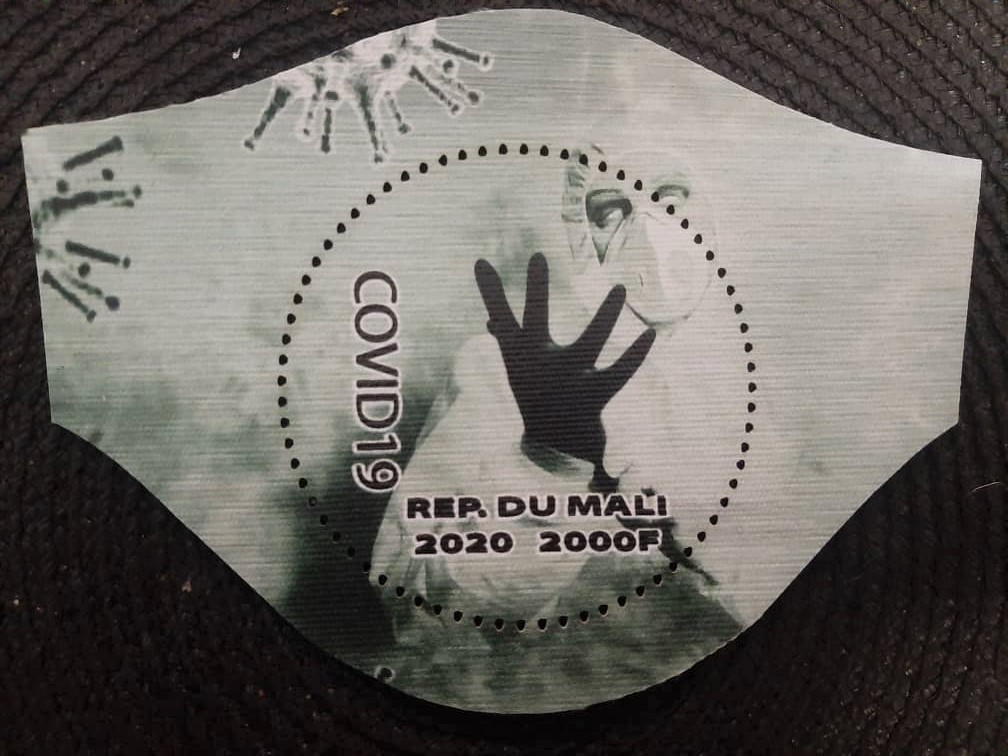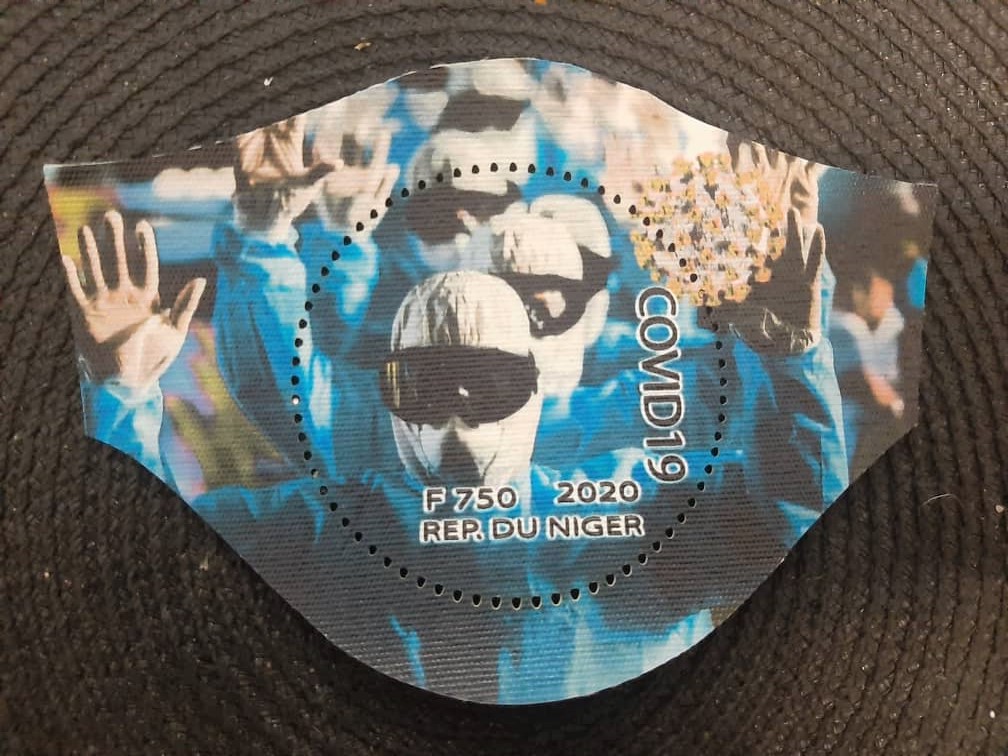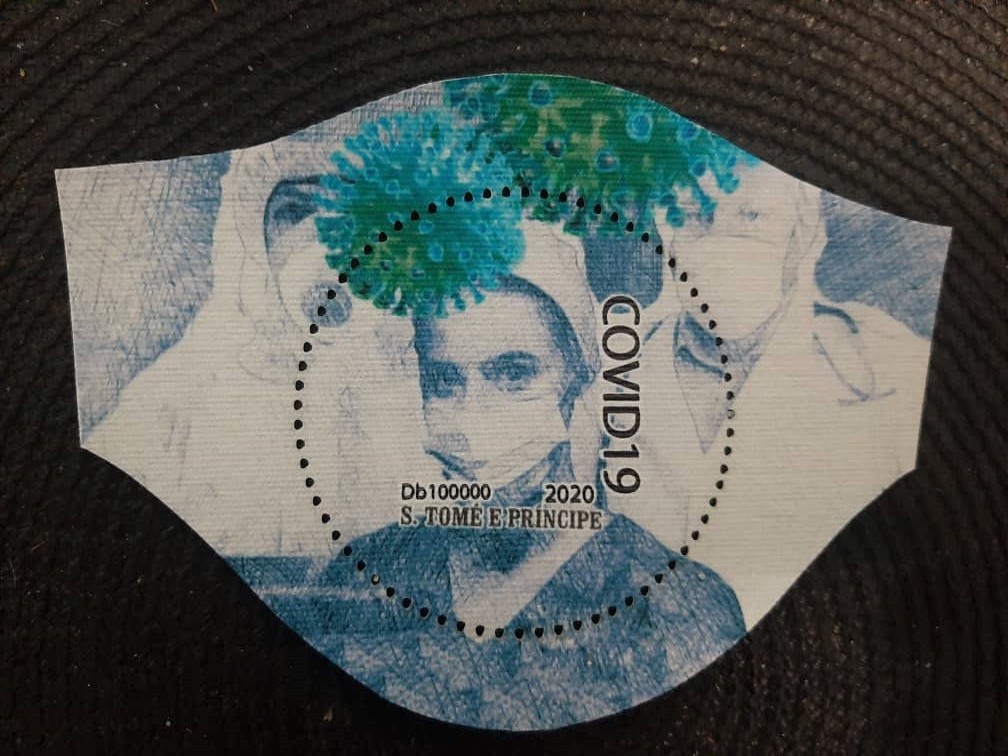 Enzo Cafaro (Italy) found also a series of stamps that cannot be condidered as joint. they are mentionned and depicted here to avoid any further questions. This series involving the Gambia, Marshall Islands and Tuvalu and produced by IGPC may be uncomplete.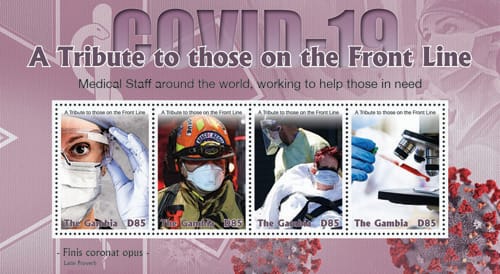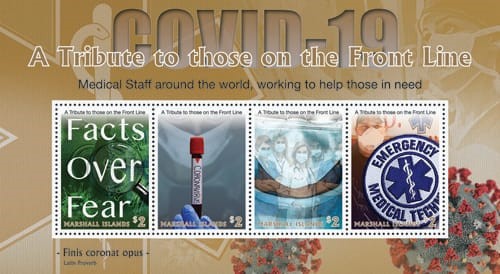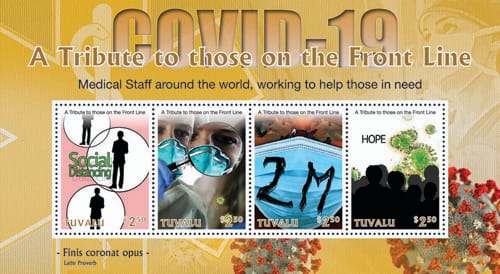 ---
August 22, 2020
Information collected over the past three weeks:
Vojtech Jankovic and Rudolf Sulej (Slovakia) published a text on line entitled "Slovak, Czech and Czechoslovak stamp: The complex story of the joint issue Environmental Sustainability ACT NOW during the coronavirus pandemic COVID-19" in which they describe the present situation of the joint issue supposed to be released during Milanofil 2020 fair in March 2020. This text was published on June 23, 2020 and updated on July 17, 2020. In summary, the following stamps have been issued so far: Slovakia (March 27, 2020; one stamp type B - cyclist - in panes of 30 stamps [6x5] and a souvenir sheet with one stamp and the nine other types of stamps as label), Croatia (March 27, 2020; one stamp type B with one label type K in panes of 10 stamps and 10 labels [2(1+l)x5], United Nations (New York) (March 27, 2020; 10 different stamps (A-J) with same label (K) issued in a miniature sheet containing the 10 stamps), San Marino (stamp available only by end of May, due to the pandemic, but with first day cancellation of March 26, 2020; a souvenir sheet with one stamp of type B and the nine other types of stamps as label), Belarus (not issued yet, but design published, Type B - cyclist - to be released in September, providing Milanofil takes place during this month; one stamp in sheetlets [3x3] of 8 stamps and a central label), Italy (remains planned, without details).
Among the non-official (or even illegal ones) one has to count Estonia (10 different stamps A-J, available on March 27, 2020; to be considered as non official, personalized stamps), Russia, private post Peter's Post (2 miniature sheets with 10 stamps A-J each, one expressed in Russian rubles, the other one in Euros; also not to be considered as part of the joint issue). There is more to come as countries such as Albania, Armenia, Azerbaijan, Kyrgyzstan, Malta, SMOM and the Vatican State, had initially claimed they would participate. So we will have to wait until Milanofil takes really place (September is not anymore realistic as no announcement was made recently) or until these countries release stamps without connection to the fair, like Slovakia, I.e. based on stamps they had probably already printed prior to March.
Among all the stamps listed above, the San Marino sheetlet has not been shown so far. Here it is: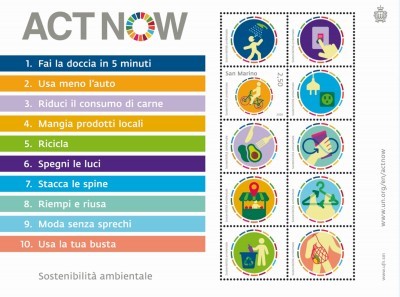 Additional information about the common COVID issue was provided by Nedjmeddine Boudaren (Algeria). Senegal issued also a booklet of 10 stamps (face value 500F and not 1000F as in the regular sheets of 25 stamps) The Senegal stamp from the souvenir sheet does have a denomination of 5000F. Djibouti issued also a souvenir with the same title in the stamp "Merci au personnel de première ligne" (thanks to the first line staff) , but not with the common design.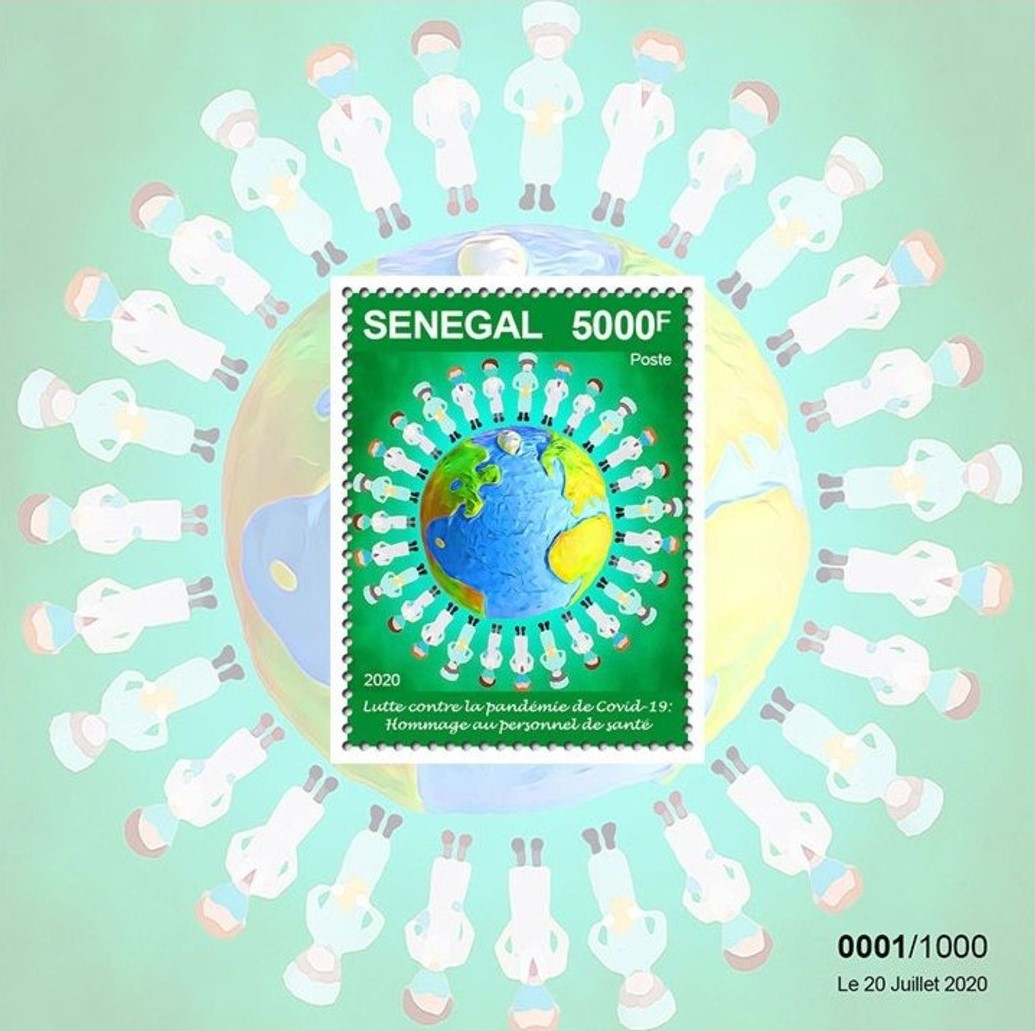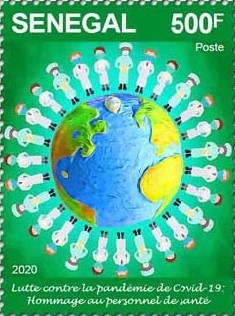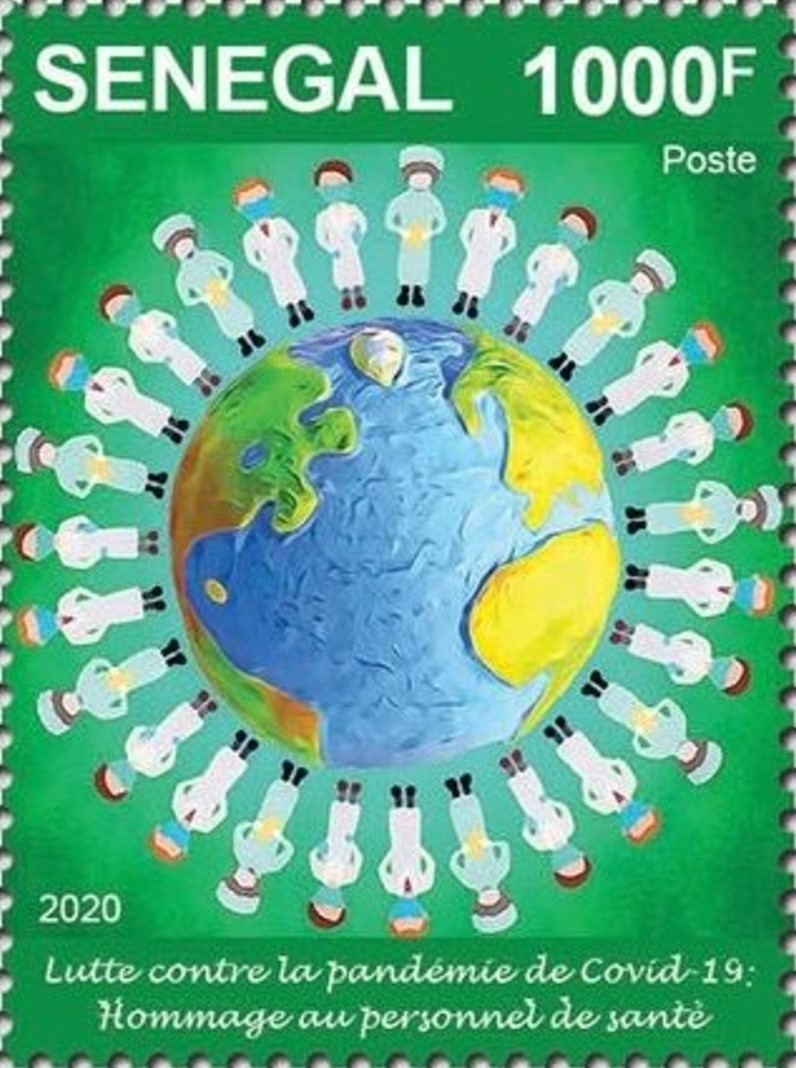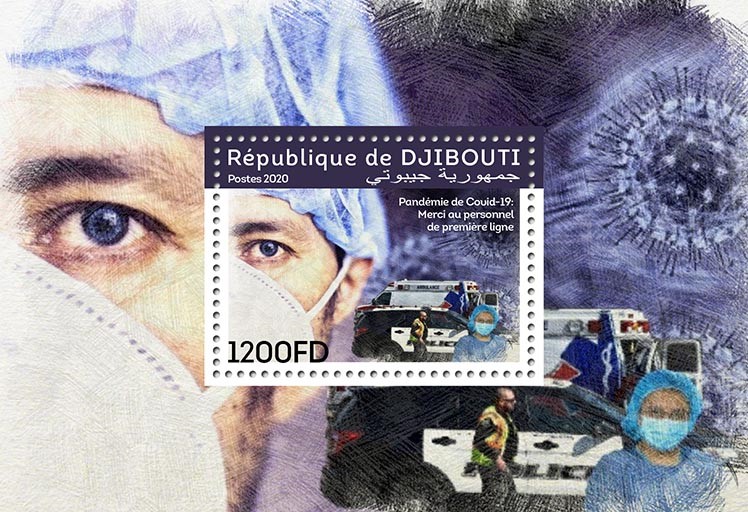 Don Birschel (USA) collected all information about the common stamps issued by the Arab League countries at the occasion of the 75th anniversary of this institution. So far the following countries have issues stamps: Egypt (March 22, 2020), Jordan (July 21, [5x2]), Oman (March 22, [6x1]), UAE (June 9, [4x1]). The Arab League includes 22 states and the following countries could also participate to this issue: Algeria - Bahrain - Comoros - Djibouti - Iraq - Kuwait - Lebanon - Libya - Mauritania - Morocco - Palestine - Qatar - Saudi Arabia - Somalia - Sudan - Syria - Tunisia - Yemen.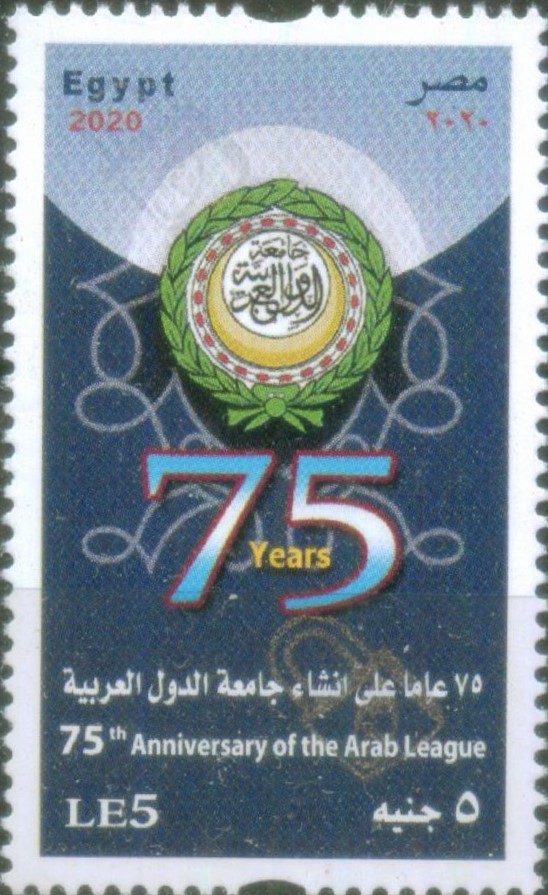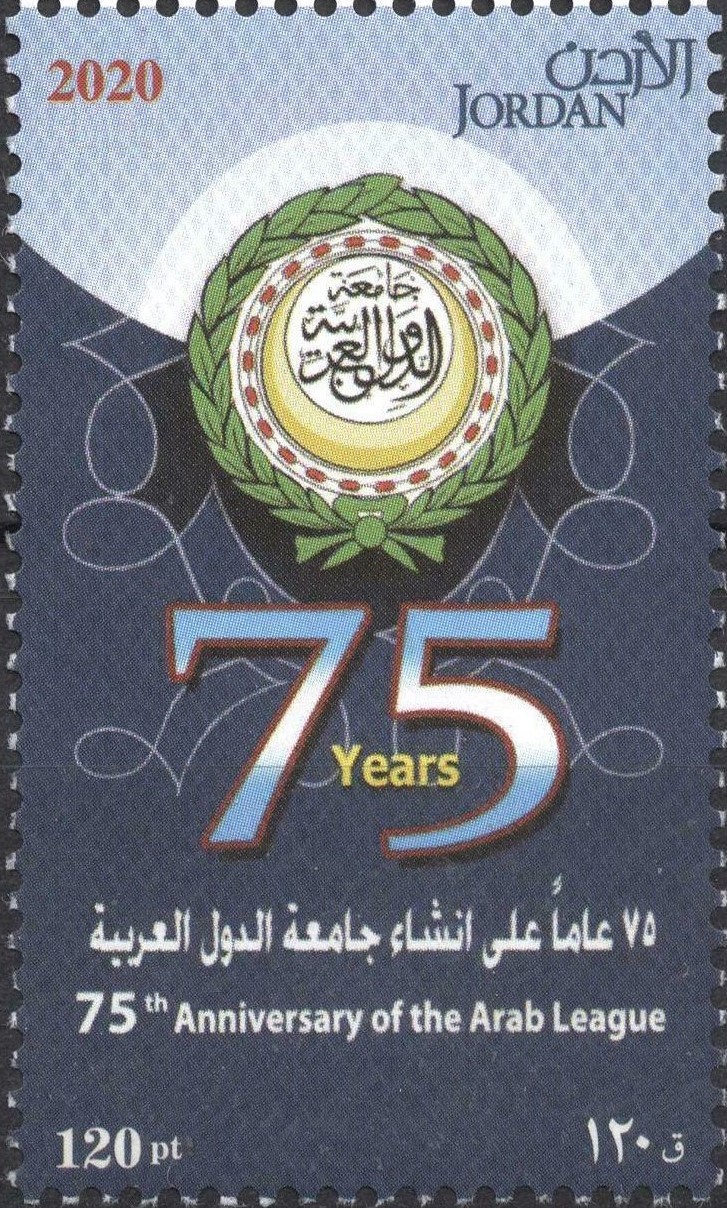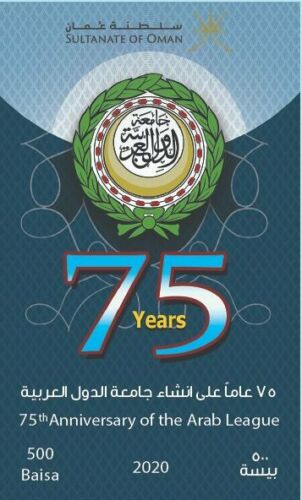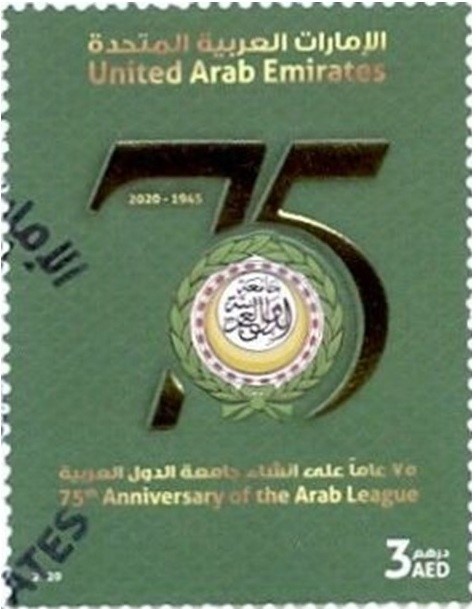 Lithuania and Poland celebrated the 500th anniversary of the birth of Sigismund II Agustus Grand Duke of Lithuania and King of Poland with a joint stamp released on August 1, 2020 (information provided by Don Birschel, USA).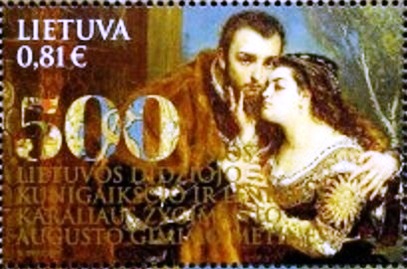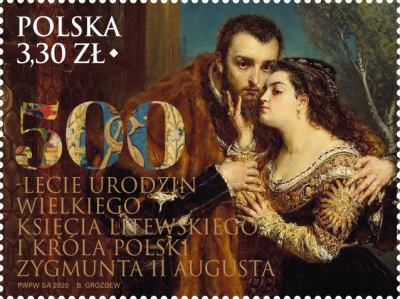 Don Birschel (USA) found also the following Bangladesh - Bhutan joint issue released at the occasion of the "Birth Centenary of the Father of the Nation Bangabandhu Sheikh Mujibur Rahman" on March 17, 2020.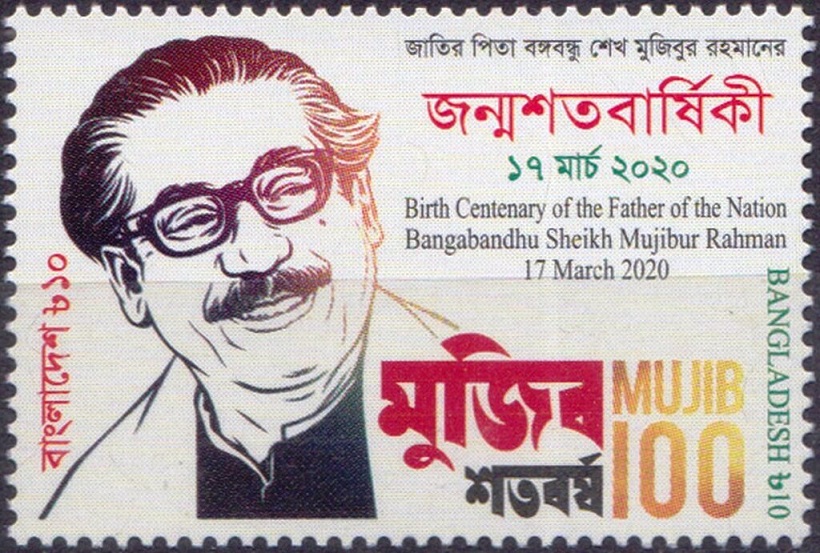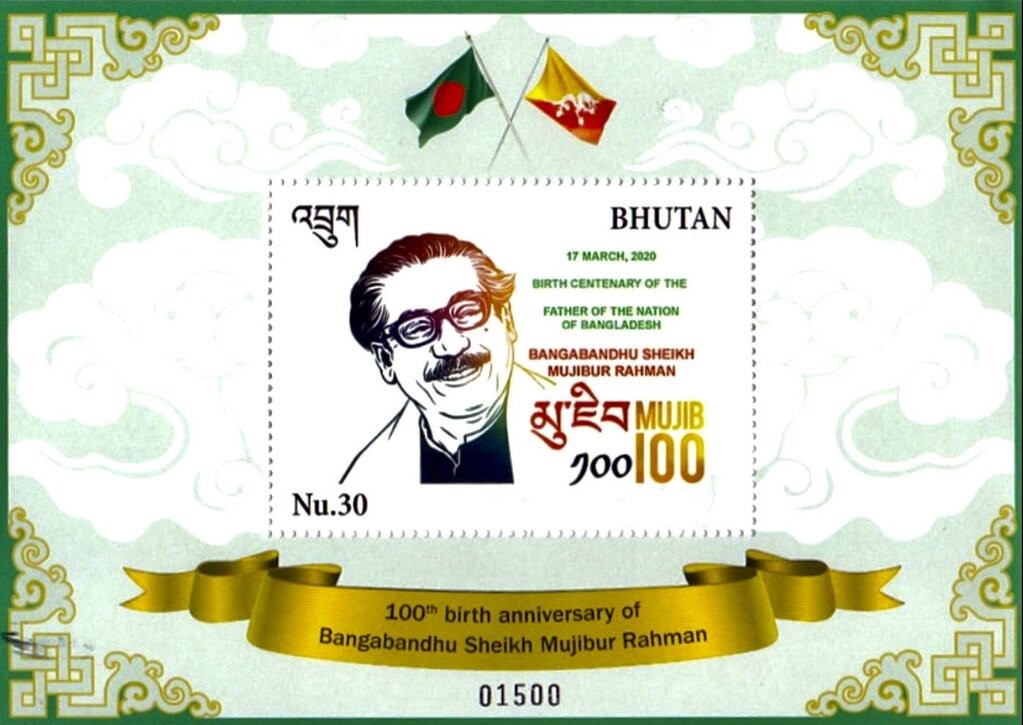 Surprisingly, Nigeria issued on August 17, 2020, a souvenir sheet (available as perforated and non-perforated) dedicated to the same politician, and based on the same design. At this stage there is no information available to confirm that this stamp is part of the joint issue (information provided by Nedjmeddine Boudaren, Algeria).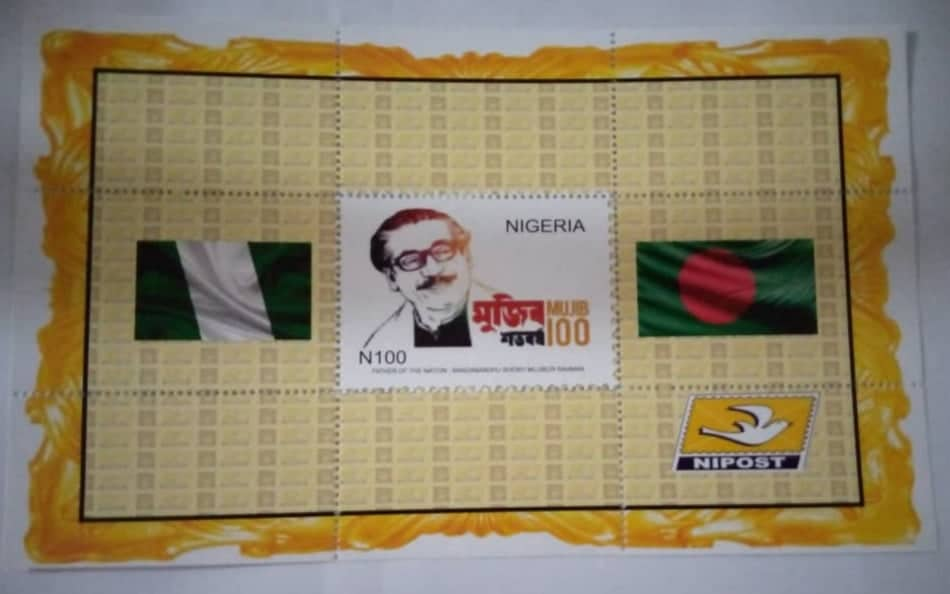 On August 11, 2020, UNPA issued stamps to support the COVID Solidarity Response Fund organized by WHO. A surcharge of 50 cents for the New York denominations, CHF 0,50 for the Geneva values and € 0,50 for the Vienna values has been added to each stamp of a same miniature sheet, creating a se-tenant joint issue. These surplus funds will go directly to supporting COVID suppression efforts (information provided by Bernard Quirin, France). Unfortunately, as the three participating entities are closely linked together and not independent, this issue must be considered as a territorial issue [SD], but will be reported in the catalogue.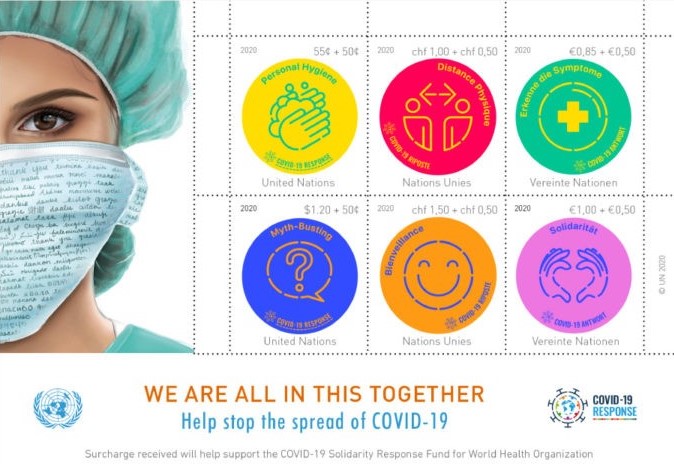 Among the privately produced issued and following the earlier "Prisma" Indonesia discussion, Nedjmeddine reported also about stamps presently on sale at Delcampe related to the October 9, 2001 Dialogue among civilizations twin issue. The design of this stamp became available in 2020 (exact date or even year of issue is unknown) in form of a sheetlet of 6 stamps bearing the Prisma logo and the figure of the year 2001. The centering of the stamps is of poor quality, even printed upside down and the denomination is also different. Size has been adapted to the Prisma sheetlet frame. Also, original stamps were printed tête-bêche. These privately produced 2020 stamps are definitely not to be accounted as part of the joint issue series. Here are some pictures also compared to the original Indonesia stamps from 2001.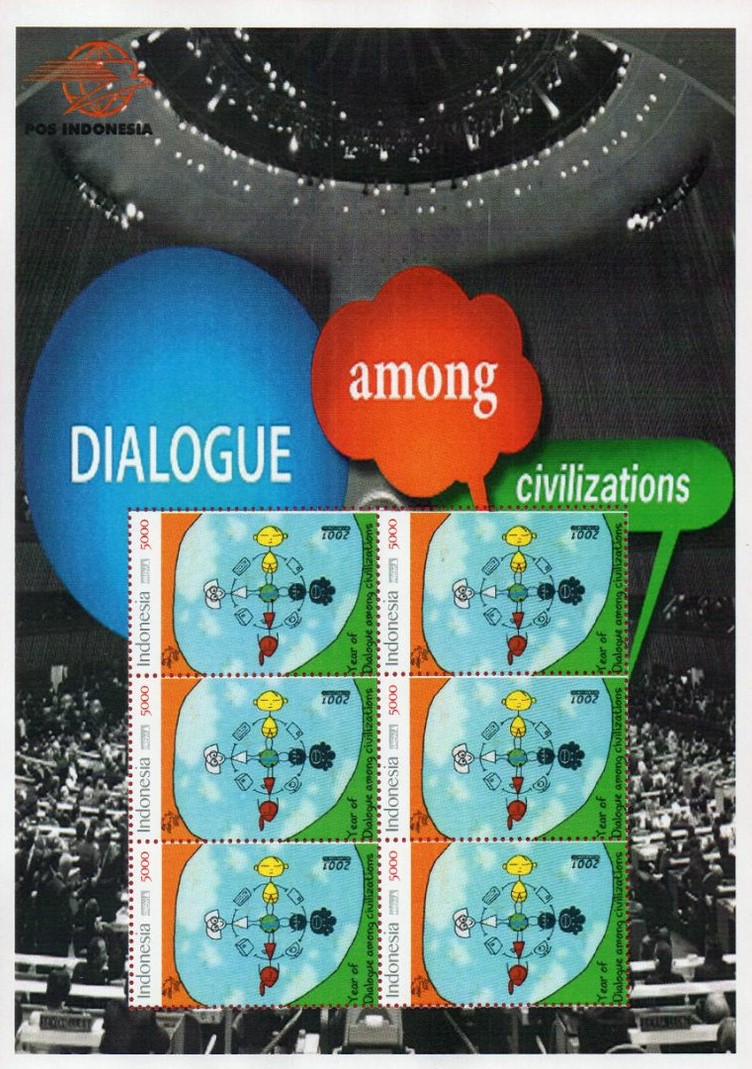 Adityatama R Hafizhan (Indonesia) provided also some additional explanations about the Indonesia "Prisma" stamps. Stamps bearing the "Prisma" logo are not necessarily custom made stamps. In Indonesia, every regular issued stamp needs to be approved by the Ministry of Communication and Information Technology. Joint issue stamps are a result of good coordination between issuing countries, and a delay, consequence of the time needed to get this authorization, means that the plan to issuing stamps jointly are at risk of cancellation. So, sometimes, to remain in the approved time frame, some promoters of those stamps use the "Prisma" custom logo on normal issues because these "Prisma" stamps have no need to be approved by the Ministry. Examples of these include the UPU 145 joint issue and the Indonesia-PR China joint issue on commemorating 70 years of diplomatic relations. These stamps bearing the "Prisma" logo, formally are custom stamps, but are considered as regular issues.
The Indonesia stamps illustrated below werre issued on April 13, 2020, but no Chinese counterpart was found.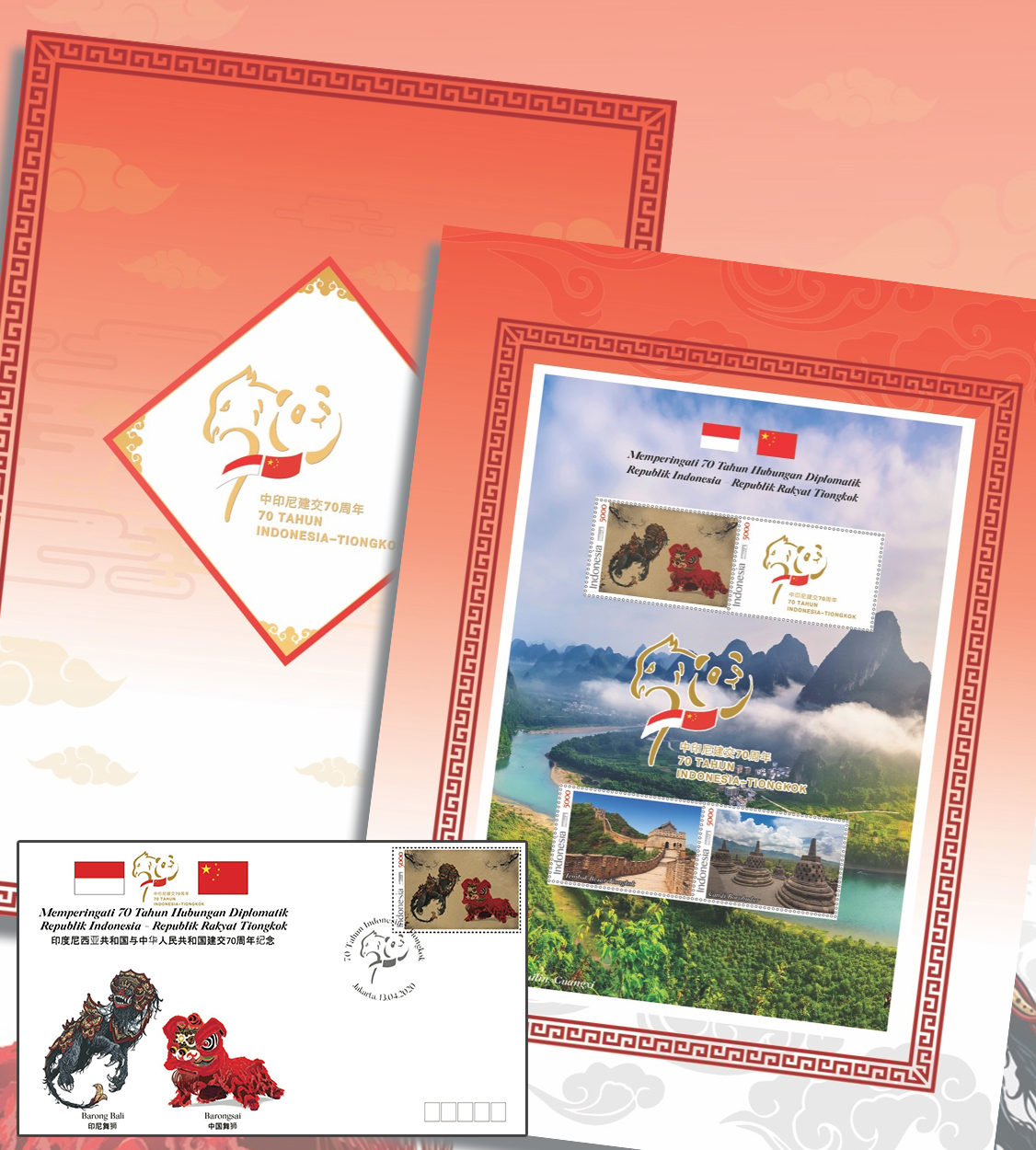 ---
July 27, 2020
Several topics from the previous post triggered interest from collectors:
Adityatama R. Hafizhan from Indonesia, Nedjmeddine Boudaren from Algeria and Kenneth Sequeira from Dubai, provided all three the same explanation about the COVID-19 Indonesia stamps bearing the mention United Arab Emirates discovered by Don Birschel, USA. These are definitely not joint issues and simply personalized stamps produced by the Indonesia Post. Apparently Indonesia accepts any type of topic and Adityatama provided some other examples of Indonesia stamps illustrated with topics related to Azerbaijan. In particular, this specific UAE-related miniature sheet was ordered by the Emirates Philatelic Association (EPA) and produced at 1,000 samples. These stamps are not listed in the official Indonesia philatelic program, but can be used on mails sent from Indonesia. All these custom-made stamps are characterized by the small Prisma logo next to the Indonesia word. Thanks all of you for this information.
Don Birschel found the first stamp illustrated with the International Day of Family Remittance (IDFR) 2020 campaign with the "Building resilience in times of crisis" design proposed by UPU. Bulgaria issued one stamp on July 16, 2020, not the recommended day of issue of June 16, 2020. We have no other example to show so far.

Several collectors provided information about the 2020 Euromed issue (Jeff Courtright, USA - Don Birschel, USA - Cesar Ittmann, The Netherlands). So far the following countries have issued stamps: Croatia (July 13, 2020) - Cyprus (July 9) - France (July 10) - Greece (July 20) - Lebanon (July 17) - Malta (July 9) - Morocco (July 13) - Portugal (July 10) - Slovenia (July 9) - Spain (July 13) - Tunisia (July 15) - Turkey (July 13).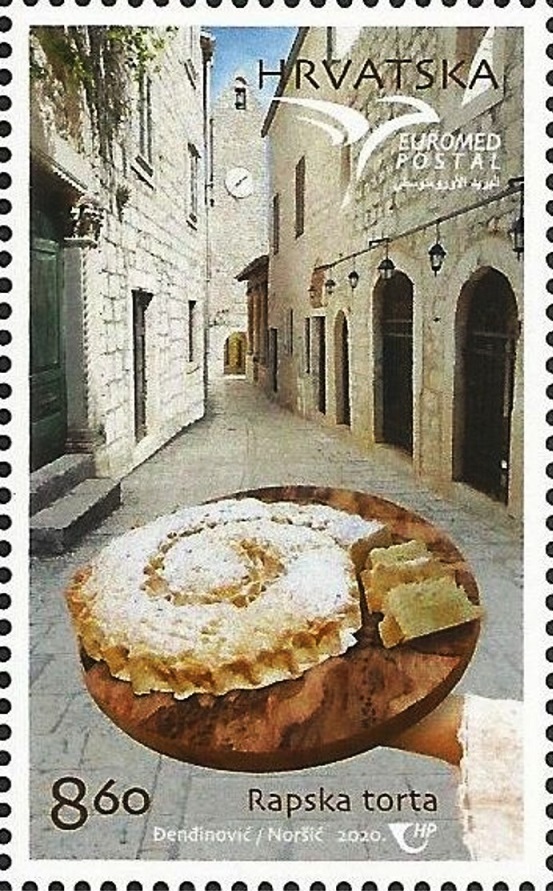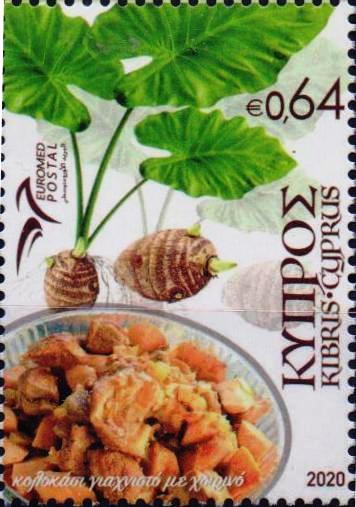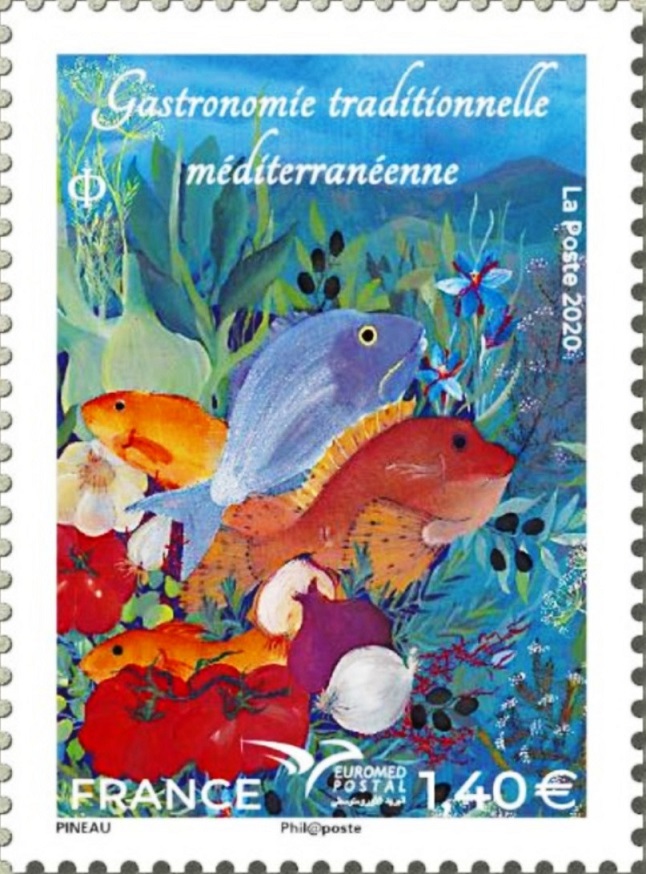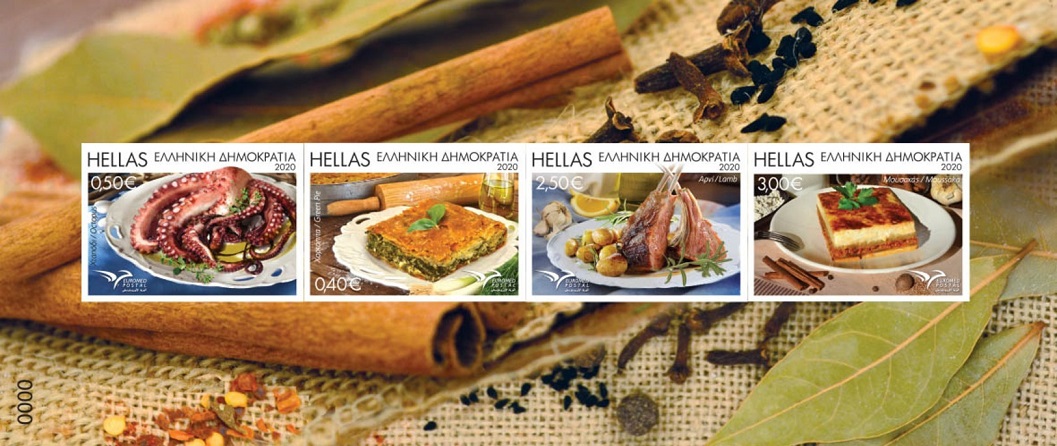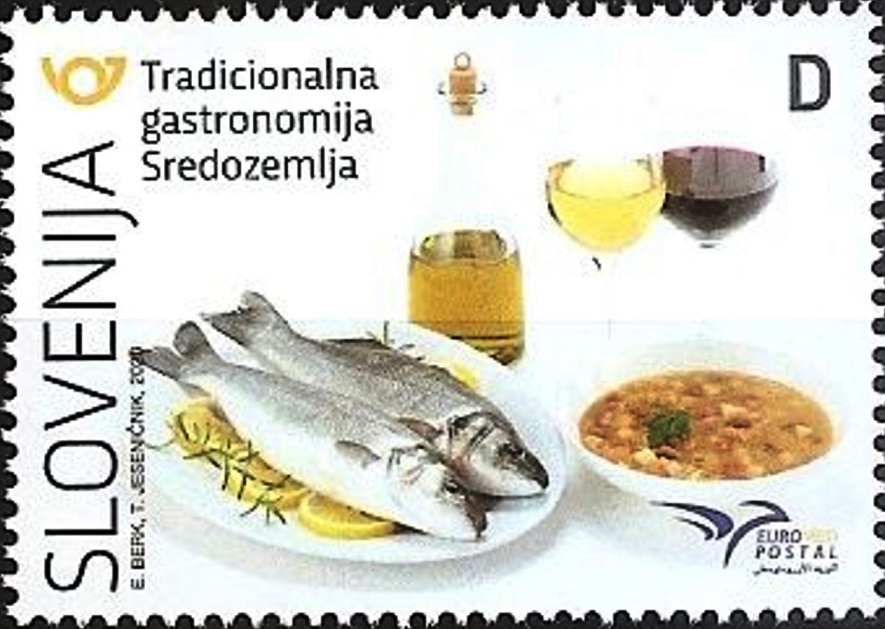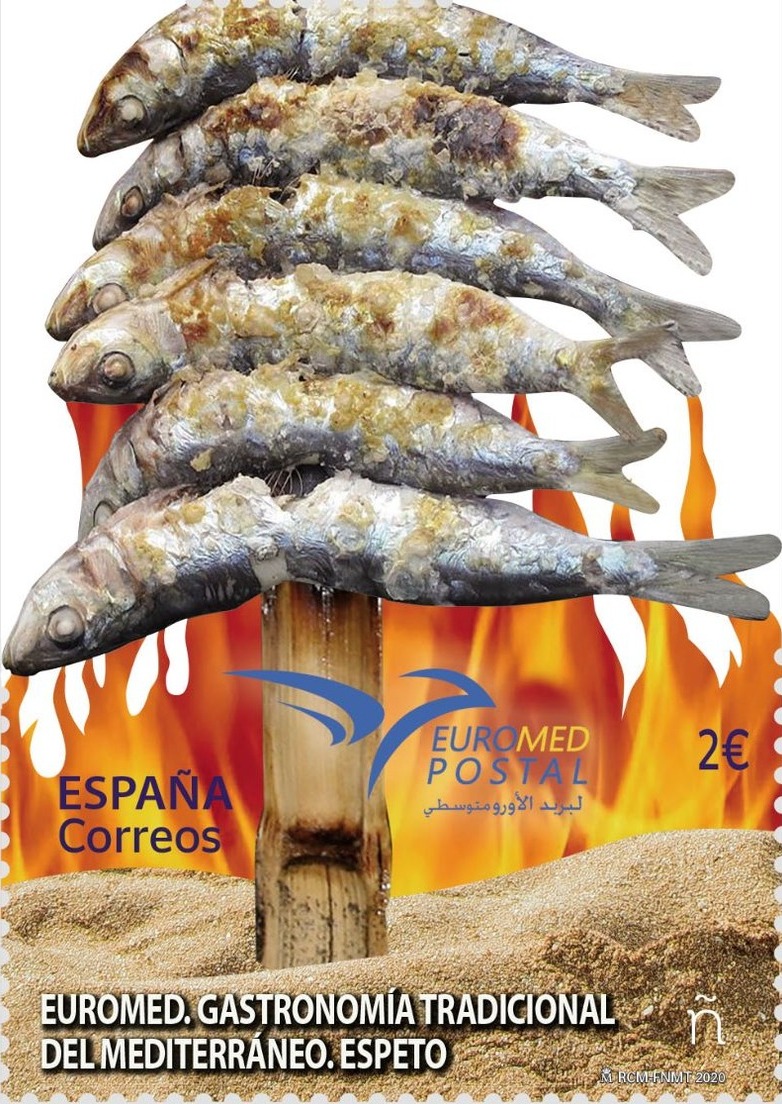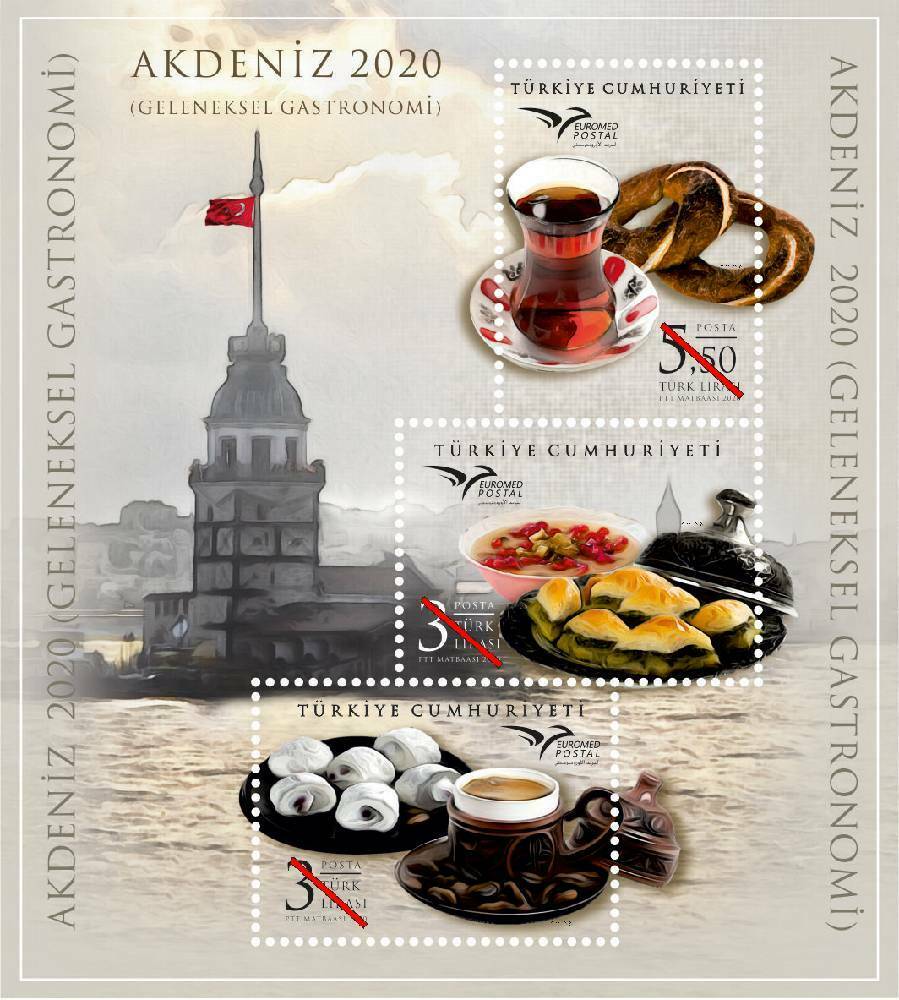 Eric Chan (Hong Kong) reports that Macau issued a reprint series of the Grande Baia Guangdong Hong Kong Macau area ATM stamps, issued originally on September 26, 2019. These identical stamps can be differentiated from the original ones through the mention at the bottom right of the printer with "S251 (1/1) CARTOR REIMP 2020" replacing "S251 (1/1) CARTOR imp. 2019". By looking at details on this stamp, I found an interesting article related to ATM in Macau describing in details this 2019 stamps https://www.ateeme.net/anglesw/amo_2019.htm .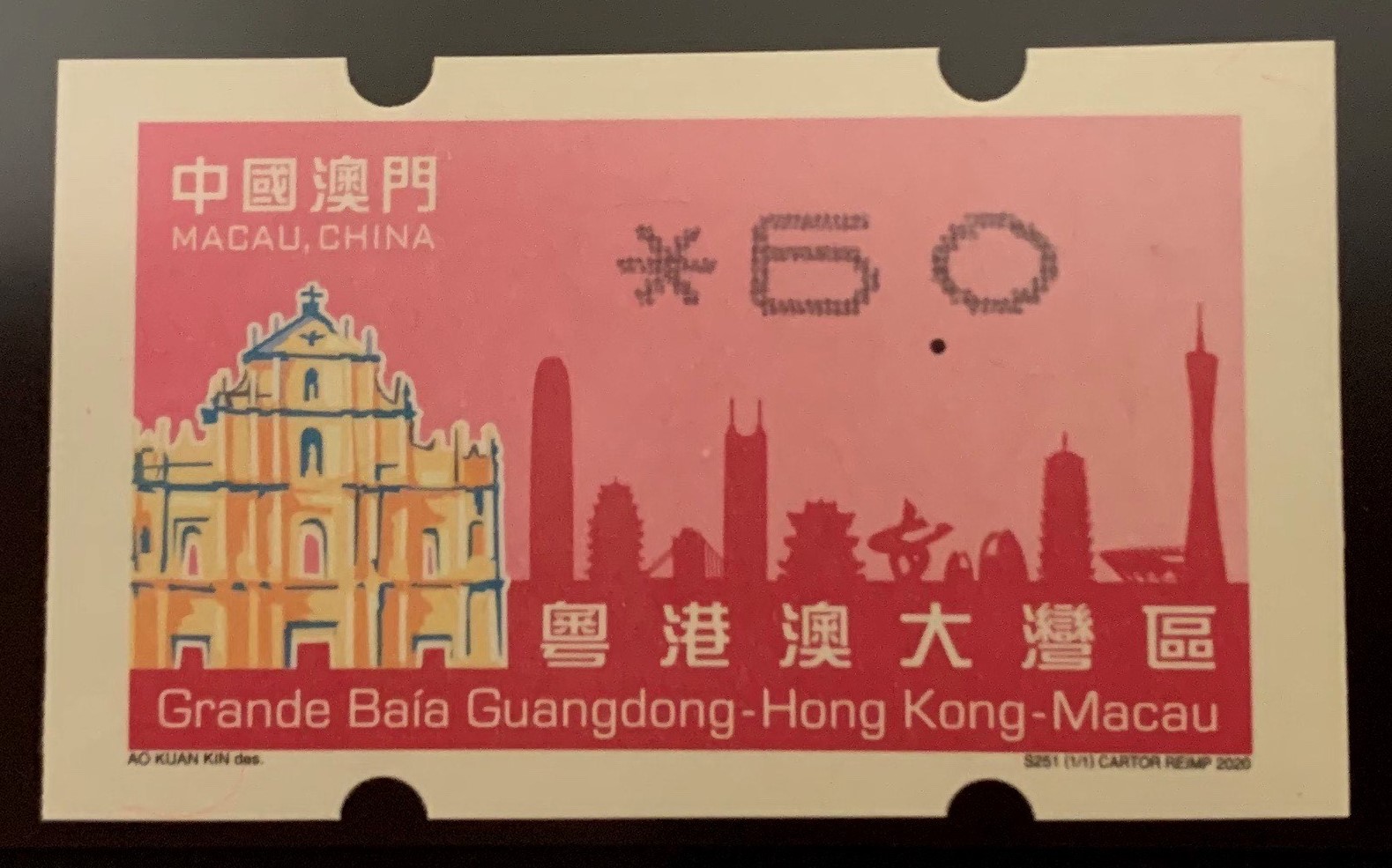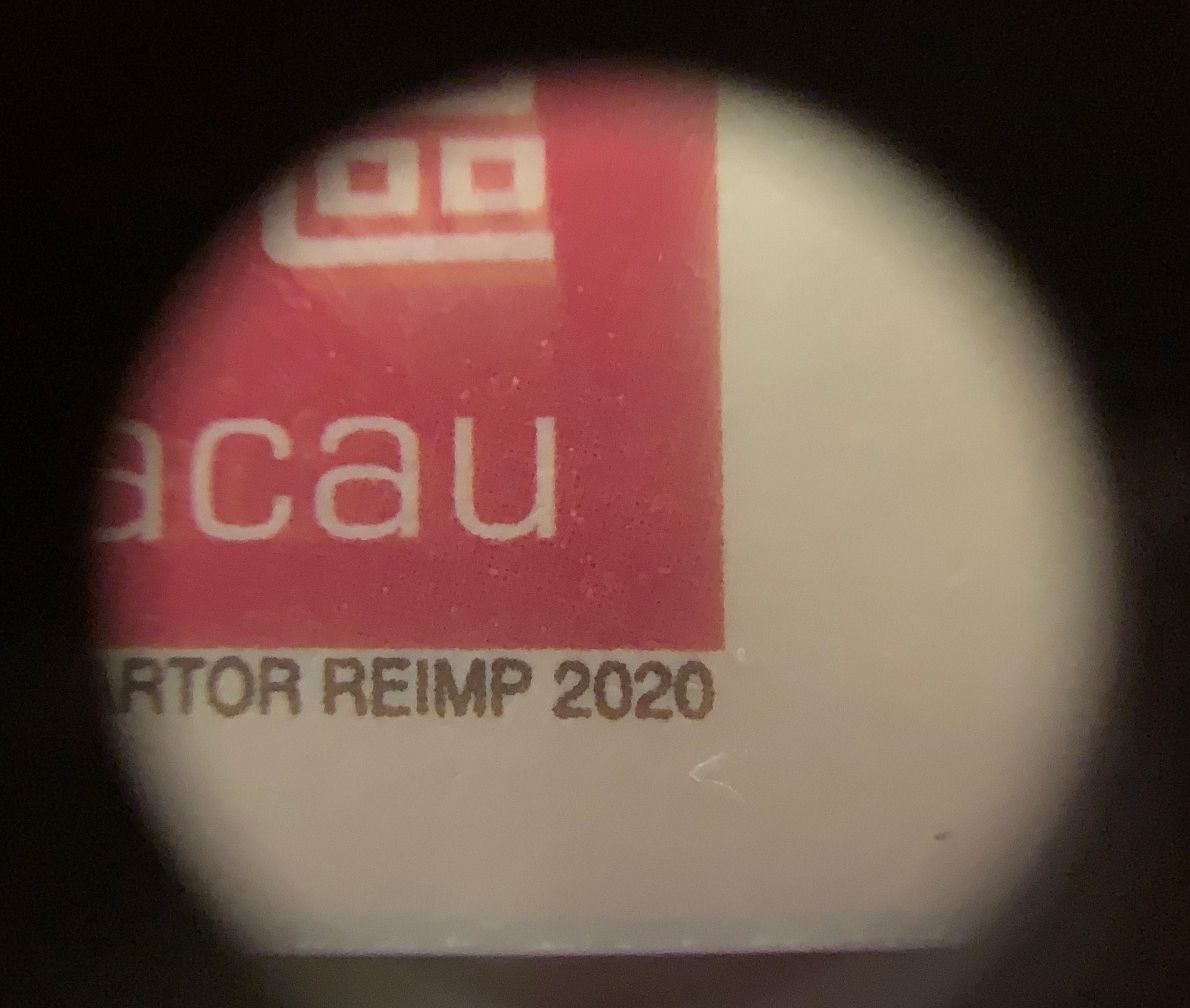 Nedjmeddine Boudaren, Algeria, provided several information about the common (non-fake) COVID issue. Even more recently Ali Ahmed Med Achour, Algeria, completed the information with dates and additional pictures. Known release dates are as follows: Guinea Bissau (April 27, 2020), Central African Republic (April 27), Sao Tome and Principe (June 8), Niger (June 10), Djibouti (June 12), South Sudan, (July 21, 2020). Centrafrica issued stamps in a miniature sheet and a souvenir sheet, as well as a postal card (postal stationery); Guinea Bissau produced as a booklet with 10 stamps and a souvenir sheet; Sao Tome issued a stamp in sheetlets of 9 units [3x3] and a postal card; Niger released a pair of stamps in miniature sheets of 5 pairs available also in booklets and a souvenir sheet with two stamps and QR code: Djibouti produced three se-tenant stamps available in miniature sheets of three strips; South Sudan issued 6 different stamps and a souvenir sheet. Senegal issued also a stamp and a souvenir sheet apparently on July 20, 2020. We are still missing information about Mali (which confirmed they would participate) and Kenya. Participation of Bulgaria is now doubtful, while it is not excluded that other countries may join or be discovered during the next months.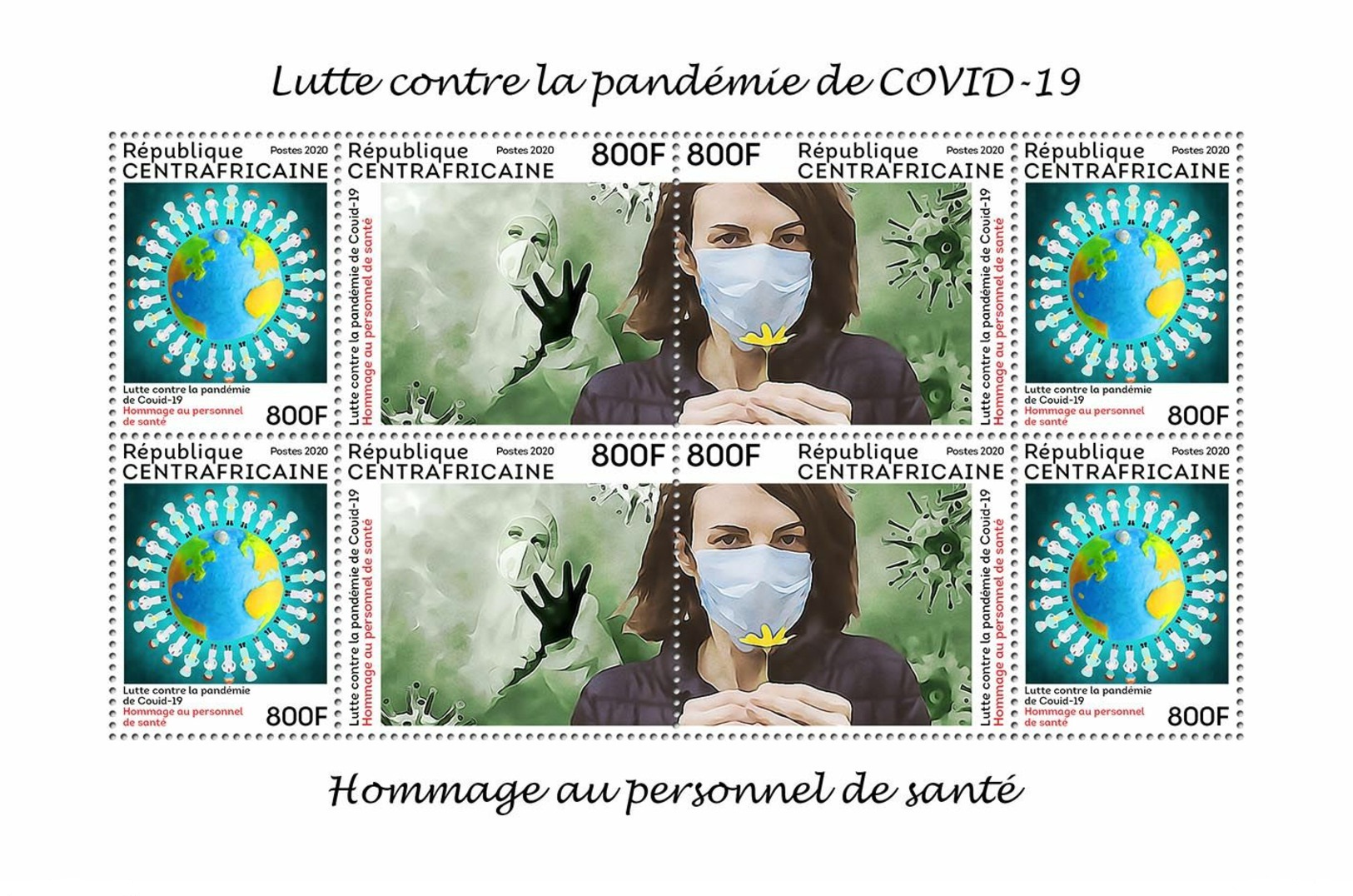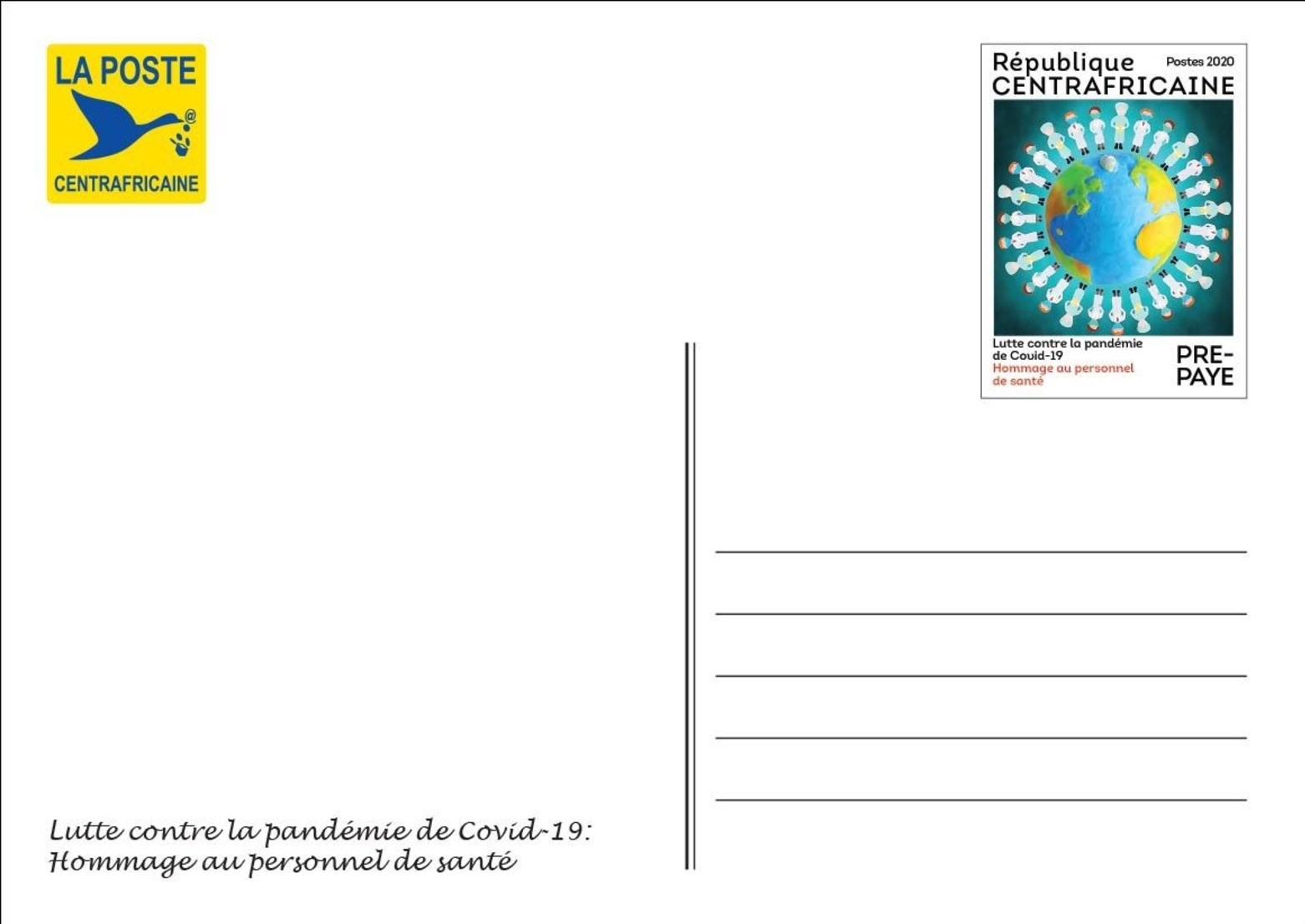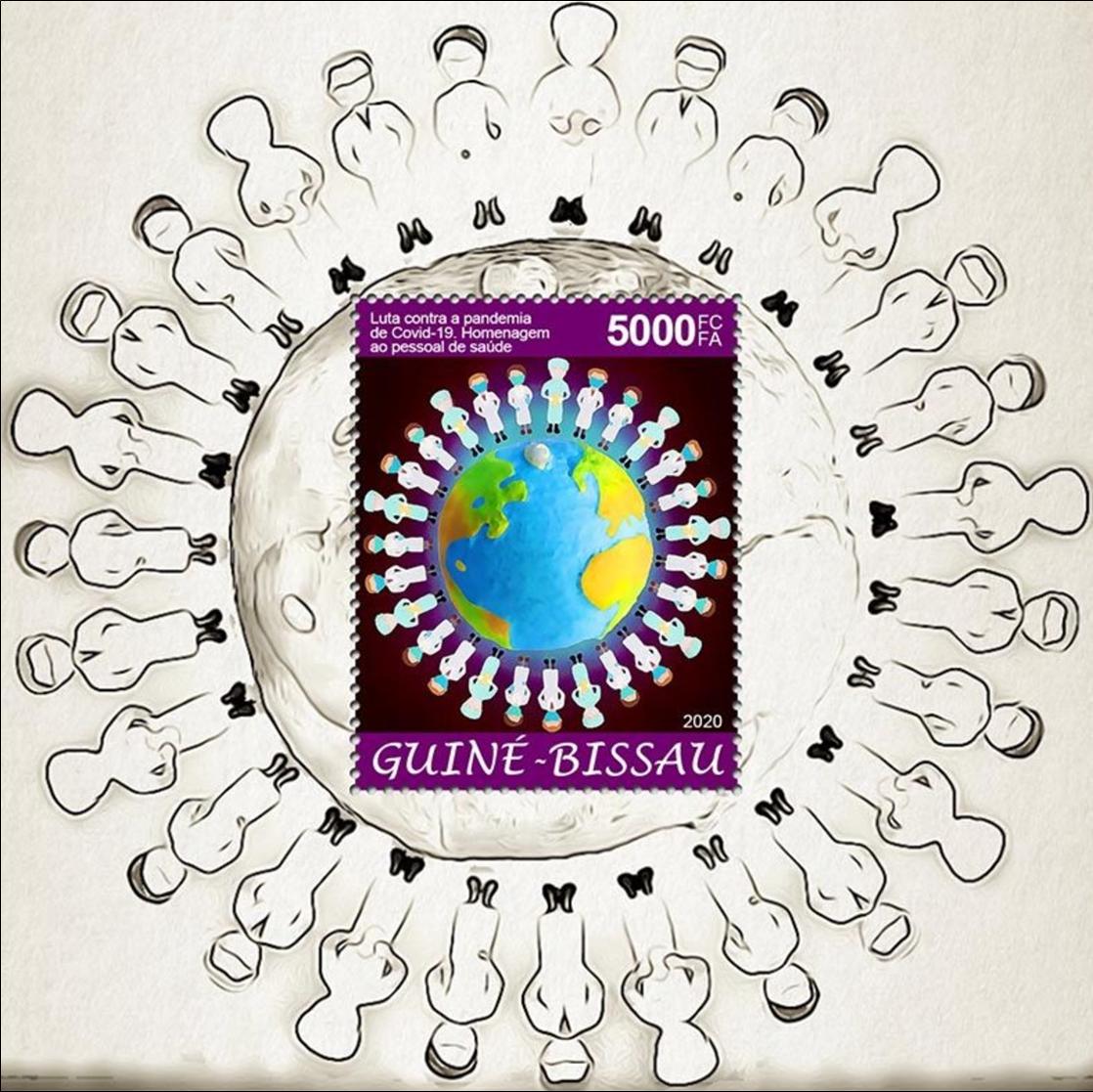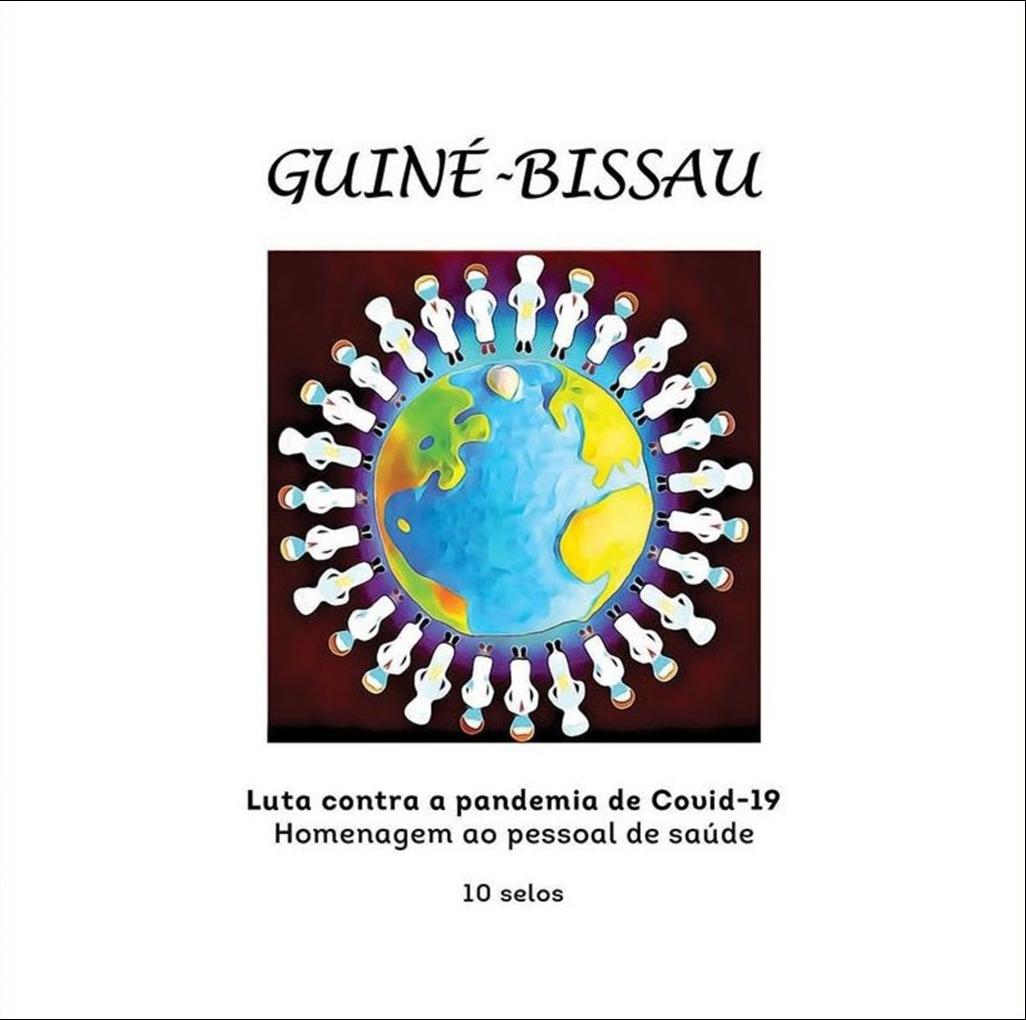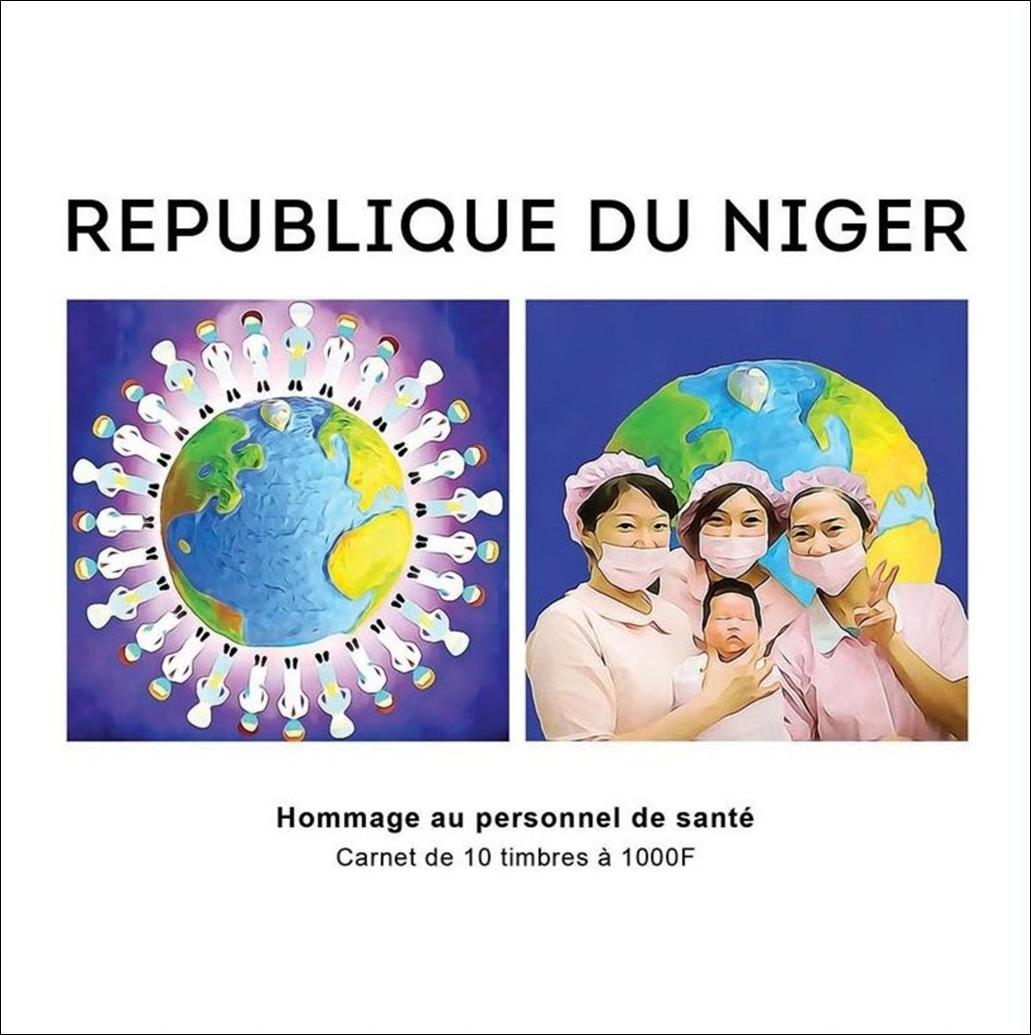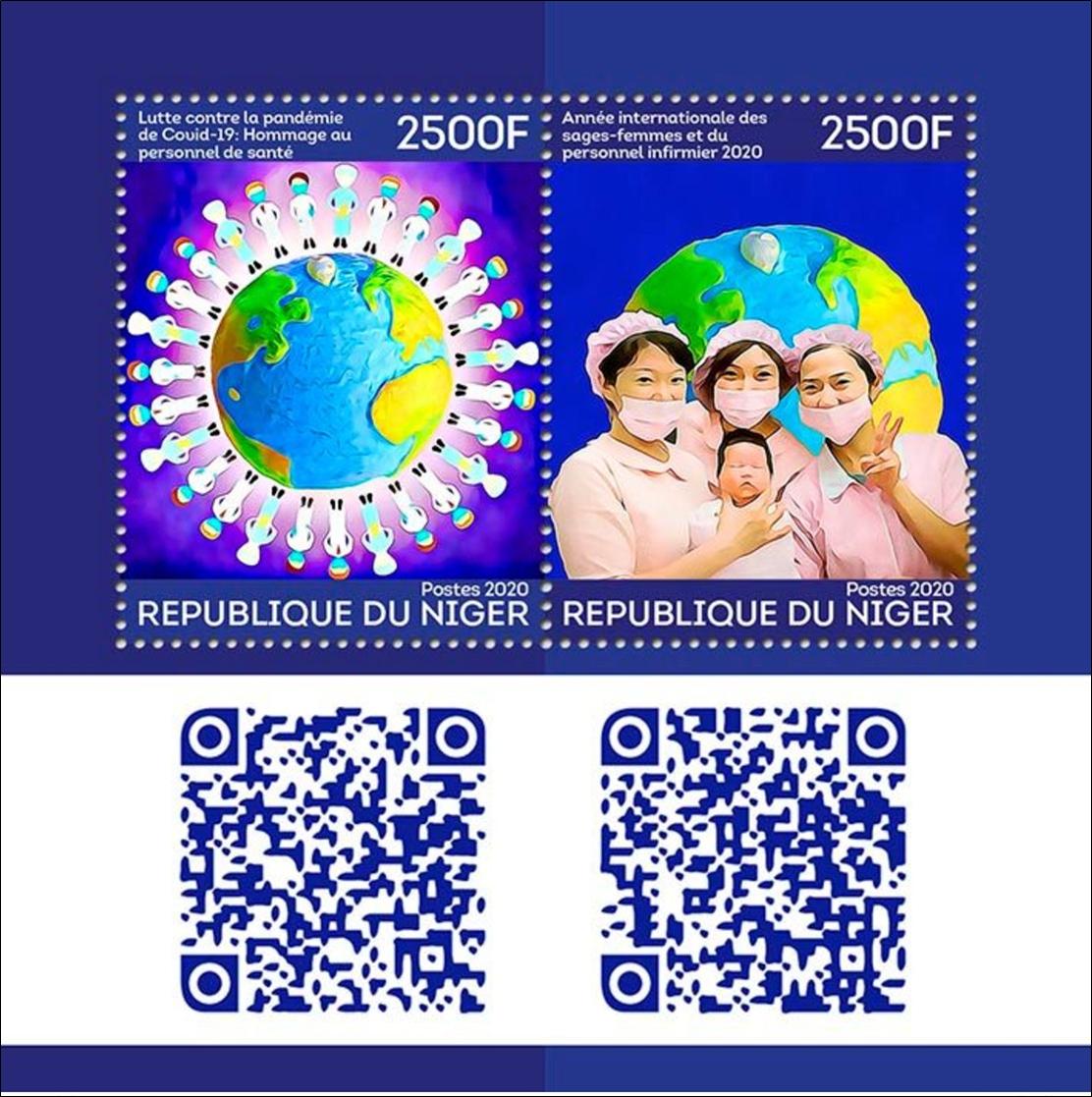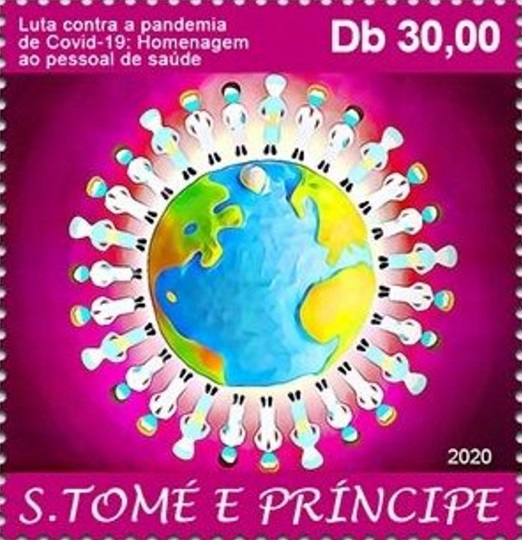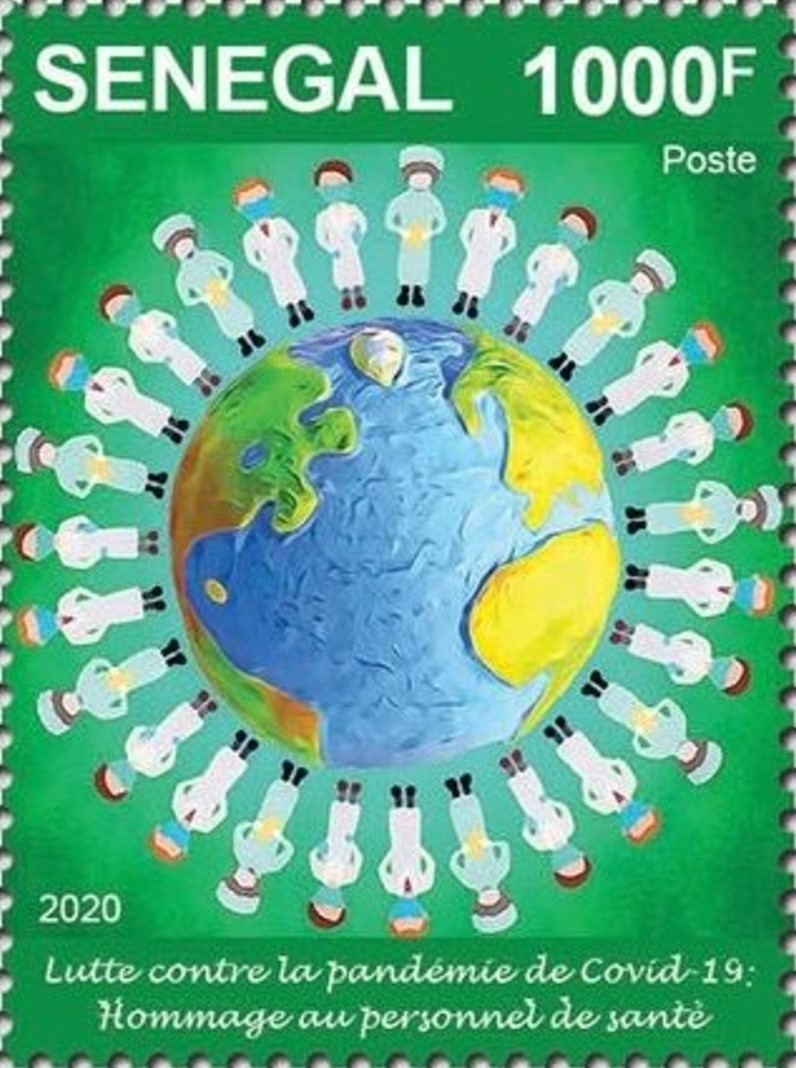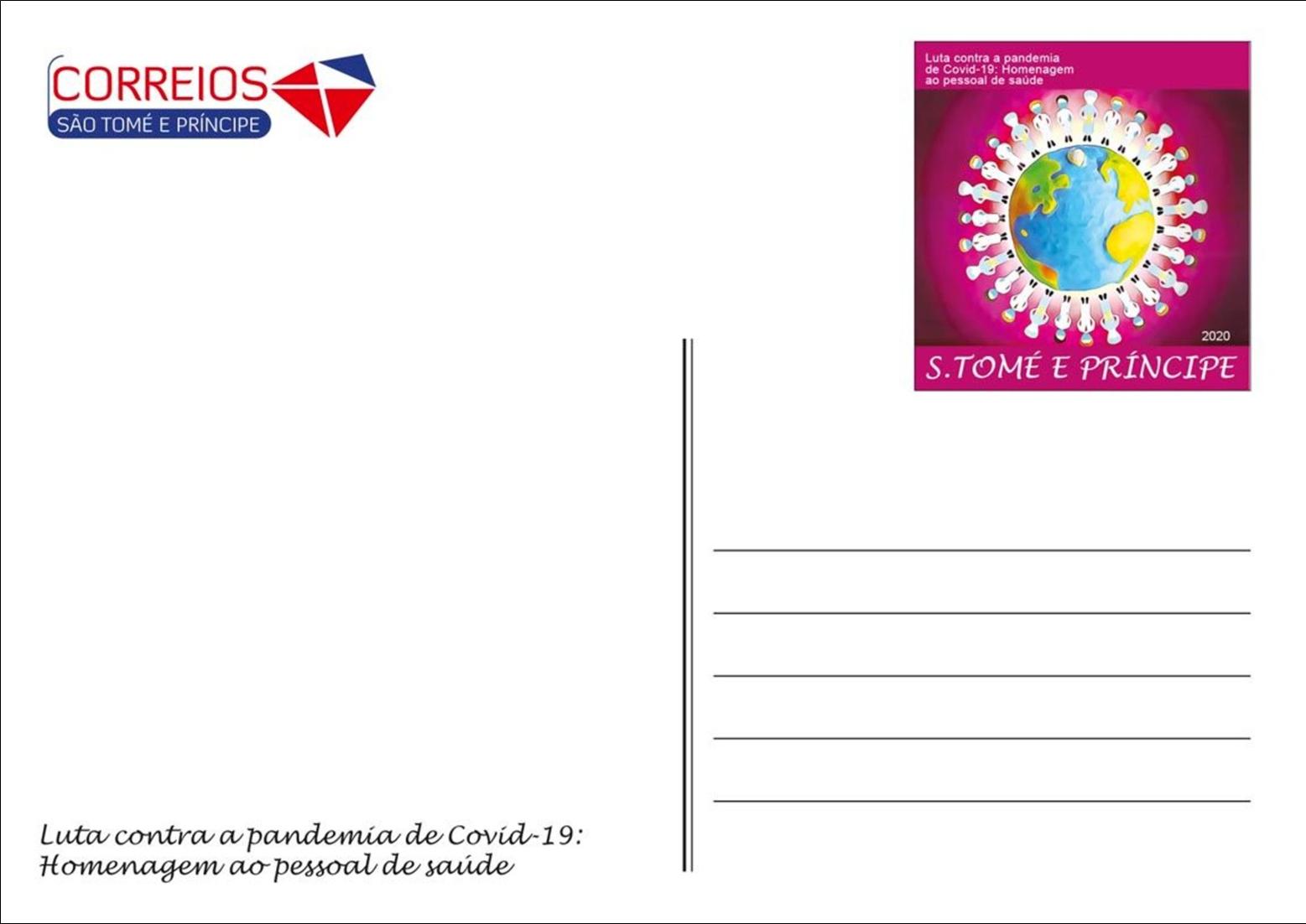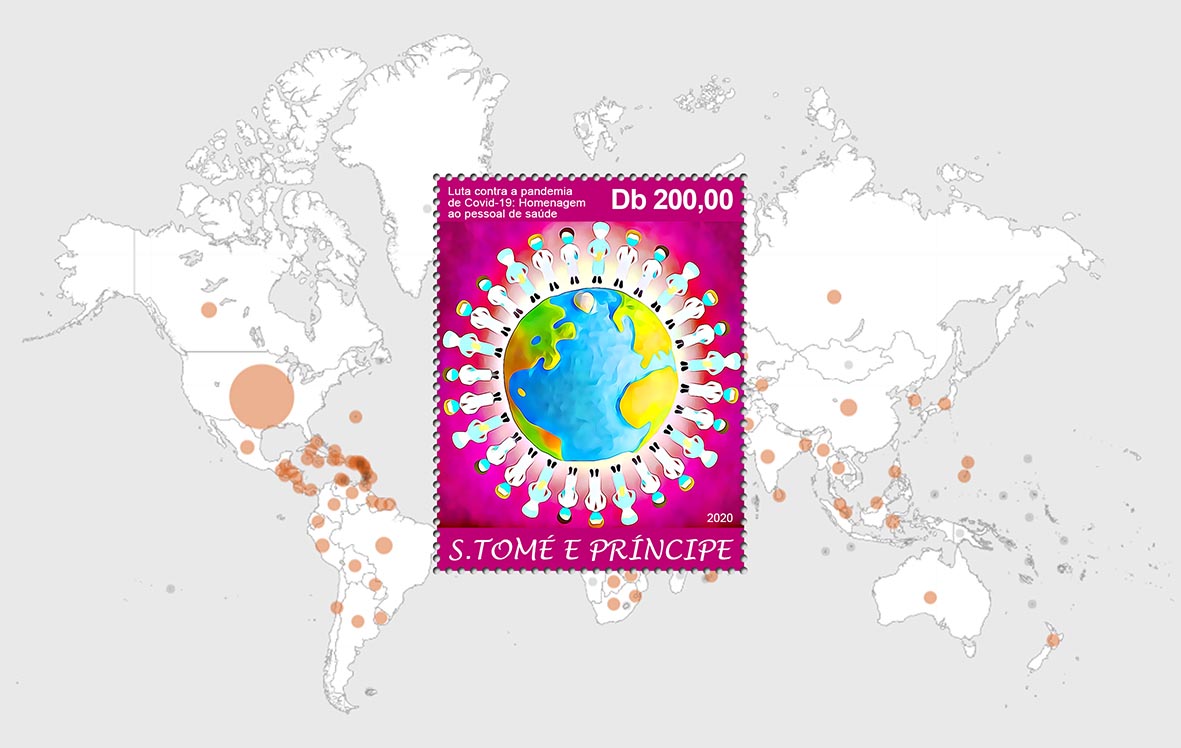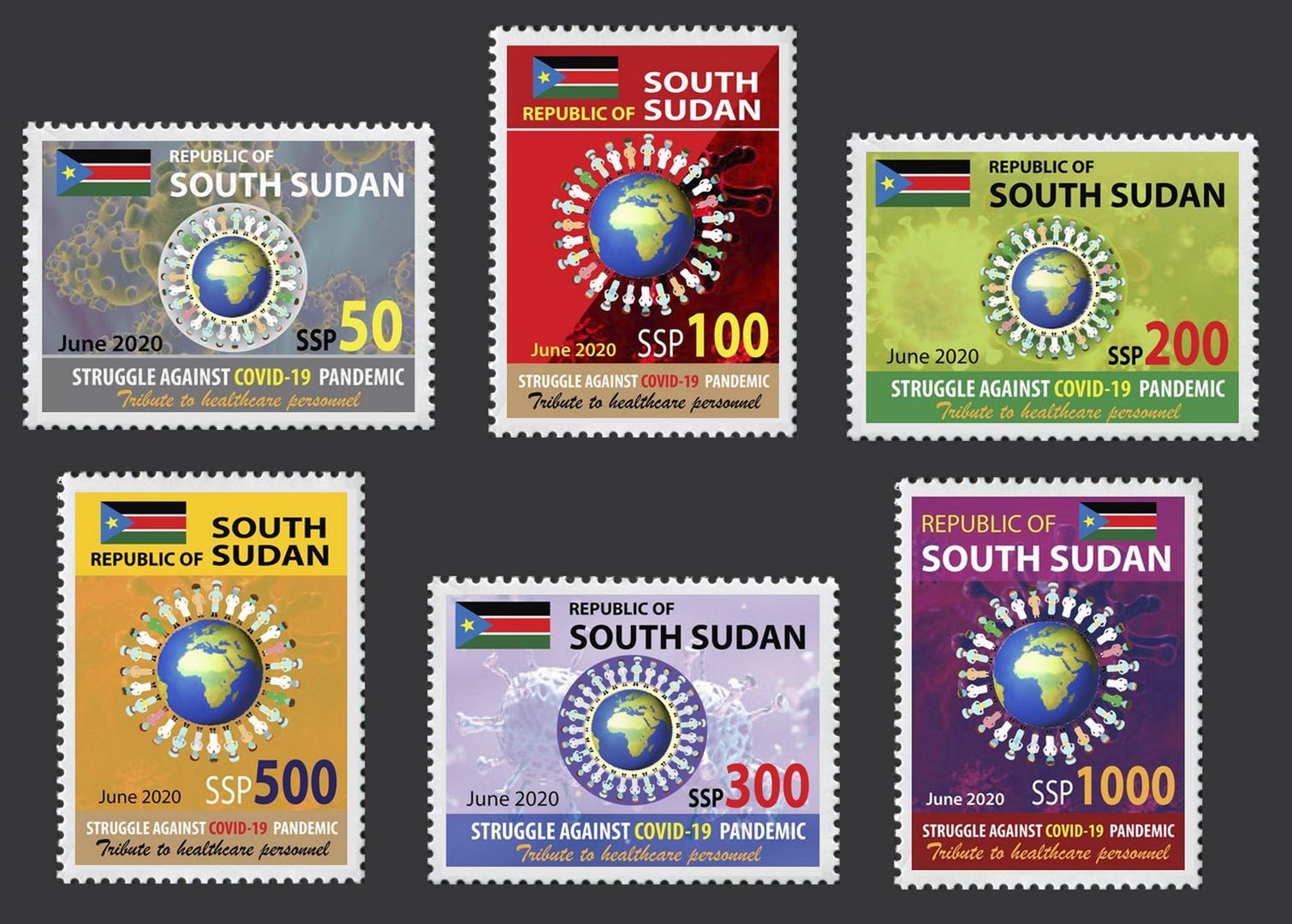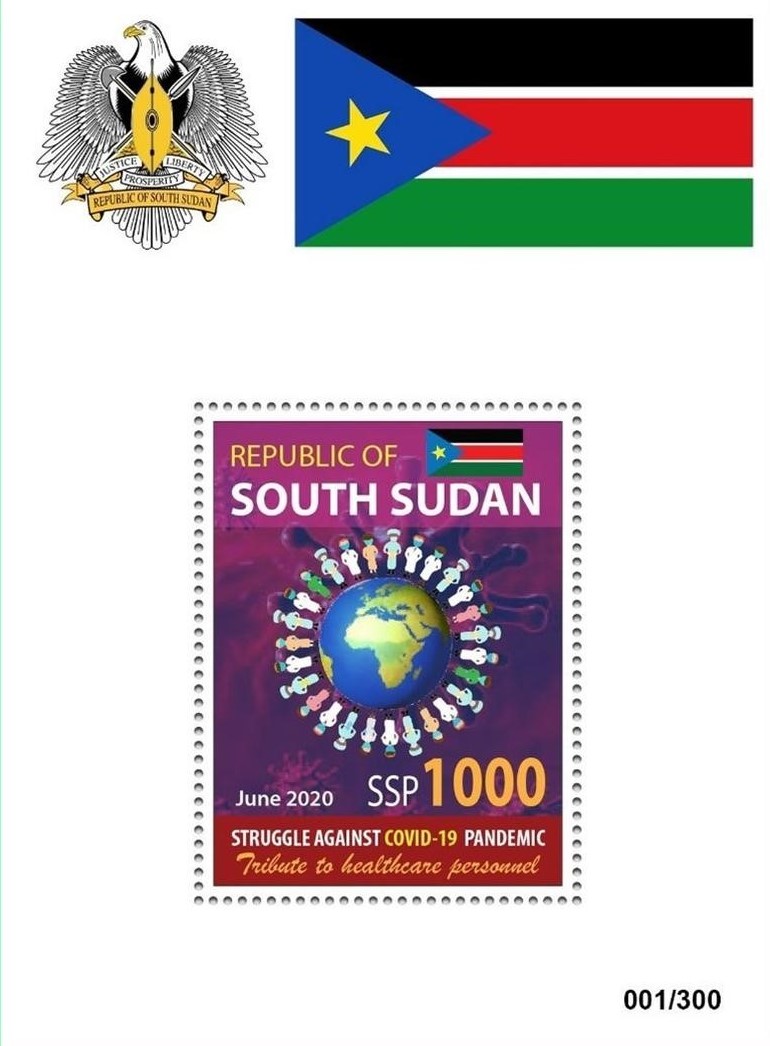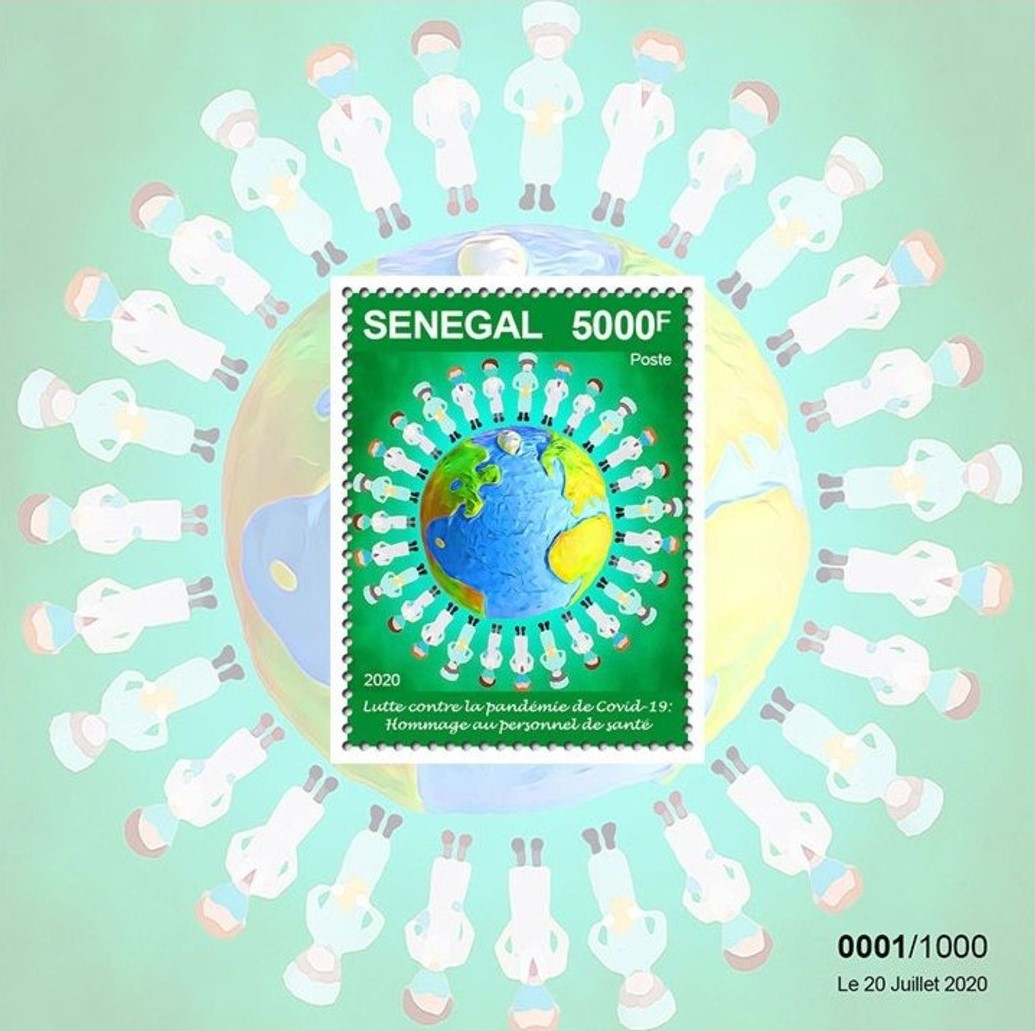 Nedjmeddine could also provide additional information about the African philatelic hub stamp from Guinea, discovered by Jaap Sarelse and reported earlier. It appears that this stamp could be part of a new joint issue involving up to 13 postal administrations (Burkina Faso, Burundi, Central Africa, Congo, Guinea, Ivory Coast, Mali, Mauritania, Morocco, Niger, Nigeria, Senegal, Togo). A convention was signed between these countries and some of them will be produced by Stamperija. The convention may have instructed participating postal administrations to use "again" the logo of the African Philatelic Hub with the 2016 design (already agreed by Morocco, Mauritania, Burkina Faso and Senegal). Nedjemeddine confirms that, next to Guinea, the Niger stamp was already under production in June. Delays or even drop-outs may be consequence of the pandemic.
The Arab League is celebrating its 75th anniversary in 2020. So far, UAE and Egypt have already issued stamps with apparently a similar design based on the figure "75" and the symbol of the League. We do not have access to dates of issue of these stamps yet, but, as other countries will participate, we will have to define later if all these issues belong to a joint series. Any information from Arab League countries is welcome.
The following request came from Bernard Quirin and raised an ethical question which seems to be fully relevant. Up to now, we have used the term 'siamese issues' to describe pairs of stamps attached to each other but linked to two different countries. Although being originating from a commonly accepted medical term, the words 'siamese twins' refer to a type of birth malformation that is not typical to Siam or Thailand. It happens that the first well-described example of 'siamese twins' came from this area. In the meantime, the term 'siamese twins' went beyond medical practice and can be found in art, music, games or even astronomy, actually as a commonly admitted term. In order to remain politically correct, the English Wikipedia is now preferring the synonym term 'conjoined twins', but German, Spanish, Italian or French Wikipedia descriptions continue using the word 'Siamese twins'. So, there is nothing extraordinary to have used so far this same term in philately and joint issue collection, but it is understandable that it can hurt some people in the same way, some centuries ago, the 'Italian disease' or the 'French Disease' terms did hurt French and Italian people when speaking about some venereal diseases spread by soldiers from these countries. More recently, we know that the 'Spanish flu' was probably originating from the USA, while Spain remains 'responsible' for this pandemic, which is not the case. On the basis of our own society ethics rules, we have to avoid employing words and sentences that could hurt people either on the basis of geographic, race, political or religious characteristics and we aim at remaining as neutral as possible. Additionally, the word 'siamese' refers in priority to the country Siam, indirectly to Thailand, and a Google search for 'siamese stamp issues' gives mainly information about early Thailand stamps. This is another good reason not to use this word in the future for our purpose. So, it was decided to avoid using 'siamese twins' from now on, and the proposed replacement words could be "Se-tenant twin stamps". In one sense, we are lucky as with this new description, we can keep the letter "S" to define this sub-category of stamps. Of course, we will not change history and it not only will make non-sense to correct the past written documents and the catalogue, but this task is impossible. We will take in account this new way of describing these stamps from now on, in this web site as well as in the new versions of the catalogue and supplements. It will take years and probably centuries until the word 'siamese' disappears from the medical vocabulary, but we hope that at least at our level, we have brought our small contribution. We just hope that at a certain point, other requests will not oblige us to reconsider the use of words such as 'black' or even 'white' which would definitely be a very poor sign of tolerance.
---
July 5, 2020
Sorry for this long period without update. We are in a complicated period, with limited information available and a lot of postponement of events and stamp issues. Several collectors did send some information and discoveries, but at the same time, as a consequence of the pandemic situation, a lot of postal authorities did postpone, if not cancel, their issues during the past three months. In the following, we will try to summarize all this, but any information is welcome even from countries usually with good marketing.
First data collected from members and society side:
- I did not get bad news about our members'health and at least, from the side of my regular contacts (Italy, the Netherlands, USA, North Africa, ...), it seems that everybody is in good shape and at least was not hit badly by the disease. Obviously, I have not been informed about each individual member, but I hope that this message finds all of you and your friends and relatives in good shape. Here in France, everything is going well, even if in our small region, we were the first and the most affected area by the disease, and we hope this belongs now to the past and can only improve. As the first area of France being hit by the coronavirus, we are also the first area slowly recovering.
- further improvements are also seen since beginning of June at the level of communication and some travelling became possible as well. Masks and social distancing constraints remain mandatory for all, but travels within countries and between some countries are possible since July 1st (actually for EU citizens, travels are now authorized for and from 15 countries such as Canada, Australia or Rwanda (!) on top of the EU countries), but still not yet authorized to the USA, Central and South America, China or Russia. Italy for example is open, but there is still no decision taken regarding the new Milanophil dates which still could take place before end of the year. Actually it will take some two or three months before some regular flights are again in place between this first set of countries
- in France, the first philatelic meetings for societies will not be authorized before September 1st, if the situation continues to improve. So, we will also have to wait a couple of month before getting authorization to organize such meetings in France. On the bad news side, the major French philatelic journal "Timbres Magazine" went bankrupcy, but apparently was taken over by Yvert&Tellier and should continue to be published
- Finally, as I told you, the 2020 Supplement to the catalogue is ready since March, but as the printer was closed until two weeks ago, we hope that the printed booklet will be available before mid-July. Enzo is taking care of that and we will keep you informed.
The situation about joint issues that were supposed to be released during this period or within the next weeks is as follow:
We finally got the picture of the Georgia stamp (May 13, 2020) issued jointly with Poland (April 10, 2020) (Information provided by Cesar Ittmann, the Netherlands).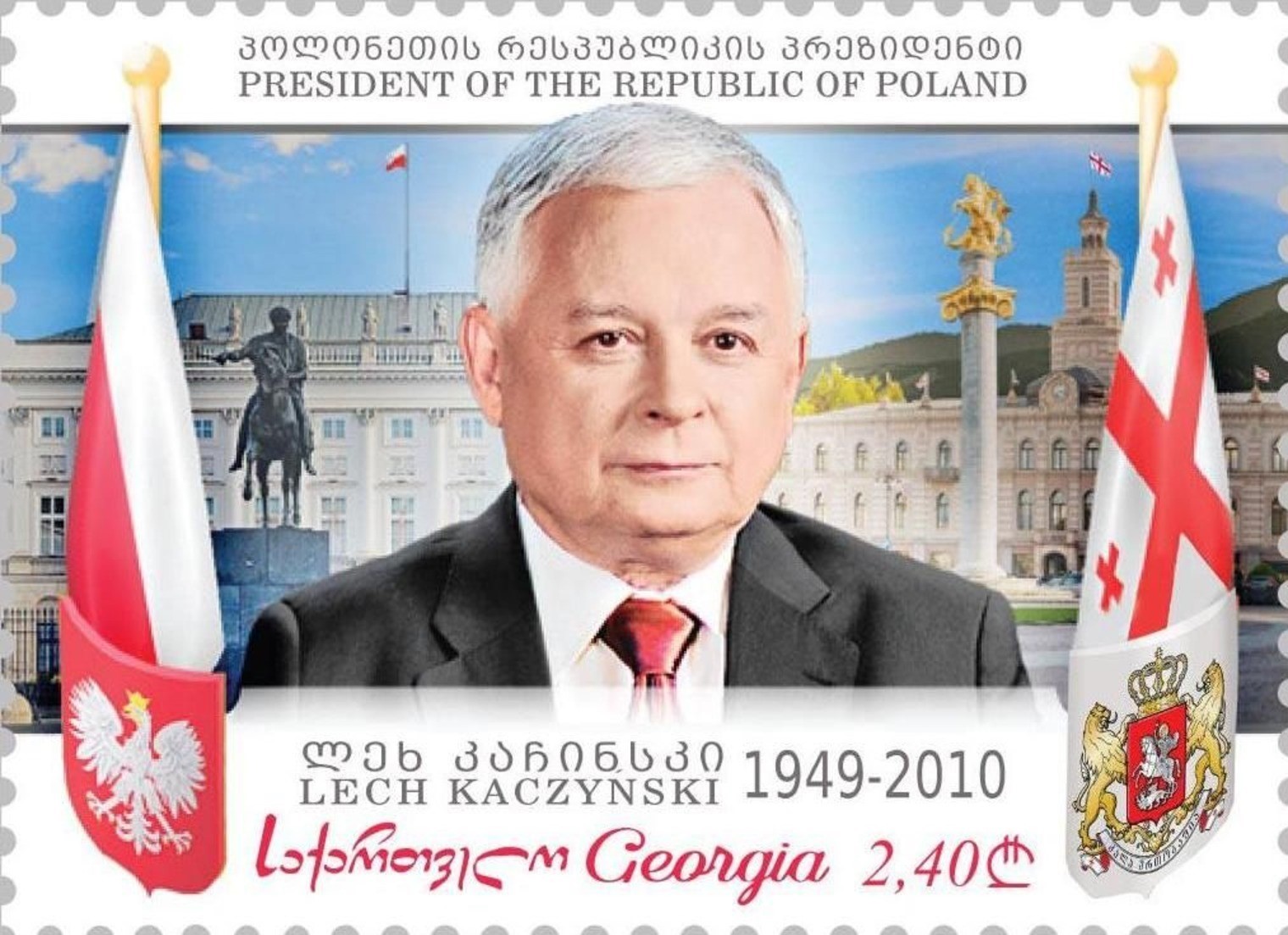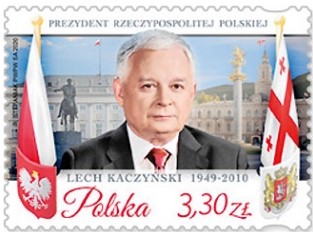 Med Achour Ali Ahmed (Algeria) mentionned as early as May 27, 2020 a series of common stamps related to the COVID-19 situation and involving the following countries: Central Africa Republic, Guinea-Bissau, Niger, Djibouti, Sao-Tomé and Principe. Don Birchel, USA provided additional information. Leo Van der Velden (South Sudan Philatelic Society) provided information stating South Sudan would participate also to this issue. This stamp would be the first stamp issued since 8 years by this country. From this source, we learned that additionally to the above list, the following countries could also participate: Bulgaria, Mali and Kenya. In total about 12 countries could participate. The only first date of issue known to date is for Guinea-Bissau: April 27, 2020. We will wait until more information is available, to decide how to integrate this issue.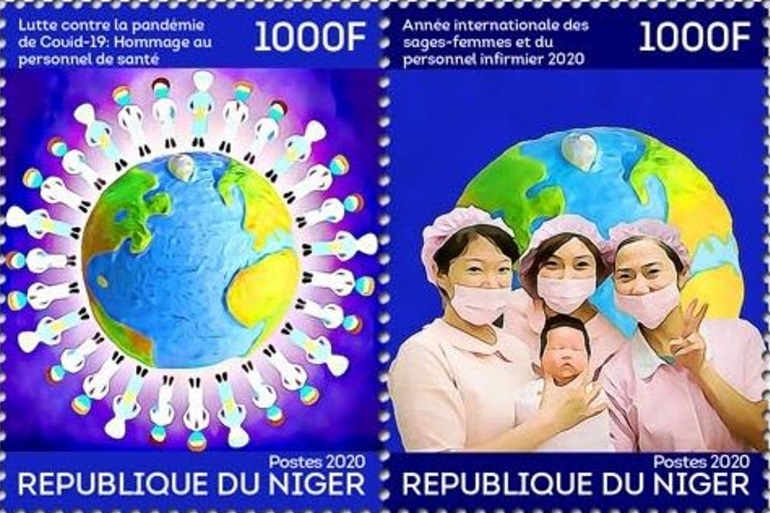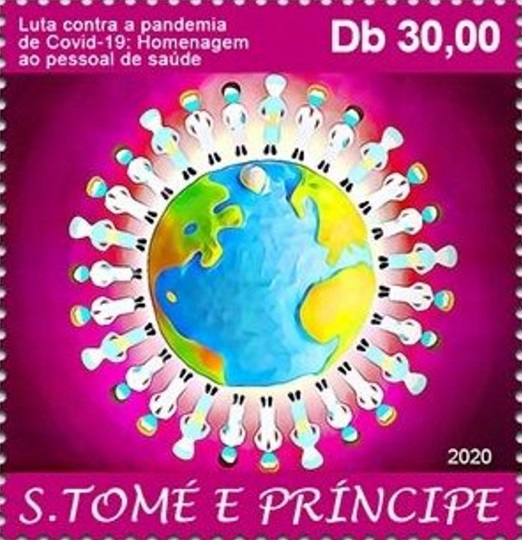 In particular, in the meantime, the Mali postal administration published a press release dated June 15, 2020, in which it is clearly stated that Mali never issued stamps related to COVID (as well as stamps related to the 200th anniversary of Florence Nightingale) and that the ones that are on sale right now (illustration below) must be considered as fakes. The situation may probably be the same for the similar Gabon stamps.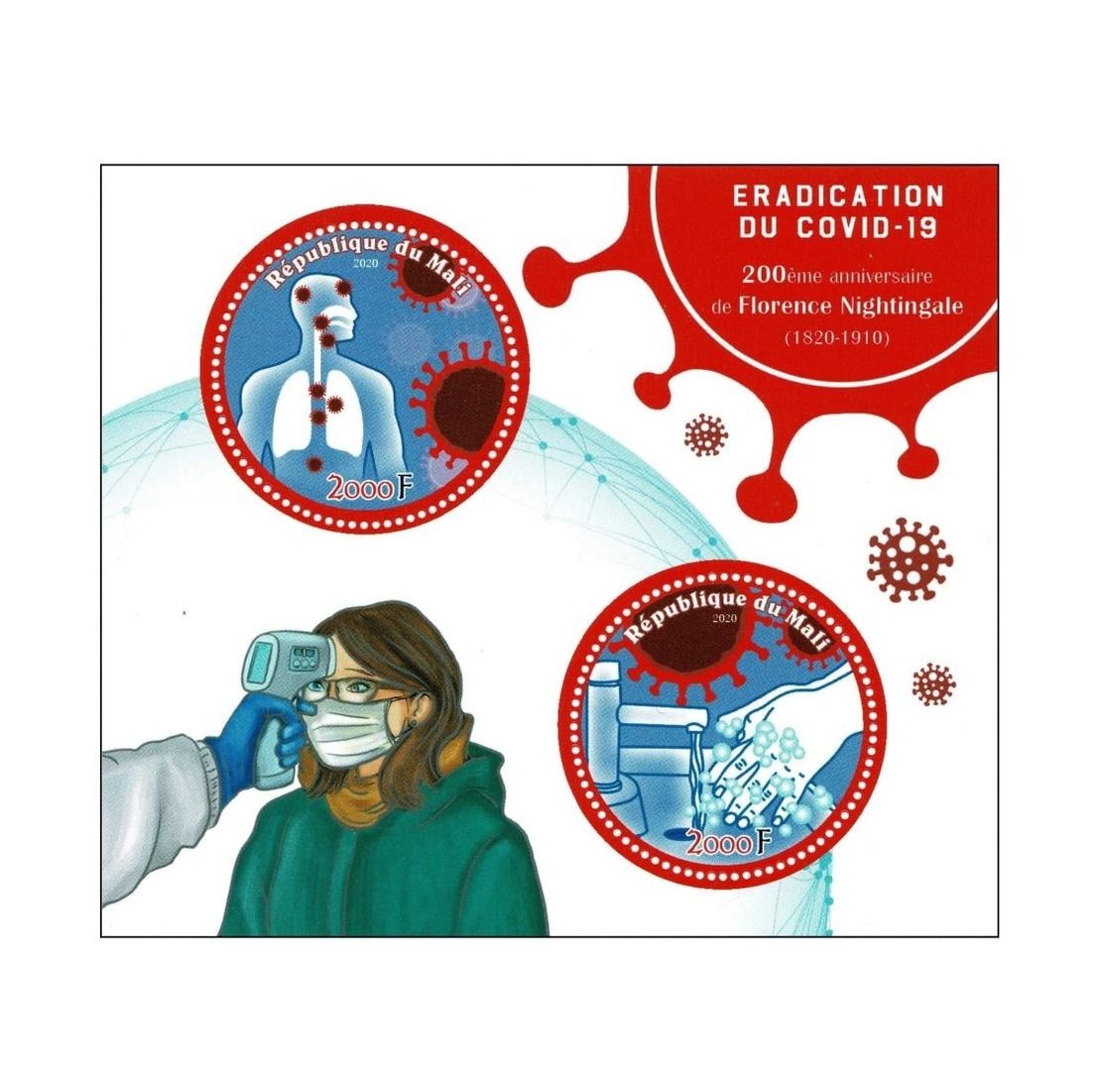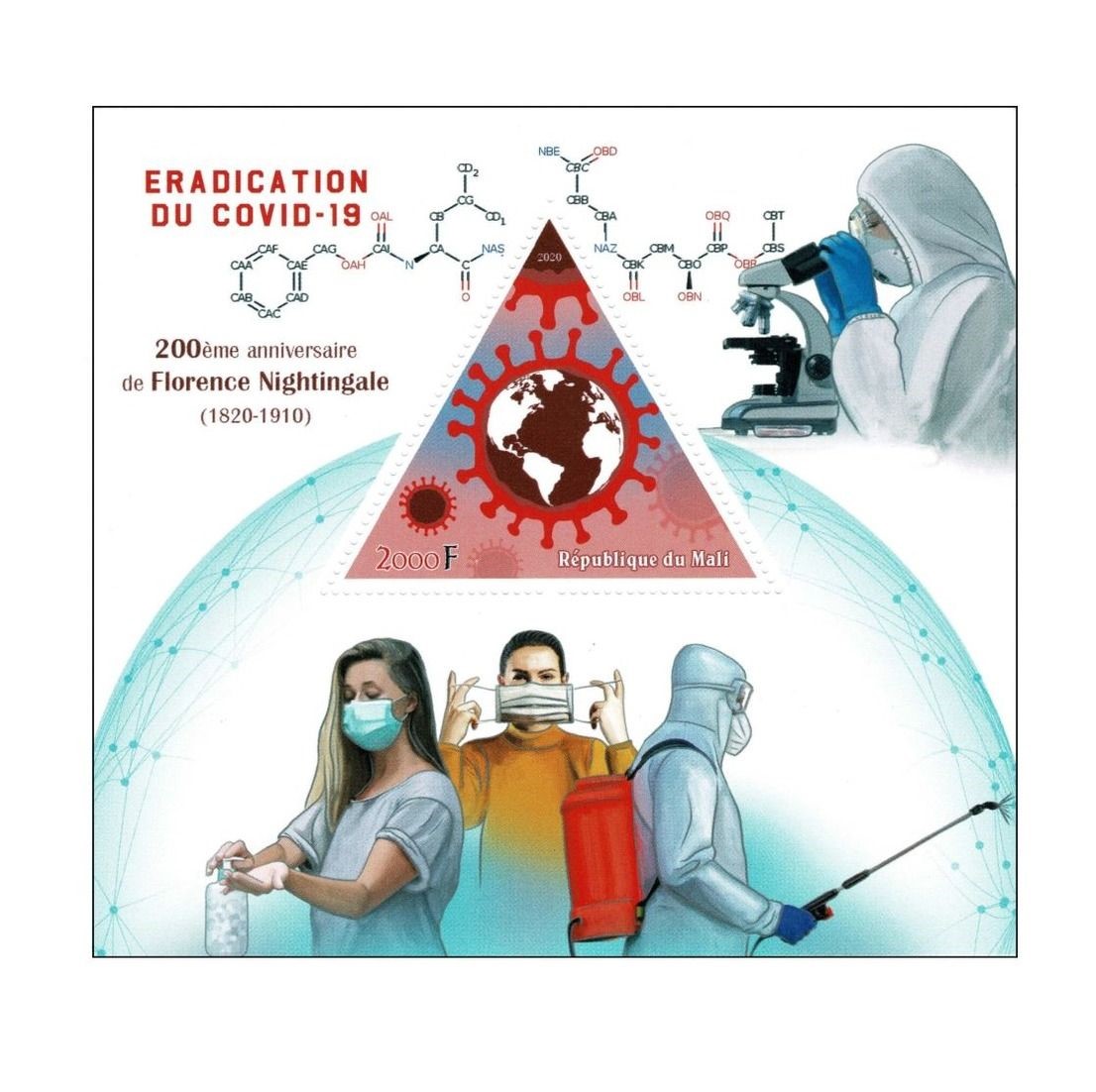 Don Birschel (USA) found also the following COVID souvenir sheet from Indonesia with UAE overprints in the margin. We have no idea what is the relationship between both countries as information is scarce. Any help is welcome.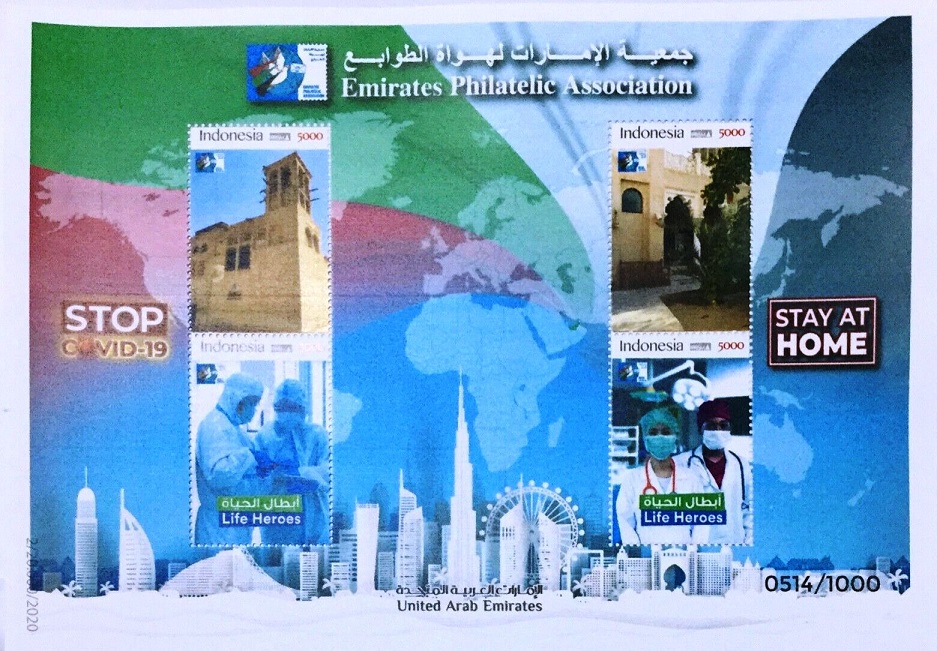 In summary, the situation remains quite confuse regarding all COVID related stamps that appeared during the April-June 2020 period. Before stating if they should be considered as joint, we will wait for another couple of months for information coming from other countries. There are great probabilities that if considered as joint, they may still remain in the category Omnibus series. Any additional information is welcome.

Med Achour Ali Ahmed confirmed also that in August 2020 (exact date not disclosed yet), Algeria and Tunisia are expected to issue joint stamps related to Majerda Oued, a 106 km long river with about half of its length in each country, with its source in Algeria, crossing this country over 50 km and finishing in the Tunis Golf in the Mediterranean sea. Design is not available yet either.
Don Birschel (USA) found a series of stamps celebrating the 100th anniversary of Pope John-Paul II. These stamps will have to be considered as omnibus series. Countries that participated to this issue include Central Africa, Chad, Djibouti, Guinea-Bissau, Niger, Sao Tome, Sierra Leone and Togo. First day of issue seems to be May 1, 2020. Each country issued 4 stamps portraying Pope John-Paul II. All stamps are different. Each stamp is available as perforated and imperforated, produced in miniature sheets [4x3] of 5 or 6 stamps together respectively with 7 or 6 labels representing buildings. The complete series include 32 sets of miniature sheets. As only 200 full sets have been printed (from Stamperija), we cannot recommend to include this series as a true joint issue.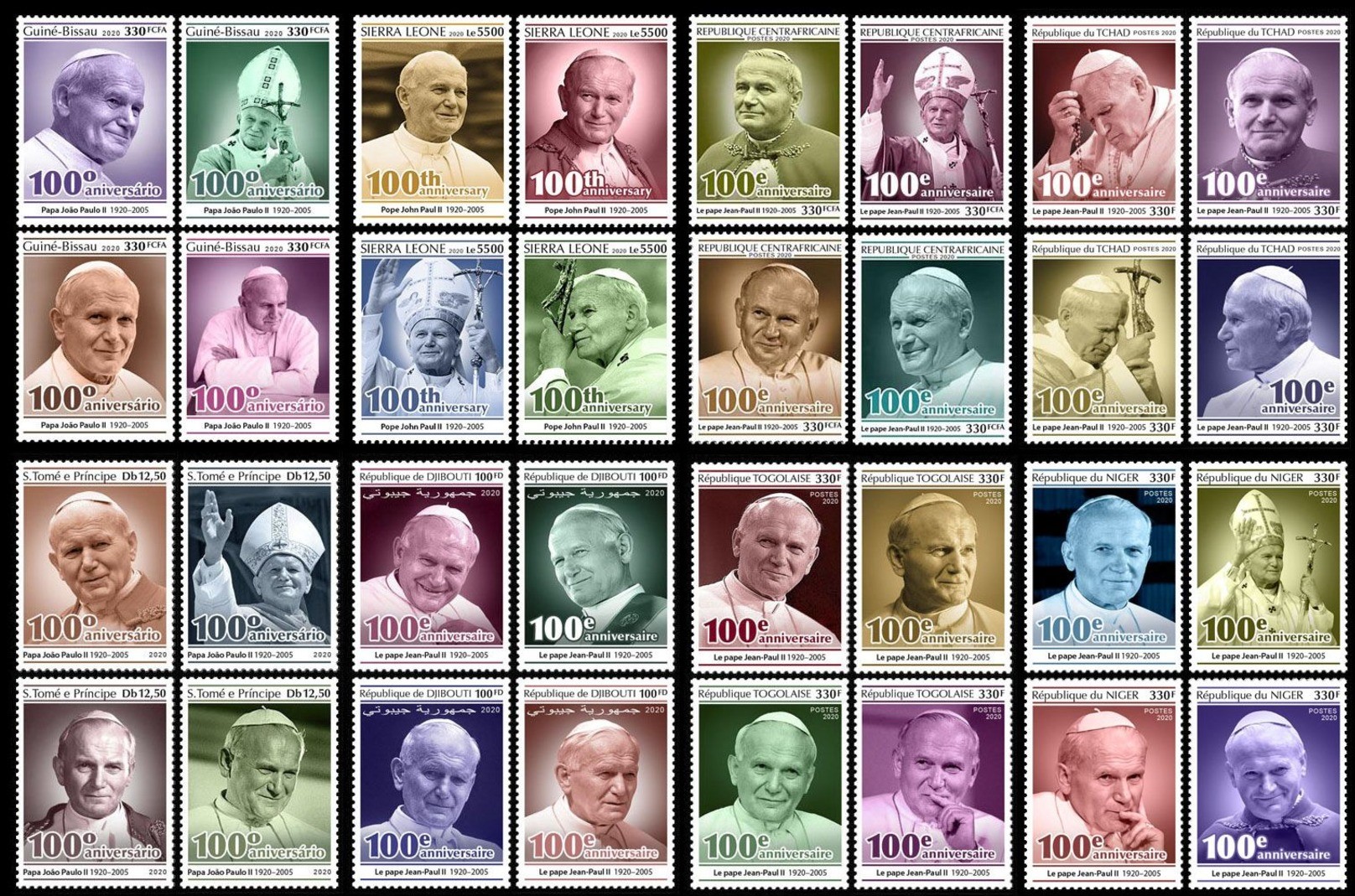 Also from Jaap: Stamperija produced in 2020 (exact date unknown), a stamp almost identical to the 2016 stamps issued at the occasion of the creation of the African philatelic hub. Only difference: it mentions clearly the 4th anniversary and of course cannot be considered as part of this joint issue.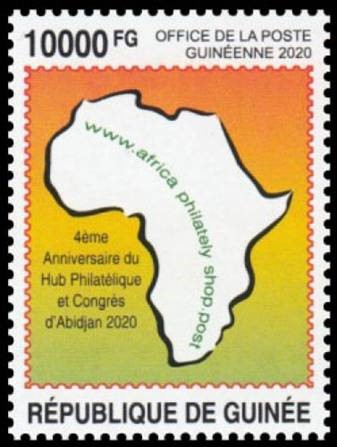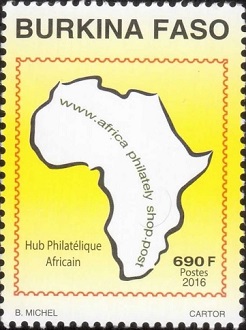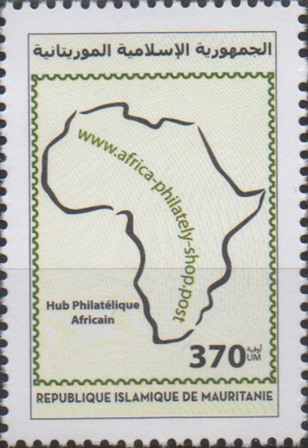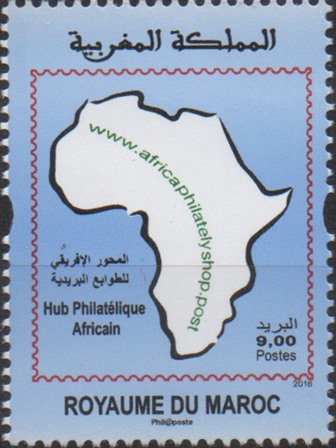 Jeff Courtright (USA) updated the society with all the information he collected about the Euromed stamps to be released next week. So far this issue will include the following countries which will release their stamps on July 13, 2020: Croatia (actually on July 9 for this country); France (1 stamp, [6x7], 500,000); Greece (1 stamp); Portugal (July 10); Slovenia (1 stamp; [5x5], printed 40,000). For the time being, information is missing for stamps from Algeria, Egypt, Jordan, Lebanon, Lybia, Malta, Morocco, Palestine, Spain, Tunesia.
In the meantime, PUMed increased also to 22 members with Montenegro as the latest country member to join (June 24, 2020). So, on top to the above countries and Montenegro, the following countries which have never participated to the EuroMed issue could also join: Albania, Bosnia Herzegovina, Italy, Mauritania, Monaco, Syria.
Enzo Cafaro, in contact with several postal authorities could provide the following information:
The Nomad Games were cancelled and therefore the associated joint issue as well. However three out of the four participating countries (exit Uzbekistan) decided to maintain a joint issue. Kyrgyzstan, Turkey and Ukraine will issue stamps on September 4, 2020, with a new topic related to Architecture.
On May 11, 2020 the UPU did send a letter to all their members with the proposal to create at individual levels a common stamp at the occasion of the International Day of Family Remittance (IDFR) 2020 campaign "Building resilience in times of crisis". Designs of the stamp in several languages were provided. The recommended issue date was June 16, 2020. In other words, UPU asked to their members, to accept, modify, approve and print a new stamp on top of their existing program, within a time frame of less than 5 weeks! Now, three weeks after the official issue date, it seems that not a single country issued a stamp.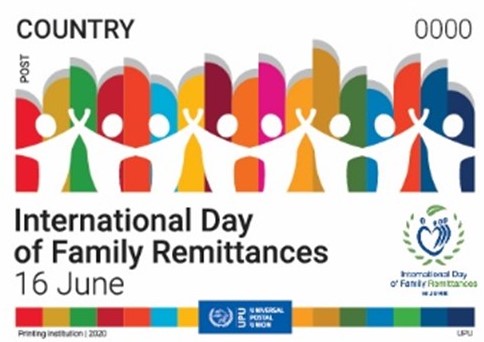 Some questions about older issues came from philatelists who were locked down and had plenty of time to take a more closer look at their collection ;-) :
Jaap Sarelse provided also additional pictures related to the 2002 Soccer World Championship to include in the omnibus series (Antigua and Barbuda, Dominica, Grenada of Grenadines, Guyana, Sierra Leona and Palau). The list is probably not complete yet. Exact dates of issues are unknown, but apparently all stamps were issued in April 2002.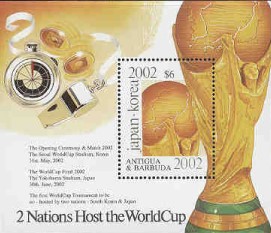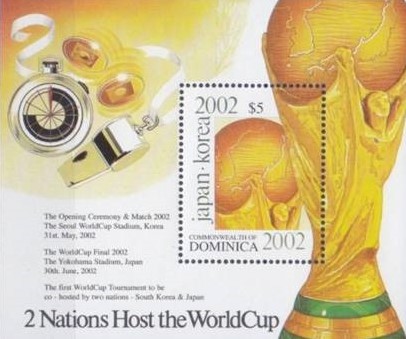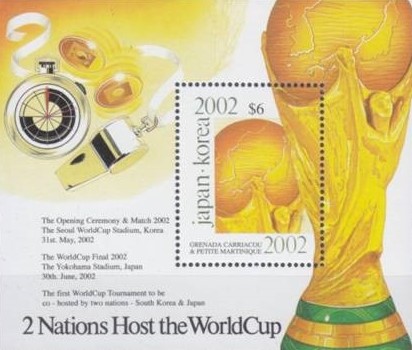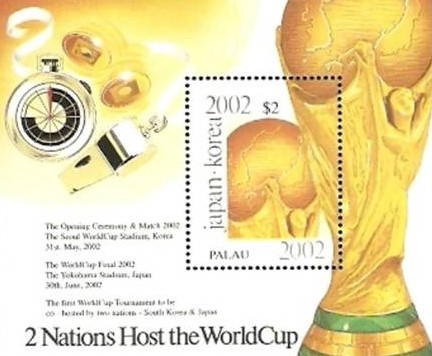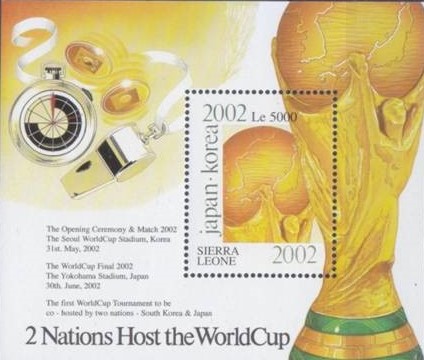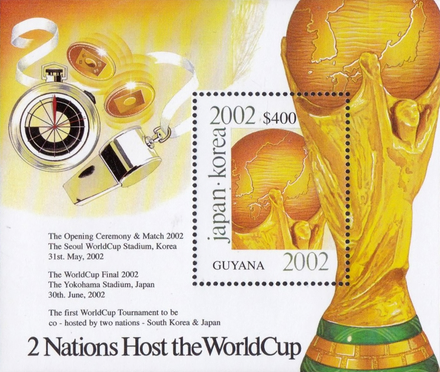 ---
July 1, 2020
The News from the period April to June 2020 have been archived.
---
All previous information reported in this section is to be found in the News Archives.