New Issues 2020 (January - March)
This page collects only issues released during the year 2020, period January to March.
As it is not such obvious as it looks to find this information, this list is probably not yet complete. In certain countries, joint issues are often announced on the day of the issue and sometimes it takes months before this information and the corresponding stamps reach us. Data on missing issues or supplementary information, particularly for countries, which are producing joint issues exceptionally, will be highly appreciated.
Most recent update of this section on January 13, 2021.
---
2020 (January 5) - [D20200105]
China - Macao
Year of the rat (Geng Zi Year). Territorial parallel issue [PD].
Identical stamps. China: stylized rats; Macao: different scenes and stories involving rats. Multicolored.
China: 2 stamps - souvenir sheet with 2 pairs - miniature sheet with blocks of 6 or 16 stamps - booklet - FDC; Macao: block of 4 stamps - miniature sheet with 4 blocks - souvenir sheet with 1 stamp - booklet with 2 blocks - booklet with 2 blocks - FDC -mixed FDC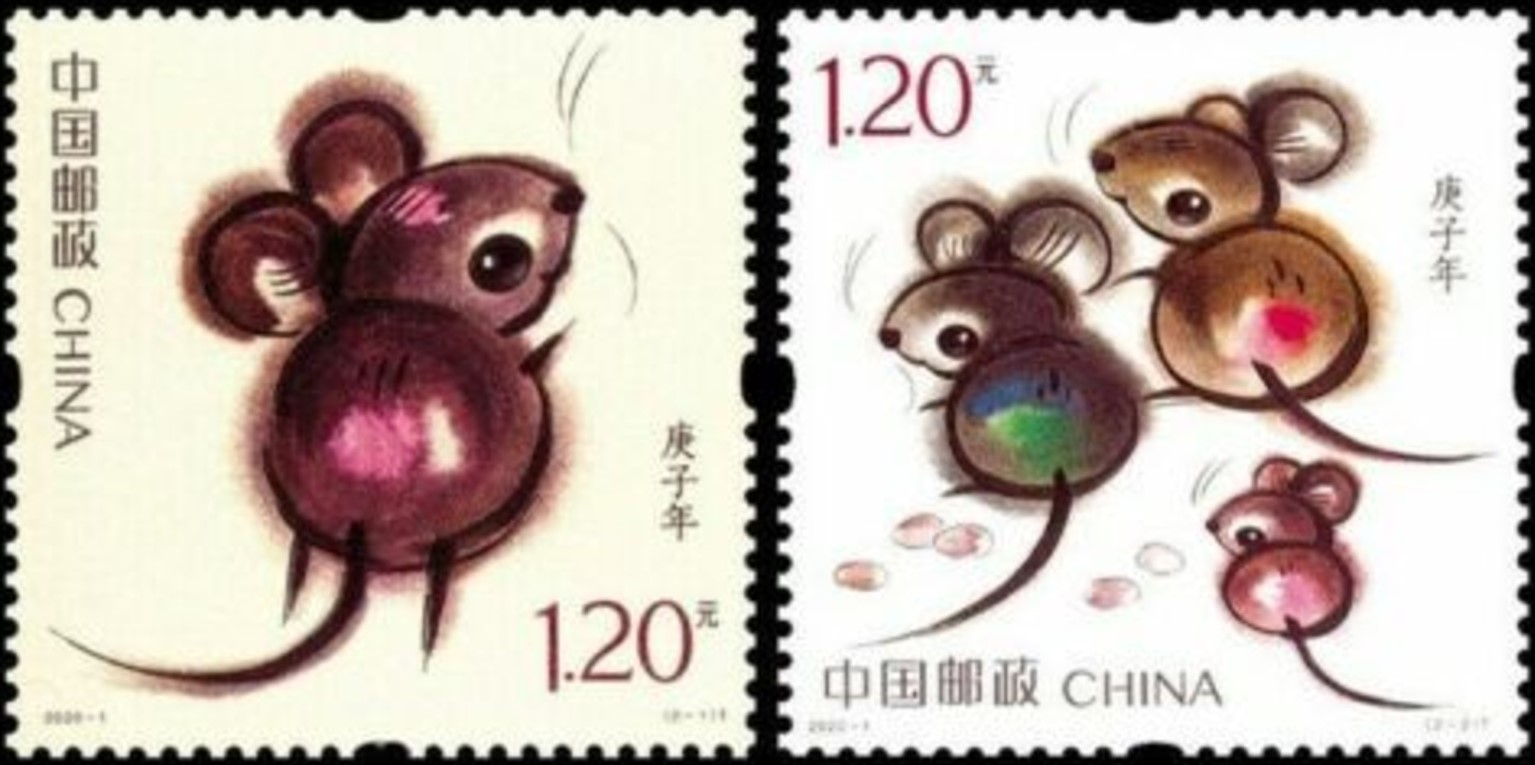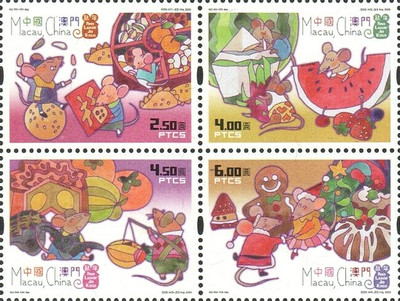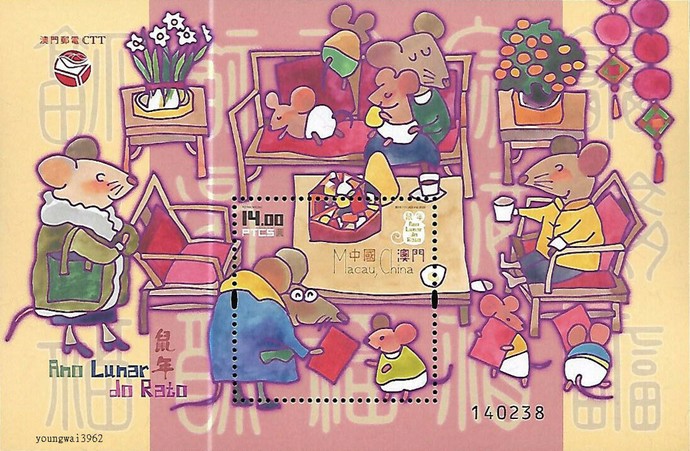 ---
2020 (January 23) - [T20200123]
Croatia - Ireland
2020 Capitals of Culture: Rijeka and Galway. Twin issue [T1].
Identical stamps. A, Symbols of Galway include the Galway Hooker, the Claddagh ring emblem, the Galway City coat of arms, a Macnas giant puppet and a guitar to symbolize Galway buskers. B, Rijeka City is symbolized by its coat of arms, Trsat Castle, St Vitus Cathedral, the distinctive yellow City Tower and a Bellman from the Rijeka region. Multicolored.
2 stamps per country - souvenir sheet for Ireland - FDCs - mixed FDC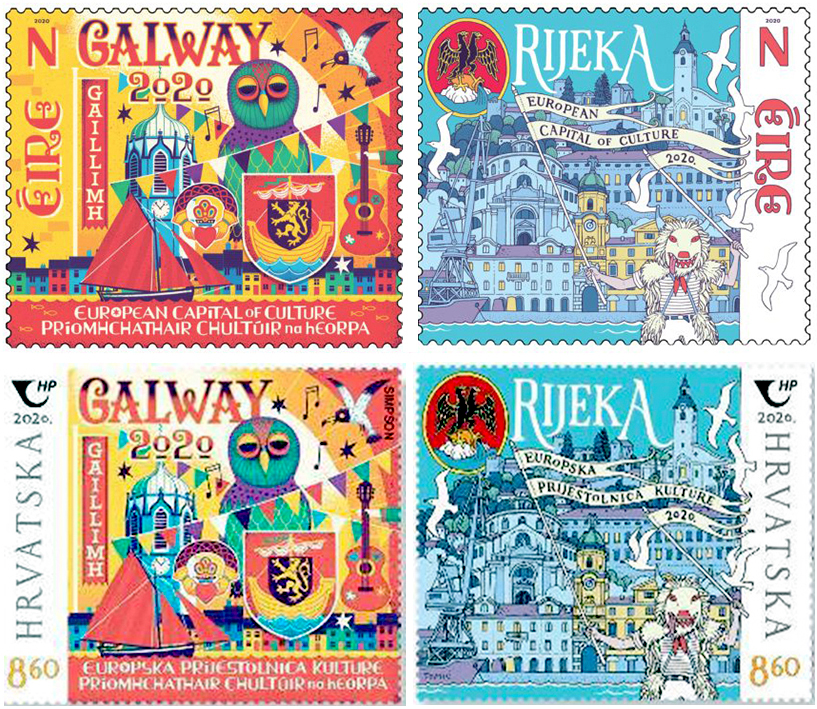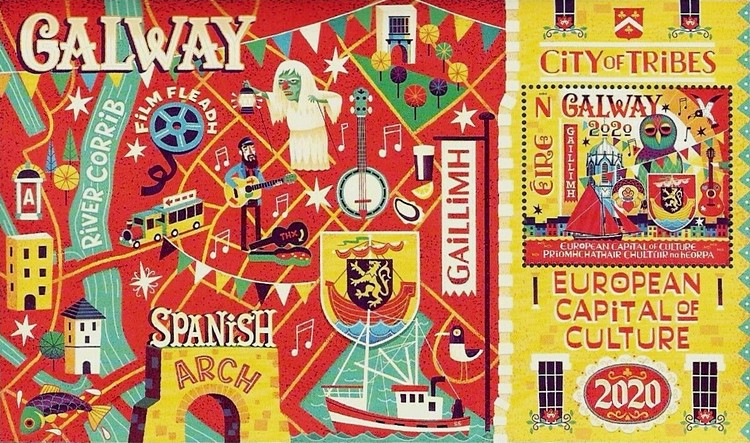 ---
2020 (January 28) - [T20200128]
Estonia - Russia
200 years of the discovery of Antarctica. Twin issue [T1].
Identical souvenir sheets with two stamps. Portraits of mariners: A, Mikhail P. Lazarev (1788-1851) and B, Fabian Gottlieb von Bellingshausen (1778-1852); margin and background: crew, ships, iceberg and penguins. Multicolored.
1 souvenir sheet per country - FDCs - mixed FDCs with stamps or souvenir sheets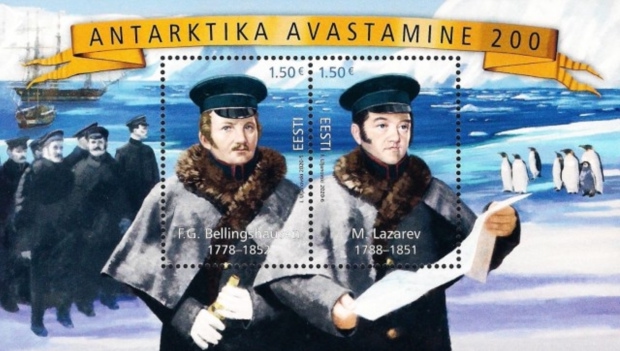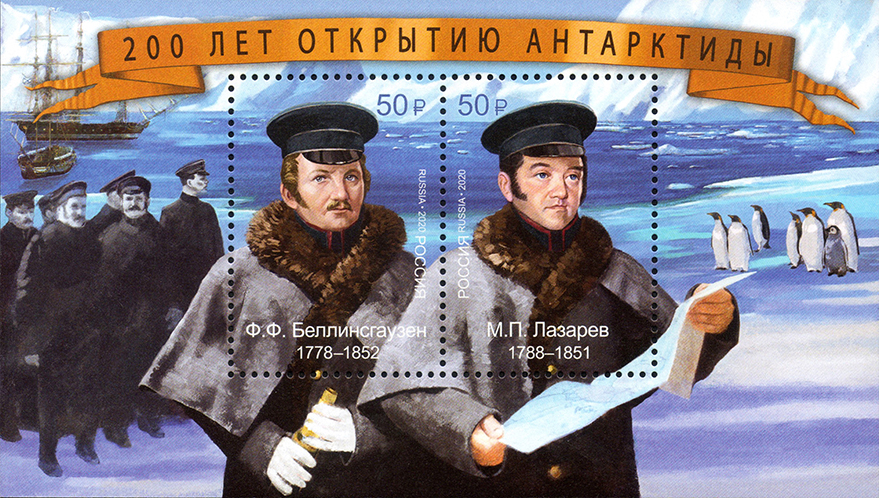 ---
2020 (March 17) - [B20200317]
Bangladesh - Bhutan - Nigeria (August 17) - India (December 17)
Birth Centenary of the Father of the Nation Bangabandhu Sheikh Mujibur Rahman (1920-1975). Borrowed design [BD]
Identical stamps. Portrait of the politician (official logo of the event). Multicolored.
Bangladesh: one stamp - FDC; Bhutan: souvenir sheet with one stamp - FDC; Nigeria: oner stamp and one souvenir sheet; India, one stamp
The stamps are based on the official logo of the year of Mujibur Rahman and no country claims his stamps being produced jointly with one of the other countries. Therefore this issue is reported in the catalogue, but as a 'Borrowed design', not a joint issue.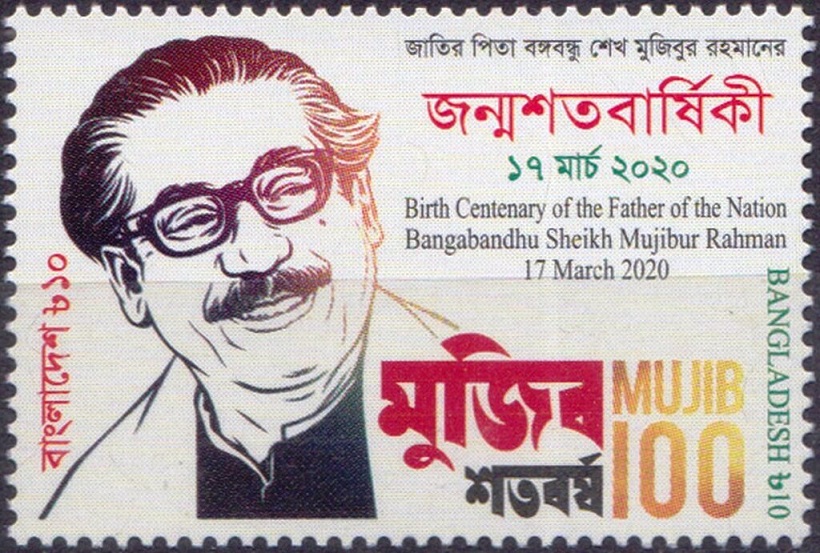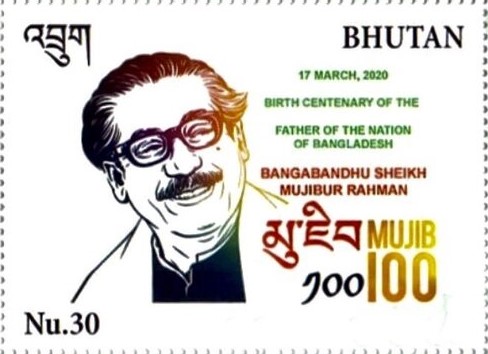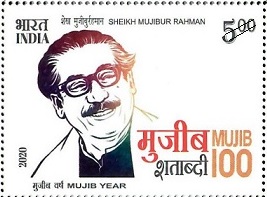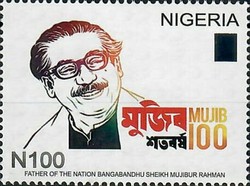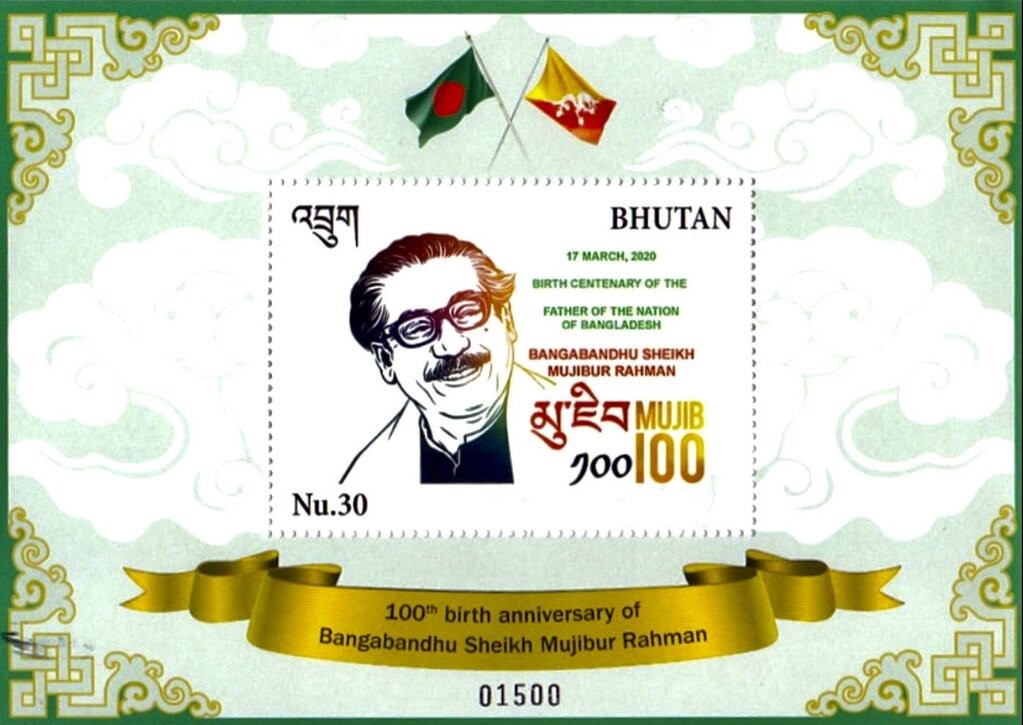 ---
2020 (March 22) - [T20200322]
Egypt - Jordan (March 21) - Lebanon () - Oman - UAE (June 9)
75th anniversary of the Arab League. Twin issue [T1].
Identical stamps. Figure "75" and coat of arms. Multicolored.
1 stamp per country - folder with 6 mint stamps (Lebanon) - souvenir sheet (UAE) - FDCs
The Arab league includes 22 states and the following countries could also participate to this issue: Algeria - Bahrain - Comoros - Djibouti - Iraq - Kuwait - Lebanon - Libya - Mauritania - Morocco - Palestine - Qatar - Saudi Arabia - Somalia - Sudan - Syria - Tunisia - Yemen. According to previous Arab League common stamps issue experience, releases of dedicated stamps can be delayed or postponed up to three years following the official date.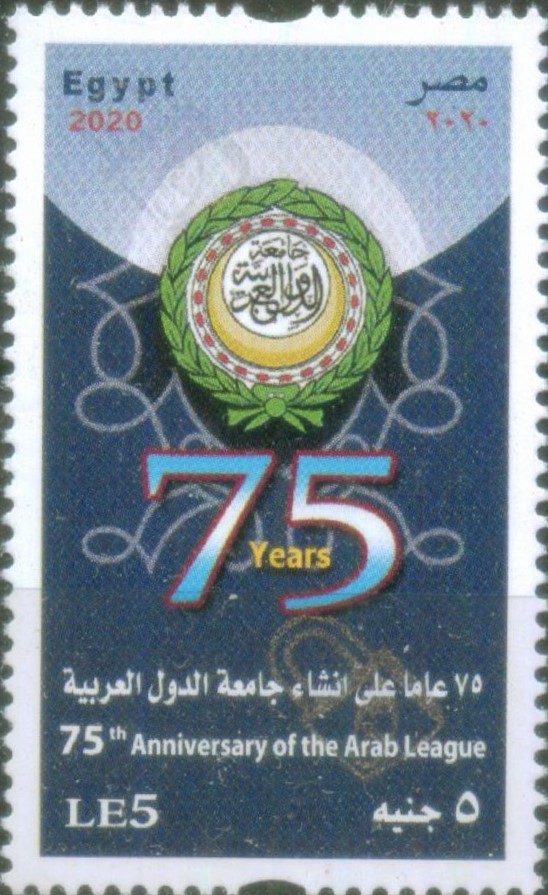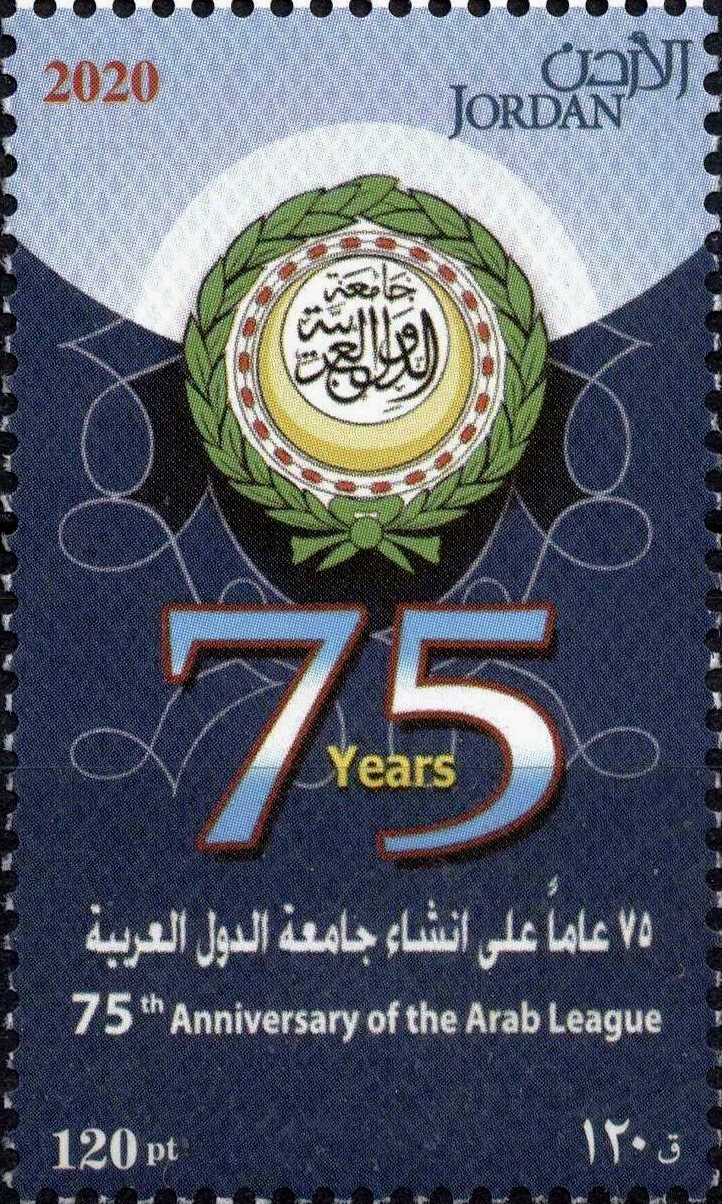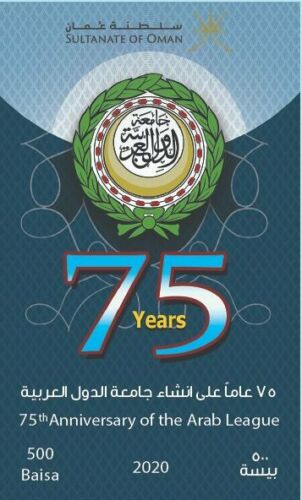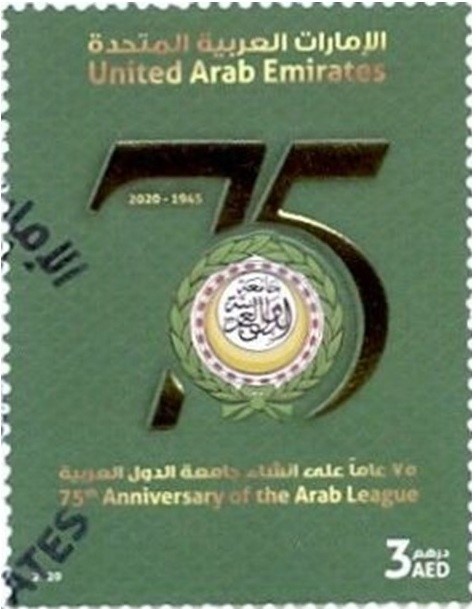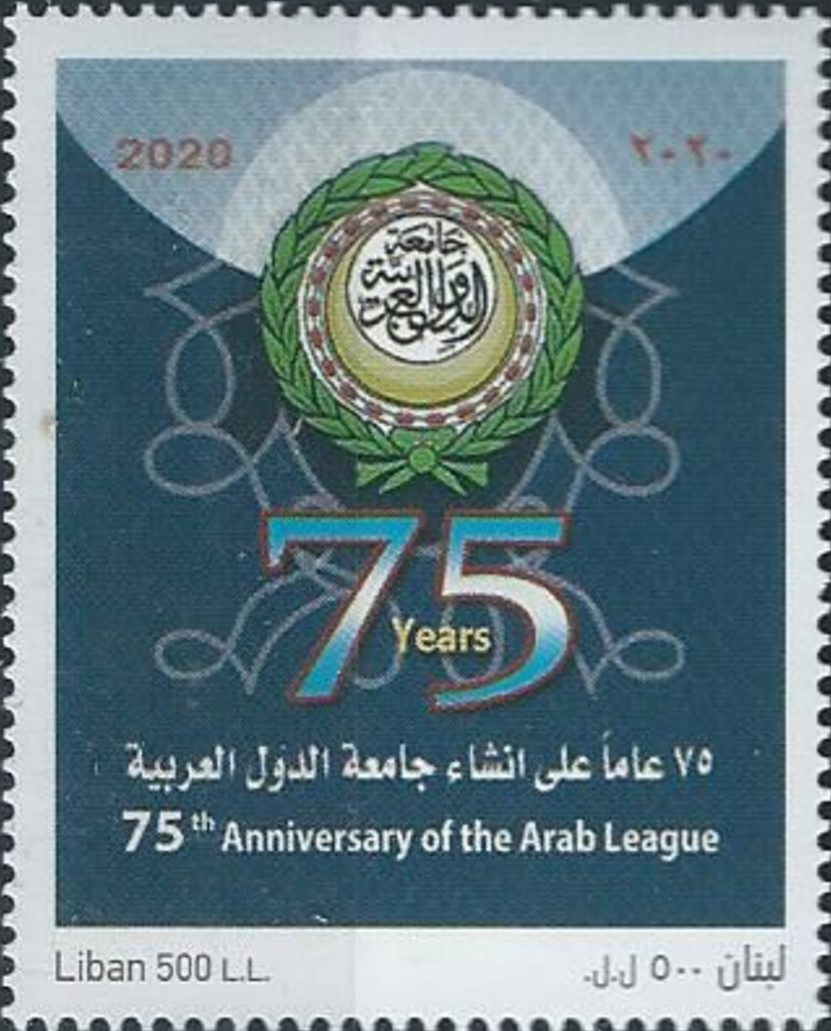 ---
2020 (March 27) - [T20200327]
Belarus (September 8) - Croatia - Italy (postponed) - San Marino (March 26) - Slovakia - United Nations (New York)
Milanofil 2020, March 27-28, 2020 - ActNow Climate Action Campaign. Twin issue [T1].
Identical stamps. B, Cyclist. UN issued a miniature sheet with 10 different stamps (A-J) among which the cyclist of Type B. These stamp designs were used as labels in miniature sheets by some countries or in souvenir sheets similar to the UN souvenir sheet. The ten designs A-J symbolize respectively: A "Five minute shower" (man taking a shower); B, "Drive less" (cyclist); C, "Meat-free meals" (vegetable, avocado, fork, knife); D, "Local Produce" (market booth); E, "Recycle" (man throwing a bottle in a bin); F, "Lights off" (hand and switch); G, "Unplug" (electric plug); H, "Refill and reuse" (hand, cup, recycling symbol); I, "Zero waste fashion" (cloth and hanger); J, "Bring your own bag" (man with shopping bag). Some countries used a neutral label showing a simple circle made of colored (rainbow) trapezes (K). Multicolored.
This issue was developed to become a twin issue to be released during the Milanofil 2020 exhibition by the following countries associated to the United Nations (New York): Belarus, Croatia, Italy, San Marino and Slovakia. Due to the Coronavirus pandemic, the exhibition was cancelled and some of the countries delayed or postponed their stamp release while other just cancelled the issue. This first group of countries is to be described as the official original group described in the first list below. Among these countries, the stamps from San Marino became available only by end of May 2020, but first day cancellation remained March 26, 2020. It is expected that the Italian stamps may be released during the postponed Milanofil exhibition now scheduled for October 7-8, 2021. By that time their potential participating countries could include: Albania, Armenia, Maldives, Malta, SMOM or Vatican State (all to be confirmed). As Croatia, Slovakia and the United Nations (New York) have released their stamps at the initially agreed date (March 27, 2020), this series remains considered as a twin issue [T].
However, during the year 2020, additional countries became associated and released also their own stamps using the same designs. The first list below includes stamps created by official postal administrations. So far, this list is limited to two countries, namely Azerbaijan and Kyrgyzstan, this later with stamps which were actually released by the private post Kyrgyz Express Post
Azerbaijan (September 8) - Kyrgyzstan (December 15)
Agencies took the opportunity to create similar stamps. So far, this list includes Central Africa, Chad, Liberia, Mozambique, Sao Tome and Principe, Sierra Leone and Togo. These stamps were created by Stamperija (Lithuania). Other stamps may appear during the year 2021 and up to the next Milanofil Exhibition. Additionally, private posts took also these designs for their own production: Peter's ¨Post in Finland and Russia. Eventually, some personalized stamps based on these designs were also produced in the meantime (Estonia, but also available from Peter's Post). The stamps listed below are definitely not considered as being part of this joint issue and filed as Borrowed Design [BD] type issues.
Central Africa (June 22) - Chad (August 20) - Estonia (March 27) - Finland (Peters Post) (March 27) - Liberia (June 12) - Mozambique (September 15) - Russia (Peter's Post) (March 27) - Sao Tome and Principe (August 31, 2020) - Sierra Leone (June 12) - Togo (September 15, 2020)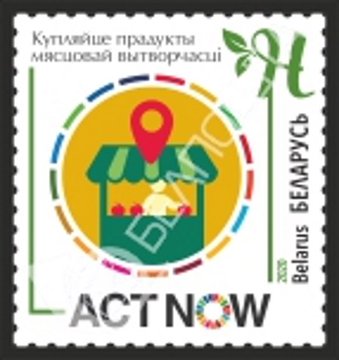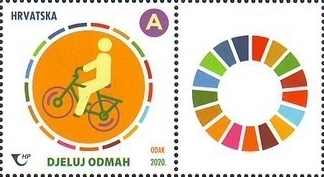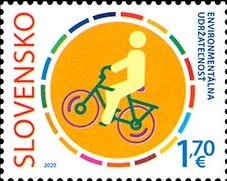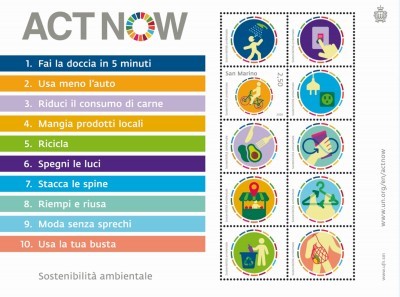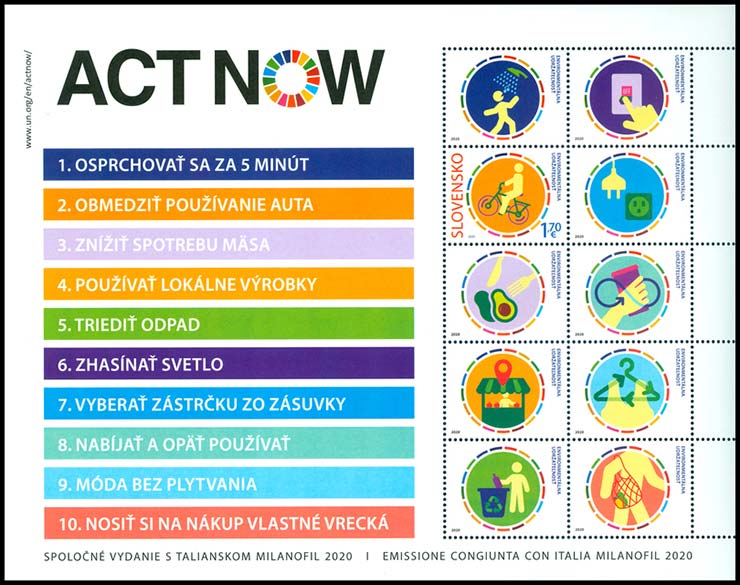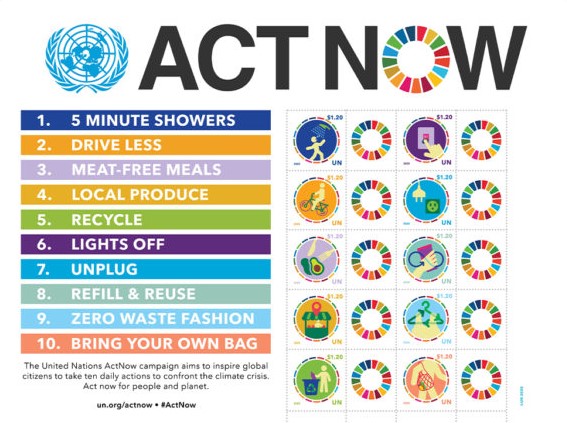 ---