Archives Quarter 1, 2015

This page is the archived News Page from the January to March 2015 period. All contents have been dispatched in the respective stamp description pages. However there may still be open questions and any complementary information remains welcome. As soon as an information is archived, the text will not be changed anymore. So if news are linked to the below, this information will be displayed as a new heading in the currently open News page.
Back to list of Archived Pages
---
March 28, 2015
Information found by Grzegorz Omelanczuk (Poland): Indonesia will issue stamps jointly with North Korea on April 15, 2015. The stamps will represent the two former leaders of the countries. More details to come.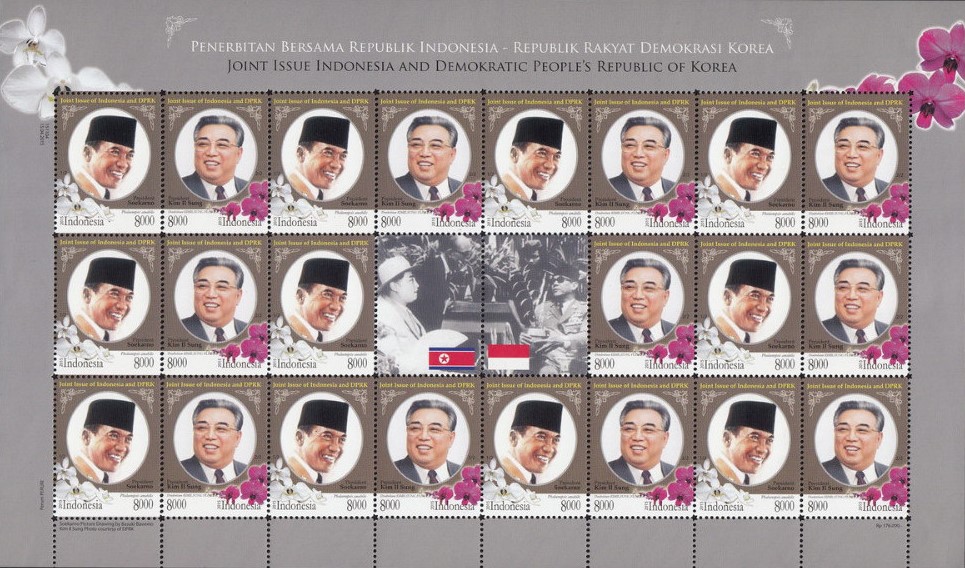 ---
March 25, 2015
Jaap Sarelse (The Netherlands) obtained information from the Cyprus Post confirming the joint issue with Armenia to be released on April 2, 2015. The Cyprus stamp will be printed at 275,000 samples in miniature sheets of 6 [3x2]. Here is the first image of the Cyprus stamp: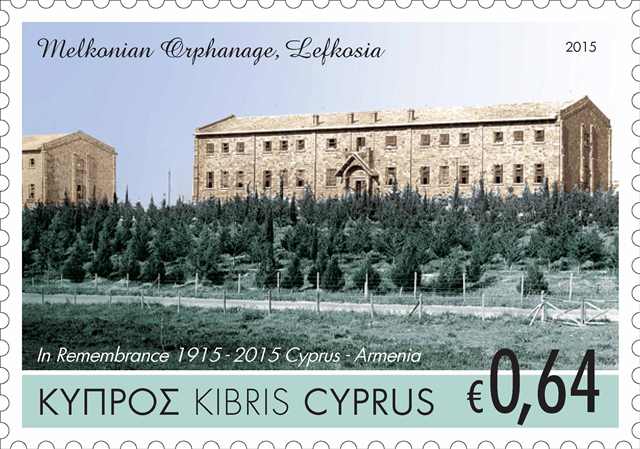 ---
March 25, 2015
All details about the next ANZAC issue involving Australia and New Zealand are to be found on the blog of Kiwianne12 (information discovered by Grzegorz Omelanczuk - Poland).
Each country will issue two identical stamps (multicolored with either gold or silver) and a souvenir sheet containing the two se-tenant stamps on April 7, 2015. Of course FDCs with stamps and with souvenir sheets will be available as well as mixed first day covers with all four stamps. At the occasion of the Sydney Stamp Expo 2015, Australian souvenir sheets will be overprinted with either silver or gold logo of the exhibition. These items will apparently be available only at 350 or 250 samples sold respectively at AU$11 and AU$15! Australia will also produce a Numisbrief (FDC+ special coin) as well as folder with mint stamps and miniature sheets from both countries.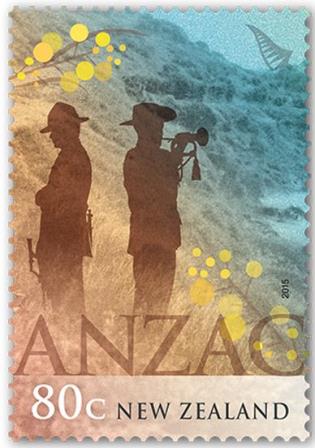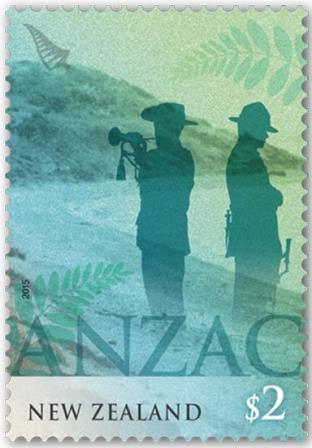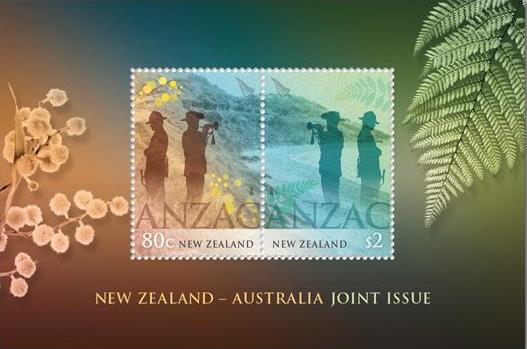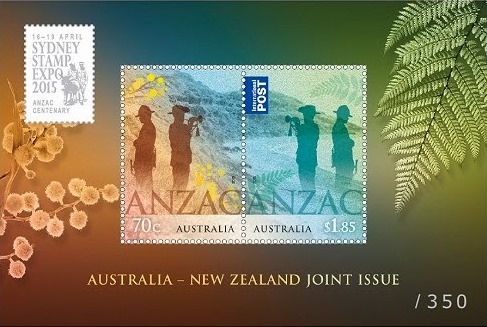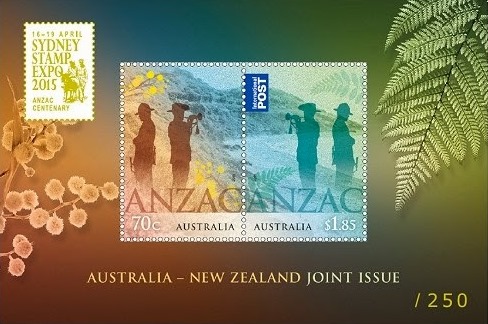 ---
March 25, 2015
The Croatia - Spain joint issue will be released on March 31, 2015. Stamps represent laces. Spain will issue two stamps printed at 300,000 samples each. Croatia issues the stamps in a miniature sheet of 4 se-tenant pairs, chessboard ordered [1px4].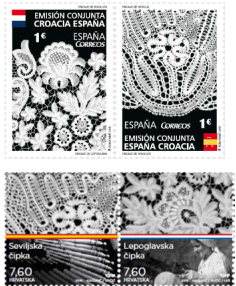 ---
March 25, 2015
It seems that the countries members of the ALBA-TCP (Alianza Bolivaríana para los Pueblos de Nuestra América - Tratado de Comercio de los Pueblos - The Bolivarian Alliance of the people of our America - People's trade agreement) have entered in a joint issue that celebrates the 10th anniversary of this treaty. So far we have seen only stamps from Bolivia with a date of issue of February 4, 2015 but the FDC displayed on Delcampe is made on a cover from the Venezuelian embassy in Bolivia. Information discovered by Grzegorz Omelanczuk (Poland).
We have now to watch future issues of all countries of the ALBA group which include, next to Bolivia: Antigua and Barbuda, Cuba, Dominica, Ecuador, Nicaragua, Saint Vincent and Grenadines, Saint Lucia and Venezuela.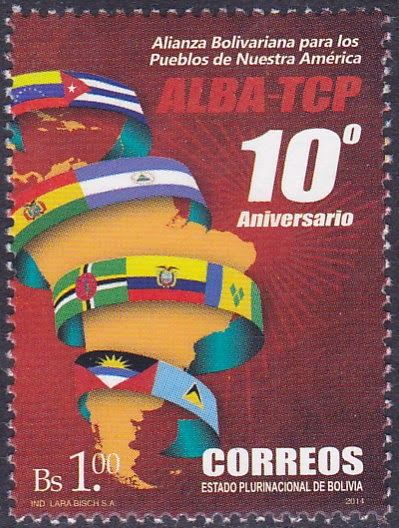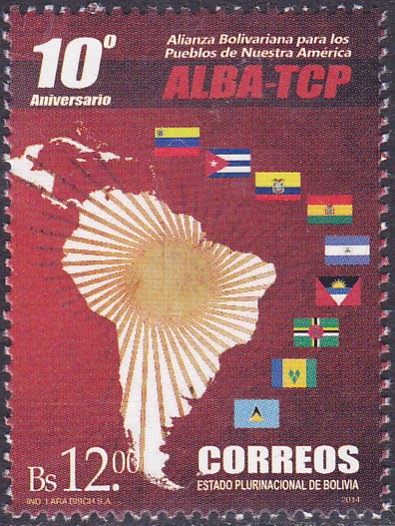 ---
March 25, 2015
Information about stamps released in the past 4 weeks:
The WWI commemoration stamps produced by Belgium and France have been issued on March 19, 2015. Finally only one stamp is identical for both countries, the one designed by the Belgian artist Kris Demey. However these stamps are not officially presented as a joint issue, and no common philatelic ceremony took place, nor official mixed documents are available. Private mixed documents have been prepared by philatelists. As stamps are identical, as they have been created by Belgian and also originally French artists and as they have been released around a very close date, we have to consider them as joint. In fact there was initially a joint character agreed by both postal administrations during the creation process even if it did not translate in joint documents. The discrepency came probably from the fact that Belgium did not want to issue their stamps in panes, and only in souvenir sheets and that the postal French administration gives a joint character only to stamps they can bring together in a philatelic "pochette", which is not possible with souvenir sheets. The Belgium stamps is part of a series of 5 souvenir sheets dedicated to WWI and that are released over a period of 5 years (2014 to 2018).
These stamps remain to be classified as [T1] as they do not differ from the very first example provided to describe the [T1] category with the [T19730122] issue between France and Germany (flags) at which time these "pochettes" did not exist.
The result is that there is only one common stamp, that Belgium issued only a souvenir sheet and that France issued two stamps and a souvenir sheet.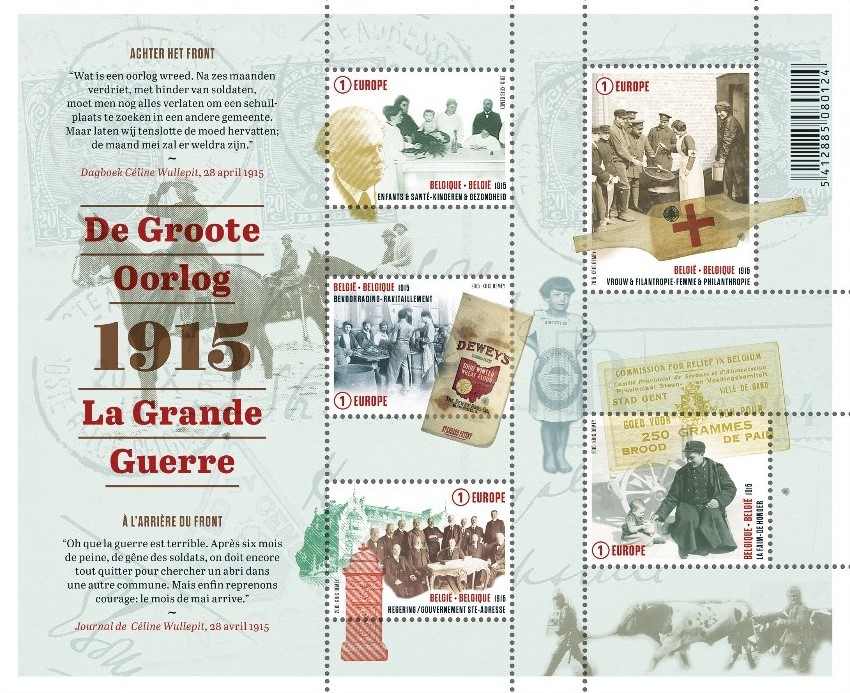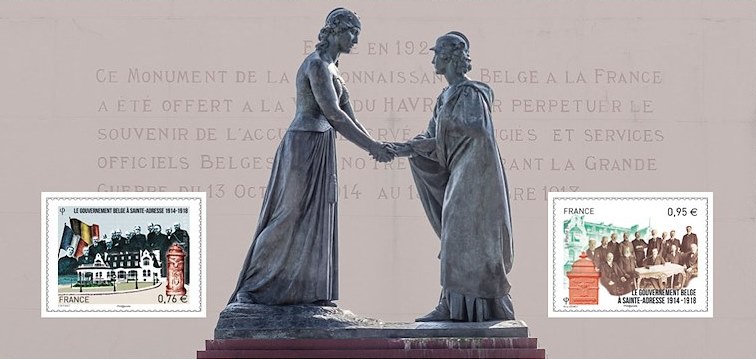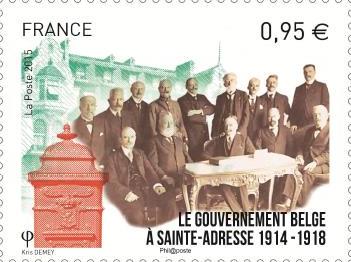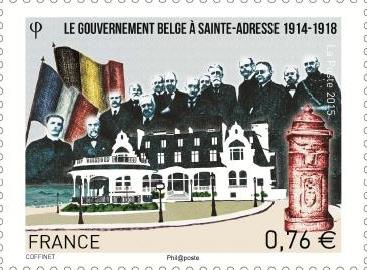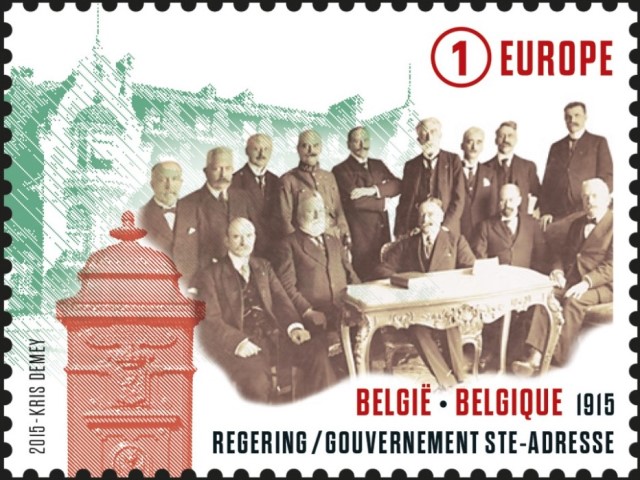 We had also several exchanges with Grzegorz Omelanczuk (Poland), Fabio Bonacina (Italy) and Jaap Sarelse (The Netherlands) about the joint character of the "Protection of the Baltic Sea Natural Environment" issue initially announced by Estonia as joint. Latvia, Lithuania, Poland, Germany, Denmark, Sweden, Finland and Russia are the countries having a direct access to the Baltic Sea and, if there is a joint issue, all of them could be part.
Estonia issued a first stamp on March 12, 2015. It is a heart shaped stamp within a souvenir sheet size 66x55mm printed at 20,000 samples.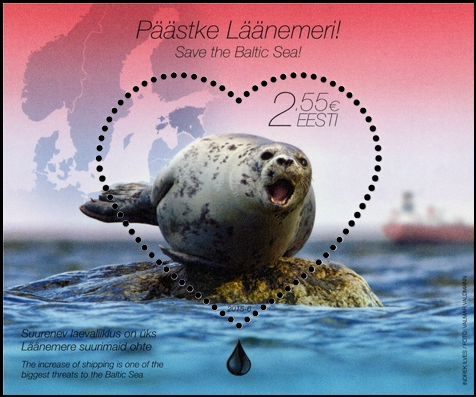 Jaap contacted Tiina Müller, the Estonian Sales Manager of the Stamp Department and obtained the following answer: "The idea to this joint project came from the Polish Postal administration (Poczta Polska) in January 2014 to all members of the Council of the Baltic Sea States (Estonia, Latvia, Lithuania, Russia, Poland, Germany, Denmark, Sweden, Finland and Åland). In 2014 Lithuania issued a stamp and hopefully in 2015-2016 all the other Baltic Sea countries will do the same. Unfortunately I have no information about the issue dates of the other countries.". Here is the Lithuanian stamp issued in miniature sheet of 9 stamps (120x135mm) with one pair tête-bêche on May 24, 2014.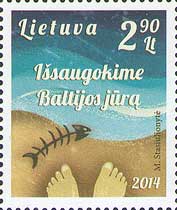 With this limited information we cannot consider this series as joint so far. We have to wait to see other stamps from other countries participating to this issue.
---
March 25, 2015
Niket Bubna (USA) found the information related to the next France India joint issue. The stamps will be related to the Saral and Megha-Tropiques space programs. These Franco-Indian satellites are represented at least on the French stamp. The common date of issue could be April 24, 2015 (this is the official French date of issue). France will release 1,200,000 stamps and has allready announced a mixed "pochette" (mint stamps from both countries). Here are the first images of the French stamps. There are great chances that Indian stamps will be identical.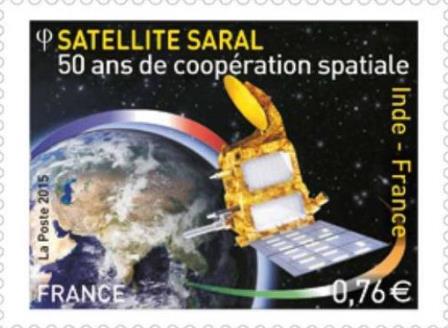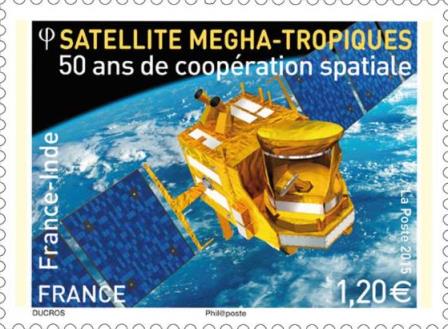 ---
February 25, 2015
April 18, 2015: We have been informed that the stamps described below may be illegal. It seems that those stamps available only at Delcampe and eBay and sold at high prices are not produced and not recognized by the supposed originating countries. We are trying to get confirmation of this information, but in the meantime we would highly recommand to remain suspiscious when being offered these products and we will not report these stamps in the catalogue as long as we have not get a corrective statement from the respective philatelic authorities.

Additional information has been found concerning the Nelson Mandela series. Chad, Republic of Congo and Mali have each issued three (and not two) souvenir sheets with 4 different stamps. Each souvenir sheet exists in two forms with different margins. The margin we have already described earlier shows two Concorde planes and the logo of the SANSA. A new form is also available bearing the South African flags with the shape of the country at each corner of the souvenir sheet. So in total each country has issues 6 different souvenir sheets. On top of this, all souvenir sheets are available as perforated and imperforate, which makes a total of 36 different souvenir sheets. The exact dates of issue are still unknown.
Obviously these souvenir sheets have been printed at the same printing house and there is no apparent real wish from these three countries for having collaborated to release this issue (with the exception of the discount they got by using the same design). As a consequence, we have to consider this issue as an omnibus series and we will not recommend buying it.
For your information, here are the images of all these items: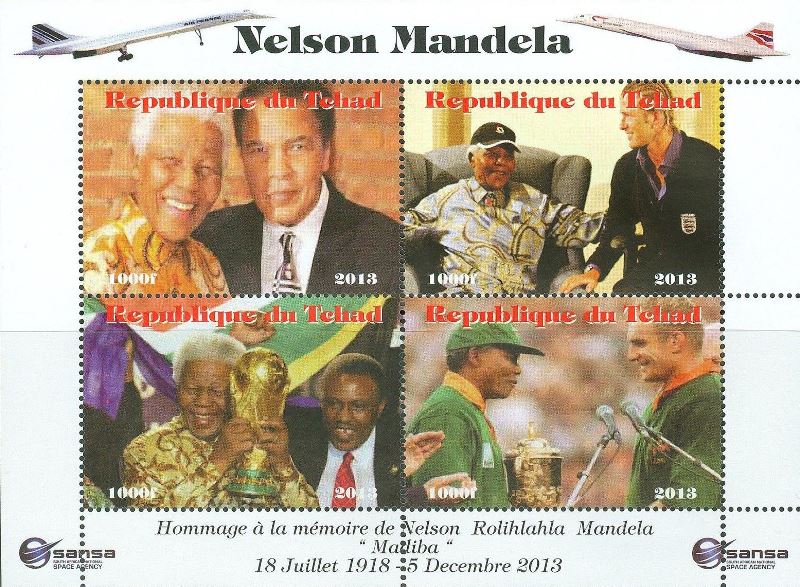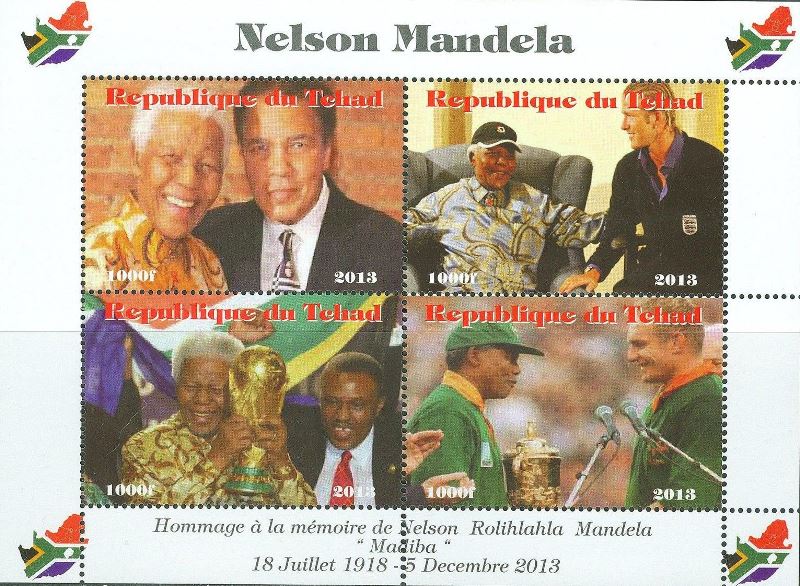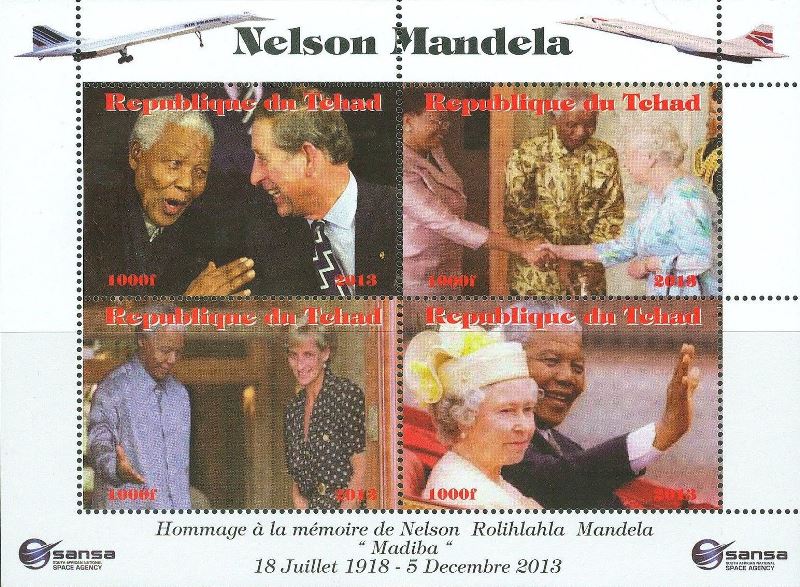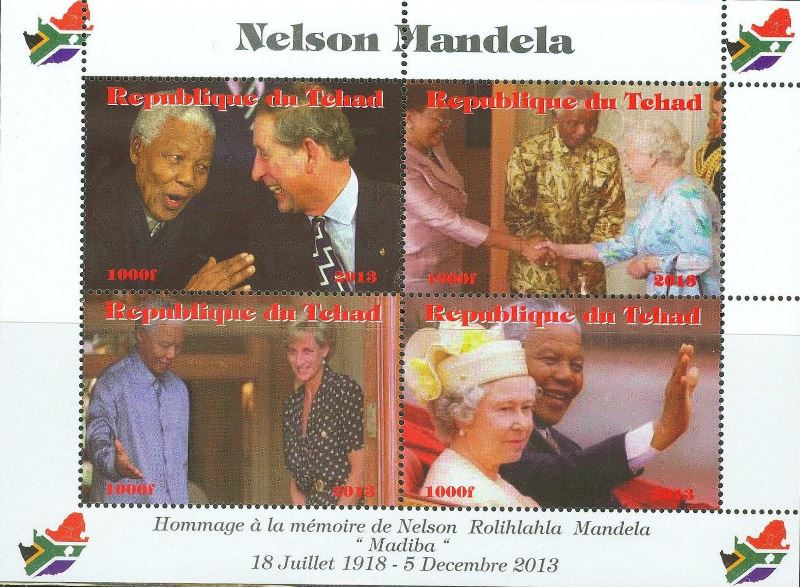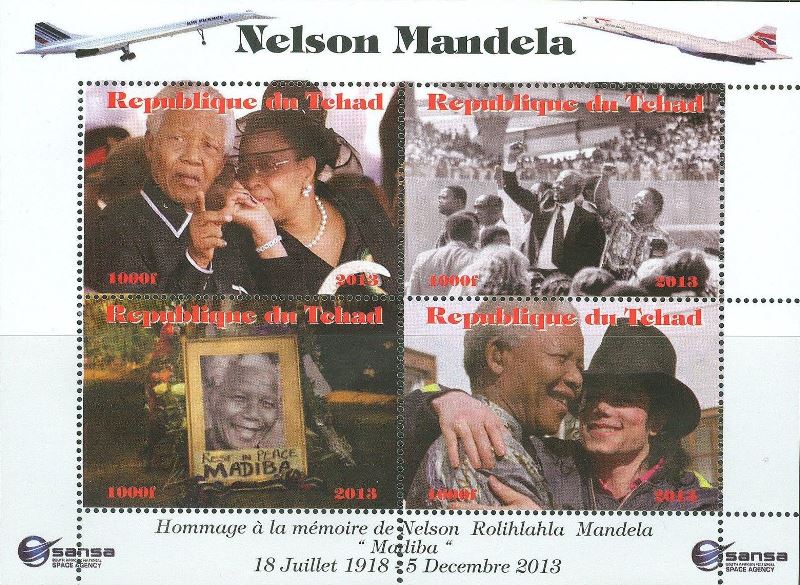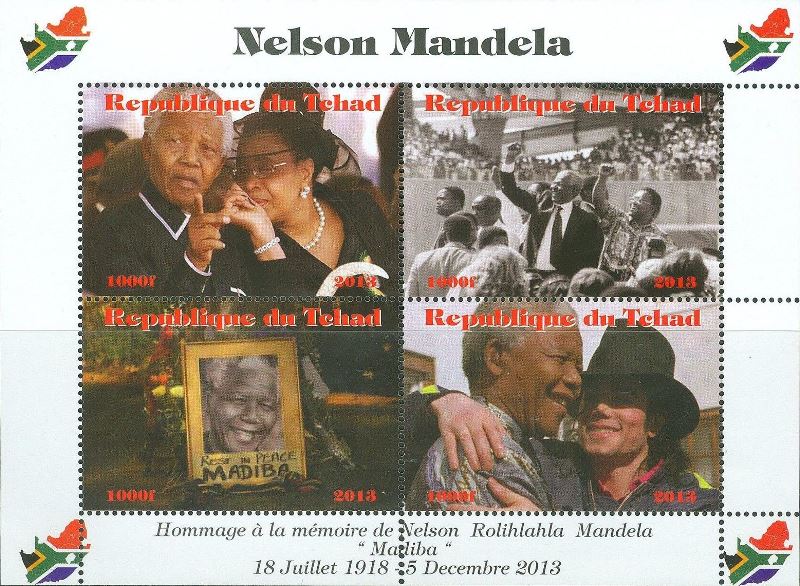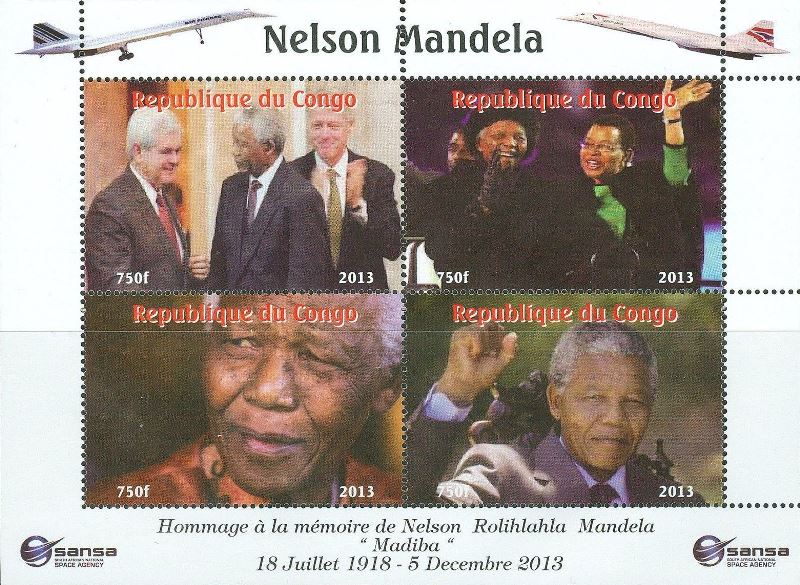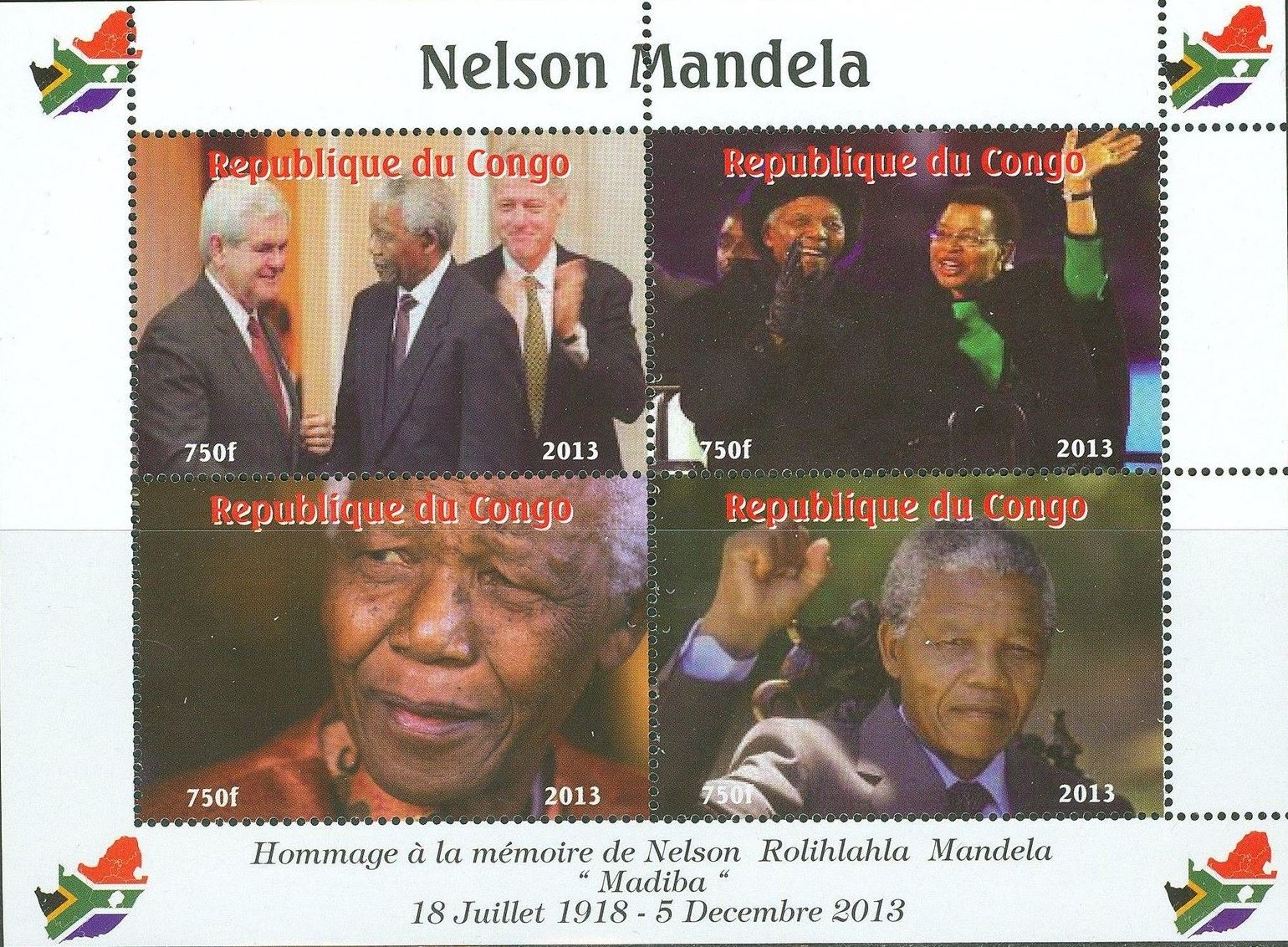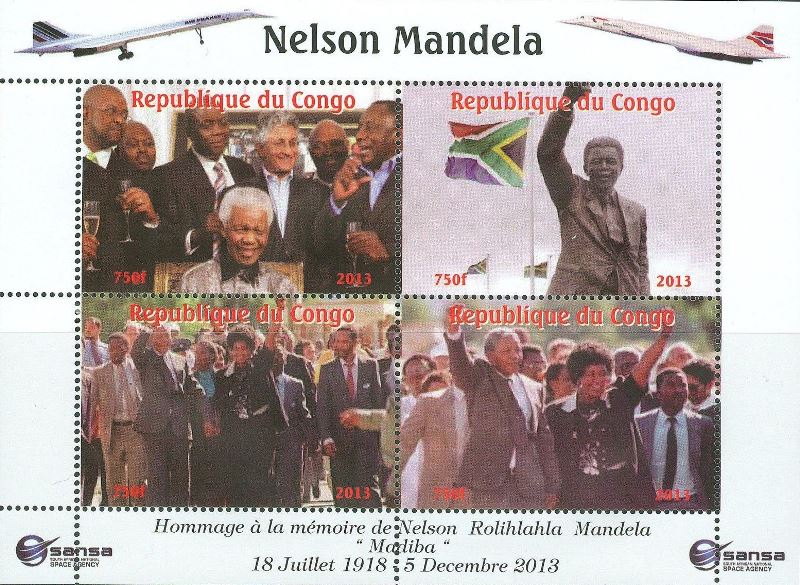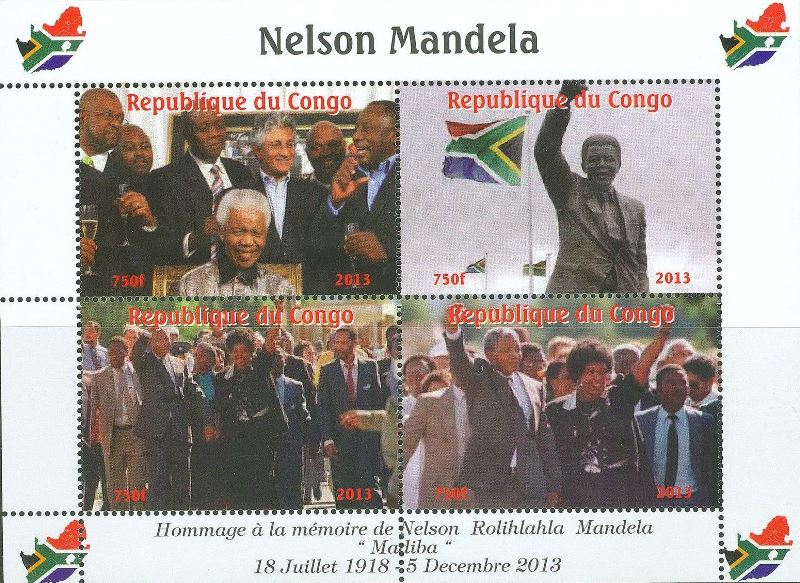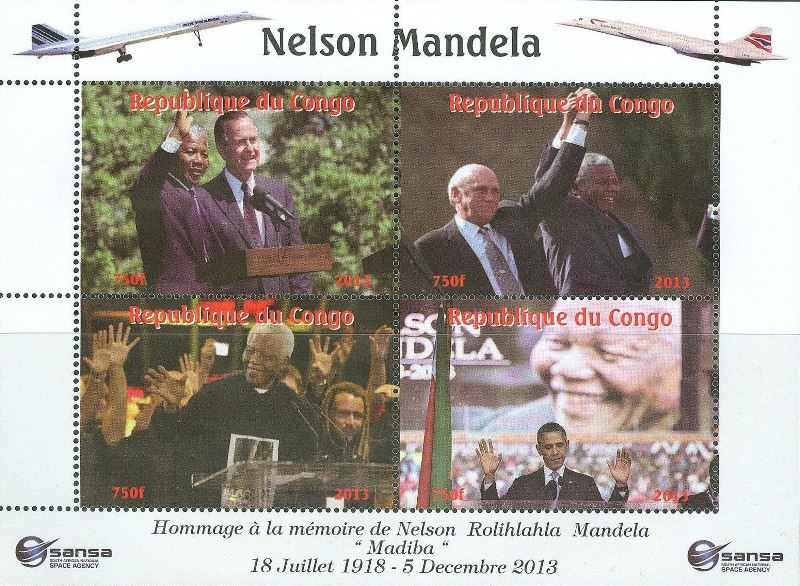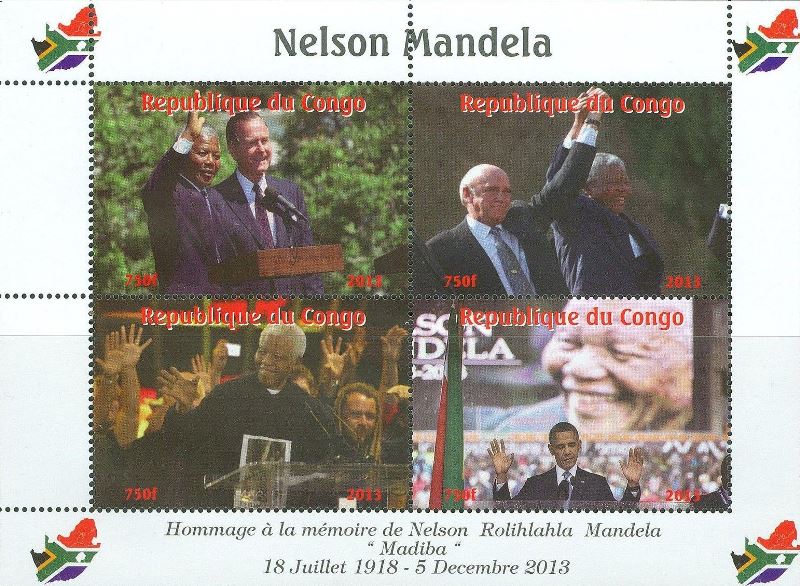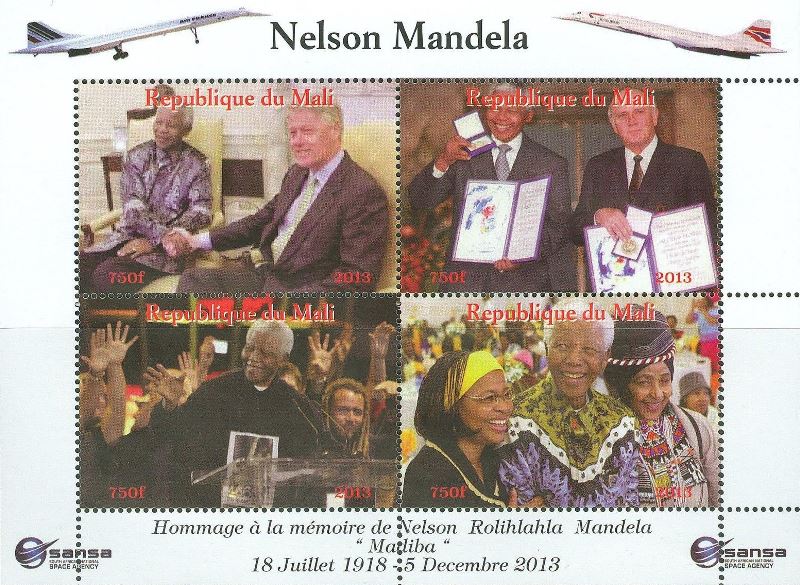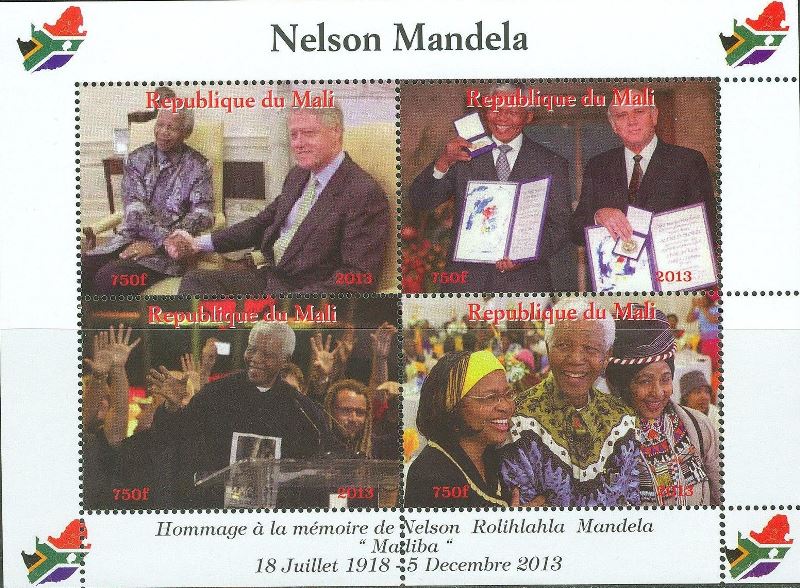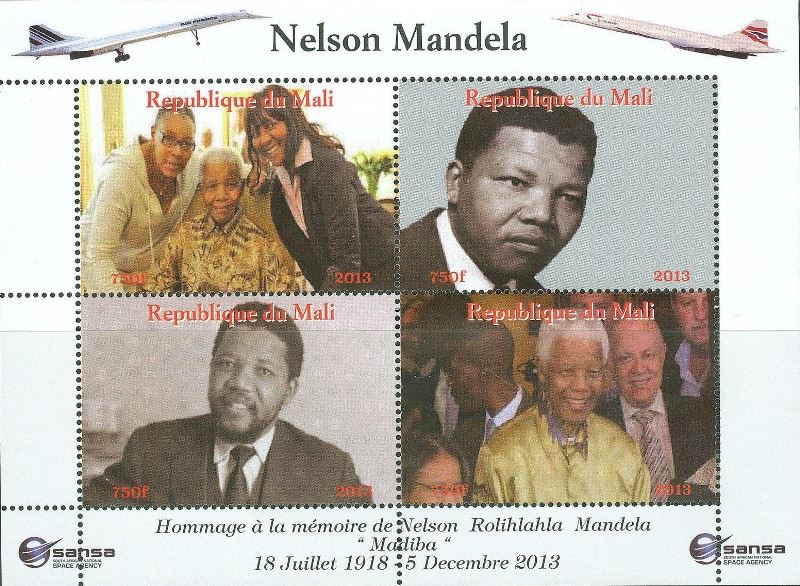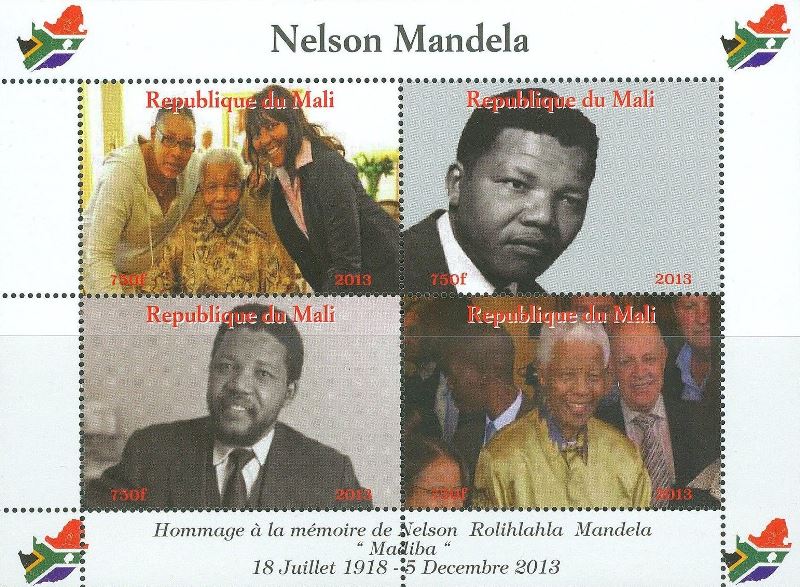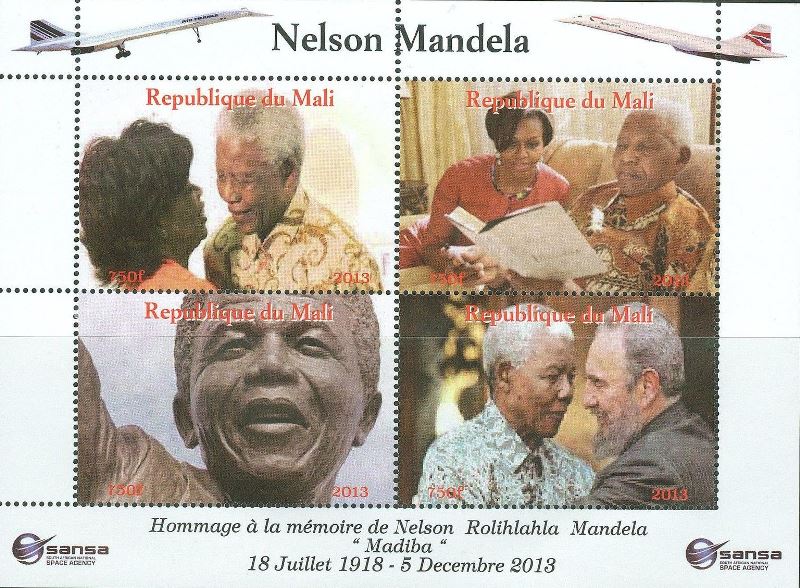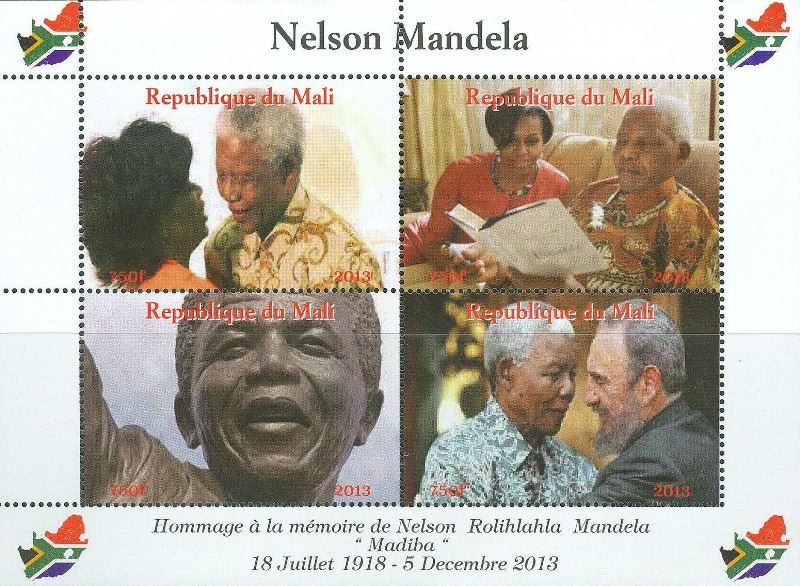 ---
February 19, 2015
April 18, 2015: We have been informed that the stamps described below and honoring Nelson Mandela may be illegal. It seems that those stamps available only at Delcampe and eBay and sold at high prices are not produced and not recognized by the supposed originating countries. We are trying to get confirmation of this information, but in the meantime we would highly recommand to remain suspiscious when being offered these products and we will not report these stamps in the catalogue as long as we have not get a corrective statement from the respective philatelic authorities.
Mansoor Moazzeni (Iran) discovered souvenir sheets issued by the Republic of Congo and Chad in honor of Nelson Mandela (1918-2013). The date of December 5, 2013, provided at the bottom of the souvenir sheet is the date of death of Nelson Mandela. These stamps have probably been issued in the course of 2014. They are similar in design and surprisingly they bear in the margin pictures of the Concorde plane, but also the logo of the SANSA, the South African National Space Agency. A closer search has already permitted to discover similar stamps issued by Mali. Apparently each of the three countries have issued two different souvenir sheets with 4 stamps each, perforated and non-perforated. At least these items have been produced at the same printing house and there may be other countries involved. In this case they will be reported in the category Omnibus series.
We need more information, and at least we have to wait until these stamps are reported in standard catalogues. Any help is welcome.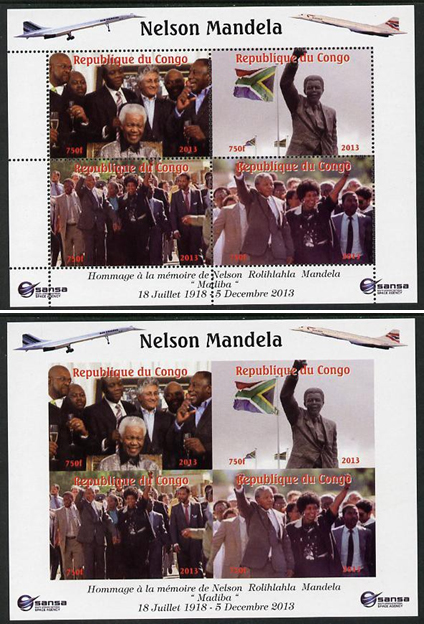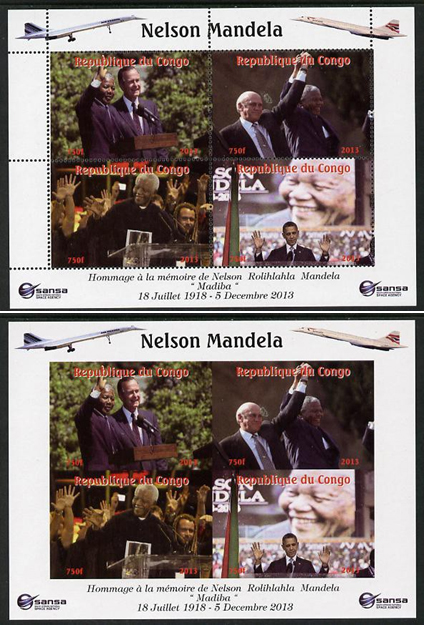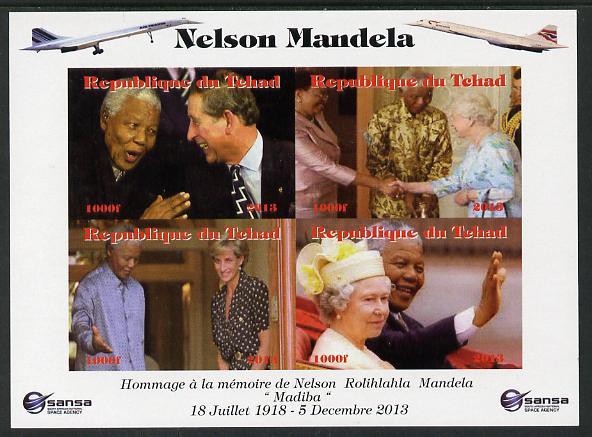 Fabio Bonacina (Italy) provided the first images of the Spanish stamps issued jointly with Croatia next March 31, 2015. Topic will be laces and Spain will issue two se-tenant stamps in panes of [2px5].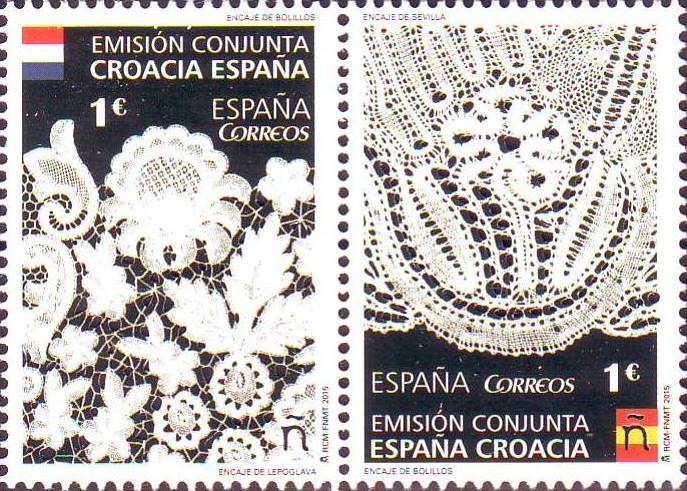 Mike Lantz (USA) found the information about a joint issue between Japan and the United States of America to be released on April 10, 2015. The countries will celebrate the 100th anniversary of the gift of dogwood trees by the US to Japan. The USA will release two stamps while Japan will produce a souvenir sheet with 10 stamps among which two similar to the US stamps. Grzegorz Omelanczuk (Poland) found the details of the Japanese stamps under this link. These stamps available as a souvenir sheet, size 140x222mm, represent a) Sakura and the Houses of Parliament with cherry blossom, b) Kenseikinenkan Clock Tower, Sakura with dogwood flowers; c) Lincoln Memorial with cherry blossom; d) the United States Capitol with dogwood flowers, and 3 other pairs representing dogwood tree flowers. Dodwood fruits as well as flags from both countries are present in the margins. The Japanese souvenir sheet will be printed at 1.5 million samples.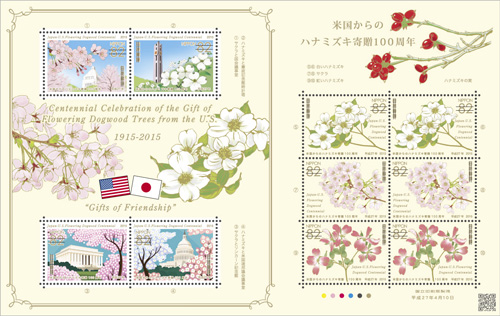 Grzegorz Omelanczuck (Poland) could provide the image of the Turkish stamps (souvenir sheet printed at 100,000 samples) issued on February 18, 2015, jointly with Iran.
February 24, 2015: Hosein M. Hoseini (Iran) just provided the picture of the Iranian stamps.


---
February 19, 2015
Roland Montagne (France) provided the copy of the latest decree confirming the official list of stamps that France would issued during the first half of 2015. Among the modifications, the planned Belgium-France issue has apparently lost its joint character.
In fact there may be a simple explanation: this stamp was supposed to be issued in honor of the temporary Belgian government site located in the French town of Sainte Adresse during WWI. Both countries will issue stamps commemorating this event and apparently release them at the same date of March 21, 2015 (actually the official date of issue for the Belgium stamp is March 23, but there will be a pre-sale on March 21). The design of the Belgian stamp can be seen in the Belgian journal PhilaNews, while the French stamps are represented in the advertisement page of the next Spring Stamp Exhibition that will take place in Paris between March 19 and 21, 2015. France will issue two different stamps. Belgium stamp is part of a souvenir sheet containing five different stamps. Despite the blurry image of the Belgian stamp, it seems that the designs of both stamps are identical.
In fact the French postal administration considers a joint character for a stamp when they are able to produce mixed "pochette" containing 2 or 4 stamps from each country as well as "Official mixed Documents". In this special case, Belgium is apparently not issuing stamps in pane, obliging French collectors interested in the joint stamp to buy the whole souvenir sheet. Also catalogue producers are not quite happy to integrate information (and space in albums) for series as pendant to single stamps from France. Nevertheless, because stamps are identical (and not similar), date of issue is apparently also the same, this tells us that there was some cooperation in preparing this issue and when we will have access to a better quality image of the Belgian stamp, we will probably integrate this issue as joint. This character could be confirmed by two additionnal criteria, namely, if the Belgian postal administration will be present during the Spring Exhibition, (or in Sainte Adresse) and if mixed first day covers will become available. We just have to wait a few weeks to know more. In the meantime here are the pictures of the French stamps (the second one being the one identical in design to the Belgian stamp).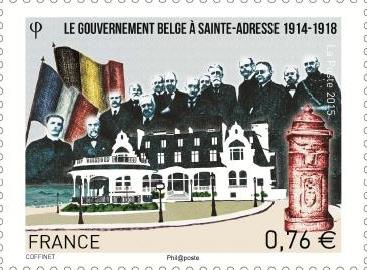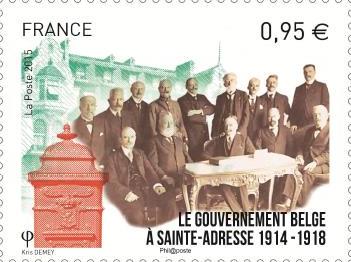 ---
February 7, 2015
USA, first country involved in the stamp series "Fight against breast cancer" issued initially on July 29, 2014, reissued their stamp as a self-adhesive stamp in panes of [5x4]. This stamp is now available rouletted or non-perforated. On the contrary to the original 1998 stamp which was printed in halftone, this new issue is based on an offset process. The known stamps from this series with the same design include Austria (October 1, 2011), Belize (October 10, 2006), Gambia (December 10, 2007), Grenada (December 11, 2007), Hungary (September 29, 2005), Jordan (August 25, 2009), Kenya (October 28, 2007), Kosovo (October 15, 2008), Macedonia (March 2, 2009), Micronesia (March 12, 2008), Slovakia (April 12, 2013), United States (July 29, 1998 and September 30, 2014). As these stamps were not issued on the basis of the cooperation between postal administrations, and only on a borrowing of the same design, they cannot be considered as joint. So they continue to be filed as [N] stamps. Pictures of stamps from Brazil, Greece and Israel are also circulating on the web, but in reality these stamps have not been issued yet and pictures provided here seem to be only proposed designs. They could also be considered or already available as cinderellas. Information is missing.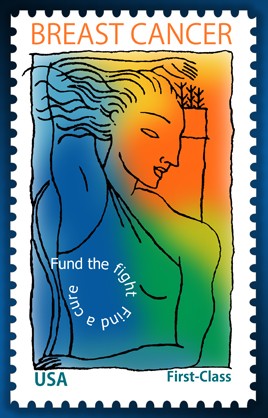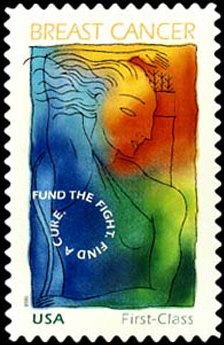 ---
February 5, 2015
The Philippines - Israel joint issue has finally been released on January 27, 2015. Both stamps depict the "Open Doors" monument at the "Memorial Park" in Rishon Le-Zion, which was erected to commemorate the Philippines rescue of Jews from the Holocaust. Uri Barlev (Israel) provided the pictures.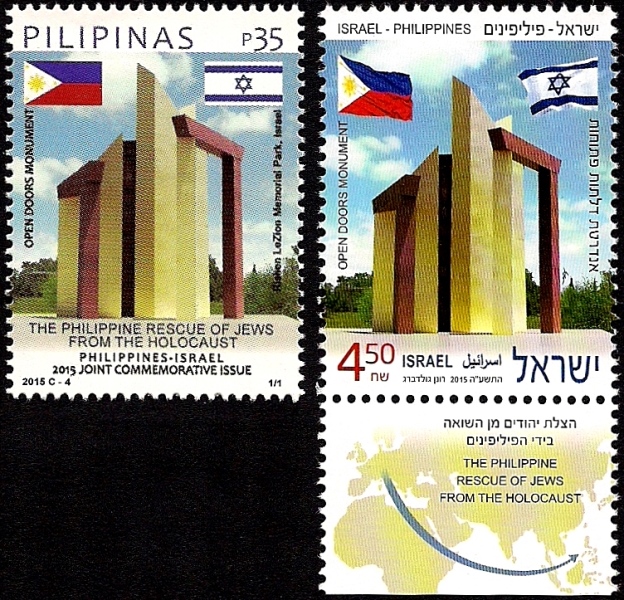 ---
February 3, 2015
These two past days our collector friends made two original and surprising discoveries:
Jaap Sarelse (The Netherlands) discovered the Jordan stamp from the Euromed series that was initiated on July 9, 2014 [T20140709]. So far he found only a very expensive source (US$16 while the denomination corresponds to about 1 Euro), but probably other stamps will now appearfor sale at lower prices. Date of issue is still unknown. Among all countries having announced their participation to this series we are just missing the Syrian stamp. See details under section Quarter III, 2014.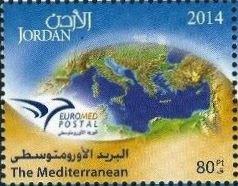 20150206: a very recently discovered first day cover shows that this stamp was issued at the same date as the stamps from the other countries, namely July 9, 2014.
Eric Chan (Hong Kong) discovered also in a blog the picture of a stamp that apparently is the Mozambique part of the Lusitanian writers issue from the 2012 AICEP Lubrapex series [P20121009]. So far we have seen only stamps from Macao (October 9, 2012) and Cape Verde (October 15, 2012). All Portuguese speaking countries were supposed to participate and Angola, Guinea Bissau, Mozambique, Sao Tome and Timor were also listed. Portugal and Brazil had issued stamps on this topic independently, in form of another joint issue [T20120907]. This is the only picture we have seen up to now, affixed and cancelled on a 2014 cover. It represents the Mozambican novelist Ungulani Ba Ka Kiaosa (1957- ). We do not know its exact date of issue. So any help is welcome.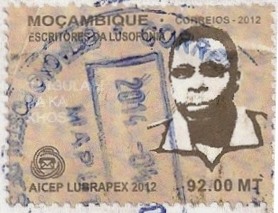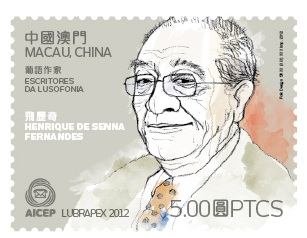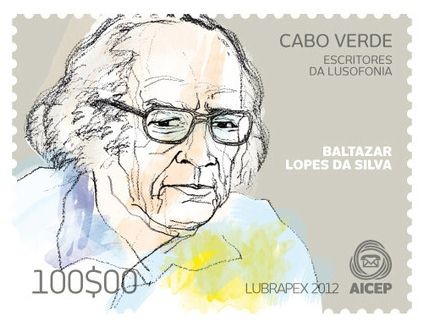 Additional information from Ehsan Mehmood (Pakistan): The Nepal-Pakistan mountain issue initially scheduled in September 2014 was suspended. Nepal and Pakistan are collaborating again to release this subject issue with certain changes in the design in the near future.
---
January 31, 2015
Next to Nagorno Karabakh, the two non-UPU recgnized territories of Transnistria and South Ossetia have also issued by end of last year, on December 26, 2014, joint stamps commemorating 20 years of relationship. Stamps discovered by Grzegorz Omelanczuk (Poland).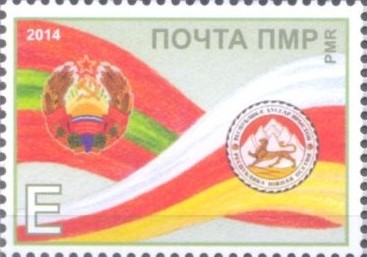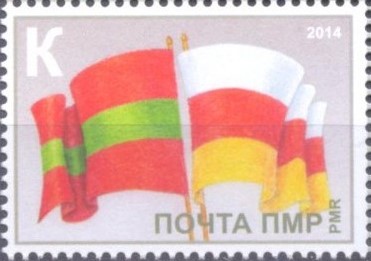 ---
January 31, 2015
Ehsan Mehmood (Pakistan) had provided in the past months several information related to older issues that needed to be checked carefully. Here is the result of the investigation:
The following mixed cover looks like a joint issue. It bears a Canadian stamp and a different design Portuguese stamp, both cancelled from June 6, 2003. The cover is an hommage to Pedro da Silva, called the Portuguese, the first courrier in New France in 1705. The Canadian stamp is cancelled first day, but the Portuguese stamp is not a special stamp issued at this occasion. The Portuguese cancellation is related to the topic, but not the stamp. This stamp and this cancellation have been added to the standard Canadian first day cover. As a consequence we cannot consider this issue (and this mixed cover) as part of the joint issue collection.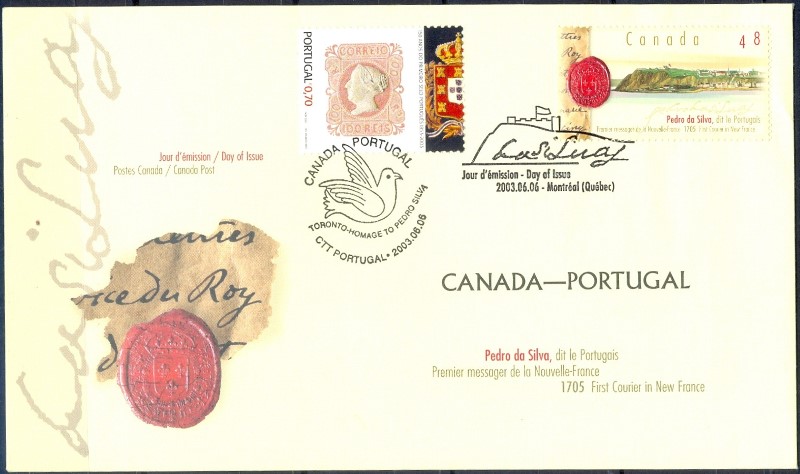 Ehsan provided also information about a series of stamps issued between 1978 and 1989 all showing the Rock Dome of Jerusalem's Mosque and issued for the welfare of the families of the martyrs of freedom fighters of Palestine (solidarity with the Palestinian people). These stamps have been issued by Jordan (November 29, 1983, June 5, 1989), Kuwait (November 29, 1980), Malaysia (1978, 1982), Turkish Cyprus (1990) and Yemen (October 15, 1981). Despite the similar topic, the absence of concertation between postal administrations and the lack of common date of issue and identical pictures does not give the status of joint issue to all these stamps. However, a twin issue on this same topic was reported in the catalogue at the date of May 15, 1977 [T19770515]. This series includes 4 countries having issued identical stamps at the same date (Indonesia, Iraq, Senegal, South Yemen) together with a list of 13 other countries having issued stamps at different dates. As a consequence, the above list of countries will be introduced under this heading and complete this series.
---
January 23, 2015
Mansoor Moazzeni (Iran) found an Iraqian stamp released on January 15, 2015 (but initially planned for November 1, 2014) that is related to the relationship between Iraq and Japan. Unfortunately Japan has not released any stamp in relation with Iraq and the Japanese web site http://yushu.or.jp/english/e_sdate/index.html has been updated recently. So we will not report about these stamps. However this information gave us access to a link that we were not aware about and describing in full details all the Iraq stamps in English. If you are interested, take a look at this nice informative site under http://shirwanistamps.webege.com/list11.htm.
---
January 23, 2015
Before preparing the new printed catalogue complement that should be ready by end of February, we continue collecting information about the stamps issued during the last year and until December 31, 2014. And among those, there are still some discoveries:
Jaap Sarelse (The Netherlands) found that Armenia and the High or Mountainous Karabakh (Nagorno Karabakh) issued identical stamps in 2014. Steven Vandeweghe (Belgium) found the exact date of issue (December 30, 2014). Of course this is a territorial issue with a country that is not yet recognized by the UPU, but worth to be mentioned as some of our friends are also collecting those stamps.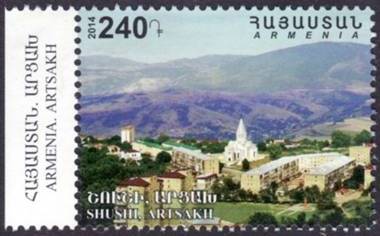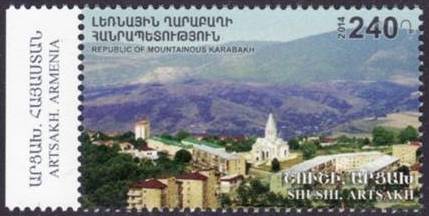 The stamps dedicated to food and issued jointly by Malaysia and Hong Kong on October 9, 2014 were released in panes, but each country issued also a miniature sheet with all four stamps. We haven't reported this additional material so far.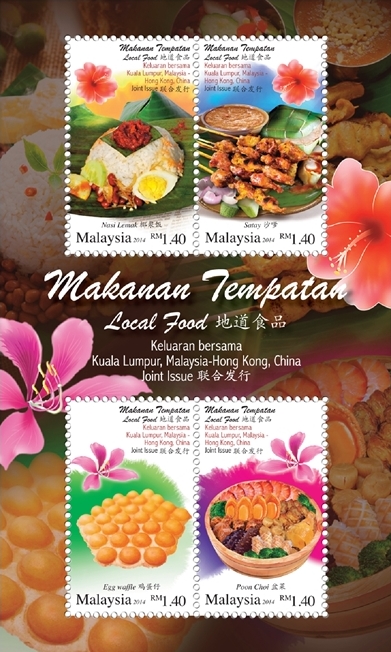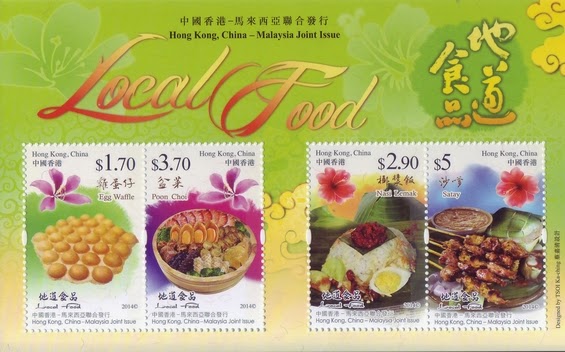 While trying to identify all products linked to the recent Russia - North Korea issue (October 12, 2014), Jaap Sarelse found also that North Korea produced several additional products next to the stamp in miniature sheets [1p + 1p] including perforated and imperforate miniature sheets, two different booklets with one set of stamps each and including labels showing the birds in their nests, perforated and imperforated, and finally a postal stationery (cover).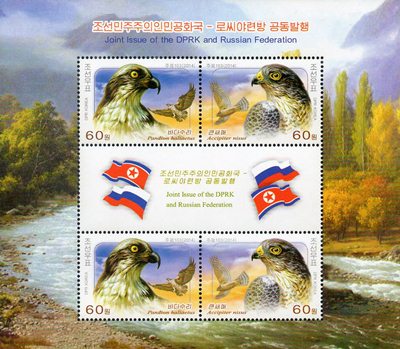 Ehsan Mehmood from Pakistan, who earlier told us that the Pakistanese souvenir sheet from the Pakistan Ukraine joint issue (December 25, 2014) may be reprinted by the local administration as it was sold out very quickly, got unfortunately the confirmation that there will be no reprint and that the number of souvenir sheets will be limited to 10,000.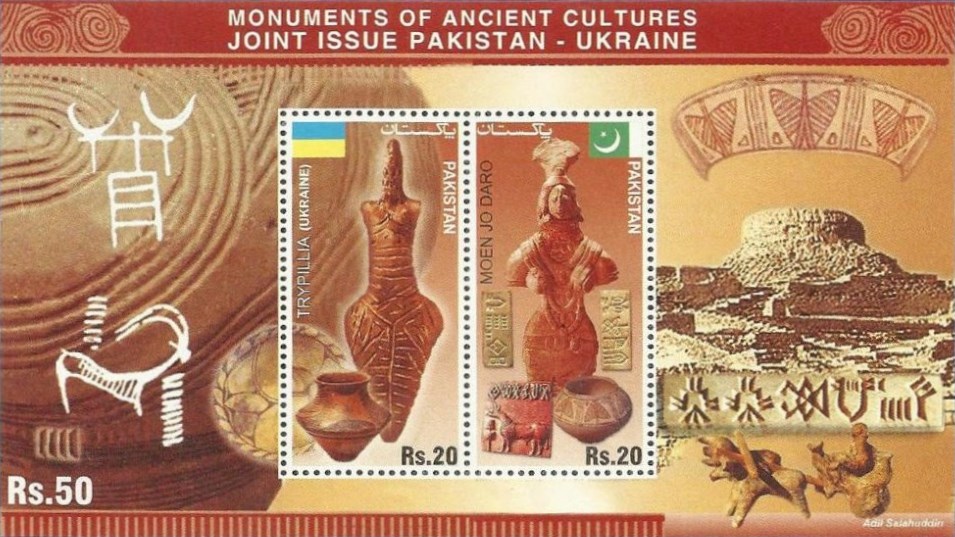 Azerbaijan released its part of the joint issue with Romania (December 19, 2014) only in form of a souvenir sheet (Grzegorz Omelanczuk, Poland).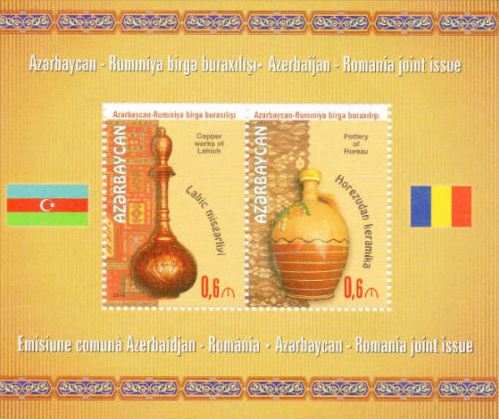 ---
January 6, 2015
Stamps issues during the 2014 third quarter are now reported in the specific updated page.
---
January 6, 2015
Ehsan Mehmood (Pakistan) confirmed that the Pakistanese postal administration printed only 10,000 samples of the joint souvenir sheet with Ukraine. As there was a beginning of panic among local philatelists, it was apparently decided to print another series of 40,000 samples.
In a direct communication with the Romanian postal administration representative, Jaap Sarelse (The Netherlands) could learn that during 2014 Romania issues only two joint stamps (with Croatia and Azerbaijan), that the planned joint issue with Kazakhstan is postponed to 2015, that a second joint issue will be released in 2015 with Brazil and that the country is still in discussion with Estonia, Peru and Sweden to create joint stamps but this will probably not happen before 2016.
Concerning the Congo-Russia potential joint issue, Grzegorz Omelanczuk has already found a postal stationery item related to this event. We are still missing the information related to Congo and the exact date of issue of this cover.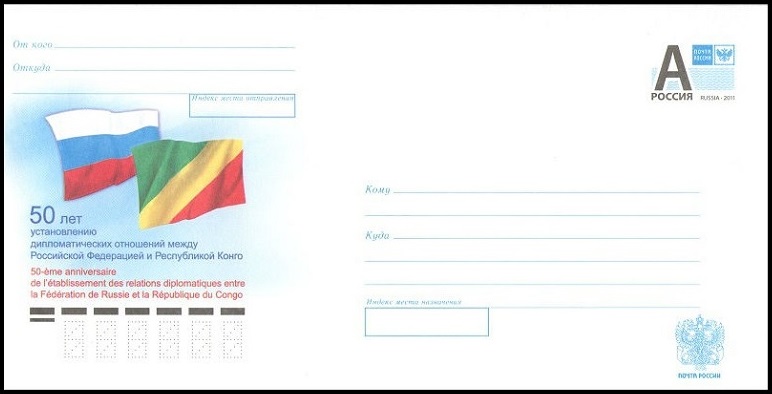 ---
January 3, 2015
A series of unexpected joint issues has been released towards the end of the year 2014. Here is a summary:
- The Ukraine-Pakistan was released on December 25, 2014. In orthodox religion Christmas is celebrated on January 6, 2015, so no wonder that a stamp can be released on the Catholic/Christian Christmas day (information first provided by Grzegorz Omelanczuk, Poland for the Ukrainian stamp and Steven Vandeweghe, Belgium for the Pakistanese stamp). Pakistan produced also stamps in panes of 6 se-tenant pairs [3px2].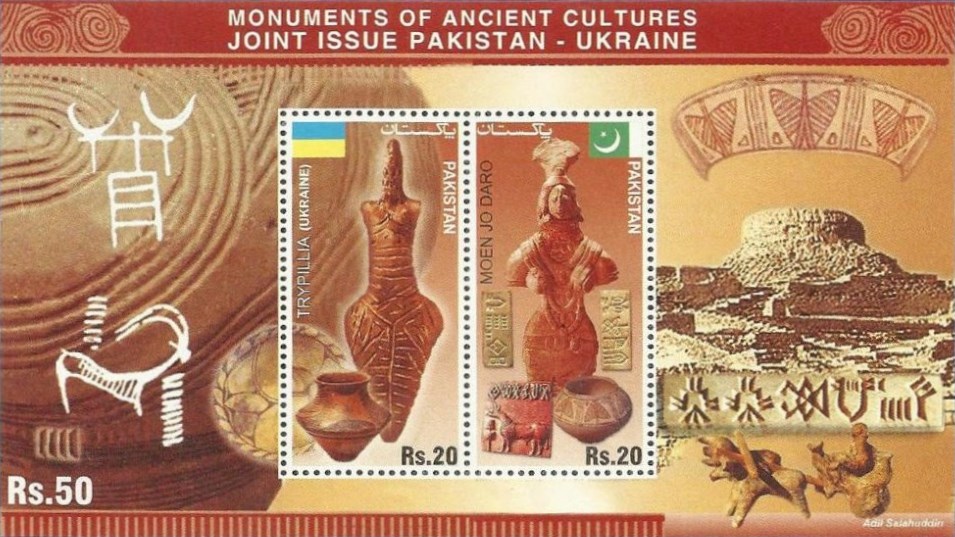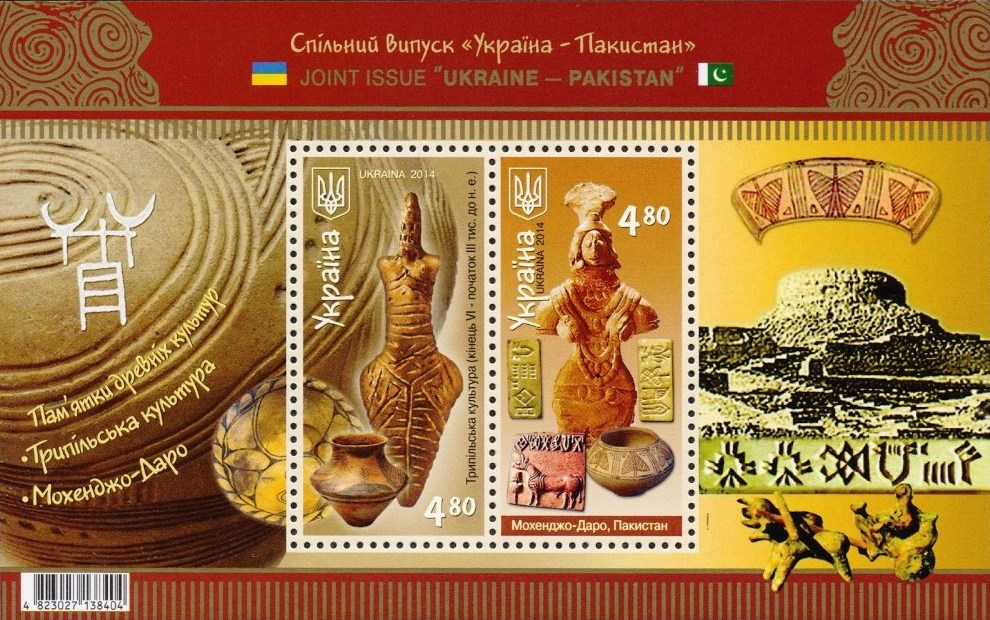 - The missing Mexican stamp from the Iran-Mexico relationship anniversary stamps have been released. Exact date of issue for Mexico is December 18, 2014 while Iran issued the stamp already on October 9, 2014. Stamps have the same design. (Hosein M. Hoseini, Iran, provided the first picture)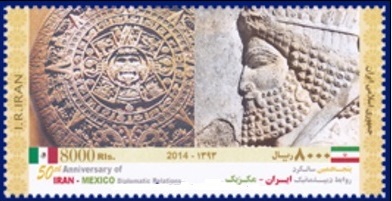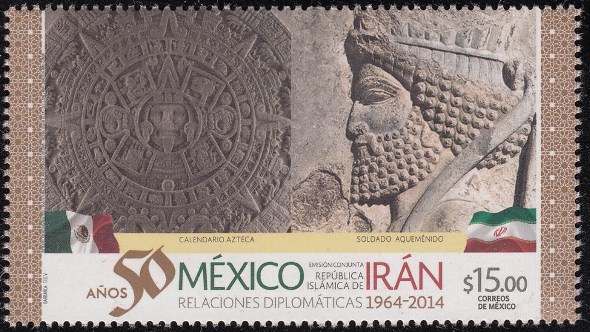 - Fabio Bonacina (Italy) found a press release dated December 27, 2014, in which was mentioned a joint issue between Congo and Russia, released at the occasion of the 50 years of relationship between both countries. The paper says that the philatelic items had been shown to the press on April 26, 2014, but does not mention any date of issue (already released ? or expected 2015 ?). Any additional information is welcome.
- So far we had never reproduced the image of the Christmas Argentinian stamp released jointly with Vatican on November 21, 2014. Here it is: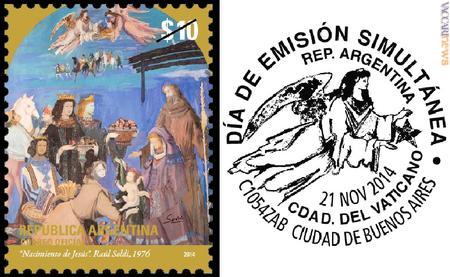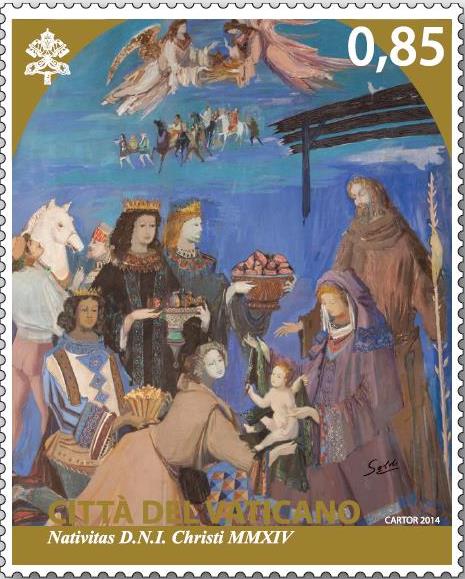 - Correction from Enzo Cafaro, Italy: the date of issue of the Georgian stamp from the Latvia Georgia joint issue is December 22, 2014 and not November 28, 2014 (based on a single sample of FDC for sale on Delcampe, while the official Georgian decree announced the November 28 date). The Latvian stamp had been released on March 28, 2014.
- Grzegorz Omelanczuk, Poland did also send a link to the watercolour, the joint issue between Poland and Turkey is based on (issued November 28, 2014). The watercolour and the miniature sheet were created by Polish artist Maciej Jędrysik. http://www.maciejjedrysik.com/big1ms.htm. The design of the souvenir sheet is probably based on the event of 1414 when King Ladislas Jagiello sent two delegates to Sultan Mehmed Çelebi (Skarbek from Góra and Gregory the Armenian) on a mission to mediate between Hungary and Turkey. The mission was successful.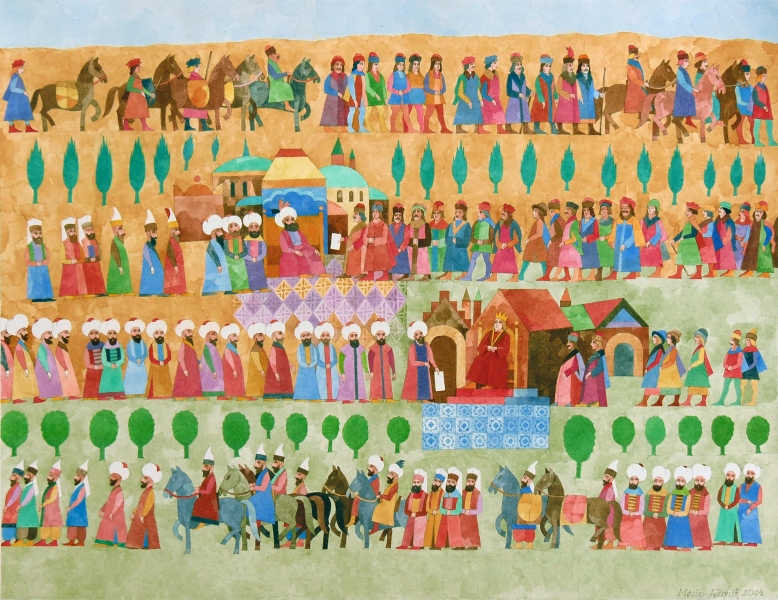 Mansoor Moazzeni (Iran) continues to explore missed omnibus series and discovered the 2004 D-Day 60th anniversary series from which the Antigua and Barbuda and the Grenada stamps are represented below. This series includes so far Antigua and Barbuda, Dominica, Grenada, Grenada and Grenadines, Saint Kitts and Nevis. Work for completion of the list and details about exact dates of issue is under progress.
A series of other stamps have been issued at this occasion during the same year 2004 but they have nothing in common with the previous series, so cannot be considered as part of this omnibus series. They include Gibraltar, Isle of Man, Jersey, Liberia, Maldives, Micronesia, Nevis, Niue, Palau, Sierra Leone, Tuvalu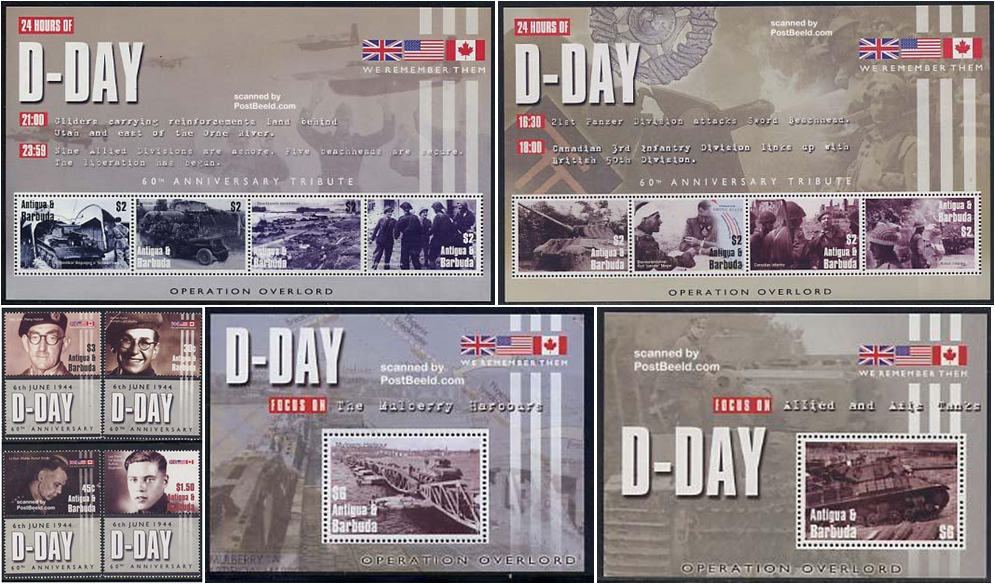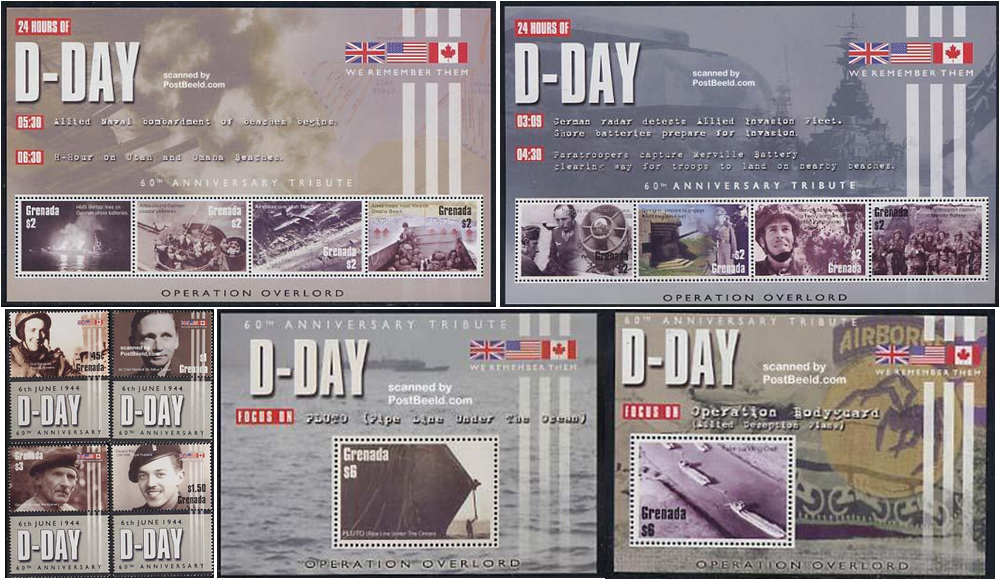 ---
January 3, 2015
Here is a list of additional new issues to be released during 2015 and found during the past two weeks. The "Upcoming Issues" section has been updated accordingly:
- Nahum Shereshevsky (Israel) obtained the confirmation that the Ecuador stamp to be released jointly with Israel will be postponed until the next visit to Israel of the Ecuador president, visit which is now planned to take place by end of 2015. The Israel stamp was released on December 16, 2014.
- April 24, 2015 - Bolivia - South Korea joint issue at the occasion of the 50th anniversary of their relationship (Grzegorz Omelanczuk, Poland). Also Thailand Post released its programme for 2015 including one official joint issue involving Malaysia (June 8, 2015). This program includes also three "diplomatic relations" projects (May 8, 2015 - diplomatic relations with North Korea; September 20, 2015 with Singapore and November 20 with Sri Lanka) for which we will first need confirmation from the counterpart country to define the joint issue status.
---
January 1, 2015
The News from the period October to December 2014 have been archived.
---
All previous information reported in this section is to be found in the News Archives.