Archives Quarter 4, 2014

This page is the archived News Page from the October to December 2014 period. All contents have been dispatched in the respective stamp description pages. However there may still be open questions and any complementary information remains welcome. As soon as an information is archived, the text will not be changed anymore. So if news are linked to the below, this information will be displayed as a new heading in the currently open News page.
Back to list of Archived Pages
---
December 21, 2014
Ehsan Mehmood (Pakistan) discovered an older joint issue from 1988 not seen so far. These series of stamps relative to the pilgrimage to Mecca and involving Iraq, Kuwait and Saudi arabia show the same basis picture and have been issued around the same date of July 22, 1988. In fact the stamps of Saudi Arabia (issued on July 22, 1988) and Kuwait (issued in July 1988) have already been reported in the catalogue on page 356 under the heading [C19880722]. Now Ehsan has dicovered that Iraq issued three almost similar stamps on July 24, 1988 and of course these stamps are fully part of this joint issue. Because of the very close dates of issue, this series has to be considered as a Twin issue [T] and not anymore as a Concerted issue [C] and therefore is affected with the new catalogue number of [T19880722].
The pictures of the stamps from the three countries are provided below to show the similarities. Congratulations Ehsan.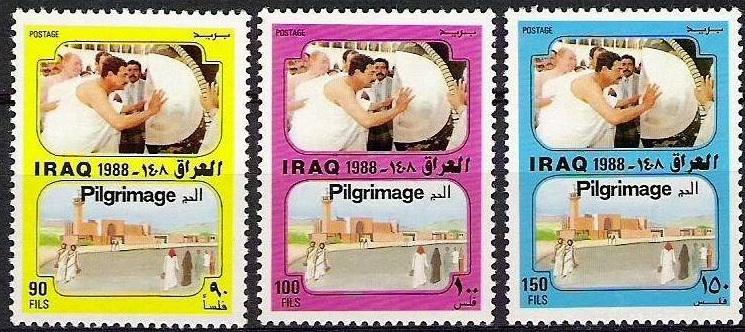 ---
December 21, 2014
Post Monaco published the picture of the se-tenant stamps at the occasion of the Year of Russia in Monaco, 2015. The stamps will already be issued on January 7, 2015. But Post Monaco did not mention that it is a joint issue with Russian Post. According to the official Russian stamps programme 2015, Russia wil issue a stamp on September 29, 2015. A doubt remains about the joint character of these stamps (Rindert Paalman, the Netherlands) and we will have to wait until we see the design of the Russian stamp before deciding about its integration in the catalogue.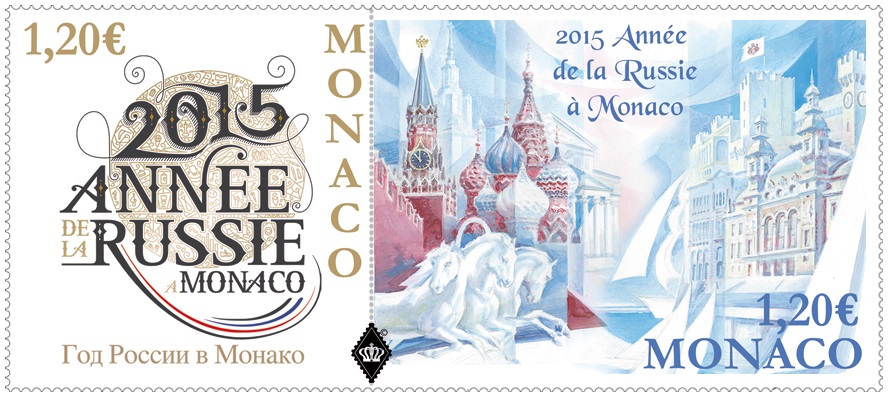 The pictures of the Aland stamps to be released jointly with Switzerland on September 3, 2015 and showing locally produced jewelry are also available on the Aland philatelic web site: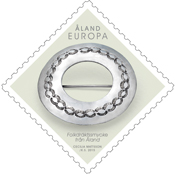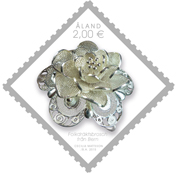 ---
December 21, 2014
Some news about joint issues very recently released or expected to be released before end of the year:

The Azerbaijan - Romania joit issue was released on December 19, 2014 (information provided by Grzegorz Omelanczuk - Poland). Each country released two stamps representing vases (traditional folk art). Mixed first day documents are available.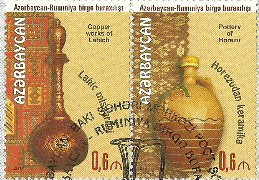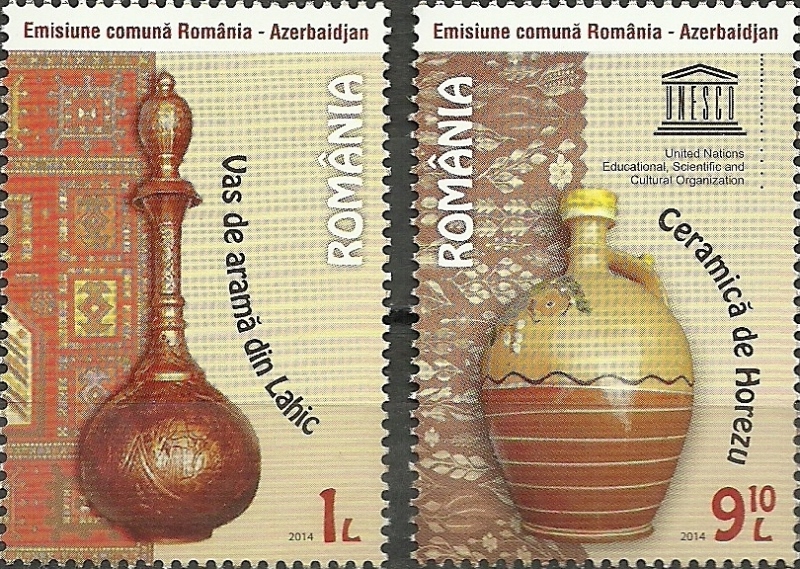 Also the long awaited Georgia counterpart from the Georgia - Latvia issue (Latvia issued its stamp on March 28, 2014) has finally been released on November 28, 2014. It is now confirmed that the designs are identical and this issue will be filed as Concerted issue [C]. This information was first provided by Ahmad Omar bin Arbain (Malaysia).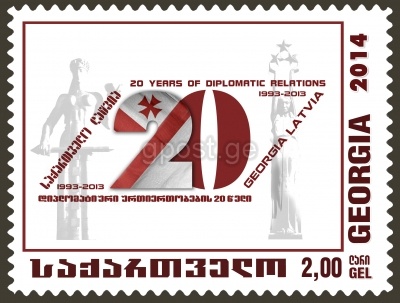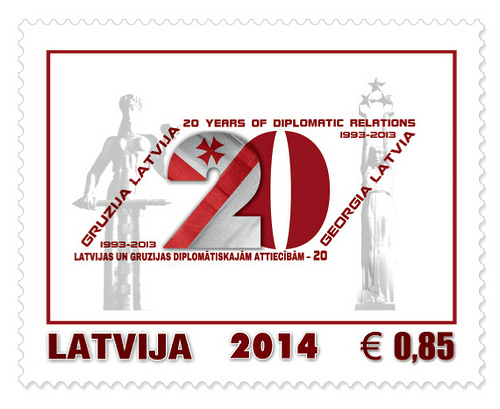 Fabio Bonacina (Italy) could provide the new 2015 philatelic program from Israel in which one discovers that this country plans joint issues with the Philippines (January 27, 2015 - Philippines rescue of Jews from Holocaust), Germany (May 7, 2015 - 50 years of relations, Bauhaus architecture) and Vatican in September 2015. The picture of the January stamp is already available: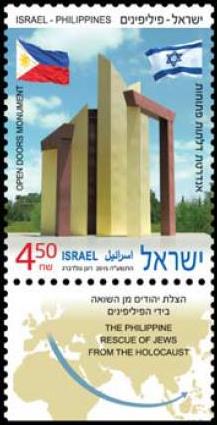 ---
December 21, 2014
Mansoor Moazzeni (Iran) reported again about a new series of miniature sheets issued in 2010 and related to Mother Teresa. So far we have seen only stamps from Gambia, Sierra Leone and Saint Vincent, but the list is probably much longer. We will report more in details about these series as soon as we have found more data. In any case, it can only be filed as an omnibus series like the previous Scout or Civil War series shown earlier.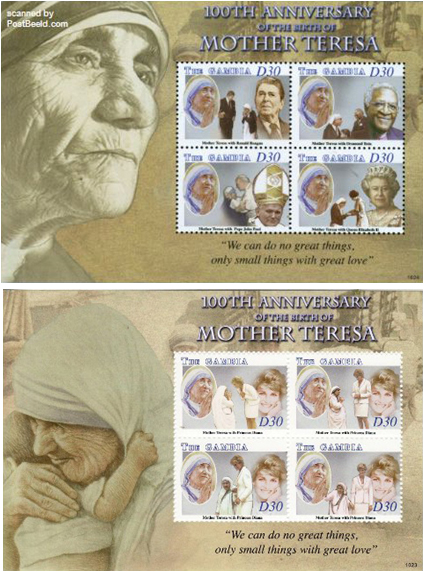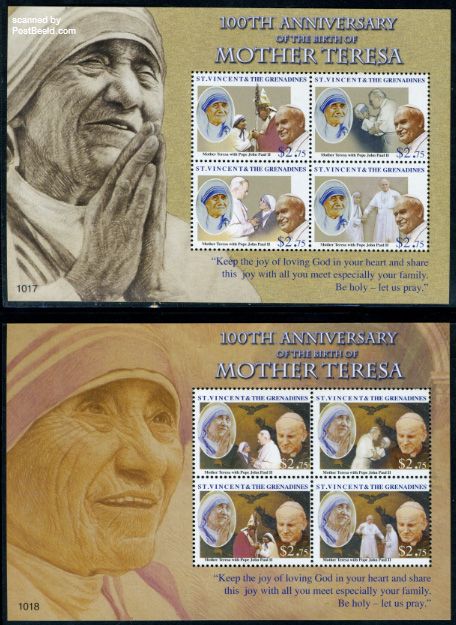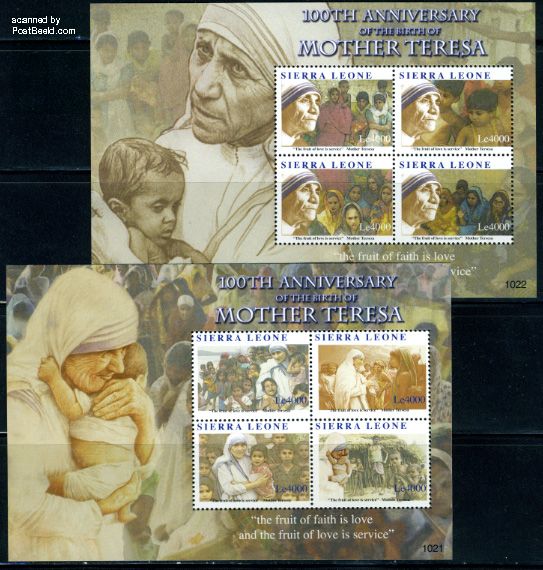 ---
December 21, 2014
Following the information provided by Don Birschel about the Ross stamps (see earlier), Enzo Cafaro (Italy) provided a series of pictures about material linked to the Penguin stamps. New Zealand (and Ross Dependency) are proposing a high number of stamps and by-products in addition to what has already been presented so far. This includes the following:
- the penguin stamp is round and is printed in panes of 10 stamps (issued November 19, 2014 - jointly with Greenland which issued a souvenir sheet by October 20, 2014)
- a special folder in limited edition is proposed for sale. It contains a proof strip of five with color separation only for the joint stamp and a different imperforate souvenir sheet (compared to the one already mentioned) with all the five stamps of the set . Only 2,000 folders are offered at a Post office counter price of NZ$ 135!
- the folder contains also the five different stamps as well as a first day cover with the five stamps. However, there is no mention of the Greenland collaboration
- a folder with a first day cover for stamps and joint souvenir sheet has also been released. It includes the five gummed stamps, the miniature sheet and the first day cover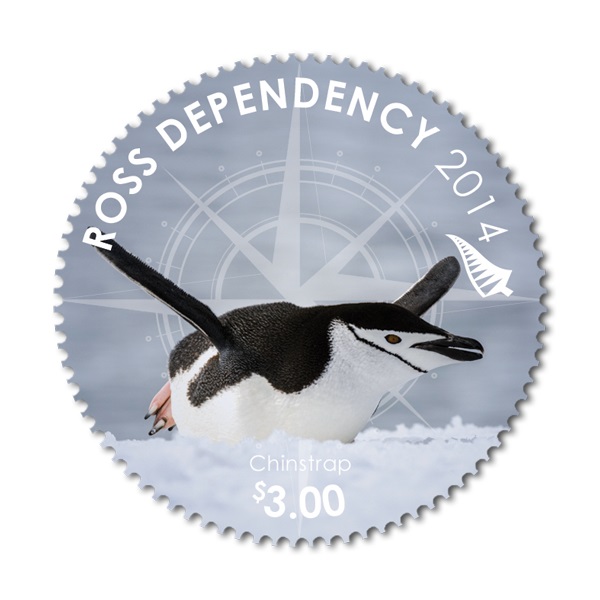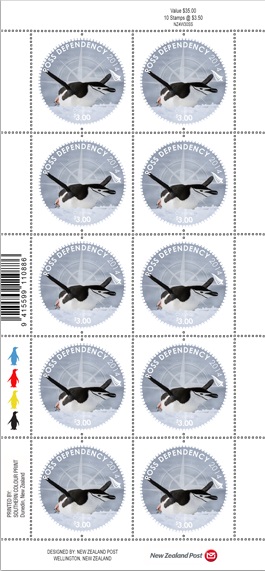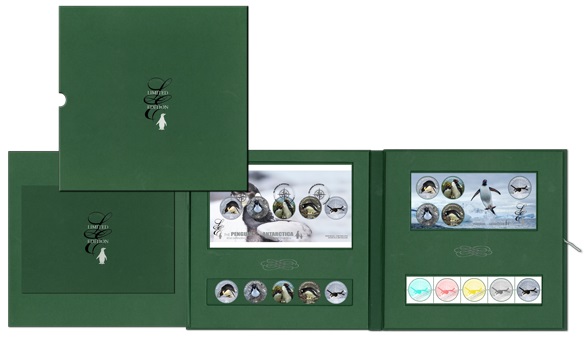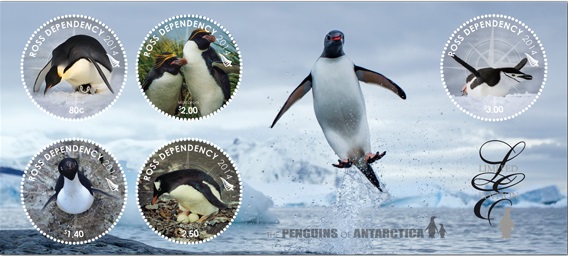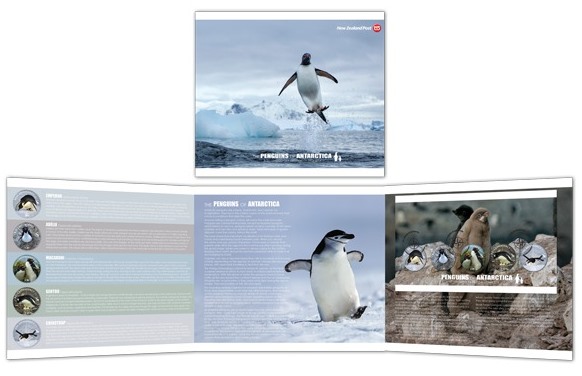 ---
December 7, 2014
Peter Ruznak (Germany) provided the pictures of two to us unknown Christmas stamps released respectively by Greenland and Honduras. Greenland stamp was issued on October 20, 2003, also in form of a miniature sheet with 4 stamps [2x2]. It has to be considered as an additional Christmas stamp to the benefit of the "Santa Claus of Greenland Foundation". The Honduras stamp was released by end of 2004, in form of a souvenir sheet containing 4 stamps [2x2]. The Honduras stamps were also released part of a set of 4 different Christmas stamps and, in 2005, were reissued, overprinted with a new denomination. Despite the identical design, there is no joint character between these two stamps and they will be reported only in the [N] (not accepted) section - borrowed design. Anyway this was a nice discovery.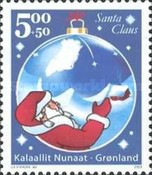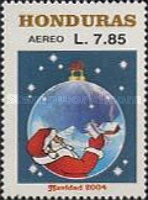 ---
December 7, 2014
The second part of the "Pole to Pole" issue linking Greenland and the Ross Dependencies (New Zealand) was released as scheduled on November 19, 2014. Don Birschel (USA) discovered that Ross also released a miniature sheet that features the same penguin stamp. As a reminder the Greenland miniature sheet has been release on October 20, 2014.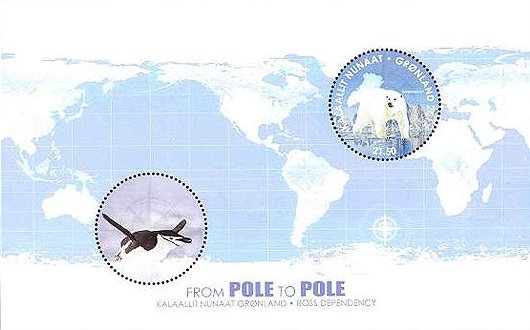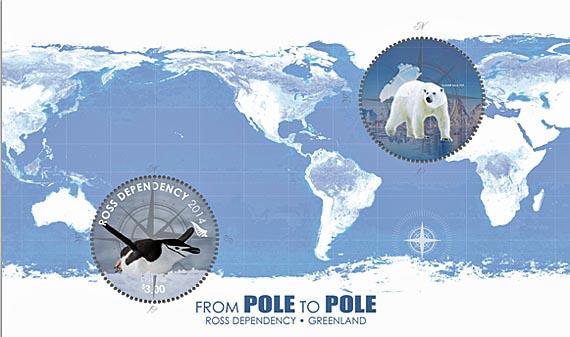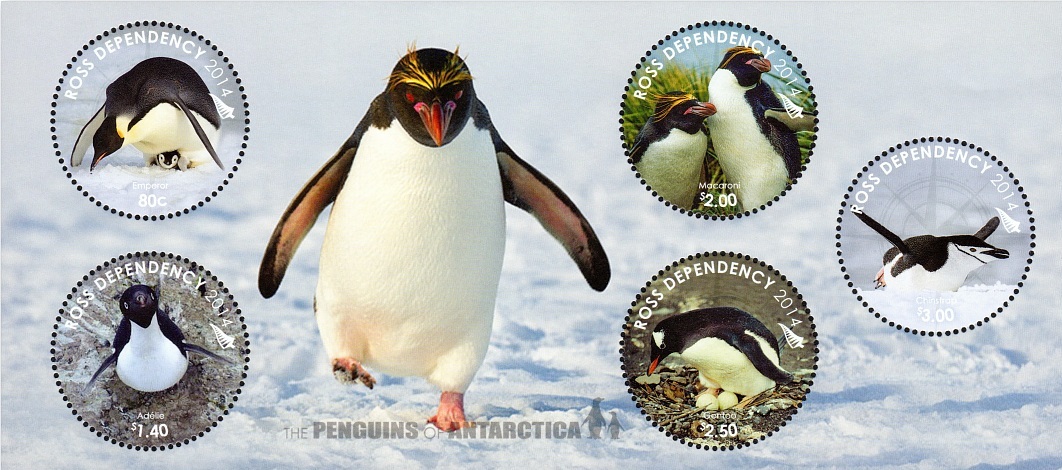 ---
December 7, 2014
Janko Stampfl (Slovenia) was the first to report about a joint issue involving India and Slovenia, and at least a dozen of collectors mentioned the information about this not yet reported pair but Don Birschel (USA) was the first to provide the full pictures of stamps from both countries. On November 28, 2014, India and Slovenia issued stamps at the occasion of the commemoration of the 25th anniversary of the Convention of the Rights of the Child. Stamps are based on drawings from Zara Sivkovic and Roshan V Avekar.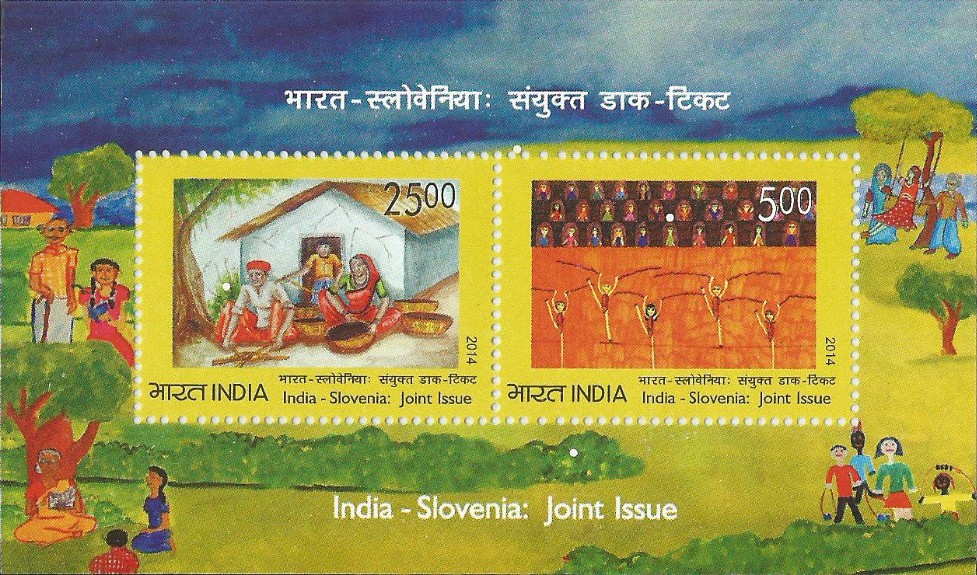 Don Birschel (USA) was shortly ahead to Steven Vandeweghe (Belgium) in providing the first pictures of both the Poland and Turkey stamps from the joint issue released also on November 28, 2014. These stamps were created to celebrate 600 years of diplomatic relationship between both countries.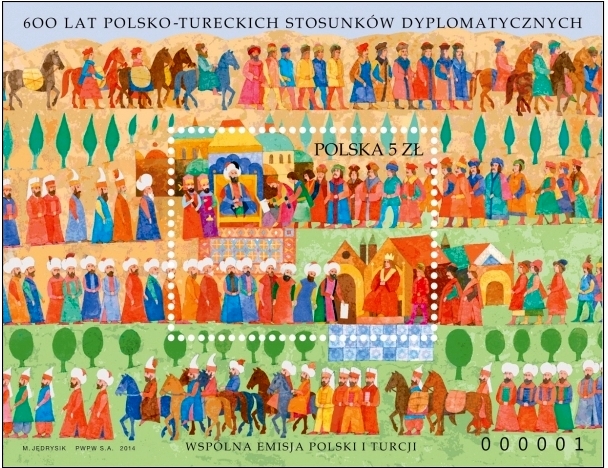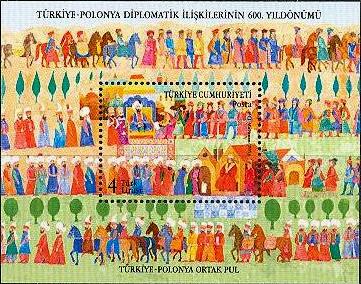 ---
November 24, 2014
On October 18, 2014, Singapore Post and China Post jointly released commemorative prepaid postcards to celebrate the 20th anniversary of Suzhou Industrial Park. The Suzhou Industrial Park is the first Government-to-Government project between Singapore and China, and is one of the most competitive industrial parks in China today. As of end 2013, there were 486 Singapore projects in Suzhou Industrial Park with cumulative contractual investments of USD3.8billion. POst cards are different but both postal administration claim the joint character (see Chinese and Singapore press releases). We missed this information which was retrieved today by Eric Chan (Hong Kong).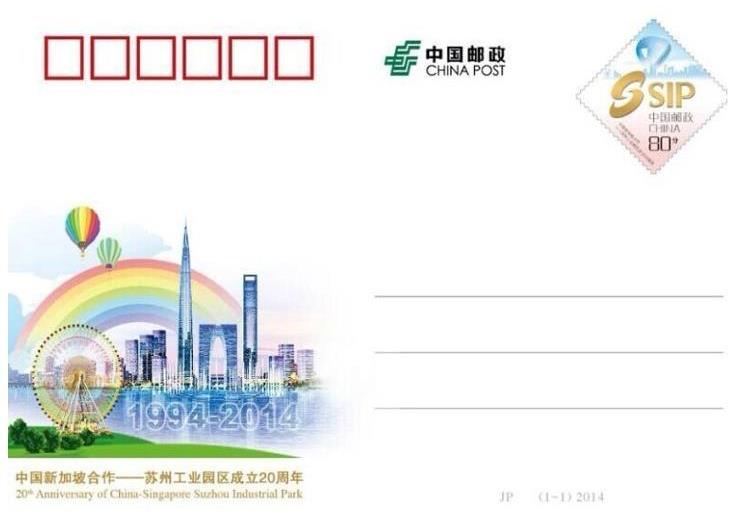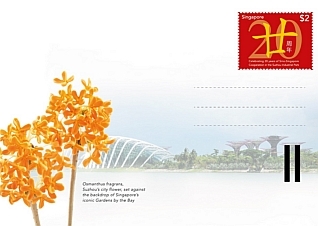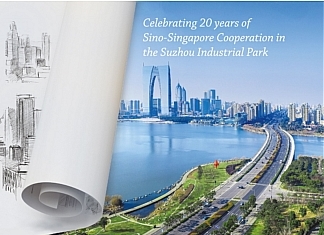 ---
November 22, 2014
Miscellaneous information collected this week:
- from Javier Vazquez André (Spain): Spain and Croatia will release a joint issue during the year 2015, on March 31.
- Mansoor Moazzeni (Iran) reported about a series of miniature sheet issued in 2011 and related to the American civil war that will have to be considered as an omnibus series. It includes Antigua and Barbuda, Gambia, Guyana, Liberia, Micronesia, Saint Kitts and Nevis, Saint Vincent and Grenadines (Bequia), Saint Vincent and Grenadines (Canouan), Saint Vincent and Grenadines (Mustique) and Tuvalu. Here is an example to show the design that is similar for all miniature sheets and countries.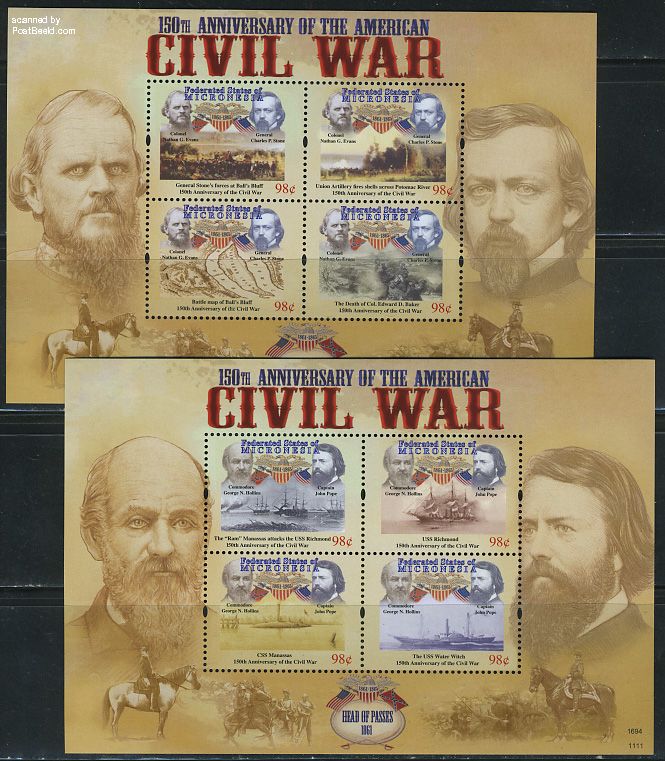 Hosein Mahammad Hoseini (Iran) provided a second complete image of the Iran stamp (joint issue with Mexico, October 9, 2014). On November 20, 2014, the Mexican stamp was still not reported on the Mexican philatelic (post) web site and therefore not yet issued (announced is end of November but exact date remains unknown).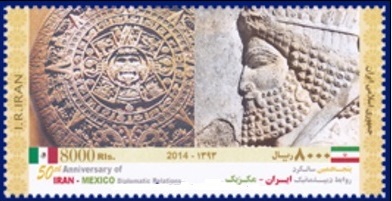 Grzegorz Omelanczuk (Poland) got a confirmation from the Georgian Post that the stamp commemorating diplomatic relations with Latvia will be released on November 28, 2014. the Latvian stamp was released on March 28, 2014. The stamp should look similarly to the Latvian stamp: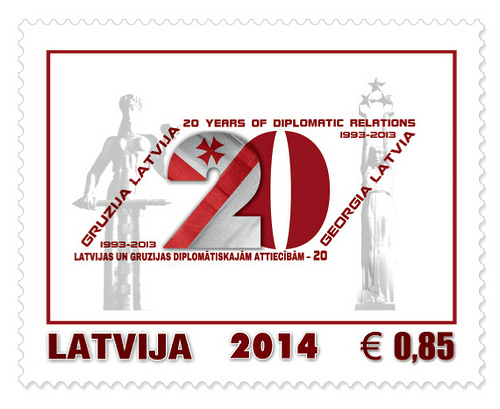 Also Grzegorz informed us that North Korea issued a miniature sheet next to stamps in panes in the joint isssue with Russia on October 12, 2014.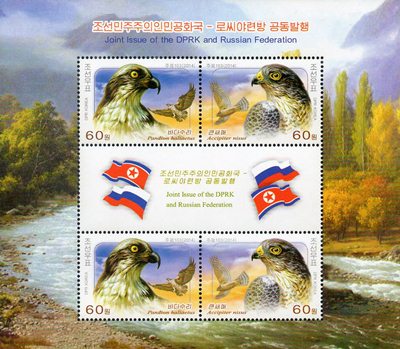 ---
November 15, 2014
Fabio Bonacina (Italy) discovered a very recently issued stamp (November 11, 2014) from Albania that could be a joint issue with Kuwait. So far no information has been found on the Kuwait side. Help is needed here to confirm if this is part of a joint issue.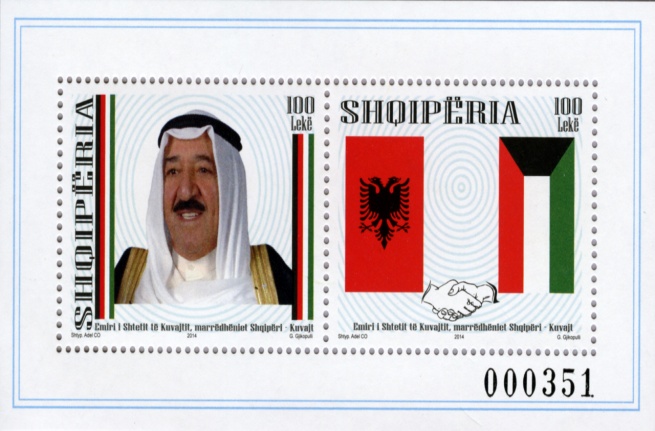 All information obtained so far confirm that Kuwait has not issued a stamp at this occasion.
Also Hosein Mahammad Hoseini from Iran provided the image and information about the Iranian stamp released on October 9, 2014 in the frame of the Iran - Mexico joint issue initially scheduled on October 2, 2014. Mexico has still not released its stamp. However this issue remains reported in the Mexican philatelic program, but shifted to November without a more precise date of issue.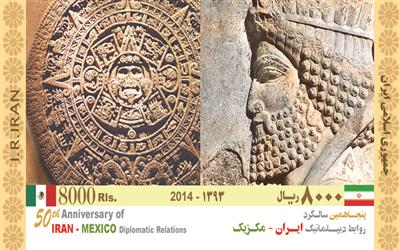 Fabio Bonacina (Italy) provided the pictures of the Romania stamps and miniature sheets related to fortified churches, issued jointly with Croatia on November 14, 2014.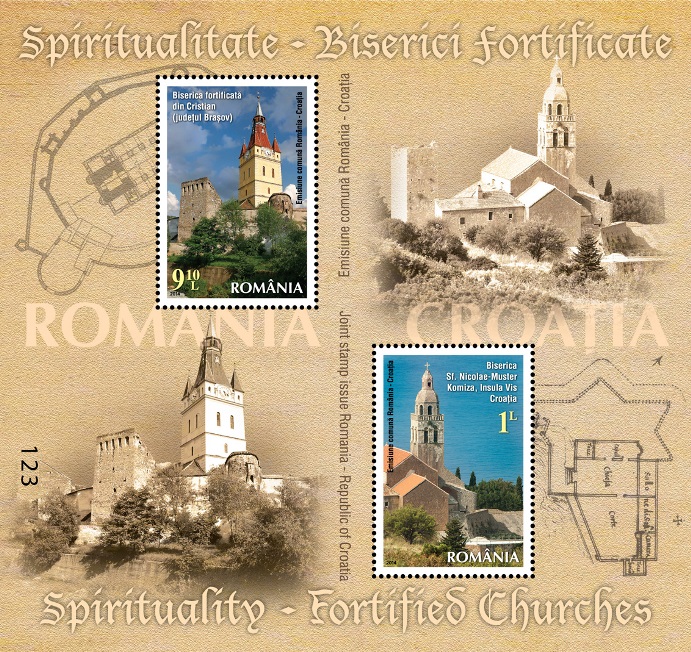 ---
November 15, 2014
In contact with the Ecuadorian postal administration, Enzo Cafaro (Italy) just got the information that "Correos del Ecuador will not put into circulation the stamp with Israel", without further explanation.
Also please note a correction about the unlikely or questionable 2015 Armenia Turkey joint issue. This information resulted from a Google Translate issue in which Google translated mistakenly "Կիպրոս" in 'Turkey' instead of 'Cyprus'. I told you that I am not fluent in Armenian language ;-), but apparently Google Translate neither. So we have to add in the 2015 joint issue program a series involving Armenia and Cyprus, next to the Armenian Argentina joint issue, and both dedicated to the Armenian genocide (corrections were brought up by Eric Contesse, France and Grzegorz Omelanczuk, Poland).
---
November 11, 2014
Peter Rusznak (Germany) reported about a 2009 series of stamps with the same design that does not appear in the list of joint issues of that year. On May 8, 2009 Switzerland issued a stamp celebrating at the same time internet and the inventor of printing, Gutenberg. On December 1, 2009, Luxembourg issued exactly the same stamp together with another stamp showing a pixelized portrait of Gutenberg. None of the two postal administrations claim their stamp being issued jointly with the one of the other country. Both countries in fact celebrated the internet by using the same design.
The special stamp is the result of a competition held for polygraphic apprentices from six countries. Their task was to capture the 550-year history "from Gutenberg to the Internet" in the form of a stamp motif. The winning motif – a design by Meike Kollmann of Germany – was chosen by a panel of international judges. The stamp became available in Switzerland and Luxembourg only. The idea for this stamp project originated from these two countries. It is questionable to consider the result of a stamp design competition as joint if taken up by some countries in their philatelic program. This was already the case on September 21, 2005 [T20050921] when the United Nations, Bhutan and New Caledonia released stamps with children artwork obtained after a competition entitled "My dream for peace one day". However all these stamps have been issued the same day, confirming there was an agreement between the postal administrations. The Gutenberg stamps have been issued upon the individual decision of each postal administration and cannot even be considered as concerted [C].
Today we have no additional information that would change the classification of this pair of stamps and they will remain considered as non-joint. The stamps will be reported in the catalogue, but under the category [N] / [BD] borrowed design, as information for the philatelists who collect all stamps with identical designs, independently if they are joint or not (note that the catalogue reports over 20 pages a probably exhaustive list of all these stamps identified as [N], including accidental same design [TA], [CA], [PA] and borrowed design [BD]).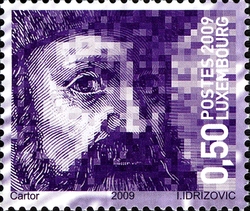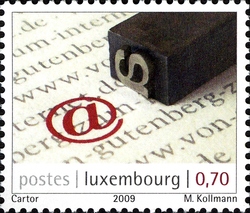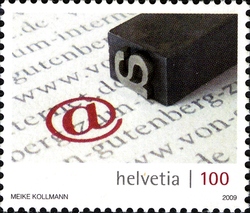 ---
November 11, 2014
Several collectors reported about stamps recently issued by India and Sri Lanka to commemorate the 150th birth anniversary of Anagarika Dharmapala. This anniversary is important for both countries and there were commemorative events involving politicians on both sides. In Sri Lanka the year from September 17, 2014 to September 17, 2015 was declared as the Anagarika Dharmapala commemorative year by the President Mahinda Rajapaksa in honor of the late Dharmapala. Tis social reformer originating from Ceylon/Sri Lanka had a immense impact on Bhudism in India.
Sri Lanka issued a stamp on September 17, 2014 - http://philamirror.info/2014/10/25/india-sri-lanka-stamp-issue-to-honour-anagarika-dharmapala/ and India on October 25, 2014 - http://postagestamps.gov.in/Stampsofyear.aspx.
Stamps are representing the same portrait of the late Dharmapala. However none of the postal admnistrations claim these stamps being joint and despite the close dates and the similar design, this pair can only be considered as a commemorative issue. It is not a joint issue.
Any different information about the link between the two countries' stamps from at least one of the postal administrations could change this statement, but information published by collectors and stamp dealers are not sufficient. Official mixed FDCs could also be a kind of proof.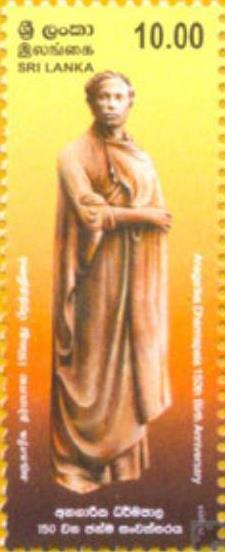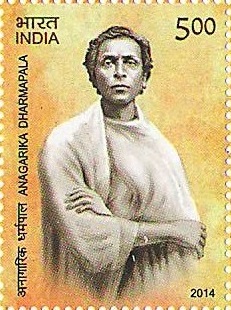 ---
November 11, 2014
Some additional information about postponed series:
- The Poland - Turkey joint issues will be released apparently on November 28, 2014. Pictures are not yet available (information: Grzegorz Omelanczuk, Poland and Jaap Sarelse, The Netherlands)
- we are still missing information about the potential joint issues that was supposed to link Nepal and Pakistan and released in September 2014.
---
November 11, 2014
In the past two weeks a series of announcements of new joint issues were made and images of upcoming stamps were published. All the following information was collected thanks to Fabio Bonacina (Italy), Enzo Cafaro (Italy), Xu Kai (China), Grzegorz Omelanczuk (Poland), Jaap Sarelse (The Netherlands), Kenneth Sequeira (Dubai) and Nahum Shereshevsky (Israel).
On November 14, 2014, the Croatian Post will release a souvenir sheet jointly with Romania. Topic is fortified churches and stamps show the fortified St. Nicholas Church in Muster, Komiža, the island of Vis, Croatia and the fortified church Cristian, Braşov, Romania.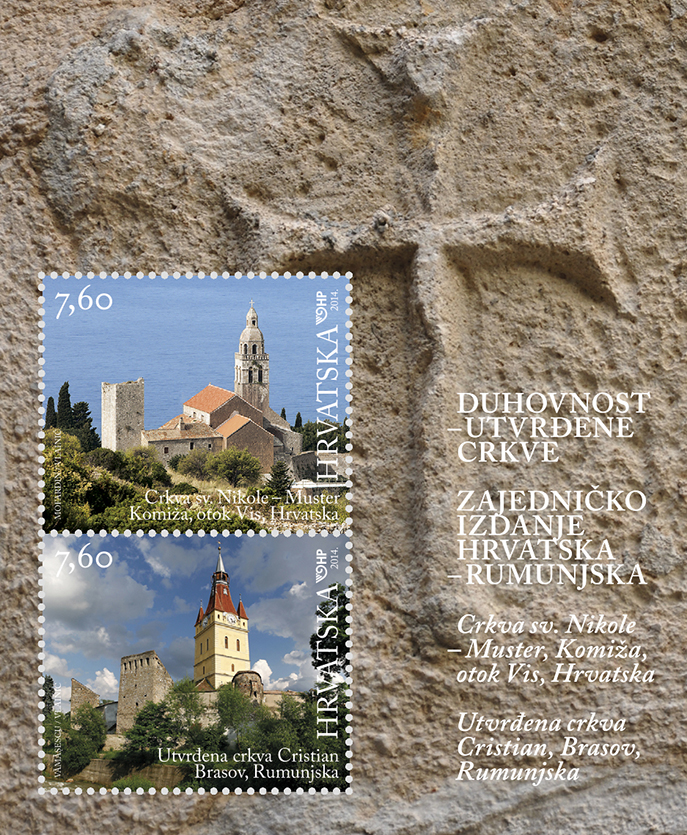 The Monaco - Morocco joint issue was released on November 7, 2014, and identical stamps were produced showing the Hassan Tower in Rabat and the Oceanographic Museum in Monaco.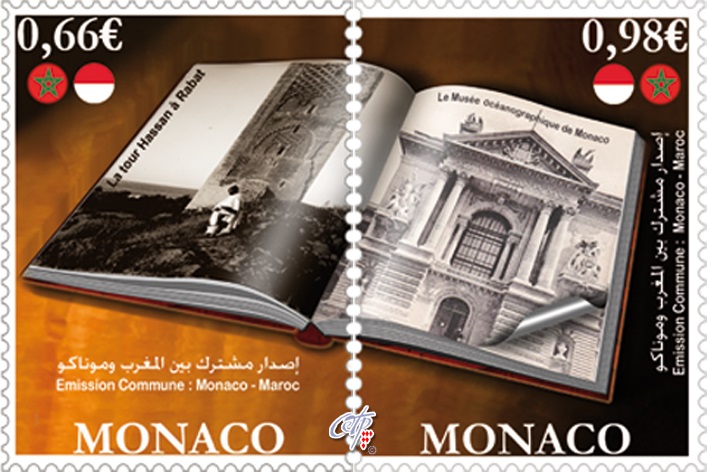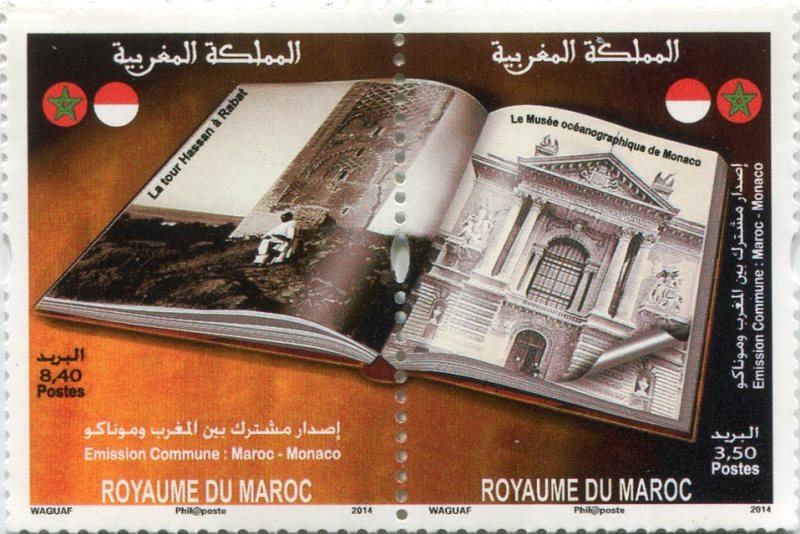 There is a confirmation that the Ecuador - Qatar stamps issued on October 20, 2014 are identical. The Qatar stamps were issued in miniature sheets of 8 stamps with a central label [(2x2)+(2x2)]. A higher quality image of the Ecuadorian stamp was provided by Enzo Cafaro (Italy). Here are the images: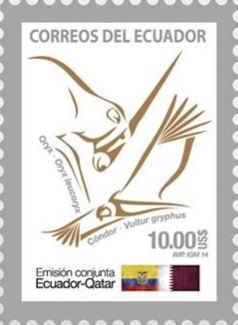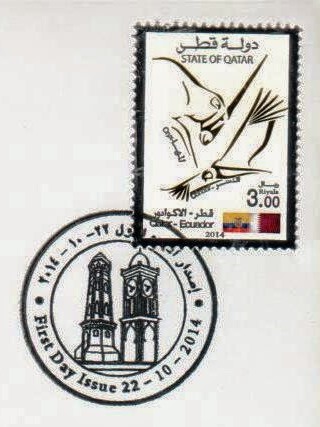 The first image of the Israeli stamp about orchids to be released on December 16, 2014 jointly with Ecuador became also available. It shows the bee orchid and the monkey orchid.
November 15, 2014: In the meantime we have been informed that Ecuador postponed its participation to this joint issue as a consequence of the postponement of the visit of the Ecuadorian president to Israel. The Ecuadorian stamp will probably be released during 2015, when the visit will take place.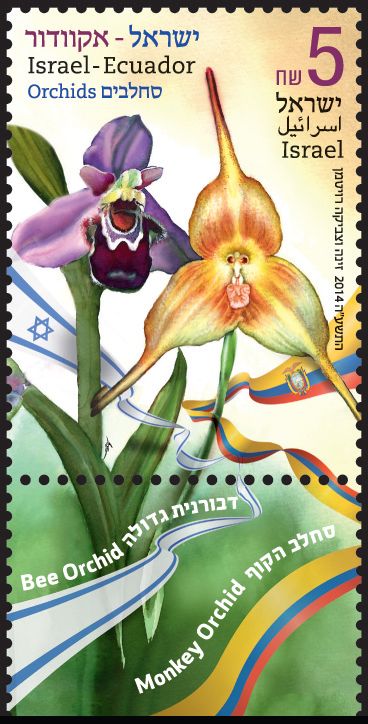 In the November 10, 2014 Liechtenstein - Singapore joint issue we learned that Singapore has also released a miniature sheet showing the identical stamps.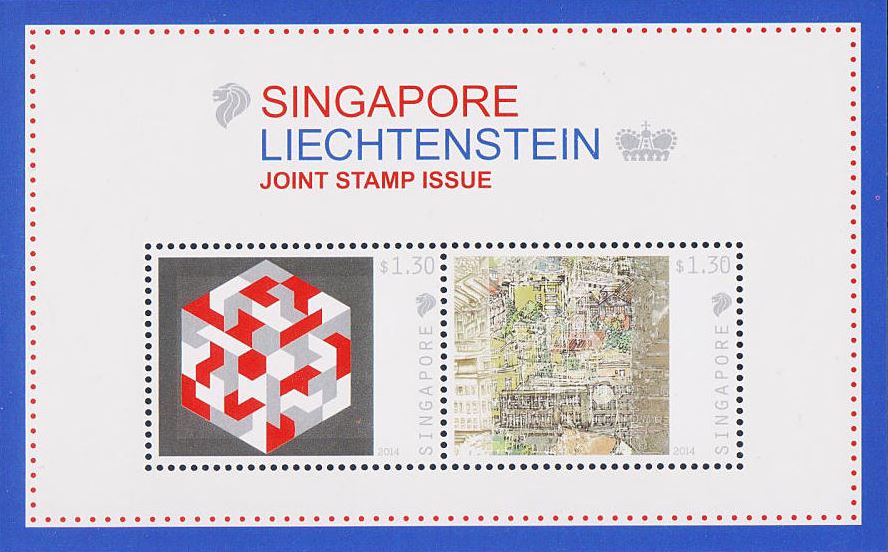 A series of new joint stamps to be released during the year 2015 have been announced, including Liechtenstein and Slovenia (September 7, 2015), Monaco and Russia (September 29, 2015), Azerbaijan and Russia (October 22, 2015), Latvia and Turkey (November 20, 2015), Mexico and Russia (December 1, 2015). See the updated full list in the Upcoming Issues page.
Also during the year 2015, Armenia will commemorate the 100th anniversary of the Armenian genocide. Tens of stamps will be released in Armenia during the second quarter of 2015, related to this topic, including even a joint issue with Argentina. More surprisingly (and hence doubtful) a joint issue with Turkey is announced at the same time. Any additional information available on this topic? If you have a better command of Armenian language than me (and than Grzegorz who found this information), you can try to explore the Armenian postal web site and 2015 philatelic program and provide further explanations.
November 15, 2014: Correction: Google translate made a wrong interpretation of the armenian word "Կիպրոս" which must be read 'Cyprus'. So in 2015, Armenia is preparing two joint issues, one with Argentina and the other with Cyprus to commemorate the Armenian genocide.
---
November 1, 2014
Both Enzo Cafaro and Fabio Bonacina (Italy) provided the information that the next Christmas issue from the Vatican State will be a joint issue with Argentina. So far only the Vatican stamp image is known and the stamp will be issued on November 21, 2014. It may be possible that the Argentina stamp will already be released by November 8, 2014 (not confirmed).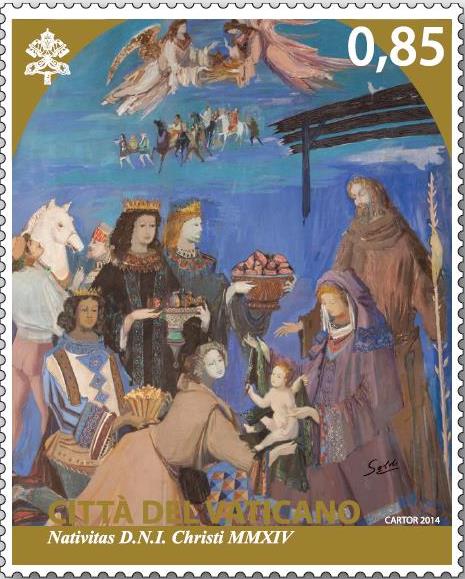 ---
November 1, 2014
On October 24, 2014, I had the opportunity to visit the Sindelfingen (Germany) stamp show, one of the largest show in Germany. Several postal administrations were present among which South Korea which had on sale all joint issues from the past five years. I could acquire for a small amount (€10,00) a special booklet produced by this administration and gathering all joint issues from South Korea released between 1999 and 2013 (including Australia, China, Colombia, Germany - twice -, India, Malaysia, Mexico, Peru, Portugal, Slovakia and Vietnam). All South Korean stamps are displayed in this booklet, but the joint counterpart stamps are only shown as pictures. The booklet has 16 pages and includes 23 mint stamps. Size is 150x145mm and 300x145mm when open. It is provided in a jacket, size 165x165mm, that shows the same imprint as the booklet's first page.
Here are some pictures.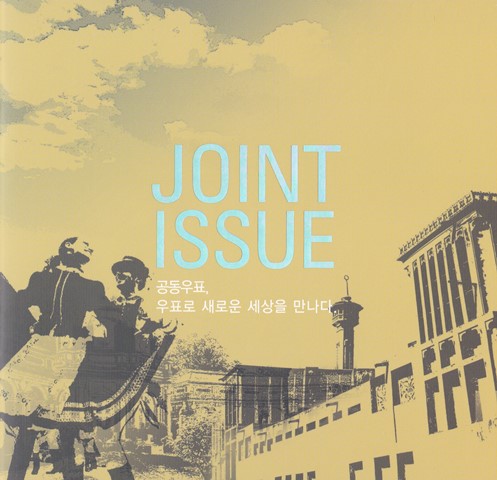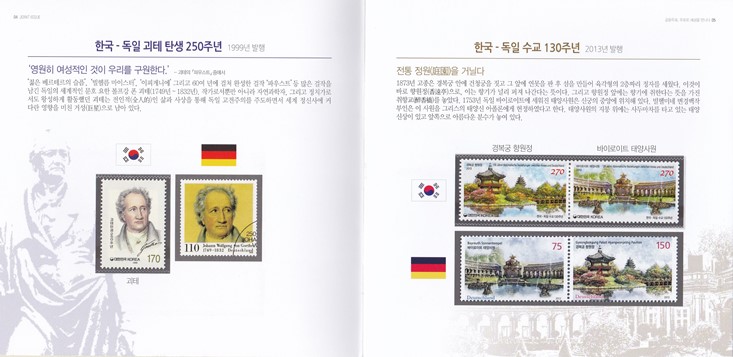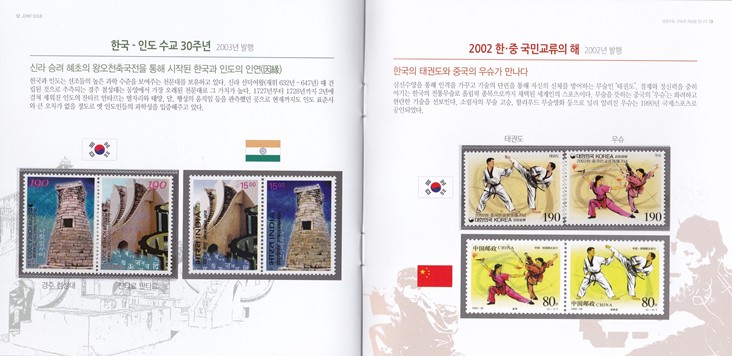 ---
November 1, 2014
Enzo Cafaro (Italy) could provide the date of issue of a series of stamps dedicated to Girl Scouting (previously reported under the news entry of August 2, 2014) and involving the following countries:
Antigua (May 10, 2010) - Bequia St. Vincent of Grenadines (May 10, 2010) - Dominica (April 19, 2010) - Gambia () - Grenada and Grenadines (Grenada Carriacou & Petite Martinique) (June 11, 2010) - Guyana (July 14, 2010) - Liberia (June 25, 2010) - Maldives (June 22, 2010) - Micronesia (June 8, 2010) - Nevis (May 21, 2010) - Palau (June 9, 2010) - Saint Vincent & The Grenadines (June 4, 2010) - Sierra Leone (June 17, 2010) - Tuvalu (August 16, 2010)
This series will be reported as an omnibus series under the heading [O20100510].
---
November 1, 2014
Ahmad Omar Arbain (Malaysia) provided additional information about the May 24, 2014 Indonesia Malaysia joint issue related to museums. In fact all this detailed information is available on Ahmad's blog http://keluaranbersama.blogspot.com dedicated to Malaysian joint issues. Even if it is written in Malayan, it is easy to understand with any standard translator.
We learn that Malaysia issued 100,000 stamps among which 35,000 were affixed to the special first day cover, so only 65,000 stamps remained available for postage and for collectors. Even worse, Indonesia overprinted only 20,000 stamps among which 13,000 were affixed on first day covers. So only 7,000 potential mint stamps will remain available for collectors. In this context, mixed covers that have been privately produced can only be extremely seldom (probably less than a hundred).
---
October 30, 2014
Ecuador announced the release of a stamp jointly with Qatar on October 22, 2014, at the occasion of the first visit of an Ecuadorian President to Doha. We have not seen yet the Qatari stamp but it is supposed to be similar, showing also an oryx antelope and a condor (stamps discovered by Grzegorz Omelanczuk, Poland).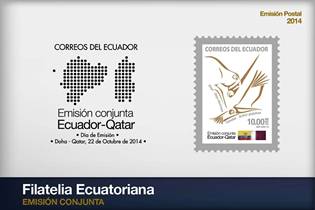 Also the stamps issued jointly by Thailand together with Macao will be released on November 1, 2014 and are similar. Thailand stamps are produced as se-tenant stamps in miniature sheets of five pairs, chessboard ordered.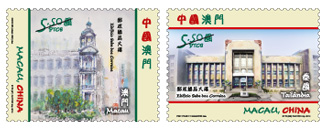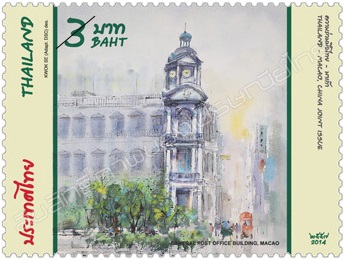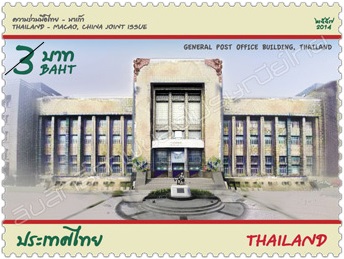 ---
October 30, 2014
The Pole to Pole joint issue involving Greenland and New Zealand (Ross Dependency) will be released respectively on October 20, 2014 and November 19, 2014. Each country will release a round stamp with a different design for each country: a polar bear for Greenland, a penguin for Ross Dependency. What will keep the joint character of these issues is that both administrations will also release a souvenir sheet that will contain both designs of the two stamps. However only the local stamp will have a denomination and will be perforated (information provided by Jaap sarelse, The Netherlands).
In the past we already had similar item structures with identical souvenir sheets showing different stamp cuts. They were classified as twin [T4] with a mention that once separated from the souvenir sheets the stamps could be considered as parallel [P1]. A typical example is the souvenir sheet issued by Jersey and Guernsey on October 1, 1994 [T19941001].
In this new case, the date of issue is such apart that the twin definition does not apply anymore. However as the design of the miniature sheet is the same for both countries, it can be considered as a concerted issue, but we have to create a new subdivision that we will call [C6] for the time being. Again in this case, separation of the stamps from the souvenir sheet could lead to an equivalent of a parallel issue [P1]. Actually the difference in the dates of issue could have this pair losing its joint character, but the claim of both postal administrations as being a joint issue and the identical souvenir sheet prevail. This issue will have the number [C20141020].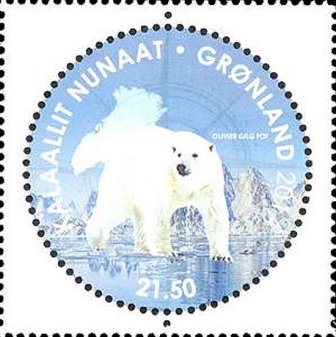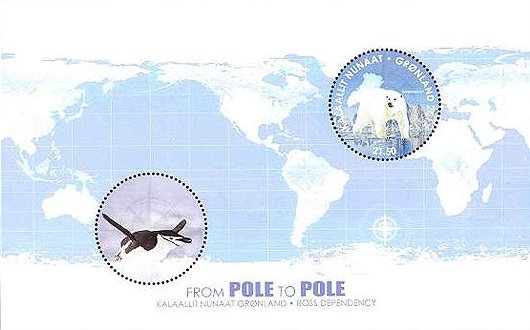 ---
October 30, 2014
Grzegorz Omelanczuk (Poland) had some mail exchanges with the Polish postal administration about the Orcha battle issue and came to the conclusion that this card issued at the same date as the Lithuanian stationery cannot be considered as a joint issue. The date of issuance of the Polish stamp was related to the Festival of Polish Cavalry hold this year on September 6, 2014. The Polish Post used this occasion to open a stall close to the official place of ceremony. There is only coincidence with the Lithuanian stamp issued at the sae date and the Polish Postal administration does not claim at all the joint character. These two stamps/cards will be filed as non-joint [N].
---
October 30, 2014
The Slovak joint issue stamp of St Cyril and St Methodus had won the contest of the 2013 most beautiful stamp of the Slovak Republic. This poll is held every year and the Slovak post produces a postal card which is illustrated with the winner stamp on the postal card stamp side (this year issued on September 20, 2014). Of course this card cannot be part of the joint issue, but this information will be reported in the 2013 catalogue at the joint issue entry [T20130612]. At that date, this Slovak stamp was issued together with Bulgaria, Czech Republic and Vatican and all with identical stamps (information reported by Jaap Sarelse, The Netherlands).
Let us remind that in 2005, another Slovak joint stamp issue (jointly with Poland) had won this contest an was honored similarly as illustration of a postal card [T20040903] issued one year later on September 20, 2005. But by screening the very comprehensive web page from the Slovakian Post, I found another postal card issued to honor the 2002 most beautiful stamp which was also a joint issue with China (October 12, 2002 - [T20021012]) in form of a postal card issued on June 11, 2003.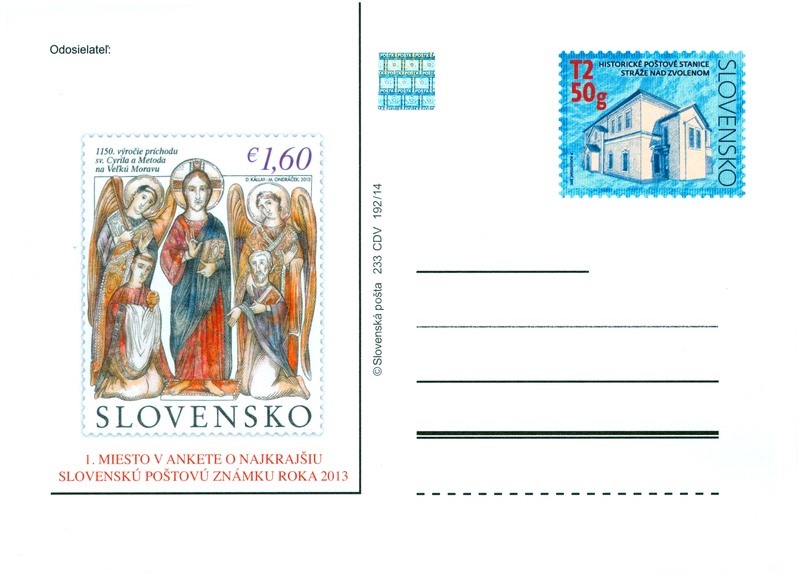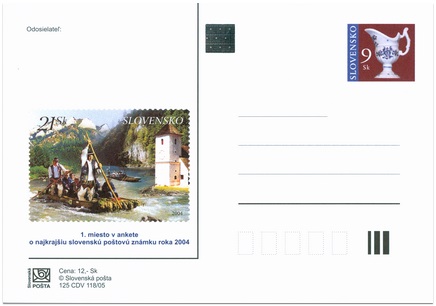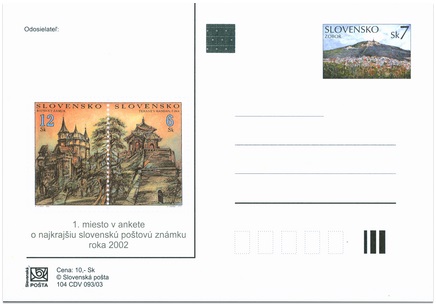 ---
October 17, 2014
Our long time friend and pen pal, Fabio Bonacina, philatelist and journalist at Vaccari, has very recently published a new volume of his book "Campioni del Mondo 2" - Champion of the world 2 (2010-2014) reporting about all stamps issued at the occasion of the soccer world championships by the participating countries. If you are interested, details are available and purchase is possible via this link. Of course the joint issues related to these events are all described in this book.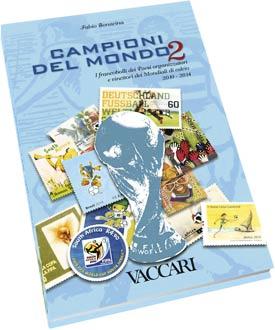 ---
October 14, 2014
The North Korea - Russia joint stamps depicting prey birds have been issued on October 12, 2014, as scheduled (illustrations provided by Xu Kai, PR China)


Also, Liechtenstein announced that they rescheduled to November 10, 2014, the joint issue ith Singapore initially planned for September 1, 2014 (information provided by Grzegorz Omelanczuk, Poland).


---
October 10, 2014
The South Korean stamps from the October 7, 2014 joint issue with Uruguay have been issued. Grzegorz Omelanczuk (Poland) was able to provide the images from the Uruguay stamps.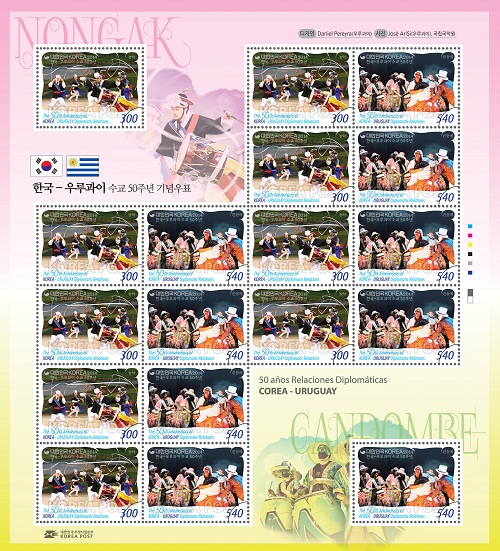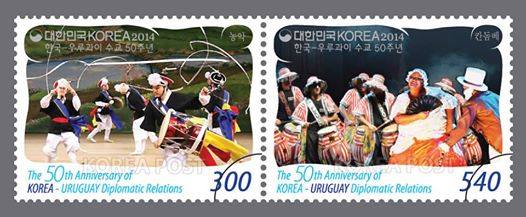 ---
October 10, 2014
The joint issue involving Hong-Kong and Malaysia has been issued on October 9, 2014 (topic: local food). Mixed covers are available, however it seems there is some delay to be expected in obtaining the Malaysian stamps in this country.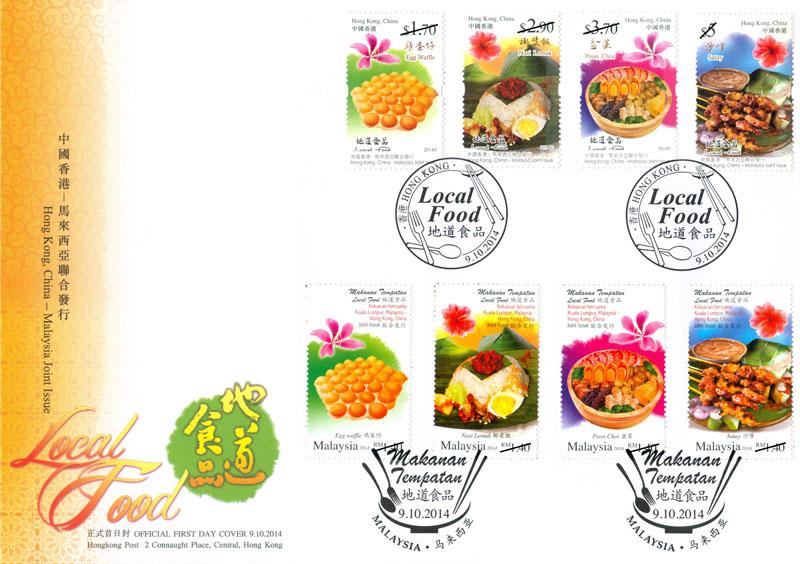 ---
October 10, 2014
New information provided by Jaap Sarelse (Netherlands): In 2010 the Dutch Antilles (Bonaire, Curaçao, Saba, St Eustatius, St Maarten, Aruba) were split up and a new relationship with the Netherlands was created (actually Aruba already was a separate country). The 'Statuut voor het Koninkrijk' (signed on December 15, 1954, several times adjusted) was adjusted again. Roughly, since October 10, 2010 the Netherlands consist of 4 countries: Netherlands, Aruba, Curaçao and Sint Maarten. Each of the three islands Saba, St. Eustatius and Bonaire - together named 'Caribisch Nederland' – became a special Dutch municipality. On the occasion of these changes, the following stamps were issued on October 10, 2010. Apparently the Netherlands didn't issue a stamp on that occasion. However it seems that these stamps, either to be considered as first of the new territorial restructuration, or last issue of the old structure, were issued by Curaçao. They cannot be considered as joint, because they could be used in any of these three countries. The UPU is still considering all these three stamps under the country name Curaçao. Can someone provide more information about the real postal status of the two new entities?

---
October 10, 2014
Ali Ahmed Med Achour (Algeria) provided the information that the Algerian miniature sheet, counterpart of the December 2, 2013, Serbia miniature sheet, was finally released on October 7, 2014. Here is the official picture.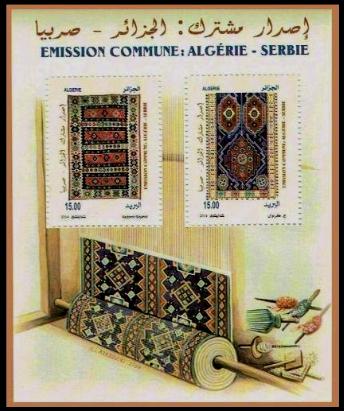 ---
October 10, 2014
Don Birschel (USA) found an interesting mixed cover that initially was not considered as joint, because both stamps used on this item had been issued earlier. By taking a closer look and also exploring the web (http://ongzi-stamps.blogspot.fr/) we discovered that the stamps used in this pair have been especially overprinted for this occasion and the date of cancellation corresponds to the date of issue of the overpprinted stamps. Therefore these new stamps have to be considered as parallel joint issues.
On May 24, 2014, Indonesia and Malaysia have issued overprinted stamps to commemorate the two museum cities Melaka (Malaysia) and Yogyarkarta (Indonesia). Indonesia overprinted a 2010 (March 29) previously issued stamp ("Warisan Budaya Tak Benda", Batik Motif Kembangan), with a huge golden logo of the City of museums. Malaysia also overprinted a 2012 (October 7) previously issued stamp ("750 Years Melaka", 'Masjid Kampong Hulu') with a small coloured 'Melaka & Jogja - City of Museums' logo on the left. Original and overprinted stamps are shown below. FDCs for both stamps are available, but also the mixed cover displayed below.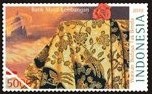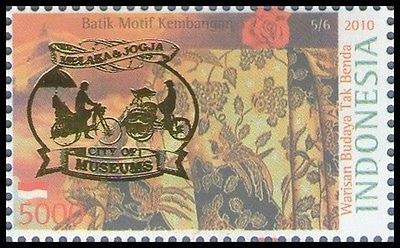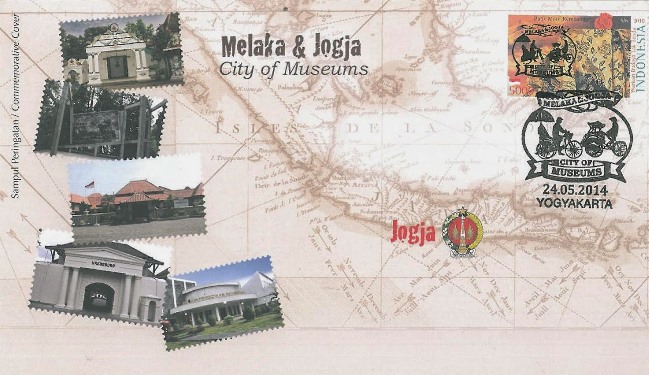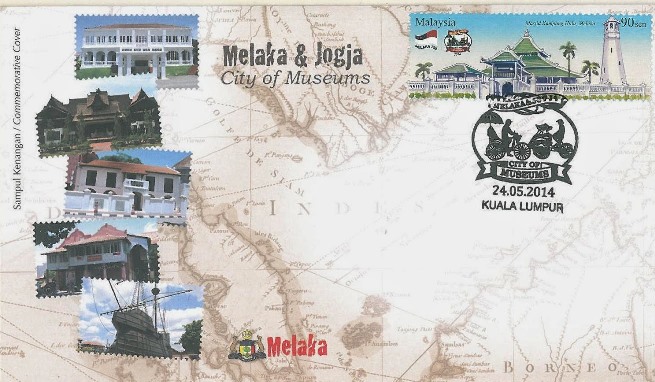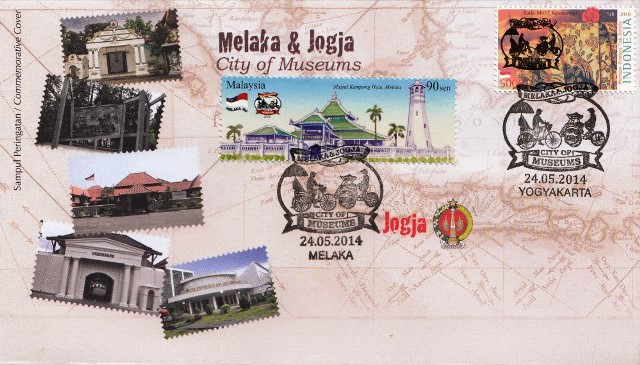 ---
October 10, 2014
The Euromed Libyan stamp has been issued. The exact date of issue is July 28, 2014. Thanks to Jaap Sarelse (The Netherlands) for providing the information.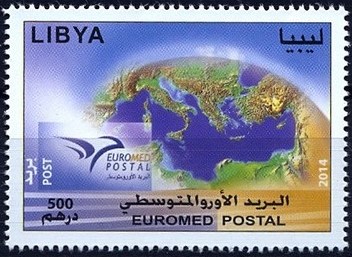 ---
October 10, 2014
Surprise: in the frame of the Indian Ocean countries joint issue from October 9, 2014, involving Comoros, France, FSAT, Madagascar, Mauritius and Seychelles, France added unexpectedly a stationery item with the same stamp. This item consist of an illustrated envelope size 230x163mm, containing a multicolored illustrated folded card size 210x150mm folded, 420x150mm when open, sold at €5.50. The front side of the cover and the first side of the folder (all four sides are illustrated) are shown below. Thanks to Dominique Josse (France) for providing this item.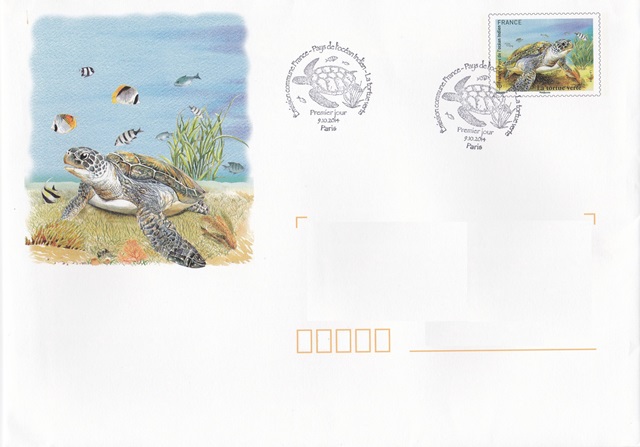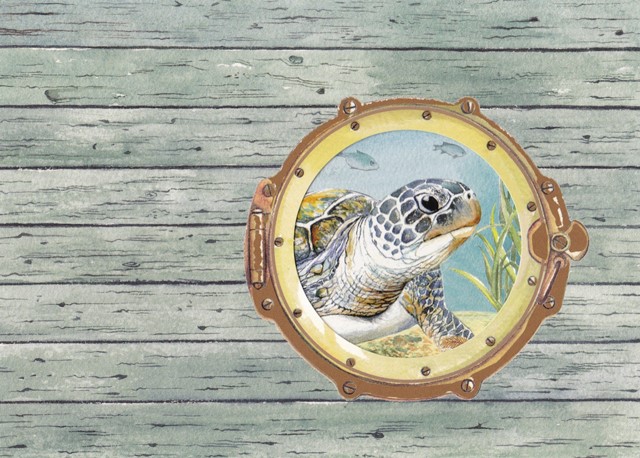 ---
October 10, 2014
On July 16, 2014 the three offices of the United Nations (Geneva, New York and Vienna) issued stamps celebrating the UNESCO World Heritage site of the Taj Mahal in India. Six stamps, identical for the three offices, were produced, either in panes of 20 stamps [4x5] or in booklets containing miniature sheets of 4 stamps [2x2]. The booklet stamps have a lower denomination. The stamps represent different views of the Taj Mahal site.
There is so far no known official link between this series of United Nations stamps and India or any other country. Therefore these stamps must be seen as a fully UN in-house production and cannot be considered as a joint issue.
---
October 1, 2014
The News from the period July to September 2014 have been archived.
---
All previous information reported in this section is to be found in the News Archives.