Joint Stamp Issues - News
Archives Quarter 1, 2014
This page is the archived News Page from the January to March 2014 period. All contents have been dispatched in the respective open pages. However there may still be open questions and any complementary information remains welcome. As soon as an information is archived, the text will not be changed anymore. So if news are linked to the below, this information will be displayed as a new heading in the currently open News page.
Back to list of Archived Pages
---
March 31, 2014
The French stamps from the France China joint issue have been released on March 28, 2014 (at the occasion of the visit of the Chinese president Xi Jinping to France). The Chinese stamps had been released on January 27, 2014 already. France postal admnistration announced the production of a mixed official first day document as well as a folder containing the 4 stamps mint. On the web site, this folder is already out of stock (or was never available for sale?).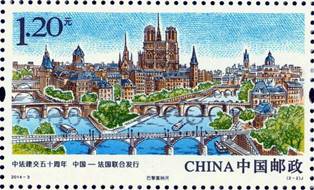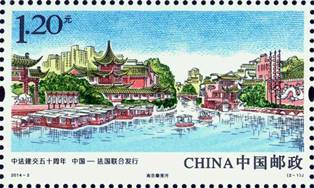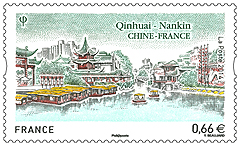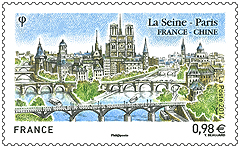 ---
March 29, 2014
Eventually the web site could be updated. Next to the issue of the Catalogue Supplement VIII, 2014, all Quarterly pages of New Issues have been updated as well. So, the information about the joint issues released during the year 2013 is now available under Quarter I, 2013 - Quarter II, 2013 - Quarter III, 2013 and Quarter IV, 2013.
---
March 29, 2014
On March 28, Latvia issued a stamp jointly with Georgia at the occasion of their 20th diplomatic relations anniversary. No information is available so far from Georgia (Info: Grzegorz Omelanczuk/Poland)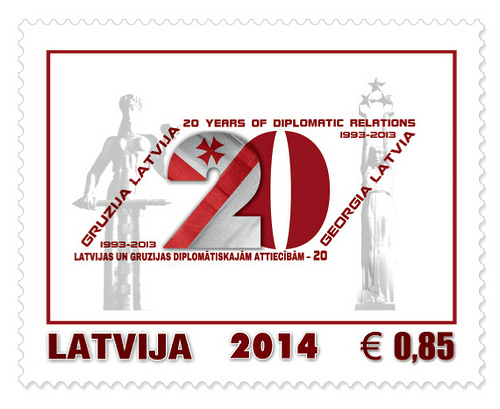 The Turkey-Poland joint issue scheduled for March 27, 2014 seems to be confirmed as joint by the Polish postal administration but the issue will take place much later in the year. Details are missing.
---
March 28, 2014
It took a longer time than usual, but finally the Catalogue Update VIII - 2014 is ready. It is a 52 pages booklet available by direct request at the address richard.zimmermann@club-internet.fr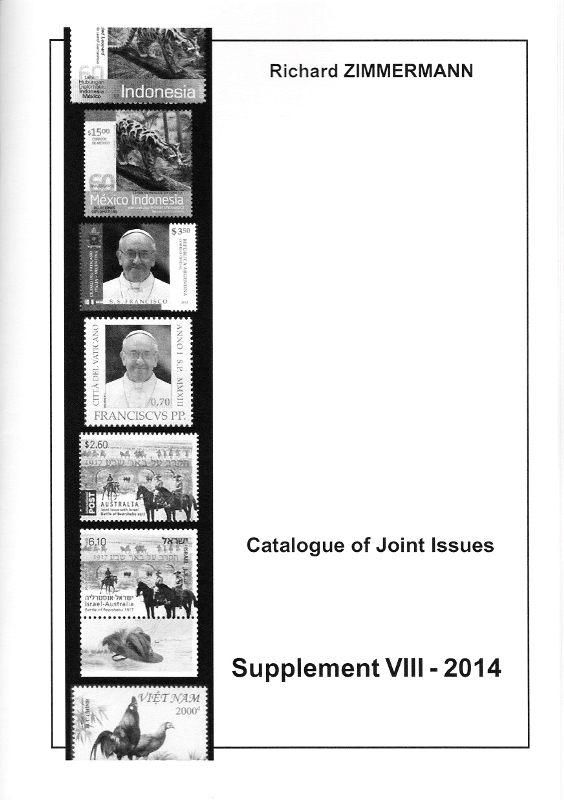 Unit price is €5.00. With postage to Europe (including France) total cost is 7.00€. Anywhere else price becomes 7.50€ or US$11.00. Accepted payment includes cash or Paypal/Skrill.
---
March 22, 2014
Mansoor Moazzeni (Iran) discovered a series of stamps issued in the year 2010 relative to Henri Dunant and the 100th Memorial Anniversary of the Red Cross. In fact this series must be considered as an Omnibus series for which all countries, releasing stamps produced at the same place, issued two souvenir sheets, one with a single stamp and the other with four stamps in a block. The design is similar, with similarities in the margins of the souvenir sheets, but all stamps are different. A few examples are provided hereunder and the list of countries involved in this series discovered so far includes:
2010 (September 1)
Antigua (December 20) - Bequia (February 17, 2011) - Dominica () - Gambia (December 30) - Grenada (September 1) - Liberia (August 27) - Micronesia (August 26) - Nevis (September 8) - Palau (September 8) - Saint Kitts (September 1) - Saint Vincent and Grenadines (October 5) - Sierra Leone (October 14)
This list is probably not complete and additional information is welcome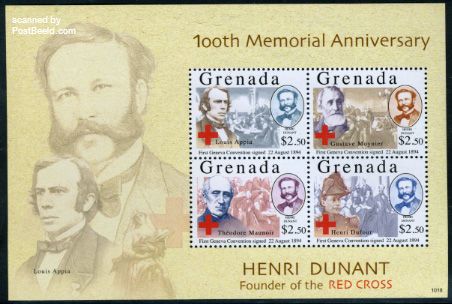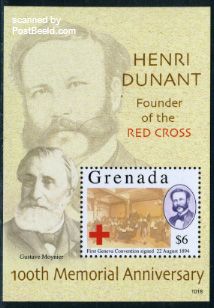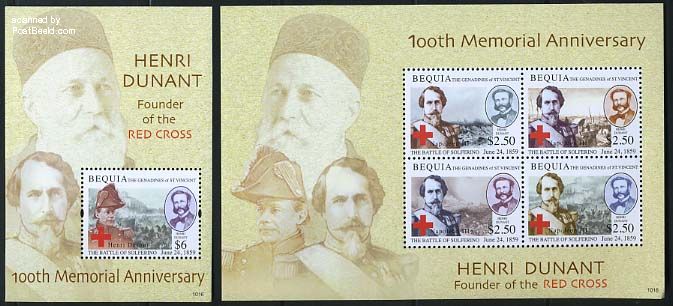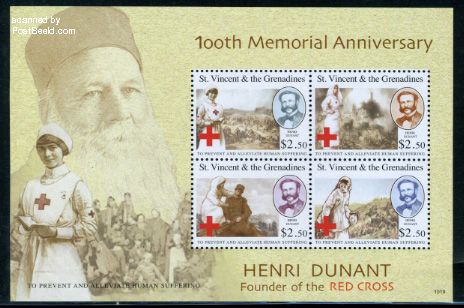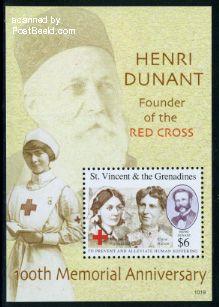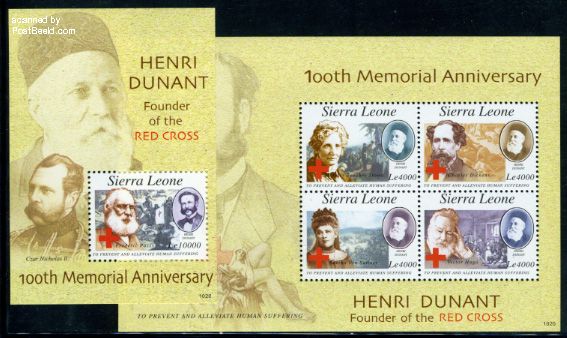 ---
March 21, 2014
The Polish stamp to be released jointly with the Vatican on April 2, 2014 were also recently disclosed (Information Grzegorz Omelanczuk and Fabio Bonacina). Vatican is issuing stamps on March 21, 2014. Printing runs: souvenir sheet with 2 stamps, 120x75 mm, 200,000; souvenir sheets with one stamp, 75x100mm, 200,000 each; miniature sheet with 6 stamps, 250,000, i.e. 1,500,000 stamps.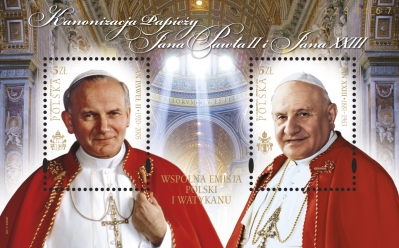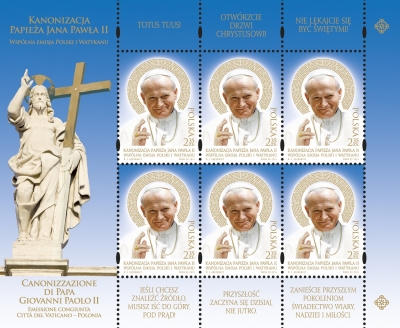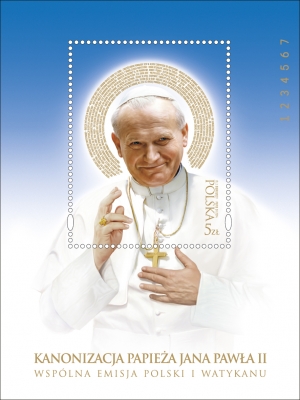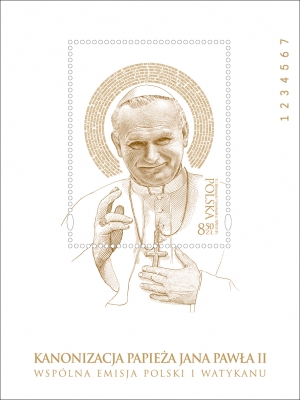 ---
March 19, 2014
The Chinese stamps from the 2014 France - China joint issue have been apparently issued on January 27, 2014. Only the issue of the French stamps was postponed to March 27, 2014.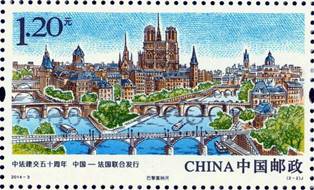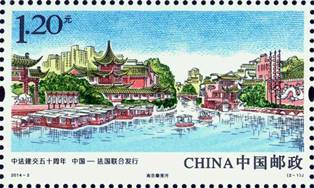 ---
March 16, 2014
Some news about the Vatican - Philippines joint issue to be released on March 21, 2014. Enzo Cafaro (Italy) was recently in contact with the Philippines postal administration and collected the following information:
- in order to push for the project, the Philippines administration had only been allowed to print the single stamp design and the official first day cover (in other words the souvenir sheet already submitted and shown below will not be issued by the Philippines. The reason may be linked to the Vatican coat of arms represented on the label that are not conform with the official ones)
- for March 21, 2014, the Philippines postal administration shall issue the single design stamp celebrating Pope Francis Year II (denomination PhP 40.00 on a sheet of 9 stamps at PhP 360.00 per sheet)
- the official first day cover will be sold at PhP 48.00 per piece.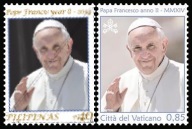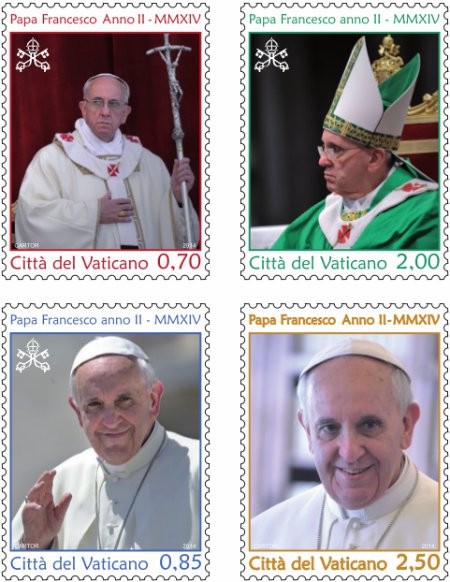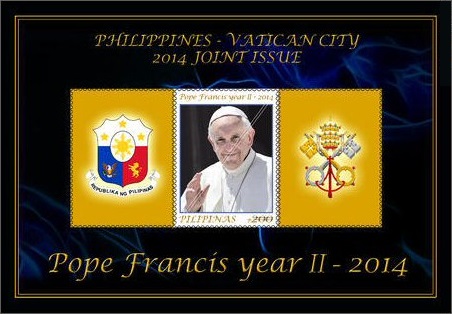 Enzo provided also the pictures of the stamps to be released on March 21, 2014 by the Vatican, jointly with Poland which is expected to released the counterpart stamps only on April 2, 2014.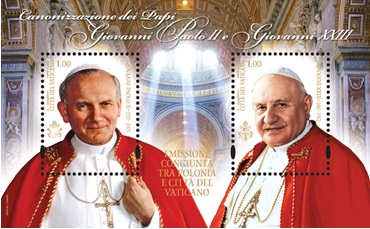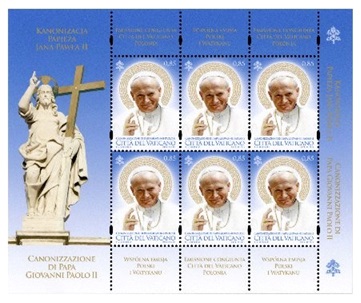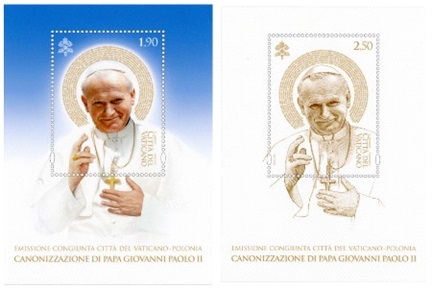 ---
March 16, 2014
The Argentina - Ecuador - Nicaragua - Uruguay - Venezuela joint issue of March 5, 2014 in honor of Hugo Chaves was released. However information is difficult to get an all participating countries are not all known. We already had information about Argentina. Kenneth Sequeira (Dubai) could provide information about the Uruguayan stamps, confirming the joint twin character of the issue. The image of the Nicaragua stamps were found by Grzegorz Omelanczuck (Poland) - apparently only 2,500 samples were printed. A bad quality image of the Venezuelan stamps was also found on eBay. But we are still missing information about other countries, in particular Ecuador. It may be possible that Cuba could have been involved as well as other ALBA countries (ALianza Bolivariana para los pueblos de nuestro America) which includes also Bolivia, Saint Vincent and Grenadines, Dominica, Antigua and Barbuda. Any complementary information is welcome.
March 31, 2014: Enzo Cafaro (Italy) got the information from the Ecuador postal administration that their stamps will be issued in the course of the month of April 2014.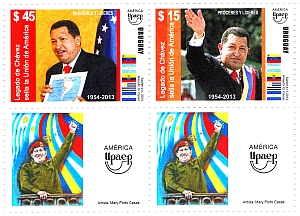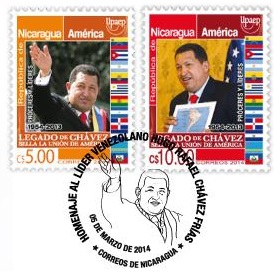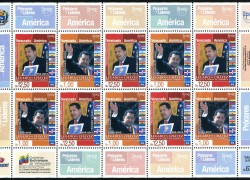 ---
March 16, 2014
A recent discovery from Grzegorz Omelanczuk (Poland):
On November 25, 2013, the Alcatel-owned Subsea Cable vessel "Isle De Re" completed laying the 1,259 km fibre-optic cable between Port Vila in Vanuatu and Suva in Fiji. The milestone cable project, which will link Vanuatu directly into the high capacity Southern Cross cable between Sydney and Hawaii, was officially opened on January 15, 2014. At this occasion both countries issued a siamese strip bearing 3 stamps from Fiji and 3 stamps from Vanuatu. A mixed FDC was also made available. Further information is available on the Vanuatu Post web site.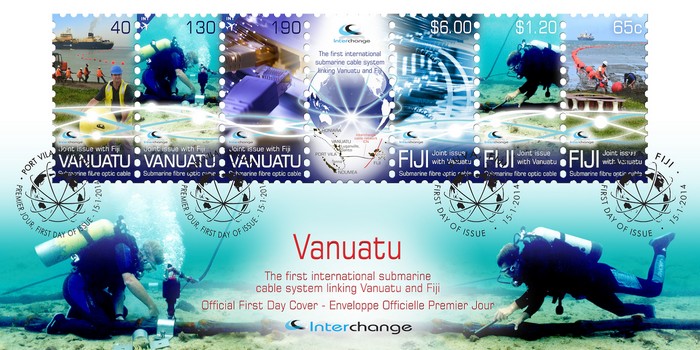 ---
March 1, 2014
In the past weeks Larry Dodson (USA) provided interesting information about the first unique issue on postal stationery involving Argentina and Brazil. We reported in the Joint Issue catalogue under the heading [U19000000] an Argentinian letter sheet with a standard Argentinian stamp imprint on the front side (top right corner) but also a Brazilian stamp imprint on the flap. The same color for both stamps, blue-green, was used. Inside are printed in blue-green and black the portraits of both presidents (Argentina: Julio Argentino Roca; Brazil: Manuel Ferraz de Campos Sales) with fancy borders. This postal stationery was issued at the occasion of the visit of the president of Brazil to Argentina (October 17 to November 8, 1900). Exact date of issue is not known, but this was probably in October 1900.
Larry tried to compare several specimens of this letter sheet and discovered that there is not one letter sheet that was produced at that time but several differents:
- The pictures of the presidents inside the letter exist in six different colors and not only one (green, blue, black, brown, red violet or lilac).
- The pictures of the presidents are available under two different formats; they are either side by side or one picture is significantly higher than the other.
All combinations seem to exist and have been reported in the Higgins and Gage catalogue, but all have not been seen so far. Here are some interesting pictures. Note than stamps and president pictures have also been used on postal cards and telegram forms, but only the letter sheets bear the stamps from the two countries.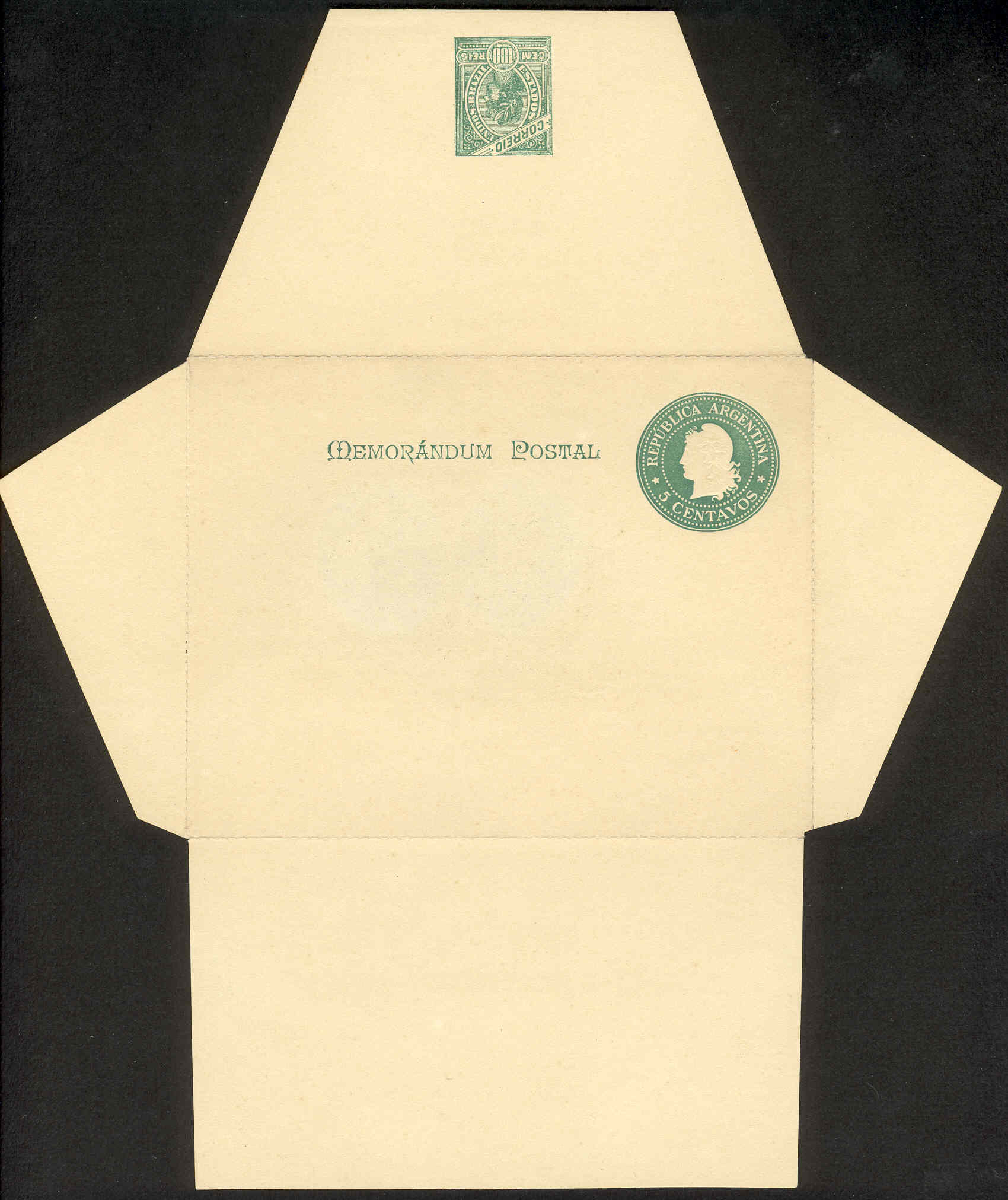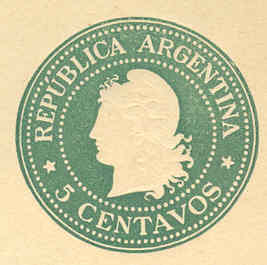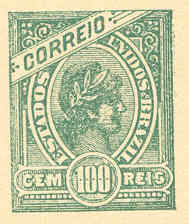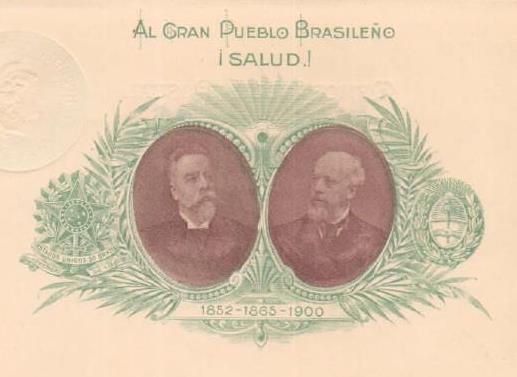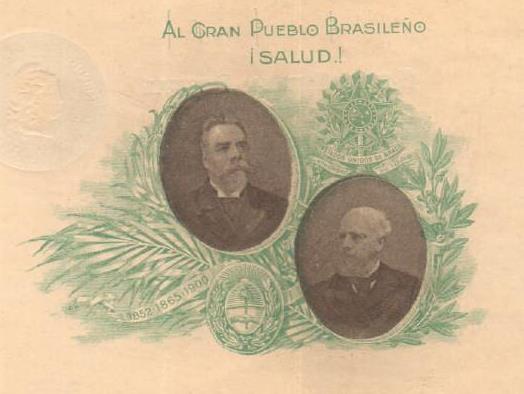 ---
March 1, 2014
There were also surprising discoveries of stamps that were released during 2013, and not mentionned so far:
Grzegorz Omelanczuk (Poland) found a joint issue that we have missed in 2013. Philippines and Nigeria released two stamps each at the occasion of the 50th anniversary of diplomatic relations. The stamps depict flowers and national symbols. The Philippines' stamps were released on December 20, 2014 but we are still looking for information about the Nigerian ones. The Nigeria stamps bear an hologram which seems to be standard now on all Nigerian stamps. Philippines stamps are printed in se-tenant pairs forming miniature sheets of 5 pairs [1px5].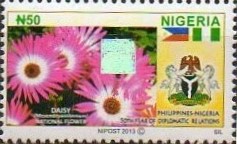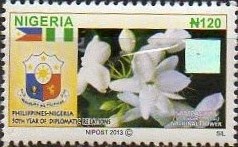 ---
March 1, 2014
In continuation to the previous paragraph, here are news about stamps that were released during the past weeks.
There is an additional stamp issued by the Iranian authorities and related to the joint issue from the ECO series with Pakistan. The date of issue should be November 28, 2013, but we are still missing precise information (Information provided by Don Birschel, USA).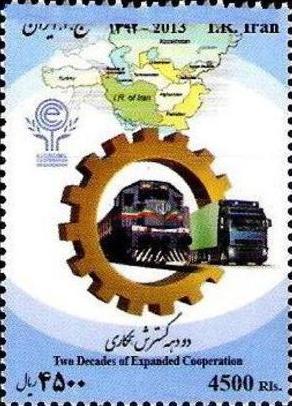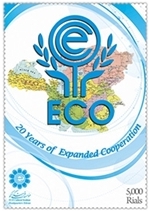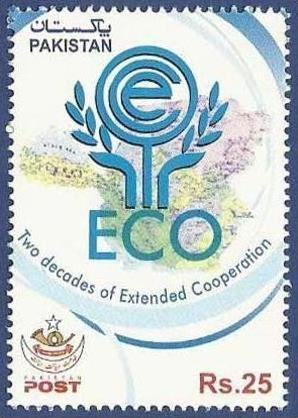 The images of the Palestina stamps (souvenir sheet) from the Palestina - Turkey joint issue appeared first on the Delcampe site. This item issued on December 12, 2013 is identical to the souvenir sheet released by Turkey on the same date. This stamp raises a new political problem. In September 2013, the Palestinian authorities have decided that their stamps, printed in Dubai, will bear the name "State of Palestine" instead of "Palestinian Authorities". This decision was taken not only for official stamps, but also for official stationery, documents, identity cards, driving licenses, passports and official letterheads. As this status, now recognized by some countries, is absolutely rejected by Israel, and as all Palestinian stamps have to enter Palestine through Israel, this country did put an embargo on the stamps and these stamps are for the time being not available in Palestine directly. Availability seems presently limited to Palestinian representatives abroad. We will keep this Palestinian item in our list of joint issues, but its real status will be confirmed when we will see the first stamps used and cancelled from a city within the Palestinian area. The souvenir sheet is very similar to the souvenir sheet produced and released by Turkey.
20140408: Note that the Palestinian souvenir sheet is available since April 8, 2014. However, fisrt day covers dated December 12, 2013 exist.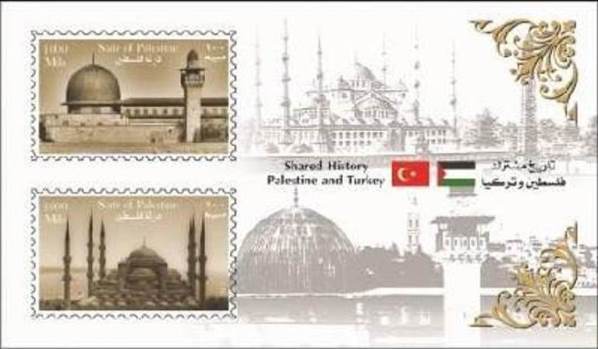 On January 15, 2014 there was an official announcement about the release on the same day of a joint issue between the Republic of China, Taiwan (ROC) and St. Kitts and Nevis with stamps commemorating 30 years of diplomatic relations between the two countries. So far no stamps were issued at this occasion on the ROC side and this issue is probably unilateral. Any additional information is welcome.
January 28, 2014 - Malta and Israel: the Malta stamp was issued in 6 stamps-miniature sheets with tête-bêche stamps [3x2] with the advantages of proposing a tab for each stamp. The stamps represent the Knights Hospitaller Halls in Acre and Valletta and are identical for both countries.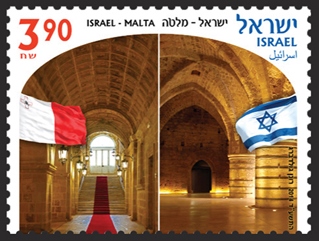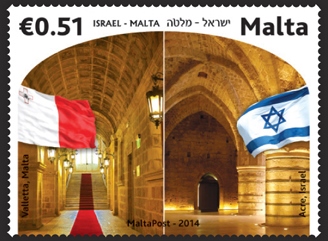 February 6, 2014: Japan and Switzerland issued their joint stamps. Japan issued a miniature sheet with 10 different stamps among which the two ones in common with Switzerland, while Switzerland issued a miniature sheet with the two identical stamps in blocks of 4.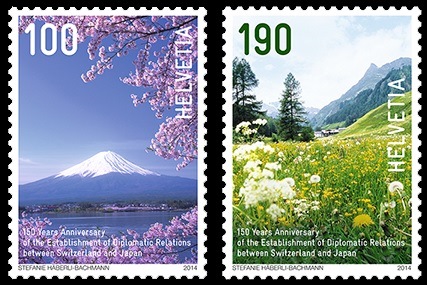 ---
March 1, 2014
Sorry for such along time without news. Unfortunately they were some other priorities on my side. As a consequence the new information here will be limited to summaries of all mails that were provided by different collectors during this 6 weeks of blackout. Great thanks to Enzo Cafaro (Italy), Grzegorz Omelanczuk (Poland), Jaap Sarelse (The Netherlands), Fabio Bonacina (Italy), Steven Vandeweghe (Belgium), Don Birschel (USA), Larry Dodson (USA) who all contributed to this update.
New issues to come:
The Brazil Post announced in their plan for 2014 a stamp to be released on May 5, 2014 and another on October 9, 2014, at the occasion of 800th anniversary of the Portuguese language. The plan lists former Portugese colonies which are expected to participate in the event including Cape Verde, Sao Tomé, Angola, Mozambique, Portugal and Timor. Portugal shows a potential stamp release for the May 5 issue also in their program, but nothing for the October 9 issue.

Mexico announced a joint issue with Portugal on October 20, 2014 (apparently October 25 for Portugal) and probably another joint issue with the Philippines (date not disclosed, probably still under discussion).
Spain announced a joint issue with Brazil to be released on May 6, 2014, at the occasion of the World Soccer Championship to be held in Brazil.
We got also from Enzo Cafaro the first pictures of the Philippines - Vatican stamps to be relesed on March 21, 2014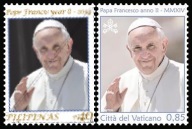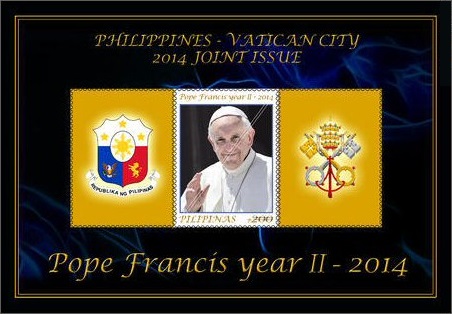 On March 5, 2014, an issue announced by Argentina as being joint, but released in the frame of UPAEP, will involve Argentina, Uruguay, Venezuela, Nicaragua and Ecuador. The topic - Legacy of Hugo Chaves (Legado de Chavez sella la union de America) confirms the link with UPAEP, but only those 5 countries will be involved. So far only the image of the Argentinian stamps are available.

The issue to be released on April 18, 2014 and involving Belarus, Ukraine and Russia to celebrate the 70th anniversary of liberation of these three countries from the German invaders was confirmed as being joint. The participation of Moldova needs still to be confirmed, but apparently is doubtful as the name of this country is not written on the miniature sheet. However the evolution of the recent events in Ukraine may limit or impact the release of these stamps.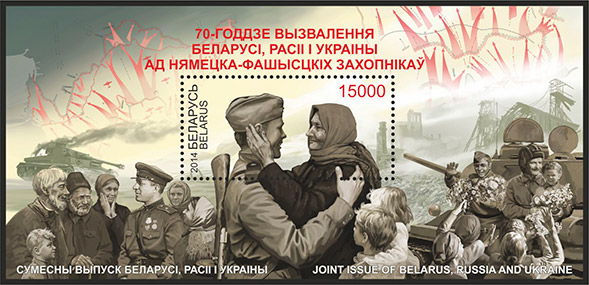 ---
January 18, 2014
Conrad Zeransky (USA) submitted for identification a pair of souvenir sheets that seemed to be joint issues. He found the items depicted below in the internet and purchased them on the basis of the pictures available on the web site. These items were issued to commemorate "the Year of the Family" and "the 50th Anniversary of the United Nations". Both were issued in Sindelfingen West Germany during their Philatelic Exhibitions in 1994 and 1995. They seemed to both be siamese souvenir sheets, both with one stamp each from West Germany and one stamp from the U.N. (Vienna). When the items could be observed closer in their real state, it became clearer that each souvenir sheet was printed by the Southwest German stamp collectors Club and had two perforated blank panels in the middle. The corresponding German and UN stamps fit precisely into these panels. These souvenir sheets have their stamps in the correct spaces and are postmarked by the two relative postal authorities on 28.10.94 and 24.10.95.
In other words, these are authentic commemorative items created by the philatelic Club of Sindelfingen but based on an empty sheetlet of paper that looked like a souvenir sheet, but on which standard stamps from panels were added. The original cancellations are also authentic and added during the Sindelfingen exhibition by the two authorities that accepted these double cancellations. One has however to know that the German postal administration forbids double cancellation while the UN postal administration has absolutely no problem with that. So, in order to succeed in producing such an item, the authors must have affixed first the German stamp and requested the German cancellation before affixing the UN stamp and doing the same. This two step process can take place on the same day if both postal administrations are present at the same place. Which is the case for the Sindelfingen exhibition (each yer in October).
All stamps are related with each other but have not been part of an official joint issue released earlier. The cancellation is not a first day cancellation, but refers to the date of opening of the Sindelfingen exhibition. So these are definitely not joint issues, and will not be reported in the catalogue, but remain nevertheless nice collecting items.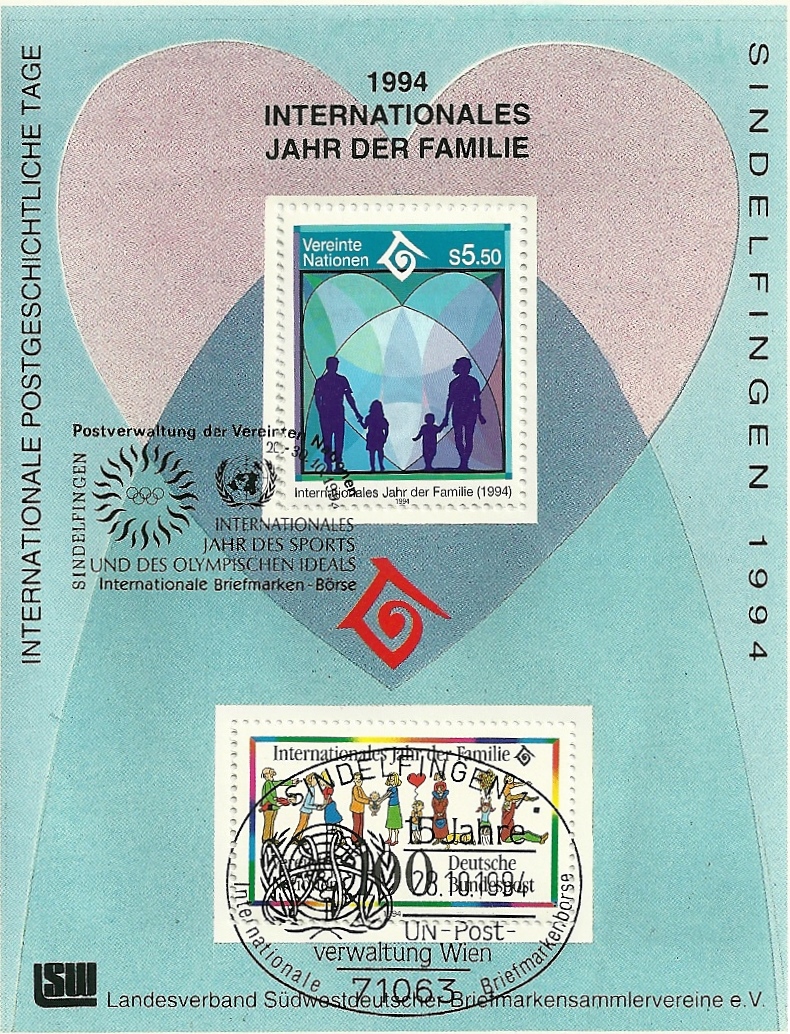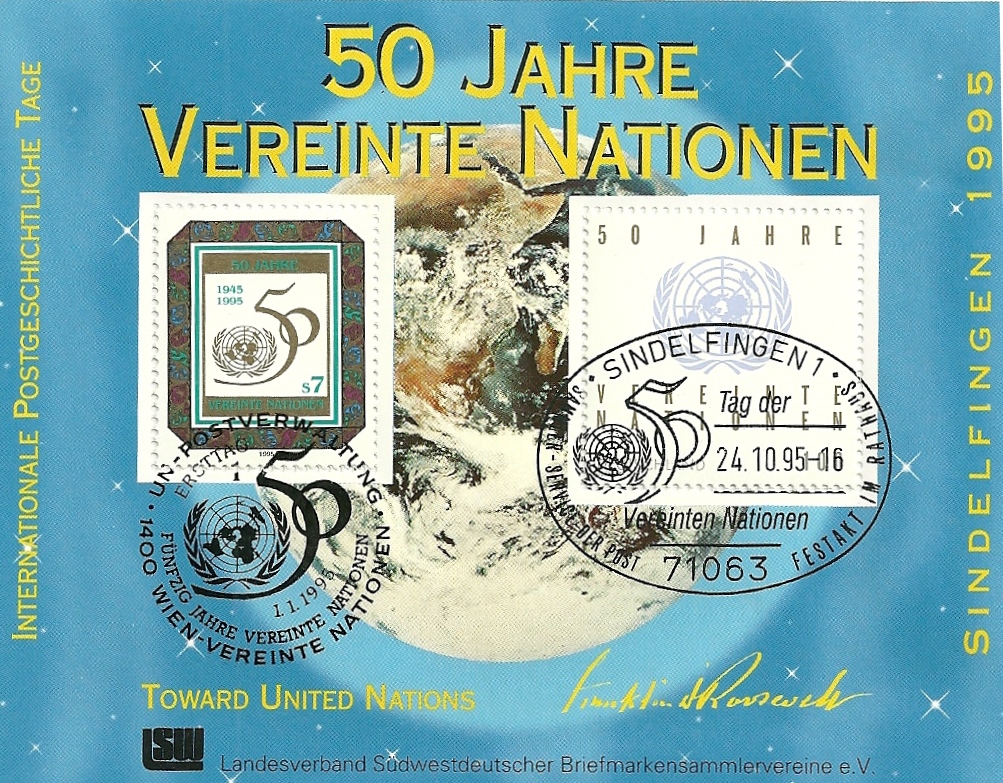 ---
January 18, 2014
Igor Mikhaylov (USA) could provide a better image of the Ukraine stamp, part of the Ukraine - Morocco joint issue released on December 18, 2013.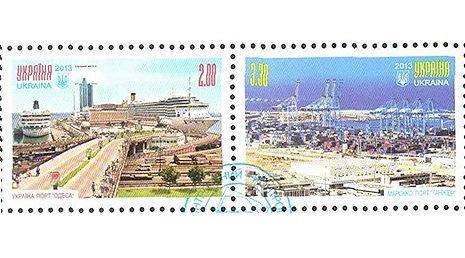 ---
January 18, 2014
Eric Contesse (France) could provide the pictures of the Chinese stamps part of the joint issue with France that was delayed to March 2014 (exact date still unknown). The landscapes describe the towns of Paris with the Seine River and Nanking with the Qinhuai River.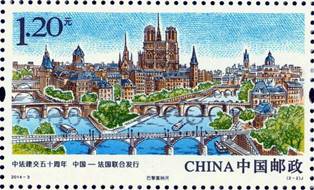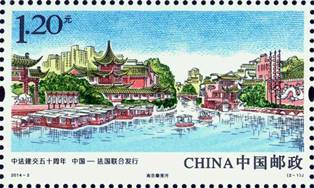 ---
January 18, 2014
Jaap Sarelse (Netherlands) could provide, via the Romanian Post, the picture of the souvenir sheet issued by Romania on December 21, 2013. This is a joint issue with Ukraine, for which stamps are available in miniature sheets of 8 (+ 1 label) stamps each. The souvenir sheet is only available in a special (expensive) folder that has been printed at 350 samples.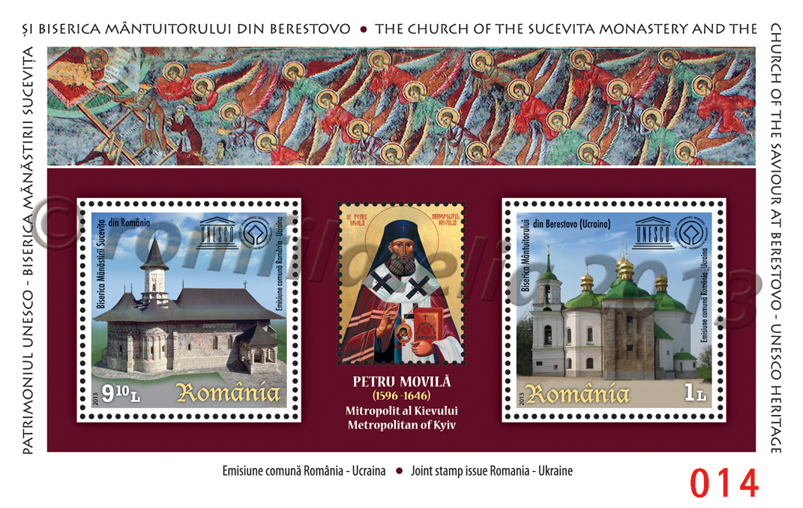 ---
January 18, 2014
The joint issue between Latvia and Sweden was issued on January 16, 2014. It celebrates the "European Capitals of Culture", event organized by both countries in 2014. The motif is Bildmuseet in Umeå and the Sami flag stylized for one stamp and the National Library of Latvia in Riga, and Riga's city flag stylized for the other. Swedish stamps are self-adhesive coil stamps. Latvia has issued 2x300.000 stamps.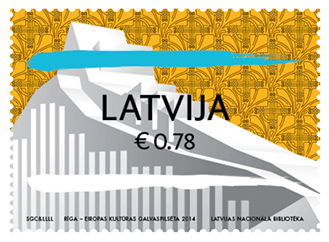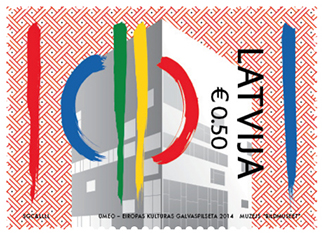 ---
January 18, 2014
On August 29, 2013, three of British Overseas Territories (Ascension, Falkland Islands, South Georgia) released sets of stamps depicting South Atlantic marine fauna. The stamps and FDCs are different and suggest the same designer and printing house, however identical cancellation, date of release and occasion indicate some kind of territorial joint issue. In fact these stamps were release to celebrate the Shallow Marine Surveys Group (SMSG) active on these territories. At first sight these issues could not be considered as joint until one discovered that a siamese souvenir sheet including one stamp from each country was issued. This leads to the conclusion that this issue must eventually be considered as a Territorial Siamese issue (information provided by Grzegorz Omelanczuk, Poland).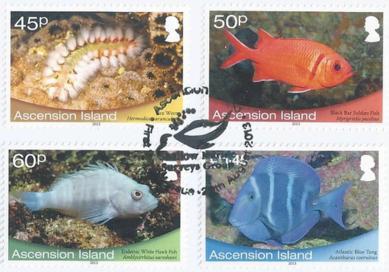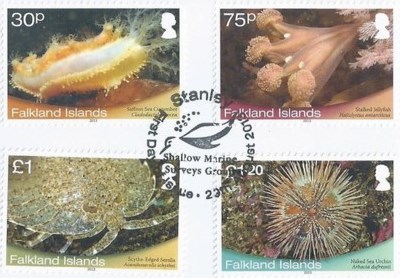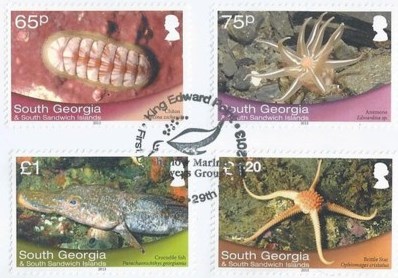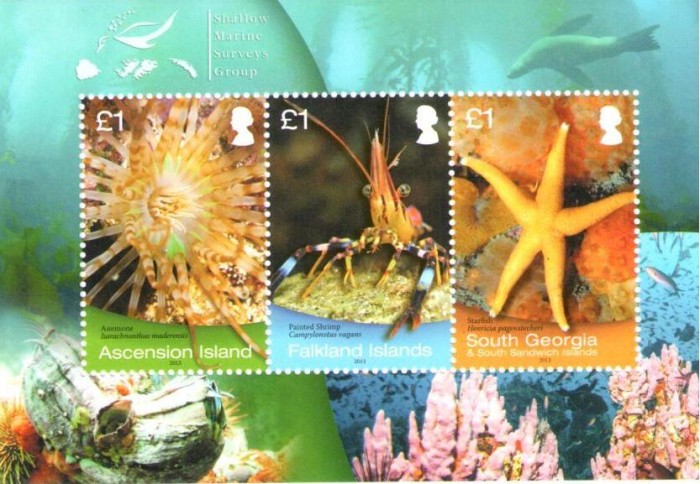 ---
January 5 , 2014
Eric Contesse (France) provided a series of information related to new joint issues scheduled in 2014:
- the Slovenian philatelic programme includes a joint issue with Belgium at the occasion of the International Year of Crystallography (miniature sheet of 2 stamps)
- Romanian Post has announced five joint issues in 2014 with Azerbaijan, Kazakhstan, Estonia, Sweden and Peru.
- in Turkey's philatelic programme, a joint issue with Poland is scheduled for March 27, 2014. This issue is not yet confirmed by Polish Post
- and it seems that the China-France joint issue (scheduled on January 27, 2013) will be postponed, probably in March...
---
January 5 , 2014
On January 28, 2014, Israel and Malta will issue stamps in common at the occasion of the 50th anniversary of the diplomatic relations. Israel has already provided the information and the picture of their issue (information provided by Fabio Bonacina, Italy).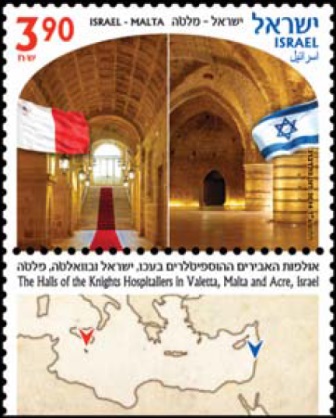 ---
January 5 , 2014
Complement of information concerning the joint issue between Serbia and Algeria and for which Serbia already issued a miniature sheet imprinted "Joint issue with Algeria" on December 2, 2013. Jaap Sarelse (The Netherland) was able to get the information from the Serbian postal administration that Algeria has decided to issue the counterpart of this series in June 2014 only.
---
January 5 , 2014
The stamp released by Azerbaijan jointly with Slovenia on December 12, 2013 is confirmed to be identical (information provided by Grzegorz Omelanczuk).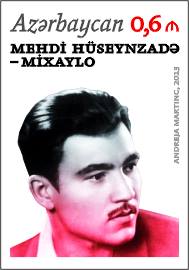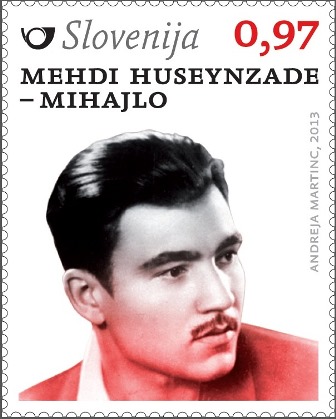 Better pictures from the Morocco-Ukraine joint issue from December 18, 2013 have been provided by Fabio Bonacina (Italy)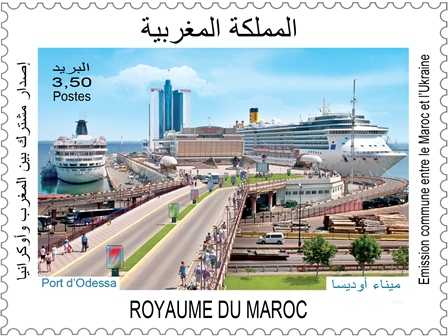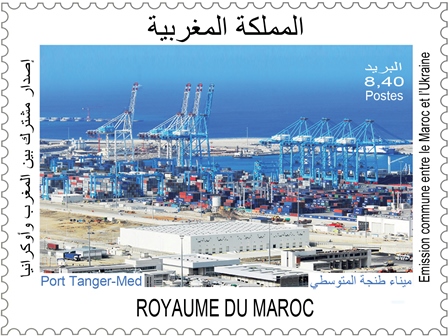 On December 21, 2013, postage stamps of the joint issue Ukraine - Romania were released. They represent "The Church of the Saviour at Berestovo (Ukraine)" and "The Church of the Sucevita Monastery (Romania)". Ukrainian stamps are printed as a se-tenant pair (information Fabio Bonacina and Grzegorz Omelanczuk). Romania issued the stamps in sheets of 28 stamps, in miniature sheets of 8 stamps with one label and in souvenir sheets containing one pair (issued only at 700 samples).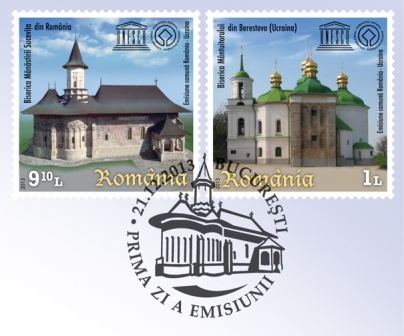 ---
January 1, 2014
The News from the period October to December 2013 have been archived.
---
All previous information reported in this section is to be found in the News Archives.