Joint Stamp Issues - News
Archives Quarter 4, 2013


This page is the archived News Page from the October to December 2013 period. All contents have been dispatched in the respective open pages. However there may still be open questions and any complementary information remains welcome. As soon as an information is archived, the text will not be changed anymore. So if news are linked to the below, this information will be displayed as a new heading in the currently open News page.
Back to list of Archived Pages
---
December 13, 2013
Japan will be involved in a joint issue with Switzerland, at the occasion of the 150th anniversary of the relation between the two countries, that will be issued on February 6, 2014. This series that was initially planned in 2013 is now posted on the Japanese philatelic web site. As usual, Japan will print a miniature sheet (140x222mm) with a pair of common stamps and another 8 different stamps, related to the main topic (printed 12,000,000 miniature sheets). The two common stamps will represent a) Switzerland mountain in spring and b) the Mount Fuji with cherry blossom; the 8 other stamps are showing c) the Switzerland Alps with the Jungfrau glacier (a world heritage site), d) the old town of Bern (a world heritage site), e), the city of Lavaux (a world heritage site), f) the Rhaetian Railway with the Albula and Bernina lines, g) the Jungfrau Railway, h) Narcisses field near Montreux, i) blooming Alp roses and j) the Bernina Alps behind an Alpine flower garden.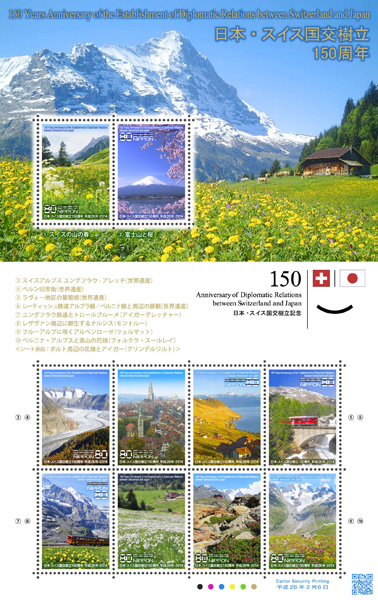 ---
December 11, 2013
The most interesting discovery in the latest years was published very recently in the UPSS journal "Postal Stationery" from Nov-Dec 2013, Vol 55, Number 6 (393) on pages 358-359. This journal, as it is entitled, is devoted to postal stationeries and one collector, Yavuz Corapcioglu, mentioned an envelope he owns in his collection for a while and for which he has no clue. Surprisingly, so far this item from Paraguay was not known from postal stationery collectors and looks like a unique item (this is in fact probably not true and it was simply of no large interest so far). For joint issue collector, this item belongs clearly to the cancer fund raising issue started in France in September 1, 1938 and extended to French Colonies on October 24, 1938.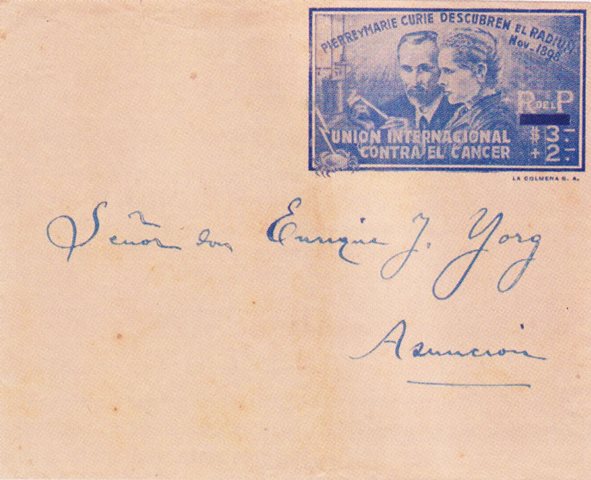 As a reminder, here is what is printed in the joint issue catalogue about this series :
1938 (October 24) - [C19381024]
Cameroon - Dahomey - France (September 1) - French Equatorial Africa - French Guinea - French Guyana - French India - French Polynesia - Guadeloupe - Indochina - Ivory Coast - Madagascar - Martinique - Mauritania - New Caledonia - Niger - Reunion - Saint-Pierre and Miquelon - Senegal - Somali Coast - Sudan - Togo
International Union for the Control of Cancer; Pierre and Marie Curie; 40th anniversary of the discovery of radium. Concerted French colonial issue involving non related countries issuing stamps at different dates [C1][TD]. This series is supposed to be a full French territorial issue. However, the story of this issue, with the participation of Afghanistan and Cuba using the same design, resulted in the obligation to consider these stamps as part of a concerted issue.
Identical stamps. Portraits of Pierre (1859-1906) and Marie Curie (1867-1934), laboratory. Blue.

Identical stamps or with a similar design issued on the same occasion, following the general call from the French administration.
Afghanistan (December 22) - Cuba (November 23)
Afghanistan: charity issue, one stamp; Cuba: issued two stamps, one in blue and one in red color; text in Spanish.

Monaco issued on November 15, 1938 a stamp showing Pierre and Marie Curie, but the design is different.
The Afghanistan stamp is only a charity stamp. All mail sent from Afghanistan during the Cancer week (December 22 to 28, 1938) had to have this stamp affixed on top of the normal postage fees.
The surcharge for all stamps was given to the International Union for the Control of Cancer.

Known printing numbers: France: 1,500,000 (sold only 833,000); French Polynesia: 151,000; Cuba (two stamps): 2,000,000 and 100,000
So far no postal stationery was mentioned. Initially this series was considered as a 'Territorial issue' [D] because it was issued for French Colonies. As different countries, not linked to France, adopted the same design, the series was considered as 'Concerted ' [C], and not Twin [T] because the dates of issues were far apart fom the original issue date for France and colonies.
The only thing we know about this cover is that it was apparently printed by a company named "La Colmena SA", the denomination is "3+2" ($2 for the cancer research fund) and a deep blue bar covers an unidentified small text. This unique known item is cancelled with a local cachet on the reverse side that does not provide a readable date. "R del P" stands for Republic of Paraguay and the design of the stamp is clearly the same as the Cuban stamp (additional crab on the lower left corner).

The area of postal stationeries issued for this purpose is far from being fully explored. It would not be surprising if other stationery items are discovered in the next years. This Paraguay cover is a good example. Any additional information would be greatly appreciated.
---
December 11, 2013
The issue between Ukraine and Morocco is confirmed by the Ukrainian postal administration to be released on December 18, 2013. Ukraine will issue two se-tenant stamps in a miniature sheet of [(2px2)+(2px2)], printed 98,000 pairs. Morocco will issue a miniature sheet of 10 stamps in 5 pairs of se-tenant stamps [1px5]. Stamps show the Odessa (Ukraine) harbour and the Tanger (Morocco) harbour.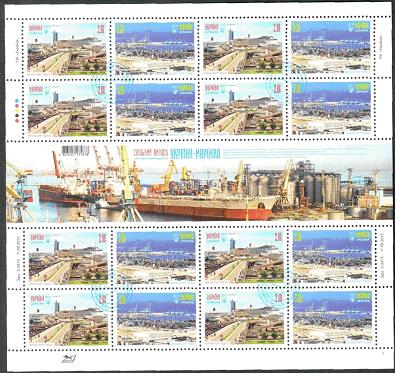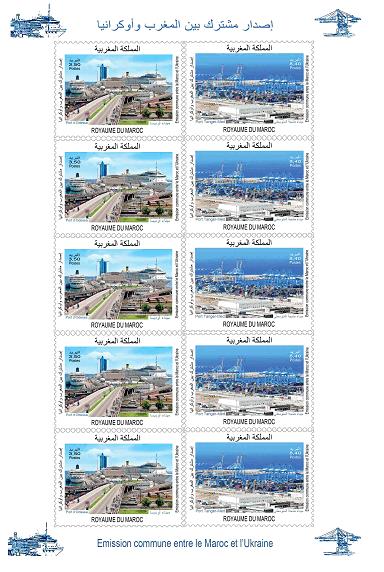 ---
December 9, 2013
As a complement to Ehsan Mehmood's (Pakistan) request, text found on the ECO website: "In order to promote deeper understanding and awareness of the goals and objectives of the Economic Cooperation Organization (ECO) amongst the peoples of the Region and abroad, ECO Cultural Institute (ECI) suggested designing a Unified/National stamp for the commemoration of 20 years of Expanded Cooperation in Economic Cooperation Organization (ECO), to be observed on November 28, 2013 (ECO Day), by the interested National Post Offices or other relevant authorities of all ECO Member States, simultaneously. To this purpose, ECO Cultural Institute submitted a draft design to the 12th ECI Council of Permanent Representatives and conveyed it to the ECO Secretariat and ECO Embassies in Tehran for further measures" (dated November 3, 2013).
It seems that at least Iran issued also a stamp on November 28, 2013, together with Pakistan: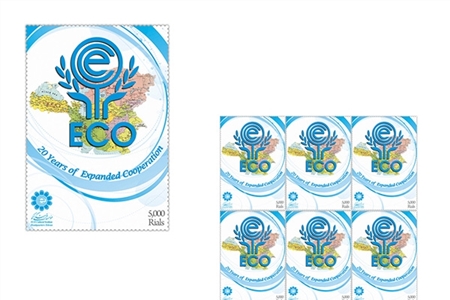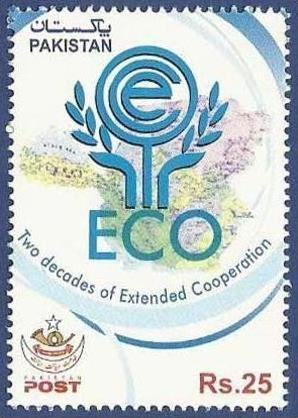 ECO is the successor organization of Regional Cooperation for Development (RCD) which remained in existence since 1964 up to 1979, including Iran, Pakistan and Turkey. In 1992, the Organization was expanded to include seven new members, namely: Islamic Republic of Afghanistan, Republic of Azerbaijan, Republic of Kazakhstan, Kyrgyz Republic, Republic of Tajikistan, Turkmenistan and Republic of Uzbekistan. This is the list of the 10 countries that could have participated to this 20th anniversary stamp issue. Any new information is welcome.
---
December 8, 2013
Jürgen Klein (Germany) submitted the two following pictures of stamps related to the 2014 Qingdao Garden Expo (Beijing), issued respectively by Guyana and Liberia and apparently released in April 2013. We are looking for more information, in particular exact dates of issue and other participating countries. These stamps are probably part of a larger omnibus series.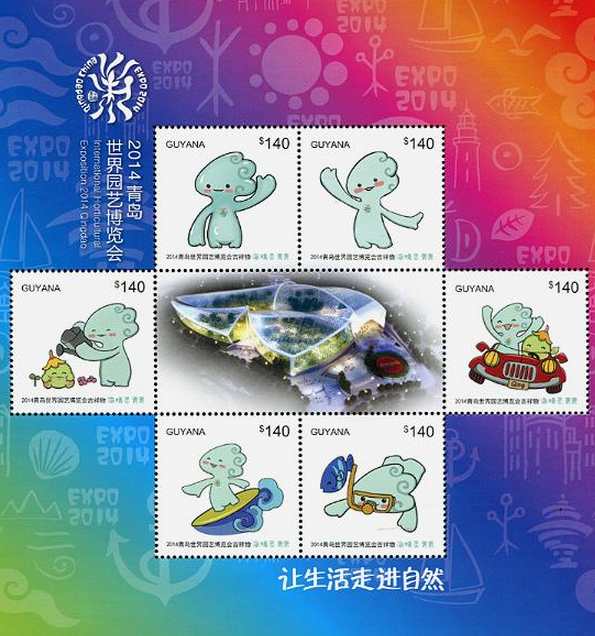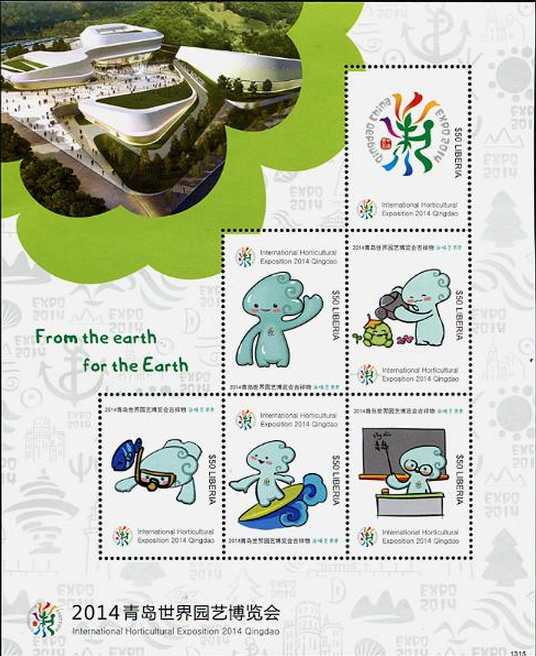 ---
December 8, 2013
At the occasion of the China International Collector Expo 2013 (CICE) held from September 26 to September 28, 2013, the six countries Cook Islands, Niuafo'ou, Penrhyn, Rarotonga, Samoa and Tonga issued each a souvenir sheet with two stamps. The stamps represent a painting from Paul Gauguin (different for each souvenir sheet) and the picture of the Beijing Exhibition Center (identical for all souvenir sheets). The background of the souvenir sheets shows the Chinese Great Wall (identical for all items). These souvenir sheets were released on September 26, 2013. As there is a very close administrative relationship between these six territories, this issued will be filed as territorial twin issue [TD] (discovered by Jaap Sarelse, The Netherlands).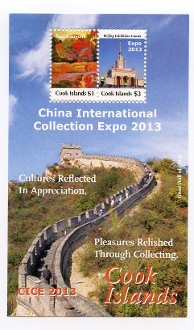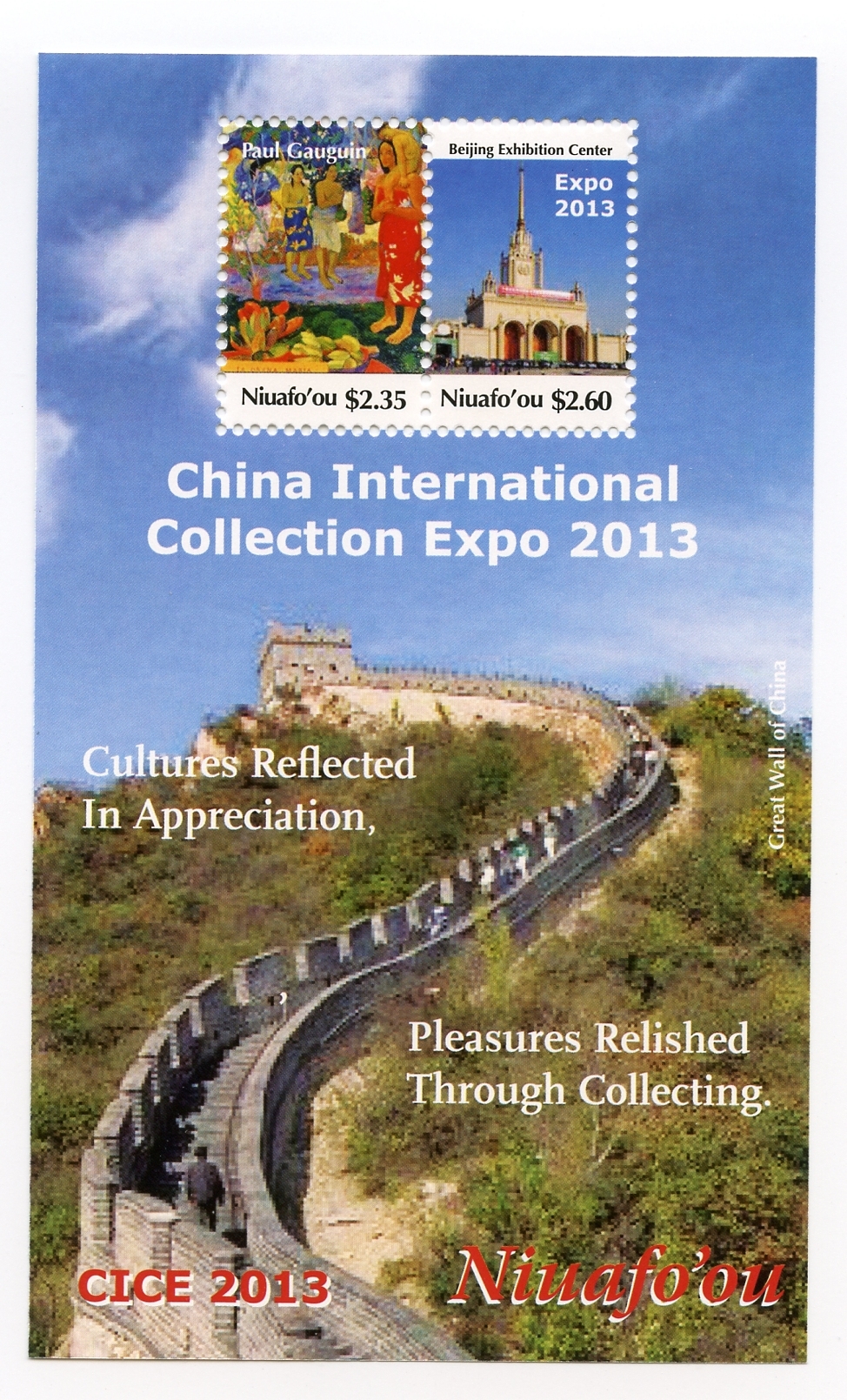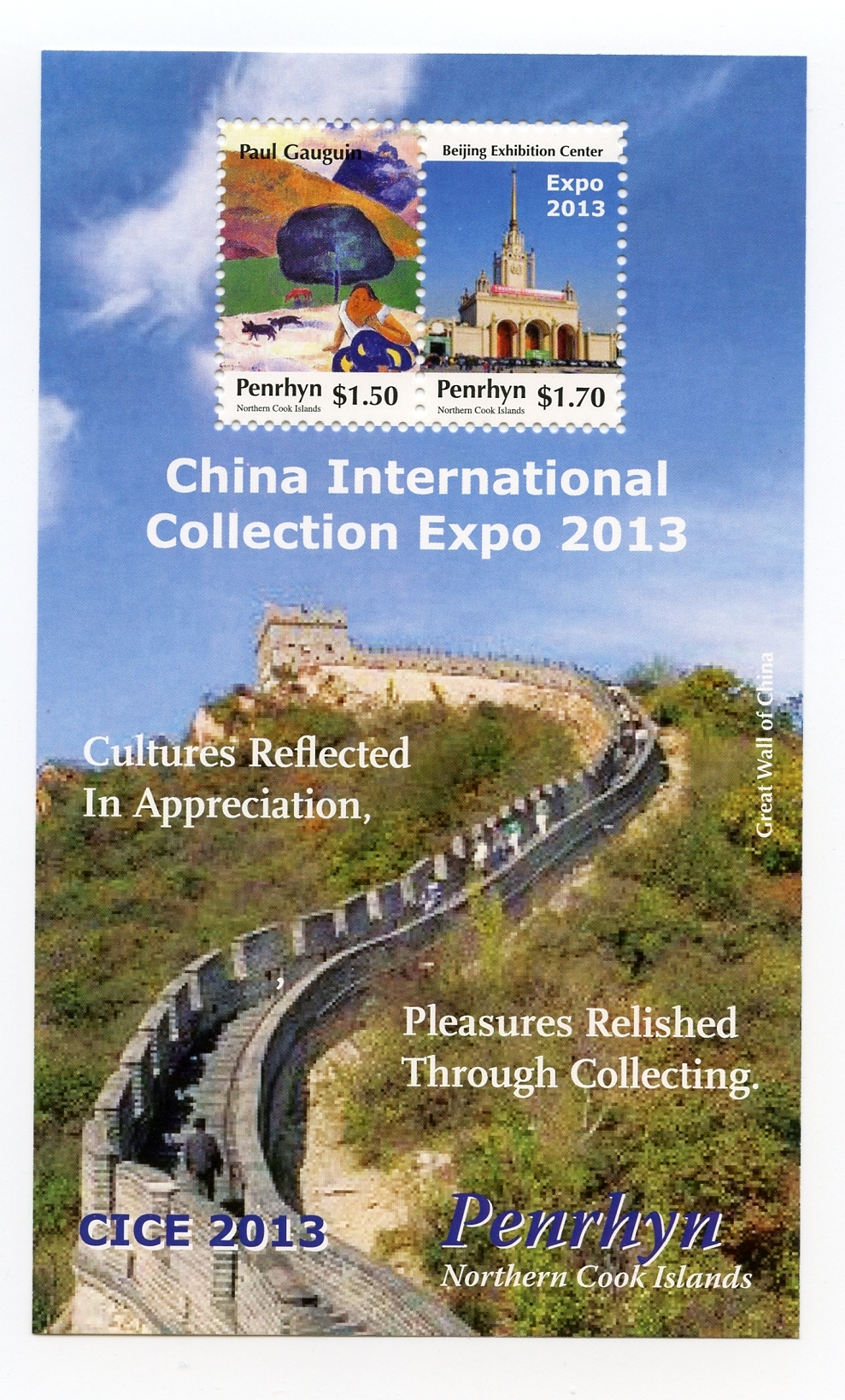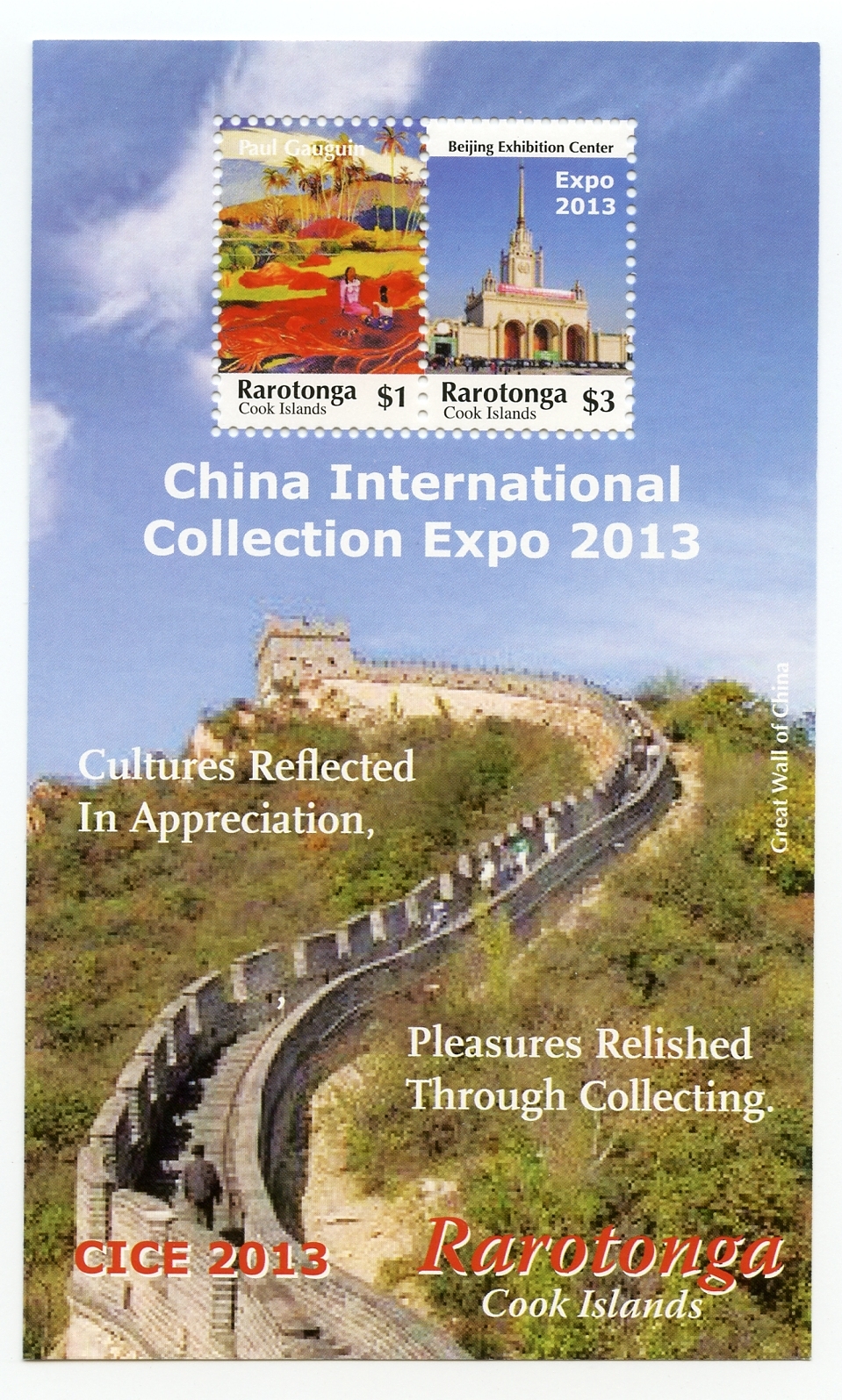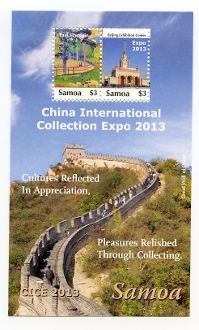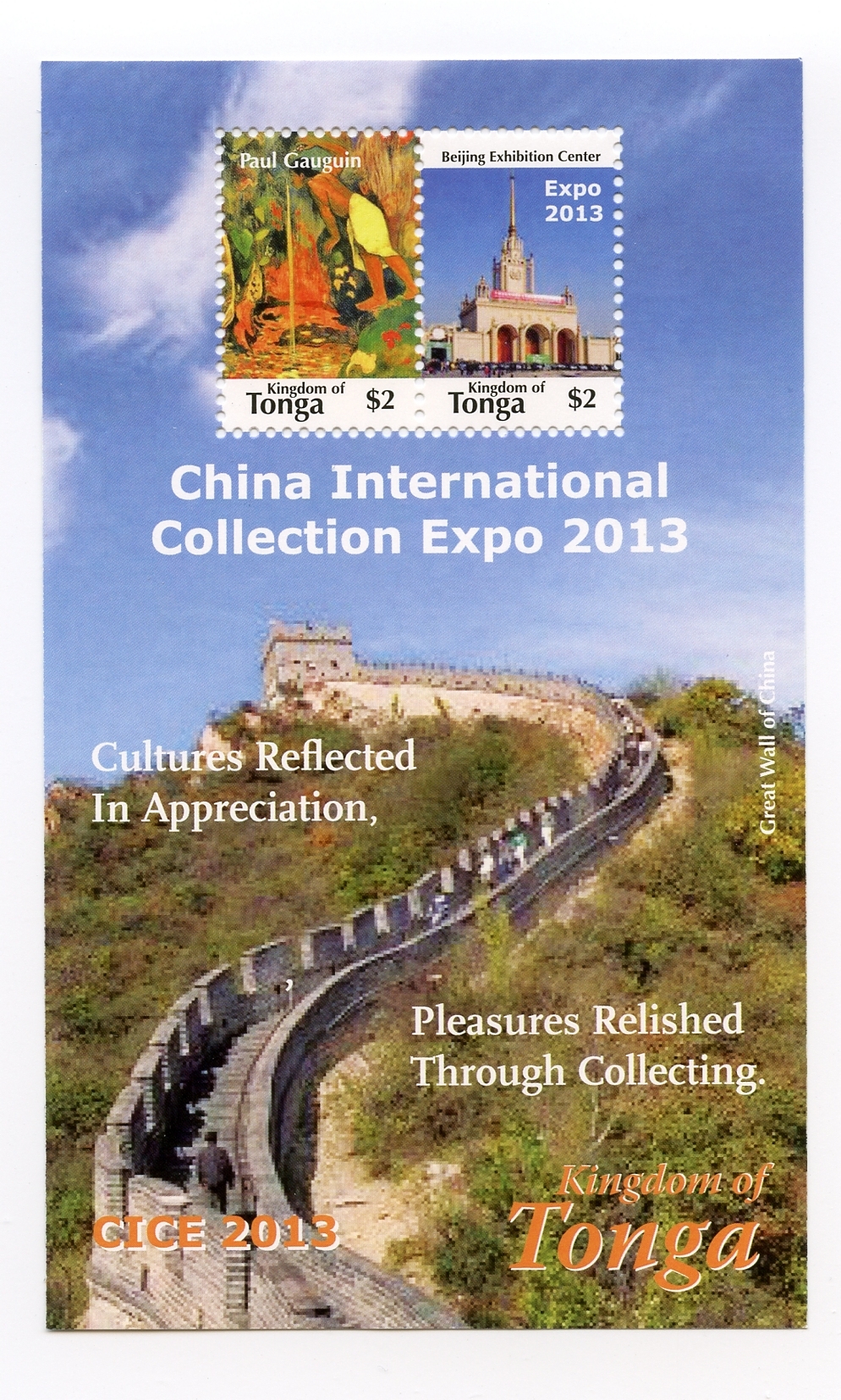 Additional information (January 18, 2014): Jürgen Klein (Germany) informs us that Aitutaki issues also a miniature sheet in these series, also at the same date, September 26, 2013.
---
December 8, 2013
The first images of the next Turkey Palestine joint issue to be released on December 12, 2013 have been published already. (Grzegorz Omelanczuk, Poland).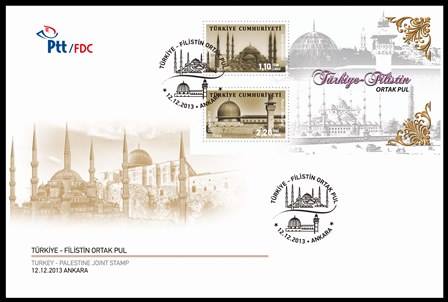 ---
December 8, 2013
Grzegorz Omelanczuk (Poland) found on the Ukrainian philatelic web side the exact dates of issue of the two next joint issues Ukraine will release: with Morocco on December 18, 2013, with Romania on December 21, 2013.
---
December 8, 2013
Several collectors (Don Birschel, USA; Fabio Bonacina, Italy; Grzegorz Omelanczuk, Poland; Jaap Sarelse, The Netherlands) signaled on the same day the issue by Serbia of a souvenir sheet mentioning clearly the status of joint issue with Algeria. This item was issued on December 2, 2013, but unfortunately we have no news from the Algerian side, situation even confirmed by Algerian collectors (Med Achour Ali Ahmed). We should remain cautious, as last year, Serbia also announced a joint issue with Hungary, printed stamps with the mention "joint issue" on it, but Hungary never released a joint stamp.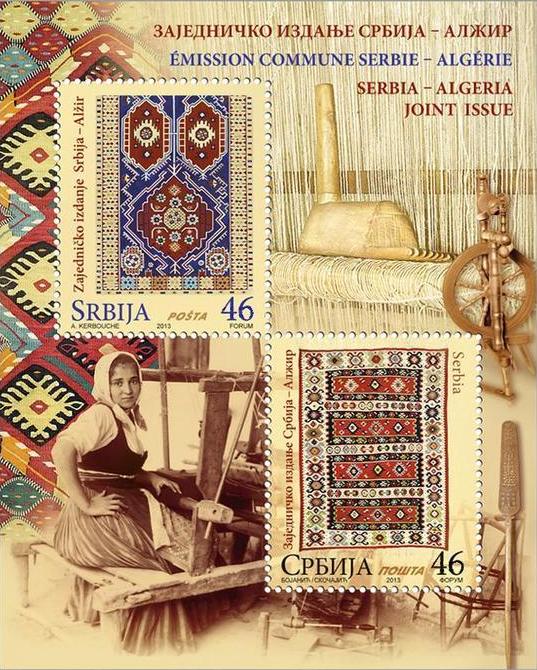 ---
December 8, 2013
Ehsan Mehmood (Pakistan) signals that Pakistan issued a stamp on November 28, 2013 related to the 20th anniversary of the ECO. It may be possible that other ECO countries will participate to this issue using the same design. We will wait for further information before deciding this stamp to be integrated as a part of a joint issue.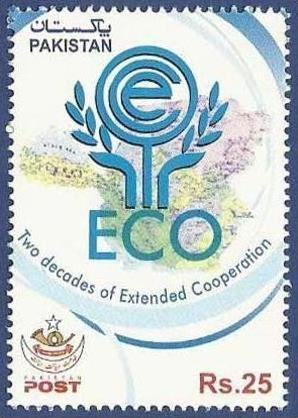 ---
November 24, 2013
Unexpected joint issue between Azerbaijan and Slovenia to be released on December 12, 2013, discovered by Grzegorz Omelanczuc (Poland). Topic: Mehdi Suheynadze Mihajlo, WWII resistant.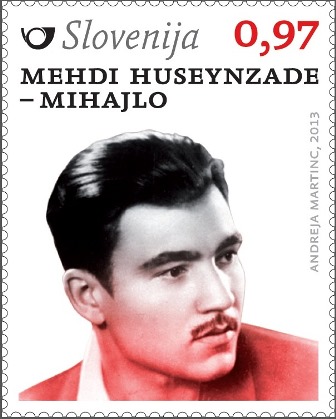 ---
November 24, 2013
Mansoor Moazzeni (Iran) provided detailed information about the 2011, September 28, Belarus - Iran joint issue. In fact the Iranian stamp was officially released on November 29, 2011. This issue needs therefore to have its status changed from Twin [T] to concerted [C].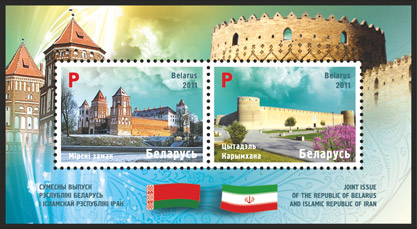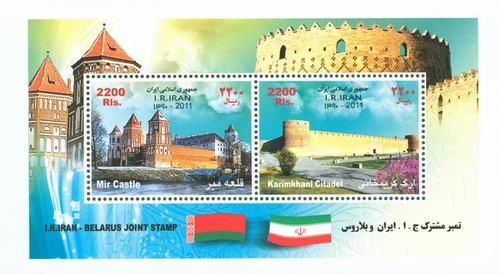 ---
November 24, 2013
Information about new 2014 issues:
- According to the Belgian philatelic stamp programme 2014 the joint issue with Portugal (Vesalius) should take place on April 21, 2014 (information provided by Rindert Paalman, Netherlands)
- Denmark and Iceland will issue joint stamps in 2014 with the theme Handwriting from the Arnamagnæan collection. Two stamps are supposed to be released in August 2014 (information provided by Lucas Mollerup Kobbernagel, Denmark)
- Denmark will also issue a stamp with Faroe and Greenland at the occasion of Prince Henrik's 80th birthday. Date of issue: June 2, 2014
---
November 9, 2013
The Vatican State Post and the Italian Post issued a special folder on October 4, 2013, in relation with Saint Francis of Assisi and Pope Franciscus. This folder contains two special covers cancelled from October 4, 2013 and bearing the stamp issued on May 2, 2013 jointly by Vatican, Italy and Argentina and showing the portrait of the pope. This is definitely not a new joint issue but the two postal entities call this special folder a "joint initiative". Post price is 10€ (information provided by Enzo Cafaro).
---
November 9, 2013
On October 25, 2013, Bulgaria re-issued the same souvenir sheet that was produced on March 5, 2013, jointly with Russia at the occasion of the 135th anniversary of the Russian-Turkish war. This new souvenir sheet was produced at the occasion of the 2013 philatelic exhibition in Sofia. It has the same size, but a different denomination (0.65 instead of 1.40), it is non perforated and shows some additional text. It has been issued at 5,100 samples (compared to 29,000 for the original souvenir sheet). (Information Grzegorz Omelanczuk/Poland)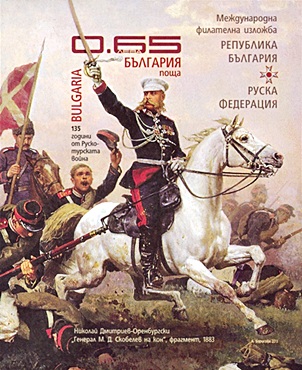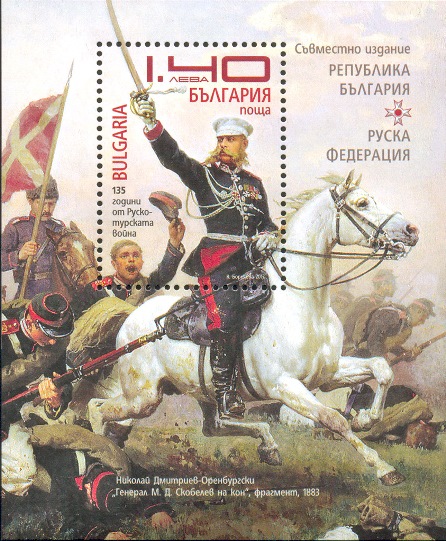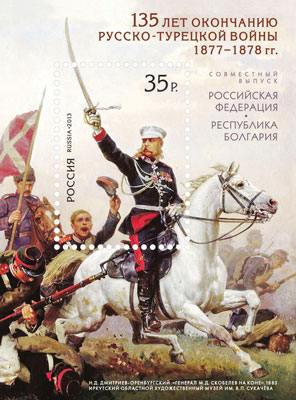 ---
November 9, 2013
On September 27, 2013 China and Sweden (initially planned on August 22) issued a joint issue representing table tennis players. China issued two stamps and Sweden a souvenir sheet containing two stamps. A special souvenir sheet has been issued by Sweden at the occasion of the China International Collection Exhibition 2013, on September 27, 2013. It is different from the normal miniature sheet. This special souvenir sheet is available on eBay at very high starting prices ($500). We are missing reasons for this issue as well as the real number of printed sheetlets (information provided by Jaap Sarelse). Any supplementary information is welcome.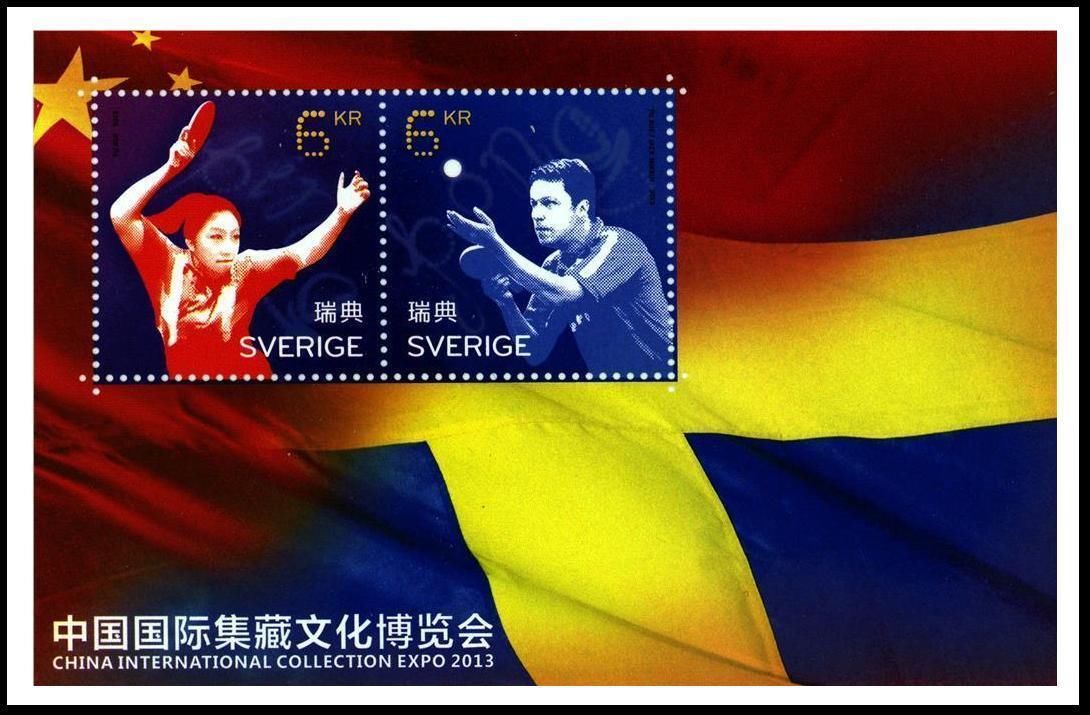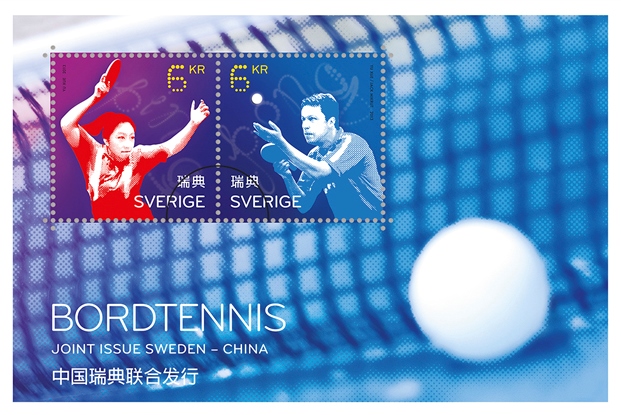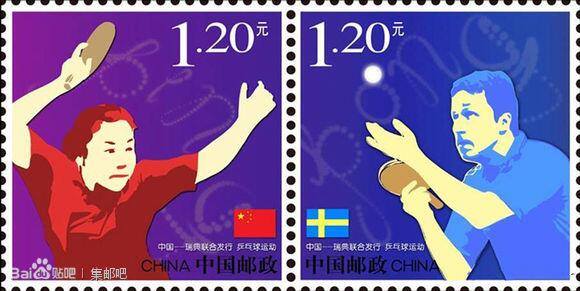 ---
November 9, 2013
Stamps to be issued in the forthcoming weeks:
November 7, 2013: Identical stamps from Vatican and Aland. A mixed cover will be available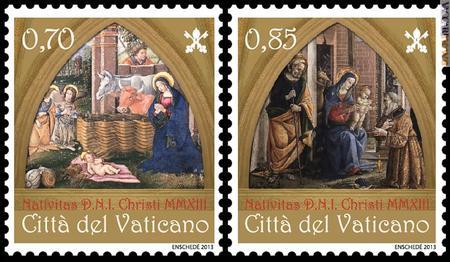 November 8, 2013: France and Singapore with topic fashion design (official date of issue for France is November 12, but the stamps will be available on November 8, during the Autumn Stamp Fair in Paris). Both countries are issuing 4 stamps. Singapore issued also a souvenir sheet with a bloc of 4 containing the 4 stamps issued in panes. Mixed covers are available as well.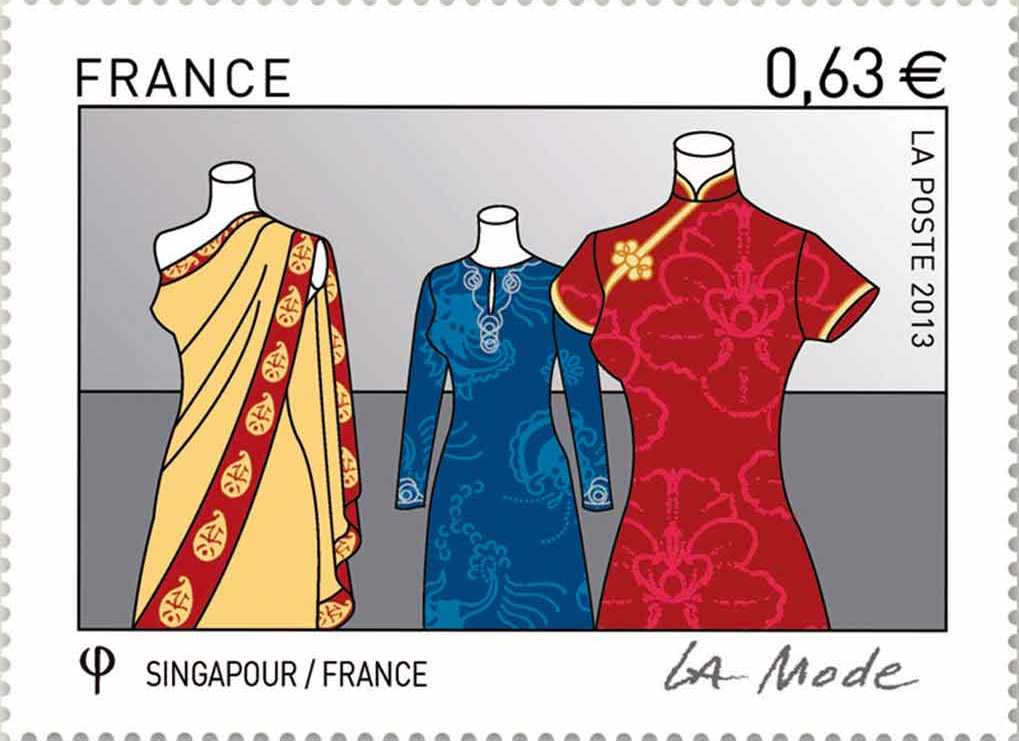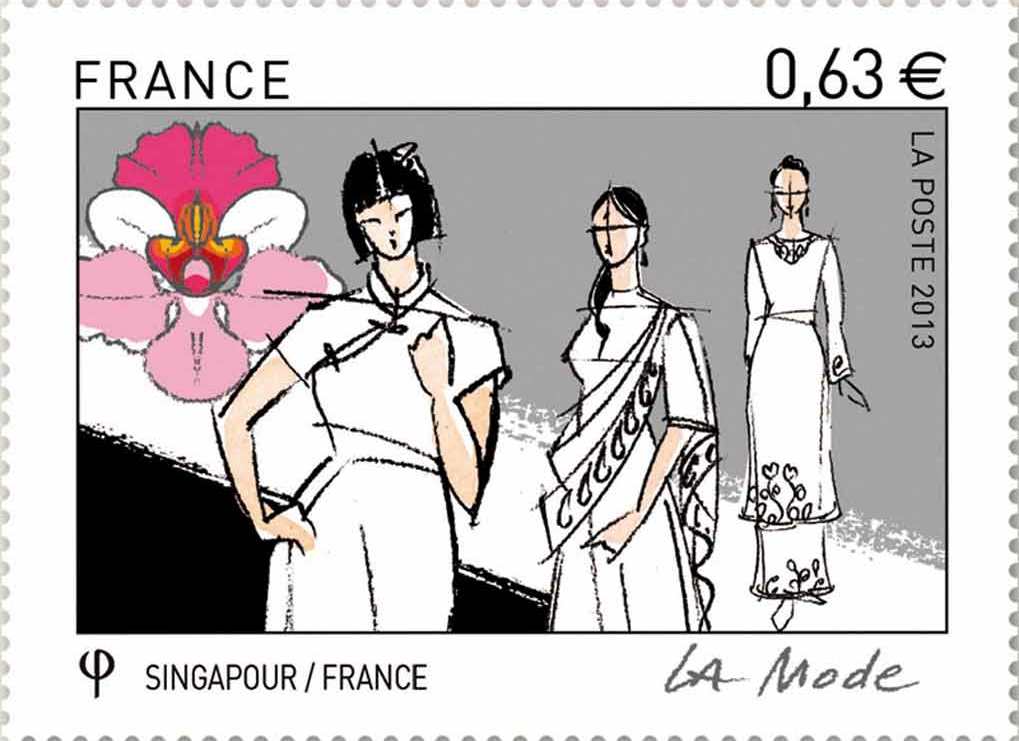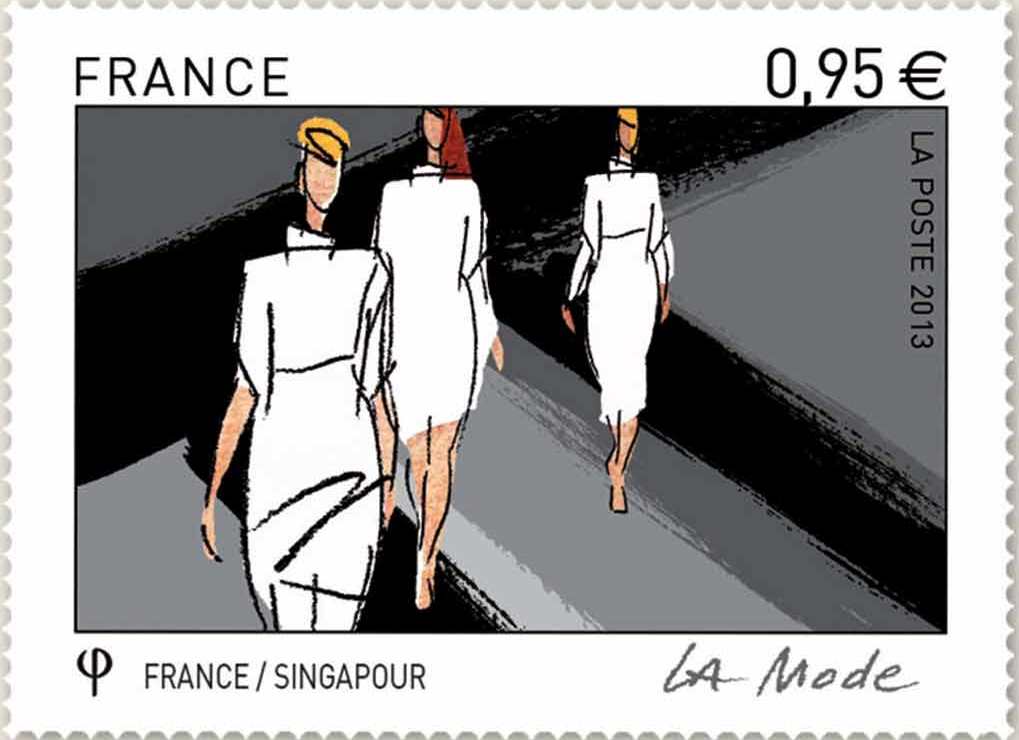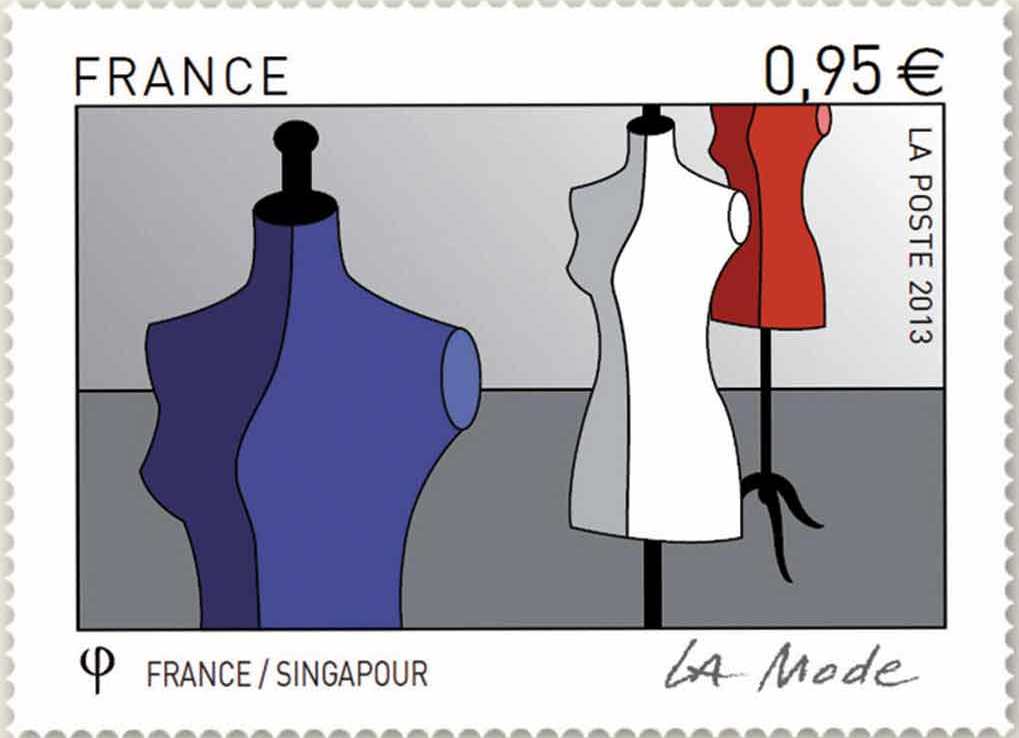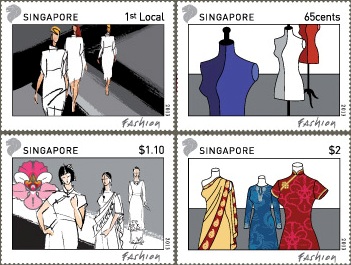 November 8, 2013: Denmark and France joint issue was confirmed. Official date of issue for France is November 12, 2013, but the stamps are available on November 8 during the Autumn Stamp Fair in Paris).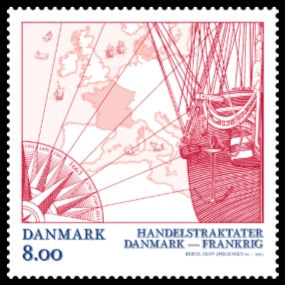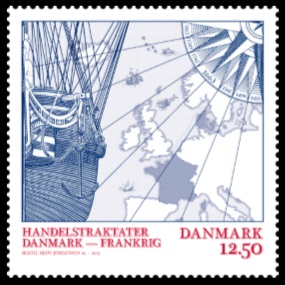 November 14, 2013: Spain will issue the stamps (miniature sheet) that is related to the Japanese stamps already issued on October 1, 2013.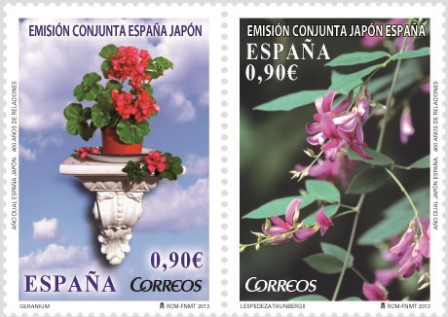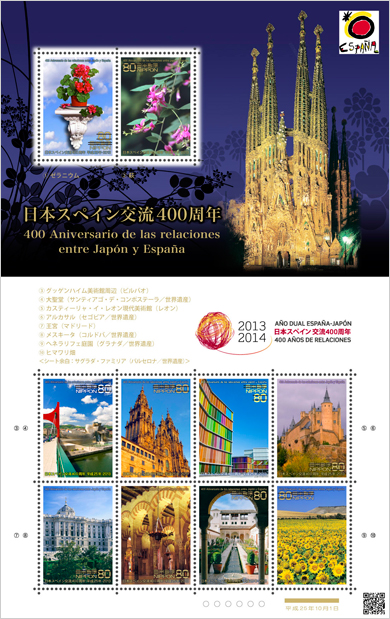 December 12, 2013: Based on the design of the stamps to be issued by Japan on that date jointly with Kenya and earlier announced as joint, it looks that this series may become an unilateral issue. So far we have not seen any information from the Kenyan side.

---
November 9, 2013
Stamps issued during the month of October 2013:
October 10, 2013: The Romania - Turkey joint issue has been released at the new date after postponing from the initial announced date of August 28, 2013. Also as usual, Romania issued stamps in a complicated way with a limited number of printings. In total there will be only 21,270 stamps available produced in 4 different formats: panes of 20 stamps (225 sheets only), miniature sheets with 6 stamps (1,400 available), souvenir sheet with 1 stamp (only 8,370) in the format 103x95mm, but existing also in the format 103x147mm and released at 370 samples! Turkey issued a miniature sheet with a different design at 100,000 samples.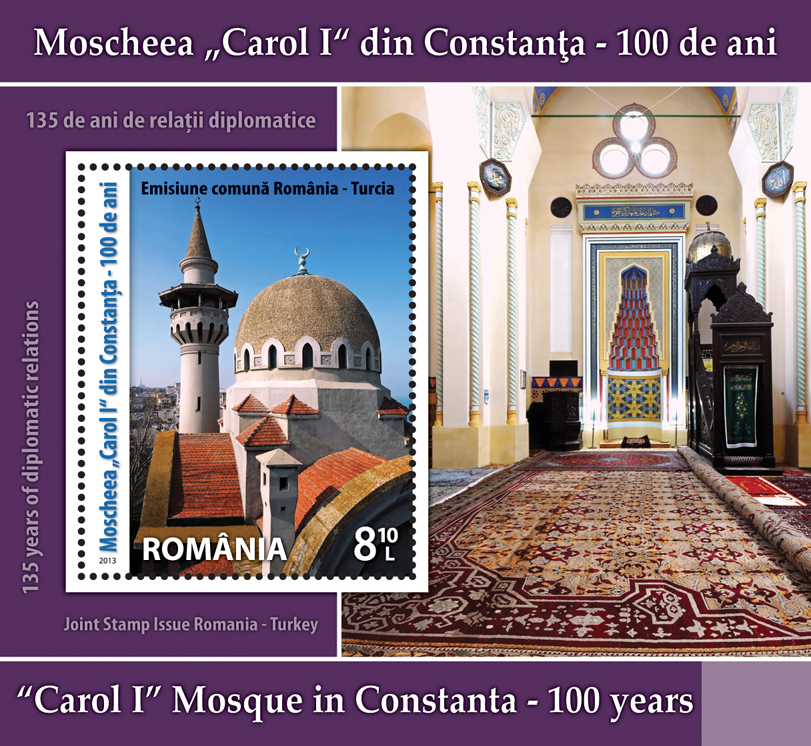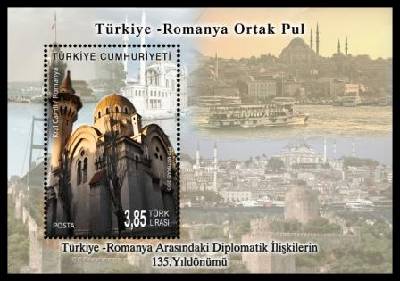 October 10, 2013: Australia and Germany - 200th birthday of Ludwig Leichhardt (1813-1848), German explorer. The Australian stamp was released on October 15, 2013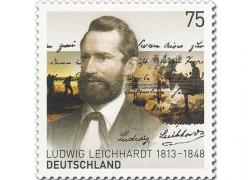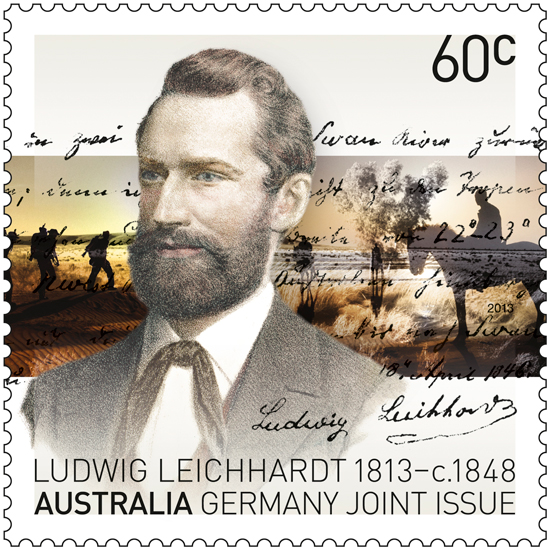 October 21, 2013: the Greenland - Macao Christmas joint issue has been released. Stamps are different, but date of issue is the same and mixed first day covers are proposed for sale.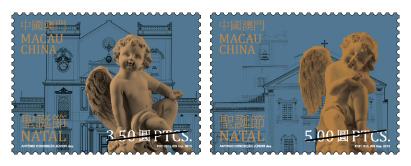 October 24, 2013: Belarus and Armenia on the occasion of the 20th anniversary of diplomatic relations between both countries.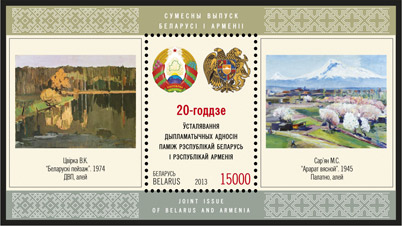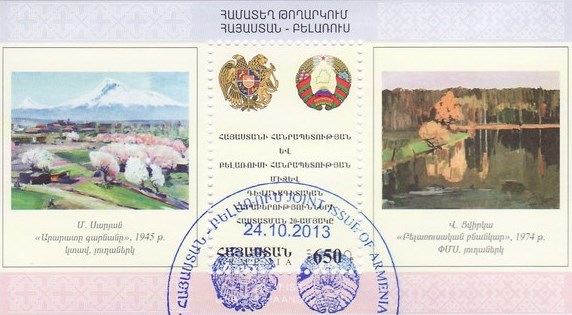 October 24, 2013: an unexpected joint issue between Mexico and South Africa (October 25) relative to the 20th anniversary of their relationship. Mexico issued a stamp depicting Nelson Mandela and South Africa issued a souvenir sheet with a symbolic figure XX.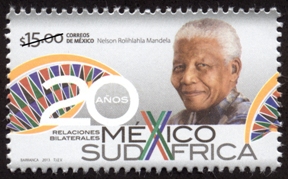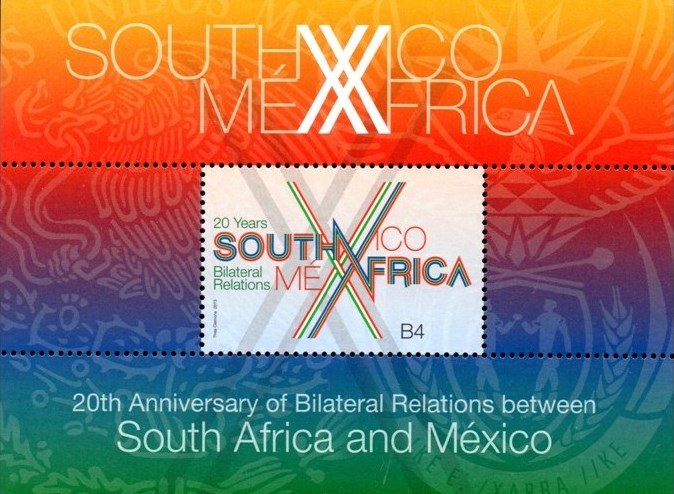 October 28, 2013: Belgium and Spain released their common Red Cross stamp. Belgium stamp is issued in a miniature sheet of 5 stamps while Spain produced its stamp in a miniature sheet with 6 stamps.
October 28, 2013: Israel and Uruguay, 65th anniversary of relationship; painting of Jose Gurvich "The Annuciation of Sarah". Uruguay released the stamp on October 29, 2013.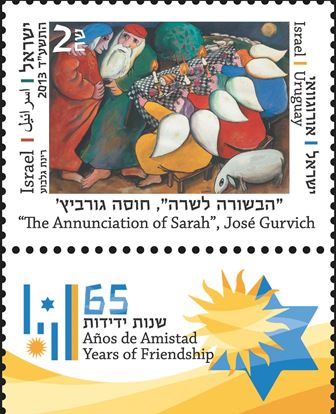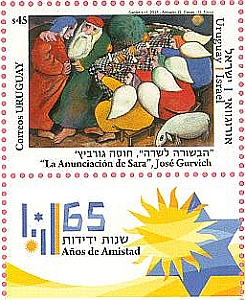 ---
November 9, 2013
Jaap Sarelse informed us about the issue of a book issued by the Slovakian Post which includes an imperforated souvenir sheet from this recent joint issue. The book refers also to the four other souvenir sheets that have been issued in parallel, but does not contain these sheets. The whole book depicts over 145 pages stamps and banknotes related to St Cyril and Methodius which were issued in the past. A wonderful book, unfortunately written in the Slovakian language.
November 24, 2013: Correction made by Danko Nirka and Jaap Sarelse: the book referred above does not contain an imperforated souvenir sheet but just a copy of this sheet not showing perforations. This item has no postal value and cannot be considered as a philatelic item.
---
November 9, 2013
Here is a series of new joint issues stamps that have been announced for the year 2014:
- The Japan - Switzerland joint issue initially announced for 2013 at the occasion of the 150th anniversary of diplomatic relationship will finally be released on February 6, 2014 and will feature the Mount Fuji with cherry blossoms and the spring in the Swiss Alps.
- Russia and North Korea on August 28, 2014 announced in the Russian philatelic program
- Liechtenstein and Singapore plan a joint issue to be released on September 1, 2014
- Hong Kong and Malaysia plan an issue with topic gastronomy on October 9, 2014
- The Portuguese philatelic program for 2014 announces a joint issue between Portugal and Belgium at the occasion of the 500th birthday of Andreas Vesalius. Exact date of issue is not known, but Vesalius was born on December 31st, 1514.
- Brazil and Peru will issue during the year 2014 (exact date unknown) two stamps with topic tourism (Machu Pichu and Christ Redemptor)
- Latvia will be involved in a joint issue with Sweden (January 16, 2014 - Capital of Culture) and with the two other Baltic States, Lithuania and Estonia (August 23, 2014 - 25th anniversary of the Baltic Way).
---
November 9, 2013
Serious problems with my internet connections have impacted the regular display of information. In the next days I will try to update the site with all information that was provided from collectors in the past month. Sorry for that and a big thank to Grzegorz Omelanczuk (Poland), Fabio Bonacina (Italy), Enzo Cafaro (Italy), Constantinos Mengoulis (Greece), Nahum Shereshevsky (Israel), Gabriele Gatti (Italy), Ali Kashif (Pakistan), Don Birschel (USA), Marci Jarvis, Steven Vandeweghe (Belgium) and Igor Mikhaylov (USA) for their great help during this period by providing this various information.
---
October 1, 2013
The News from the period July to September 2013 have been archived.
---
All previous information reported in this section is to be found in the News Archives.