Joint Stamp Issues - News
Archives Quarter 3, 2012


This page is the archived News Page from the July to September 2012 period. All contents have been dispatched in the respective open pages. However there may still be open questions and any complementary information remains welcome. As soon as an information is archived, the text will not be changed anymore. So if news are linked to the below, this information will be displayed as a new heading in the currently open News page.
Back to list of Archived Pages
---
September 26, 2012
At the occasion of Blenpex 2012, Marlborough's first National Stamp and Postcard Exhibition, New Zealand will issue a souvenir sheet containing three stamps relative to the diamond jubilee of Queen Elisabeth II, among which one stamp is identical to the stamps issued jointly by Niue and Tokelau on May 23, 2012. Although not part of the joint issue, and not claiming it, this souvenir sheet will be reported together with the two other countries. The date of issue of the New Zealand stamp will be October 12, 2012. This information was found by Constantine Mengoulis (Greece).
In fact the stamps part of the Blenpex souvenir sheets are stamps that had been issued earlier by May 9, 2012 in a series of 6 stamps commemorating QEII's jubilee. These stamps will be reported as well in the full joint series. As the common stamp represents the official portrait of the Queen, it may be possible that other Commonwealth stamps may have been issued with the same design. When more data will be available, we may reconsider if it is right to keep all these stamps as joint.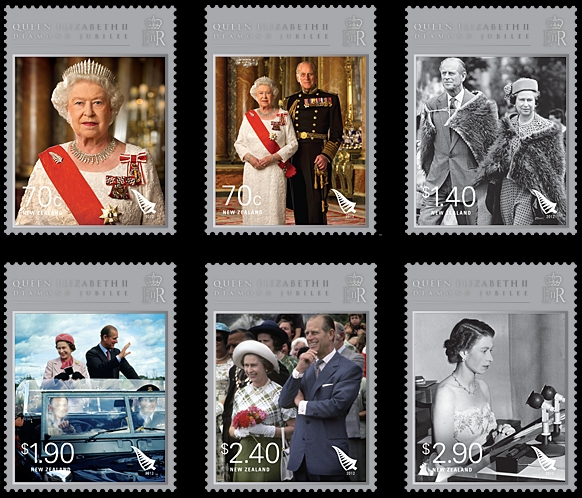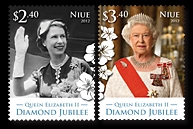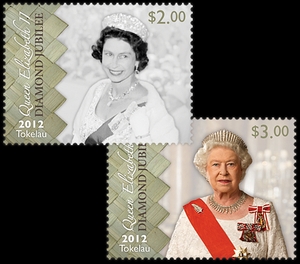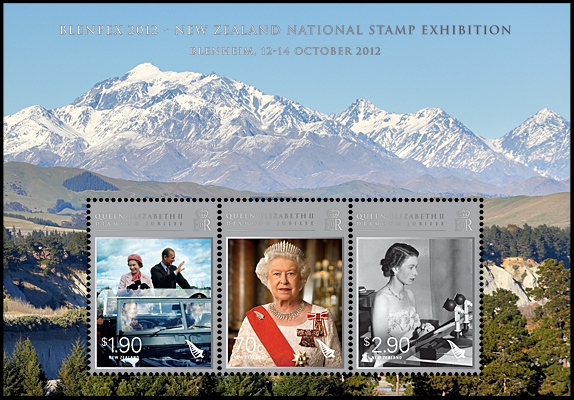 ---
September 25, 2012
Numerous collectors provided the images of the next to come Croatia San Marino joint issue. Fabio Bonacina (Italy), Grzegorz Omelanczuk (Poland), Enzo Cafaro (Italy), Gabriele Gatti (Italy) and Constantine Mengoulis (Greece) were among the first one to point on the different links. These stamps will be released on October 16, 2012 as souvenir sheets containing two identical stamps.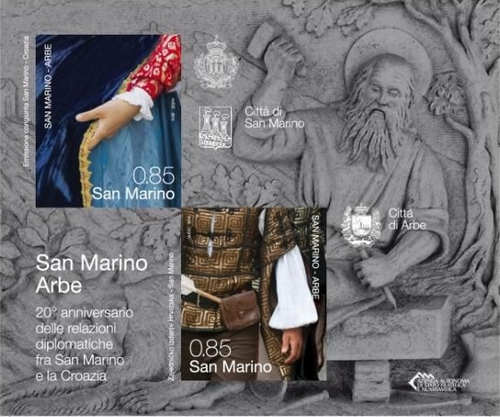 ---
September 25, 2012
Fabio Bonacina (Italy) was the first to provide the images of the next to come Spain Romania joint issue. Issue date will be October 19, 2012 and the stamp represent local mammals. Spanish stamps are issued se-tenant.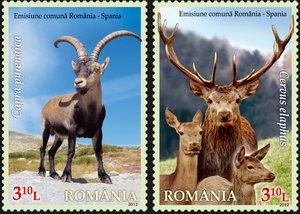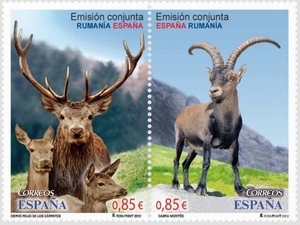 ---
September 25, 2012
Here a series of confirmation or change of dates of issues for the next months mainly provided by Grzegorz Omelanczuk (Poland):
- Thailand Post has postponed his issue relative to the 115th anniversary of King Chulalongkorn State visit to Europe to fit with Austria's release date on November 10, 2012, instead of September 20.
- According to the latest update of the Turkish issuance plan, the joint issue with China is scheduled for release on November 26, 2012
- The Lithuania Latvia Estonia joint stamps initially planned for release on October 6, is now expected on October 25, 2012.
- The Andorra - France joint issue will be released during the 66th Philatelic Autumn Fair to be held in Paris between November 8 and 11. The official first day at post offices will be on November 12, 2012.
- Morocco can be added to the list of countries having participated to the Arab Postal Day joint issue on August 3, 2012. The Moroccan stamp has been issued this same day.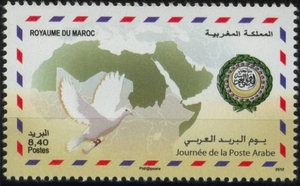 ---
September 25, 2012
Joint postal stationeries are always difficult to track as they have unfortunately second priority in stamp display. Grzegorz Omelanczuk (Poland) was either lucky or hard at chasing when he found a pair of postal covers issued by Hungary and Moldova on September 10, 2012 at the occasion of the 20th anniversary of their relationship. These items are not displayed on the official philatelic web sites.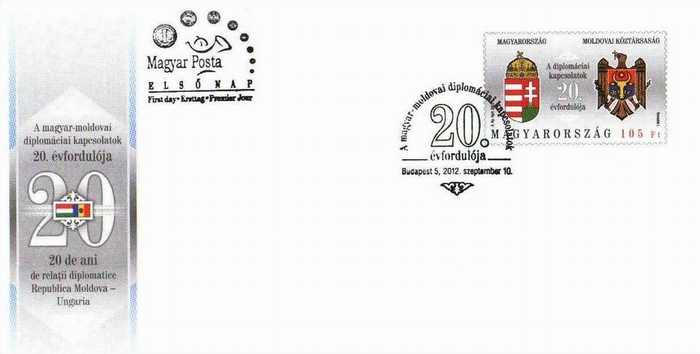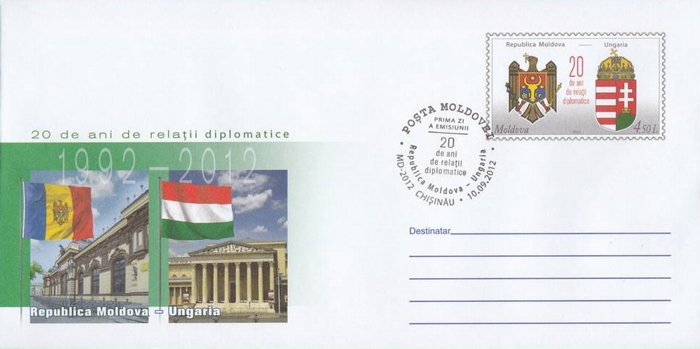 ---
September 25, 2012
Constantine Mengoulis (Greece) found an interesting issue joining the Cook Islands with Tonga. Both countries released two different miniature sheets at the occasion of the 43rd South Pacific Conference Forum held on Cook Islands between August 27 and 31, 2012. The Cook Islands stamps were issued on August 22, 2012 and one sheetlet bears 16 stamps representing the flags of the participating member countries while the second bears 14 stamps showing flags of the key dialogue country partners. The similar Tonga miniature sheets were released on August 31, 2012. Tonga stamps were also released as imperforate.
As Cook Islands and Tonga are independent postal entities, and as this issue is a commemorative one, it has to be considered as joined and will be filed as [T20120822]. On the contrary, the special airmail stamps depicting owls and released on August 30, 2012 by Tonga and Niuafo'ou cannot be considered as joint (not commemorative, not same design, Niuafo'ou is a Tonga dependency, only same date of issue and same topic).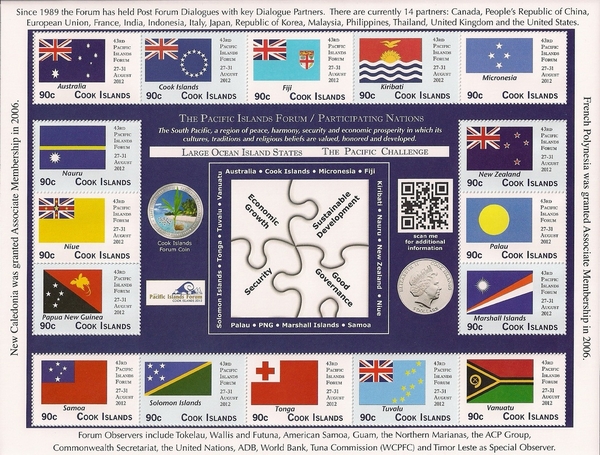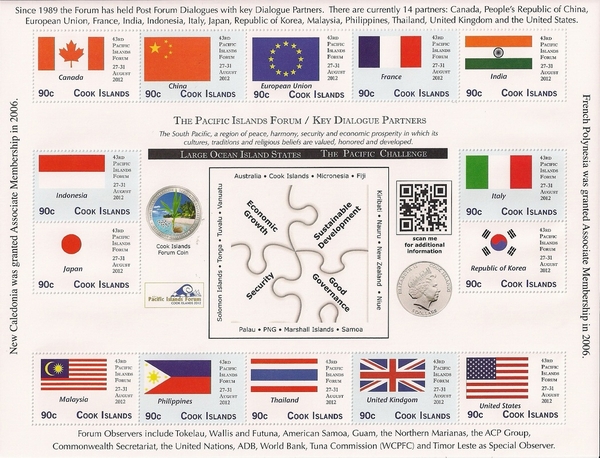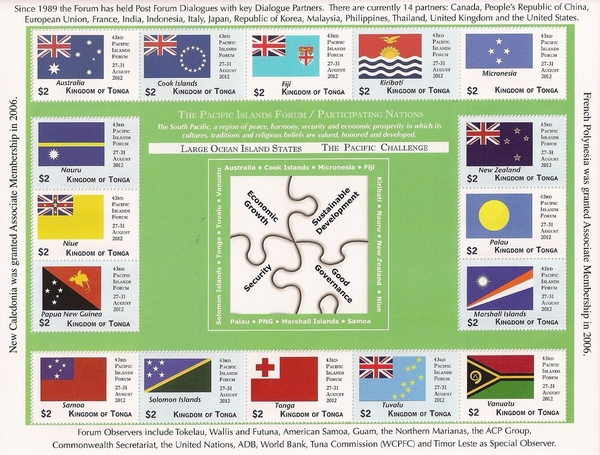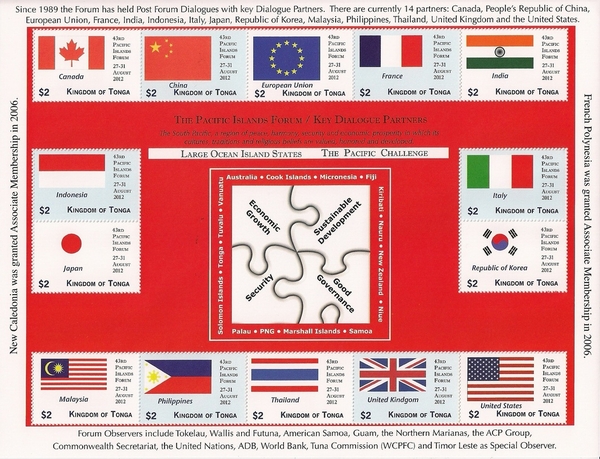 ---
September 9, 2012
Anthony Raynaud (France) found two superb non yet reported joint first day covers from the sixties. The first one corresponds to the stamps from the Third Philatelic Day of the Rio de la Plata in Montevideo involving Argentina and Uruguay [T19670619] and the second to the ABUEXPO stamps involving Brazil and Uruguay [T19691115]. The funny part of joint stamp collection: there is always something interesting to discover. Congratulations, Anthony.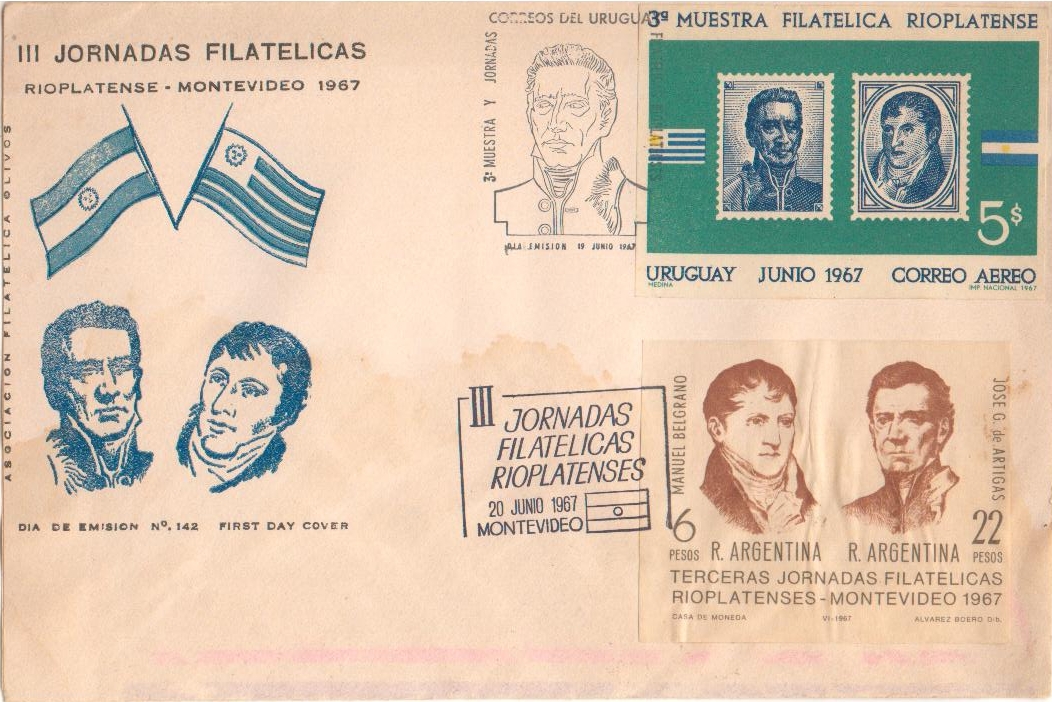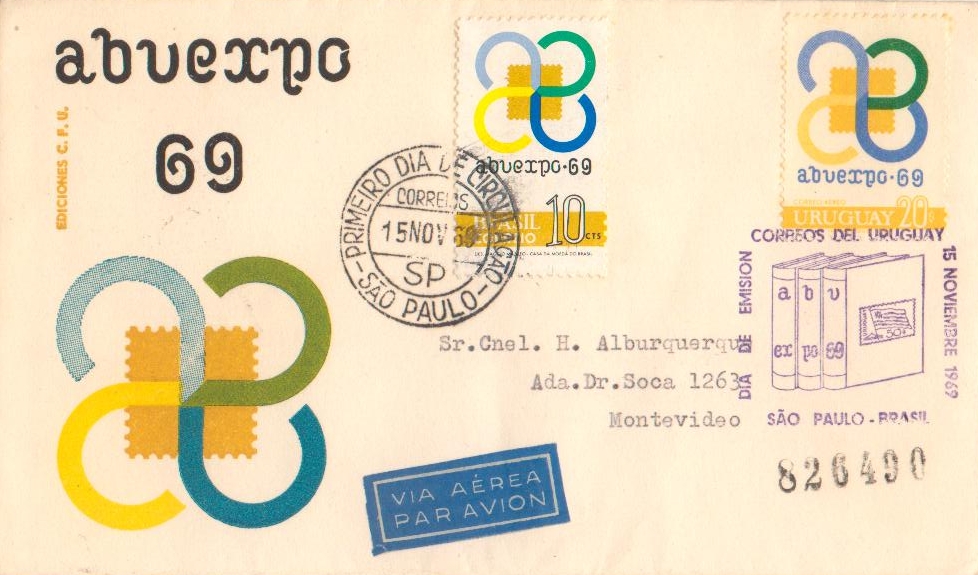 ---
September 9, 2012
Some bad news provided by Grzegorz Omelanczuc (Poland):
1. According to an email received from the Uruguay Post "The Day of Nelson Mandela" stamp was released on December 27, 2011 and was presented in July 2012 during the conference organised by the South African Embassy. So the stamp is not connected with the Argentina-Uruguay joint issue. The online customer service of the Correos Uruguay cannot explain the fate of the joint issue

2. The initially November planned Brasil - Angola - Cape Verde joint issue vanished from the Brasilian Post plan and has been replaced by an unilateral issue - as part of the LUBRAPEX series
3. The Argentinian - Portugal joint issue related to Tango and Fado does not appear anymore in the Portuguese philatelic program. Only a stamp related to Fado will be released by Portugal on October 11, 2012

---
September 9, 2012
Fabio Bonacina (Italy) and Grzegorz Omelanczuc (Poland) provided an interest link for the Brazil Portugal joint issue. The stamps were released on September 7, 2012 as planned. The design is identical but Brazil released two pairs of stamps while Portugal - two stamps with one label each.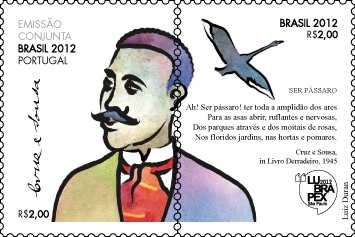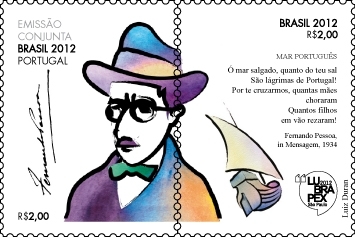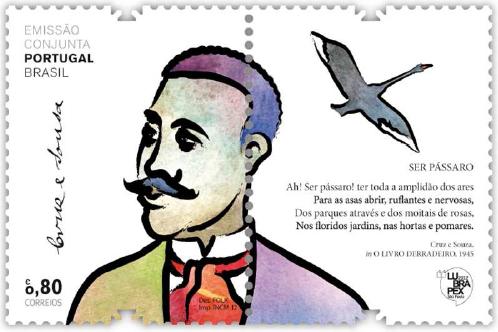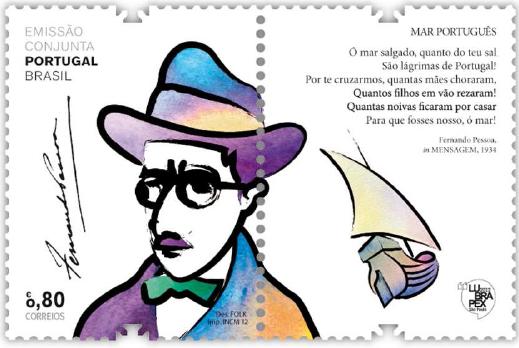 ---
September 9, 2012
Very nice discovery from Jürgen Klein (Germany): he found the image of the missing Afghanistan stamp from the joint stamp issues reported under [T20100725]. Surprisingly the Afghan Post reports this stamp to have been released in 2009, while the stamps from Iran and Tajikistan have an official first date of issue for July 25, 2010. This needs to be checked further. Any complementary information is welcome.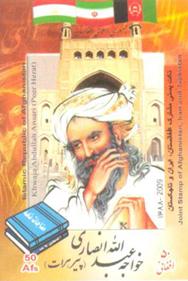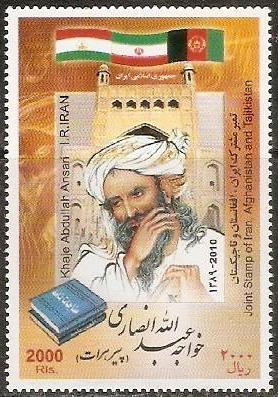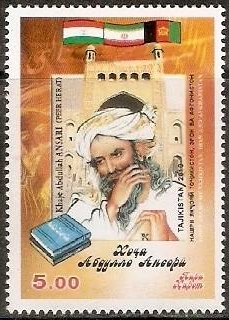 ---
August 26, 2012
Kenneth Sequeira (Dubai) was able to provide the first image of the Nepal stamp from the Israel - Nepal joint issue to be released on September 4, 2012 (exact date now confirmed).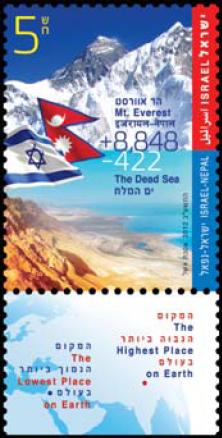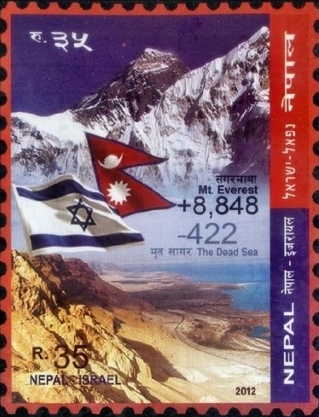 ---
August 26, 2012
The following is just a wink to Emilee who found an interesting web site on philately for beginners. Among the big philatelic information sites there are sometimes interesting pages that can be very helpful as well. Michele Lannon (Woodland Public Library) wanted to share with us Emilee's finding and I would recommend to take a look at the page http://www.redenvelope.com/guide/stamp-collection-beginners-philatelic-resources. Michele told us that she made use of the joint issue web site in the frame of a middle school aged children project within her library. Good luck Michele and Emilee and continue the good job.
---
August 26, 2012
Charlie Bugeya (Canada) reminded that this year is the 500th anniversary of the death of Amerigo Vespucci (1512). This could be a good opportunity for some American countries to join for a stamp issue. One joint issue involving Italy and Venezuela was released in 1998 [T19980812] at the occasion of the 500th anniversary of the discovery of Venezuela. It represented Christopher Colombus and Amerigo Vespucci. As information from South American countries is quite difficult to obtain, any data from this area is welcome. Thanks for watching with us.
---
August 22, 2012
Fabio Bonacina (Italy) remained also very active this Summer and provided the following information:
The Milvio bridge joint stamps involving Italy and the Vatican State will be issued on September 13, 2012, not in October as initially stated. Both countries will issue a miniature sheet with one single stamp at €4.40 for Vatican, at €1.40 for Italy.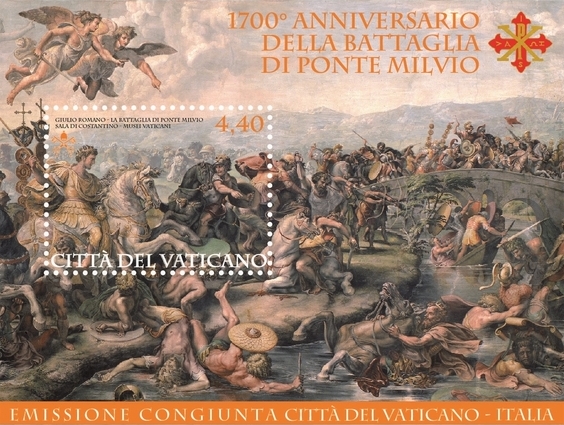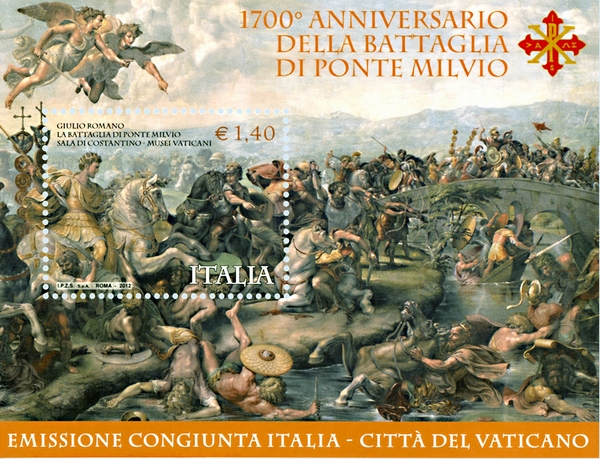 ---
August 22, 2012
The Summer period is supposed to be quite. Some of our collector friends remained very active and provided a lot of new information. Let us look at what Grzegorz Omelanczuk (Poland) found during this month of August:
The Armenia - Romania joint issue was released on August 11, 2012. The stamp depicts the 500 year old Armenian Hagigadar monastery. The stamp is released in panes for both countries and as a souvenir sheet containing two identical stamps for Romania. The Romanian post is also selling a folder containing a first day cover, a maximum card and a miniature sheet with golden foils, produced at 500 samples. Following our politic against rare or excessive philatelic item production, we will blacklist this folder and mention it in the catalogue without pricing. This will apply to all folders produced this year by Romania as they limited the sale to 500 samples for all joint issues.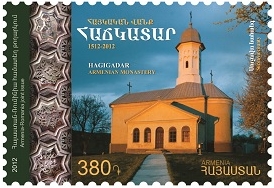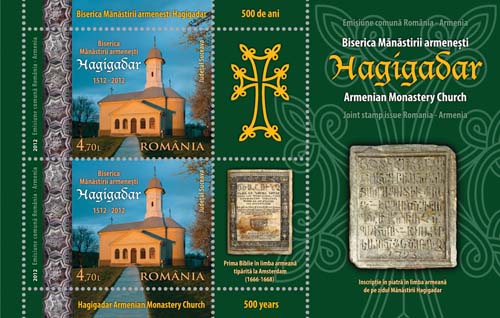 It seems that the Arab Postal Day will be celebrated in 2012 again with the release of a common stamp. The date of issue may be August 3, 2012 (date confirmed only for Tunesia). So far stamps from only four countries have been seen, but their design is identical: Tunesia, Sudan (3 stamps), Qatar and the United Arab Emirates (first day issue date corrected to August 15, 2012). It is well probable that the same countries as the ones involved in the previous years may have issued stamps at this occasion.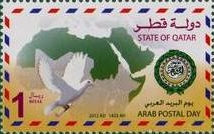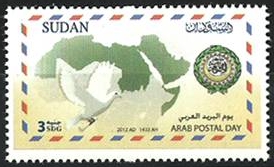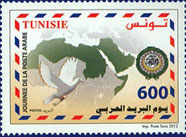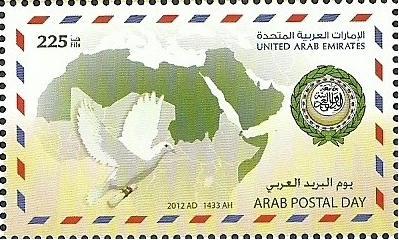 Oman added to the list on 20120904. Same date of issue: August 3, 2012, same design (Image provided by Kenneth Sequeira - Dubai)
Bahrein added to the list on 20120909. Apparently same date of issue. Same design.
Egypt added. date of issue unknown.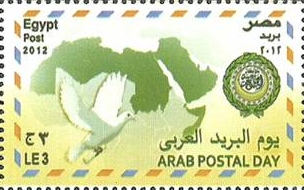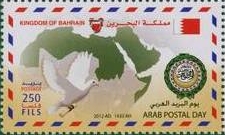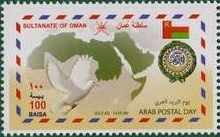 Grzegorz is also wondering if the RCC stamps will this year be considered as joint. Last year they have been excluded from the list for lack of homogeneity. In fact all stamps released so far by the member states do show the logo of the RCC, but have different designs and are issued at different dates: Belarus (April 12, 2012), Tadjikistan (July 24), Moldavia (April), Russia (September 21). The difference is that this year there is a common topic, national costumes. This series becomes similar to the Europa CEPT stamps, but there is still no reason either to consider them in 2012 as joint, not even as [D] or [O], and they will be filed as [N] like the Europa CEPT stamps, if reported. A Russian stamp dedicated to RCC is already announced in the 2013 stamp programme with the mention "joint issue".
To watch: On August 25, 2012, Lithuania will issue a stamp celebrating the battle of Blue Waters. This event will also be celebrated during the third quarter of 2012 by Belarus. As both countries have a common history, it may be possible that these two stamps could become a concerted issue. So far there was no official announcement.
The July 2012 planned joint issue between Argentina and Uruguay could have been the stamp released on July 23, 2012 by Uruguay at the occasion of the International Day of Nelson Mandela. The stamp was not listed on the official plan (unless this is the above mentioned joint issue) and the "Day" has international character - was celebrated last year in Argentina. So far no other information concerning this issue. Can anyone help?
On June 18, 2012, at the occasion of the philatelic exhibition "Indonesia 2012", Curacao and the Caribbean Netherlands issued a similar miniature sheet that will be filed as a territorial joint issue.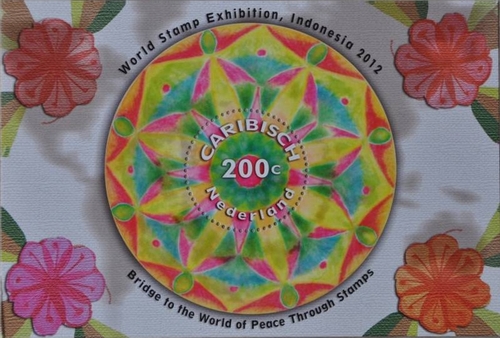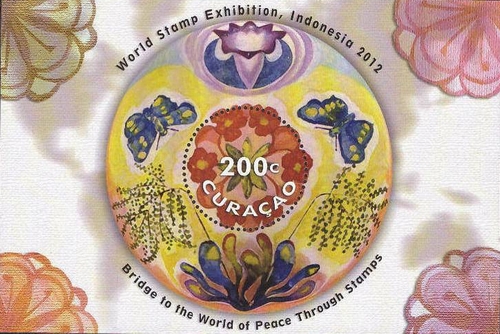 ---
July 29, 2012
The joint issue between Austria and Thailand is confirmed. Both countries have now posted information in their philatelic program stamps that describes the items to be issued on September 20, 2012 at the occasion of the 115th anniversary of the visit of His Majesty King Chulalongkorn to Austria. Thailand (via Siamstamp.com) displays the miniature sheet which represents the portraits of King Chulalongkorn (Rama V) and Emperor Franz Joseph 1, on both sides of the gilded silver trident, which was reckoned as the oldest epaulette of the Eastern rulers and sacred weapon of the King of Thailand. This item had been presented by the King to the Austrian Emperor in 1897.
There are great chances that Austria will issue something similar.
During his visit to Europe King Rama V went to several countries. The centenary of his travel had led in 1997 to two joint issues, one with Switzerland [P19970912] and one with Russia [P19970620].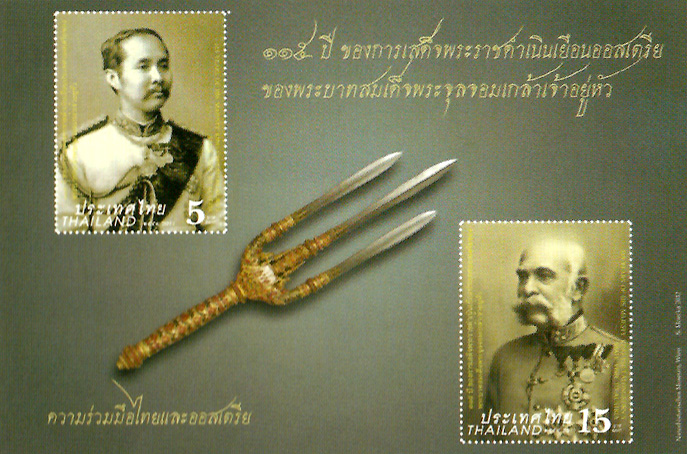 Information discovered by Grzegorz Omelancuk (Poland)
---
July 29, 2012
It seems to be accidental but Hungary and Slovakia released on June 15, 2012, stamps commemorating the battle of Rozhanovce (Rozgony in Hungarian). It seems to be only a coincidence but the case may be similar to this year's Hungary-Sweden release. Slovakia released 50,000 samples of a souvenir sheet with one stamp. Hungaria released 300,000 stamps in panels of 50 stamps. None of the two countries claims these stamps as being joint. We need to see some joint first day covers before considering them as such. However, same picture (a depiction of the battle taken from the Chronicon Pictum - National Széchényi Library), same date of issue, even the cachets from the first day covers are similar... Unfortunately, exchange of mails with the Slovakian Post confirmed that the similar designs were accidental. This issue must be filed in the category [N] but will be reported in the catalogue [N20120615].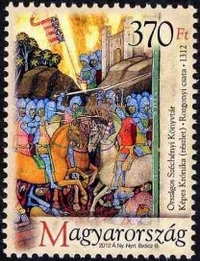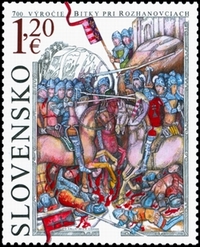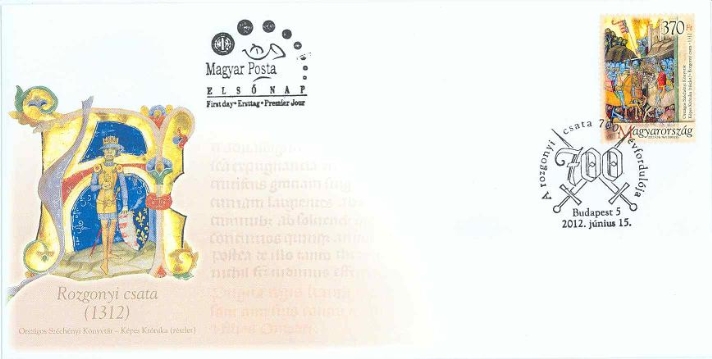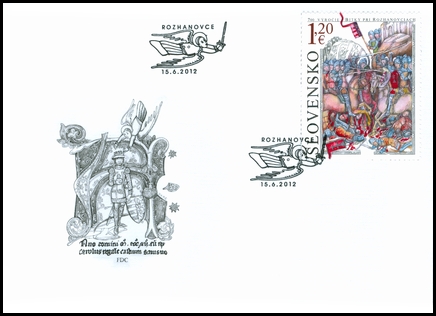 Information discovered by Grzegorz Omelancuk (Poland)

---
July 29, 2012
Poland issued a stamp dedicated to Egyptian archeology on April 30, 2012. To our knowledge there is no link with any Egyptian stamp that could have been released in parallel. Grzegorz Omelańczuk checked on the Polish side and could not find any information. The stamps relesead by The Poczta Polska represent Polish achievements in egyptology (150 years of Polish discoveries in Egypt) and underline the role of Polish-Lithuanian archeologist Michal Tyszkiewicz. The three stamps in the souvenir sheet show his Luxor discoveries. There is one new Egyptian stamps reprenting a sarcophagus that was released recently. It represents an item that was discovered in the Valley of the Kings a year after the death of Mr Tyszkiewicz, and any way this is a definitive stamp re-issued from a series that started in the year 2000. So, no joint issue, unless someone can show something new.
Also, several collectors mentionned similar stamps issued by Brazil (on April 14, 2012) and San Marino (on March 9, 2012) and refering to the 100th anniversary of the Santos Soccer Club. There is no relation between the postal entities. Only the topic is common. These stamps are not a joint issue.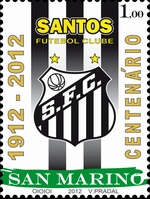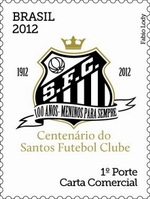 ---
July 23, 2012
Fabio Bonacina (Italy) could provide the first information (and picture) of the Israel stamp from the Israel - Nepal joint issue to be released in September 2012 (apparently September 4). This stamp will feature the earth's highest point in the world (Mount Everest) compared to the lowest place on earth, the Dead Sea.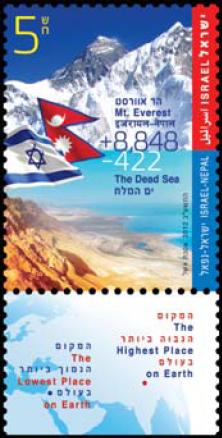 ---
July 22, 2012
Joint issues gain interest: Rindert Paalman (The Netherlands) pointed to a new product brought on the market by the German Post called "Deutsche Briefmarken Gemeinschaftsausgaben" (German Joint stamp issues) which is in fact a book that contains over 60 pages all the former joint issues (18) in which Germany was involved. This book contains 50 mint stamps and 2 souvenir sheets and is on sale since end of July 2012 on at a price of €uros 39.95.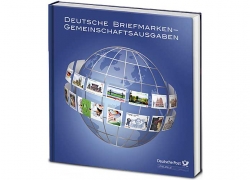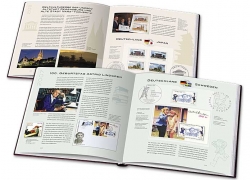 ---
July 22, 2012
Vietnam and Laos issued ahead of schedule their common stamps on July 18, 2012. Each country released two stamps and they are identical. Details can be found on the Vietstamp site.


---
July 22, 2012
A series of new information provided by Grzegorz Omelańczuk (Poland):
- The Netherlands issues yearly a series of stamps called "Grenzeloos" (without border). This year it is scheduled on August 13, 2012 and celebrates Indonesia. Three miniature sheets of 6 stamps dedicated to people related to architecture, literature and show business will be issued. At this stage we have no information whether this will be a joint issue with Indonesia. In the past, at several occasion, the partner country issued stamps in parallel on the same day. We still need to wait and watch for more information.
- A close look at the Indonesian philatelic program does not speak about the Netherlands stamps, but announces for August 2012 as well another joint issue with Surinam. No more data available at this stage.
- In the first version of the2013 philatelic Plan of Slovakian Post, we can find first mention of a joint issue with (South?) Korea. The topic will be national costumes (dress), date of issue - May 31,2013, number of stamps: 2.
- The Czech Republic philatelic program announces a joint issue with Slovakia on June 12, 2013 dedicated to the 1150th Anniversary of the arrival of Cyril and Methodius to Moravia. The Slovakia stamp program does not mention a joint issue on that date but schedules a stamp on the same topic a few weeks later, on July 7, 2013. These stamps may merge in a same joint issue probably. It is to remember that both countries issued in the past one of their first joint issue which was also related to this topic (1130th anniversary [D19930622]). In fact at that time these stamps were considered as Territorial because they were issued shortly after separation of Czechoslovakia and both new countries issued the same stamps just based on the previous Czechoslovakia philatelic program. In 2013, the stamps if joint will become a true joint issue.
- It looks that the original planned Argentina - Uruguay joint issue for 2012 is on hold. This information was provided by an Argentinean stamp dealer and needs to be checked.
- The new date of the Brazil - Portugal joint issue seems to be September 7, 2012 (not November). First images have been released and clearly mention the joint issue character on the stamp itself.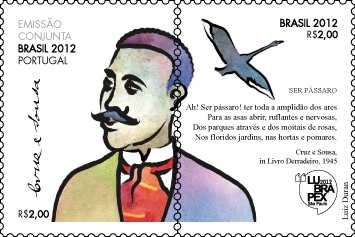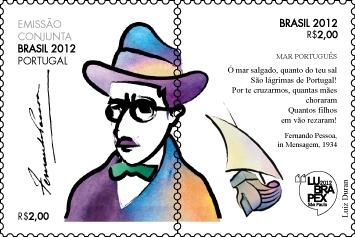 ---
July 21, 2012
In the catalogue (Page 339) we reported under [C19611012] a joint issue between Spain and Bolivia celebrating the 400th anniversary of the Foundation of Santa Cruz de la Sierra with a common stamp showing the portrait of Nuflo de Chaves. This issue was considered as concerted [C] because the Bolivian first day of issue was reported in November 1961, while the Spanish stamp was definitely issued on October 12, 1961. Thanks to Charles Feingersh (USA) who provided the copy of a Bolivian first day cover, we know now that the Bolivian stamp was issued also on October 12, 1961. As a consequence, this series has to be attributed the category twin [T] and it will be repositionned under [T19611012].
---
July 21, 2012
A careful check of the China PR, Hong Kong and Macao joint issue from October 10, 2011 relative to the 1911 revolution revealed that the item filed as mixed folder (04a) is in fact a booklet containing the three souvenir sheets from the three countries. As a consequence this issue must not be anymore considered as a parallel issue but as a siamese territorial issue [SD] similar to the 2003, October 16, first Chinese manned spacecraft flight issue, and filed with the code [S20111010].
On top of this, the booklet was available from the three different postal administrations and to differentiate them, these booklets bear on the last cover page the letter "A", "B" or "C" corresponding respectively to their origin, China, Hong Kong or Macao.
---
July 3, 2012
The first quarter and second quarter 2012 new issues chapter have been completed and the upcoming issues page has been updated accordingly.
---
July 3, 2012
Just discovered the results of the latest Felzmann auction (www.felzmann.de) during which the non perforated siamese 2001 Christmas miniature sheet containing two German and two Spanish stamps [S20011108 03a] was sold at a price of €3,300 (starting price was €2,000).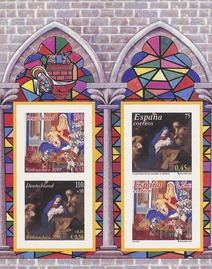 ---
July 2, 2012
Enzo Cafaro (Italy) provided an interesting information relative to Italian stamps. In the past two years the Italian postal administration made stamps available printed on silver foil. So far there have been up to 16 issues of this type, among which the two latest 2011 joint issues (Garibaldi - 20110604 - and Piazza del Popolo - 20110321). These items were available at some post offices, but despite their denomination of €1.50 they were sold at €18.00 (they were provided in a special package between two pieces of plexiglas). Printing issue is limited to 2,000 and their price is increasing dramatically due to the high interested of Italian collectors for joint issues in general. Here are the reproduction of these two items but you can imagine that silver is not so easy to scan.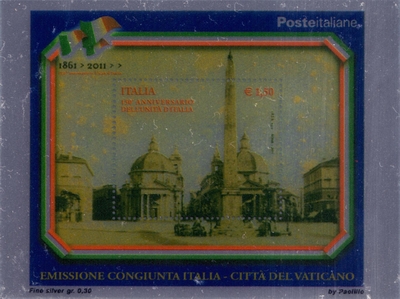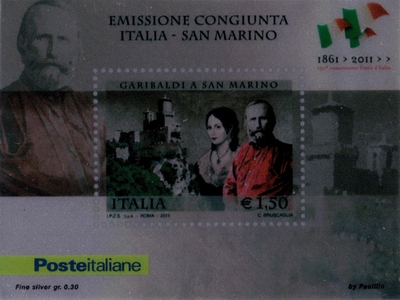 The Garibaldi souvenir sheet in silver has the same size as the paper souvenir sheet while the Piazza del Popolo silver miniature sheet is much smaller. First day covers with paper and silver sheets on the same cover do exist. If you have any interest in such items please contact directly Enzo who may have some items left for sale.
---
April 1, 2012
The News from the period April to June 2012 have been archived.
---
All previous information reported in this section is to be found in the News Archives.