Joint Stamp Issues - News
Archives Quarter 2, 2012

This page is the archived News Page from the April to June 2012 period. All contents have been dispatched in the respective open pages. However there may still be open questions and any complementary information remains welcome. As soon as an information is archived, the text will not be changed anymore. So if news are linked to the below, this information will be displayed as a new heading in the current News page.
Back to list of Archived Pages
---
June 29, 2012
The first images of the Germany Poland joint stamps (Park Muzakowski - UNESCO World Heritage) to be issued on July 12, 2012 were provided at the same time by Fabio (Italy) and Grzegorz (Poland). Both Poland and Germany will produce miniature sheets of respectively 6 and 10 stamps. Mixed documents will be available.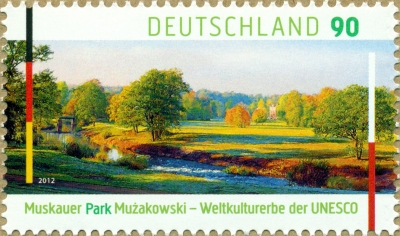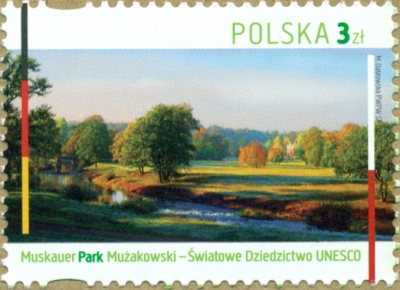 ---
June 27, 2012
Paul Albright (USA) pointed an interesting web site showing a lot of explanations about the most recent France - USA joint issue (June 12, 2012). In this page there is also a slideshow displaying all past joint issues in which the USA have been involved so far.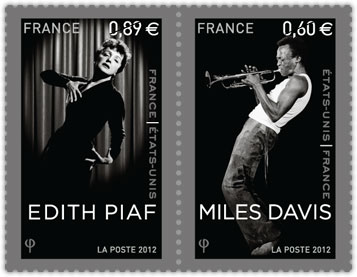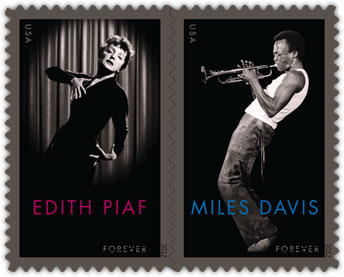 ---
June 27, 2012
A higher quality picture of the stamp to be released by France on November 9, 2012 (joint issue with Sweden) is available on the net. Source found by Grzegorz Omelanczuk (Poland).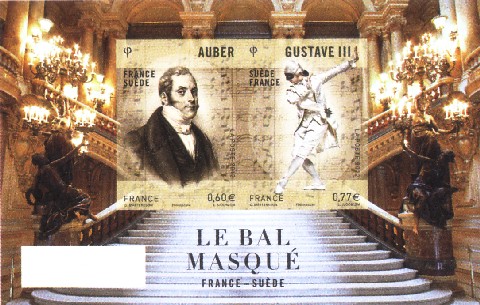 ---
June 27, 2012
The pictures of the joint issue Russia Spain to be released on July 17, 2012 are already available on the web. Note that the Spanish stamps are already proposed for sale on Delcampe (but should not be available before the official date of issue)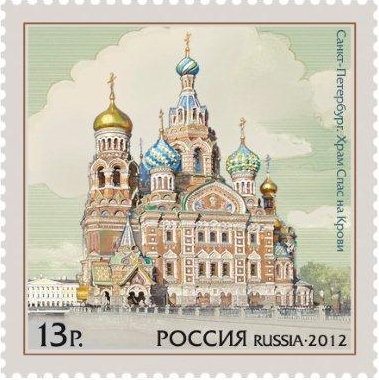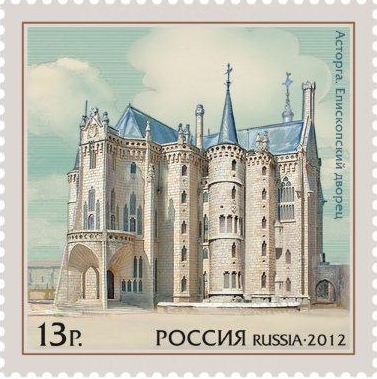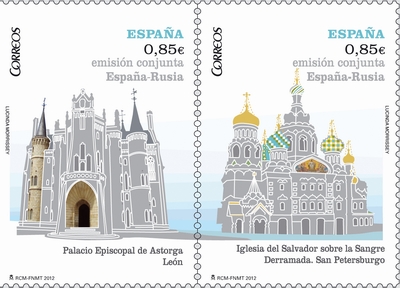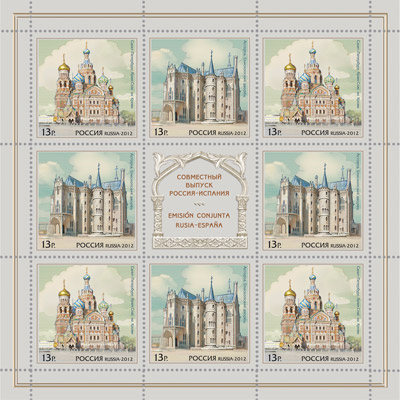 ---
June 27, 2012
The Canada - Guernsey stamps have been issued on June 15, 2012 as planned. Here are just some illustrations. FDCs and mixed covers are available. Canadian stamps were issued in miniature sheets of 8 pairs while Guernsey produced miniature sheets with 5 pairs.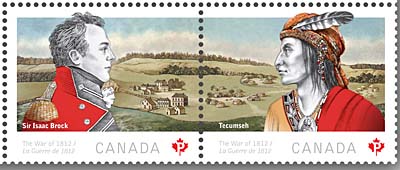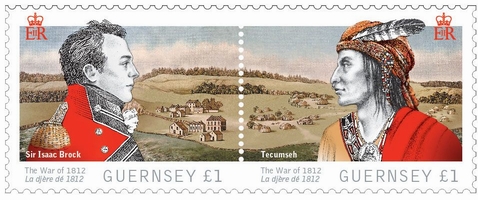 ---
June 27, 2012
On August 9, 2012 Germany will issue a stamp at the occasion of the 100th anniversary of the inauguration of the Mittelwald train line that crosses the Austrian German border. On September 29, 2012, Austria will issue a stamp at the same occasion but with a different design. Normally these two stamps cannot be considered as joint. However, on the German philatelic website, Germany announces the production of a folder containing both stamps first day canceled and claims these issue as being joint.
By taking a closer look to the information available on the special web site that was created at the occasion of this anniversary, we discover that between May and November 2012 several special events are organized among which, on September 28, 2012, a special postal event involving the Post Ministers of both countries. We learn also that at the same time the Austrian Railway celebrates its 175th anniversary which may explain the delay of the issue in Austria.
When comparing to earlier similar issues, we can compare to the 1985 France-Switzerland issue [P19850615] (catalogue page 435) for which the French stamp was released on June 15, 1985 and the Swiss stamp already on February 19, 1985, but mixed covers dated June 15 on both stamps were readily available. This issue was rated as [R1] which stands for Delayed (Retarded) Joint issue and is a sub-class of Parallel issues [P]. Similarly this Austria-German issue will be taken into account and filed as [P20120929]. The date of the joint cancellation is taken as reference in this case as well.
These stamps were discovered by Grzegorz Omelanczuk (Poland).
---
June 27, 2012
Steven Vandeweghe (Belgium) reported about an interesting 2008 Christmas mixed item he discovered for sale on the Delcampe site: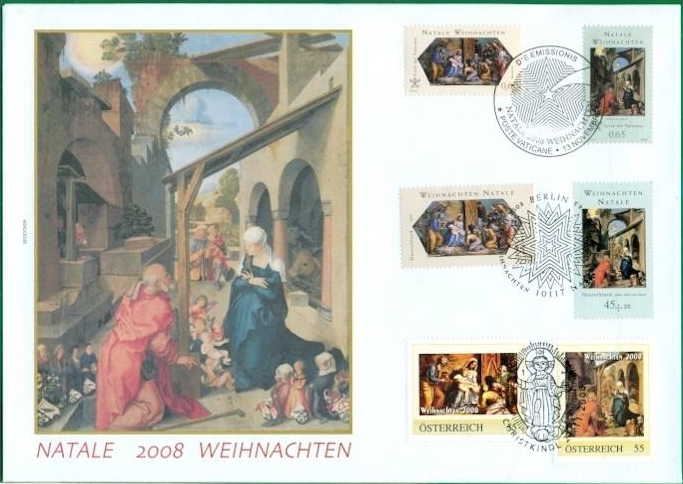 The Vatican and German stamps are well known and have been issued on November 13, 2008 [T20081113]. Surprisingly a similar pair of Austrian stamps has been added to this mixed cover. A close look at the stamps tells us that these stamps are personalized stamps ("Meine Marke", anyone can - if he pays- add any type of illustration in the open space left by the Austrian postal administration on specific stamps). The cancellation is the classical "Christkindl" (Christ child) for Christmas available in this town of Austria by end of each year. The cancellation date of the Austrian stamps seems to be November 21, 2008, in any case different from the cancellation dates affixed on the four other stamps.
The Austrian philatelic website provides some more information: in 2008, Austria issued a Christmas stamp on November 21, 2008, but the design has nothing to do with the Germany - Vatican joint issue.
In conclusion this is a private add-on to an official mixed cover but with a very nice and original complement. At Delcampe this item initially posted at €12.50 was sold at €55.50.
---
June 27, 2012
Through an exchange of mail with the Colombian postal administration, Grzegorz Omelanczuk (Poland) was able to confirm that the official date of issue of the two Colombian stamps from the Colombia - South Korea joint issue is May 22, 2012. With the South Korean stamps issued on March 9, 2012, it is confirmed that these stamps will be considered as a Concerted issue [C].
Grzegorz points also out the fact that the Colombian stamps have a flavor of coffee and ginseng.
---
June 27, 2012
Both Fabio Bonacina (Italy) and Grzegorz Omelanczuk (Poland) provided information on the recently released joint issue between El Salvador and the Sovereign Military Order of Malta. Both administrations issued their stamps on June 18, 2012. Although the dates of the issues are the same and the designs are identical, this issue cannot be considered as a true joint issue due to the fact that the UPU still does not recognize the SMOM as an official country authorized to issue stamps.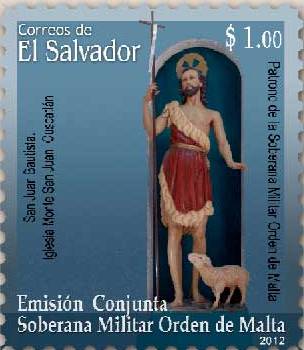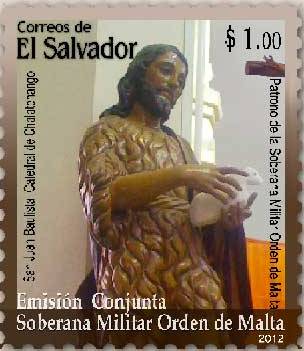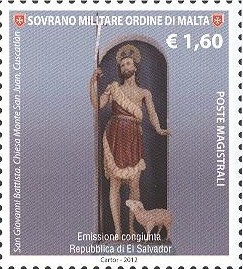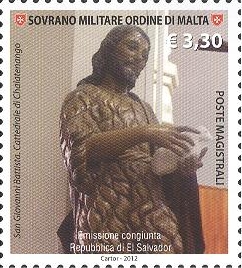 ---
June 26, 2012
The two twin series expected to be issued by Belarus in June 2012 were released as planned.
The first series in collaboration with Kazakhstan and related to hedgehogs was released on June 25, 2012. Belarus stamps were issued in individual miniature sheets of 8 stamps (in a 3x3 structure with bottom left corner replaced by an illustrated label) and a souvenir sheet of two se-tenant pairs. These stamps bear also a fluorescent safety element that shows either a leaf or a mushrom. Maxi cards are also available but mixed documents have not been seen so far. Detailed information can be found on the Belarus philatelic web site.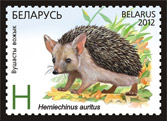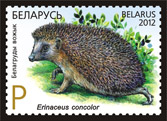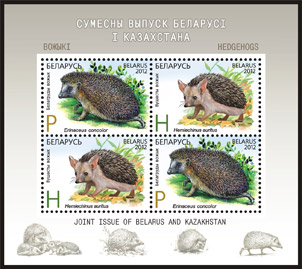 The second series in collaboration with Russia and related to newts was released on June 28, 2012. The Belarus stamp was issued in miniature sheets of 8 individual stamps printed tête-bêche and in souvenir sheets with two se-tenant pairs. These stamps bear a fluorescent protection element that shows a star and the contour of one triton. The Russian stamps were issued in miniature sheets of 4 se-tenant pairs. FDCs and maxi cards are available. Mixed documents have not been seen so far. Detailed information can be found on the Belarus and Russia philatelic web sites (the Russian information is not yet available in English).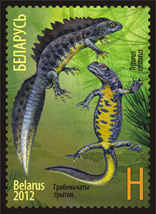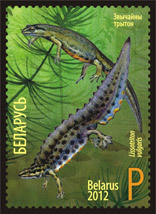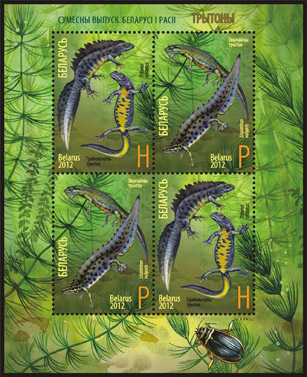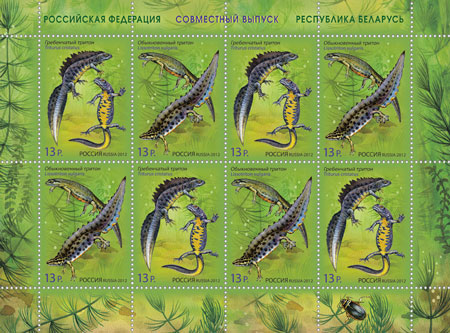 ---
June 26, 2012
On May 25, 2012, Belarus issued a miniature sheet at the occasion of the 20th anniversary of the relationship with Cuba. So far we are not expecting that this item becomes a joint issue with Cuba. However in the Belarus web site, this miniature sheet is announced to bear a cancellation from La Havana. I am wondering if a stamp was issued in parallel in Cuba. Any information is welcome.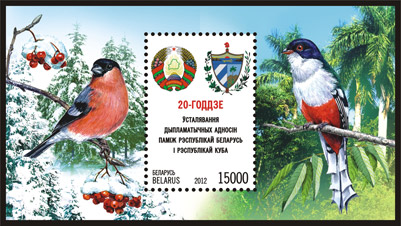 Very quickly after posting this information, Anthony Raynaud (France) provided some complementary information about the Cuban stamp which was issued on April 16, 2012. Here is the picture. Different dates of issue and different designs lead to the conclusion that it cannot be considered as a joint issue.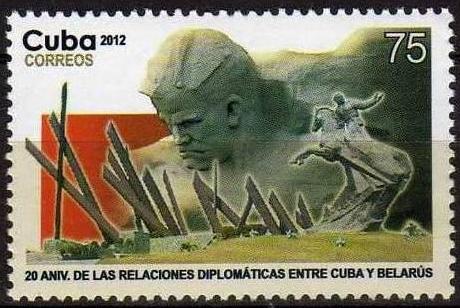 A similar souvenir sheet was issued by Belarus on January 20, 2012 at the occasion of the 20th anniversary of the relationship with the People's Republic of China, and no Chinese counterpart has been seen so far. The Belarus souvenir sheet was also available with a first day cancellation from Beijing.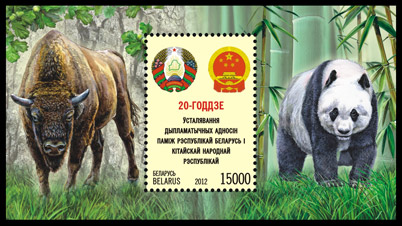 ---
June 7, 2012
I would like to mention an interesting web site written by Mohd Nizamuddin Safie (Penang, Malaysia) and called New Stamps of the World. It is really a good source of information for stamps recently or to be released and I can only encourage you to take a look regularly at http://www.nsotw.info.
---
June 7, 2012
Between June 9 and June 17, 2012, Paris will host the philatelic event "Planète Timbres". If you are around next week do not miss this big meeting. Two joint issues will be released during that week: on June 9, the Monaco FSAT miniature sheets and on June 12, the France-USA Piaf/Davis stamps
---
June 7, 2012
Grzegorz Omelanczuk (Poland) found some new information in recently published data:
The Armenian philatelic program for 2012 reports the following:

1. confirmation of the joint issue with Romania to be released in the third quarter of 2012. Romanian Post is planning to release the stamps in August (both dates still to be confirmed)
2. first mention of Armenia-India joint issue to be released in the fourth quarter of the year
Some update of the Brazilian philatelic program provide the following information:
1. the word "Conjunta" appears now next to an issue refering to Portugal (as expected, butto be issued on November 10, 2012, not in October as initially stated)
2. Cape Verde and Angola are also mentioned as partners of a Lubrapex joint issue with Brazil to be issued on November 12, 2012
Finally, the date of March 22, 2012 is confirmed for the issue of the Colombian stamp depicting coffee and ginseng plants together with South Korea. The South Korean stamps were issued on March 9, 2012.
---
June 7, 2012
A few weeks ago, Grzegorz Omelanczuk (Poland) informed us about a possible joint issue between Poland and Ukraine planned to commemorate EURO 2012 soccer championship. Unfortunately postal administrations of both countries could not come to an agreement and the project collapsed.

At the same time both countries were able to release a joint issue ... but of COINS. The two coins of unregular shapes form one complete normal shaped coin, as you can see below. This event is such unusual that we wanted to report it here. The coins were released on June 4, 2012 and can be bought from the Polish banknotes and money website.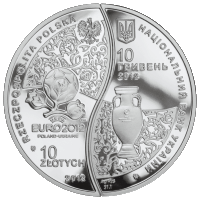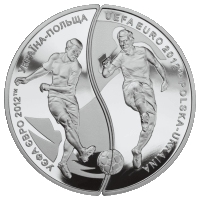 The only other example we know is a joint issue of coins between Zambia and the Marshall Islands in 1997 and depicting an elephant.
---
June 6, 2012
The image of the Hungarian miniature sheet, issued on May 25, 2012 in parallel to the identical Slovenian miniature sheet was provided by Fabio Bonacina (Italy). Hungary printed 200,000 sheets.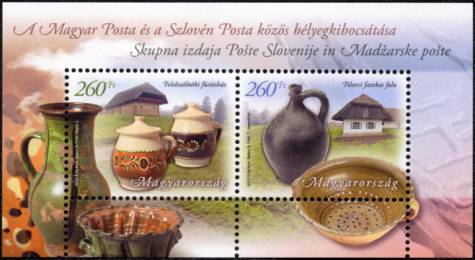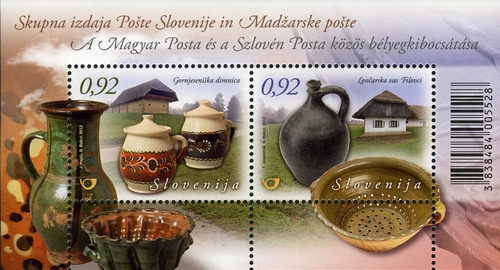 ---
June 4, 2012
Mike Lantz (USA) provided a copy of the mixed cover between HongKong and France bearing all 8 stamps.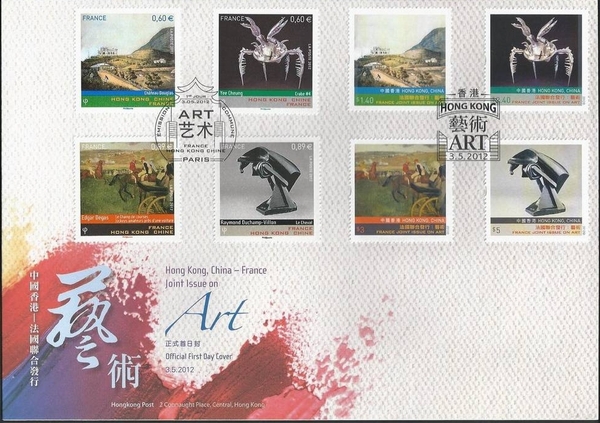 ---
June 4, 2012
The pictures of the miniature sheets produced by Monaco and the French Austral and Antarctic Territories (FAAT) have been published as well. Date of issue will be June 9, 2012. These items raised already major concerns among blogers as several errors have been identified (names of the islands, name of the bird, shape of the ship, ...).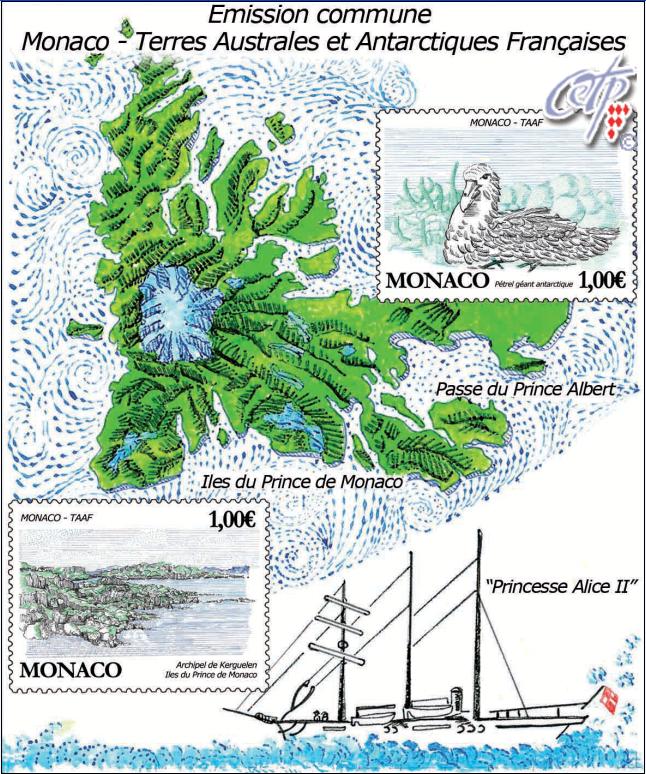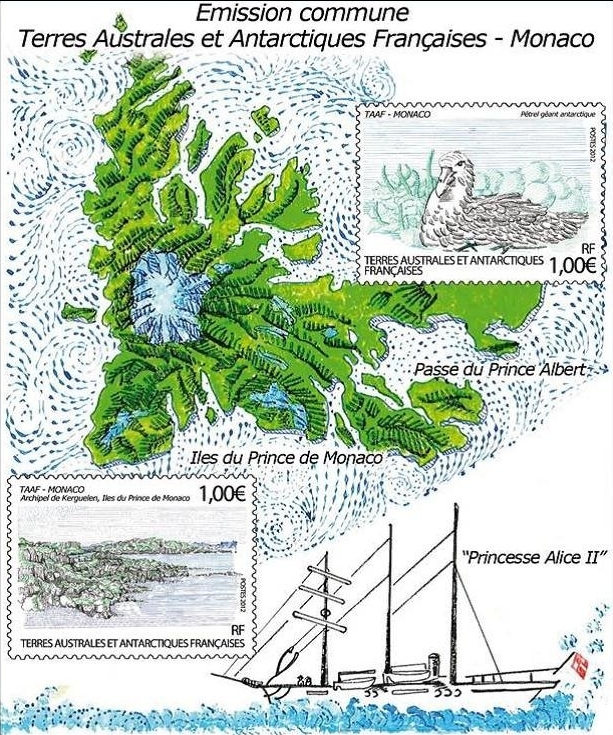 ---
June 4, 2012
Fabio Bonacina (Italy) provided the complementary information about the San Marino - Italy joint issue devoted to the 80th anniversary of the electric railway connection between San Marino and Rimini. Both countries issued their product (postal stationery - cover) on May 26, 2012 and not on June 1, 2012, as initially stated. Surprisingly the stamps are different, which obliges us to file this pair as a Parallel issue [P] and not a twin, but the illustrations on both covers are the same.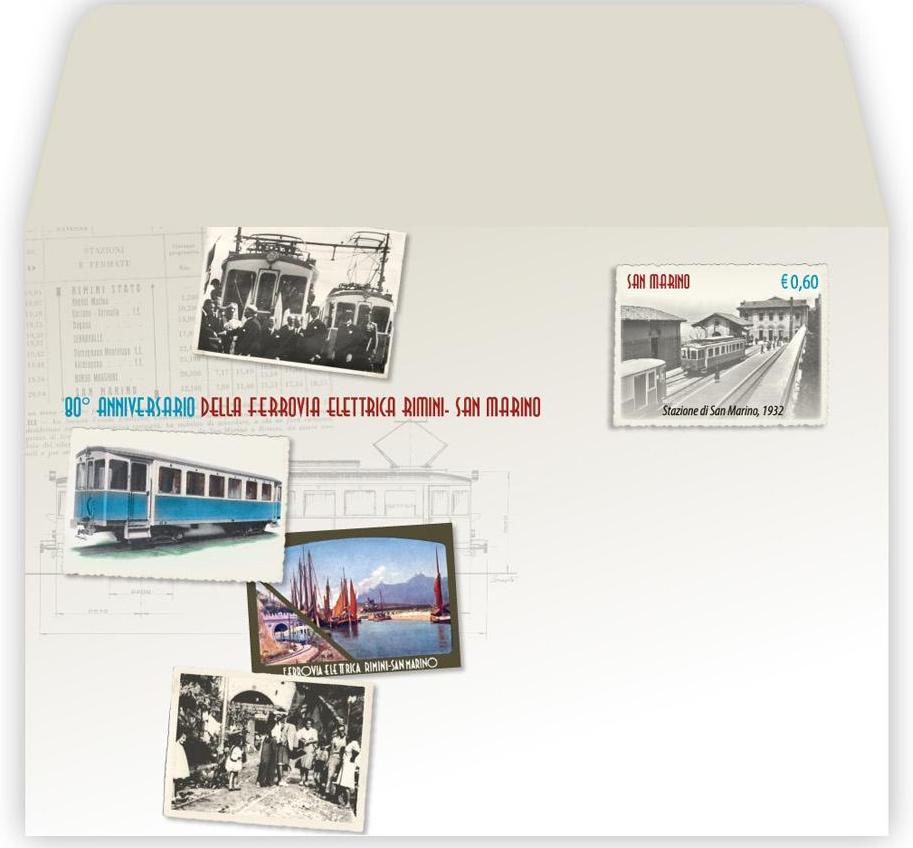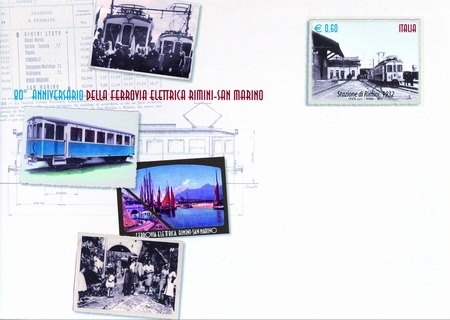 ---
June 4, 2012
Andrei Ochmat (Brazil) confirmed that Brazil issued the same three stamps issued by UNO on the same day i.e. June 1st 2012 at the occasion of the Summitt RIO+20. Brazil issued in fact a souvenir sheet containing the three stamps and a pane with 24 different stamps, but with a design not related to the joint series. This pane will not be considered as being part of the joint issue.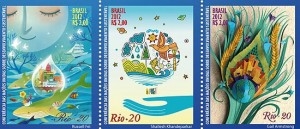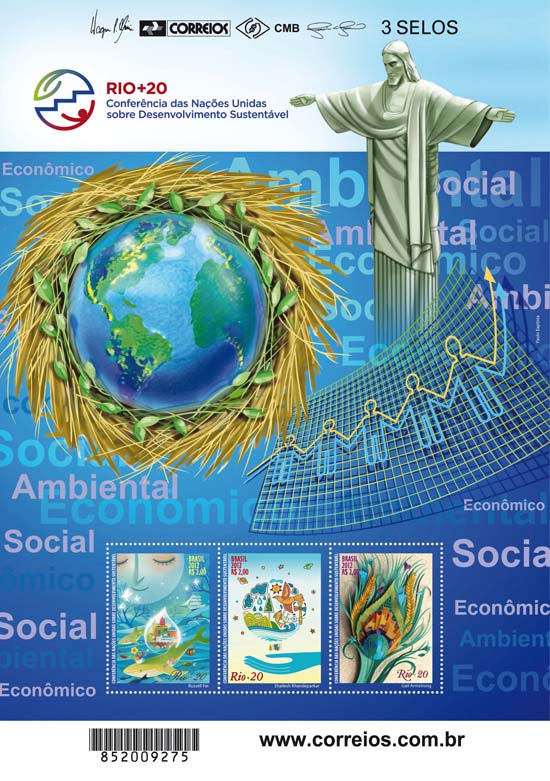 At the same time Grzegorz Omelanczuk (Poland) confirmed also the Brazil - Mexico joint issue which was released on June 1, 2012 as well. Mexican stamps are identical and were issued the same day.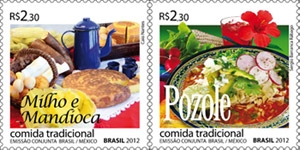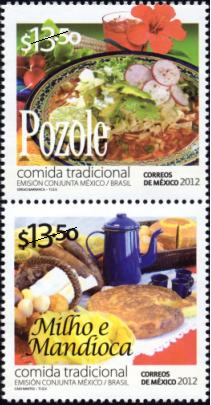 ---
May 21, 2012
About the May 10, 2012 Wallenberg issue, this is definitely a joint issue (despite the reluctancy of Sweden to mention it), as the Hungarian Post is officially selling mixed covers: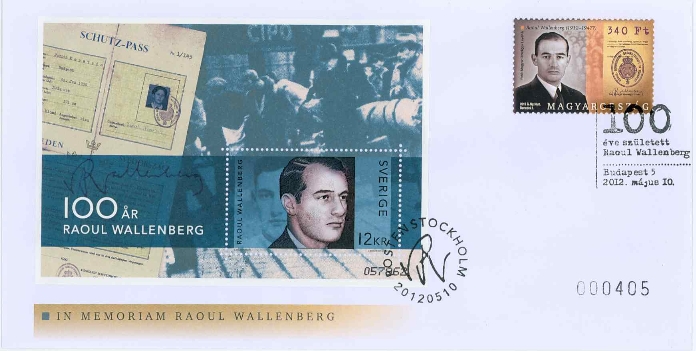 ---
May 21, 2012
Jaap Sarelse (The Netherlands) provided information about ATM stamps issued by Belgium apparently on April 14, 2012, at the same occasion as the Aland - Belgium joint issue related to the 100th anniversary of the Titanic disaster [P20120416].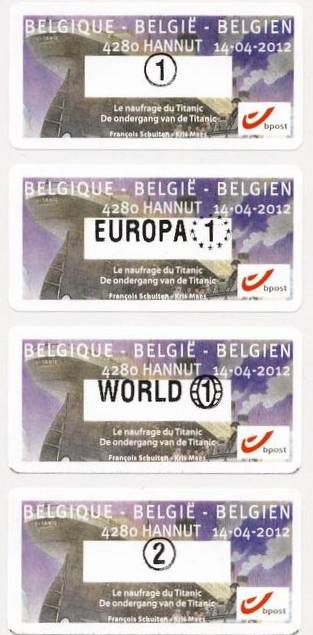 ---
May 20, 2012
Jaap Sarelse (The Netherlands) continues looking for special items and he found recently the following two mixed folders which were not mentioned before:
Joint issue Russia-Armenia (2011 Famous people) [T20110601]: a 4-pages folder with all texts in Russian, containing the 4 stamps, mint as well as two first day covers.

Joint issue Poland-Sweden (2011 Marie Curie) [T20111117]: a 16-pages booklet written in polish, swedish and english containing a Polish first day cover and both miniature sheets, mint.
Note that both the Swedish and Polish Marie Curie sheetlets [T20111117] show a 6-digit control number as well as the cylinder number "1" or "2", both in black. We had mentionned these control numbers already at the occasion of the 2005 Swedish Greta Garbo issue [T20050923]. In this case they appear on both souvenir sheets and the possible combinations are: without numbers at all, with cylinder numbers "1" or "2" alone, with 6-digit control number alone, with cylinder numbers and control number (so in total 6 combinations are possible - not all combinations have been seen on Swedish miniature sheets so far, but theoretically all are possible as well). Poland issued also a black print of the miniature sheet which has been seen with or without one of the two cylinder numbers.
---
May 20, 2012
Some new information provided by Fabio Bonacina (Italy):
- Despite the contradictory information provided so far we have to consider the stamps issued by Sweden and Hungary on May 10, 2012 at the occasion of the centenary of Raoul Wallenberg as a joint issue (Parallel issue [P1]). In fact the Hungarian philatelic agency announced this stamp as being joint while there is so far no mention of such a collaboration on the Swedish philatelic web site. Constantine Mengoulis (Greece) called the Swedish philatelic administration on the basis of the Swedish Quarterly Philatelic Bulletin in which the stamp is described without mention of Hungarian stamp. He was told that Sweden does not consider their stamp as joint and will not provide mixed document. The situation is slightly different than last years when Serbia printed unilateraly a stamp in honor of Franz Liszt supposed to be joint with Hungary, as there is in this case a printed explanation available from the Hungarian administration. The story is not complete yet and we are looking for further explanations ...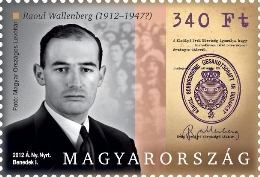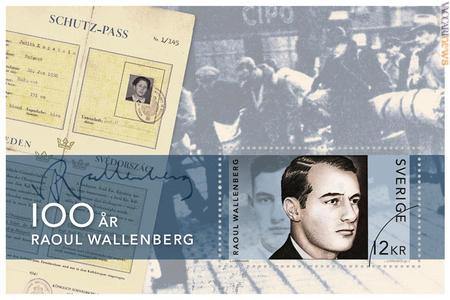 ---
May 20, 2012
Some new information provided by Grzegorz Omelanczuk (Poland):
Grzegorz first pointed out to a special issue related to the "Rio+20" or Earth Summitt 2012 on Sustainable Development, an event that should take place in Rio de Janeiro between 20 and 22 June 2012. This event will mark also the 20th anniversary of the 1992 United Nations Conference on Environment and Development and the 10th anniversary of the 2002 World Summitt on Sustainable Development in Johannesburg. At this occasion the United Nations have decided to release by June 1, 2012 a series of three stamps (one per office) and details are available under Worldstampnews.com. Stamps at this occasion will be issued by Brazil on June 20, 2012, but at this stage it is still impossible to confirm if there will be some relation between the two series.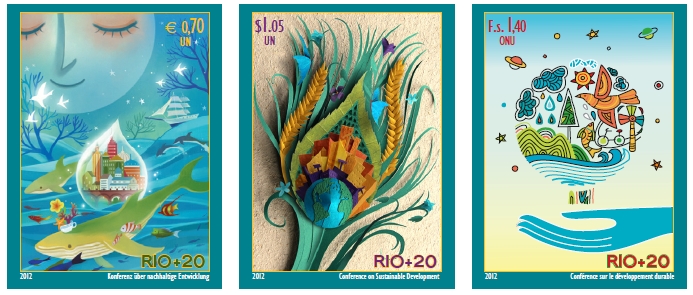 The Belgian Monaco joint issue is confirmed for June 25, 2012 with from both sides souvenir sheets containing one stamp. This issue is produced at the occasion of the philatelic exhibition of the stamp collection of the Prince Albert II of Monaco in Bruges.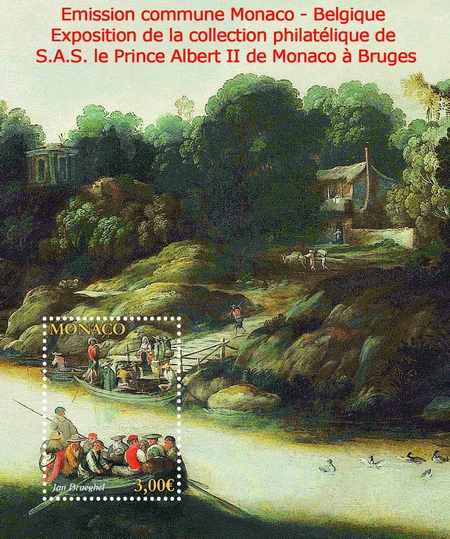 The Armenia - Romania joint issue is supposed to be released in August 2012.
Here is the first image of the Slovenian souvenir sheet to be issued jointly with Hungary on May 25, 2012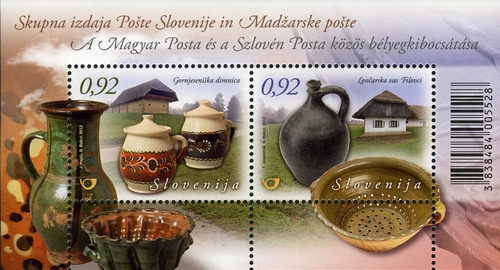 ---
May 9, 2012
There will be some delay in updating the page summarizing the stamps issued during the first quarter of 2012. Sorry for that. Please give me some more time.
---
May 9, 2012
Grzegorz Omelanczuk (Poland) found that in the latest online magazine of The Belgium Post images of stamps expected to be issued on the June 25, 2012 by Belgium and Monaco can be found (pages 16-17 of Philanews)
---
May 7, 2012
Surprise in my mail box: I received from Dominique Josse (France) a First Day cover with the 4 stamps issued by France on May 3, 2012 (joint issue with Hong Kong). Thanks a lot Dominique.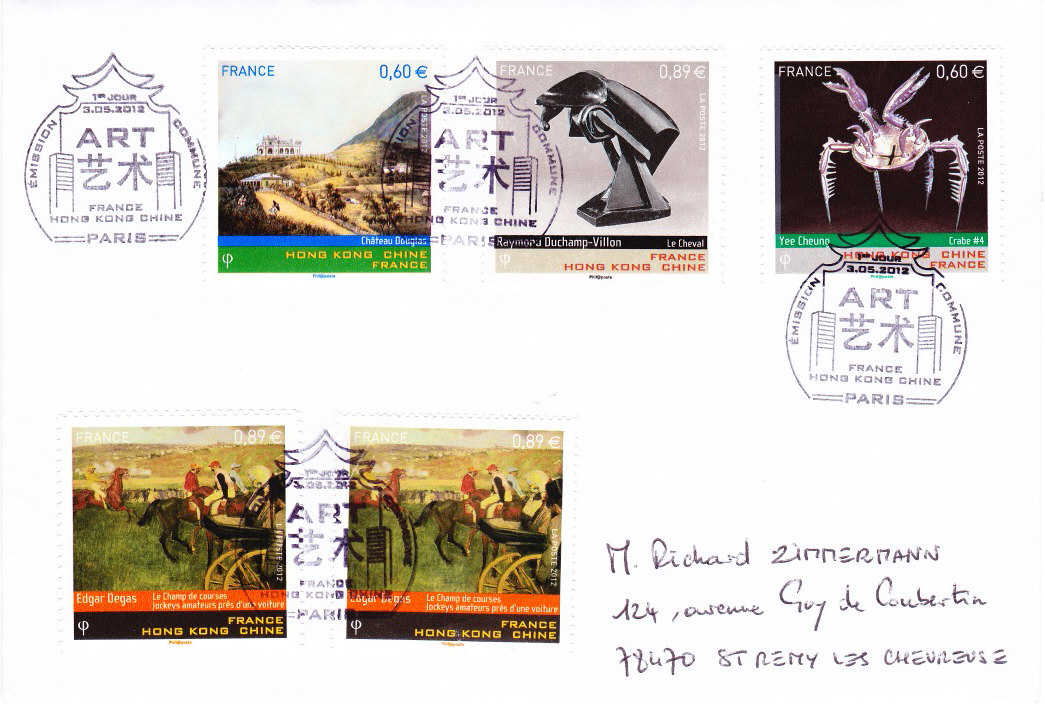 ---
May 6, 2012
Information about the Germany Liechtenstein joint issue "Pfälzer Hütte" is now available on both German and Liechtenstein web sites. date of issue is June 14, 2012. Mixed covers are also available.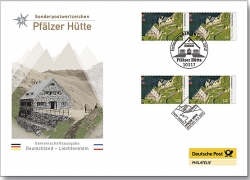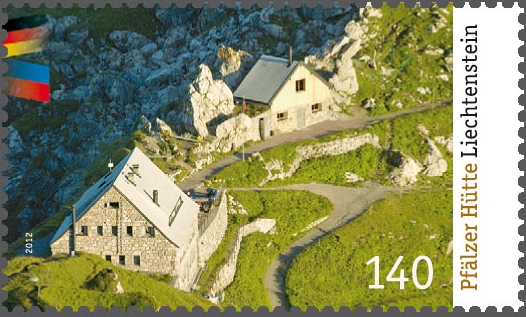 ---
May 6, 2012
Further information provided by Grzegorz Omelanczuk (Poland):
- the initially planned Turkish Iran joint issue for 2012 has been cancelled. Information provided through the Turkish philatelic web site
- on the opposite, Turkey has now added a joint issue with the People's Republic of China with an announced date of issue for October 1, 2012
---
May 6, 2012
Grzegorz Omelanczuk (Poland) could provide the first images of the Colombian stamps from the joint issue with South Korea release at the occasion of the 50th anniversary of the relationship between the two countries. The South Korea stamps were released on March 9, 2012 which was supposed to be also the first day of issue of the twinned Colombian stamp, but a close look at the Colombian philatelic service web site still does not mention this stamp and the latest issued stamps are dated March 23, 2012. This issue may probably have to be considered as a concerted issue [C]. Any information on the Colombian date of issue is welcome.


The first images of the Belarus stamps from the June 20, 2012 joint issue with Kazhakstan also available under Belarus Post: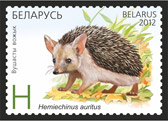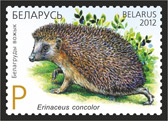 ---
April 30, 2012
From Grzegorz Omelanczuk (Poland), who found some information about the following new issues:

1. The Vietnam-Laos joint stamp issue related to the 50th Anniversary of their diplomatic relationship (date of issue - September 5, 2012) is listed on the vietnamese web site http://vietnamstamp.net

2. The Indian Philatelic program lists the joint issue with Israel this year with the topic "Festival of lights", but there is still a date of issue to be confirmed. The Israel philatelic program expects the month of December 2012.
3. China (PR) is announcing a joint issue with Turkey on October 9, 2012. Details are missing

---
April 30, 2012
Fabio Bonacina (Italy) provided the first image of the stamp from the San Marino - Italy joint issue supposed to be released on June 1, 2012. In fact this issue will be a cover with the topic "electric train between Rimini and San Marino".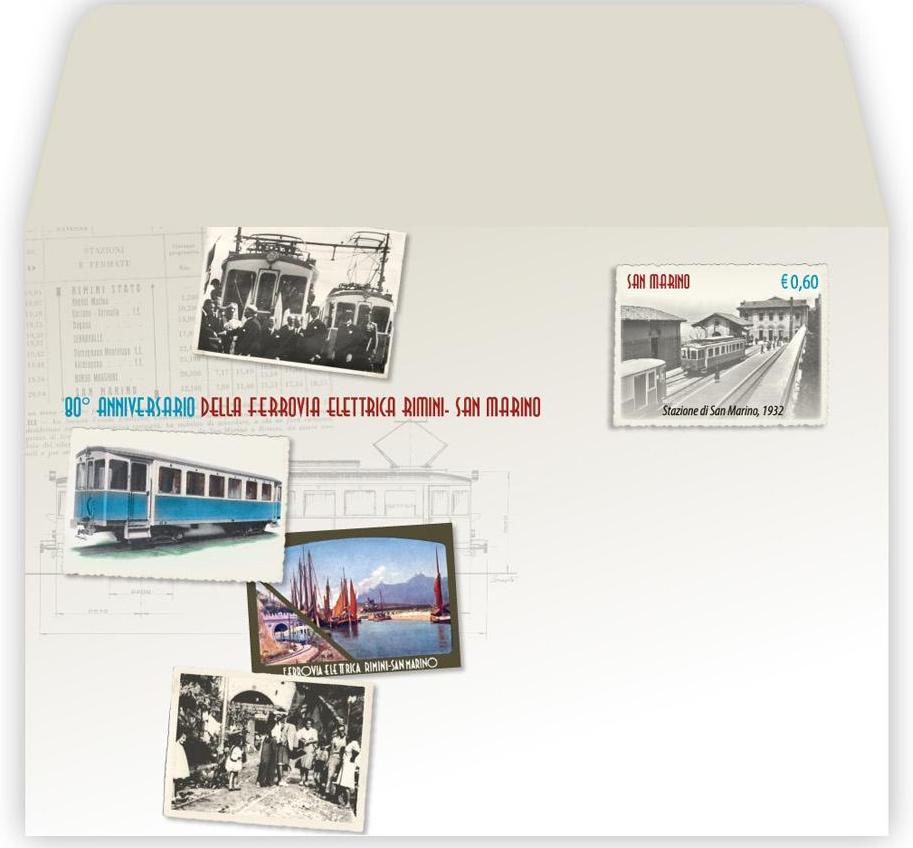 ---
April 30, 2012
Grzegorz Omelanczuk (Poland) provided the information that the Hong Kong stamps to be issued on May 3, 2012 together with France have been posted on their web site under www.hongkongpoststamps.com.
There will be 4 identical stamps for each country, as well as a miniature sheet at least for Hong Kong. Supplementary material will be available such as mixed first day covers and special folders.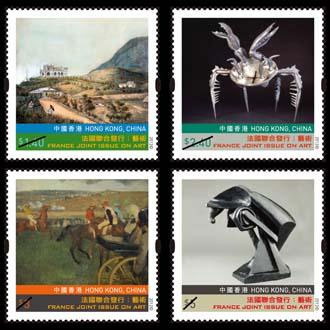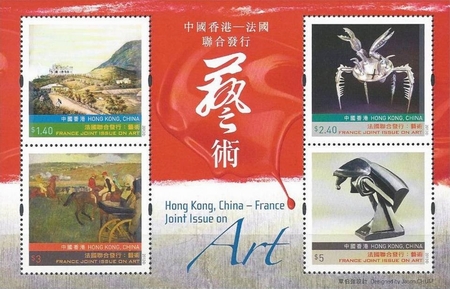 ---
April 30, 2012
Grzegorz Omelanczuk (Poland) collected some information about the 2012 joint stamps supposed to be released by Poland and Ukraine and relative to the European 2012 soccer championship. He received a mail from the Ukrainian postal administration confirming that the collaboration between the two countries was cancelled and there will be no common stamp issue at this occasion.
---
April 26, 2012
This new version of the JSIS web site was created exactly one year ago. A few figures can just summarize how these pages became of interest for collectors:
More than 11,500 visitors over one year among which more than 7,200 unique visitors, with an average above 30 per day, coming from 92 different countries. The ten largest populations are coming from the United States (obviously as the largest web community, among which visitors from 40 states out of the 51 are represented), Italy, Germany, Spain, the Netherlands and France, but then surprisingly Taiwan on the 7th rank, the United Kingdom, Hong Kong and China.
These figures seem small, but in fact this is huge for such an extreme specialized topic. This denotes an increasing interest in the field and I hope it will continue this way.
I would like to take this opportunity to thank all collectors who provided in the past years information that helped to write these news and I hope this collaboration will continue for the benefit of the Joint Stamp Issues collectors community.
---
April 9, 2012
Some specific products discovered by Jaap Sarelse (The Netherlands) and that can be of interest to collectors (most of the mixed documents will be added to the catalogue).
- Briefmarken Haller GmbH (Germany) sells a mixed "Numisletter", including the joint issue World Youth Day products [T20110621]: one stamp of Spain, one of Vatican, both first day cancelled, together with one special 2 Euros coin. This is a Vatican originated "Numisletter", not a private issue.
- Jaap could acquire the following previously unknown mixed [P19861116] first day cover including both stamps from Saudi Arabia and Bahrain. The cancellation is from both countries dated November 26, 1986, while we know that the Bahrein stamps were already released on November 16, 1986 (unless this is a mistake - to be checked). Despite this slight difference, this item not seen so far is really an amazing cover that did cost a minimum on eBay (the shipment fees were higher) and has a real value of more than 10 times the purchase costs. A proof that nice discoveries can still be made with joint issues.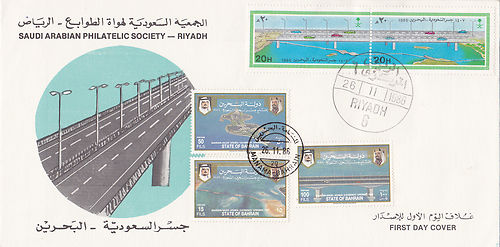 ---
April 9, 2012
The Slovakian stamp from the April 13, 2012 Serbia-Slovakia joint issue is displayed on their web page. The Serbian stamp was provided by Fabio Bonacina (Italy). The Serbian stamp is printed in [3x3] miniature sheets containing 8 stamps with a central label showing both flags, while the Slovakian stamp is printed in sheetlets of 2 stamps separated by a label depicting the sculpture of a man.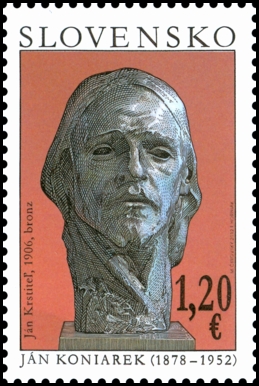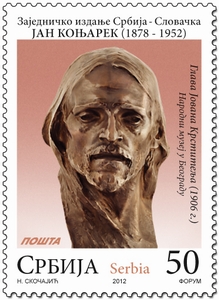 ---
April 9, 2012
Some interesting comments about older issues were collected by Jaap Sarelse (The Netherlands) and for which I will try to provide answers without specific priority order:
- There are some folders produced by one of the ASEAN countries that collect all ASEAN stamps from one same year. We have to check carefully how to report on these items as they could be listed as [B] items, the special chapter collecting folders and books that include related stamps to a same topic but that were not reported as joint issues. Jaap describes such an item created by Pos Malaysia in 1994, as a 20 pages book in which each country had two pages dedicated to their own issue and including the mint stamps from Brunei (August 8, 1994), Indonesia (November 5, 1993), Malaysia (October 23, 1993), The Philippines (August 12, 1994), Singapore August 7, 1991) and Thailand (July 1, 1993). There has probably been other ASEAN books produced in the past and for the time being, we are just collecting all this information. This research should not be limited to the ASEAN, but other postal entities such as UPU, APPU, EFTA, and South American, Asian or African entities may have produced such items in the past.
- The postal history of Dutch and Portuguese colonies is complicated. The catalogue contains all issues that have been produced centraly (Portugal or the Netherlands) with the similar design (or at least same topic) and released in the colonies approximately at the same date. These stamps are of course collected as territorial issues [D]. Jaap now raises the problem of some colonies that became independant and still continued to be part of these stamp emissions. Should these issues now be re-filed as parallel issues [P]? One first example is Surinam that became independent in 1975, while some series continued to be produced after this date (for example [D19880629] and [D19981008] involving Dutch Antilles, Surinam, Aruba and the Netherlands). This question has to be evaluated more deeply, but eventually these stamps could be re-filed as [P]. We need some more time just to check all issues of these countries.
- As a continuation of the previous paragraph, it looks that the Portuguese President travels in 1954, 1955 and 1968 have been forgotten and will deserve each a new entry in the [D] chapter. Angola (May 27, 1954) and Saint Thomas (May 22, 1954) issued identical stamps that will be filed as [D19540522]. Cape Verde (April 14, 1955, then February 9, 1968) and Portuguese Guinea (April 14, 1954, then February 2, 1968) did the same and these series will respectively be filed as [D19550414] and [D19680202]. Three nice discoveries!
- A series of stamps have been omitted in the catalogue. These stamps were issued by Angola (October 1952), Cape Verde (January 1953), Portuguese Guinea (January 1953), Portuguese India (January 1953), Macao (January 1953), Mozambique (January 1953), Saint Thomas (May 23, 1953) and Timor (January 1953). These stamps were issued in honour of mission art exhibition, but are all different. These issues will be filed as [D19530100].
---
April 9, 2012
So far there was a questionmark behind the Hungarian joint issue for 2012 concerning its partner country. In the recent updated program we learn that Hungary will release two joint issues this year.
Hungary-Sweden joint issue: Raoul Wallenberg was born 100 years ago. Date of issue May 10, 2012 which is confirmed by the Swedish post which already displays the (low resolution) picture of the Swedish miniature sheet: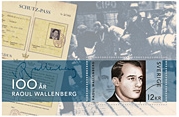 Hungary-Slovenia joint stamp issue (not confirmed by Slovenia yet although this country has a program of release of 4 stamps/topics on the same date. Date of issue May 25, 2012.
The Swedish web site shows also the (low resolution) illustration of the Swedish miniature sheet that is supposed to be released on November 9, 2012, in conjunction with France (topic Opera and Daniel Auber).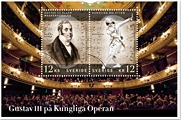 ---
April 9, 2012
An interesting question from Steven Vandeweghe (Belgium) that I could not answer, concerning the [T20050923] Swedish Greta Garbo miniature sheet. Very recently he discovered on Delcampe such a miniature sheet with printing control number of "30881". As the maximum of miniature sheets that were printed was limited to 30,000 how does it come that this figure can be higher? Is there any expert from Swedish philately who could bring an answer to this question?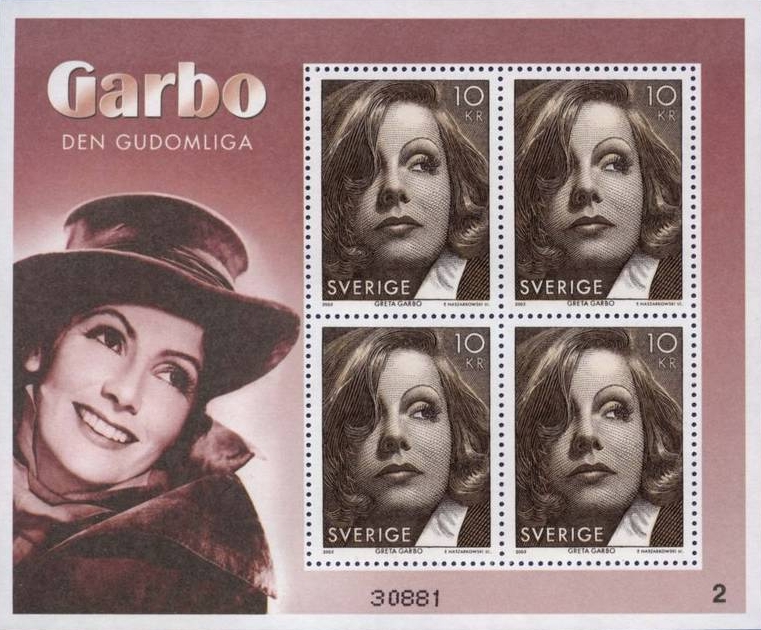 Here is the text that was printed in the Supplement to describe the differences between all miniature sheets overprints:
Swedish Greta Garbo souvenir sheets containing 4 identical stamps exist with and without overprinted figures at the bottom. These black figures are common with all Swedish booklets or miniature sheets. The miniature sheets bear at the bottom left side a printing control number with 5 digits. On the bottom right side there can be a cylinder control number "1" or "2" that is apparently printed every 5 sheets. Souvenir sheets show either the two printing and cylinder control numbers, or nothing. As the total number of sheets printed during the process was limited to 30,000, one can deduce that 6,000 sheets show a control number among which 3,000 with the cylinder number "1" and another 3,000 with the cylinder number "2". The remaining 24,000 souvenir sheets are without any number.
This does not tell if the numbering starts with "00001" and finishes with "30000". We don't even know if there is a relation between the printing control number and the number of sheets printed.
---
April 9, 2012
A question from Michael Weitzer (Germany): Does anyone know if the SAPOA countries are preparing a new joint issue in 2013? As previous issues were released respectively in 2004, 2007 and 2010, it is legitimate to expect something in 2013, isn't it?.
---
April 8, 2012
Vatican and France will issue on May 11, 2012 a stamp in honour of Joan of Arc. The Vatican State stamp design is already displayed on the Vatican State web page. The French stamp will be similar. The Vatican State will issue these stamps in illustrated miniature sheets of 8 stamps [4x2].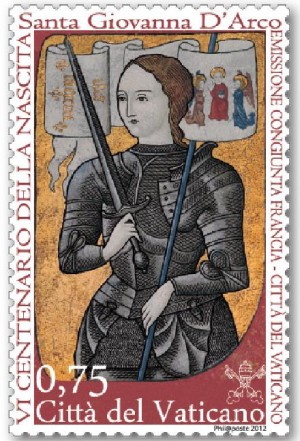 ---
April 8, 2012
Ehsan Mehmood (Pakistan) pointed on a Pakistanese stamp issued on April 1st, 2012 at the occasion of the 50th anniversary of the Asian Pacific Postal Union (APPU 1962-2012). By checking quickly at other countries I already found that at the same date China PR, Thailand, Indonesia and the Philippines issued also one or two stamps at the same occasion, but with different designs. We have to take a look at all the 32 countries participants to the APPU before deciding if we will add these commemorative stamps as, at least, parallel issue. Any information on this topic is welcome.
The Asian-Pacific Postal Union is today an inter-governmental body, member of the UPU, of 32 countries namely, Afghanistan, Australia, Bangladesh, Bhutan, Brunei Darussalam, Cambodia, China, Fiji, India, Indonesia, Iran, Japan, Korea, Lao, Malaysia, Mongolia, Maldives, Myanmar, Nauru, Nepal, New Zealand, Pakistan, Papua New Guinea, Philippines, Samao, Sri Lanka, Singapore, Solomon Islands, Thailand, Tonga, Vanuatu and Vietnam.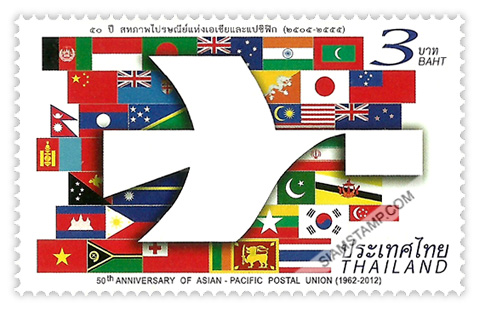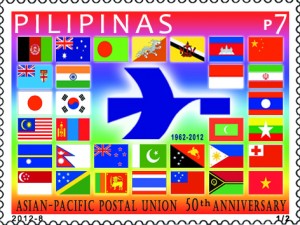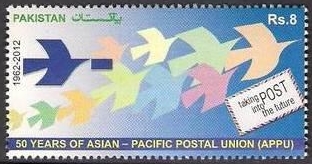 ---
April 8, 2012
The Thailand philatelic program announces for June 22, 2012 the issue of a commemorative stamp at the occasion of the 115th Anniversary of King Chulalongkorn's Visit to Austria 1897-2012. In the Austria issue program, a new stamp appeared mentioning this event and claiming being a joint issue with Thailand, but date of issue is supposed to be September 15, 2012. We have to watch this and check for more information.
---
April 6, 2012
Larry Dodson (USA) wrote: I am catching up on the mounting of my Joint Issues and was surprised that I did not find this territorial issue in Supplement V – 2011 or on the Joint Issues web site: Centenary of George V, the Philatelist King; London 2010, May 8, 2010, Souvenir Sheets with one stamp involving British Indian Ocean Territory, Saint Helena, Tristan da Cunha. Larry, you are right. This series will be added to the list probably as an omnibus series although stamps in the souvenir sheets are different. We are just looking if some other Commonwealth countries are missing in your list.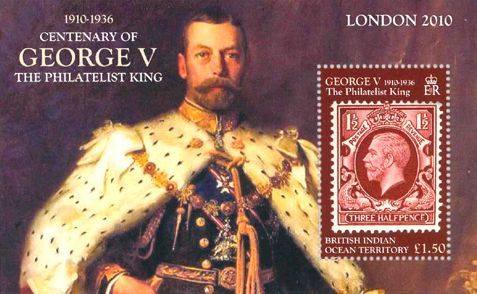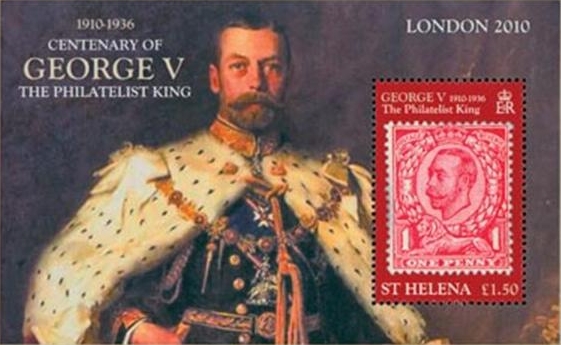 ---
April 6, 2012
José Fernandez Marin (Spain) was astonished by the fact that the November 17, 2011 stamps involving Poland and Sweden used the same design as a stamp issued by Portugal on June 1, 1998. There is nothing wrong with this as often pictures used on stamps are based on the same original painting or photograph. Statistically, you will find several same portraits of people just because there are not that much available. Of course this has nothing to do with joint issues.
However compare the two images and although Sweden and Poland stamps are identical, take a look at e.g. hairs, eyes, ... in the Portuguese stamp. Thanks to Google it takes a few seconds to find the original picture ... and to discover that both stamps have modified the original.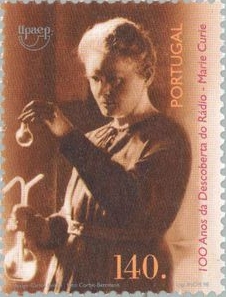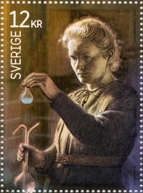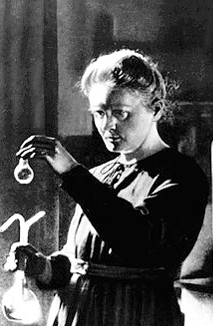 ---
April 6, 2012
Jaap Sarelse (The Netherlands) continues screening the stamp bidding sites (eBay, Delcampe, ...) and provides often with some interesting information such as the following:
- the September 1, 1995 Australian miniature sheet showing pandas was overprinted with the words "CONGRESS 96" and "30TH. ANNIV. OF TURUL | HUNGARIAN PHIL. SOCIETY" probably in 1996. The number of overprinted items must be low, but this miniature sheet is definitely of private origin.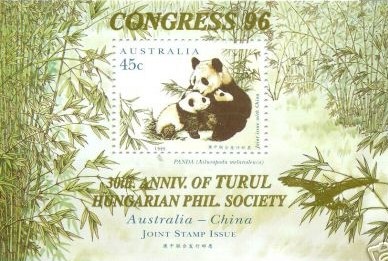 - The Aland Russia joint issue from February 21, 2011, related to the 150th anniversary of Mariehamm was available in a mixed folder from Aland. One has to know that a similar folder (actually different in terms of design) was produced by the Russian postal administration as well.
- The Armenia Russia stamps from June 1, 2011 were made available as a mixed folder containing all four stamps, mint, as well as two first day covers.
- The Germany Vatican Christmas stamps from November 13, 2008 were available on mixed first day covers. Mixed covers with stamp from the Vatican and miniature sheet from Poland, dated respectively April 12, 2011 and April 28, 2011 have been produced as well.
---
April 6, 2012
Jaap Sarelse (The Netherlands) continues providing information about mixed folders. Here is an interesting one, from February 17, 1962 collecting on a same page all stamps (11 countries, 11 stamps) from the 1962 Air Afrique series with first day cancellations. This document was produced at 999 samples and is of private origin.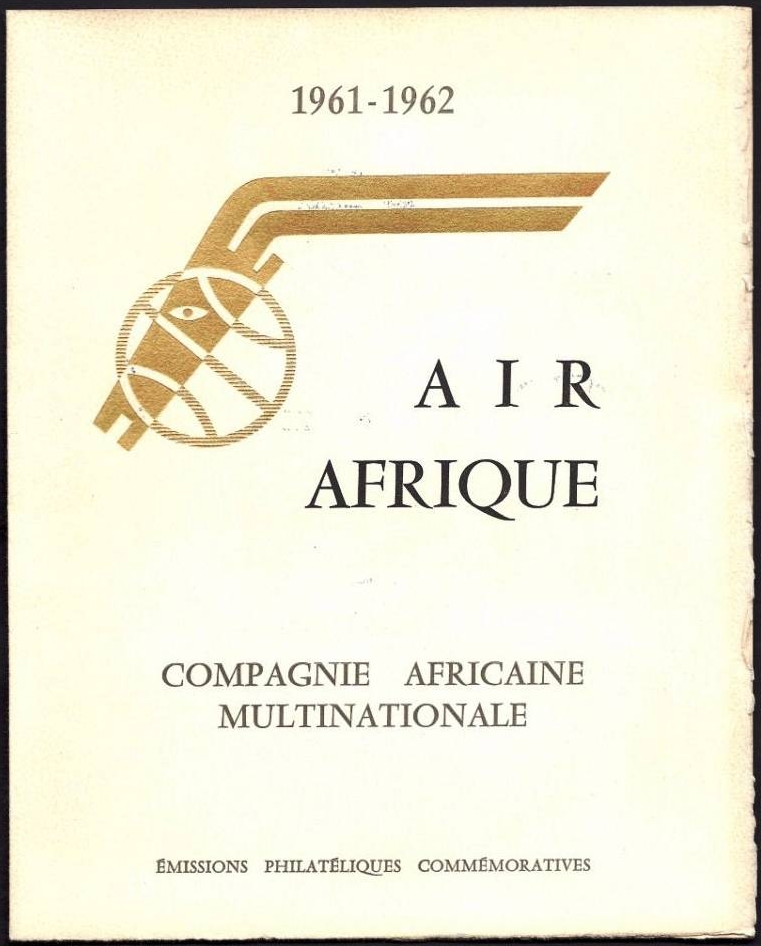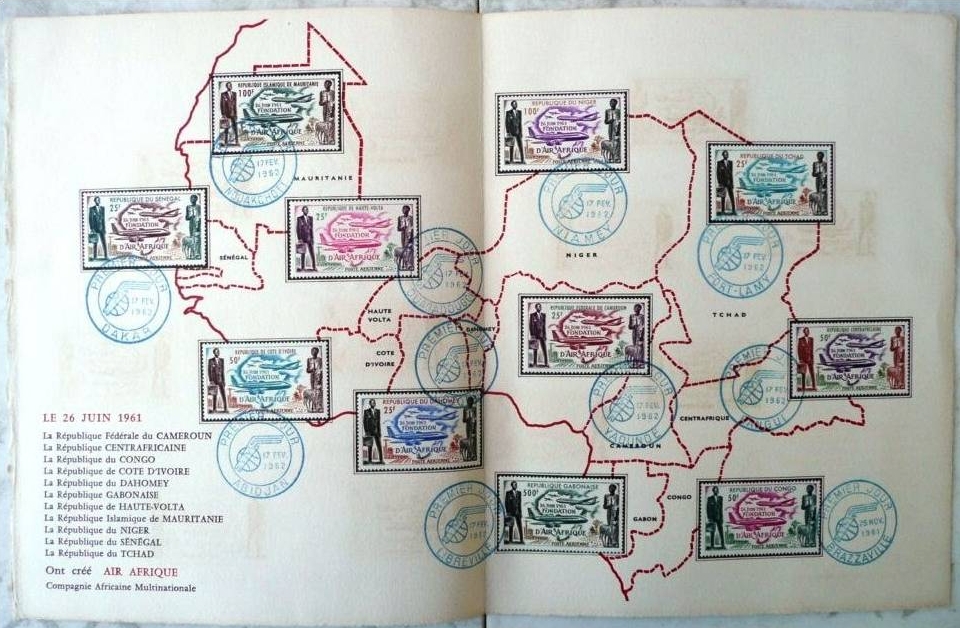 ---
April 6, 2012
I found by accident a page on the history of the Nordic Swans series from 1956. The paper is dated 2006, but is still relevant for those who are interested in this topic.
For more details, see under http://heindorffhus.motivsamler.dk/shoebox/frame-NordicSwans.htm. Author is Ann Mette Heindorff. Here are some pictures of the first proposals made at that time for selection of the best design. The final that was chosen came from Denmark.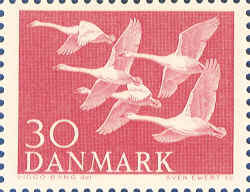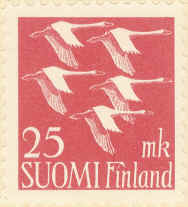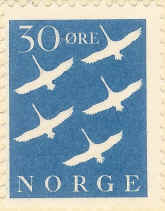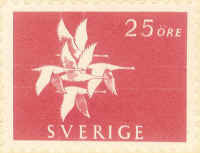 ---
April 6, 2012
Here are the pictures of the Chinese stamps from the joint issue between China PR and Israel that were released on March 20, 2012. The Chinese stamps are produced in panes with two blocs of 8 stamps each (2x([4x2]+[4x2])). The Chinese stamps do not bear tabs.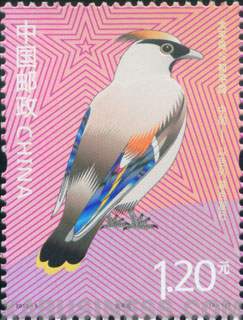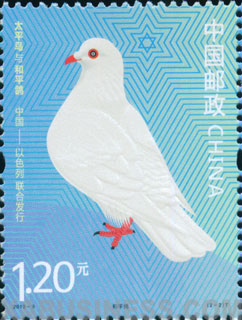 ---
April 6, 2012
Fabio Bonacina (Italy) provided the first detailed information about the joint issue between Italy and the Vatican State that is supposed to be issued on May 4, 2012. Date of issue for the Vatican needs to be confirmed, but it looks to be the same. Surprisingly this issue will consist in postal stationery for both postal administrations, a cover on the Italian side and an aerogramme for the Vatican. Illustration of the stamp and cachet on the left side are the same for both items. Therefore this issue will be filed as [T] although mixed first day covers will not be possible (unless someone cuts the stamp from one stationery and affixes it on the other. I am wondering if locally some Italian collectors will try to do this. Awaiting copies of such item ;-) ... )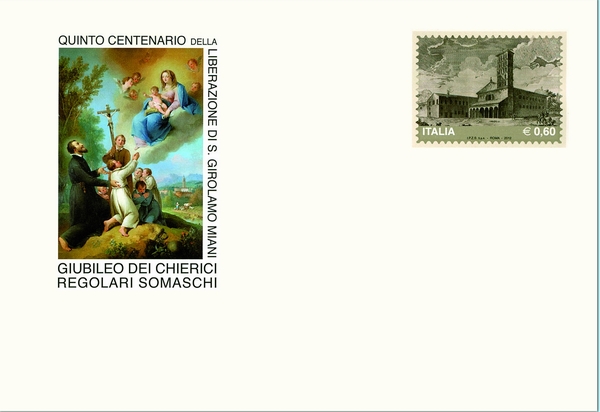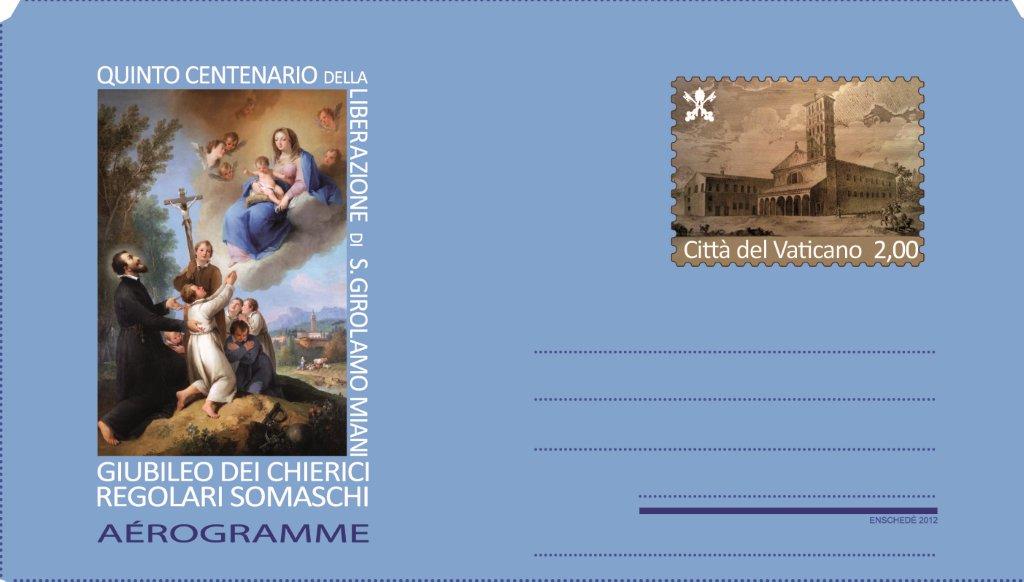 ---
April 1, 2012
The News from the period January to March 2012 have been archived.
---
All previous information reported in this section is to be found in the News Archives.