Archives Quarter III, 2018
This page is the archived News Page from the July to September 2018 period. All contents have been dispatched in the respective stamp description pages. However there may still remain open questions. Any complementary information is welcome. As soon as an information is archived, the text will not be changed anymore. So if additional information are linked to the below, this will be displayed as a new heading in the currently open News page.
---
September 23, 2018
Niket Bubna (USA) was able to provide the image of the Israel stamp to be issued jointly with USA on October 16, 2018, showing that designs will be identical.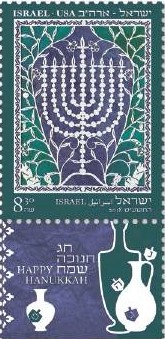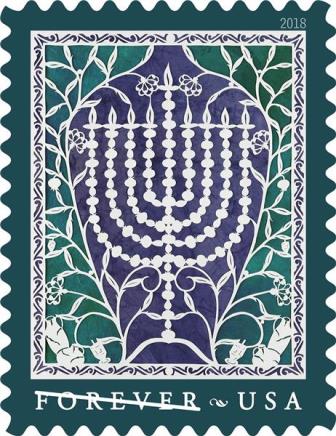 The official date of Serbian issue with India was firmly set to September 15, 2018, confirmed by the FDC and the stamps have been issued (Information provided by Ivan Tangl, Serbia).
---
September 9, 2018
Correction: from Lars Kersten: the South Ossetia - Syria issue described earlier (see below) is a fake issue not produced by Syria, that can be recognized in particular through the wrong spelling of the name of Syria. This issue is therefore definitely to be excluded from the catalogue.
Niket Bubna (USA) could first announce that the Armenia-India joint issue was finally issued on August 29, 2018, following several postponements and delays. The stamps show Hov Arek dance and Manipuri (Jagoi) dance. India Post also issued a souvenir sheet along with the two individuals stamps.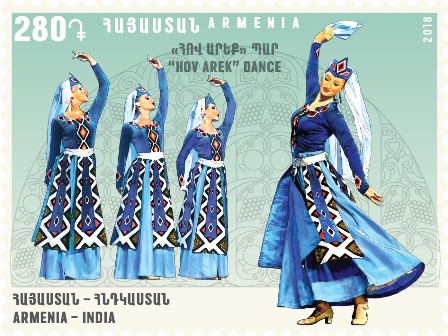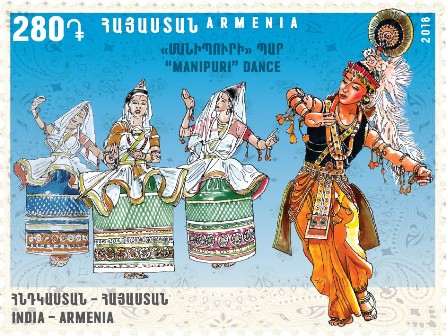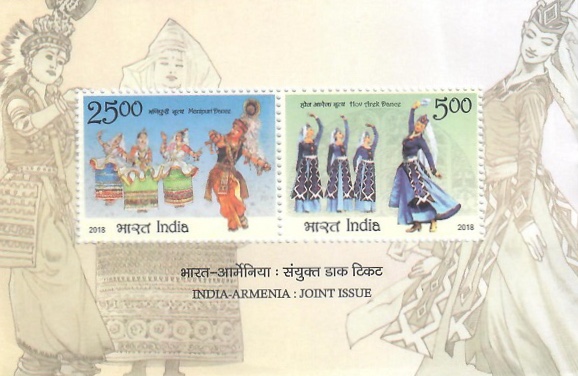 Ivan Tangl (Serbia) provided the first illustration of the Serbian stamps issued jointly with India. These stamps were available on September 3, 2018, but the official date of issue is planned for September 15, 2018. The two stamps show Swami Vivekananda (a spiritual leader from the 19th-20th century) and Nikola Tesla (physicist). The Indian stamps are still to be released officially on October 9, 2018, but it is not excluded that the common date of issue becomes September 15, 2018. Stamps will be identical (information provide by Niket Bubna, USA).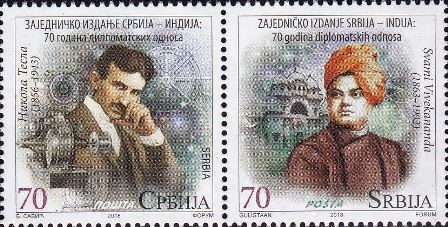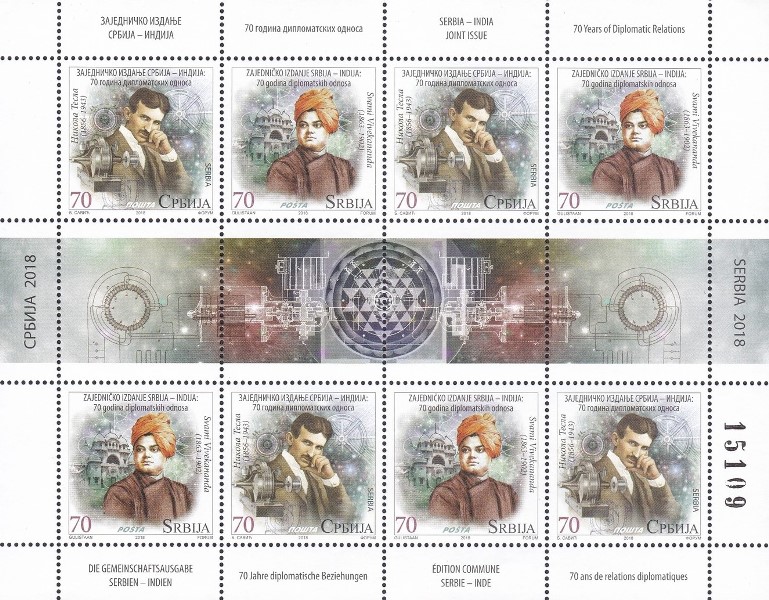 Fom Grezgorz Omelanczuk (Poland), some information about the next joint issues involving Belarus:
1) with the Republic of Uzbekistan, 25th anniversary of establishing diplomatic relations to be issue during September 2018
2) with the Republic of Azerbaijan. 25th anniversary of establishing diplomatic relations also to be issued during September 2018
3) with the Kyrgyz Republic, to be issued on November 5, 2018
The designs of these stamps were published on the Belarus philatelic web site. Also the design of the Armenia Belarus issue was published, but the confirmation of the existence of a real joint issue is still missing for this souvenir sheet. Date of issue will be September 21, 2018.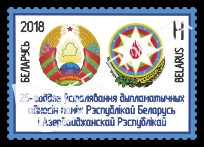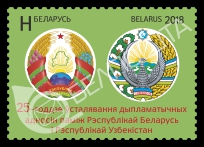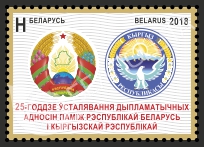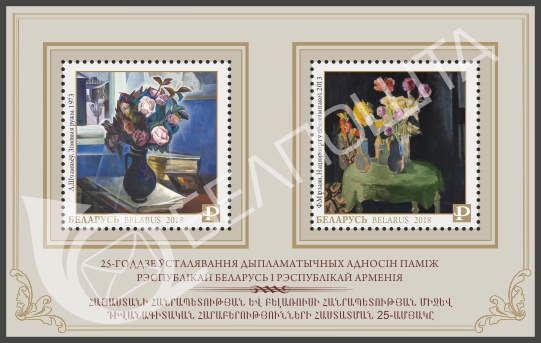 ---
August 27, 2018
News collected over the past month include the following:
United States Postal Service (USPS) has shared the release date for the joint issue with Israel. The stamp will be issued on October 16, 2018 in Newport, Rhode Island (information provided by Niket Bubna, USA).
On July 23, 2018, both Syria and South Ossetia jointly issued the following stamps. South Ossetia of course is not recognized by the UPU, and therefore this issue cannot be listed as a true joint issue. It will be reported in the catalogue under the [N] category. Note that this country is recognized by Russia as an autonomous region of Georgia (information provided by Don Birschel, USA).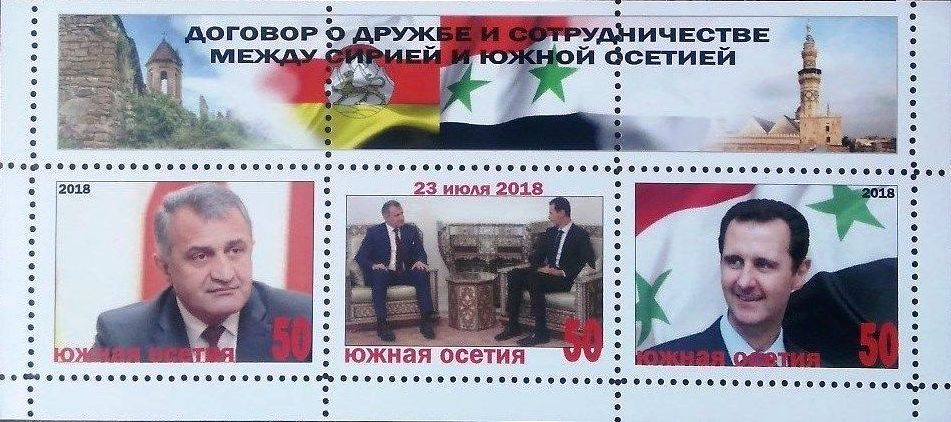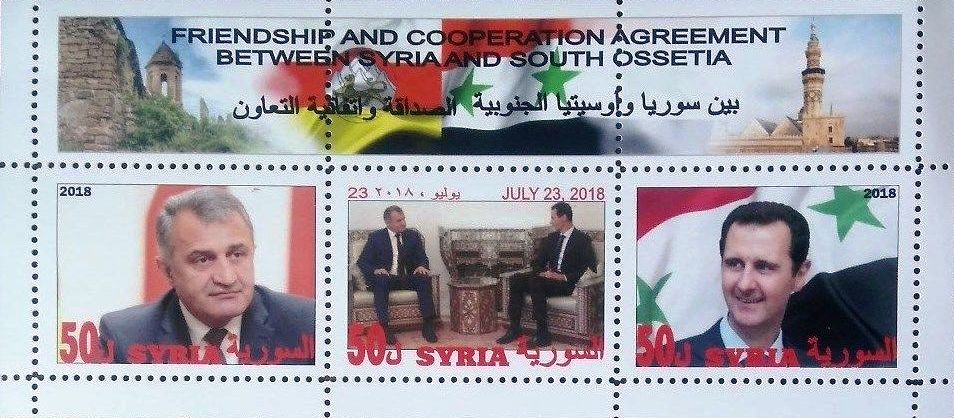 September 3, 2018: we were informed by Lars Kersten that the above issue is in fact a fake issue, produced to fool collectors and never seen in both South Ossetia and Syria. In particular it can be recognized by the fact that the arabic country name of Syria contains writing mistakes.
On August 10, 2018, Bosnia Herzegovina and Turkey released an unexpected joint issue showing the mosque in Milodraz (Bosnia). This mosque was built 555 years ago in 1463 (this information was provided by Don Birschel, USA and Jaap Sarelse, The Netherlands).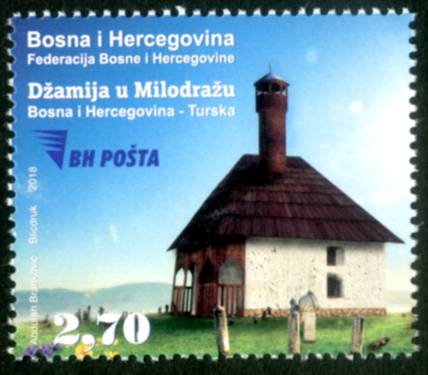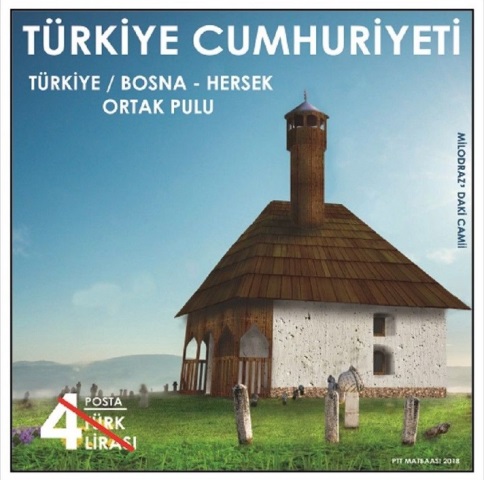 Gabriele Gatti (Italy) provided the first image of the Estonia - Israel joint issue to be released on August 28, 2018 and displaying the Litwinski House, in Tel Aviv, former location of the Estonia consulate as early as 1929 in this area.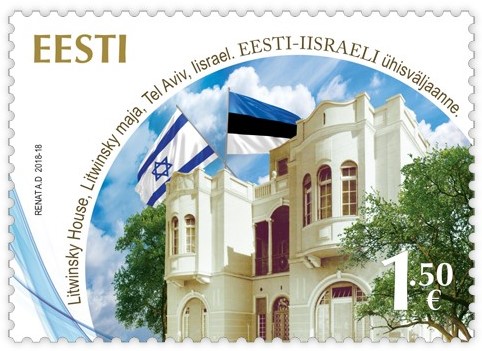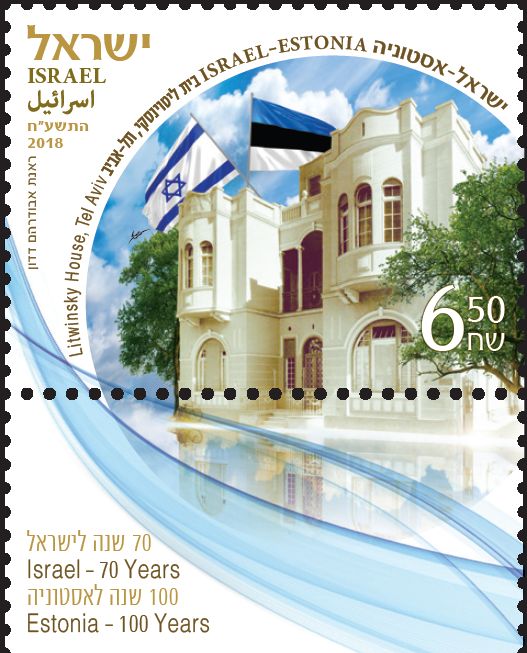 Niket Bubna (USA) provide the illustration of the joint stamp presentation packs from the [P20170808] ASEAN joint stamp series. The pack from Singapore contains only 7 stamps, but the one from Vietnam has 9 stamps including the stamps from Myanmar and Laos which were issued later. Only the Singapore pack has been reported so far. As there was a delay for two of the stamps of this series, this pack was released by end of 2017 or early 2018. Here is the illustration of the inside part of the Vietnam pack.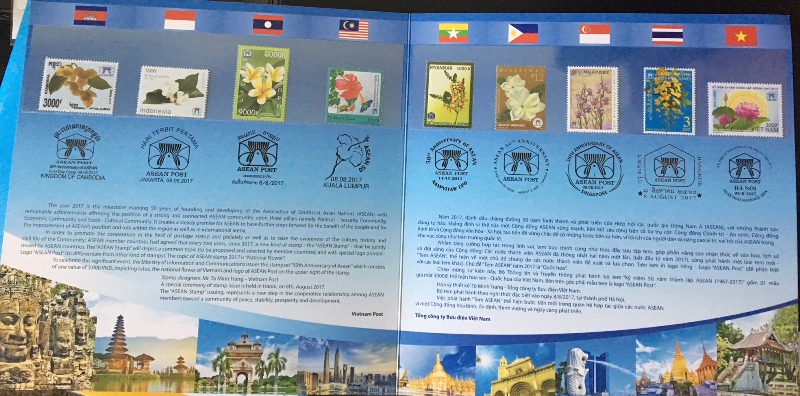 ---
August 27, 2018
Over the past weeks there were several requests for recognizing some older stamps as joint.
From Roland Montagne (France): during the year 2017, Brazil and Chile issued a stamp each to celebrate the 100th birthday of the Chilean artist and songwriter Violeta Parra (1917-1967). These stamps were issued also to celebrate the 150th anniversary of the relationship between both countries. These stamps have a different design and were issued at different dates respectively November 21, 2018 (Brazil) and December 28, 2018 (Chile). Additionally, and despite the fact that they celebrate the same anniversaries, none of the two postal adminsitrations claim it is a joint issue. Therefore these two stamps will not be reported in the catalogue.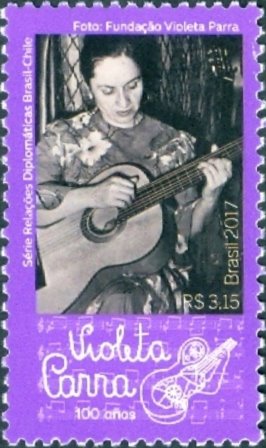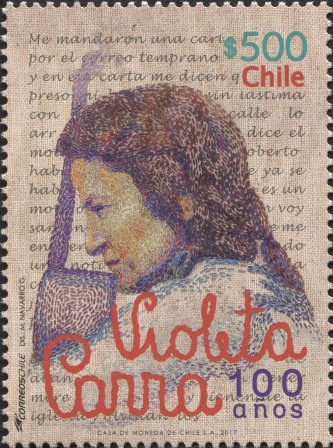 Don Birschel (USA) found a large series of stamps related to the "Day of the Ozone Layer" (Montreal Protocol). They all have in common a symbolic world made of nature pieces and protected by a hand. Actually these stamps are reported in the 2006 Catalogue at pages 226-227 under the heading [T19970916]. It is even a twin issue involving as much as 13 countries. Don added an unknown stationery item issued by the Czech Republic on September 10, 1997, illustrated below. Much more interesting is that Don found these stamps in a web site dedicated to meteorology and weather forecast technology stamps: www.rammb.cira.colostate.edu/dev/hillger/ozone.htm.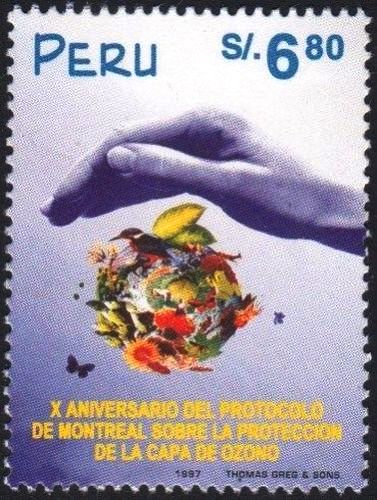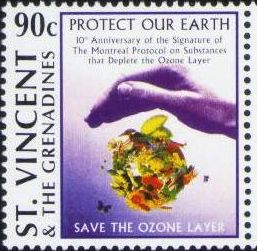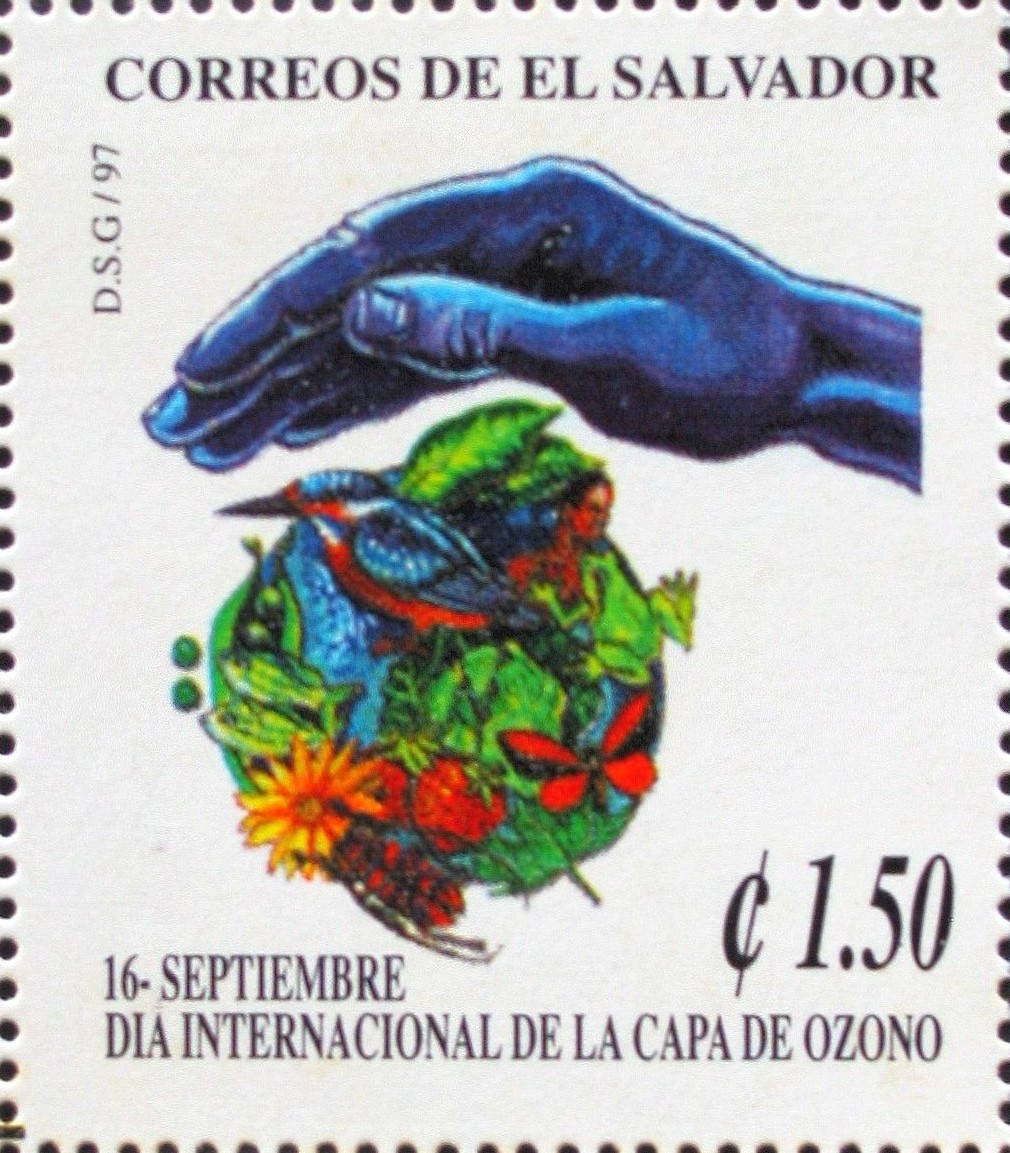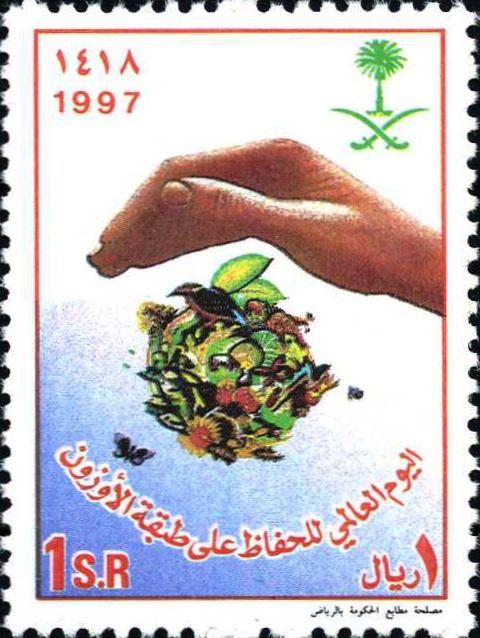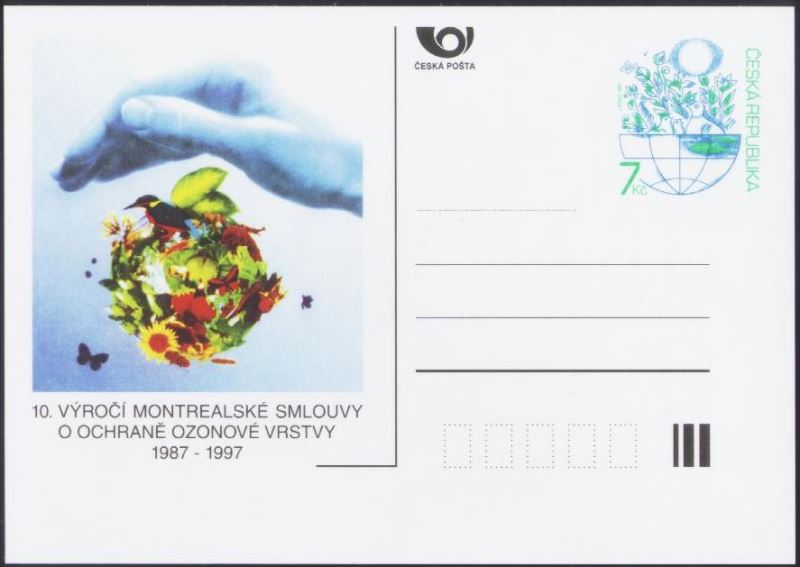 Jaap Sarelse (The Netherlands) discovered stamps related to the 50th year of participation of the Soviet Union to the Leipzig Fair. The German Democratic Republic issued on March 7, 1972 two stamps related to this event with the inscription "50 Jahre Soviet Union auf der Leipziger Messe - Leipziger Frühjahrsmesse 1972". Soviet Union issued on February 22, 1972 a single stamp showing similar illustrations (symbol of the fair, Soviet Union pavillion). This issue is at the limit of being a true joint issue, but it was decided to integrate it in the catalogue under the heading [C19720222].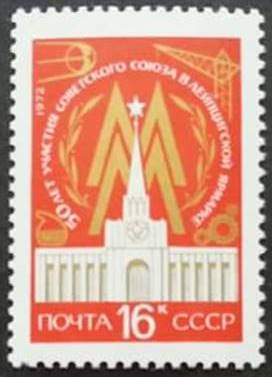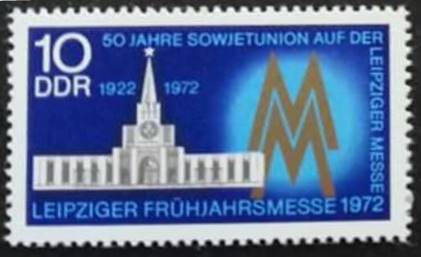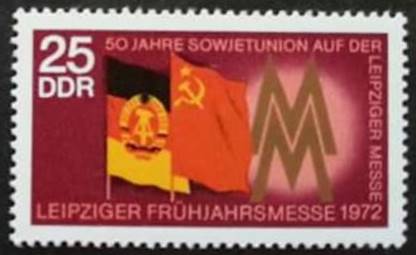 Luis Fé Santos (Portugal) reported some identical stamps released by Germany (West) and Berlin (West). The only difference is the additional word "Berlin" appearing on these stamps. In fact over the period 1949 to 1990, Berlin West issued its own stamps (more than 900) as a total independent postal entity and sometimes Germany (West) and Berlin agreed to use the same topic but only similar designs, usually complementing each other. The dates of issue were always the same. In some very rare cases, the design and the date were identical like in the case of stamps that Luis mentioned. These stamps have never been considered as joint, as Berlin West postal authority was actually a subsidiary of West Germany postal authority. The list of stamps with the same design and the same date is provided below. This list was published in the first Joint Stamp Issue Catalogue released in 1998 on pages 92-93 (in French only, not available anymore), but as these stamps were not joint, the list was not reproduced in the 2006 catalogue.
- 1964, July 1: Heinrich Lübke (2 stamps for each postal entity)
- 1964, September 19: Reichstag Berlin (1 stamp each)
- 1964, October 6: Tale, Sleeping Beauty (4 stamps each)
- 1964, November 21: John F. Kennedy (1 stamp each)
- 1965, April 1: stamps for youth, birds (4 stamps each)
- 1965, October 6: Tale, Cinderella (4 stamps each)
- 1966, April 22: stamps for youth, furred game (4 stamps each)
- 1966, October 5: Tale, the king of frogs (4 stamps each)
- 1967, April 4: stamps for youth, fur animals (4 stamps each)
- 1967, October 3: Tale, the fairy Holle (4 stamps each)
- 1967, October 14: Heinrich Lübcke (4 stamps each, identical to those issued in 1964)
- 1968, February 2: stamps for youth, European animals in the process of extinction (4 stamps each)
- 1969, February 6: stamps for the youth, horses (4 stamps each)
- 1971, January 18: 100th anniversary of the foundation of the German Empire (Reich) (1 stamp each)
- 1987, January 15: 750th anniversary of the town of Berlin (1 stamp each)
---
July 28, 2018
The mail sent about a week ago to all members triggered several interesting comments and additional news:
Richard Li (China PR) provided the copy of a mail from the Chinese postal administration which clearly states that the planned China - Spain joint issue will not take place at least not in the near future. We will remove this issue from our list.
Niket Bubna (USA) and Wayne Chen (USA) provided some additional information about the next Israel - USA joint issue: the date is not fixed yet It will be the second US-Israel joint issue on Hanukkah since 1996. A menorah will be featured on a the stamps that reproduces Jewish folk art paper cutting techniques.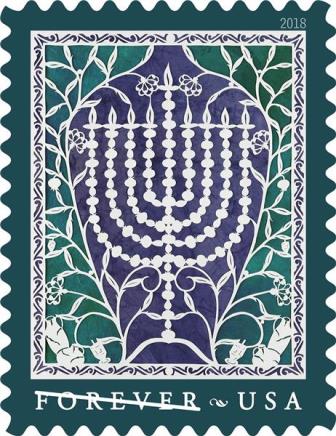 From Grzegorz Omelanczuk (Poland) and Don Birschel (USA) provided details about the most recent Poland and Lithuania joint issue, a series not reported so far. Stamps were issued on July 27, 2018 and are celebrating the 300th Anniversary of the Coronation of Our Lady of Trakai - Lithuanian Patroness.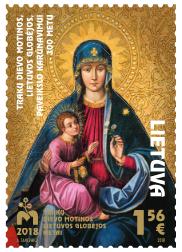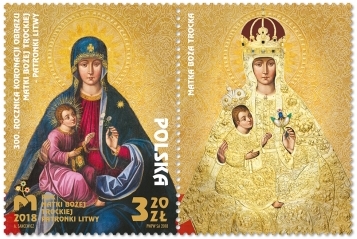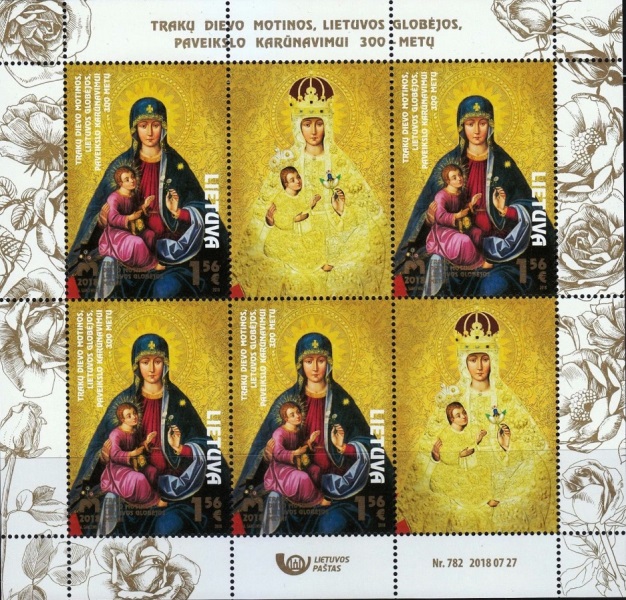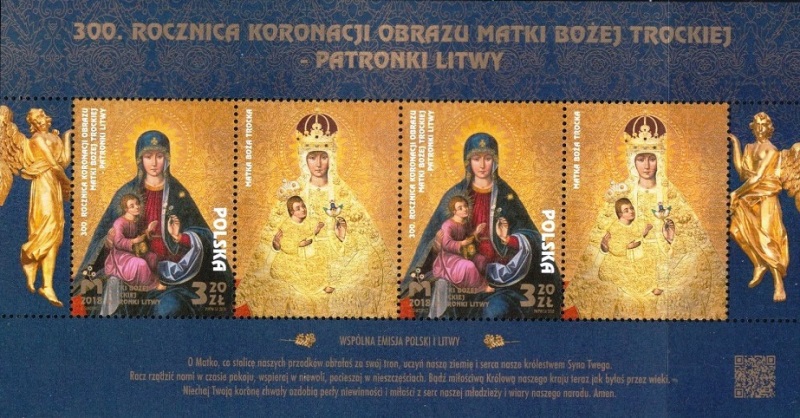 Mansoor Moazzeni (Iran) reported a stamp linked to the 2000, May 9 Europa issue and released under the country name Crna Gora. Actually Crna Gora is the local name of Montenegro, but in the year 2000, Montenegro did not exist as an independent state. This happened only six years later, in 2006. Therefore these stamps have to be reported in the catalogue under the heading [T20000509] but as non-UPU-recognized stamps, in the same way stamps from Transnistria are also listed in this chapter. A booklet containing 5 stamps was available. We are now looking for a more precise date of issue.


---
July 22, 2018
It is highly time to update this page. The following reports about all new stamps issued in the past months and not reported up to now:
On April 27, 2018, Ecuadorissued a souvenir sheet with two stamps showing trains and train stations. This was supposed to become a joint issue with Paraguay. The first day cover and the stamps were very recently discovered by Jaap Sarelse (The Netherlands) and clearly claim on the stamps the joint character. It appears that the Paraguay stamps were released only on June 13, 2018. This issue will therefore be considered as Concerted.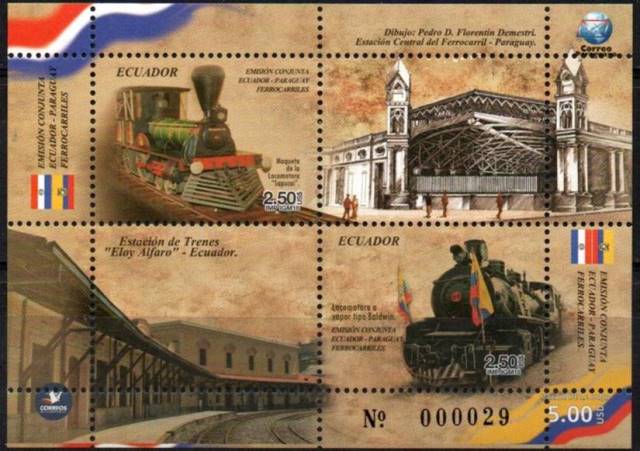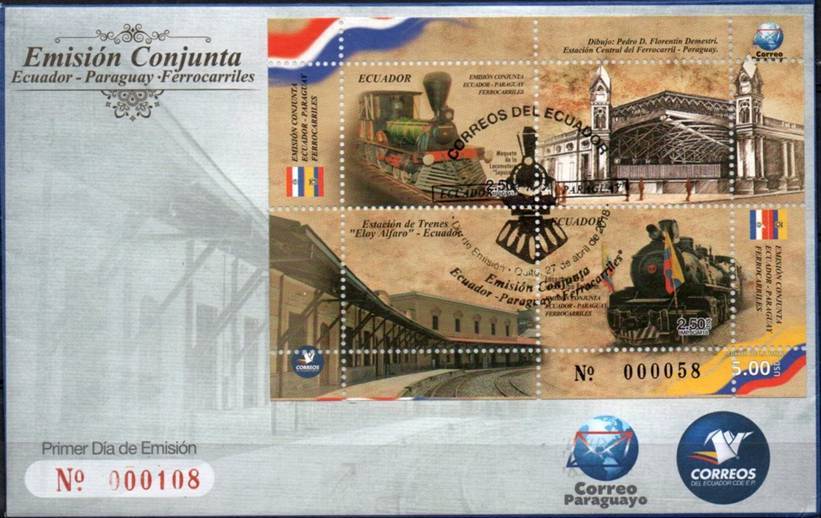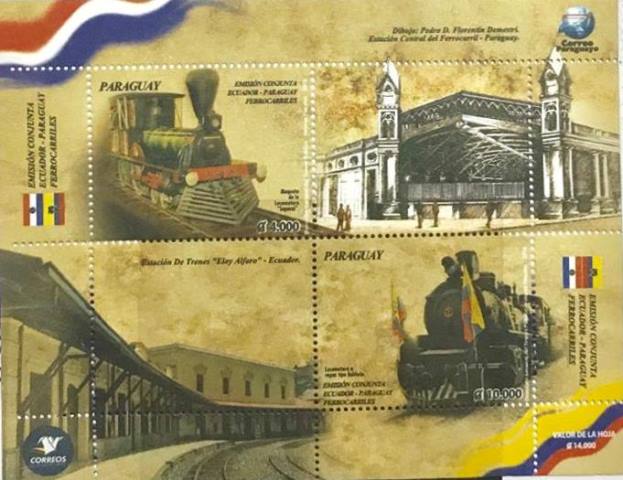 Colombia and Mexico issued each two stamps in relation with the official Colombia-Mexico year 2017-2018. This issue is a little borderline, but we finally decided to accept it as joint because these stamps were generated in a concerted action between the two countries' postal administrations. The dates of issue are not the same (May 9, 2018 for Colombia, June 15, 2018 for Mexico) and the designs are different. However the topic for each stamp is the same. Both countries decided to dedicate the stamps to their local butterfly. In the original catalogue we had already created a special category for this type of issue and it was called [C3], concerted issue with similar (not identical) stamps. Jaap Sarelse (The Netherlands) discovered first these stamps. The Colombia stamps are available in miniature sheets with two pairs.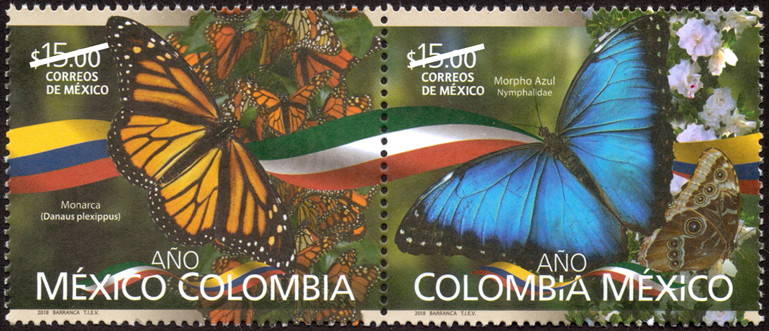 The Russia Singapore stamps celebrating the 50th anniversary of the collaboration between both countries became finally a Concerted issue. The Singapore stamps were issues on June 1, 2018, while the Russian stamps became available only on June 25, 2018. Russia produced a pair of se-tenant stamps available in miniature sheets of 4 pairs [1px4] chessboard ordered. Singapore issued two stamps in individual miniature sheets of 10 stamps 2x[2x5] and a souvenir sheet with a pair of se-tenant stamps. Wee Kiat Tan (Singapore) and Xu Tai (PR China) provided the relevant information and access to pictures.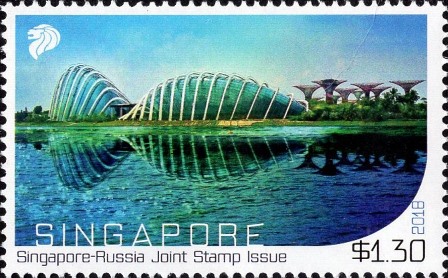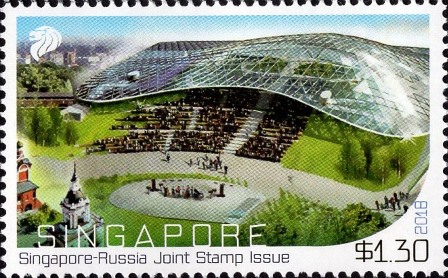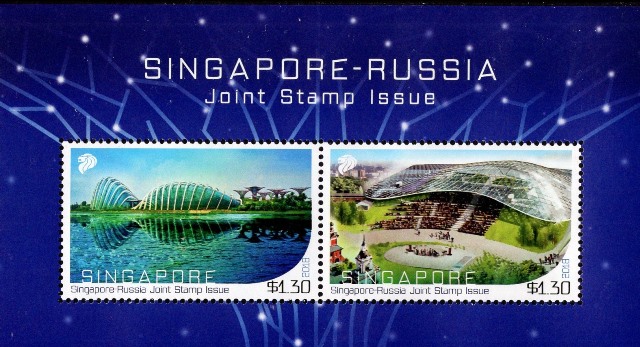 The stamps related to the Festival of Fire (Summer solstice) and issued by French Andorra and Spanish Andorra (different designs) respectively on June 9, 2018 and June 22, 2018 are not to be considered as a joint issue. This was definitely confirmed by both postal administrations upon a specific written request from Jaap Sarelse.
Peter Ruznak (Germany) and Wayne Chen (USA) found a joint issue released on June 26, 2018 and involving Palau and Taiwan. This issue is related to the protection of sharks and turtles. It has been a long time since Taiwan was involved in a true joint issue. In this case it seems even that mixed first day covers with stamps (not souvenir sheets) became available.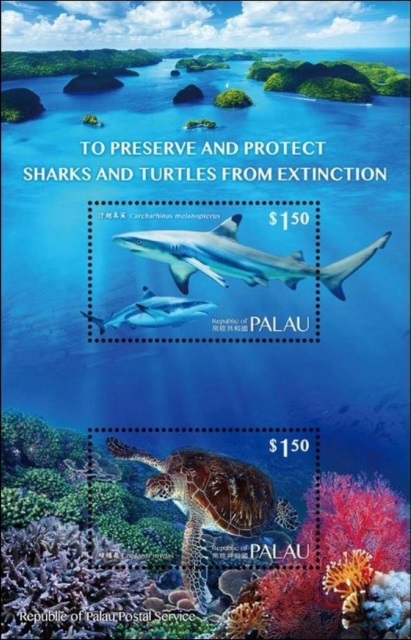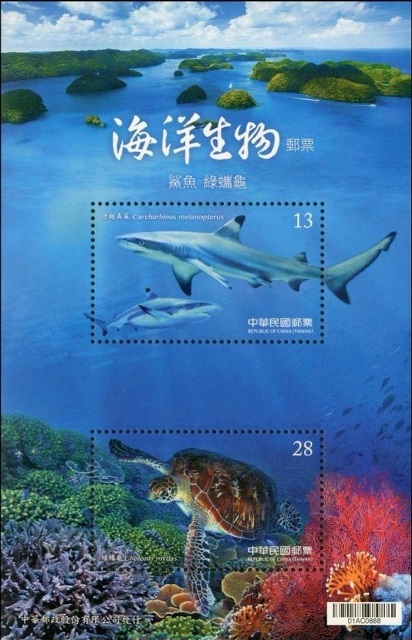 Don Birschel could provide almost all pictures related to the Euromed issue released on July 9, 2018. This year the topic is related to Mediterranean houses. So far the following countries have already issued their stamp(s): Croatia (July 10) (1 stamp) - Cyprus (1 stamp) - France (July 6) (1 stamp) - Greece (July 20) (4 stamps in individual panes, souvenir sheets with one stamp, and booklet with all fours stamps se-tenant) - Jordan (souvenir sheet with 4 stamps) - Lebanon (1 stamp) - Malta (2 stamps) - Morocco (4 stamps) - Portugal (2 stamps) - Slovenia (1 stamp) - Spain (1 stamp) - Tunisia (2 stamps and a souvenir sheet with 2 stamps) - Turkey (2 stamps). Spain and Turkey are newcomers this year. Up to 16 countries could now be involved in Euromed stamp production and therefore the following countries are still missing and could issue a stamp in the short future: Egypt, Libya and Palestine.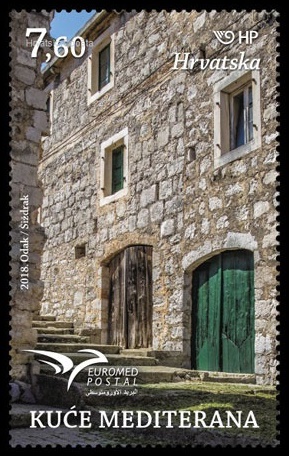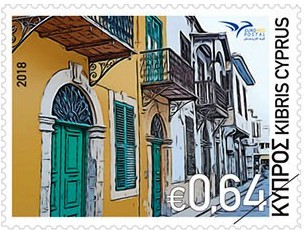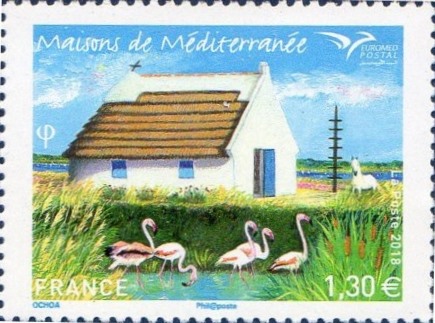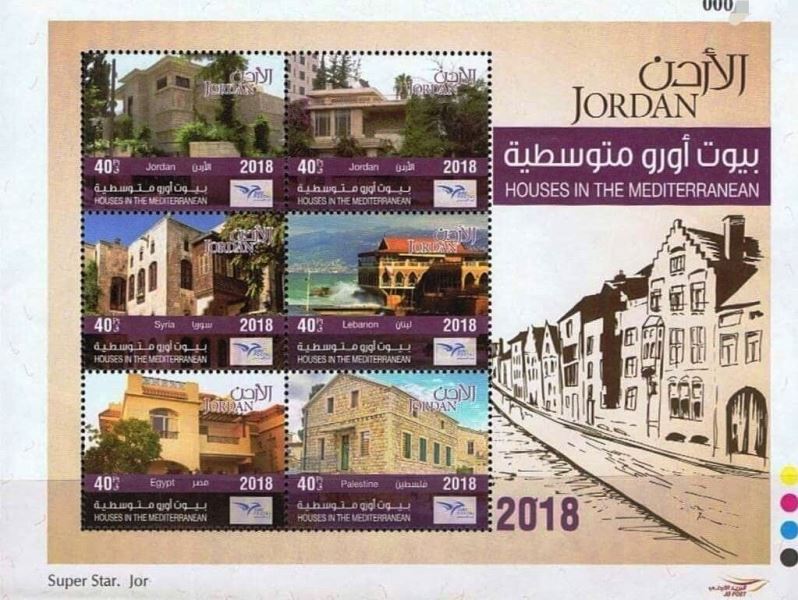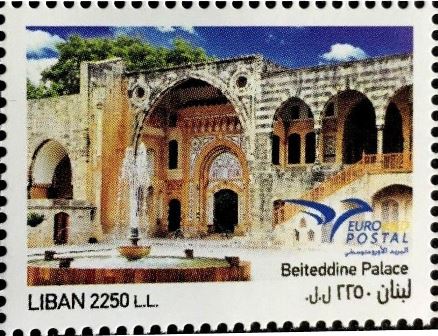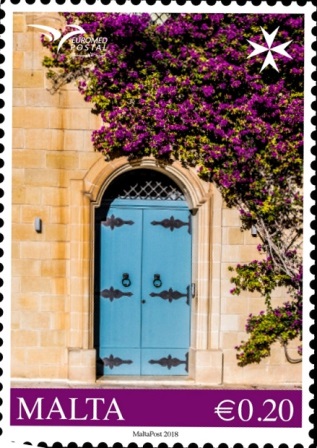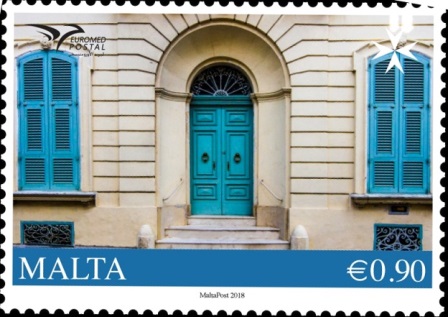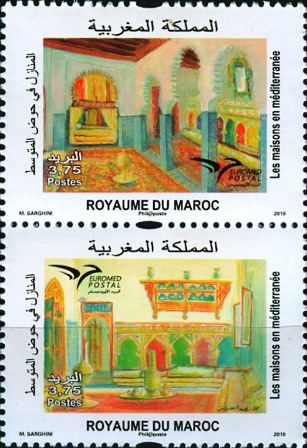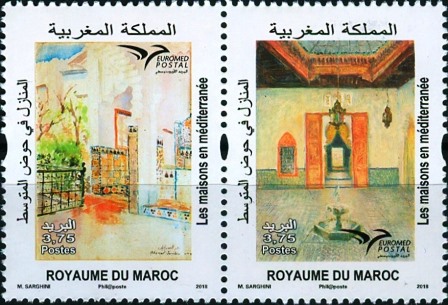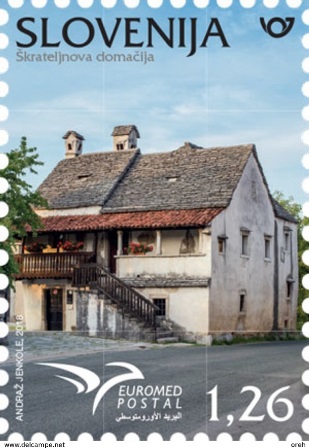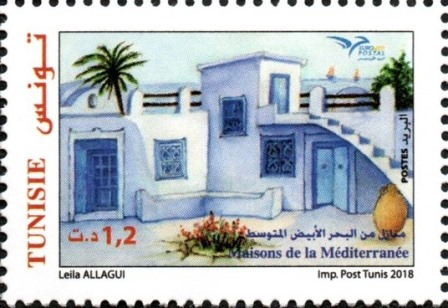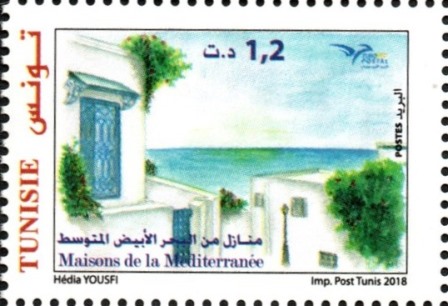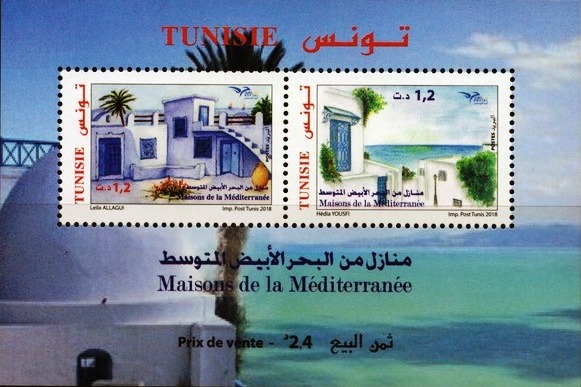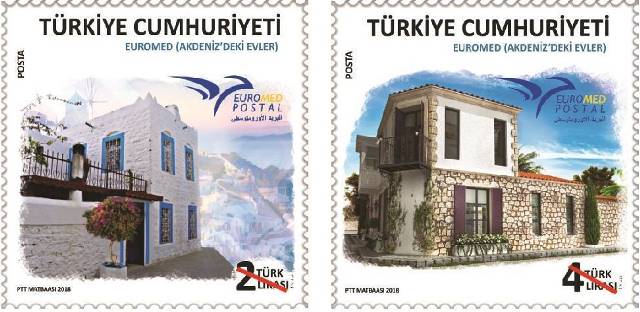 The first information about the Germany - South Africa joint issue was provided by Rindert Paalman (The Netherlands). These non-identical stamps issued on July 12, 2018 are celebrating the 100th birthday of Nelson Mandela. Germany issued its stamp in miniature sheets of 10 stamps. South Africa issued a souvenir sheet. It remains quite difficult to collect information from South Africa and any additional information about this country and stamps released in this frame or the following issues described below are highly welcome.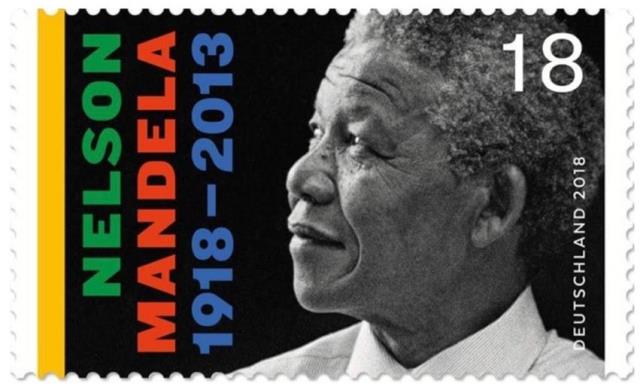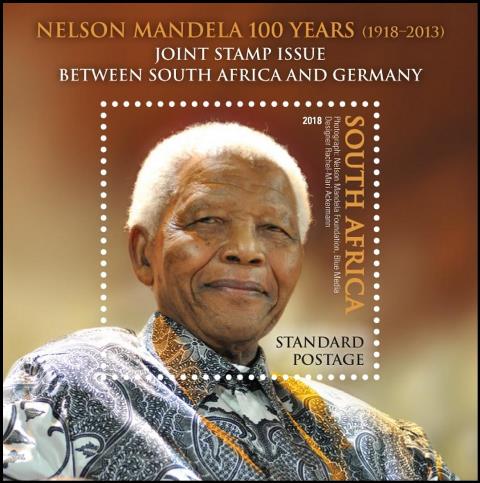 India and South Africa also issued joint stamps at this occasion. Date of issue should apparently be July 26, 2018, even if the stamps are already proposed for sale on Delcampe. This date corresponds to the time the next BRICS Summit takes place in Johannesburg and the Indian Prime Minister visits South Africa. Jaap Sarelse (The Netherlands), Kenneth Sequeira (Dubai) and Don Birschel (USA) were first to find these illustrations.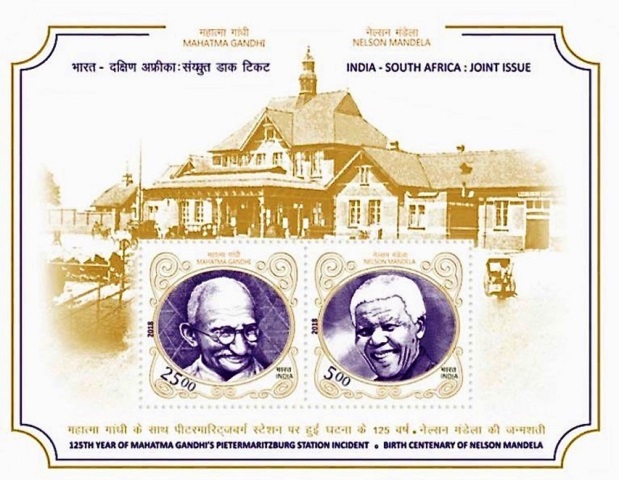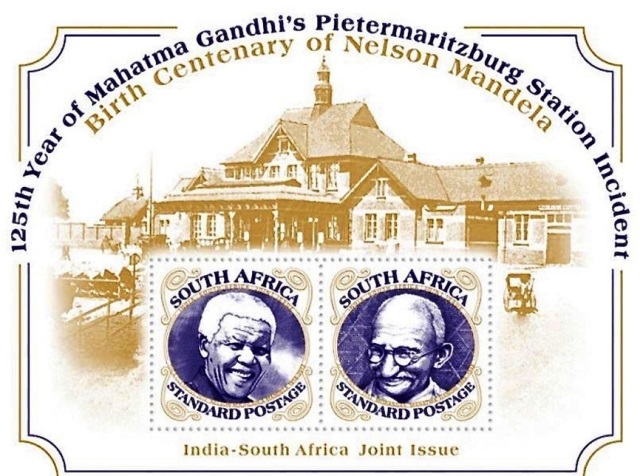 The 100th birthday anniversary of Nelson Mandela was celebrated all over the world, but another common joint issue took place through the Pan-African Postal Union (PAPU) countries. So far we have identified the following countries having issued a similar stamp at this occasion (it seems that the first stamps have been issued on July 18, 2018; some of them may have been released at different dates): Algeria, Burkina Faso, Gambia, Liberia, Niger, Togo, Tunisia. Wayne Chen (USA), Don Birschel (USA) and Jaap Sarelse (The Netherlands) were the first to react. Tunisia has issued a stamp with a different portrait of Nelson Mandela.
The PAPU consists presently of 45 members countries, so there are probably more stamps to come. For those who want to watch specific countries, here is the list of additional countries which are entitled as PAPU members to participate to this issue: Angola - Benin - Botswana - Burundi - Cameroon - Central Africa Republic - Chad - Comoros - Congo Republic - Congo (Democratic Republic) - Egypt - Equatorial Guinea - Eritrea - Ethiopia - Gabon - Ghana - Guinea - Ivory Coast - Kenya - Lesotho - Libya - Madagascar - Malawi - Mali - Morocco - Mozambique - Namibia - Nigeria - Senegal - Sierra Leone - Somalia - South Africa - Sudan - Swaziland - Tanzania - Uganda - Zambia - Zimbabwe.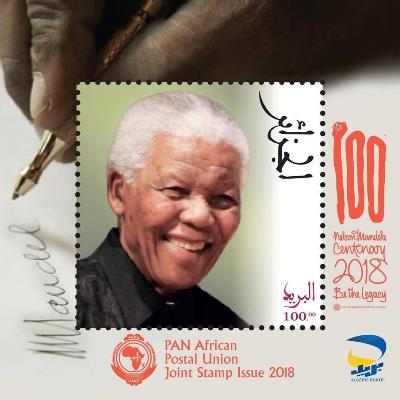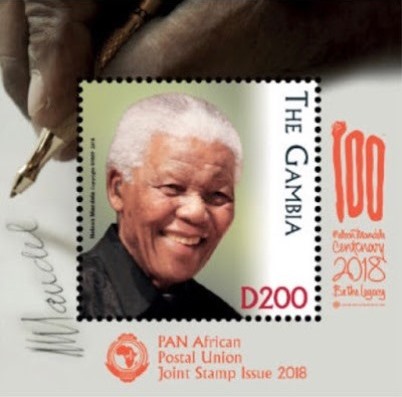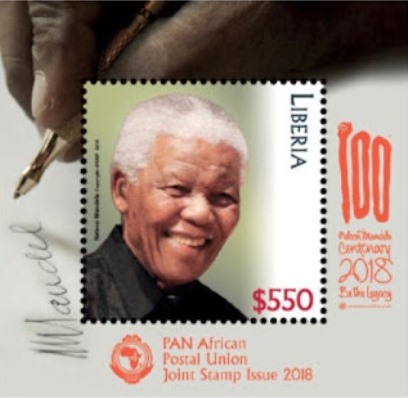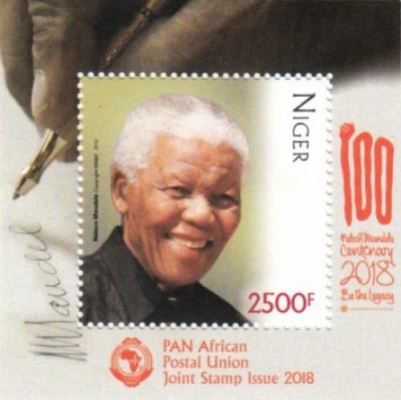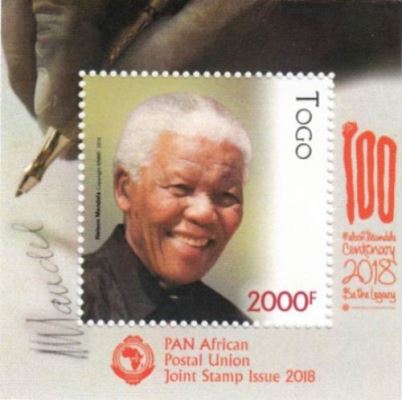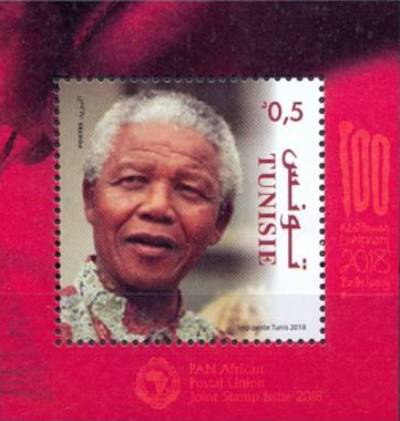 ---
July 22, 2018
Additional information about issues to be released soon came also in. The complete information about future issues is as usual collected in the page upcoming issues.
There is still a question about the China Territorial Siamese sheet related to the Hong Kong - Zhuhai - Macao bridge opening. In fact these stamps will be released at the date of the official inauguration but the building of the bridge is delayed. Wayne Chen (USA) found the first illustration of the siamese sheet that is supposed to be released when opening. This item bears stamps from China PR, Hong Kong and Macao. The opening is now announced for August 2018. There was some concern about the structure of the building: the concrete blocks protecting an artificial island connecting the Hong Kong side of the bridge to the tunnel under Mainland China's waters have been damaged by waves. Expert claim this is not an issue, but some construction checks were needed.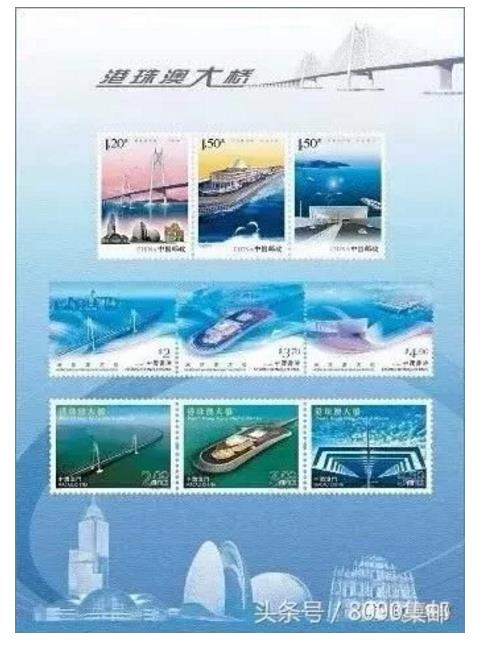 The design of the Israel stamp to be released jointly with Estonia on August 27, 2018 was made available. Estonia maintained the date of issue of August 25, 2018 so far. Also Israel still plans to issue a joint stamp with the United States of America, but the date of issue remains unchanged and unprecise as Quarter IV, 2018.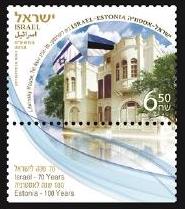 Our friend Ali Ahmed Med Achour (Algeria) published recently (June 7, 2018) a paper in the Algerian newspaper El Watan that was also reproduced in the 'Le Monde Philatélique' news about a joint issue under preparation involving the Arab countries and officially entitled "Jerusalem is the capital of Palestine". The proposal was made by Palestine and based upon a design that was submitted recently to all countries interested in participating. The stamps are supposed to be issued on December 8, 2018, the anniversary date of the recognition of Jerusalem being the capital of Israel by the US president Donald Trump. Unfortunately it appears that on this original design the map of the Arab world is not satisfying for several countries including Mauritania (which is missing), Morocco (issue with Western Sahara) and Sudan (new borders since 2012).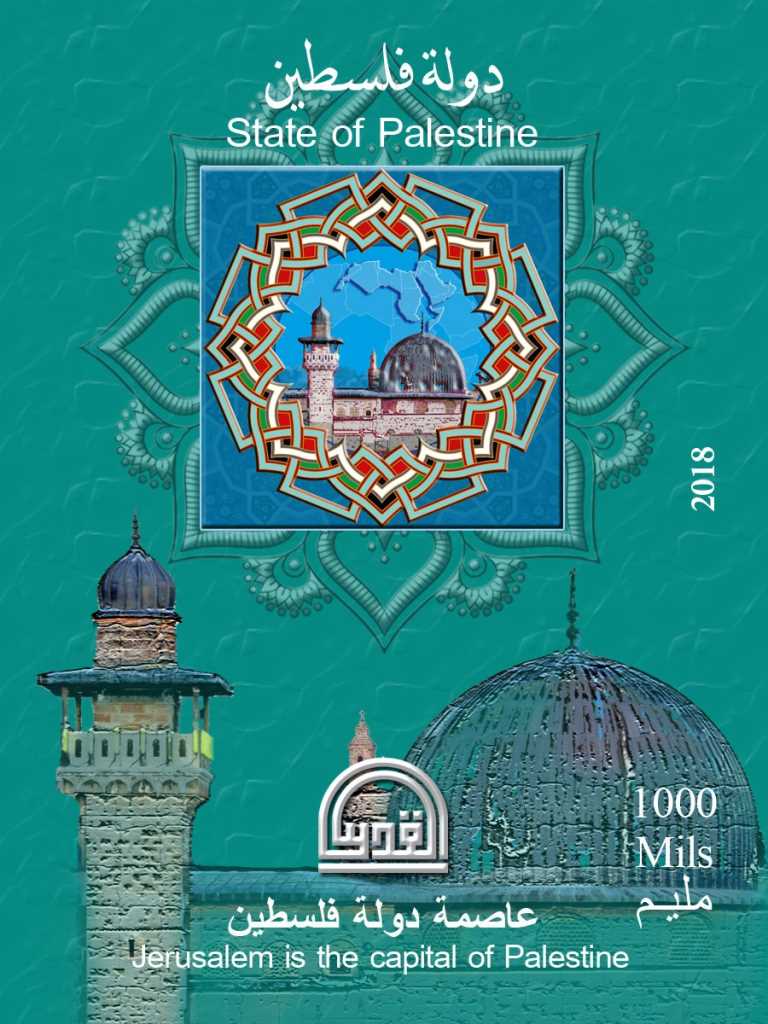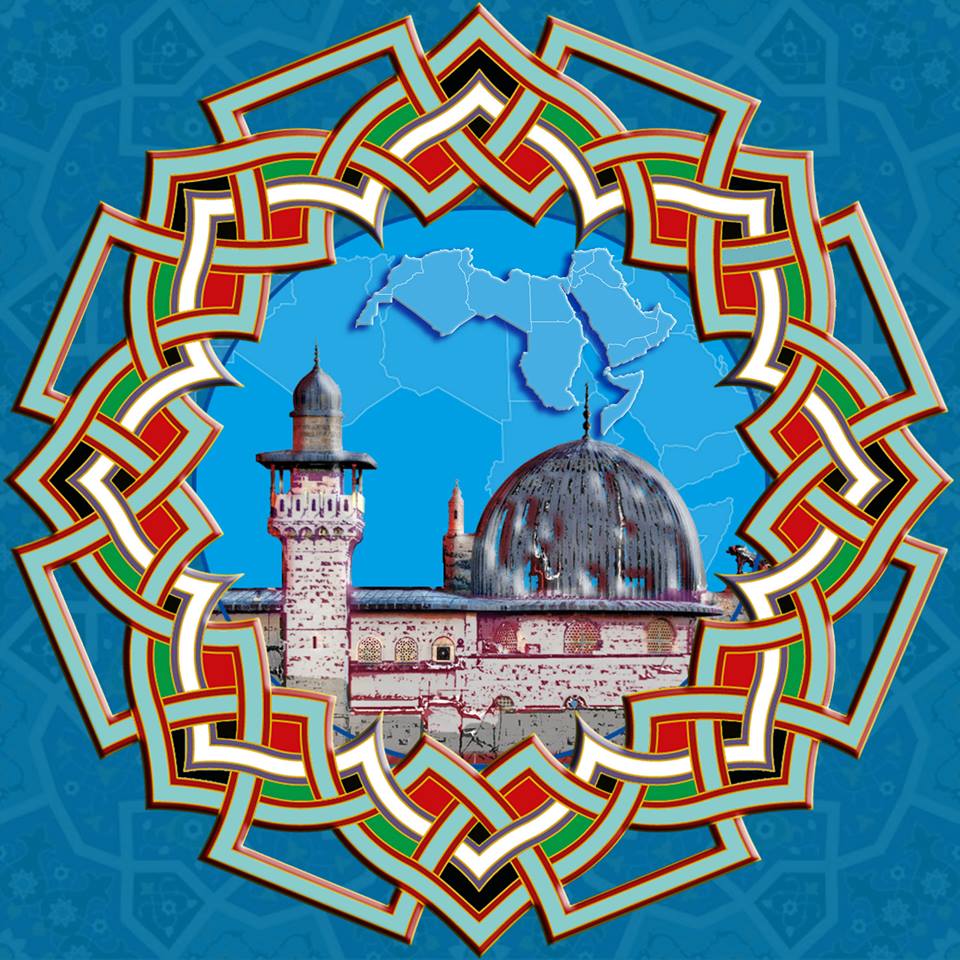 The solution is quite simple as it would just be sufficient to take the map that appeared on the 2012 Arab joint issue and that was approved at that time by all participants. Alos there is sufficient time remaining to make all corrections. This does not tell if the stamps will be issued, but in any case this issue will have a major political meaning.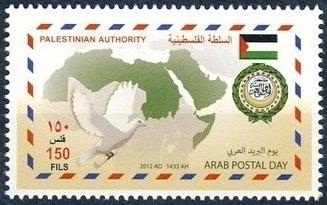 ---
July 22, 2018
Some collectors raised also some questions about older issues. Here is a summary:
Luis Fe Santos (Portugal) found the following potential Joint Issues:
Aitutaki – Cook Islands (respectively exact dates of issue between brackets, when known - one date only if the same)
1973 (March 15) / (May 14) – Coins - 7 identical stamps - definitive stamps
1986 (August 4) – Stampex Adelaide - souvenir sheets with 3 or 4 different stamps - no joint character
1992 (October 16) – Royal Visit - overprinted stamps defitive stamps
1994 (July 20) – 25th Anniversary of First Manned Moon Landing - different stamps - no joint character
1995 (September 4) – End of WWII - different stamps - no joint character
1995 (December 1) / (November 20) – Year of the Sea Turtle - different stamps - no commemorative stamps, no joint character
1997 (November 20) – Royal Wedding - different stamps and souvenir sheet - no joint character
1999 (December 31) – New Millenium - overprinted stamps from 1992 - no joint character
2003 (September 30) – United We Stand - different stamps - no commemorative stamps, no joint character
2005 (November 11) – John Paul II - different stamps - no joint character
2015 (January 5) – Chinese New Year - different stamps - no commemorative stamps, no joint character
2015 (June 23) – Princess Charlotte - different souvenir sheets - no joint character
2015 (September 25) – Chinese New Year 2 - different stamps - no commemorative stamps, no joint character
2015 (November 20) – Longest Reign - different stamps - no joint character
2016 (May 10) – 90th Anniversary of the Queen - different stamps - no joint character
2016 (May 27) – Pacific Marine Life - 9 to 12 different stamps - no joint character
2016 (August 10) – Chinese New Year - different stamps - no commemorative stamps, no joint character
2017 (April 12) – Easter - different stamps - no commemorative stamps, no joint character
2017 (July 3) – John F. Kennedy - different stamps - no joint character
2017 (July 17) – Queen Elisabeth II Sapphire Jubilee (65 years) - different stamps - no joint character
Aitutaki – Rarotonga
1920 (August 23) / (1920) - Local Motifs - reprinted in 1925 - 6 identical (definitive) stamps : no commemorative stamps, no joint character
The answer will be as usual for this type of stamps, but as this question may arise again, it is important to remind for each new request: Aitutaki and Cook Islands and even more Aitutaki and Rarotonga are postally tightly connected (Rarotonga stamps are often overprinted Cook Island stamps) and stamps from all these postal entities are printed at the same place. In the worst case and if acceptable, these stamps should be reported as Territorial/ Depencies [D] issues. However the second major criteria for defining a joint issue is the fact that a joint issue is celebrating a common event and the joint character is reinforced by statements from these postal administrations. Then we try to confirm by finding next to the common character a common design (which here it is the case) and a common date of issue. If there is no obvious and official joint character we still keep in the catalogue the issues that can induce misinterpretations but under the chapter non-approved [N]. Unfortunately and for the reasons listed above, none of these issues can be considered as joint.
Luis mentionned also a series of stamps and souvenir sheets issued at the diverse occasions of the travels of the US President Donald Trump (China, Davos, Israel, Vatican). These stamps were produced during the first half of the year 2018 by the group IGCP for countries including Antigua and Barbuda, The Gambia, Grenada, Liberia, Marshall Islands, Nevis, Palau or Tuvalu. For the same reason (absence of coordination between the countries, no joint character, different dates of issue, different designs) these stamps cannot be considered as joint.
In the same way, Mansoor Moazzeni (Iran) discovered a series of souvenir sheets commemorating the 90th anniversary of Marylin Monroe. This is a different case as all items are identical. However this series must be considered as an omnibus series produced centrally. It involves so far Central Africa (2016), Mozambique (2016), Niger (October 24, 2016), Solomon Islands (December 1, 2016) and Togo (December 15, 2016) . This series will be reported for the time being under the heading [O20161024].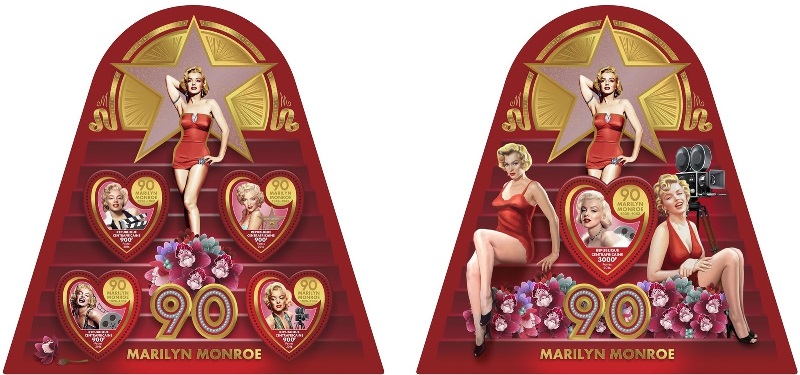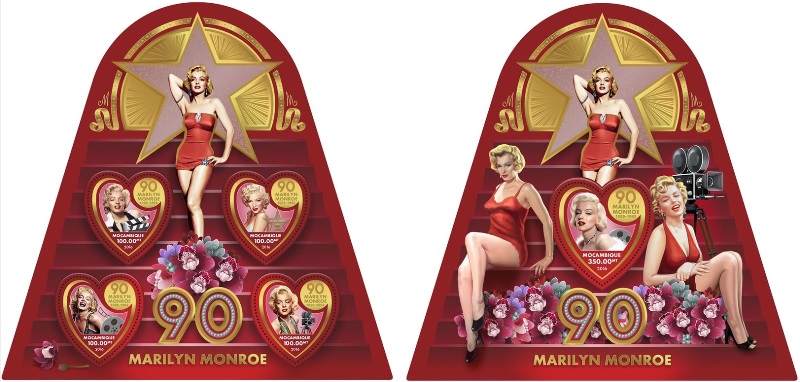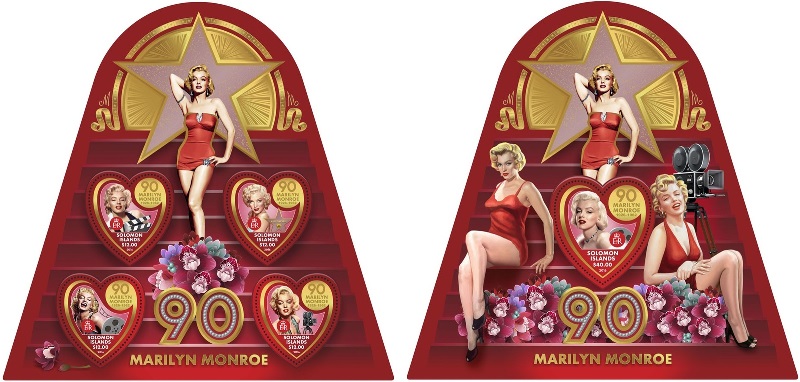 Mansoor provided also some links to a series of similar souvenir sheets with usually 4 stamps issued by different countries during the year 2003 on the occasion of the 100th Anniversary of the Circus. Each country issued two souvenir sheets and the dates of issue are as follow:
2003, January 7: Grenada - Saint Vincent - Saint Vincent and the Grenadines - Sierra Leone
2003, January 9: Antigua and Barbuda – Gambia
2003, July 14: Grenada Grenadines
2003, July 15: Liberia
2003, August 25: Micronesia
2003, September 29: Palau
For the same reason as described above (no joint character stated by the respective postal administrations, no common design, no common date) forbid these stamps to be considered as joint. They will not be reported in the catalogue. Additionally these stamps have been created by the same printing house and are intended for collectors only.
Larry Dodson (USA) referred back to a series of stamps issued in Europe and entitled "Shrines of Europe" (English word appearing on all stamps). This series was not considered as joint despite a common title among all participating countries, because dates of issue and designs were individual. However The Portuguese postal administration released a special folder containing all these stamps. We will have to consider these stamps as a joint issue, even if we have not seen mixed covers so far, for the reason that a common wording in a common language was accepted by all postal administrations. The series will be reported as [P20160502].
The countries having participated to this series include:
Austria (2017, May 12)

: 1 stamp - The Basilica of Mariazell


Germany (2017, May 2)

: 1 stamp - Gnadenkapelle Shrine in Altötting


Portugal (2017, May 2)

: 1 stamp and 1 souvenir sheet - Fatima Shrine

In fact 6 sites are presently part of this network "Shrines of Europe" (pilgrimage sites - see http://www.shrines-of-europe.com/ and in our series the sites of Lourdes (France), Loreto (Italy) and Czestochowa (Poland) are missing for completeness. Let us hope that the next time this group releases stamps all countries will participate with an issue at a common date.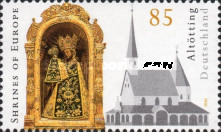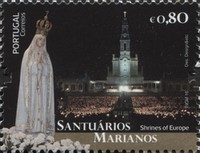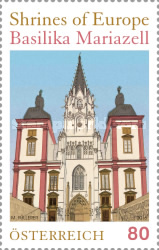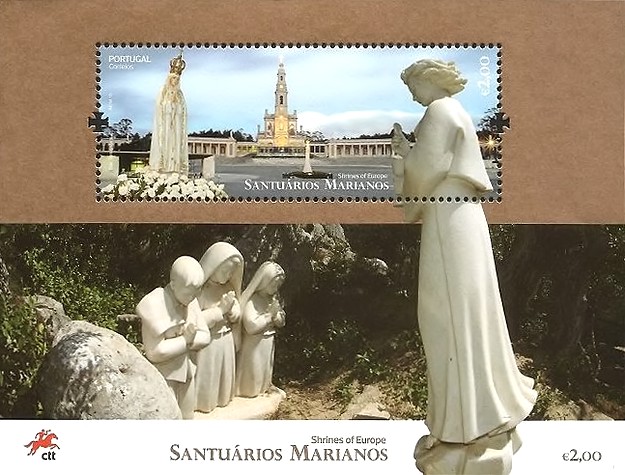 Anthony Raynaud (France) discovered the following UNESCO series that we defintely will have to report as a new joint issue characterized by a similar design. There is no common date but most of the countries have issued their stamps during the month of February 1972 and two countries have issued their stamps on February 5, 1972. Therefore this becomes also the name of the issue [C19720205]. The issue includes Algeria (January 24) - Bulgaria (May 6) - Cambodia (February 7) - Cuba (December 8) - Ivory Coast (February 5) - Morocco (February 25) - New Caledonia (February 5) - Togo (February 26). The issue is devoted to the UNESCO campaign "Save Venice" and considered as a Concerted issue [C1] because the different designs bear a similar style. Stamps are illustrated with either A, the Bridge of Sighs; B, The Winged Lion of Saint Marc; C, Saint Marc Basilica; D, the Casa d'Oro; E, the Rialto Bridge. Multicolored.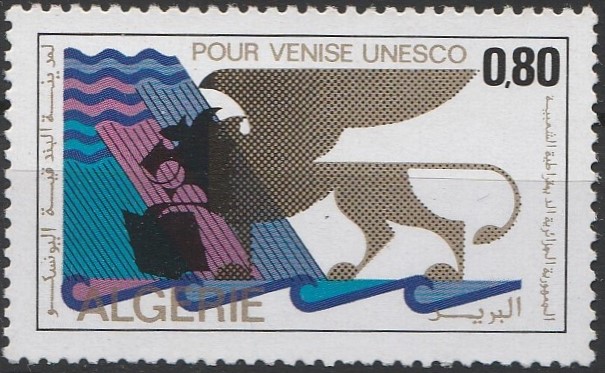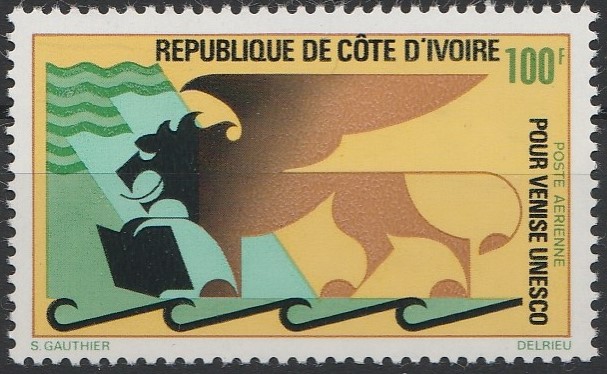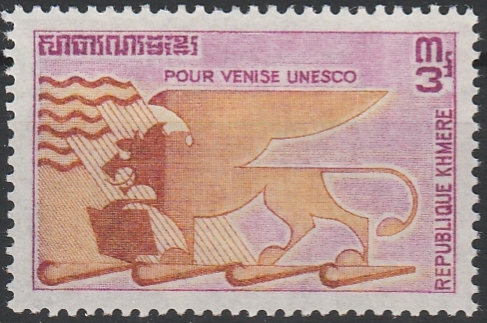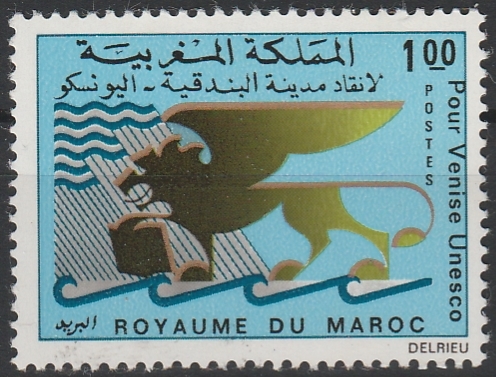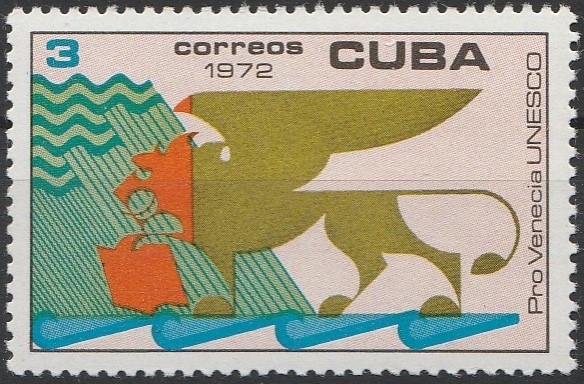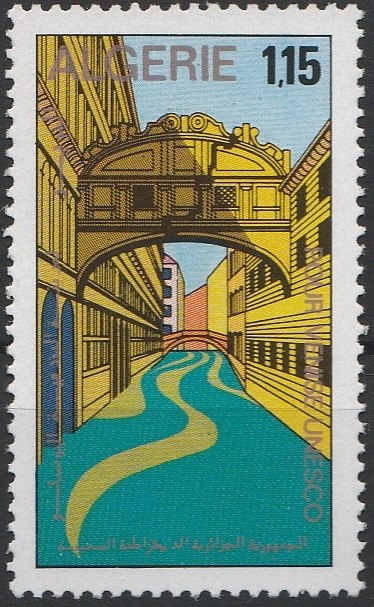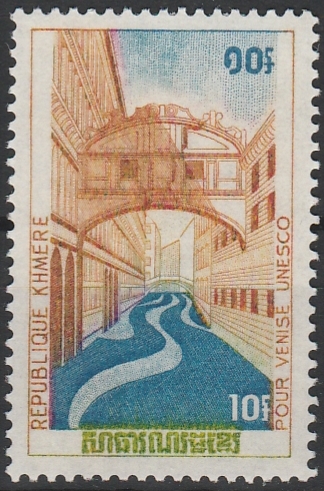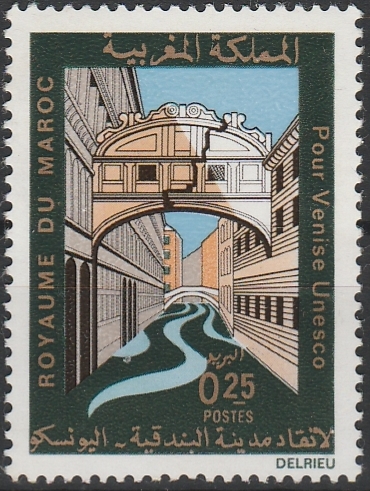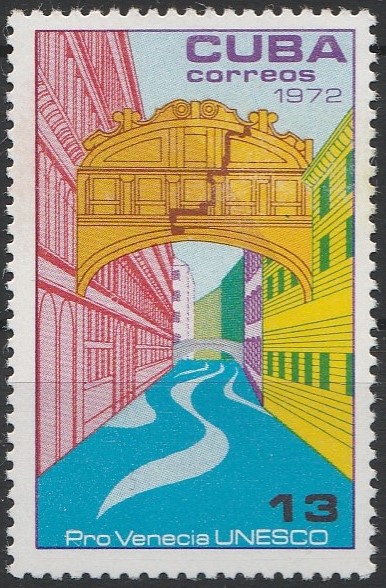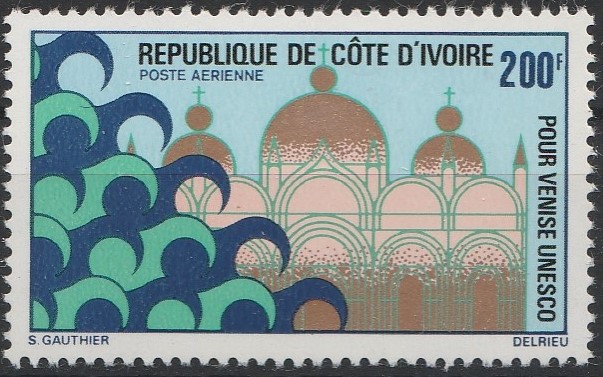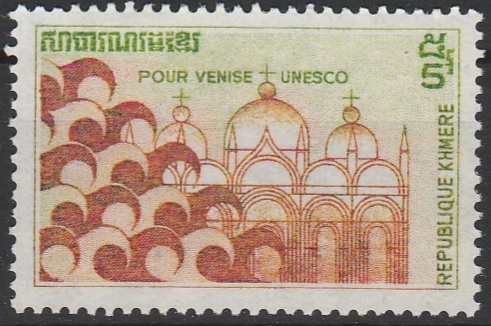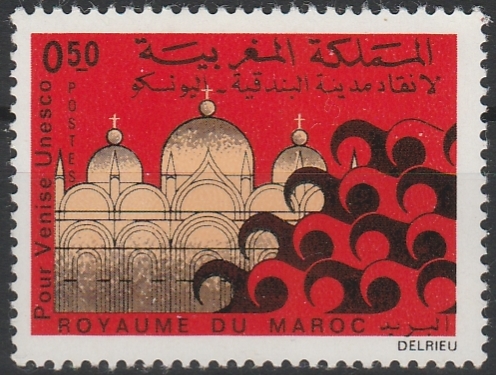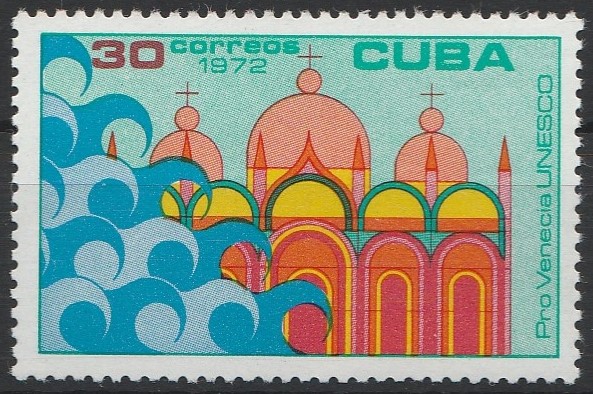 A second series related to the same UNESCO aim was illustrated by different paintings of Venice landscapes and Carnival of Venice. The countries involved in these series are all African: Cameroun (March 19) - Chad (May 23) - Gabon (February 7) - Mali (February 21) - Mauritania (February 14) - Niger (February 7) - Senegal (February 26) - Upper Volta (February 28)
Other countries have issued stamps to support this action with completely different designs, but all in relation with Venice in form of either pictures, symbols, landscapes or paintings: Burundi (1971, December 27), 8 stamps and 2 souvenir sheets; Iran (1973, May 5), 2 stamps; Italy (1973, March 5), 1 stamp and (1973, April 10), 4 stamps; Monaco (April 27), 3 stamps; Mongolia (October 1), 7 stamps; Pakistan (February 2), 1 stamp; Romania (October 20), 6 timbres and 1 souvenir sheet; Tunisia (February 2), 4 stamps; Vatican (June 6), 6 stamps. These stamps are not part of the joint issue but worth to be mentionned for completeness.
---
July 1, 2018
The News from the period April to June 2018 have been archived.
---
All previous information reported in this section is to be found in the News Archives.