Archives Quarter 3, 2014
This page is the archived News Page from the July to September 2014 period. All contents have been dispatched in the respective stamp description pages. However there may still be open questions and any complementary information remains welcome. As soon as an information is archived, the text will not be changed anymore. So if news are linked to the below, this information will be displayed as a new heading in the currently open News page.
Back to list of Archived Pages
---
September 28, 2014
Some collectors have recently been interested in knowing the status of the July 9, 2014 Euromed issue. In fact not a lot did change but surprisingly we found some unexpected information:
- so far 8 countries have issued a stamp: Cyprus - Egypt - Greece - Lebanon - Malta - Morocco - Palestine - Slovenia
- we are still missing information about the three other listed countries: Jordan, Libya and Syria.
- and of course all other Euromed partners may issue some stamps before end of the year (or at least are entitled to): Algeria, France, Italy, Monaco, Portugal, Spain, Tunesia and Turkey
- the whole series is well described on the Palestinian stamps site http://www.zobbel.de/stamp/pna_2014.htm. This site reports also about a leaflet (originally published by the PUMed - Postal Union for the Mediterranean, created on March 15, 2011) showing the stamps issued (or to be issued) at this occasion
- This leaflet shows clearly the stamp of Libya but the Syrian stamp is only represented as a fake stamp just showing the country name in the background
- The Jordan stamp was reported elsewhere but is still not issued, and to be confirmed
- What is more interesting is that the French stamp is on the front of this page. Actually this stamp, probably issued on July 9, 2014 as well is a personalized stamp and does not appear in the official French stamp program. In other words it is a private issue not available for sale, and has never been seen on any internet philatelic sale offer. So we cannot consider it a a full part of this series, but we will continue reporting about this special item (not part of the joint issue).
Note also that on www.delcampe.com Egyptian stamps are already offered with color varieties and missing colors (red and yellow missing).
Any additional information is always welcome.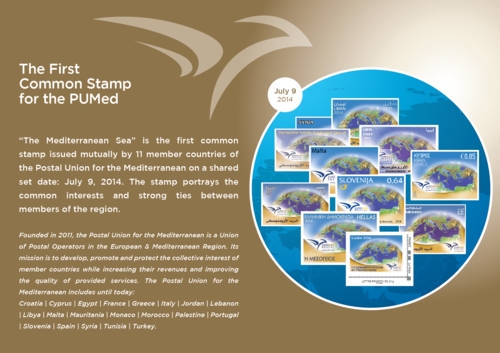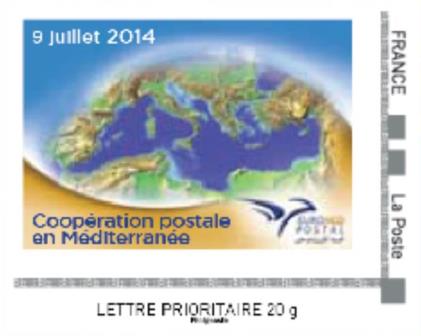 ---
September 26, 2014
On October 9, 2014, six countries from the Indian Ocean will issue a stamp with the common topic Sea Turtle (Chelonia mydas). This series involves Comoros, France (La Reunion Island), French Southern and Antarctic Territories (FSAT), Madagascar, Mauritius and the Seychelles.

Marc Boukebza, director of the FSAT philatelic office was so kind to provide us with some additional material. The information below is also taken from the philatelic newspaper "Le lien philatélique" from September 2014, n°111.

The project is originating from the Indian Ocean Philatelic Association, back to 2008, and the 6 postal administrations had been contacted at that time, but the project was really validated only in September 2012. A stamp together with a souvenir sheet bearing the same stamp and showing a map with the migration path of the turtle were supposed to be issued jointly.
The author of the stamps, Claude Perchat, proposed two designs based on the images provided by Kelonia, a scientific group located in Saint Leu, La Reunion Island, in charge of the observation of the turtle migration (see details under www.kelonia.org). Only the second design was approved: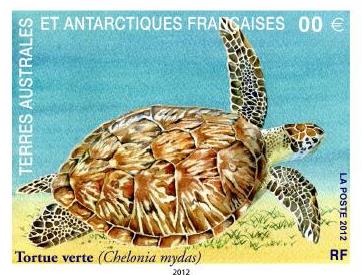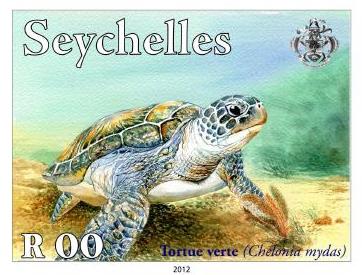 Originally these 6 stamps were supposed to be issued in a single miniature sheet combining the stamps from the 6 countries ( aso-called siamese issue), but the UPU was opposed to the project (Does this mean that the siamese issues sold by postal administrations in the later years have been issued without approval from the UPU?). A design for the souvenir sheet was also proposed: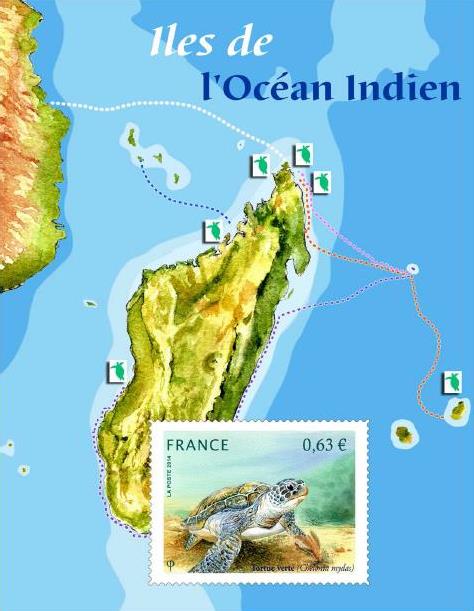 In fact this project was also dropped as the size of the souvenir sheet was not in agreement with the size of the folder ("Pochette") France is usually selling when twin issues are produced. Finally, all stamps from all 6 countries have the same design and will be printed in France at the same place. The first proposal from February 2014 (below left side) suggested different background colors. It was modified to give the final design (below right side) that includes fishes and water plants: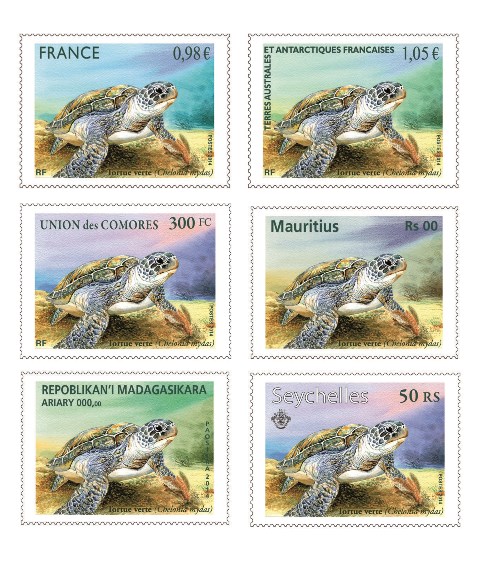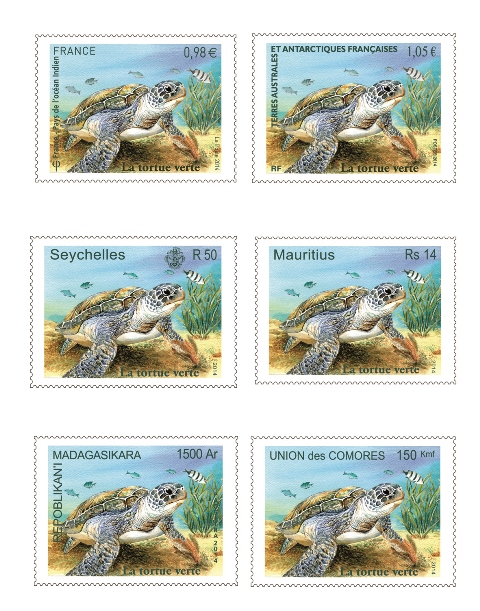 Several modifications of the design had been proposed including sea weeds and corals (below left) , but the final accepted design is without coral (below right)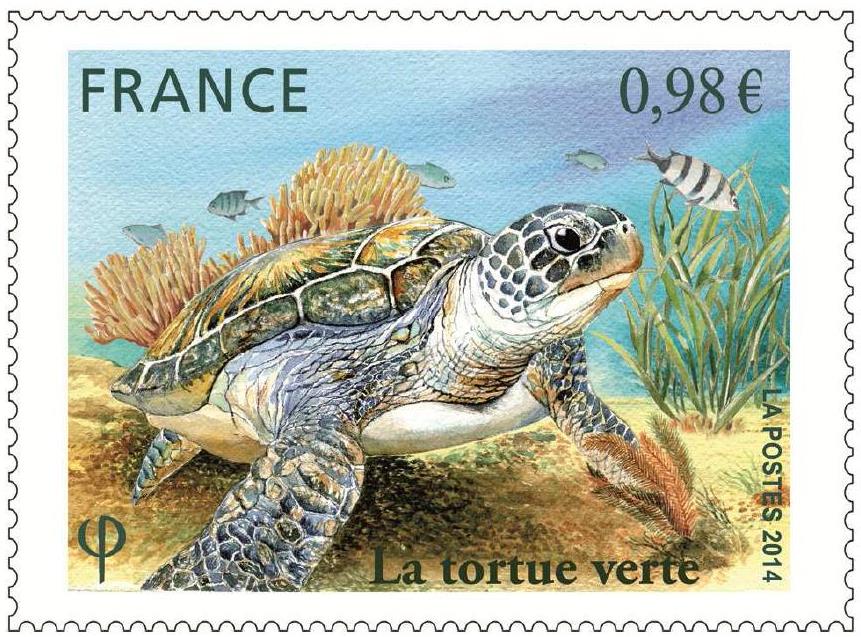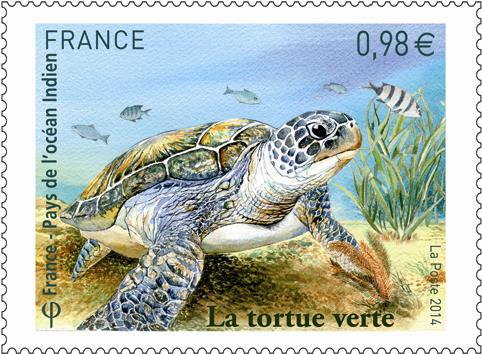 We got also copies of the appoved panes. Here is one example from Mauritius: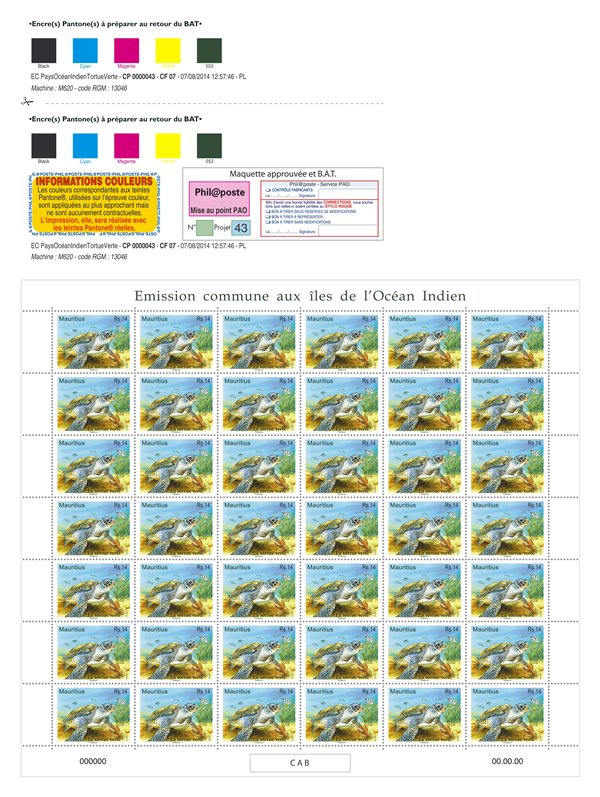 Also some first day cancellations were provided (France, FSAT first proposal and Mauritius). Below the final cancellation from the FSAT with the additional mention of "Iles Eparses" is also shown. "Iles Eparses" means Scattered Islands in the Indian Ocean. They consist of four small coral islands (The Glorioso Islands, Juan de Nova, Europa and Tromelin), an atoll (Bassas de India) and a reef (Banc du Geyser, annexed by Magagascar in 1976, still considered by France as French territory). These islands have constituted the 5th district of the FSAT since February 2007 and have no permanent population. The FSAT FDC is supposed to be cancelled from the uninhabited island Juan de Nova.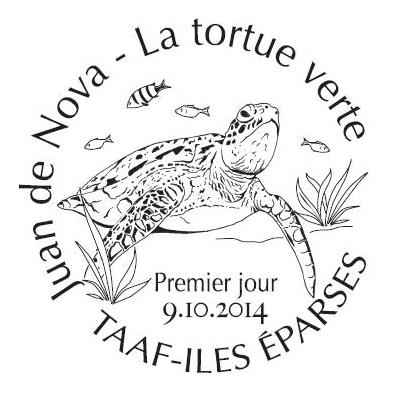 A folder containing also all 6 stamps in mint condition is proposed for sale (mixed 'pochette').
Phil@poste is in charge of the production of all stamps (all in panes of 42 stamps [6x7]) as well as the production of the common mixed folder. At this stage we do not know if mixed covers will be available, but apparently this is feasible as several postal administrations will be present at diverse places during the first day of issue. All stamps have a denomination corresponding to the cost of sending a less than 20g international letter. So far we know that France will issue 2,500,000 stamps, Madagascar probably 1,000,000 and the Seychelles only 100,000. The mixed folder (pochette) will be produced at 55,000 samples.
Thanks a lot for all this information, Mr Boukebza.
---
September 23, 2014
Don Birschel (USA) made a nice discovery with a joint issue that we missed so far. On November 13, 2013, Serbia and Bosnia Herzegovina Serbia issued a stamp each at the occasion of the 200th birthday of Bishop Petar Petrovic Njegos (1813-1851). There is however no proof that both countries realized this issue in a concerted way. Both stamps were issued in miniature sheets of 8 stamps with a central label [3x3].


On February 22, 2013, Montenegro had also issued a stamp honoring Petar Petrovic Njegos, but there is no link with these two stamps above.
---
September 23, 2014
Grzegorz Omelanczuk (Poland) reports about a potential joint issue involving Belarus. This country will issue by November 15, 2014 a souvenir sheet relative to the 20th anniversary of relationship with Serbia. Belarus is used to issue similar items and in the past years all of them were joint issues. Unfortunately, so far, we have no confirmation from the Serbian side.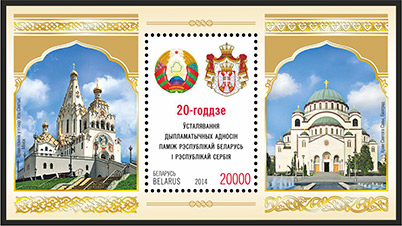 ---
September 21, 2014
Jaap Sarelse (The Netherlands) discovered this special miniature sheet of Thailand stamps part of a previous and recent joint issue with the Vatican State (August 15/August 28, 2014), result of a cooperation from Thailand Post and the Asumption College of Ubonratchathani. By further exploring this item, he discovered different other types of this miniature sheet. The first one bears the logo of The Assumption Coleoge Ubonratchathani, the other ones the logo of The Holy Infant Jesus Church in Bangna Bangkok and the logo of The Dioecesis Nakhonratchasimaensis. Jaap is now trying to provide these items to the subscribers of the new issues.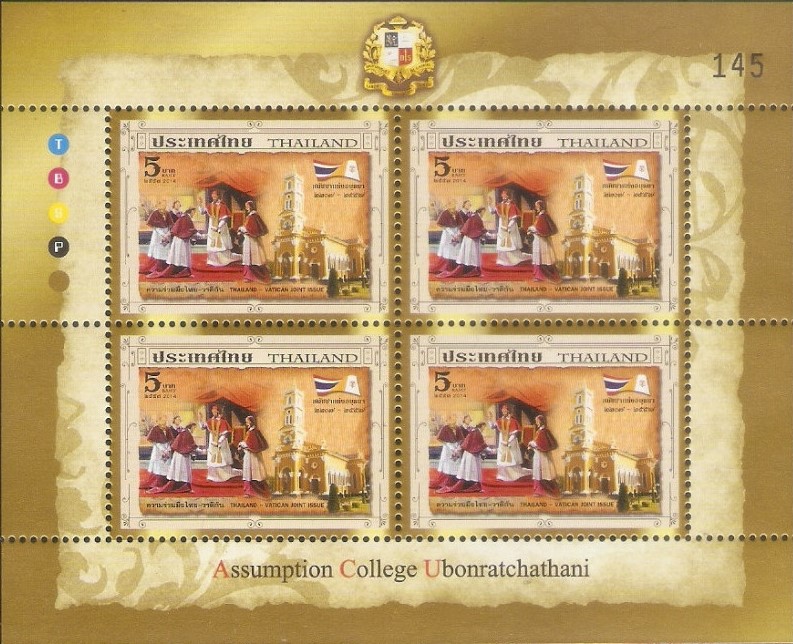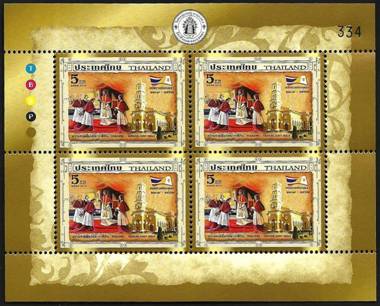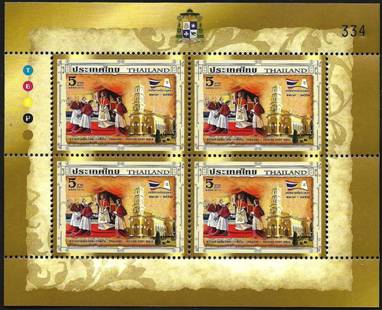 October 10, 2014: a few new samples have been found in the meantime by Jaap Sarelse (The Netherlands)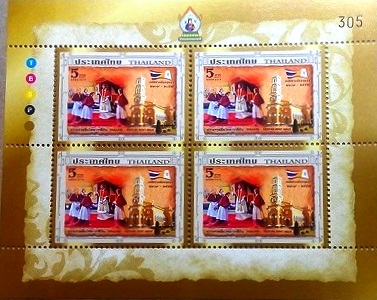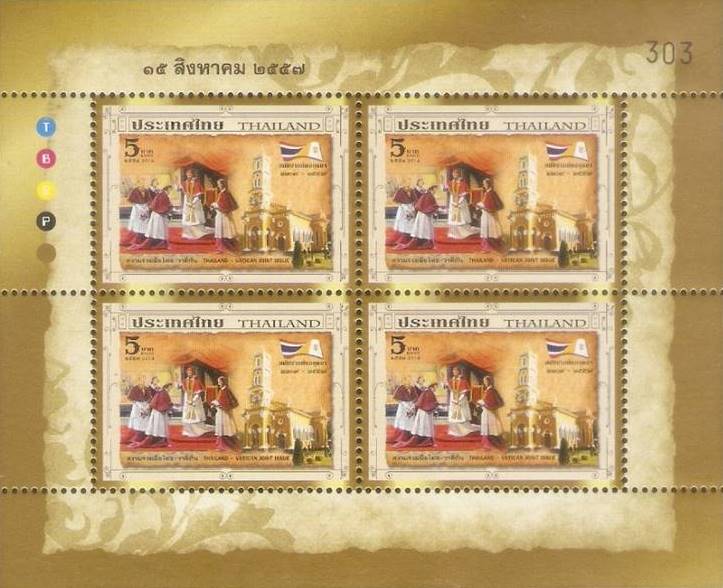 ---
September 21, 2014
On July 28, 2014, Bolivia joined the group of countries commemorating legacy of Hugo Chavez (T20140305: Argentina - Ecuador April 14 - Nicaragua - Uruguay - Venezuela). The date of July 28 corresponds to the 60th anniversary of Hugo Chavez. Those countries belong to the so-called ALBA group which includes also Cuba, St Vincent and Grenadines, Dominica and Antigua and Barbuda. We should not be surprised if one of these additional countries releases (or has already released) a stamp with the same design.
In fact the UPAEP decided in October 2013 that its 2014 stamp issues will be dedicated to "Latin American Leaders and Heroes". The UPAEP series is now overlapping the ALBA issues. In the frame of this UPAEP series, Bolivia issued a second stamp in parallel with a different design showing Evo Morales Ayma, President of Bolivia together with Hugo Chávez Frías, former president of Venezuela. This discovery was made by Grzegorz Omelanczuc (Poland).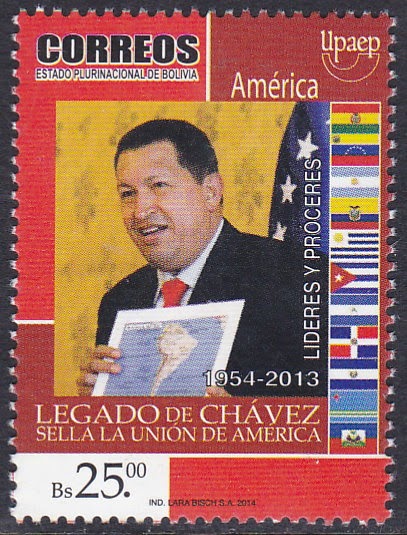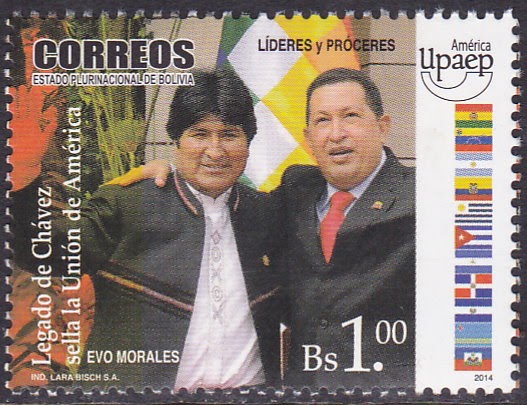 ---
September 21, 2014
I just noticed that I never provided the image of the Mongolian stamp issued together with Russia on August 28, 2014. Picture was provided via Grzegorz Omelanczuk (Poland) and Robert Schrijvers (Mongolia). By the way, Robert is taking care of a new web site that is reporting information about Mongolia philately and new issues. He is selling Mongolia directly Mongolia stamps and new issues and FDCs from this country. If you are interested take a look at his web site www.ubstamps.com .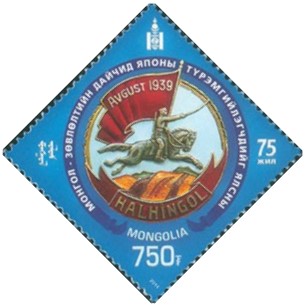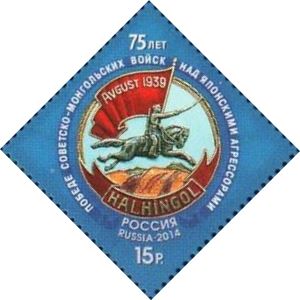 ---
September 21, 2014
On September 6, 2014, Lithuania and Poland celebrated the battle of Orcha, which took place on September 8, 1514. These countries issued a stamp for Lithuania and a postal card for Poland. The battle of Orcha involved the Grand Duchy of Lithuania and Polish troops that fought together against the Grand Duchy of Moscow. The two postal administrations are referring to each other country, but never claim it as a joint issue. However, as the date of issue is common and different from the battle anniversary date, we could consider this issue as parallel joint [P]. This information was reported by Fabio Bonacina (Italy).
2014 (October 14): The real status of this issue needs to be confirmed. We are trying to get more information from both postal administrations as this issue could still be considered as an accidental joint issue [NA].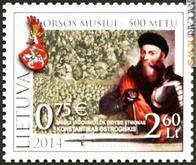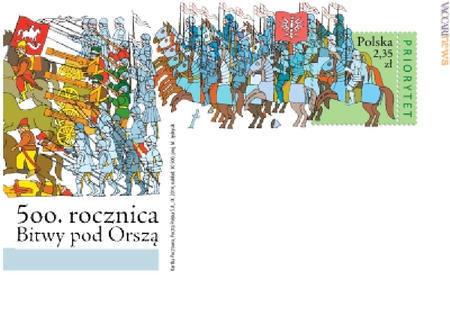 ---
September 21, 2014
Med Achour Ali Ahmed (Algeria) is closely following the issue of the Algerian counterpart of the Serbian souvenir sheet released on December 2, 2013. The Algerian Post announced a release for September 15, 2014 and provided an explanation sheetlet as well as the design of the souvenir sheet. Stamps are similar to the Serbian souvenir sheet, but the margin illustration is completely different. Unfortunately on September 15, 2014 we learned also that the item has been withdrawn from sale without any explanation. We are expecting to learn more about this issue soon. Any additional information is welcome.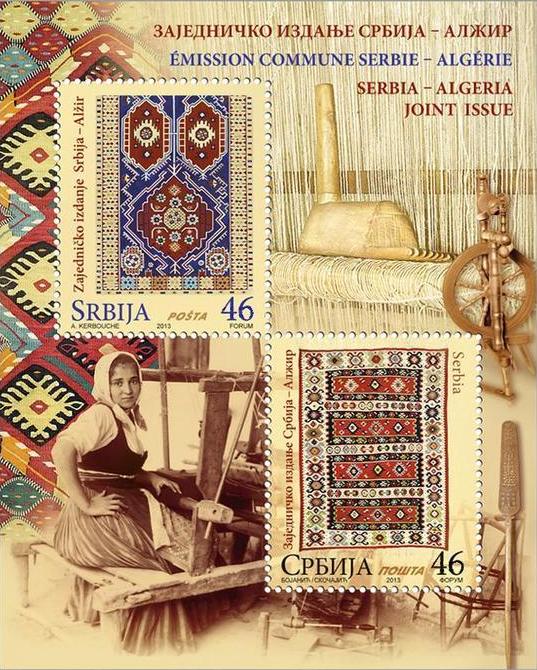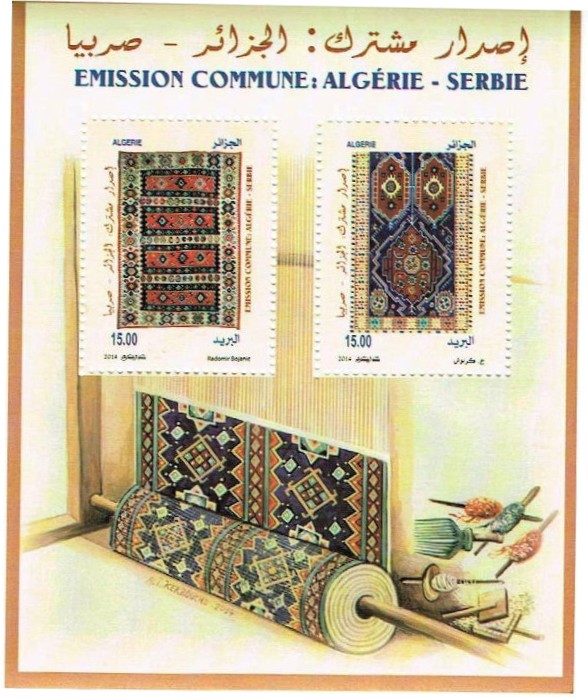 ---
September 21, 2014
As described earlier, the 'Lindauer Bote' issue, also being a parallel issue (4 different stamps) [P20140901] generated a series of new and original products that were not expected. Beside the attempt of Liechtenstein to connect philatelically the four countries (see earlier report), the German Post is now selling a folder containing the 4 stamps in mint conditions (Price € 19.00). The company Sieger Briefmarken is also proposing a mixed cover with all 4 stamps fisrt day cancelled together with the 4 special cancellations described in the documentation from the Liechtenstein Post (Price € 16.50). This issue involves Austria (2014, September 27), Germany (September 1), Liechtenstein (September 1) and Switzerland (September 4).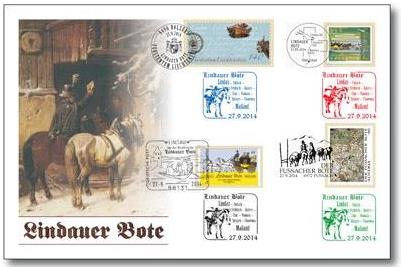 ---
August 27, 2014
Grzegorz Omelnczuk (Poland) found the confirmation of the release of the joint issue involving South Korea and Uruguay, celebrating the 50th anniversary of the relationship between the two countries and to be released on October 7, 2014. So far only design of the South Korean stamps have been seen.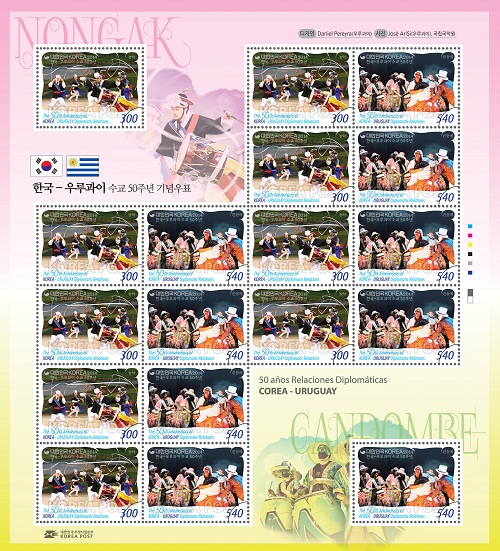 Grzegorz found also an information about a potential Belarus - Serbia joint issue that could be released on November 15, 2014 at the occasion of 20 years of diplomatic relations between these two countries. The new Belarus issue program which announces this souvenir sheet does not describe the issue as joint but as Belarus (and Russia too) have close ties with Serbia, we may expect such cooperation. Any additional information is welcome.
---
August 27, 2014
Fabioa Bonacina (Italy) could already provide the first image of the joint issue stamps involving France and the Indian Ocean countries to be release in Quarter IV, 2014. We have now more precise data about these stamps: the exact date of issue will be October 9, 2014 and the following countries next to France will be involved: Comores, French Southern and Antarctic Territories (TAAF), Madagascar, Mauritius and the Seychelles. Each of these 6 countries will issue a single identical stamp representing a sea turtle. Next to the geographic location, these 6 countries have also in common to be French speaking areas, and these stamps will be issued at the occasion of the 6th Indian Ocean Philatelic Exhibition and the Day of the Post.
There will be a common folder issued, containing the 6 mint stamps and sold at €10. Some descriptive documentation is available in French.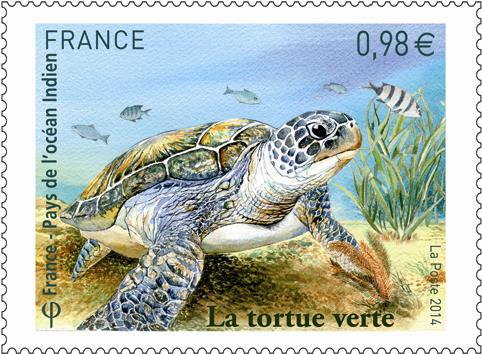 ---
August 27, 2014
The stamps issued jointly between Estonia, Latvia and Lithuania have been issued on August 23, 2014. Each country issued a souvenir sheet with three stamps and apparently only Estonia and Latvia issued also an isolated stamp. The stamps celebrate the 25th anniversary of the Baltic Way and the human chain crossing the three countries that took place on that day.
From the Estonian philatelic office:
" The Baltic Chain on August 23, 1989, was a giant demonstration initiated to influence Soviet authorities and to express the will of freedom of the people of the three Baltic nations – a human chain of nearly seven hundred kilometres from Tallinn to Vilnius. The number of people standing along the route has been assessed at up to one million. The demonstration was scheduled to coincide with the 50th anniversary of the Molotov-Ribbentrop Pact, which unlawfully changed the national status of the Baltic countries and robbed them of their independence. The Baltic Chain demonstrated to the whole world the will of freedom of the people of Estonia, Latvia and Lithuania and the non-violent character of their aspiration for freedom as well as their decision to win back their independence. This aroused a lot of attention throughout the world and contributed to their just and peaceful cause."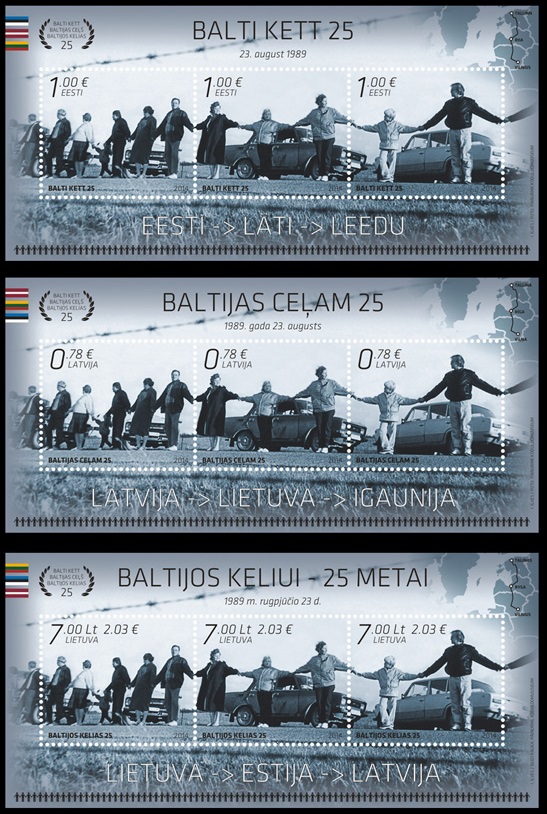 Fabio Bonacina (Italy) got a confirmation from Lithuania that this country issued only the souvenir sheet, not the stamps in pane, on the contrary to the two other countries.
---
August 5, 2014
We did not have long to wait until Grzegorz Omelanczuk (Poland) found a proof that the Peruvian stamp, despite being labeled 2013 was in fact issued on January 30, 2014. We are therefore in presence of a true twin issue with Ecuador that has not been seen so far.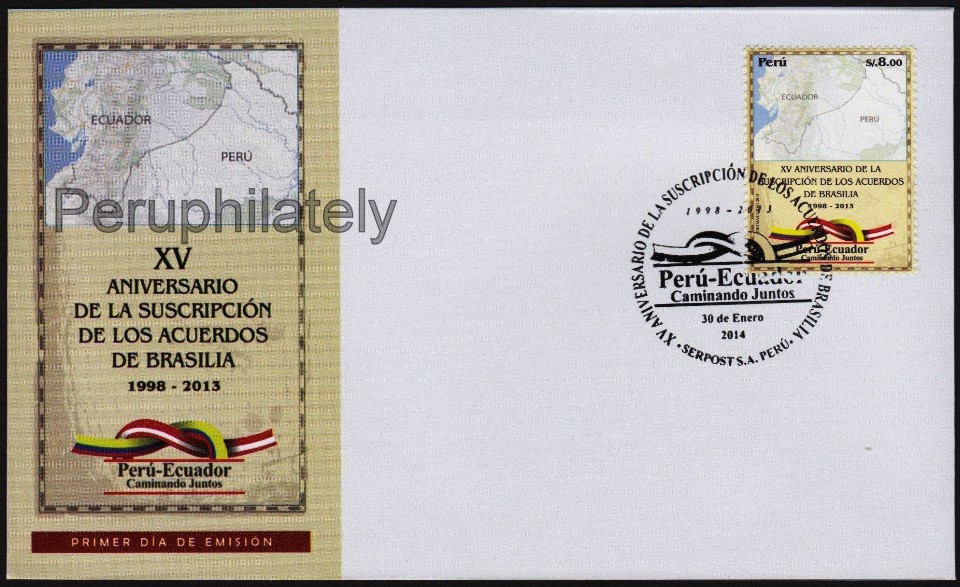 ---
August 2, 2014
The Brazilian stamps from the expected Brazil - Peru joint issue have been released on July 29, 2014 (issued 600,000). Brazil is used to issue several stamps each year within a series called Diplomatic Relationship. However only once or twice a year, these stamps are related to a twin equivalent from the partner country. In this case, by beginning of 2014, Peru had announced in their philatelic program for the year, a stamp in relation with Brazil, at this same date. We haven't seen so far the Peruvian stamps.
At this stage we have only found the pictures of the celebration of the 193th anniversary of independence of Peru and 10th anniversary of the Strategic Alliance between Brazil and Peru that took place at the Peruvian Embassy in Brazilia. One of the pictures shows stamps, but impossible to say if some of them are of Peruvian origin. Any help for obtaining supplementary information is welcome.
Getting information from South American countries remains complicated. Here is another example of stamps that may be joint. Topic is the Brasiliana agreement that fixed the borders between Ecuador and Peru 15 years ago. Stamps are surprisingly similar.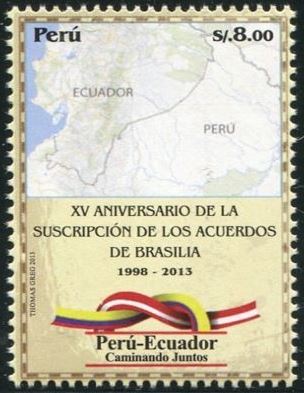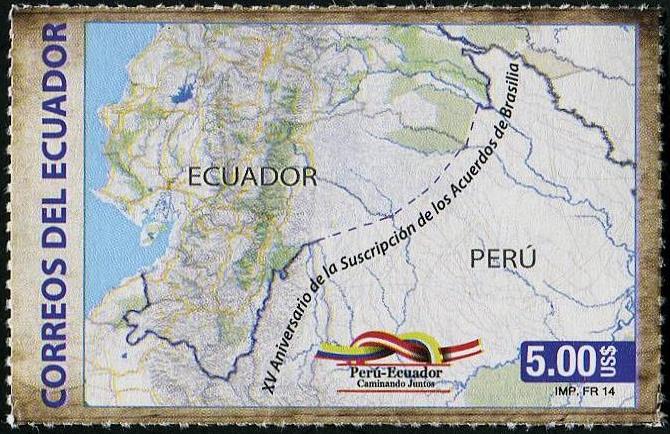 The Ecuadorian stamp was issued on January 30, 2014 at 100,000 samples. The Peruvian stamp was issued earlier (end of 2013?). Any additional information is also welcome.
---
August 2, 2014
Grzegorz Omelanczuk (Poland) provided the first image of the Russian stamp from the Russia Mongolia joint issue to be released on August 28, 2014. The stamp (printed at 31,000 miniature sheets of 9 stamps for Russia) commemorates the 75th anniversary of the victory of the battle that was led by the Russian and Mongolian troops against the Japan and the Mandchukuo in 1939. This battle resulted in the stop of the war and the signature of an armistice on September 15, 1939.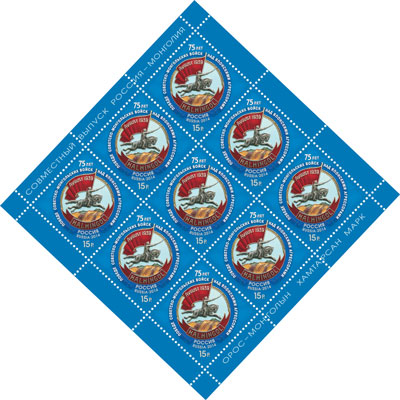 Grzegorz found also the pictures of the "Lindauer Bote" stamps to be issued on September 1, 2014 by Germany and Liechtenstein,by September 4, 2014 in Switzerland, and by September 27, 2014 in Austria. It appears that the stamps will all be different in design and this series will have to be considered as parallel [P]. The Liechtenstein Post office is sponsoring an event in form of a tour crossing the four countries on September 27, 2014, so not related with the first day of issue of the Liechtenstein stamps (but related with the Austrian stamp), during which the same cancellation will be used in the four countries. The cancellation will differ only by its color, green in Austria, black in Germany, blue in Liechtenstein and red in Switzerland, and apparently it will be possible to have mixed covers cancelled from that day. In fact, all countries have decided to organize a special event on September 27, 2014 and cancellations from this date will be considered as the official first day of the mixed covers. WE may have on that date a series of different combinations, cancellations and illustrations for this issue.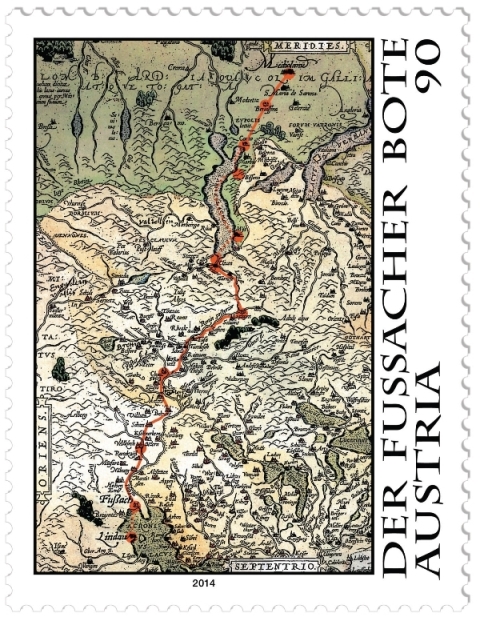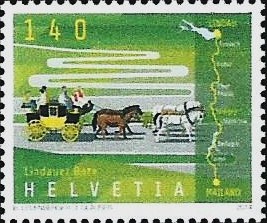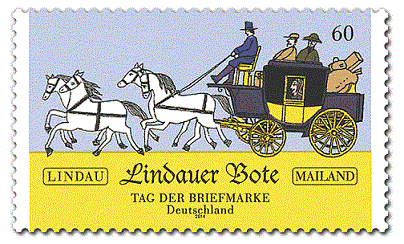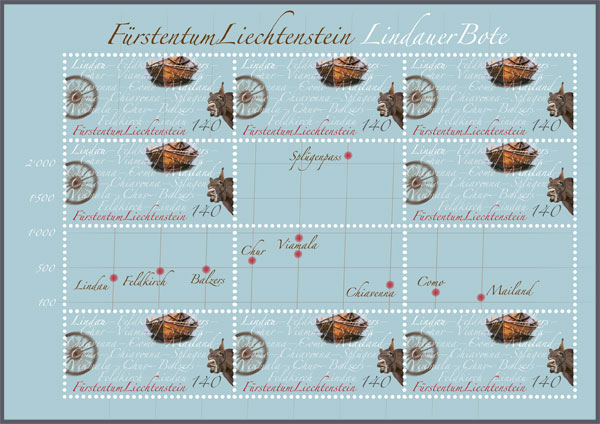 Also in July 2014, PostEurop decided that the 2016 Europa stamp issue will be an identical design for all participating countries to celebrate the 60th anniversary of Europa stamps. These stamps will be issued on May 9, 2016 with the topic "Think Green". Actually this topic was initially expected for 2015 and the topic "Old Toys" was planned for 2016. A competition for the best design has been opened.
---
August 2, 2014
From Jaap Sarelse (The Netherlands) and Fabio Bonacina (Italy):
On September 26, 2007 Morocco and Portugal launched a joint issue related to historical relationship and depicting castles. On July 21, 2014, Portugal has issued a folder dedicated to stamps related to Algarve. Among these 5 stamps there is a reprint of the 2007 Castelo de Silves, Algarve stamp. Even the text EMISSÃO CONJUNTA PORTUGAL – MARROCOS is reprinted. This is to be considered as a new issue. The five reprints are all self-adhesive. Portugal produced a booklet with 30 stamps in which there is a specific page (miniature sheet) of 6 stamps and a label with the joint stamp. The 4 other stamps have no relation at all with joint issues.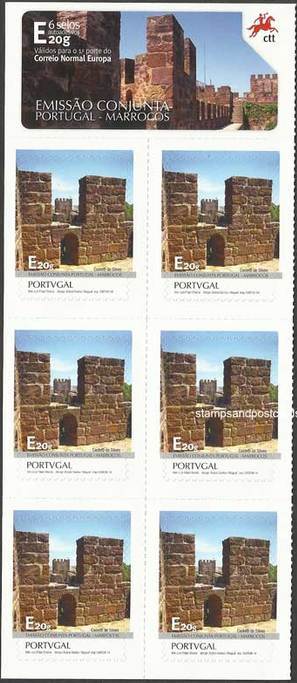 ---
August 2, 2014
Another discovery of joint issues by Mansoor Moazzeni (Iran). The following stamps and souvenir sheets are related to the 100th anniversary of Girl Guiding and are all similar in design. This series will be reported as an omnibus series [O] and we are looking now for the exact dates of issue (year of issue was 2010 for all of them). So far we have identified the following countries Antigua, Bequia, Dominica, Gambia, Grenada, Grenada and Grenadines, Guyana, Liberia, Maldives, Micronesia, Nevis, Palau, Saint Vincent, Sierra Leone, Tuvalu and here are some pictures.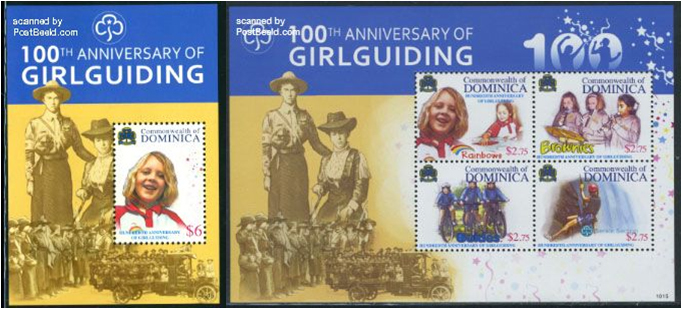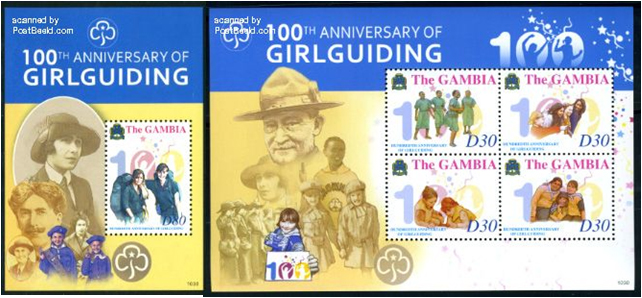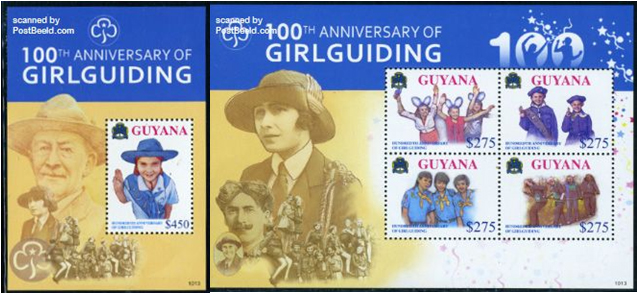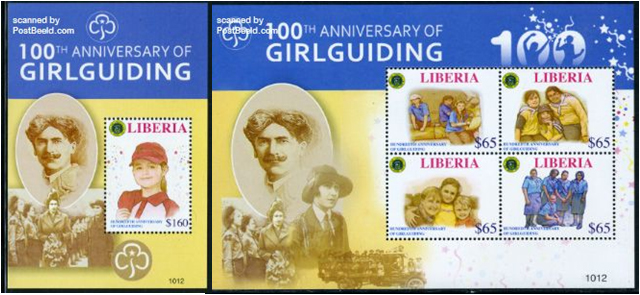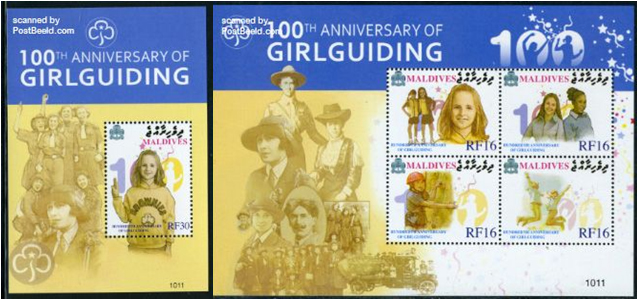 ---
August 2, 2014
Fabio Bonacina (Italy) was able to provide the first images of the Denmark - Iceland joint issue to be released on August 28, 2014. The date of September 11, 2014 initially announced corresponds to the date at which the Islandic Post will send these stamps to subscribers. Both countries will release two stamps in panes that will also be available in a souveniir sheet. On top of this two special folders containing either mint stamps or mint souvenir sheet from both countries will be available next to mixed FDCs.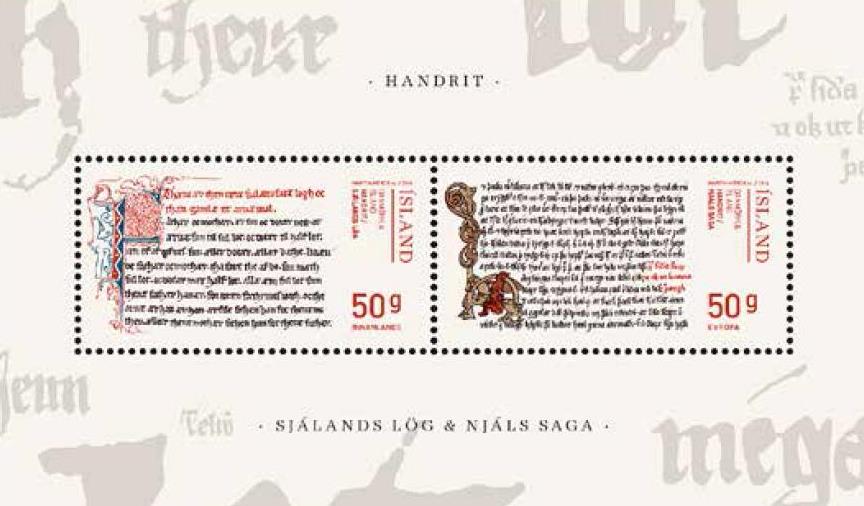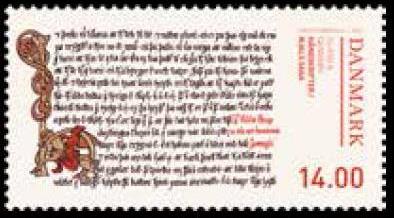 ---
August 2, 2014
Jerry Sigoloff (USA) did ask the following question: Could you please tell me where I can get a list of the US joint stamps with the Scott numbers for the US and the other countries? I thought the answer could interest a lot of our collectors. Here are my comments:
You may be able to find some (partial) lists of US joint issues with Scott numbers on the web, but this is very rare. For other countries I have never seen that. Take first a look at a very old paper written in Linns http://www.linns.com/howto/refresher/jointissues_19990125/refreshercourse.aspx
Scott sells (sold?) also albums specific for US joint issue collecting, of course using their numbers, but their list is not complete as they made their own selection of stamps. See the following link to Scott material http://brookmanstamps.com/Brookman/REV12SUPPPL/SCOUSPAGEREV12.pdf .

In fact, there are copyrights behind stamp catalogue numbers and the Joint Stamp Issues catalogue does not contain any catalogue number, neither Scott, nor Michel, nor Yvert&Tellier, just because I did not want to pay the fees those companies are asking for authorization to use their numbering systems (Actually they are not asking fees, they just refuse to have their numbers printed next to any other catalogue numbers for facilitaing matching). This is actually also the reason why, even if all catalogues describe the same stamps and in the same order, the numbering system is different from one brand to another. Very recently in France, the owners of the new catalogue Maury lost an action in court and had to pay a severe fine to Yvert because their numbering system was too close to the Yvert & Tellier numbering system (copyright issue).

The catalogue editors have only authorized dealers to use their numbers affixed next to a product/stamp, under the condition that these dealers do not list the whole country's stamps and they do not add details extracted from the catalogue. That's also why there is no problem using Scott numbers on e.g. eBay.

I found a larger list of joint issues stamps with Scott numbers under
http://www.worldstamps.com/pricelist.php?topic=214 . This may probably the longest list with Scott numbers I have seen so far (but also limited to the stamps this company has for sale).

In the Joint Stamp Issues Catalogue and Complements, I created my own numbering system based on the date of issue of each stamp e.g. [T20140801a] corresonds to the first twin issue released on August 1, 2014. This is the best way to find the link with all other catalogues as dates of issues are (almost) the same in all catalogues (and without entering in a copyright conflict situation). Of course these comments are also valid for any other major catalogue.

---
August 1, 2014
Just got from Jaap Sarelse (The Netherlands) a picture of a mixed card from the October 8, 1994 Italy San Marino siamese issue which was not reported in the catalogue. This item looks like a maximum card, but does not strictly corresponds to the official definition of maxi cards. The white window on the left top corner opening a space for the Italian stamp tells us that this card has been printed for the purpose at least to become a single Italian first day card. Among the important criteria to define a maxicard (illustration, cancellation and stamp in relation with each other) one should not forget that the card must also exist before the date of issue of the stamp. In this case, it is obvious that the card was printed for that purpose and as a consequence, this is not a maxi-card, but simply an illustrated mixed first day card. But a nice item anyway.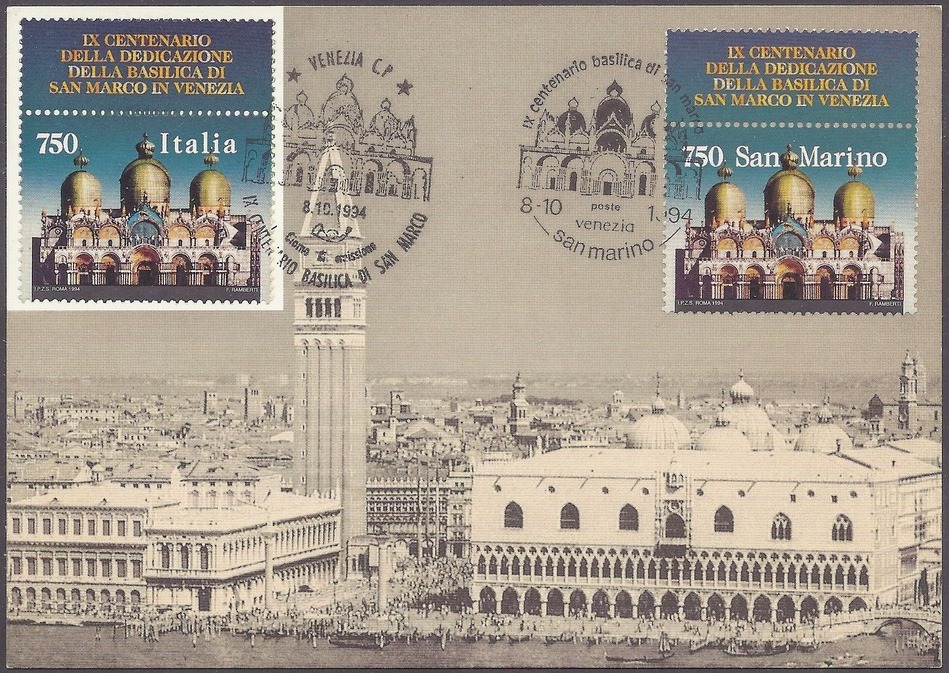 ---
July 14, 2014
The Quarterly sections of the web site have been updated.
The pages New Issues Quarter I, 2014 and New Issues Quarter II, 2014 are now complete. Accordingly the page Upcoming Issues has been cleaned.
---
July 14, 2014
The Foundation of Portuguese Language Academy of Galicia (Span) produced a personalized stamp taking the design of the May 5, 2014 issue of the countries using Portuguese as language (appraently issued on May 12, 2014). Of course this stamp (because of personalized) does not belong to the series of joint issues, but it was funny to report it here. Concerning the true joint issue we are still missing confirmation and images of stamps from this series next to Brazil, Cape Verde and Portugal. Any news from your side?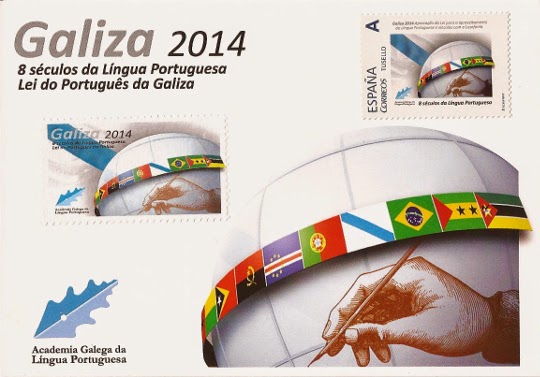 ---
July 12, 2014
The design of the stamp to be released by the Vatican State jointly with Thailand has been released (information Fabio Bonacina). The design is the same as the Thailand stamp and the date of issue is fixed to August 28, 2014. The date of issue for the Thailand stamp is still scheduled for August 15, 2014.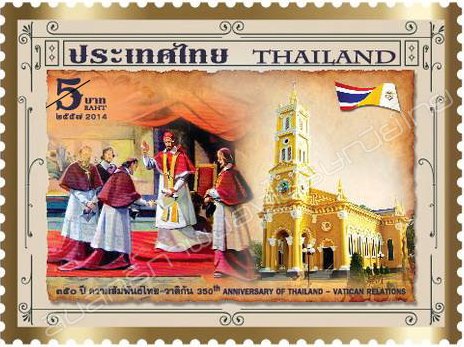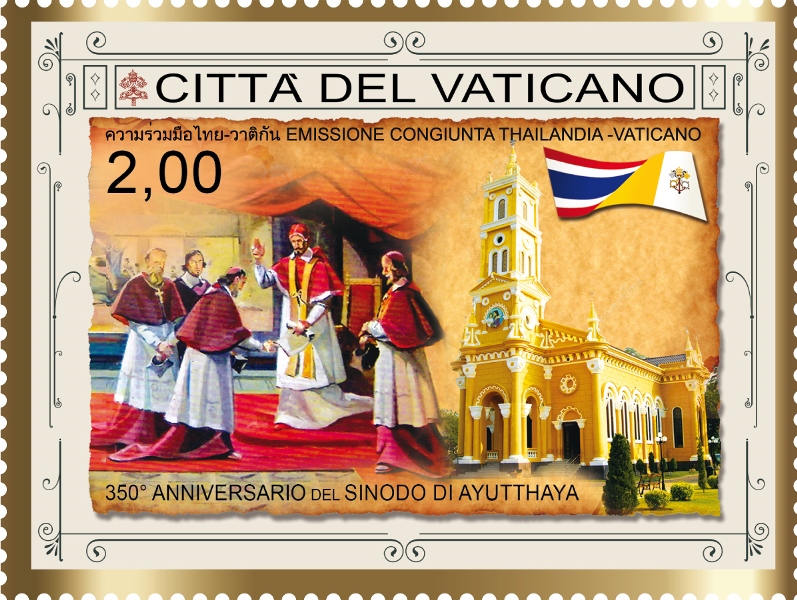 ---
July 12, 2014
Euromed (continuation): Now all stamps must have been issued (if all issued on July 9, 2014, but it is still a problem finding the information. We got a few new image, thanks to Fabio Bonacina (Italy). We have now seen pictures of stamps from Cyprus, Egypt, Greece, Lebanon, Malta, Morocco, Palestine and Slovenia. We also learned that on the contrary to what was announced earlier, France will not participate. So we are still missing pictures of stamps from Jordan, Libya and Syria.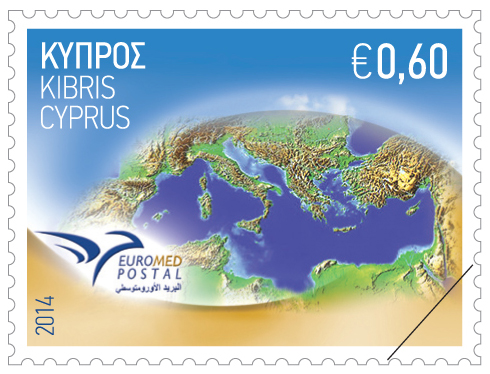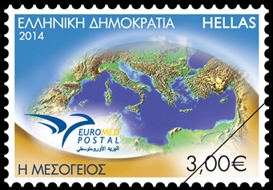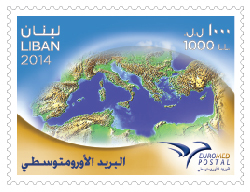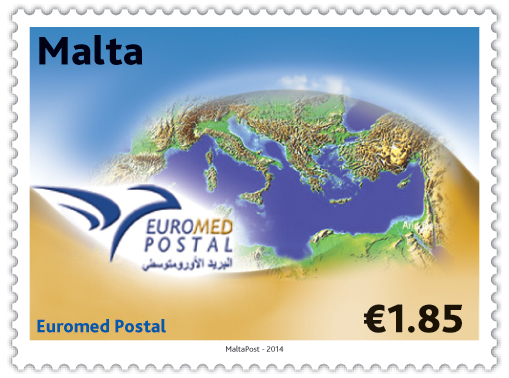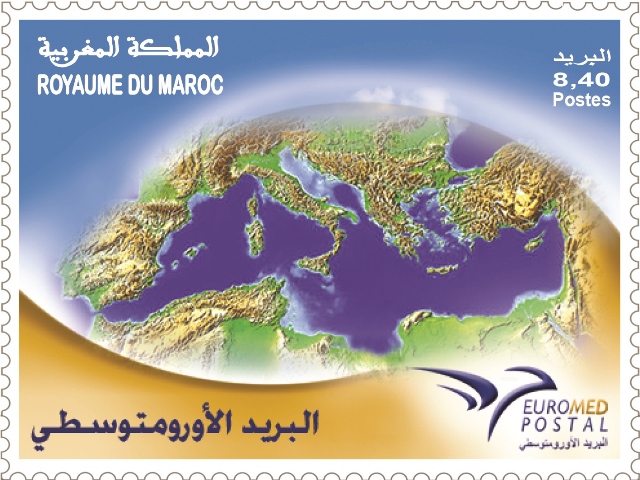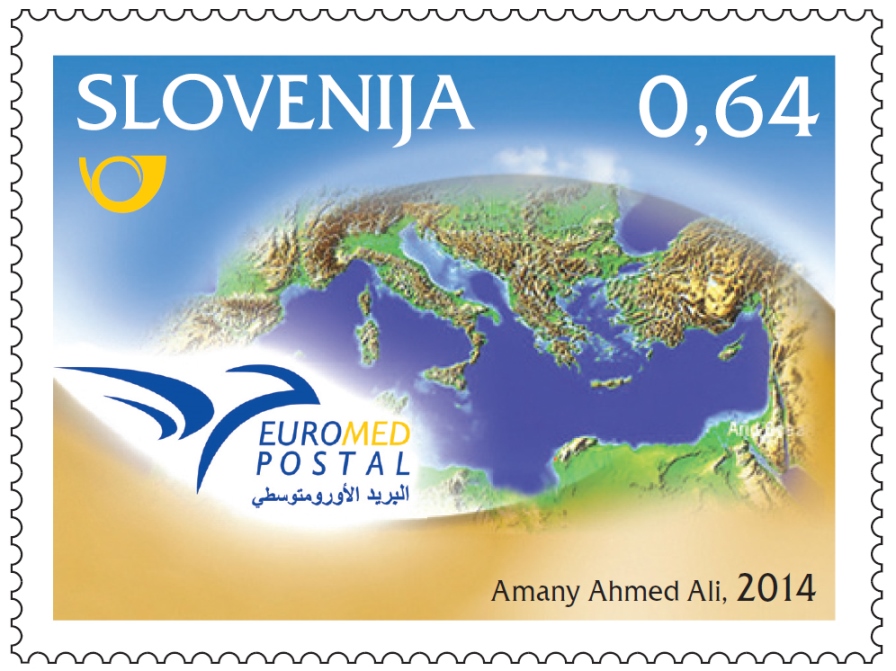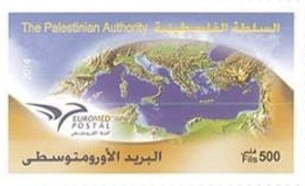 ---
July 9, 2014
More details about the EUROMED issue. Malta has also provided a picture of their stamp released on July 9, 2014 and in their advertisement document, this office provides the (probably official) list of countries that have decided to join (information provided by Enzo Cafaro, Italy. This includes Cyprus, Egypt, France, Greece, Jordan, Lebanon, Libya, Malta, Morocco, Palestine, Slovenia and Syria. In other words, Algeria, Italy, Monaco, Portugal, Spain, Tunesia and Turkey will not participate, unless...
This issue is to be considered as a true twin issue [T1].
---
July 7, 2014
The joint issued between Bulgaria and Russia has been released as planned on July 7, 2014.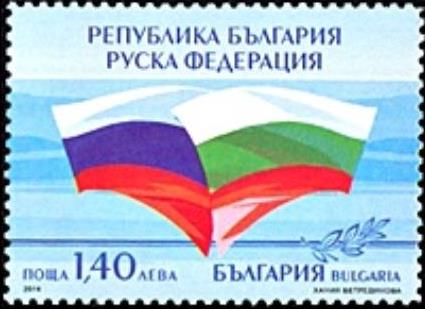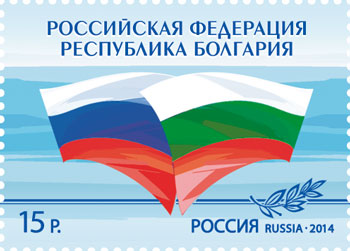 ---
July 7, 2014
Anthony Raynaud (France) discovered on Delcampe an item produced by the South Korean Postal administration that has not been described so far. It is a booklet of about 16 pages gathering all mint stamps issued jointly between South Korea and partner countries between 2007 and 2010. This includes stamps from Singapore, Thailand, Hong Kong, the Philippines, Brazil, Mongolia, Kazakstan and UAE.
---
July 7, 2014
One 2014 joint issue has not been reported so far. Turkey and Northern Cyprus (Turkish Cyprus) issued stamps on January 6, 2014 to celebrate the 50th anniversary of the Turkish Cyprus post. Turkish Cyprus issued 3 stamps showing different older stamped covers. Turkey issued a stamp showing the map of Northern Cyprus and a flag. Turkey sold also a folder containing this stamp, a FDC with this stamp but also a non-perforated souvenir sheet showing a map and Northern Cyprus landscape. This item was available only at 3,000 sample at a price of 10 Turkish Lira (TYR, about 3.5 Euros). The souvenir sheet can be found on eBay or Delcampe at prices up to €200. We will consider this issue as abusive.
This joint issue remains in any case a territorial issue [PD].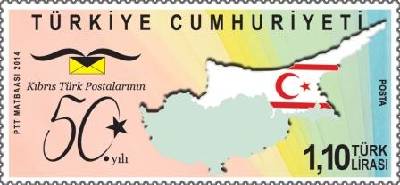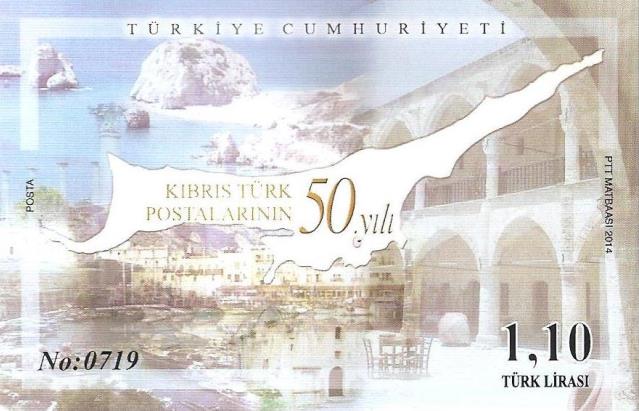 ---
July 7, 2014
Euromed becomes a really. We start getting information and pictures about the stamps to be released at the occsion of this event on July 9, 2014 (data provided by Anthony Raynaud - France, Jaap Sarelse - The Netherlands, Grzegorz Omelanczuk - Poland). So far, next to Egypt (which provided the common design) and Palestine (which announced the issue, but nothing more was seen so far), we already have confirmation from Cyprus, Greece and Slovenia.
We are expecting also stamps issued by: Algeria, France, Italy, Jordan, Lebanon, Libya, Malta, Monaco, Morocco, Portugal, Spain, Syria, Tunisia and Turkey.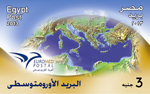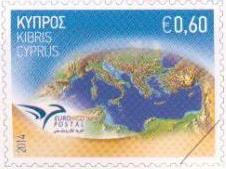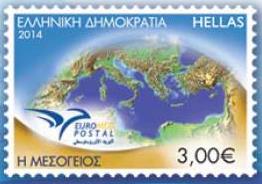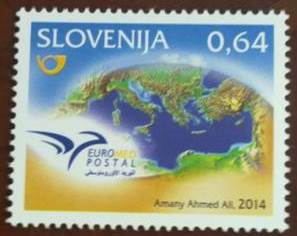 ---
July 1, 2014
The News from the period April to June 2014 have been archived.
---
All previous information reported in this section is to be found in the News Archives.