New Issues 2014 (January - March)
This page collects only issues released during the year 2014, period January to March.
As it is not such obvious as it looks to find this information, this list is probably not yet complete. In certain countries, joint issues are often announced on the day of the issue and sometimes it takes months before this information and the corresponding stamps reach us. Data on missing issues or supplementary information, particularly for countries, which are producing joint issues exceptionally, will be highly appreciated.
Most recent update of this section on February 5, 2015.
---
2014 (January 6) - [D20140106]
Turkey - Turkish Cyprus
50th anniversary of the Turkish Cyprus Post. Territorial issue [PD].
Different stamps. Turkey, one stamp and one souvenir sheet showing the map of Northern Cyprus and landscapes; Turkish Cyprus, 3 different stamps showing stamped covers. Multicolored.
Stamps – FDCs – Turkey: folder containing also a non-perforated miniature sheet, issued 3,000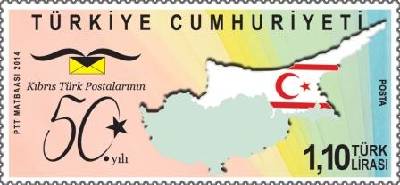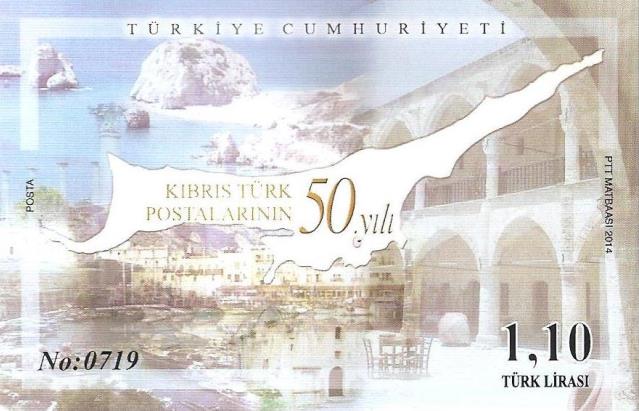 ---
2014 (January 15) – [S20140115]
Fiji - Vanuatu
Optical fiber cable linking both countries. Siamese issue [S1].
One strip of two times 3 stamps from each country separated by a label. Pictures of different steps of the installation of the optical fiber link between the two countries. Multicolored.
On November 25, 2013, the Alcatel-owned Subsea Cable vessel "Isle De Re" completed laying the 1,259 km optic fiber cable between Port Vila in Vanuatu and Suva in Fiji. The milestone cable project, which will link Vanuatu directly into the high capacity Southern Cross cable between Sydney and Hawaii, was officially opened on January 15, 2014. This Siamese series was issued at this occasion.
Stamps – FDC – mixed FDC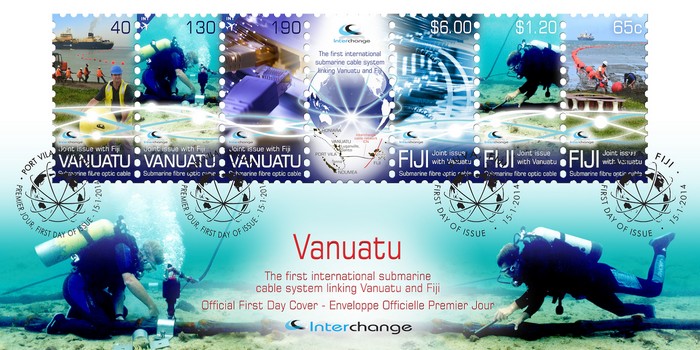 ---
2014 (January 16) - [T20140116]
Latvia - Sweden
Capitals of culture: Riga and Umea. Twin issue [T1].
Two self-adhesive stamps. A, Bildmuseet in Umeå, Sweden, and the stylized Sami flag; B, the National Library of Latvia in Riga, and stylized Riga's city flag. Multicolored.
Stamps – FDCs – mixed FDC – mixed maxicards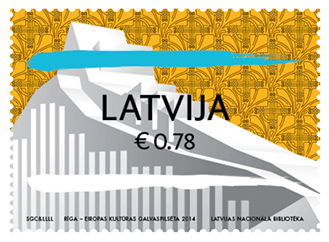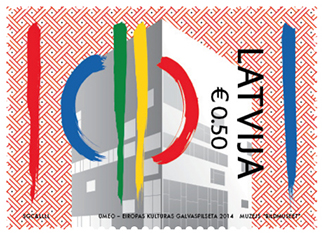 ---
2014 (January 27) - C20140127]
China (PR) - France (March 27)
50th anniversary of the establishment of diplomatic relations.. Concerted issue [C1].
Two self-adhesive stamps. City of Nanjing and Qinhuai River, PR China; Seine River in Paris with the City Island. Multicolored.
The French stamps were issued at the occasion of the visit of the Chinese President, Xi Jinping to France, on March 27-28, 2014.
Stamps – FDCs- mixed FDC – mixed maxicards – Official mixed document (France) – dated corners (France)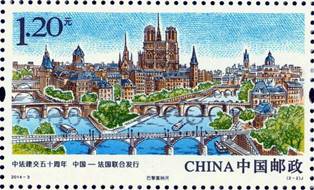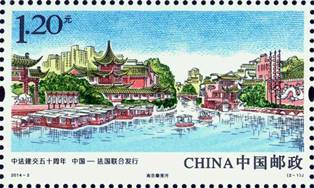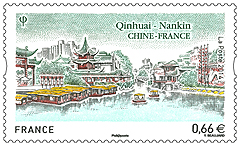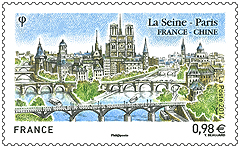 ---
2014 (January 28) - [T20140128]
Israel - Malta
50th anniversary of relationship. Twin issue [T1]
Identical stamps. The Knights Hospitaller Halls in Acre and Valletta; flags of Malta and Israel. Multicolored.
Stamps with tabs – miniature sheets – tête-bêche stamps (Malta) - FDCs – mixed FDC – Souvenir Leaf (Israel)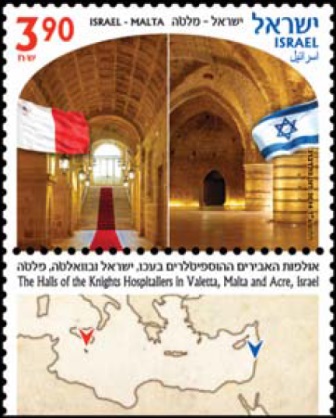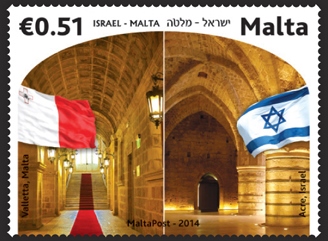 ---
2014 (January 30) - [T20140130]
Ecuador - Peru
15th anniversary of the establishment of the borders between both countries (Brazilia agreement). Twin issue [T1].
Similar stamps. Map showing the border; symbol of the agreement at the color of the flags of both countries. Multicolored.
1 stamp per country - FDCs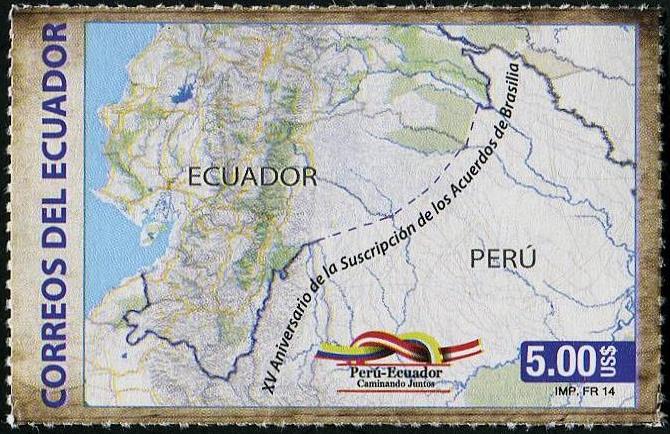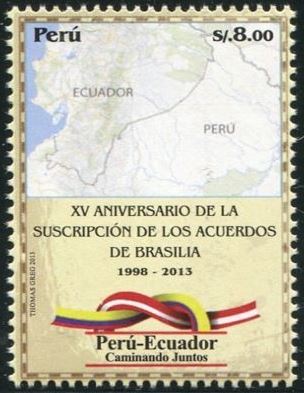 ---
2014 (February 6) - [T20140206]
Japan - Switzerland
150th anniversary of diplomatic relationship. Twin issue [T1].
Two identical stamps. Japan issued a miniature sheet containing 10 different stamps among which the 2 common stamps. A, Spring in the Swiss Alps and B, Mont Fuji (3776m) with cherry blossoms (this issue was initially planned in 2013). Other Japanese stamps illustrate: C, Swiss Alps, Jungfrau-Aletsch; D, Old City of Berne; E, Lavaux, Vinyard Terraces; F, Rhetian railway in the Albula – Bernina landscape; G, The Jungfrau railway and Trollius europeus (Eigergletscher Eiger glacier); H, Anemone narcissiflora growing in cluster in Les Avants (Montreux); I, Rhododendron ferrugineum blooming near Flualp lodge (Zermatt); J, Bernina Alps and fields of flowers in Alps. Multicolored
Stamps – souvenir/miniature sheet (Japan) – miniature sheets (Switzerland) - FDCs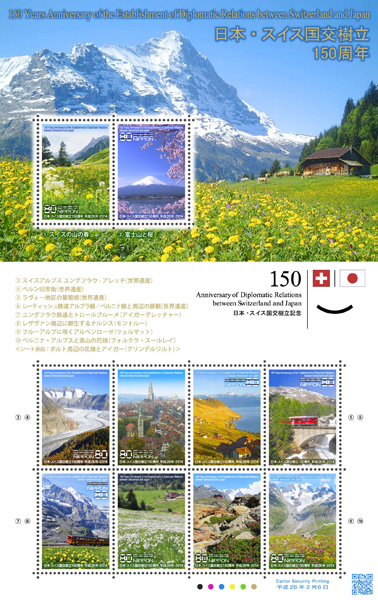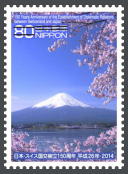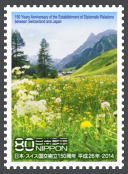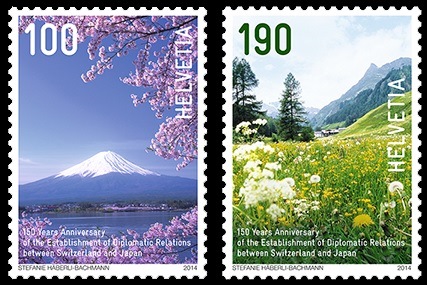 ---
2014 (March 5) - [T20140305]
Argentina - Bolivia (July 28) - Ecuador (April 14) - Nicaragua - Uruguay - Venezuela
Legacy of Hugo Chaves (UPAEP) – Twin issue [T1]
Two identical stamps. Anniversary of the decease of Hugo Chaves, president of Venezuela; two portraits: A, Chavez with map; B, Chaves waving; stamps issued in the frame of the ALBA: ALianza Boliviarana para los pueblos de nuestra Americana. Multicolored.
The ALBA association includes the six countries above, but also Cuba, St Vincent and Grenadines, Dominica and Antigua and Barbuda.
Stamps - FDCs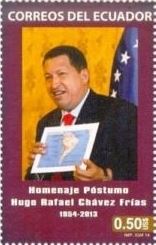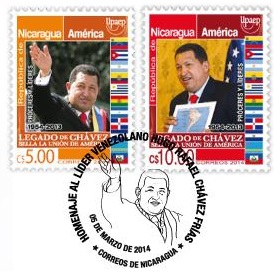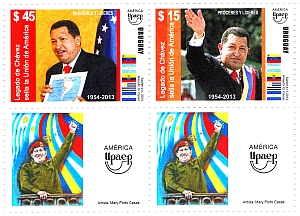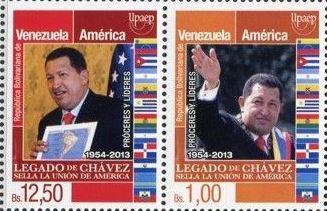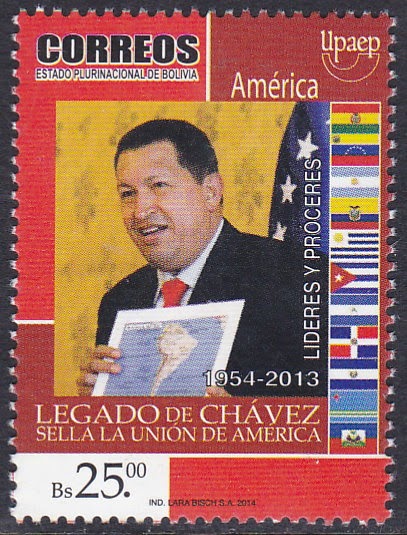 ---
2014 (March 17) - [P2014017]
Aland - Denmark - Faeroe - Finland - Greenland - Iceland (March 27) - Norway - Sweden
Norden issue: "Norden by the Sea - Part III" - Parallel issue [P1].
One souvenir sheet per country, each different. Common topic: Ships and sea. Aland, boat deck; Denmark, sailing ships; Faeroe, ferry; Finland, ferry; Greenland, boat in the night and boat with children ; Iceland, merchandise ship; Norway, small boat; Sweden, icebreaker. Multicolored.
Souvenir sheets – stamps (only Denmark and Greenland) – FDCs – folder with 8 souvenir sheets, mint
---
2014 (March 21) - [T20140321a]
Italy (April 24) - Vatican
Canonization of Pope John Paul II. Concerted issue [T1].
Identical stamps (self-adhesive for Italy). Portrait of Pope John XXIII (1881-1963, Pope from 1958 to 1963). Multicolored.
Stamps – FDCs – miniature sheet (Vatican) - Italy issued also a stamp related to Pope John Paul II (1920-2005), in the same design style, but which does not have an official joint character.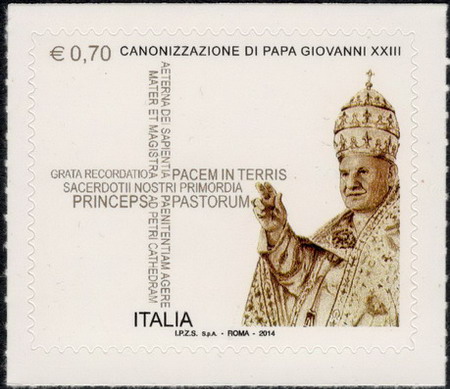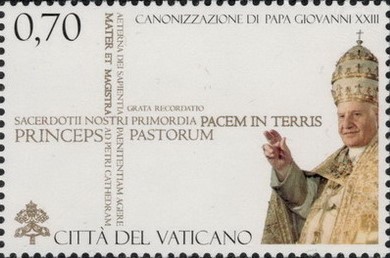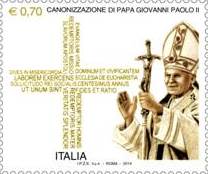 ---
2014 (March 21) - [T20140321b]
Philippines - Vatican
First anniversary of Pope Francis as Pope. Twin issue [T1].
Two identical stamps. Portraits of Pope Francis (Vatican issued 4 different stamps). Multicolored.
Stamps – miniature sheets - FDCs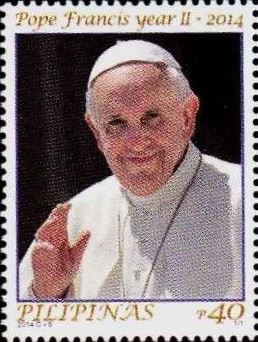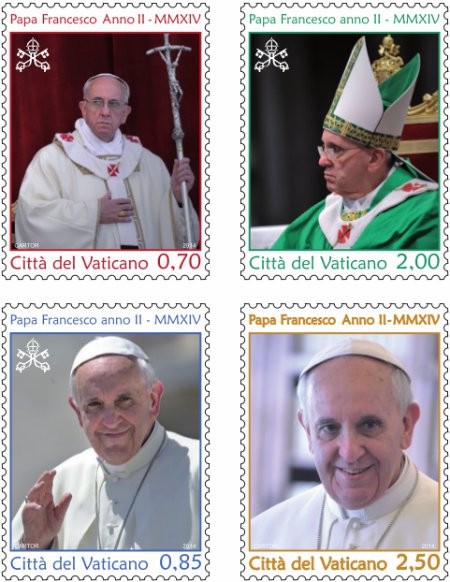 Non-issued Philippines souvenir sheet: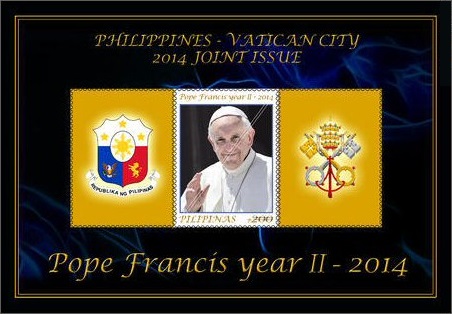 ---
2014 (March 21) - [C20140321a]
Poland (April 2) - Vatican
Canonization of Pope John Paul II (1920-2005, Pope from 1978 to 2005) and Pope John XXIIII (1881-1963, Pope from 1958 to 1963). Concerted issue [C1].
Identical souvenir sheets with two stamps. A, Portraits of Pope John Paul II and Pope John XXIII. B, portrait of John Paul II. Multicolored.
Souvenir sheets with two stamps - FDCs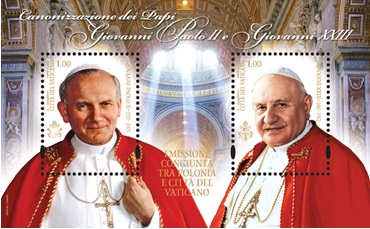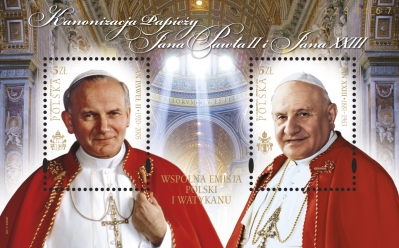 ---
2014 (March 21) - [C20140321b]
Poland (April 2) - Vatican
Canonization of Pope John Paul II (1920-2005, Pope from 1978 to 2005). Concerted issue [C1].
Identical stamps and miniature sheets. Portrait of Pope John Paul II, available as a stamp (multicolored, or the same stamp in a miniature sheet (multicolored or brown-black).
Stamps – miniature sheets with 6 stamps – souvenir sheets in multicolored and brown-black – FDCs – mixed FDCs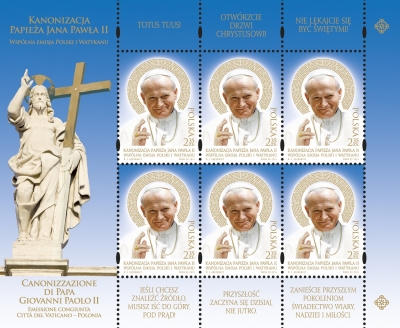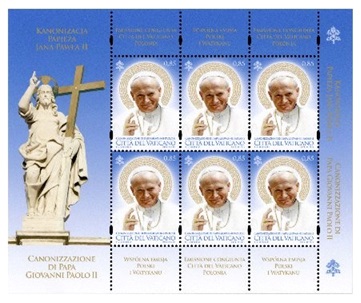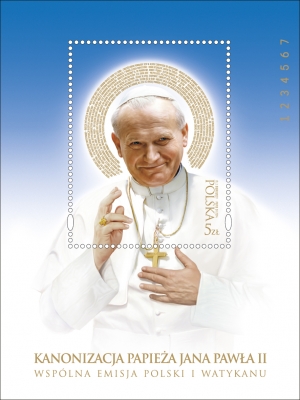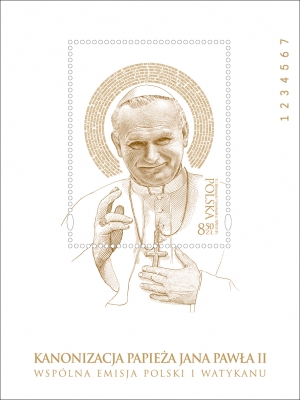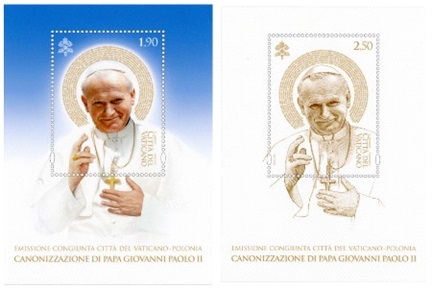 ---
2014 (March 28) - [C20140328]
Georgia (December 22) - Latvia
20th anniversary of relationship. Concerted issue [C1].
Identical stamps. Symbols, statues, flags, figure "20". Multicolored.
Stamps - FDCs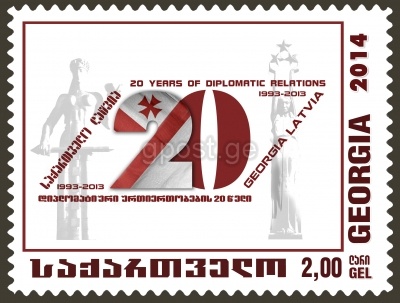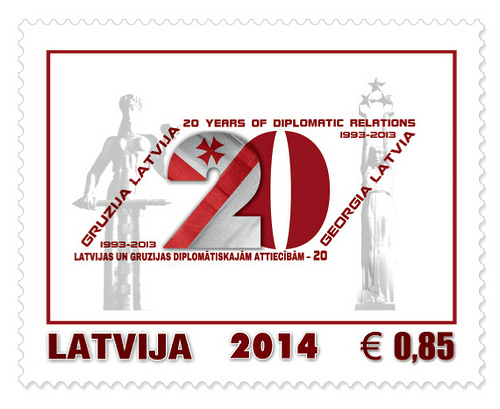 ---