Joint Stamp Issues - News
Archives Quarter 4, 2012

This page is the archived News Page from the October to December 2012 period. All contents have been dispatched in the respective open pages. However there may still be open questions and any complementary information remains welcome. As soon as an information is archived, the text will not be changed anymore. So if news are linked to the below, this information will be displayed as a new heading in the currently open News page.
Back to list of Archived Pages
---
December 16, 2012
Grzegorz Omelanczuk (Poland) provided the first image of the German stamp to be issued jointly with France on January 2, 2013.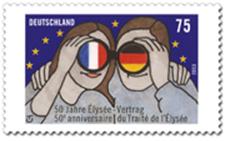 Grzegorz discovered also an unexpected Bulgaria - Kazakhstan joint issue released at the occasion of the 20th anniversary of their relationship. Bulgaria issued its stamps on December 12, 2012 and Kazakhstan on December 14, 2012. Stamps represent ancient jewelry. The Kazakhstan stamps are identical but we have not found yet an image with sufficient quality. 20,000 miniature sheets of 2x3 stamps were issued by Bulgaria, while Kazakhstan issued 30,000 stamps in se-tenant pairs printed in 8 stamps (4 pairs) miniature sheets.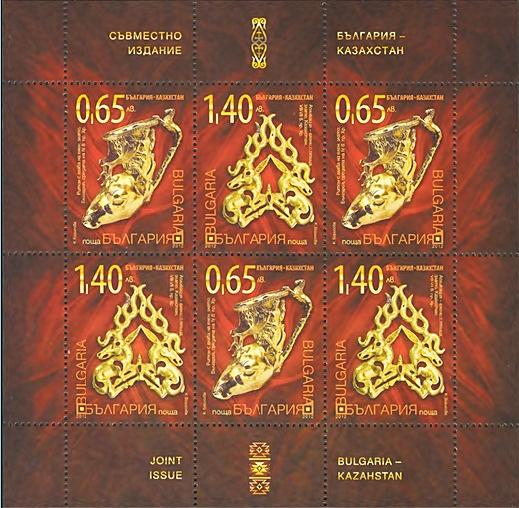 ---
December 16, 2012
The joint issue SMOM (Sovereign Military Order of Malta) - Romania was issued on December 14, 2012. Pictures of the stamps were provided at the same time by Don Birschel (USA), Fabio Bonacina (Italy) and Enzo Cafaro (Italy).
Romania has issued an isolated stamp printed in sheet of 32 stamps [4x8] (printed 150 panes, so 4,800 stamps) and one minisheet of 8 stamps and one central label [3x3] (printed 4,750 miniature sheets, i.e. 38,000 stamps). First day covers (750 with black cancellation and 1,000 with red cancellation - see below, folder), philatelic document and maximum cards (500) are also available.
Romania also produced a folder with a limited run printing (1,000!!), containing a different minisheet (8+1) (golden central label, printed 1,000 miniature sheets, i.e. 8,000 stamps), a different first day cover (1,000) and a souvenir sheet of 2 stamps (1,000 souvenir sheet, i.e. 2,000 stamps) that you can find only in the philatelic folder. Images below are provided by Enzo Cafaro with the aim to help distinguish between the different products. The folder with its very limited edition is considered as a philatelic product to abuse collectors and will be mentioned in the catalogue without quotation. This issue is anyway to be considered as a Non-accepted joint issue [N] as the SMOM is a postal entity not yet recognized by the UPU.
The SMOM stamps were issued in miniature sheets of 12 stamps [3x4] and printed at 12,000 samples (1,000 miniature sheets). So far no mixed FDC has been seen.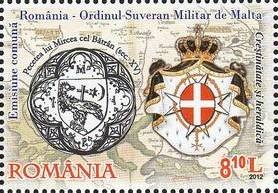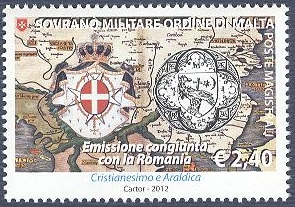 Romanian FDC: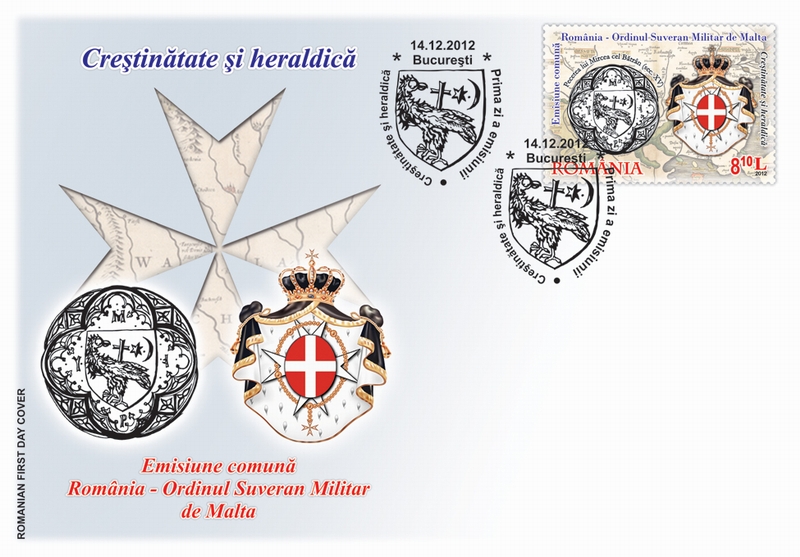 Romanian FDC from folder: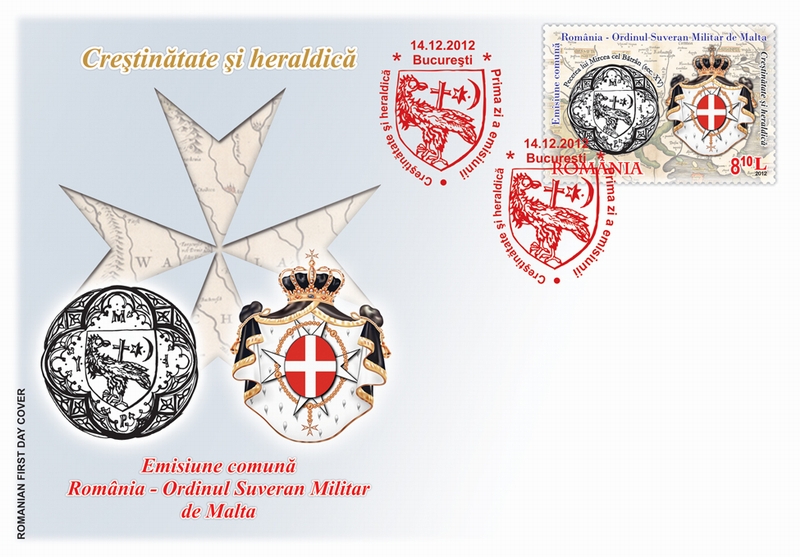 Romanian miniature sheet: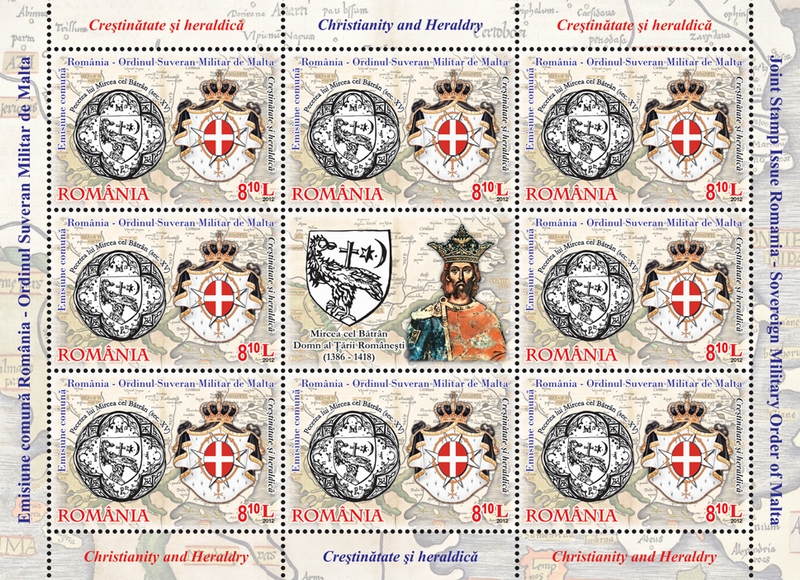 Romanian miniature sheet from folder the central label is different):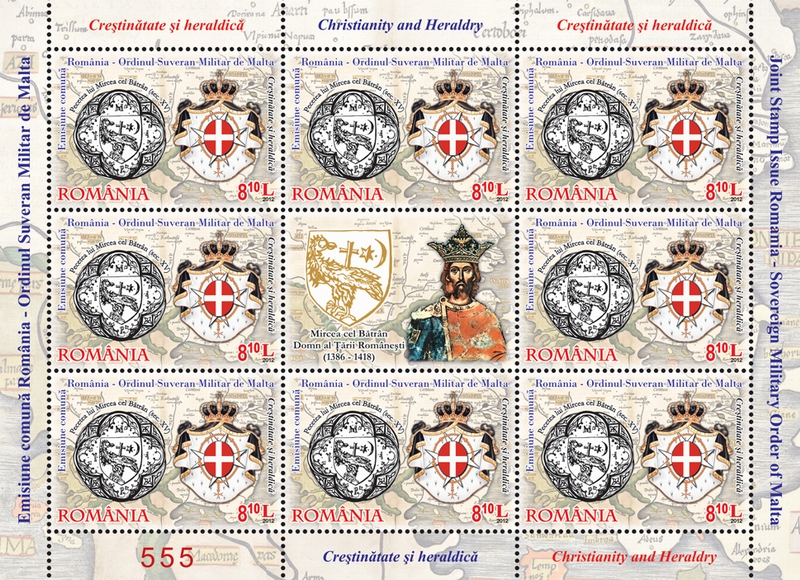 Romanian souvenir sheet: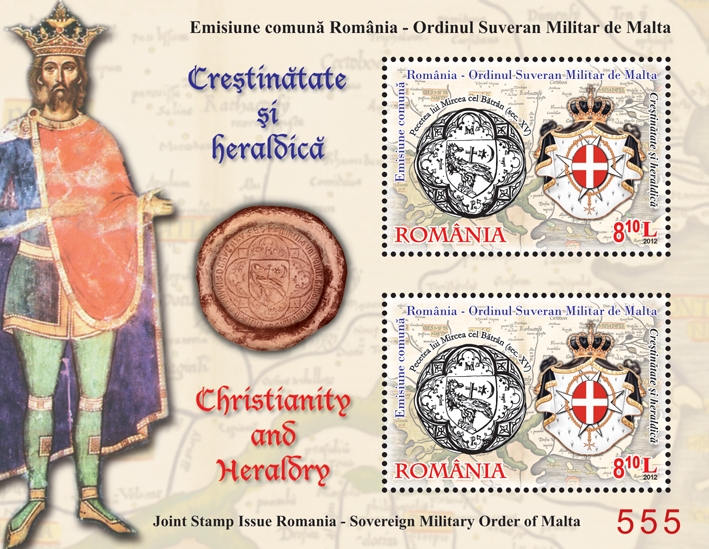 ---
December 16, 2012
On page 90 of the Michel Rundschau 12/2012, there is a report about a German postal stationery issued on November 2, 2012, that bears the imprint of the joint stamp issue with Russia from 2004 [T20040603]. This souvenir cover (162x114mm) was issued at the occasion of the 200th anniversary of the Convention of Tauroggen (now Tauragé, Lithuania) between Prussia and Russia (December 30, 1812). The cachet is illustrated with a map of the area of Königsberg (Kaliningrad).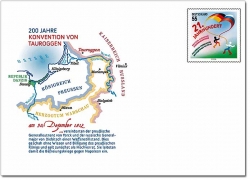 ---
December 16, 2012
The Swiss postal administration official publication "Lupe" presents at the occasion of Christmas a product (folder) containing the 11 mint Christmas stamps issued end of 2012 by Austria, Germany, Liechtenstein and Switzerland. Although four countries are participating to this product, it cannot be considered as a joint issue.
In the same vein, the German postal administration issued a mixed cover with one Christmas stamp from each German-speaking country cancelled from November 9, 2012 with a cancellation linked to Christmas 2012, together with a cancellation from a Zeppelin flight. This is not a joint issue.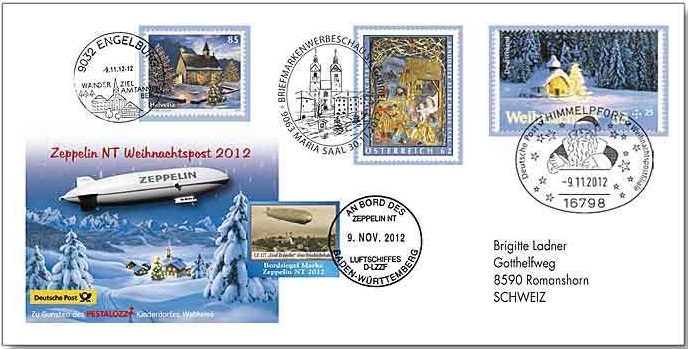 ---
December 4, 2012
The New Issue page for Quarter III, 2012 was updated.
---
December 3, 2012
Our friend Benjamin Busch (France) - and actually myself also - is still interested and looking for printing/production numbers of the special folders called "pochettes" issued by the French Post each time a new joint issue is produced. These folders contain a pair or a block of four of mint stamps from both involved countries. In order to help him, here are the most recent figures I have found. But any further information related to earlier joint issues involving France (actually since 1984) is welcome. Thanks in advance:
[T20081120]: Lebanon - 40,000
[T20091009]: Switzerland - 40,000
[T20100601]: Monaco - 40,000
[T20120511]: Vatican - 17,500
[S20121108]: Andorra - 35,000
[T20121109]: Sweden - 40,000
---
December 3, 2012
While checking for completeness of some older information, I discovered that I forgot to mention that the French Andorra and France stamps from the November 8, 2012 joint issue (and not November 9, as previously reported) were also printed in a miniature sheet of 10 stamps in which 5 stamps are from Andorra and five other stamps from France. This changes completely the status of this series which becomes a Siamese Issue [S], se-tenant stamps from two different countries and becomes [S20121108]. Here is the miniature sheet that is still available from the French Post at a price of 6 Euros. The number of printed miniature sheets remains unknown.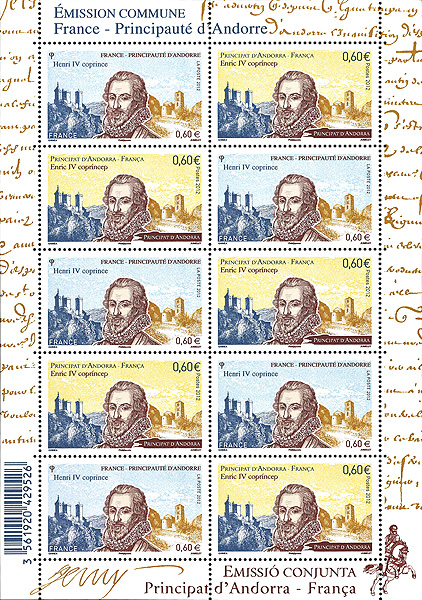 ---
December 2, 2012
The 2012 Azerbaijan souvenir sheet related to the Azerbaijan-Poland relationship is a unilateral issue. Poland postal administration confirmed that there is no stamp on their site that was or will be released related to this event.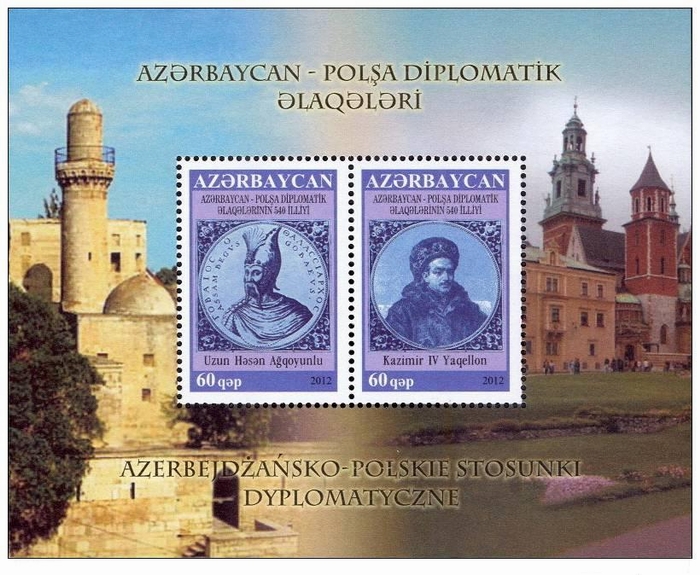 ---
December 2, 2012
Enzo Cafaro (Italy) and Fabio Bonacina (Italy) both confirmed that Romania and the Sovereign Military Order of Malta (SMOM) will issue a common stamp on December 14, 2012. A first image of the SMOM stamp could be provided. No data are so far available from Romania.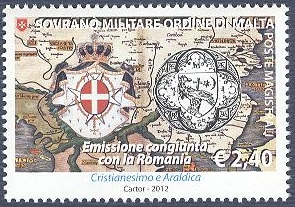 The other SMOM stamp initially announced as a joint issue with San Marino is now appearing on the San Marino 2013 philatelic program.
---
December 2, 2012
The correct date of issue of the China - Turkey joint series is November 26, 2012 and not December 26 as previously mistakendly announced. These stamps have been issued. Don Birschel (USA) provided the first images in which we discovered that actually Turkey produced a souvenir sheet.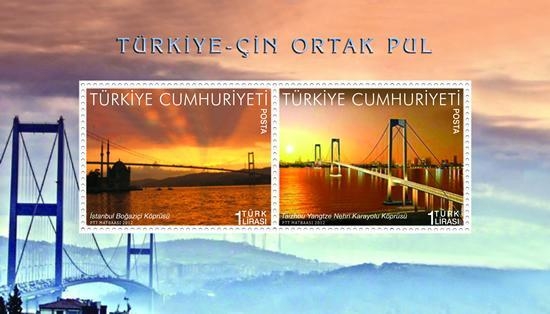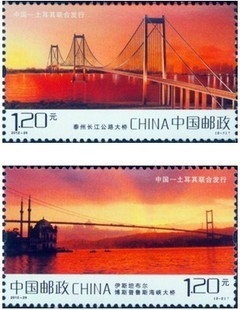 ---
December 2, 2012
Information about new issues in 2013 (provided by Grzegorz Omelanczuk):
- the Aland program shows a stamp depicting the ferry m/s Princess Anastasia that could be the common issue between this country and Russia. This ferry links Russia to Sweden. The stamps are now in the official philatelic programs announced for August 5, 2013 (Aland) and August 1, 2013 (Russia). Issue to be confirmed.
- on August 20, 2013, Aland will also issue a stamp depicting a butterfly (the peacock butterfly) that is entitled the SEPAC issue. So it is probably part of the 2013 SEPAC series involving 12 or 13 countries.
- Moldova and Poland will issue common stamps in November 2013 celebrating Constantin Stere (1865 -1936), writer, savant and Bessarabian politician and Josef Pilsudski (1867 - 1936), marshal and politician from Poland
- the joint issue between Ukraine and Romania is now also confirmed in the Romanian philatelic program for 2013. There is still no more information about the exact date of issue, but the topic will be related to UNESCO World Heritage sites.
- Kenneth Sequeira (Dubai) discovered in the Indian philatelic program for 2013 a joint issue with Peru. There is no exact date provided, but it looks that this issue could take place during the second or third quarter.

See the Upcoming Issues page for a complete list of known joint issues for 2013 and beyond.
---
December 2, 2012
Surprisingly Iraq issued also at stamp at the occasion of the 2012 Arab Postal Day [T20120803]. Exact date of issue is apparently November 26, 2012. Discovery: Kenneth Sequeira (Dubai).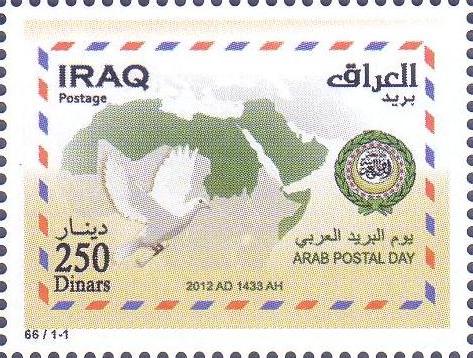 The date of issue of the Saudi Arabia stamp from this series is December 1, 2012. In fact the FDC shows the date of December 1, 1433, which corresponds to the year 2012, according to the muslim calendar.
---
November 24, 2012
Don Birschel (USA) could provide a picture of the missing Qatar stamp from the Morocco Qatar joint issue from October 9, 2012. Thanks.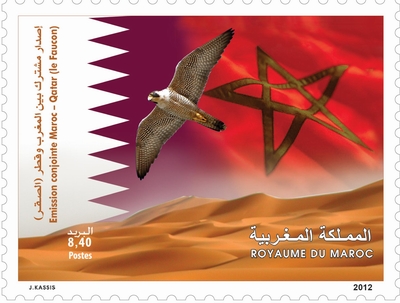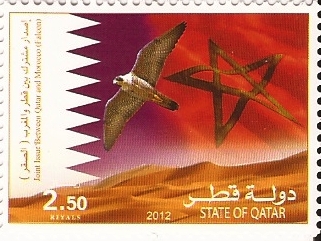 ---
November 23, 2012
A few new images related to the fifth anniversary of the Economic and Monetary Community of Central Africa (CEMAC: Communauté Economique et Monétaire d'Afrique Centrale) series issued in 1999, but discovered accidentally last years, were found. These stamps are identical, confirming that this issue can be filed as a Concerted Issue under the denomination [C19991122]. So far this series includes Cameroon (1999), Congo (Brazzaville) (1999), Equatorial Guinea (1999) and Gabon (1999, November 22). Exact dates of issues are still missing except for one country and the Equatorial Guinea stamps have not been seen so far. As there are 6 flags on the stamps, Central Africa and Chad could have been participants as well, but we have no news from these two countries.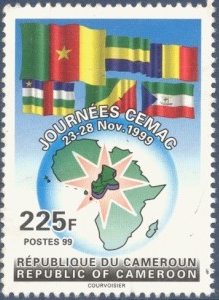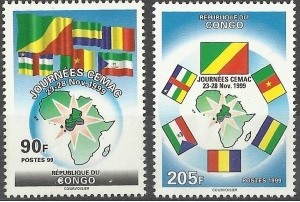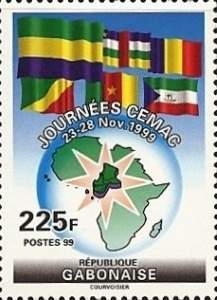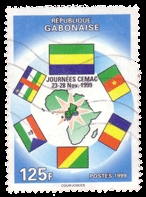 December 2, 2012: Jurgen Klein (Germany) confirmed the existence of the two Equatorial Guinea stamps as they are listed in the Michel catalogue under the year 1999, without more precise date and no quotation value.
---
November 22, 2012
Some news about older stamps: Information about North Korean stamps is always difficult to gather. However, at some European or Asian stamp fairs there are sometimes boothes with North Korean representatives who sell whatever postal material is available at that time. This happened recently during a fair in Paris, and the very low prices that are practised usually do not limit the purchase. Actually, next to stamps, they sell postal stationery (postal cards, envelopes and aerogrammes) and booklets. While looking for all material linked to joint issues that I had not seen previously I discovered the following:
In 2007, North Korea issued a joint souvenir sheet with Russia depicting flowers [T20070926a]. This souvenir sheet was announced to be available also in booklets. However, by looking closer at the booklet, one discovers that the stamps are not taken rom the souvenir sheet but is a block of four stamps from a miniature sheet. Margins are white instead of being illustrated. I haven't seen the full pane, so I am unable to say how many blocks are included in such a pane, but this is probably made out of 3 with a structure of the type [b4x3]. I found also a cover (and not a postal card) with the stamp representing the gladiola. It may be possible that all four stamp designs have been used to illustrate covers, but so far only one was seen.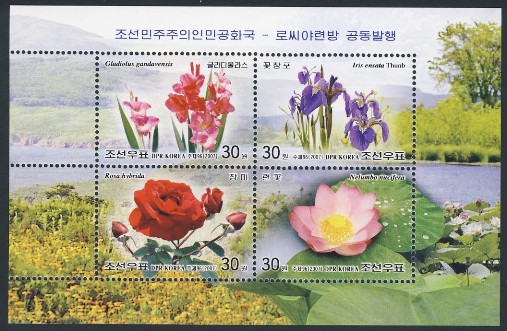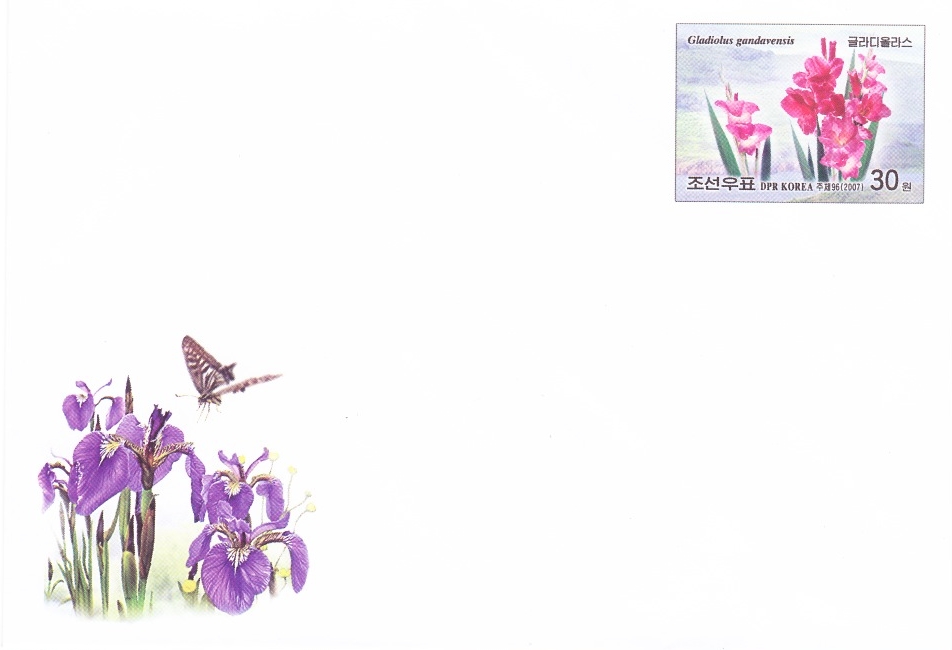 In 2005, another joint issue between North Korea and Russia [T20050601] representing a sable and a Siberian tiger generated also some postal stationery. Similarly one cover and one aerogramme each with the tiger stamp were also issued and the equivalent stationeries illustrated with the sable was never seen. It may be possible that only one cover is issued per series justifying that only one flower envelope was issued in the previous series.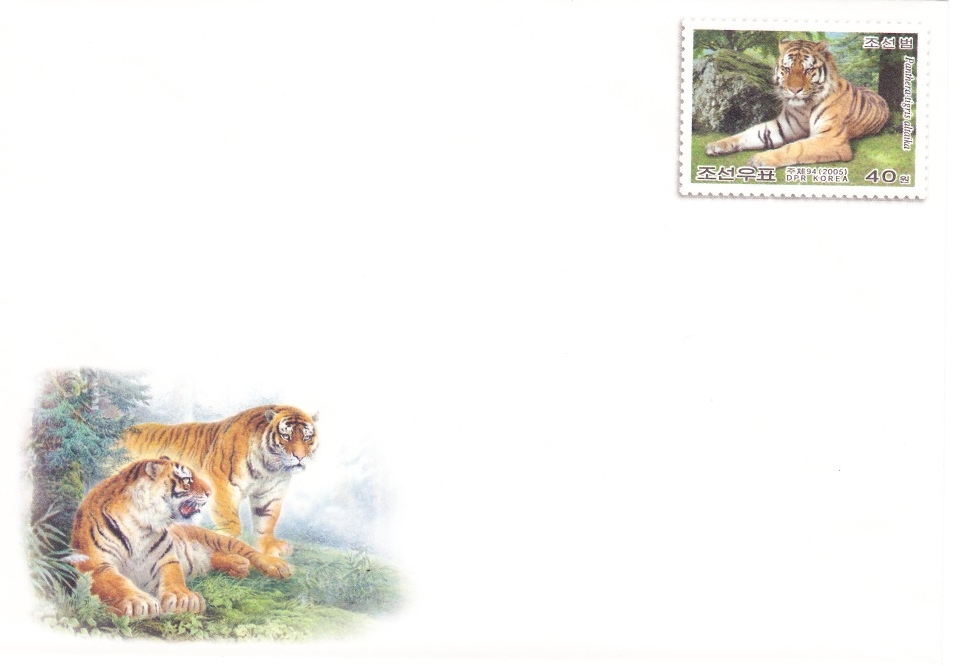 ---
November 22, 2012
Med Achour Ali Ahmed (Algeria) told us that Algeria may issue by mid of December 2012 and out of programme stamp commemorating the 50th anniversary of the relationship with Russia (in 1962 the agreement was signed with the Soviet Union). However, this Algerian stampsmay stay as a unilateral issue as Russia issued by end of 2011 two postal stationeries related to this event. Any further information is welcome.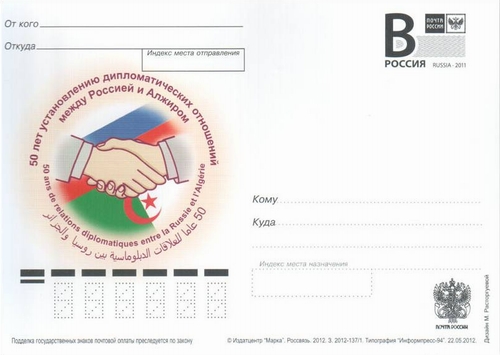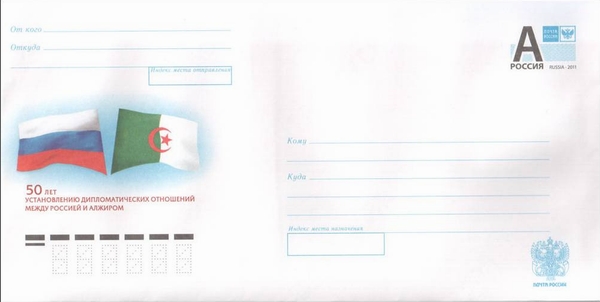 December 16, 2012
The Algerian stamp was issued on December 16, 2012, with no counterpart from the Russian side, confirming it is not a joint issue.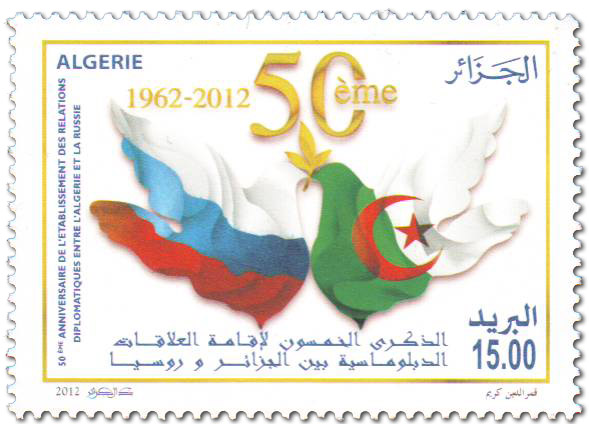 ---
November 21, 2012
While looking for the AICEP stamps involving Timor Leste, we discovered a 2012 Cuban stamp with two flags labelled as joint issue with Timor Leste. In absence of information about the Timor stamps we cannot claim having found a new pair. Therefore any information about recently issued Timor Leste stamps (and also about the date of issue of the Cuban stamp) is much than welcome.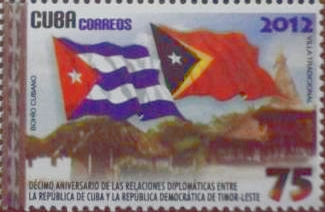 ---
November 21, 2012
Macao announced recently the release of a stamp as part of a joint issue involving all 9 Portuguese speaking countries related to the 21st Lubrapex 2012 meeting in Sao Paulo and bearing the logo AICEP. In fact Brazil and Portugal had already issued their stamps on September 7, 2012 as a true twin issue. Among the remaining countries Macao (October 9, 2012) and Cape Verde (October 15, 2012) have already issued their stamp and the design is similar. Each stamp represents the portrait of a writer from the issuing country. Not all countries have issued their stamps so far. The status of this issue will have to be rechecked. In the meantime we have to find the pictures of the stamps issued by Angola, Guinea Bissau, Mozambique, Sao Tome and Timor Leste. Any help is welcome.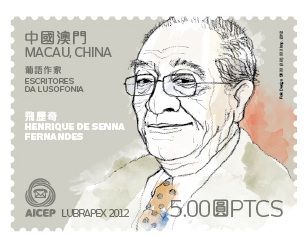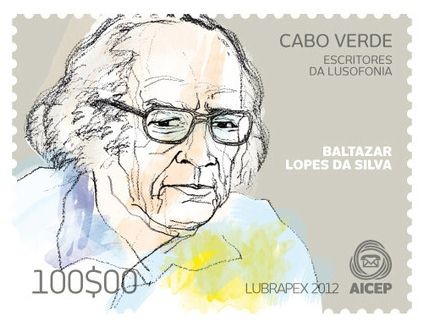 ---
November 21, 2012
Some news concerning the Arab Postal Day stamps issued on August 3, 2012:
Jaap Sarelse (The Netherlands) found the Palestine Authority stamps on eBay. It is a series of five stamps with high facial value (total 6,750 Fils i.e. about €uros 8.00) that is in consequence also offered at a high price (about USD 15 but up to USD 40, plus shipment). At this stage I would recommend to wait until more offers are available. Exact date of issue is unknown, but at least these stamps did not suffer from a long Israelian embargo, like previous Palestinian stamps, although it is unknown if these stamps ever went through the Palestine Territories.
Grzegorz Omelanczuk (poland) completed the series with the discovery of the Saudi Arabia stamps (one stamp, [2x3]; exact date of issue unknown) issued at this occasion. The full series consists now in 10 countries, the same as in previous years with the exception of Syria. Among other countries which could have participated one could add Iraq, Jordan, Lebanon and Lybia. So far it seems that none of these countries have participated to this year's issue.
---
November 18, 2012
The Vatican philatelic program for 2013 announced a joint issue with the Czech Republic and Slovakia at the occasion of 1150th anniversary of Holy Cycrillus and Methodus. Grzegorz Omelanczuk (Poland) recently discovered also a joint issue in the Russian philatelic program for 2013, in which this country plans also a joint issue at this occasion with Czech Republic and Slovakia; date of issue should be May 20, 2013. Nothing is wrong so far, but it may be possible that these two announcements eventually merge in a single 4 countries joint issue (?). On top of this, Belarus has also planned the issue of a stamp at this same occasion, on May 25, 2013, but without mention of a relation with any another country. This topic will be interesting to watch.
---
November 17, 2012
Lucas Kobbernagel (Denmark) provided interesting information about the 2013 philatelic programs of Denmark and Greenland that were recently published: Denmark and the Faroes Islands will have a joined issued (twin issue) of one stamp on March 4, 2013 related to the Danish Philosopher Søren Aabye Kierkegaard 200th anniversary. On October 29, 2013, Denmark and France will issue joint stamps celebrating one of the French architect Joseph-Jacques Ramée's buildings in Denmark. In 2013, we will also see a Greenlandic/Israelian and a Greenlandic/Macau joint issue. Thanks for this information.
---
November 17, 2012
Fabio Bonacina (Italy) reported in Vaccari News the latest information about the German Sixtin Chapel painting stamps that were as announced previously, issued on November 2, 2012 in a booklet of 10 self-adhesive stamps at the occasion of Christmas. This stamps had been issued previously as part of a souvenir sheet, on March 1, 2012, as a joint issue with the Vatican State.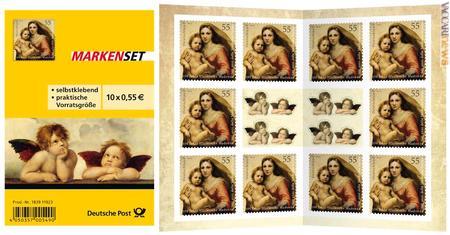 This gives me also the occasion to recommand the regular information provided in Vaccari News, in which you will also find the most updated list of the philatelic programs of Italy, the Vatican State, San Marino and the SMOM. Author is our friend Fabio Bonacina.
---
November 17, 2012
Summary of joint stamps that were issued in the past three weeks:
2012 (November 5) - India - Israel
Festival of lights: Hannukah and Diwali; 20th anniversary of relationship.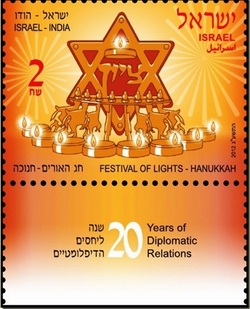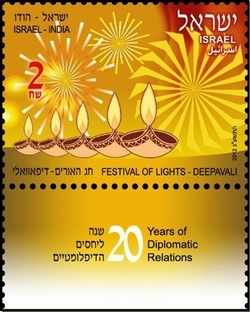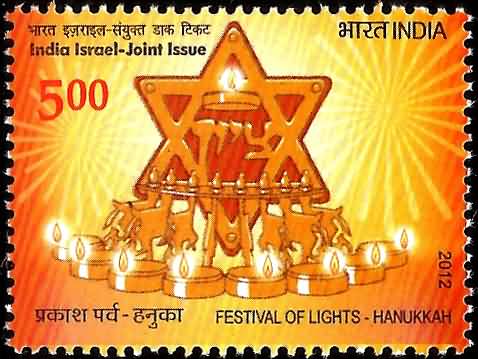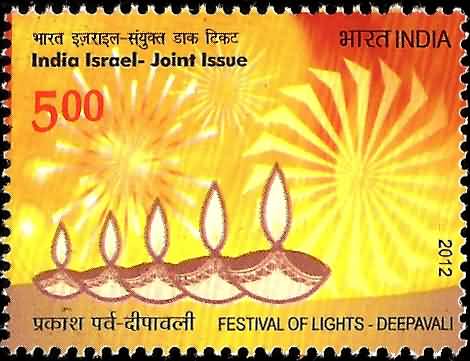 2012 (November 9 and 12) - France - Sweden
Opera: Daniel Auber and Gustav III. Both countries issued two stamps in pane and in a souvenir sheet.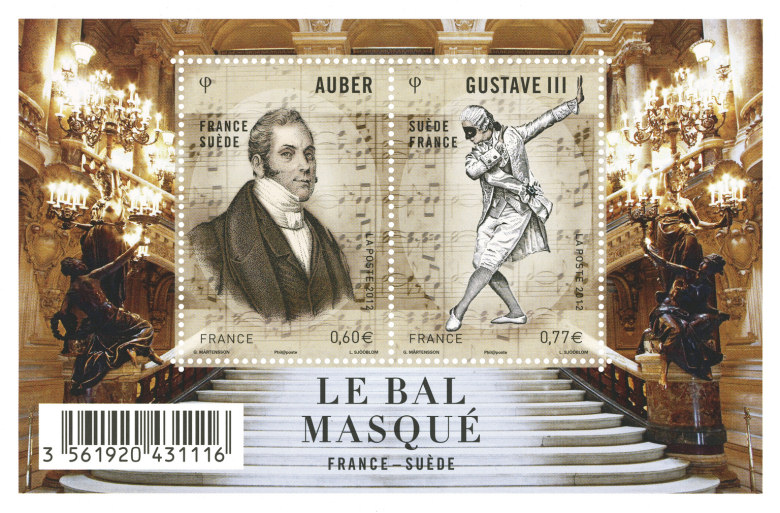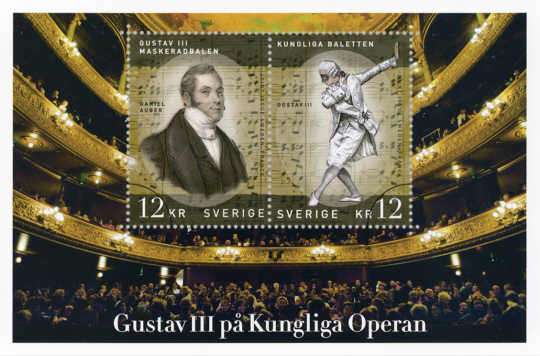 2012 (November 9 and 12) - Andorra - France
King Henri IV coprince of Andorra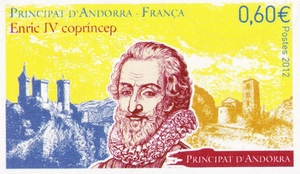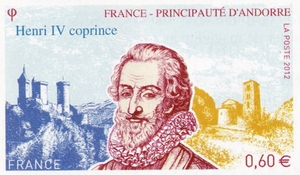 2012 (November 10) - Austria - Thailand
115th anniversary of King Chulalongkorn's visit to Austria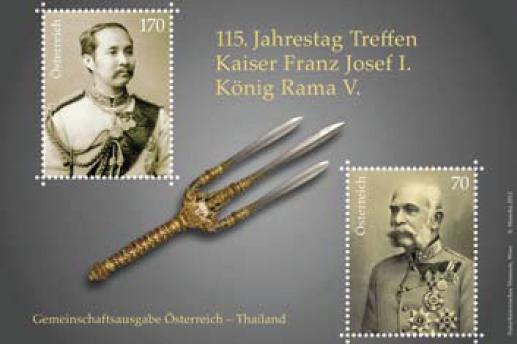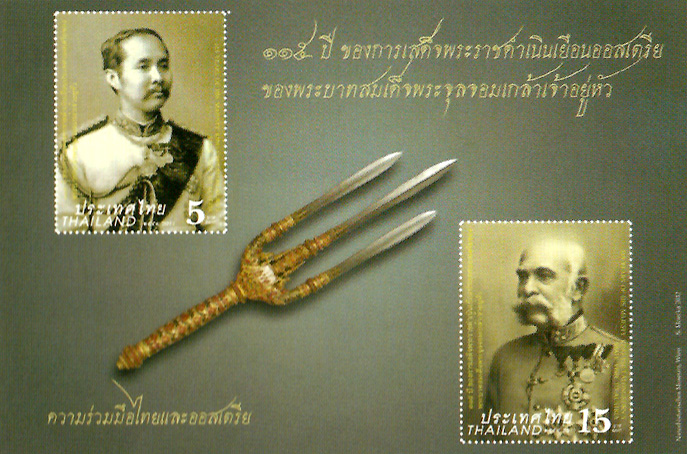 ---
November 17, 2012
Rindert Paalman (The Netherlands) and Anthony Raynaud (France) discovered the not yet announced joint issue between Brunei and Singapore. These two countries will release on November 27, 2012, two stamps each at the occasion of the 45th anniversary of the currency interchangeability, one stamp is common, but the second one is available as part of a souvenir sheet released by Singapore and containing 3 stamps..

---
November 17, 2012
On October 18, 2012, Azerbaijan released a souvenir sheet with two stamps that was the counterpart of the stamps released by Egypt on May 28, 2012. This is an unexpected joint issue discovered recently by Grzegorz Omelanczuk (Poland). Stamps are identical and this joint issue will be filed under the code [C20120528].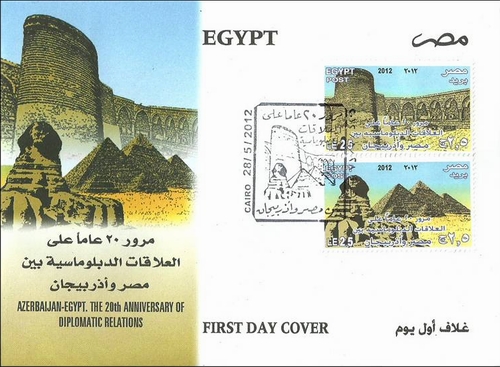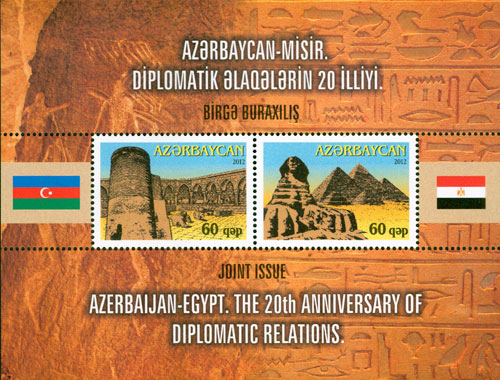 ---
October 26, 2012
Apparently the Israel postal administration changed its mind about the issue of the India - Israel Festival of light stamps. We reported initially as being issued on December 12, 2012. The latest official document, reported by Kenneth Sequeira (Dubai) and Fabio Bonacina (Italy), shows now a first day cancellation with date of November 5, 2012, for India and the same date for Israel while the description itself tells still the month of December as date of issue, without being more precise about the day. We will have to wait until the stamp is definitely released.
---
October 26, 2012
Several different information about joint issues came in in the past weeks. Data were provided by Grzegorz Omelanczuk (Poland) and Fabio Bonacina (Italy). As I am little late in reporting those data, so I will just bring here a summary in a single paragraph:
- new joint issue: Morocco and Qatar issued their joint stamps on October 9, 2012. The stamps are identical and show a falcon and both flags. Unfortunately we have not been able to find an image of the Qatari stamp with a good quality.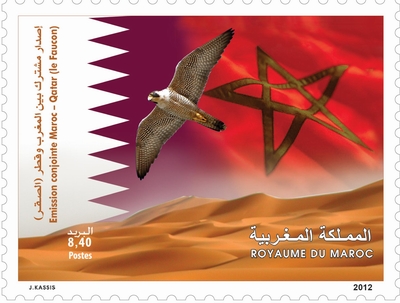 - The stamps from the Estonia Latvia and Lithuania joint issue were released on October 25, 2012. Here are the missing pictures from Latvia and Lithuania. Each country issued a souvenir sheet with three stamps and an isolated stamp.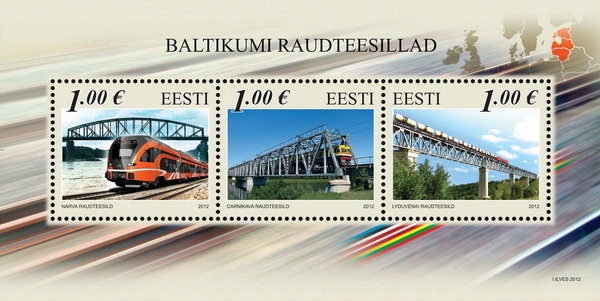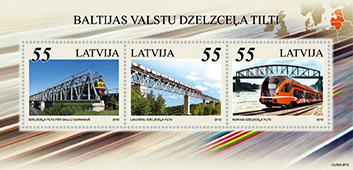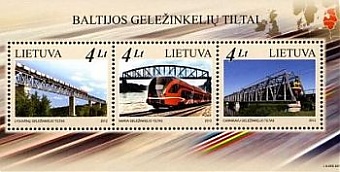 ---
October 2, 2012
It is never too late to report information on stamps, but the following products, gathered during the Paris French Stamp Exhibition in June 2012, were just waiting on a table, and I rediscovered them only recently:
Dominique Josse (France) provides me regularly with mixed FDCs involving France. One of them merits to be displayed here. It is the joint issue between France and Vatican from May 11, 2012 [T20120511] (portrait of Joan of Arc). The cover shown here bears one Vatican stamp and five French stamps, all of them with different first day cancellations. The first day event for this stamp took place at five different sites and each of them is represented on this mixed cover. French official first day cancellations were available from Paris, Nimes, Orléans, Domrémy and Vaucouleurs. Thanks Dominique for this nice item.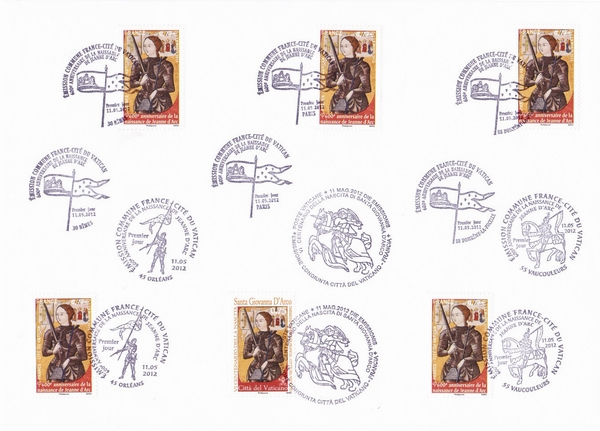 During the event, I met also Marc Boukebza, director of the FSAT philately who pointed to a specific product that was created during the year 2011. The French postal administration issued a special booklet devoted to the Overseas territories and for which each administration had to provide a local design. Date of issue November 28, 2011, anticipated date of sale November 25, 2011. Eventually this resulted in the creation of a series of 10 different self-adhesive stamps:

Only the French Southern and Antarctic Territories provided a design that was reused one week later as a stamp issued in panes (date of issue December 3, 2011 - general sale on December 7, 2011). Of course although the same design was used by two different countries (France and TSAF), this cannot be considered as a joint issue. It will be mentioned only in the category of Borrowed Design stamps [N]. Note the difference in size between stamp issued in booklet (France) and in panes (TSAF). The stamp was designed by Serge Marko.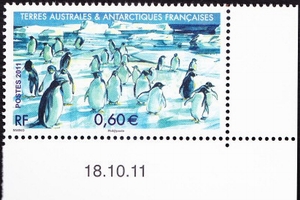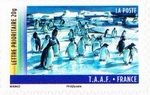 Engravers were also present during the exhibition and I had a chance to discuss with Elsa Catelin who also could provide me with the following signed artist assay of the November 3, 2011 Saint Pierre and Miquelon stamp (joint issue with TSAF). She engraved both stamps from this joint issue.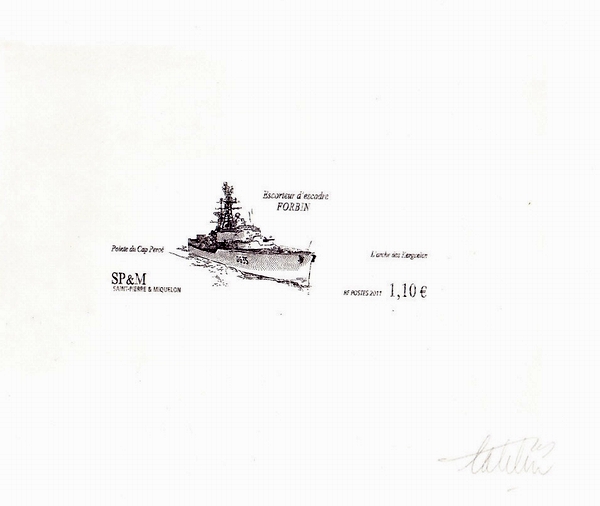 ---
October 1, 2012
Anthony Raynaud (France) found on Delcampe a superbe item that shows on a same sheet the four stamps of the Conseil de l'Entente series from May 29, 1960 [T19600529]. Upper Volta, Niger, Ivory Coast and Dahomey had participated to this issue at that time. All of these countries had issued one stamp at the same date, with same design, just different colors. Non-perforated gummed sheetlets with one stamp are known, but it is the first time that we see this multiple countries item. Of course this is not sufficient to change the classification from Twin [T] to Siamese [S] as this item was not available at local post counters. However it remains a nice product that confirms in another way that this issue was really joint. I am wondering if subsequent Conseil de l'Entente issues resulted in similar multiple countries products [T19740529], [T19840529], [T19890529] and [C19990529]. Any information is welcome.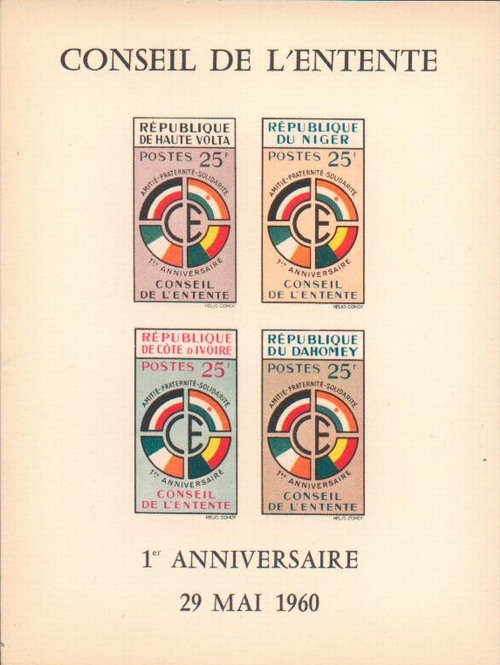 ---
October 1, 2012
We are still missing some information to complete Quarter III, 2012 joint issues list:
- No news from the Indonesia Surinam joint issue supposed to be released in August 2012 (according to Indonesia philatelic program)
- No news from some countries that usually are involved in the yearly Arab Postal Day, this year released on August 3, 2012. Missing are Lebanon, Palestine (but this country is always late), Saudi Arabia and Syria (knowing the present political situation this country may not participate this year).
Any information is welcome.
---
October 1, 2012
Benjamin Busch (France) has discovered a folder with mint stamps from the June 21, 2006 Argentina France joint issue [T20060621] that was issued by Argentina. Such folder (called "pochette") are common in France and produced by this country for almost every joint issue (usually containing a block of 4 of each stamp from both participating country), but very rare when also produced by the partner country. In this case the format is different, but the illustration of the cover is almost the same.
October 26, 2012: Dominique Josse (France) found on eBay this special Argentina folder at a starting price close to €uros 40. This is to our opinion much too expensive even if this material is not seen so often.
By the way, Benjamin is looking for all type of information related to these French "pochettes", such as printing number. If someone does have some data, please forward as there is some interest here.
---
October 1, 2012
The newspaper Timbres Magazine provided the pictures of the next Andorra France joint issue to be released during the Paris Philatelic Autumn Fair on November 9, 2012.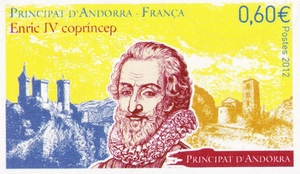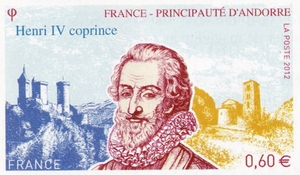 ---
October 1, 2012
The first image of the Estonia stamp part of the Estonia Latvia Lithuania joint issue from October 25, 2012 was published on the web. Although no more information is available from the two other countries, we estimate that the design and the date of issue will be the same as in the past. Apparently each country will issue a similar souvenir sheet bearing three stamps plus one stamp in panes, the one corresponding to the local illustration.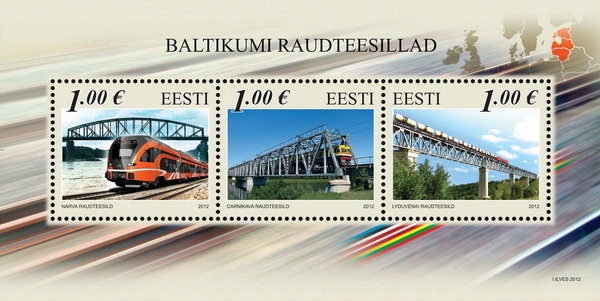 ---
October 1, 2012
In 2013 Ireland will commemorate the 50th anniversary of John F. Kennedy's presidency and his visit to Ireland. Grzegorz Omelanczuk (Poland) found a link informing about Irish initiative to turn the stamp planned for release next year into a joint issue with the United States. Discussions are still running and this information is to be confirmed.
---
October 1, 2012
Kenneth Sequeira (Dubai) found the first information about the next India - Israel joint issue. There will be two stamps of course with tabs for the Israeli stamps and the date of issue will be December 12, 2012. The Indian philatelic program still says November 2012 without more precision but we can bet that the date of issue of the Indian stamps will probably be the same. These stamps commemorate the 20th anniversary of relationship between both countries and illustrates the festival of lights (Hannukah and Diwali).
This special date of "12/12/12" will also be the first time that a joint issue is linked with figures. The next time there will be such a possible combination of three same figures for stamp collectors will be in 88 years on January 1, 2101! Here are the first images for the Israel stamps.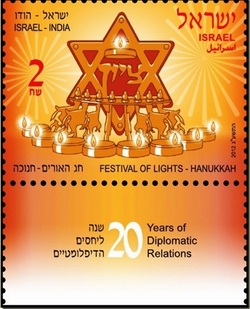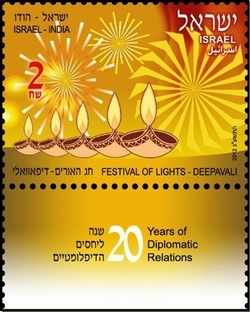 ---
October 1, 2012
The News from the period July to September 2012 have been archived.
---
All previous information reported in this section is to be found in the News Archives.