Joint Stamp Issues - News
Archives Quarter 1, 2012

This page is the archived News Page from the January to March 2012 period. All contents have been dispatched in the respective open pages. However there may still be open questions and any complementary information remains welcome. As soon as an information is archived, the text will not be changed anymore. So if news are linked to the below, this information will be displayed as a new heading in the current News page.
Back to list of Archived Pages
---
March 26, 2011
Just for fun, Sten Vandeweghe (Belgium) added a new recent AIDS stamp to the collection start listed below. This new one was issued by Kazakhstan on June 3, 2011.
I found another one from Saint Lucia issued on September 1, 2011, but also stamps from Uruguay or Uzbekistan. If you are really interested in this topic, take a look at the web site http://www.aidsonstamps.com/stamps.htm, you will find dozens of these stamps. These additions still not transform these issues in joint stamps, sorry.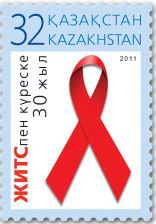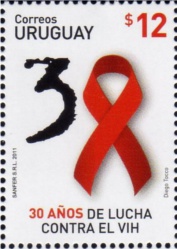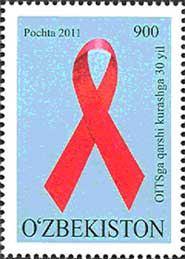 ---
March 26, 2011
Steven Vandeweghe (Belgium) got the written confirmation from Aland Post (Thank you Gunilla Häggblom) that the April 16, 2012 stamps dedicated to the Titanic sinking will be a true joint issue with Belgium.
Steven also checked some of the mixed cards involving Belgium stamps and came out with a kind of proof that at least the January 17, 2011 card with Slovakia should be considered as parallel, because both stamps were issued on that same day (see also below). Same considerations were made by Cesar W. Ittmann (The Netherlands).
There is still some explanation required about the origin of all these new Belgium mixed cards.
---
March 26, 2011
Constantine Mengoulis (Greece) did send the first information about the Canada - Guernsey joint stamp issue which is going to come out on June 15, 2012. This joint issue features the Guernsey born British Major-General Sir Isaac Brock and War Chief Tecumseh and commemorates the bicentennial of the War of 1812. Two se-tenant stamps will be issued by each country that will also produce a mixed first day cancelled cover.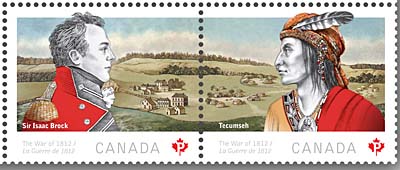 ---
March 26, 2011
Several collectors are looking for the 20101025 AICEP stamp from Timor Leste. Of course it appears from time to time on eBay or Delcampe, but at very high prices (around Euros 18.00 + postage, far above face value which is approximately € 0.60!). If someone has an information about a reliable source at "normal/acceptable" price, this would be really appreciated.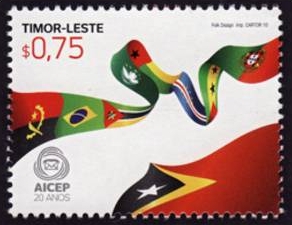 ---
March 26, 2011
By checking both the Cuban and the Philippines issued stamp lists from 2011 we have to come to the conclusion that the July 1, 2011 stamp issued by Cuba at the occasion of the 65th anniversary of the diplomatic relations with the Philippines must be considered as an unilateral issue. No stamps have been released by the Philippines in 2011 at this occasion.
---
March 26, 2011
We have some delay in providing information about new joint issues released in the past weeks or to be released soon. So here is a summary from the information provided first by Grzegorz Omelanczuk (Poland) during that period:
By visiting the Belarus philatelic web site under http://www.belpost.by/eng/stamps/plan-2012/ Grzegorz found an update to their 2012 stamp program. Two stamps with the topic fauna (newts) are to be issued June 25, 2012, together with Russia. This issue is not yet mentionned on the Russian stamp issue program.
As a reminder, Belarus will issue a few days earlier, on June 7, 2012, another pair of stamps also devoted to fauna (hedgehogs) together with Kazakhstan.

At www.correos.es he found some details of the 2012 joint issues to be released by Spain. We already knew about partners: Russia and Romania and from now we know what will be the topics:
1. Spain-Russia will be released on July 17, 2012 and not in May as initially announced. Topic: Architecture - two stamps representing the Episcopal Palace in Leon and the Church of Resurection in Saint Petersburg - some details are available on the Russian philatelic web site http://www.rusmarka.ru/plans/planmarka.aspx
2. Spain-Romania on October 1, 2012, with topic fauna: Spanish Ibex and Balkan Deer.

By searching through the Brazilian, Mexican and Portuguese philatelic web sites, Grzegorz found also the following complementary information:
1. Brazil and Mexico have both on their agenda a joint issue scheduled for 2012, June 1 for Brazil, August for Mexico. Usually in such situation, this means that the stamps have been approved but they are still looking for the best date of issue. Topical seems to be the cooking based on corn and cassava
2. The Lubrapex 2012 issue is mentionned on both Brazilian and Portuguese web sites, but there is still a question if this will be a joint issue. Apparently it should be issued in October 2012
3. A Mexico-China joint issue appeared on the 2012 Mexican philatelic program, without details and without specific date. To be confirmed.
4. The Rio+20 issue announced by UNPA for June 1, 2012 appears now also on the Brazilian philatelic program, but still without mention of a joint issue.
5. And as usually, Brazil will release a series of stamps dedicated to diplomatic relations for which one will know probably only afterwards if they were produced in common with the partner countries. This year we are expecting a first series on national writers with Angola and Cape Verde in October 2012 and a special Antarctic stamp related to Chile in June 2012. So far information from these three partner countries are missing.
---
March 6, 2011
Jaap Sarelse (The Netherlands) just mentionned that the Angola (unissued) birds miniature sheet from the 2004 SAPOA series is presently for sale on eBay and has already reached the price of ... US$989.99 ! - and was sold at that price (only one bidder)
---
March 6, 2012
Hendro Budidharmono (Indonesia) was wondering if the 20th anniversary of the CIS (Commonwealth of Independent States - ex Soviet Union) stamps could be considered as a joint issue. The answer is no, because both dates of issue and designs are different. Here is a compilation of the information that I have available right now (all countries have issued one stamp except otherwise indicated):
- Armenia 20111201
- Azerbaijan 20110923
- Belarus 20110628
- Kazakhstan 20111110
- Kirghistan 20111008 - also together with a non perforated stamp
- Russia 20111103
- Tadjikistan 20110826 - souvenir sheet
- Ukraine 20111208
All of them bear the symbol/flag of the CIS. The complete series includes normally 11 countries. We are still missing Moldova, Turkmenistan and Uzbekistan. Georgia, the 12th country, left the group in 2008. Below are the reproductions of the stamps with the closest designs.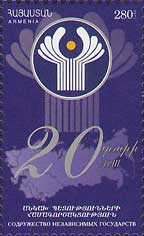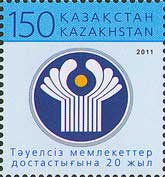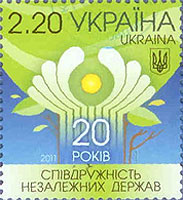 While doing this screening, I discovered also the stamps issued by the same countries celebrating the 20th anniversary of the Regional Community for Communication (RCC). For the same reason, these issues cannot be considered as joint issues. Here is the list of known stamps as well as some close design reproductions.
- Armenia 20110601 - souvenir sheet
- Azerbaijan 20110923
- Belarus 20110920 - souvenir sheet
- Kazakhstan 20110922
- Kirghistan 20111001 - also together with a non perforated stamp
- Moldova 20111014 - postal stationery (cover)
- Russia 20111010
- Tadjikistan 20110908 - souvenir sheet
- Ukraine 20111014 - 2 triangular stamps (completely different design)
- Uzbekistan 20111101 - souvenir sheet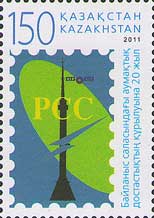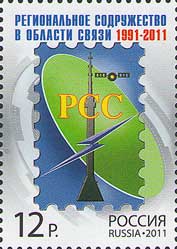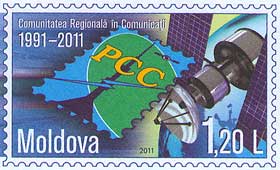 ---
March 6, 2012
The Joint issue between Colombia and South Korea was not a misinterpretation or a confusion with the Mexican - South Korea joint issue from January 26, 2012. This issue will really take place on March 9, 2012 and will be released at the occasion of the 50th anniversary of the relationship between the two countries. The two stamps normally issued by both countries represent coffee and ginseng. So far we have only the confirmation from the South Korean postal administration. We have to thank Grzegorz Omelanczuk (Poland) for this information.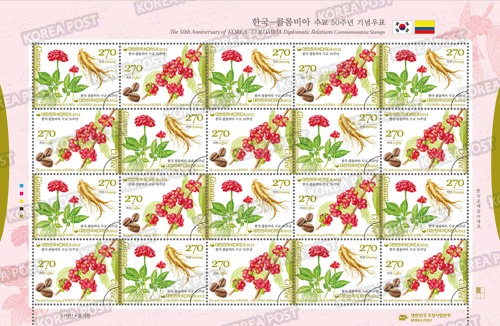 ---
March 5, 2012
Fabio Bonacina (Italy) tells us about two potential new joint issues one involving Italy and the Vatican State to be released first on May 4, 2012 (Year of the jubilee of the Somascan Order) and Italy San Marino in June 2012 (Train line between Rimini and Rome). Of course both have to be confirmed.
---
March 5, 2012
Further information and comments to complete data provided in Supplement VI:
From Fabio Bonacina (Italy): for the [T20111211] joint issue between Russia and Italy, one should have mentionned also that Russia has issued by April 29, 2011 a postal stationery in form of an illustrated cover: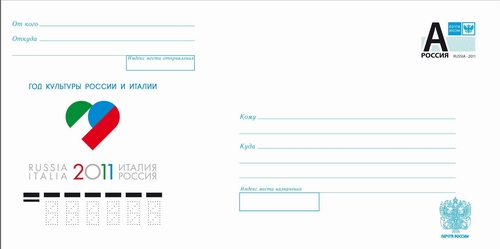 Further comments from Jaap Sarelse (The Netherlands):
- [C20110412]: Beatification of Pope John Paul II, Poland - Vatican: it seems that a mixed cover exist.
- [T20110526]: same for the Montenegro Russia joint issue: it seems that a mixed FDC cover exist
- [T20110720]: Thailand Post issued a mixed folder (2x4 mint stamps from Thailand and Portugal) as well as a mixed FDC (probably private as based on the Thai single FDC).
- [T20110808]: Indonesia Malaysia - Mixed FDCs exists from Indonesian origin
- [T20110915]: Germany - Romania - There are also mixed FDCs issued by Romania as well as Deutsche Post. Romania also issued a mixed folder/album
- [T20111011]: Moldova - Romania - The official document contains a mixed card with 2x2 stamps (no souvenir sheet) from which only 240 copies were printed.
- [T20111213]: Pakistan - Thailand - Mixed FDCs exists, probably from private origin based on the Thai FDC.
Of course for all these items we need to see at least copies before integrating in the catalogue.
Also Jaap discovered a mixed FDC for the [T20100524] Ecuador - Venezuela joint issue: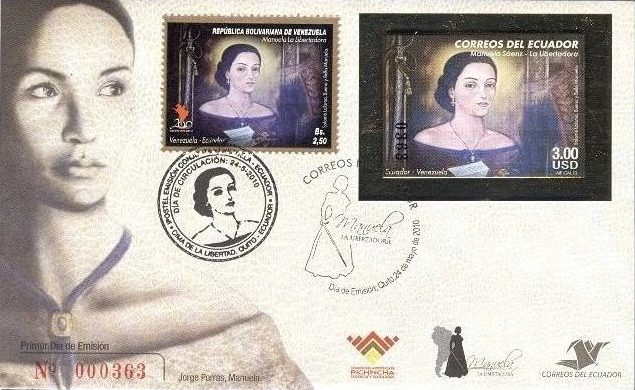 ---
March 3, 2012
Steven Vandeweghe (Belgium) provided the information from the Belgium Post about a joint issue involving Aland and Belgium to be issued on April 16, 2012 and commemorating the 100th anniversary of the sinking of the Titanic.
Belgian will issue a 3D souvenir sheet with two stamps, (price is fixed at 8.99€ but includes the 3D viewer). A souvenir card with stamps from Aland and Belgium will also be issued. The stamp of Aland is already confirmed on their website, listed to be issued on the same date, however without claiming that it is involved in this joint issue.
In fact April 15, 2012 will be the anniversary of the sinking of the Titanic and probably several countries will issue commemorative stamps at that occasion. None so far have been claimed as being joint issues. There is also a doubt about this Aland - Belgium stamps as being part of a true joint issue, because the reason of these two specific countries being involved is not clear. This doubt is reinforced by the fact that Belgium in the recent years issued special mixed cards considered as joint issues but on topics that are not claimed by the partner country as joint. So we will have to wait for a statement from Aland to confirm the real status of this issue. The only difference in this case with the previous issues is that the date of issue is identical for both countries (and in any case there must be an agreement existing with the other country as the cancellation must be approved as well).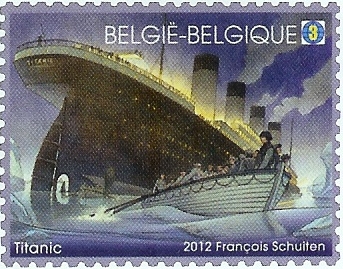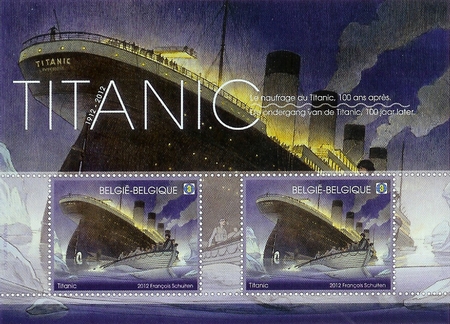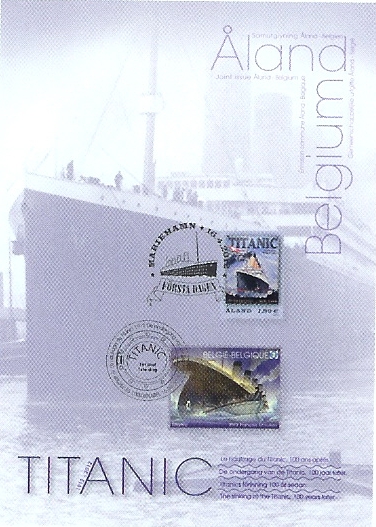 Steven reported several recent claimed joint issues by Belgium Post, mostly not announced in the issue plan as joint, but for which Belgium Post came up with souvenir cards with the two stamps on it (see http://www.bpost.be/.../souvenir/ index.html). Some of them have been reported in our catalogue, but most of them have not been considered as joint. Here is what we know based on data collected from the Belgium Post philatelic web site:
- 20081020: with New Zealand (WWI commemoration) reported in Supplement III p 41 under [P20081020]. Stamps are different, but were issued the same day
- 20090309: with Greenland (Global warming) - new - no mention of Joint issue on the mixed card so apparently [N]
- 20090608: with Kazakhstan (ISS space program) reported in Supplement IV p 19, not considered as joint, because Kazakhstan stamp is different and had been released earlier, April 3, 2009.
- 20110117: with Slovakia (Chemistry) - new - no mention of Joint Issue on the mixed card, but the stamps were issued on the same day and the card is also listed with the stamps on the Slovakian web site, so we have to change it from [N] to [P]
- 20110917: with Finland (woods) - new - no mention of Joint Issue on the mixed card, so apparently [N]
- 201110299: with Brazil (Europalia 2011) reported in Supplement VI p 41 under [P20111029]. This one is recognized as a joint issue because stamps have been issued specially for this event by both countries on that same date.

On the basis of this last example, the 2012 Aland-Belgium should be considered as joint. Also the mixed card reproduced on the Belgium Post web site claims the status of Joint Issue with Aland. Let us wait and see the answer from Aland..
Any comment and further information on this topic is welcome. These series of items have to be reconsidered totally. In fact for most of the above, there is no claim from the partner country as having participated to a joint issue. This criterion differentiates them from real joint issue mixed cards that were produced earlier such as the Cobra issue with Denmark [T20061110] or the European Culture Capitals issue with Luxembourg [T20070901] that are definitely twin issues.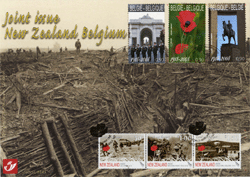 [P20081020]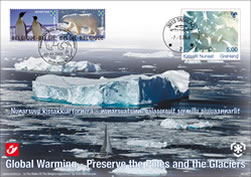 [N20090309]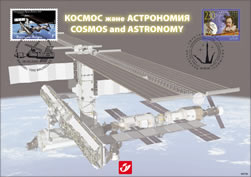 [N20090608]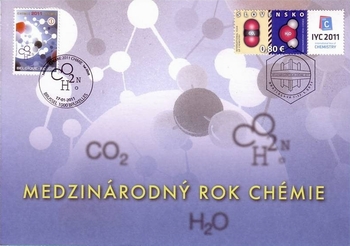 [P20110117] (modified from [N])
---
March 3, 2012
Jaap Sarelse (Netherlands) discovered a special folder including all the stamps involved in the 1995 Norden issues. Recent Norden issues are not considered as joint issues since stamps have different designs and are issued at different dates, but it is worth mentioning initiatives in which common stamps are brought together. In the catalogue on pages 684-686, such folders have been reported. The list there is of course not complete, but this Norden folder will have to be added. Any new information on similar items is welcome.
The 1995 Norden folder contains the stamps of the 8 Northern Countries postal authorities (Aland, Denmark, Faeroe, Finland, Greenland, Iceland, Norway, Sweden), mint. It was issued in form of a 6 pages folder with the design of a suitcase. Front and back pages of the folder show the suitcase with destination stickers of the involved countries. Pages 2 and 3 show the maps of the Nordic countries together with the mint stamps. Page 4 shows business cards of the 8 postal authorities and some information about the Norden institution, while page 5 depicts the content of the suitcase with clothes, shoes etc, and a letter.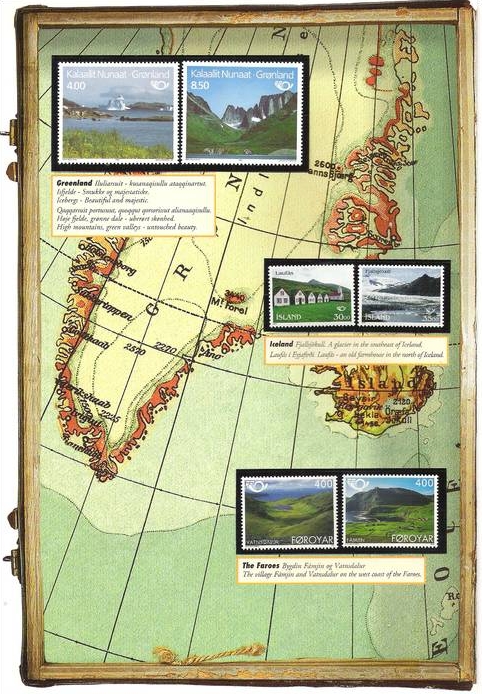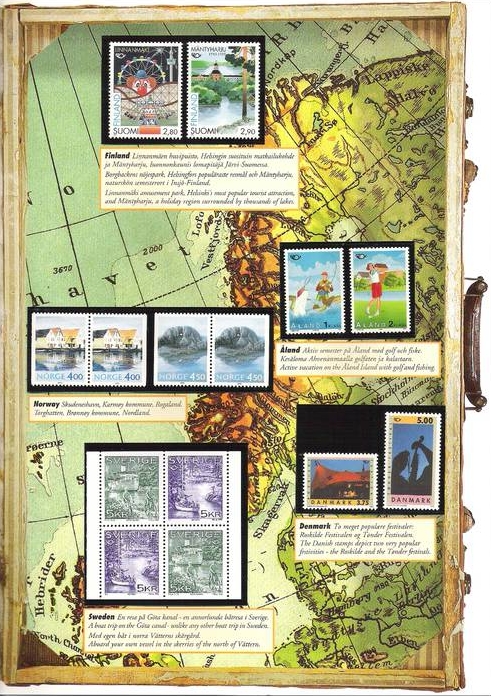 Apparently further similar items exists for Norden issues released in the years 1991 and 1993. By extension, it may be possible that all Norden issues are available in similar folders.
---
March 3, 2012
In the mail came also a suggestion of a new type of collection: Dain King (USA) is collecting "Unofficial Un-Joint Issues"in relation with the United States. In other words he is looking for all stamps from other countries matching the design of existing US stamps which have of course different date of issues. This suppose that one has an excellent knowledge of the designs of US stamps and this supposes a lot of time as the quest for other other countries' stamps can be extremely tedious, but at the same time very funny.
At least he could start with the last 30 pages of the Joint Issues catalogue summarizing some "obvious" "N" issues. These stamps are definitely not Joint Stamp issues and will not be reported here. But I thought it could become an intersting new extension of topic for those collectors who are limiting their joint issue collection to stamps related to their single country. Why not extending the collection of your country's stamps to accidental joint issues and Borrowed designs. In any case, just have fun with collecting.
Here is just an example with the Chinese Aids stamp that looks very close to the USA Aids Awareness stamp: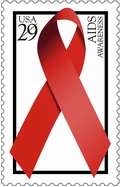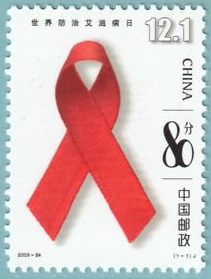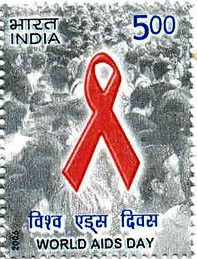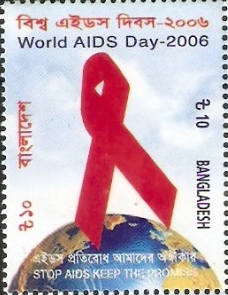 ---
March 3, 2012
From Charlie Bugeya (Canada) reported about a new omnibus series: The sheet from the Isle of Man, on the Queen's Diamond Jubilee seems to be the first of a series as it has an identical format to the one issued on February 6th 2011 for 'Lifetime of Service of the Queen'. The difference is the background is dark green, and the six stamps and labels vary between 37p and 1.82 pounds. Issue: February 6, 2012.
In the meantime, it was discovered that Gibraltar is also part of the series (February 27, 2012). There will be others, definitely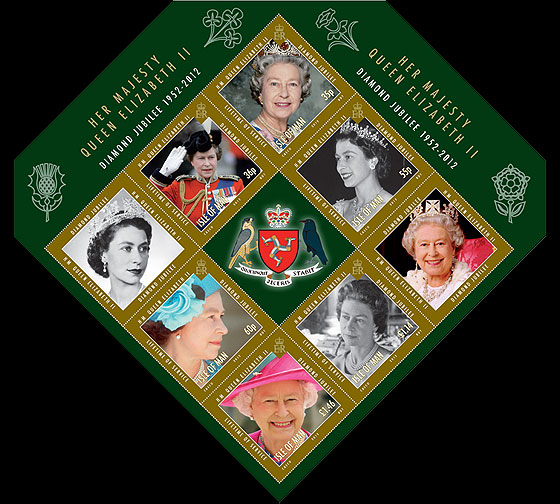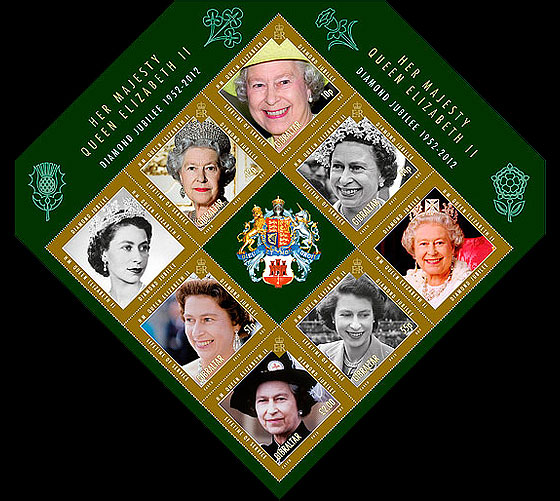 ---
March 3, 2012
Fabio Bonacina (Italy) was the first to report about a next to come twin issue between China PR and Israel. These stamps will be released on March 20, 2012. They represent the dove and the waxwing, both birds symbolizing peace (http://www.stampnews.com/stamps/stamps_2012/stamp_1329840592_416096.html). The Israel stamps are printed in miniature sheets of 15 stamps [5x3] with 5 tabs. Chinese stamps have not been seen so far.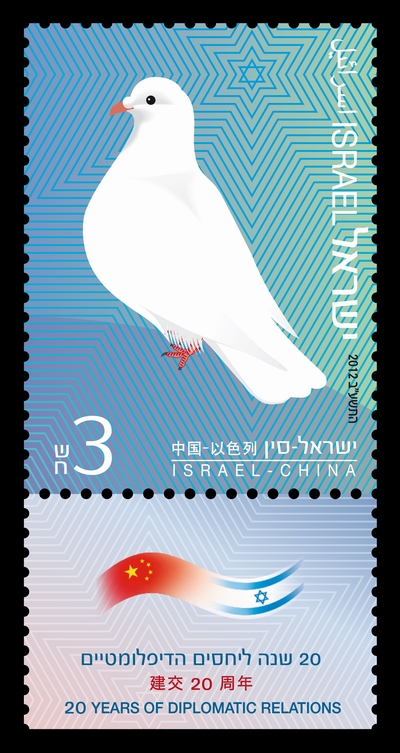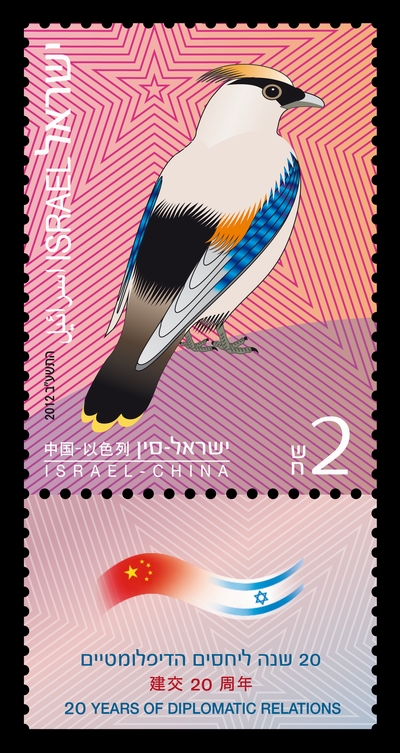 ---
March 3, 2012
Since the Supplement VI to the catalogue was published, several collectors sent some comments with additional information. Here is the summary:
Nahum Shereshevsky (Israel) corrected a previous (below) statement on the Israel-Gibraltar failed joint issue:
The suggestion of "Gibraltar to replace Jerusalem with Tel Aviv on their stamp, was rejected by Israel, mainly because of the advanced stage of the project" is wrong: Israel didn't reject this suggestion, but reluctantly accepted it (because of the advanced stage of the project, trying to save it.
Roland Montagne (France) reports that Poland issued also at the occasion of the Poland Vatican C20110412 series, a special folder containing the souvenir sheet 01a size 24.2x21.0cm . This new item will be reported under heading 01b.
Charlie Bugeya (Canada) points a mistake in describing the P20110915 Iceland Malta joint issue. The reproduction of the Maltese souvenir sheet does not show the Valetta harbour but Mgarr on Gozo Island. We have definitely to trust Charlie, he is of Maltese origin.
---
February 17, 2012
The Supplement VI - 2012 to the catalogue is now ready. This 52 pages booklet provides the updated information about the 2011 issued joint stamps together with all information about older joint issues collected during the past 12 months. It has the catalogue format and contains of course quotation of all stamps and side products. It is available by requesting via a simple mail.
The price per unit is 5.00€uros plus postage (€1.50 for France, 2.00€ for EU countries and €2.50 for the rest of the world) [US$10.00 cash for the US/RoW is ok as well]. Please add 0.50€ if you want to pay via Paypal. Previous supplements are still available at the same price.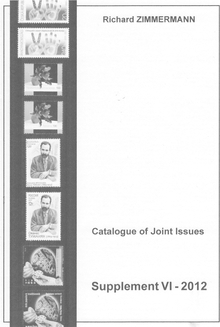 I take this opportunity to remind you that a lot of joint issue stamps at usually half price are available at the same address. You can take a look at our List of available stamps in the attached pdf document. Hope you will find some interest.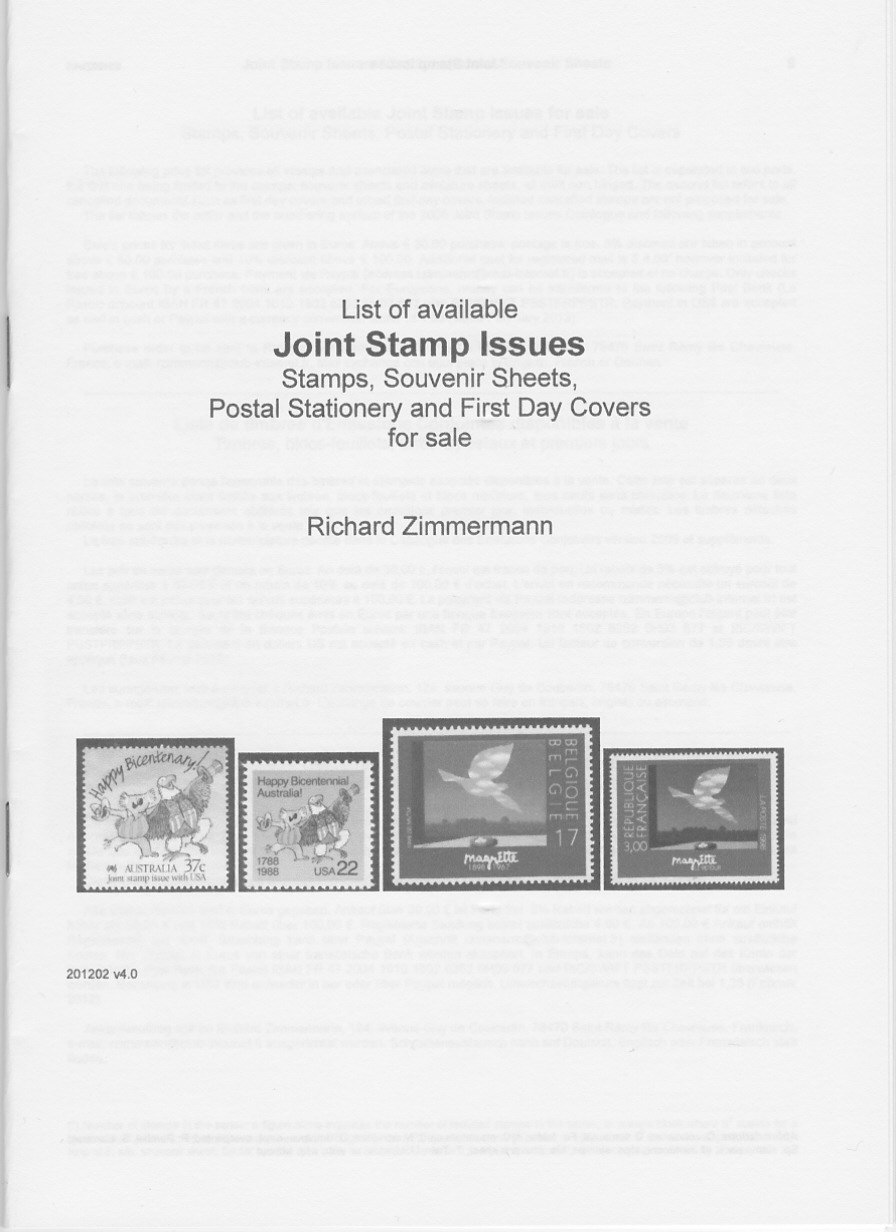 ---
February 10, 2012
By looking for information about the Aitutaki - Cook - Penrhyn stamps, I found two series of stamps that have not been reported so far and that have to be considered as territorial joint issues:
On December 23, 2011 the three territories issued an identical souvenir sheet based on the "The Twelve Days of Christmas" song, illustrated by thwelve stamps from which each territory took a strip of four. The souvenir sheets have exactly the same design but the strip that is perforated corresponds to the stamp issued by the territory and only those stamps show a denomination. This issue is definitely a territorial issue [D20111223], but as each uses the design on labels from the two other territories, it will be considered as twin and not parallel, so [TD], similarly to the category [T4] issues (see catalogue sub-type definitions). These 4 stamps for each territory were also issued as a miniature sheet containing three identical strips. Note that Aitutaki and Penrhyn FDCs are cancelled from December 24, 2011 and not December 23.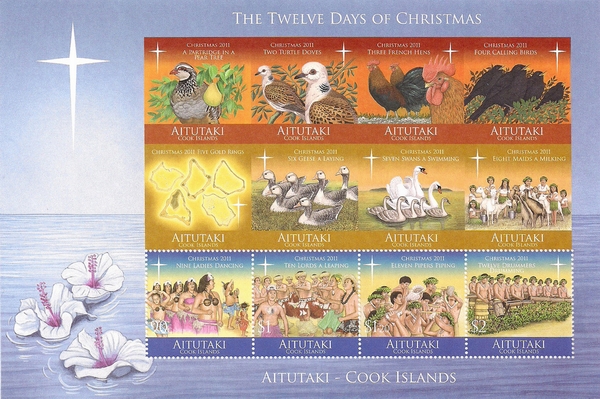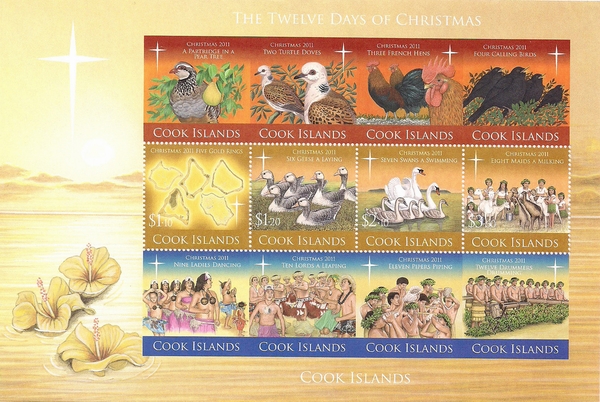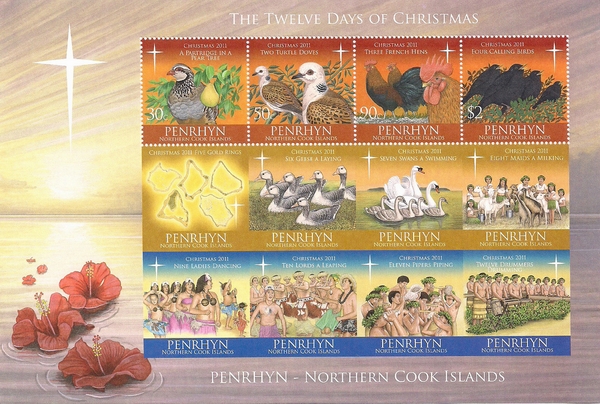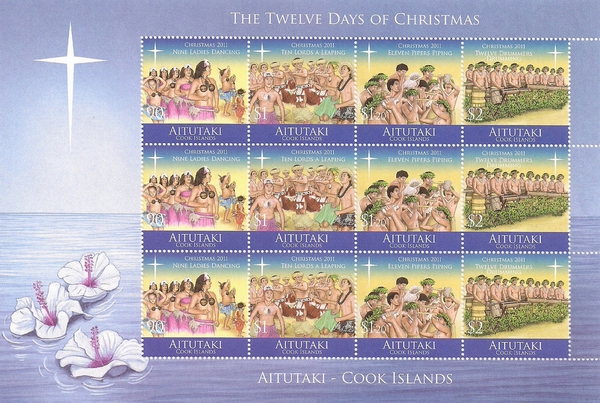 Much more recently, the three territories issued two stamps celebrating the beatification of Pope John Paul II on May 1, 2011 and show a portrait of Pope John Paul II and Pope Benedikt XVI. Stamps are identical for each territory and were issues on January 10, 2012, in miniature sheets of two pairs.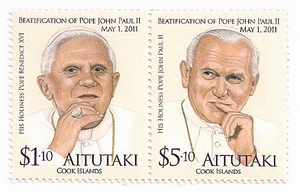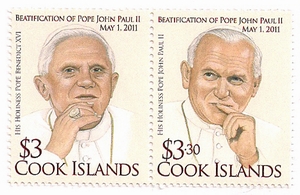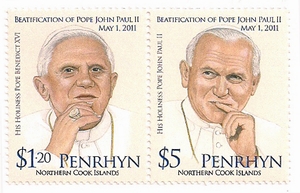 ---
February 3, 2012
Fabio Bonacina (Italy) could already provide the images of the stamps and miniature sheets that will be proposed in the frame of the March 1, 2012 joint issue between Germany and the Vatican City. These stamps will be issued to celebrate the 500th anniversary of the Sixtin' s Madonna and the Foligno's Madonna.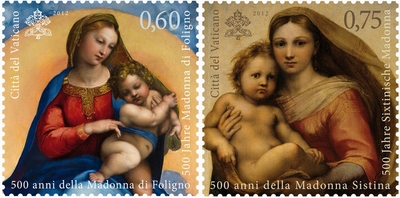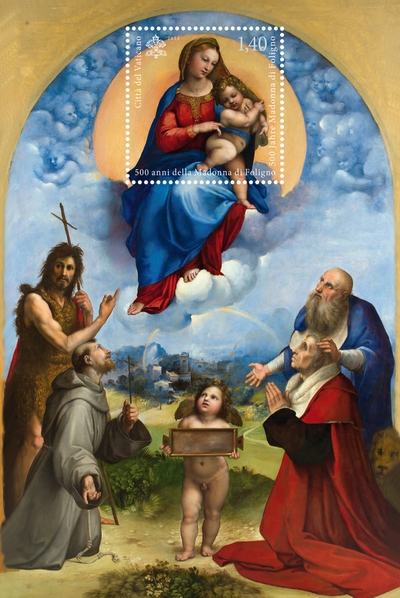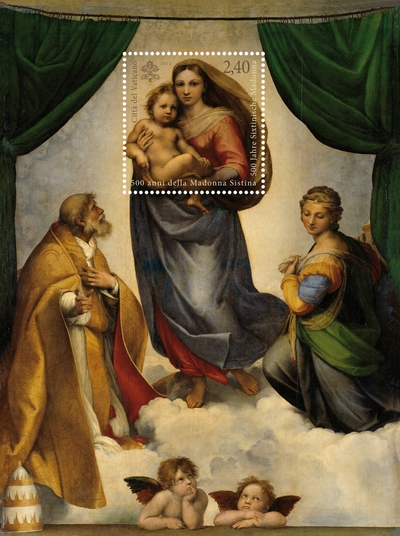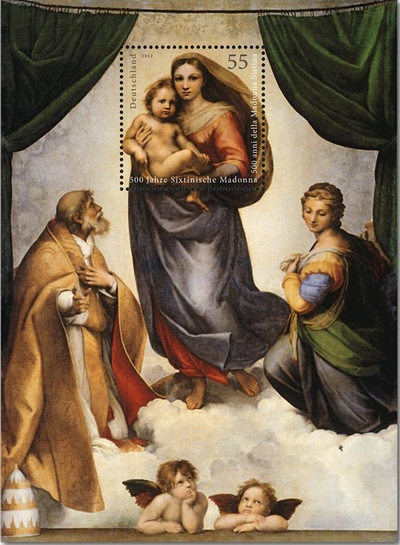 ---
February 3, 2012
The Swedish philatelic program confirms that a joint issue will take place with France on November 9, 2012 (information Grzegorz Omelanczuk - Poland). The theme of this joint issue is the opera "A Masked Ball" of the French composer Daniel Auber. The plot of the opera, which premiered in 1833, revolves around the assassination of King Gustav III. Stamp motifs is a portrait of Auber and a dancer at the Royal Ballet in the role of Gustav III. A first low quality picture was made available on their site: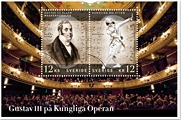 ---
February 3, 2012
By corresponding with the Polish postal administration, Grzegorz Omelanczuk (Poland) was able to get the confirmation (although without written confirmation) of the preparation of a Poland-Ukraine joint issue that is already listed in the Ukrainian philatelic program, without details. However this information is limited to this confirmation and the month of issue that could be April 2012 . No pictures are so far available but Ukraine specifies that it would be two se-tenant stamps. We guess that the topic could be the Euro 2012 soccer championship that will take place in these two countries.
Grzegorz draws also the attention to the Taiwan philatelic web site. On October 10, 2011, the Republic of China (ROC), Taiwan issued also 4 stamps (printed 800,000) and a souvenir sheet (printed 800,000) at the same date of issue as PRC, Hong Kong and Macao, and with different stamps. Knowing the present relationship between PRC and Taiwan, this cannot be considered as a joint issue between the two countries. However both countries do have a common history and certain dates are to be celebrated on the same day. The ROC celebrates the 100th anniversary of the Foundation of the country, while PRC celebrates the 100th anniversary of the Chinese Revolution. These Taiwanese stamps will not be considered as part of the Chinese mainland joint issue.
---
January 28, 2012
According to http://beyondtheperf.com/stamp-releases/, US Postal Services is planning to release on March 24, 2012 two self-adhesive stamps with the topic "Cherry Blossom Centennial" (http://beyondtheperf.com/stamp-releases/cherry-blossom-centennial). This will be a joint issue with Japan.


At www.post.japanpost.jp, we can find information about similar stamps in a souvenir sheets to be released on the same occasion and on March 27, 2012
(http://www.post.japanpost.jp/kitte_hagaki/stamp/tokusyu/2011/h240327_t.html).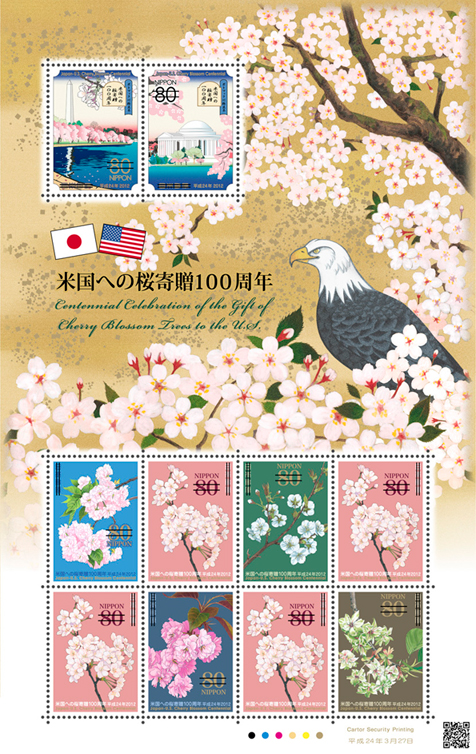 This information was provided by Grzegorz Omelanczuk (Poland)

Note that the same US web site provides the picture of the US stamps from the US - France joint issue to be released in June 2012.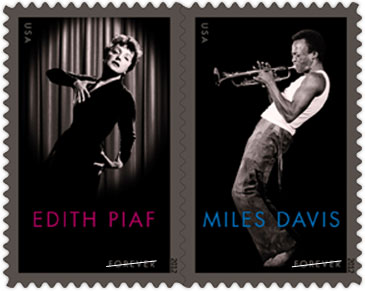 ---
January 28, 2012
The Mexican stamps from the January 26, 2012 Mexico - South Korea joint issue became available as planned on the official date. Details can be found on the Mexican philatelic products web site.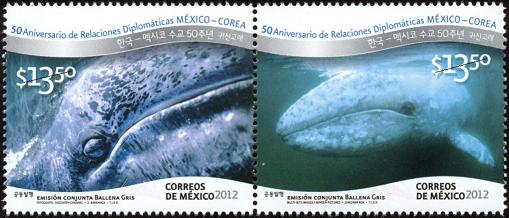 ---
January 28, 2012
Jürgen Lübke (Germany) provided the list of joint issues involving Germany that will be part of the 2013 German philatelic program (exact dates are unknown at this stage):
(2013) - Germany - Italy - Serbia
1700th anniversary of the Milan edict
(2013) - Australia - Germany
200th anniversaty of Ludwig Leichhardt
(2013) - France - Germany
50 Years of the signature of the Elysée-Treaty
(2013) - Germany - South Korea
Topic not yet disclosed
---
January 28, 2012
Correction concerning the joint issue between Denmark and China PR about astronomy, so far considered as a twin issue released on January 4, 2012. In fact the Chinese stamps have been issued already on December 10, 2011 with the same design. Mixed FDC covers show without doubt these two issue dates. Therefore this issue must be considered as a concerted issue from the 2011 program under the code [C20111210].
---
January 25, 2012
Further information about new issues:
- The 2011 initially planned Iran-Turkey that was finally cancelled is now rescheduled for the Summer 2012
- France completed the information about the stamp issuing programs for the next two years and announced supplementary joint issues with Andorra in 2012 and with Denmark and Vietnam in 2013
- In the Cuba philatelic program for 2012 there is mention of a series of joint issues (new information in blue) involving Ukraine (March 12), Nauru, Solomon, Fiji, Tonga, Kiribati, Cook (April), Azerbaijan (April 10), Belarus (April 16), Mexico (May), Timor Leste (May 20), France (June 11), Switzerland (June 18), Jamaica, Trinidad and Tobago, Barbados, Guyana (December 8). This looks like a wish list and over several years, as in 2011, joint issues with different countries had been announced as well and not translated in reality (e.g. Philippines in July 2011). In fact all these issues with precise issue dates are headed with the title "Commemoration of the diplomatic relationship with ...". In other words, all of them could be unilaterla issues. Any complementary information on the Cuban stamp program is welcome.

---
January 25, 2012
G. Omelanczuk (Poland) provided some interesting information gathered on the web sites of the South Korean, Polish and Romanian postal web sites.
The stamp issuance program for 2012 in South Korea announces the issue of two joint series:
- On January 26, 2012, the 50th Anniversary of Korea - Mexico Diplomatic Relations Commemorative Stamps will be honored with common stamps showing whales.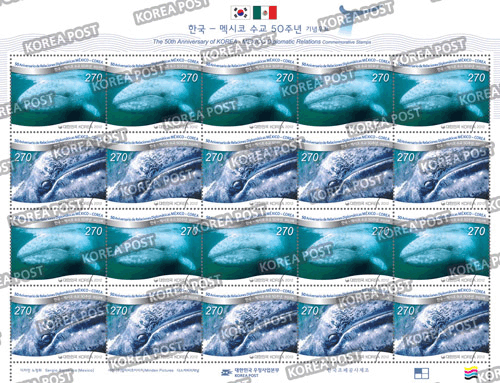 - On March 9, 2012, South Korea will participate in a joint issue with Colombia also to celebrate the 50th Anniversary of Diplomatic Relations

The Polish postal administration website confirms the Muskaer Park stamps to be released in July 2012, however without connecting it to the already announced similar topic stamp planned in the Germany philatelic program.
Additionaly, at Romanian philatelic website, there are mentions of a Romania-SMOM joint issue without details.

---
January 24, 2012
Mike Lantz (USA) provided the images of the French stamps (published in Linn's), to be released in June 2012 as a joint issue together with USA. We suppose that the US stamps will have a similar black and white design. Stamps feature Miles davis and Edith Piaf.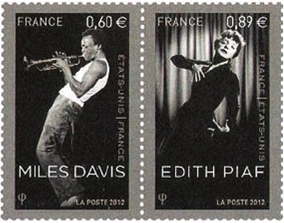 ---
January 16, 2012
In Supplement V, page 6, we reported a new series of stamps related to the 10th anniversary of the United Arab Shipping Company involving Kuwait and Qatar and filed as [T19860701]. Ehsan Mehmood (Pakistan), who discovered this first set, reports now another series involving the same countries and Saudi Arabia that was issued at the occasion of the 6th anniversary of this company. Kuwait issued two stamps showing container transporting ships on September 1, 1982 while similar stamps were isued by Saudi Arabia on August 8, 1983. The two stamps issued by Qatar in march 1982 have a different design and will not be reported as being part of this concerted issue [C19820901].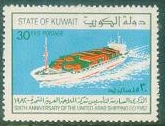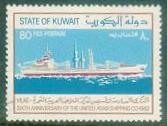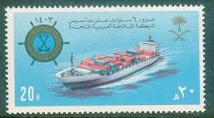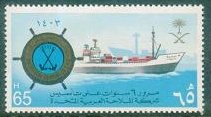 ---
January 16, 2012
Jaap Sarelse (The Netherlands) pointed out two surprising personalized Thailand stamps linked to labels showing the design of the joint issue stamp with Portugal from July 20, 2011 (T20110720). The miniature sheet itself are produced in honor of a joint Portguese-Thailand project. These are not to be considered as part of the joint issue, but it is worth mentioning them as only the Thailand Post, owner of the design, had the possibility to produce such items. The standard stamp with denomination used in the miniature sheet has no relation with the joint issue. As the design is exactly the one from the joint issue stamps, one should take care that in the future isolated labels are not proposed as varieties with missing black colors or inscriptions. Dates of issue of these personalized items are unknown.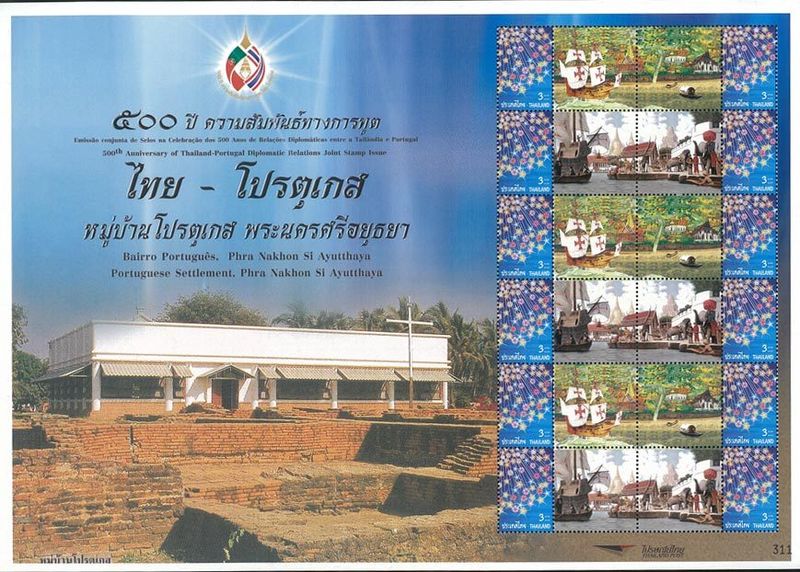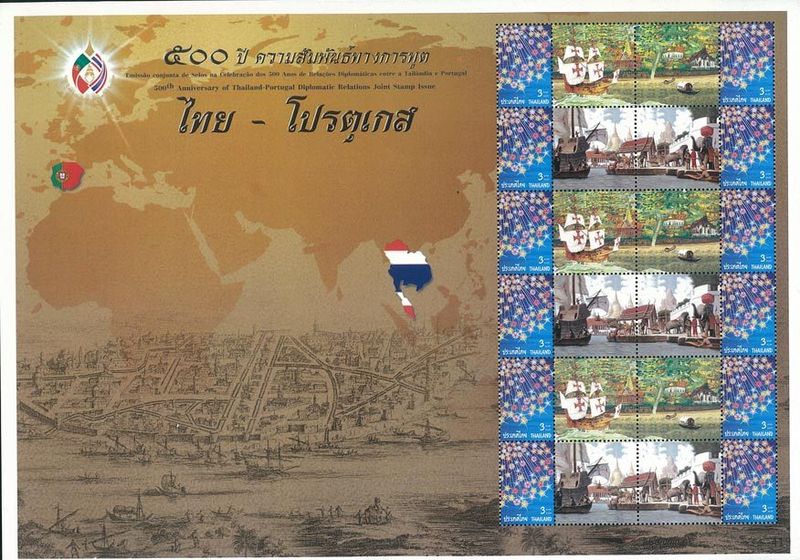 ---
January 15, 2012
Nahum Shereshevsky (Israel) provided the following information about the Israel philatelic program:
The Philatelic Service reviewed very recently the issues planned for 2012. This includes now three joint issues involving China PR, India and Nepal. No further information or images were given so far.
The July 2011 initially planned joint issue with Gibraltar was cancelled. The design that was submitted for both stamps had to be approved from the British government. This design was vetoed because it included the Citadel in (eastern) Jerusalem. The suggestion of Gibraltar to replace Jerusalem with Tel Aviv on their stamp, was reluctantly accepted by Israel (and not rejected as initially stated), just because of the advanced stage of the project. On top, the British government maintained its request to remove the Citadel also from the Israeli stamp, so the issue was definitely cancelled.
In Vaccari News under http://www.vaccarinews.it/index.php?_id=11495, Fabio Bonacina provides even with more details about the story and includes the picture of the Israelian project. This will remain as a non issued joint stamp.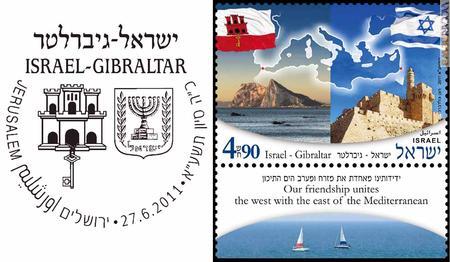 ---
January 15, 2012
The Mayotte - FAAT stamps were issued as planned on December 31, 2011 (images provided by Mike Lantz - USA). These stamps are not only the last joint issue of the years, but for Mayotte this is the very last stamp of the country as on January 1, 2012, Mayotte became again a French territory and lost its independent status. From that date Mayotte is again using French stamps. Mayotte stamps have been issued in panes of 25 while FAAT stamps have been issued in miniature sheets of 10, explaining the difference in size.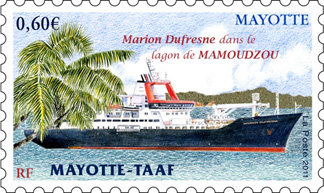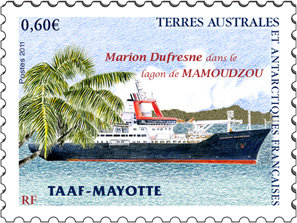 ---
January 15, 2012
Fabio Bonacina (Italy) discovered a Russian postal stationery (cover) issued on April 29, 2011 that was already referring to the Italian-Russia language joint issue from December 10, 2011, using the same symbol.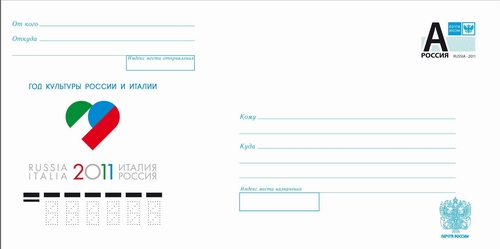 ---
January 15, 2012
Denmark released two sets of joint issues on this beginning of year, both on January 4, 2012. The first one involved Greenland and the Faeroe Islands and is issued at the occasion of the 40th anniversary of the reign of Margareth II. The same stamp was issued by the three postal entities, but this issue must be considered as a territorial twin issue [D]. All three countries issued also a souvenir sheet with the same stamp.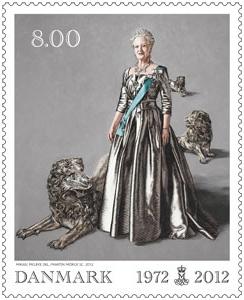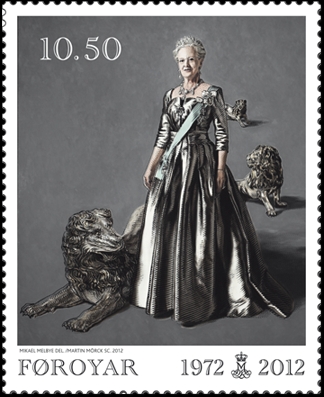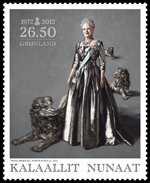 The second joint issue is released in parallel with China PR and focuses on astronomical devices (Chinese stamp images from www.xabusiness.com).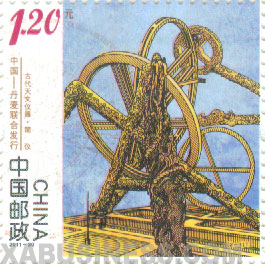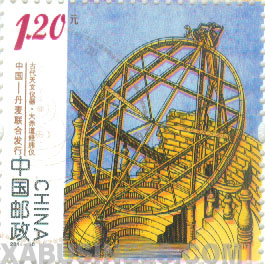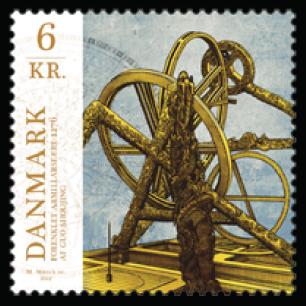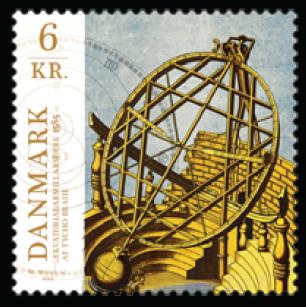 ---
January 15, 2012
Jaap Sarelse (The Netherlands) found out that in 2006 Belgium also issued ATMs at the same time they issued stamps in the frame of the Cobra stamps series with Denmark (issue T20061110). Apparently these ATM stamps have been issued the same day but apart the name "Cobra" there is no specific illustration.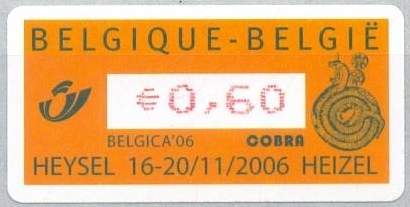 ---
January 15, 2012
Jaap Sarelse (The Netherlands) mentionned an item that has not been described so far:
In 2004, Poland and Vatican issued two miniature sheets with four different stamps each. Respective dates of issue were June 2, 2004 and March 18, 2004. The items are fully described in the Catalogue as a concerted issue under C20040318. Jaap discovered that the Polish miniature sheets were also available in individual booklets in a folded form. Two types of booklets are available each one in two forms (one miniature sheet per booklet) differentiated by the picture on the cover, one showing the Pope John Paul II, and the other a statue. Left and right margins of the miniature sheet have been folded over the front side and the miniature sheet was itself folded to fit within the booklet. Booklet overall size, when closed, measures 75x105 mm. Text in Polish on the back side makes reference also to the Polish Post, meaning that this booklets are of official origin. The price was 500 zt. Each series bears a number: the two booklets with the Pope are identified as "5/2004/7" while the one with the statue bear the numbers "6/2004/8".
Any additional information about these items will be highly appreciated.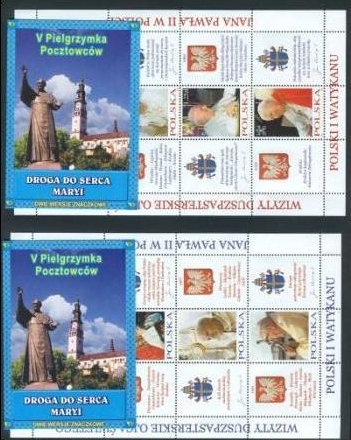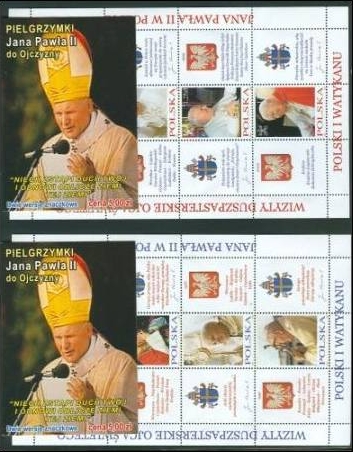 ---
January 1, 2012
The News from the period October to December 2011 have been archived.
---
All previous information reported in this section is to be found in the News Archives.