Joint Stamp Issues - News
Archives Quarter 2, 2011

This page is the archived News Page from the April to June 2011 period. All contents have been dispatched in the respective open pages. However there may still be open questions and any complementary information remains welcome. As soon as an information is archived, the text will not be changed anymore. So if news are linked to the below, this information will be displayed as a new heading in the current News page.
Back to list of Archived Pages
---
June 30, 2011
Jürgen Klein (Germany) just sent me a copy of a miniature sheet of the Egyptian stamps issued in parallel to Slovakia on October 8, 2010 and for which a good picture was missing. This item has been cancelled on the same date October 8, 2010 proving that it is a twin issue. This issue must therefore be redefined as [T20101008] from the previously errouneously "Concerted" designation.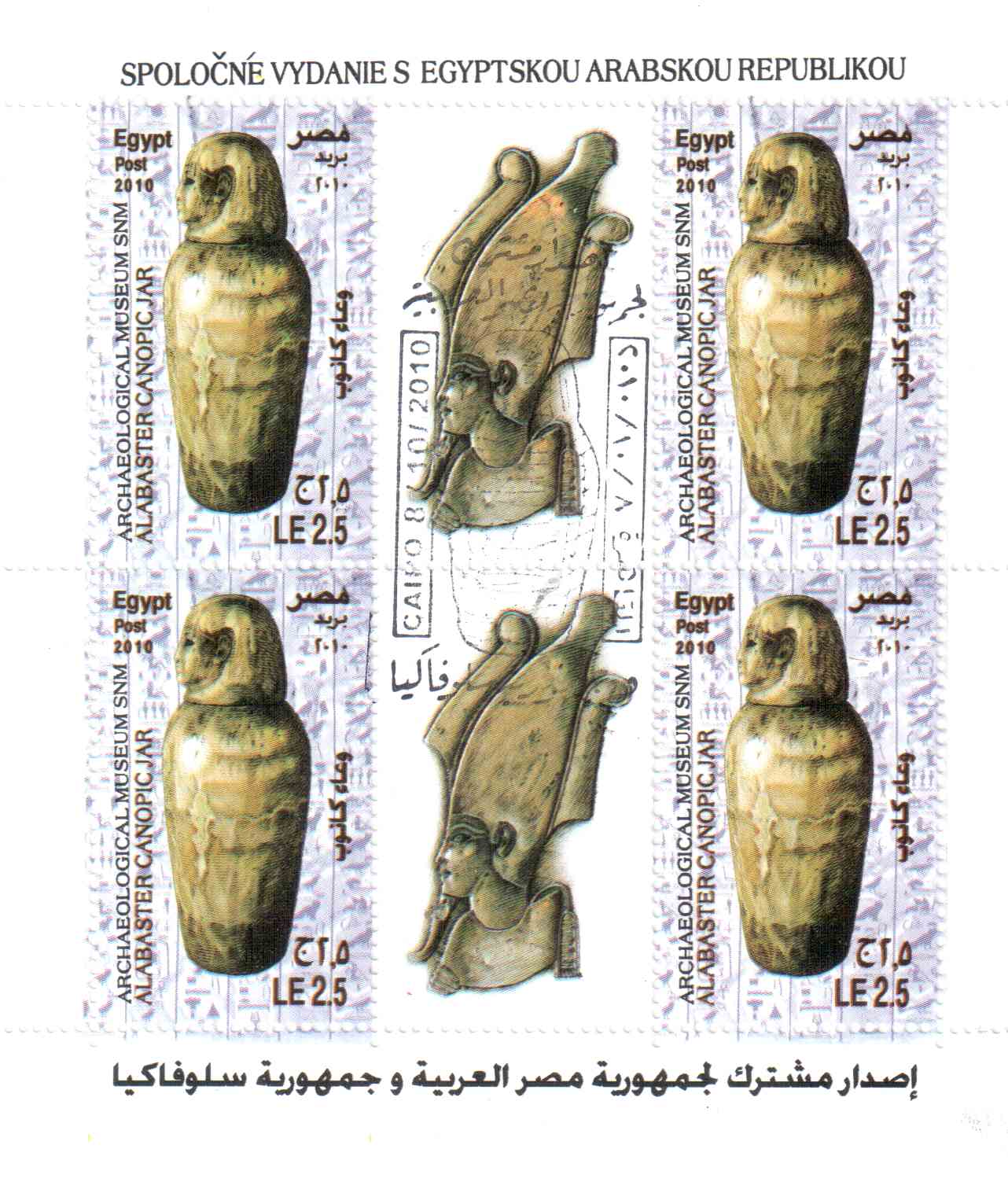 ---
June 30, 2011
Another discovery from Mike Lantz (USA): At the occasion of the 200th anniversary of the birth of Franz Liszt, Serbia and Hungary issued a joint stamp. The Serbian stamp was issued on June 14, 2011. The Hungarian stamp has not been seen so far, but was supposed to be released by June 21, 2011. The mention "Joint Issue Serbia - Hungary" in the stamp margin is a good sign for a cooperation between both countries. See above News August 1, 2011: this is not a joint issue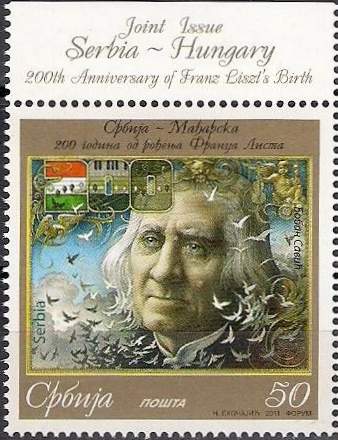 ---
June 30, 2011
Russia - Montenegro issue from May 26, 2011 - Twin issue [T3]. This new joint stamp issue is devoted to architecture. The stamps depict Kazan Cathedral in St. Petersburg, and the building of the Russian diplomatic mission in Cetinje in Montenegro.


---
June 30, 2011
Just some pictures from a joint issue that has not been mentionned so far:
South Korea - Portugal, April 15, 2001; twin issue [T20110415] : 50th anniversary of the establishment of diplomatic relations between Korea and Portugal


By the way, if you are interested in getting some specific information about joint issues involving South Korea, take a looka te the following page http://www.pennfamily.org/KSS-USA/annual-11.html (link provided by Mike lantz USA)
---
June 28, 2011
Andrei Ochmat (Brazil) wrote the following: "While organizing my collections I noted that Angola also participated in the joint issue [P19980601]. I just don't have a Michel / Yvert catalog to check at which date this country issued the stamps (6 stamps). You can see these pictures in the following sites:
https://sites.google.com/site/seloshow/brazil-joint-issues
https://picasaweb.google.com/103602019220947523533/1998Gastronomia?feat=directlink".
First of all, thanks Andrei, you are right: Angola could have been added to this series. I checked the date of issue and found October 4, 1998. This is far apart from the common date of issue for the other participating countries. Moreover, even if these 6 Angola stamps depict food (mainly fruits) they do not bear the mention "Gastronomy", which make it doubtful to be part of the global issue. Therefore, in the main catalogue, this series will be added only as a footnote to the entry [P19980601] and not be considered as a part of the joint issue.
If someone thinks differently, please provide arguments. And take this opportunity to look at the web pages provided above, as there is plenty of information available about joint issues involving Brazil.
---
June 28, 2011
Mike Lantz (USA) reports about the following issues:
The 150th birth Anniversary of Rabindranath Tagore was honored by a series of stamps issued on May 6, 2011 in Bangladesh in form of a miniature sheet of 8 stamps and a souvenir sheet of 4 stamps. Bangladesh claims it as a joint series with India. India issued on May 7, 2011 two stamps without any special mention. The stamps do not look alike, so in the best case it is a parallel issue. We need to collect more information about these two series before attributing a joint issue label. Can some one from India help?
Other countries such as Uruguay or Sri Lanka have issued stamps in 2011 honoring Tagore. Those stamps are defintely not part of any joint issue.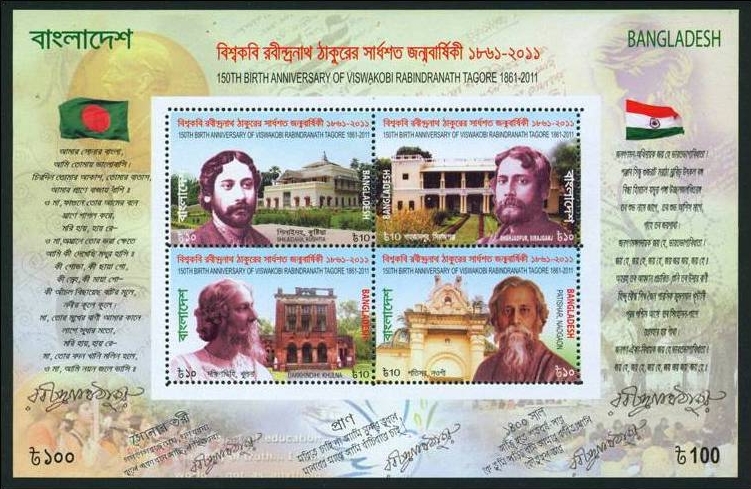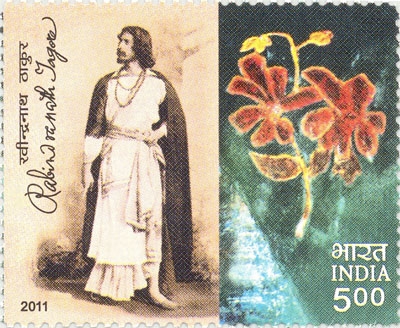 ---
June 28, 2011
On June 1, 2011, Armenia issued a joint issue with Belarus. Stamps represent buildings in the capital cities: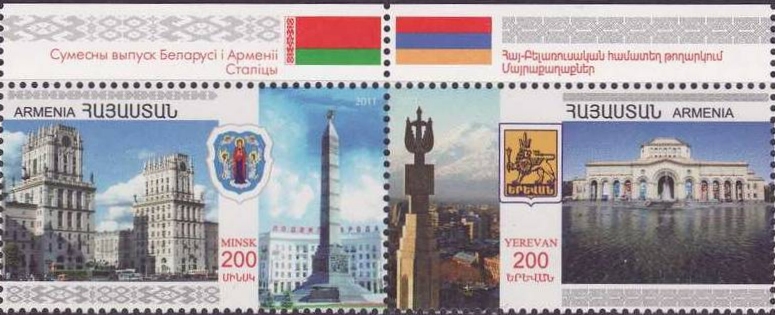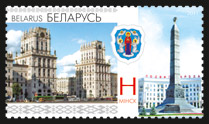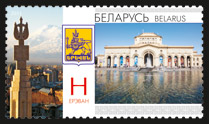 ---
June 28, 2011
Fabio Bonacina (Italy) provided the two images of the joint issue between Spain and the Vatican released on June 21, 2011 at the occasion of the World Day of the Youth in Madrid (to be held in August 2011)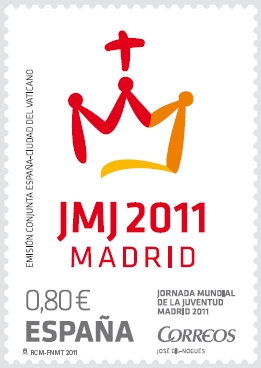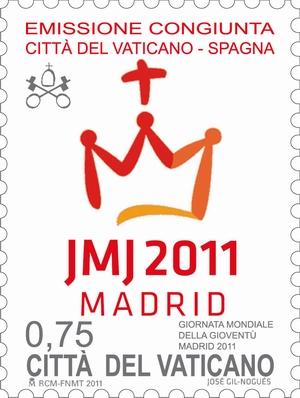 ---
June 28, 2011
From Mike Lantz (USA): The Russian part of the Russia - Armenia joint issue was released on June 1, 2011. Apparently the Armenian stamps have been released already by April 18, 2011 (this is to be confirmed). This issue is dedicated to "outstanding representatives of the national cultures, V.J. Bryusov and O.T. Tumanian".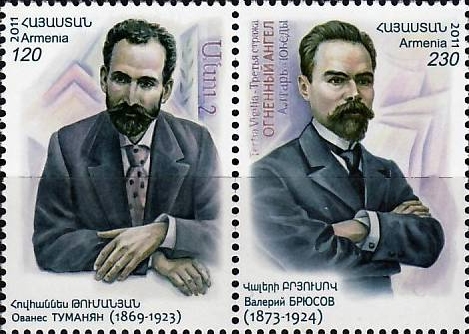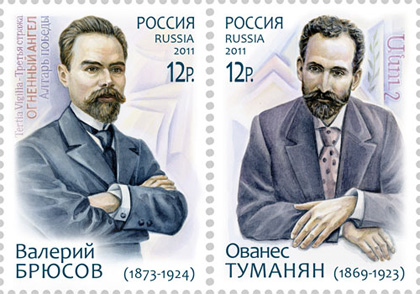 ---
June 28, 2011
The Belarus - Russia Yuri Gagarin stamps from April 12, 2011, are not to be considered as a joint issue. Mike Lantz (USA) found the following statement from the Belarus postal administration: "The stamp design is granted to member countries of the Universal Postal Union on the occasion of celebrating the 50th anniversary of the flight of Yuri Gagarin", in other words, any postal administration can take this design for free.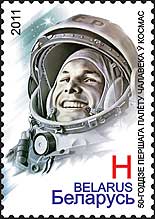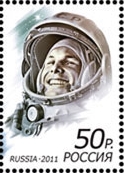 ---
June 28, 2011
More about the Pakistan-China joint issue from May 21, 2011. Mike Lantz (USA) found the following information in Linns News:
"Pakistani stamps withdrawn: The Pakistan Post recently withdraw two stamps from sale due to the inverted watermark and plans to issue a second printing, according to a May 31 news report by Peerzada Salman. [..] The stamps which are se-tenant (side-by-side) commemorate the 60th anniversary of Pakistan's diplomatic ties with China. According to Salman they were issued may 21 ..."

This still does not tell us if China issued a stamp at the same occasion.
---
June 28, 2011
Jaap Sarelse (The Netherlands) sent the following question:
"On the Delcampe site I saw three issues with an identical or at least a similar design. The stamps were issued in 2006 at the same occasion (China-Africa Cooperation Forum). I don't know if those can be considered as a true joint issue, as I don't know the issue dates, nor if a postal agreement was in place. However the design is identical, but that can also be related to the use of a same logo. I saw stamps from China (Delcampe 133362898 and 41582416), Ivory Coast (Delcampe 133021733) and Zambia (Delcampe 0133021717). Can you perhaps give more information?"
Here are some illustration of those stamps: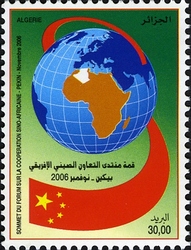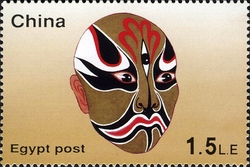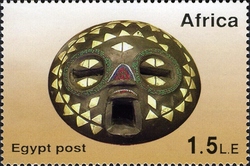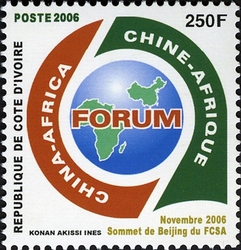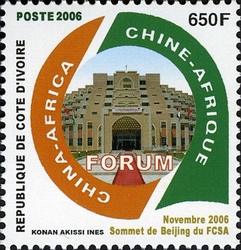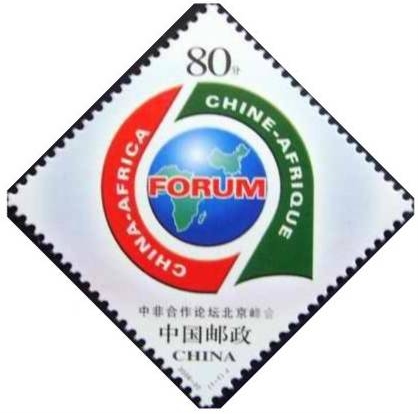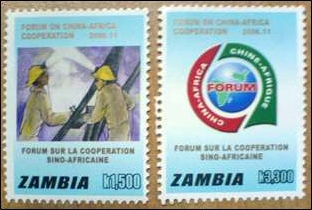 In fact so far I found the following stamps related to this event:
- Algeria: November 4, 2006, 1 stamp in sheets of 25, different design
- Egypt: November 5, 2006, 2 stamps, different design
- Ivory Coast: November 28, 2006, 2 stamps, common logo
- China PR: November 3, 2006, 1 stamp common logo and a postal stationery item (cover) with the same stamp and logo
- Zambia: (date?), common logo
There are probably other countries that have released stamps at this occasion. But the fact that only a logo is common on not even all stamps, that the dates are not common (except for this period of November 3 to 5, 2006), that we have not seen joint FDCs and that there are no claims from any of the country about a joint postal event, we cannot consider that these stamps belong to a joint issue series.
---
May 31, 2011
An unexpected joint issue between Italy and San Marino will be released on June 4, 2011. The topic will be the 150th anniversary of the conferment of the San Marino citizenship to Giuseppe Garibaldi. This issue, in form of a souvenir sheet for both countries, is also issued in the frame of the 150th anniversary of the unification of the country. Fabio Bonacina (Italy) could already provide us with the first image of the Italian souvenir sheet.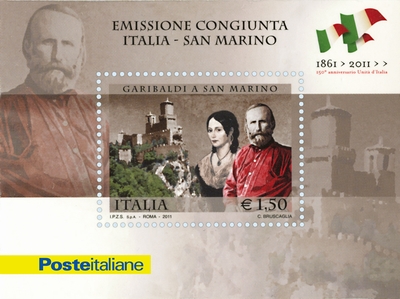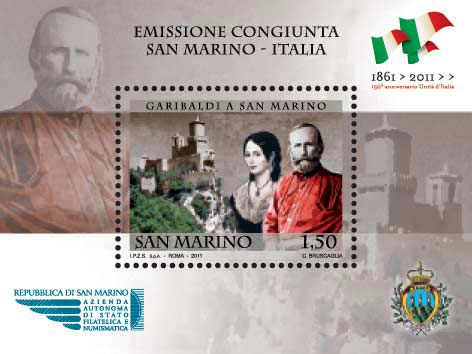 ---
May 30, 2011
The catalogue reports under [P19900910] a parallel issue between Bangladesh, Indonesia, Nepal (October 8), Philippines, Thailand and Vietnam (September 25), celebrating the 20th anniversary of the Asian Pacific Postal Training Center (APPTC).
Ehsan Mehmood (Lahore, Pakistan) just discovered an aerogramme issued by Papua New Guinea at the same occasion. This aerogramme was issued on September 9, 1990 and therefore fits well within this series.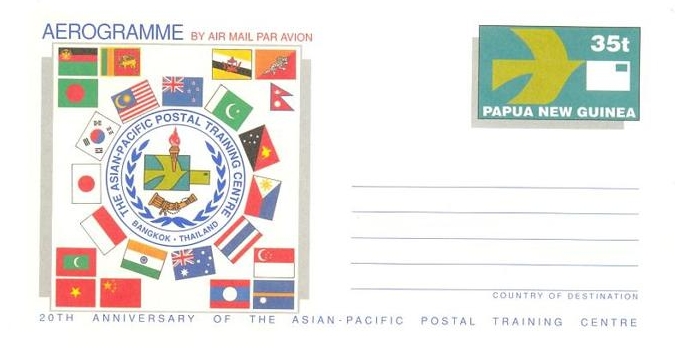 ---
May 29, 2011
Fabio Bonacina (Italy) could provide us with the first image of the Vatican stamp to be released on June 21, 2011, at the occasion of the World day of the Youth in Madrid, stamp issued jointly with Spain (expected July 1, 2011).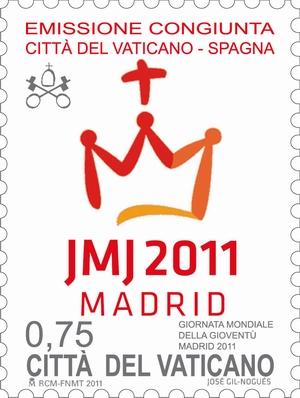 ---
May 29, 2011
Ehsan Mehmood (Lahore, Pakistan) provided detailed information about a Pakistanese issue from May 21, 2011 entitled "60th anniversary of relationship between Pakistan and China". At this stage data about the Chinese stamp are still missing and we are unable to confirm if this issue is a joint issue. Any further data about some material (stamp or postal stationery) produced in PR China would be welcome.
---
May 29, 2011
Charles Feingersh (Washington DC, USA) reported some further stamps relative to the Prince William' marriage all issued on January 14th, 2011 by Aitutaki, Cook Islands and Penrhynn. In absence of images, we are unable to tell if these stamps belong to the omnibus series described earlier.
June 28, 2011: The pictures of the stamp became available. each postal entity issued a miniature sheet of 10 identical stamps, two stamps and 4 miniature sheets with different portrait. The same official portrait of the couple appears on one miniature sheet



More details under http://royalweddingstamps.net/2011/05/01/engagement-stamps-of-cook-islands-aitutaki-and-penrhyn/ . As these three postal entities are linked, this issue will be considered as a territorial issue [TD]. If you need to know the latest data about all stamps related to this wedding, take a look at a special web site created at this occasion: http://royalweddingstamps.net/ . We will just keep the information about the ones that have been released jointly among which the series issued on April 29, 2011 by British Indian Ocean Territory, British Virgin Islands, Fiji, Jamaica, Kiribati, Nauru, Saint Helena, Tokelau and Tristan da Cunha which are all identical souvenir sheets.
Also a souvenir sheet of stamps was issued on March 23, 2011 by Ascension at the occasion of the QEII and Prince Philip "Lifetime of Service" celebration. These stamps, also considered as omnibus complete the series depicted previously.
---
May 29, 2011
Fabio Bonacina (Italy) provided a link (http://www.taipeitimes.com/News/taiwan/archives/2011/05/17/2003503455) in which a joint issue between Paraguay and Taiwan is described. May 16, 2011 could be the date of issue but we are missing the detailed information. (Note that on the picture the nice ladies from the Taiwanese post office are showing the Paraguay stamps).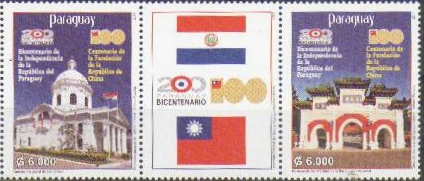 On top of this information, the article claims that the two countries had already issues joint issues in 2002 and 2007. Any complementary information is welcome at this stage as none of the two postal websites provide data on this issue.
May 31, 2011: Following this call, Mike Lantz (Ohio, USA), provided the pictures of the Paraguay stamps from 2002 and 2007. Apparently these two issues were unilateral at that time. It would not be excluded that the 2011 issue is also a unilateral issue from paraguay, even if Taiwan is advertising for it (images have been found on the dealer Postbeeld.com website):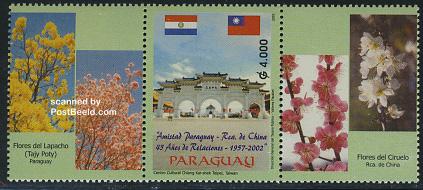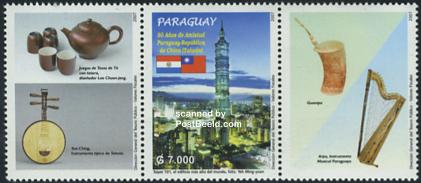 ---
May 29, 2011
Jürgen Lübke (Peine, Germany) informed us that the 2012 Germany program includes now a joint issue with Liechtenstein showing mountains (Pfälzer Hütte). Exact date of issue is not known.
---
May 29, 2011
Mike Lantz (Ohio, USA) provided the information and the images for the Czech Republic - Slovenia twin issue released on May 27, 2011. Both countries produced a similar miniature sheet celebrating the violonist Johann Gerstner (1851-1939).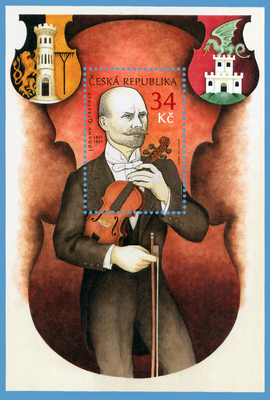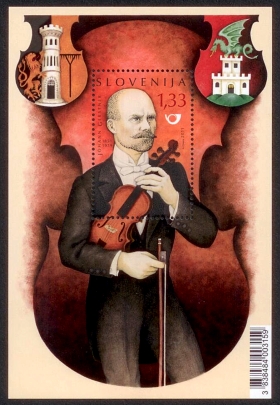 ---
May 29, 2011
Gabriele Gatti (Sondrio, Italy) provided also further information on the Belarus 2011 philatelic program in which a joint issue with Armenia is scheduled for June 1, 2011. First pictures for Belarus stamps are already available.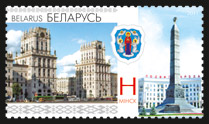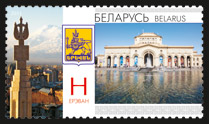 In the same Belarus philatelic program there is mention of a stamp celebrating the 15th anniversary of the relationship with Venezuela, scheduled July 15th, 2011. There is no mention of a joint issue, but this has to be watched carefully.
A third official joint issue with Belarus involving Iran is listed for being issued on September 18, 2011.
---
May 29, 2011
Both Mike Lantz (Ohio, USA) and Gabriele Gatti (Sondrio, Italy) provided on the same day the images of the newly release joint issue between Azerbaijan and Belarus on May 25, 2011. This is obviously a twin issue (same date and same design).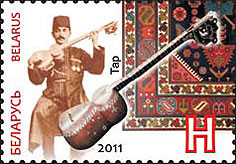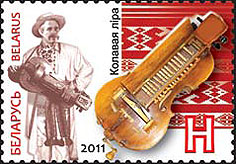 ---
May 29, 2011
On May 5, 2011, the United Nations celebrated the UNESCO World Heritage in Scandinavia with 5 stamps, one for each of the five Scandinavian countries. The sixth stamp issued by the office of Vienna was issued in honour of the Struve Geodetic arch. The Scandinavian-Russian Meridian arc was designed between 1816 and 1852 by Friedrich Georg Wilhelm Struve (1793-1864) and the Russian officer Carl F Tenner with the intention to measure precisely the shape and size of the Earth. They created a chain of survey triangulation system made of 265 precisely located reference sites forming an arc of 2821 km covering 10 countries. As these points had to be seen from at least two other measurement sites, special marks were created (holes drilled in rock surfaces, cross shaped engraved marks, solid stone or brick with a marker inset, rock structures with a central stone or brick, …) and sometimes even special monuments were erected (often obelisks) specially for that purpose. Out of these 265 measurement sites, thirty-four still survived and were declared part of the World Heritage in 2005 by the UNESCO. The number of surviving sites per country are: Belarus (5), Estonia (3), Finland (6), Latvia (2), Lithuania (3), Moldavia (1), Norway (4), Russia (2), Sweden (4) and Ukraine (4).
This issue gave to some of these countries to participate to this issue with the release of souvenir sheets by Estonia (May 6) - Finland (May 6) - Latvia (May 5) - Sweden (May 6). These stamps are not identical but as some of these souvenir sheets show the same portrait, map and/or measurement device (theodolite), it was decided to classify this issue as twin but sub-class [T3].
The philatelic journal DBZ claims that Russia and Ukraine could also release a stamp on this occasion in 2011. So far none of these two countries have announced such a stamp in their program.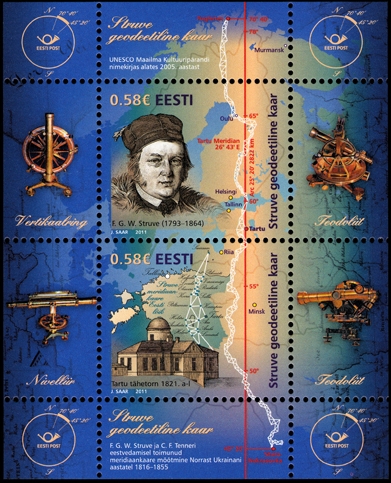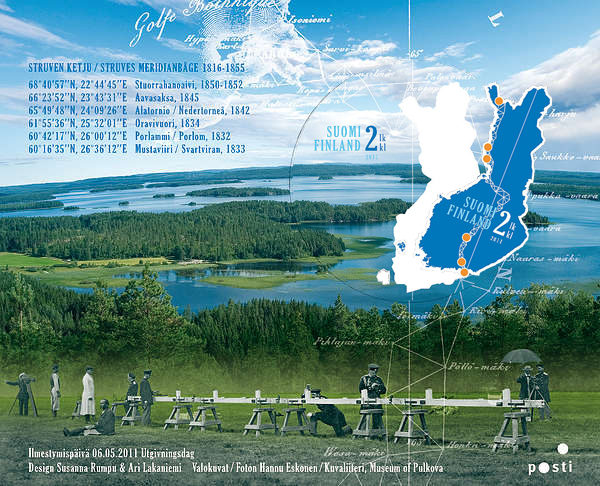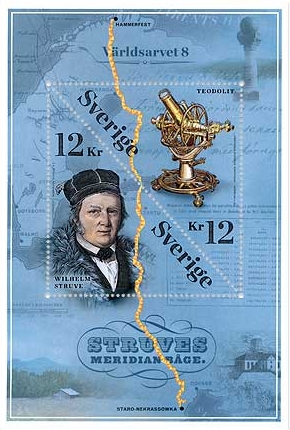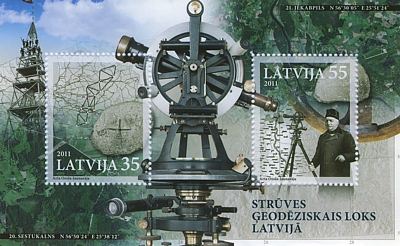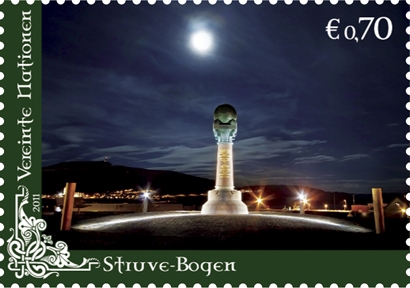 ---
May 10, 2011
There is on the internet a claimed "Joint issue on hero's fought gainst Apartheid and racism in Africa" issued by The Gambia, Sierra Leone and Liberia. Each sheet presents four black and white photos of stamps featuring the Jewish heroes. The issue was released on March 1st, 2011.
It is a typical issue of countries producing their stamps in large amounts from the same printing house. All these series from these countries had been classified in the past as Omnibus series and again there is no reason to consider them as a parallel issue (unless somebody finds a postal administration claim about this joint issue or a mixed first day cover).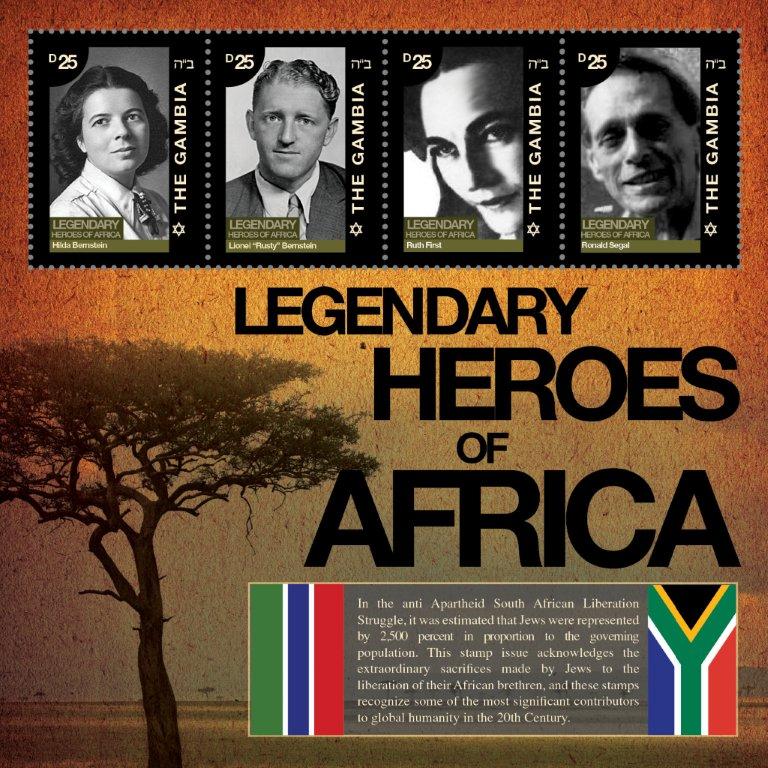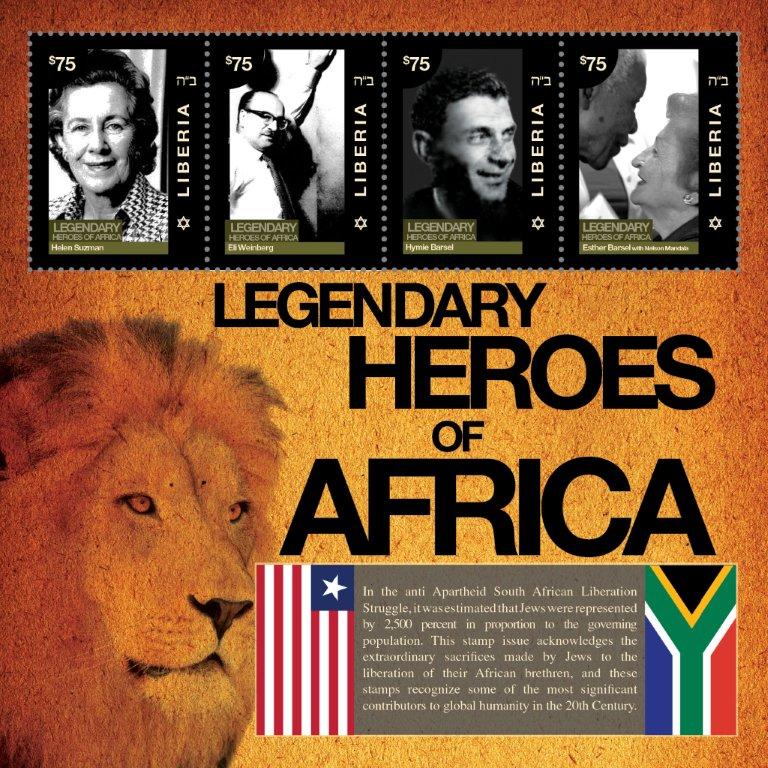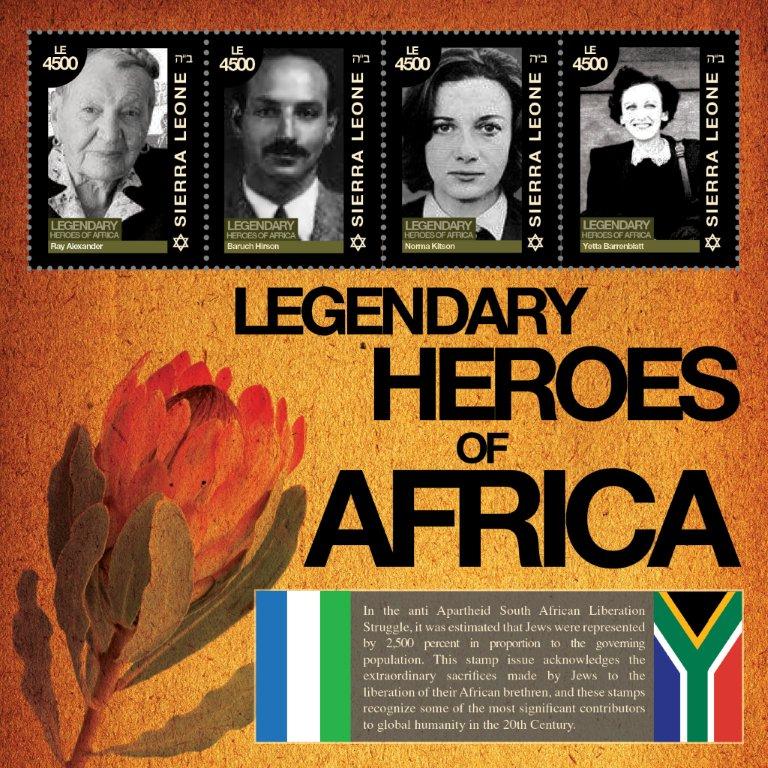 ---
May 10, 2011
Anthony Raynaud (Abondance, France) is questioning the reality of the 50th anniversary of Yuri Gagarin's first space flight Belarus - Russia stamps as being a joint issue: the design is the same and the date of issue is also the same (April 12, 2011), but none of the two postal administrations is claiming this issue being prepared in common.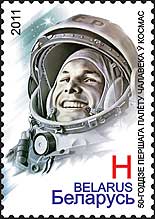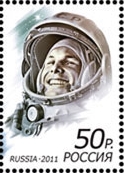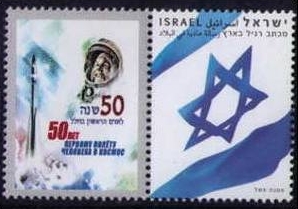 In fact this same Gagarin picture appears on the label of an israelian stamp (personalized). Also some other countries issued also a stamp at this occasion on April 12, 2011 (Azerbaijan, Bosnia Herzegovina, ...) .
What plaids in favor of a joint issue (beside date and design), is the structure of the stamp, with addition of a star at the same place in the stamp. Of course this can simply due to the fact that the same designer provided the original image. The official artists involved in the creation of these stamps are E. Simonenko for Belarus and A. Moskovets for Russia.
So, for the time being, we must consider this issue as an accidental twin issue [N] and we are awaiting until some reader provides us either with an official statement of a russian or belorussian source about the cooperation between these two countries in releasing those two stamps, or with a copy of a mixed first day cover. thanks for any feedback.
---
May 9, 2011
Late comer: for those who are collecting Europa stamps, just to let you know that Albania issued the 2010 stamps (Children books) on February 25, 2011 in form of two stamps and one souvenir sheet.
Reminder: 2010 Europa stamps are not considered as joint issues as those do not show a common design, nor there is an agreement between countries about the date of issue. The most recent Europa CEPT series that was approved as a joint issue dates from year 2000.
---
May 8, 2011
Pope John Paul II's beatification (part of information provided by Mike Lantz (Ohio, USA):
Poland (April 28) - Vatican (April 12): due to the difference in date of issue, this will be considered as a Concerted issue (and not a twin). Poland issued a souvenir sheet while Vatican issued a stamp printed in a miniature sheet of 3x2 stamps.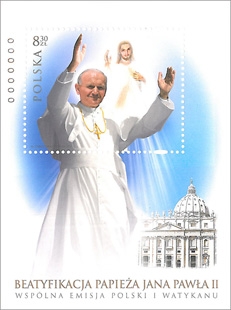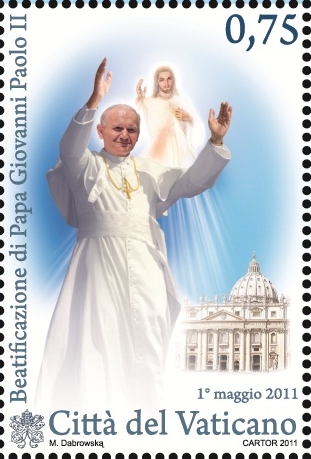 ---
May 8, 2011
Jaap Sarelse (The Netherlands) wrote:
"On eBay I found #320692571499: a mixed folder with the two silver stamps from Poland and Vatican (2003). I believe that you don't mention this item in your catalogue. The seller assured me that it is an official issue of the Polish Post."
Exact: the folder contains the two stamps mint. Of course it will be added to the catalogue (catalogue value: 25€)
---
May 8, 2011
Carolina Gomez-Zarzuela Irigoyen from the Spanish Philatelic Direction just informed us that the Spain - Vatican joint issue for 2011 is confirmed. Vatican will issue on June 21st and Spain in July 1st.
Thanks for this information.
---
May 8, 2011
Mr. Kridtanabowon Chanthawet (Bangkok, Thailand - see his web site under http://www.rakstampthai.com/) provided interesting information about recent joint issues involving his country.
On April 8, 2011, Thailand issued a joint issue with Laos to celebrate the 60th anniversary of the relationship between the two countries. (series of 4 stamps in each country)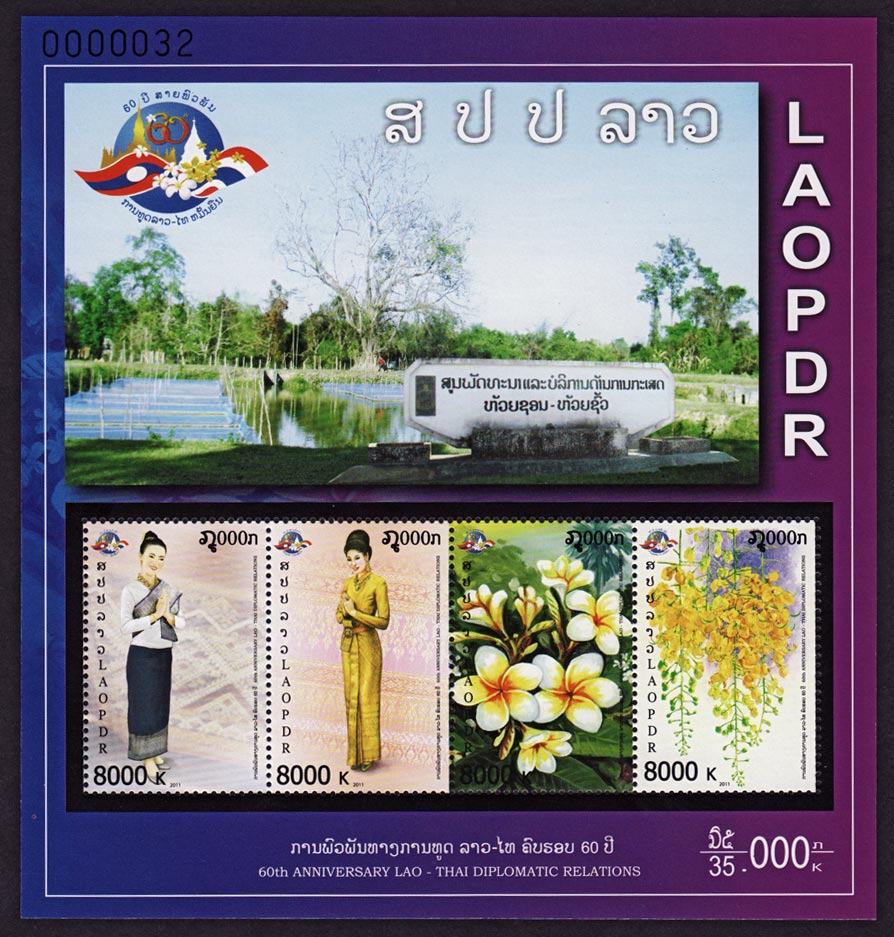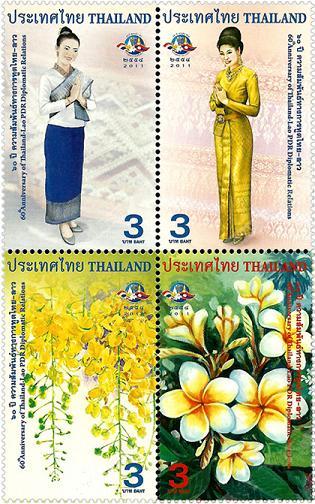 On May 30, 2011, Thailand will participate to a joint issue with Portugal.
Serie of 4 stamps to celebrate the 500th anniversary of the Portugal - Thailand Diplomatic relations.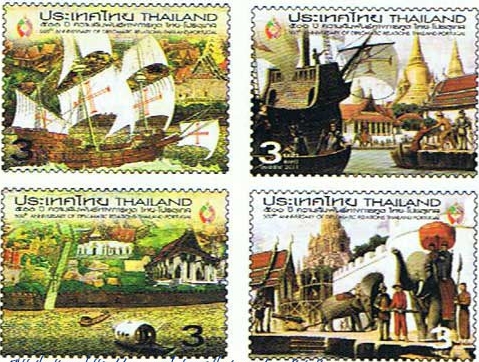 ---
April 27, 2011
A series of new issues for 2011 have been announced or discovered:
- 2011 (October 27) - Morocco - Spain
- 2011 (September) - Brazil - Mexico

Also we are looking for information for some older issues that could have been joint issues (still to be confirmed - the country without date of issue between brackets is the one for which information is missing. Image of the stamp and date of issue are needed. As long as these data are not available, the issue must be considered as unilateral):
- Cuba (April 15, 2010) - Cambodia (?)
- Cuba (March 24, 2010) - Namibia (?)
Finally we are still looking for some information about recently issued stamps:
- so far no data about the March 2011 Iran - Malawi issue (announced last year by Iran)
- the Egyptian stamps from the October 8, 2010 Egypt - Slovakia issue is confirmed (Egyptian stamps are available on eBay), but we still need detailed information about the stamp from this country
- the Afghanistan stamp from the [T20100725] issue with Iran and Tajikistan has still not been seen
- same request for Pakistan for the Pakistan - Iran joint issue from January 2011. The Iranian stamp has been issued.
Any information about the above is welcome. In particular we are looking for links to web pages describing the 2010-2011 stamps and the 2011 philatelic programs for countries such as Cambodia, Egypt, Namibia, Malawi, Afghanistan, ...
---
April 25, 2011
The Cuban stamp, joint with Bulgaria [T20101210] was finally found. Pictures are provided here. The description was updated in the Q4/2010 page.


---
April 25, 2011
Discovery of a new joint issue for 2010:
2010 (December 2) - [P20101202]
Cuba - Vietnam
50th anniversary of Diplomatic relations. Parallel issue [P1].
Similar stamps. Flags of both countries. Multicolored.
One stamp per country - FDCs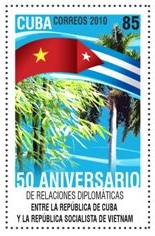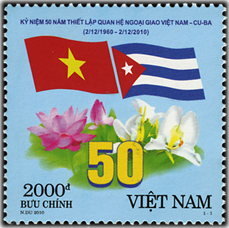 ---
April 25, 2011
If you are interested in all products related to Greta Garbo and in particular in the joint issue [T20050923] between Sweden and the United States, I can only recommend to take a look at the special Greta Garbo pages displayed in the Jay Smith & Associates web pages, a dealer specialized in Scandinavian stamps, under http://www.jaysmith.com/Topics/Greta-Garbo/Greta-Garbo-Sweden-Stamp-Issues.html (for joint Swedish issues), http://www.jaysmith.com/Topics/Greta-Garbo/Greta-Garbo-Sweden-Postal-Stationery.html (for Greta Garbo stationery, but none is joint issue) and http://www.jaysmith.com/Topics/Greta-Garbo/Greta-Garbo-United-States-Stamp-Issues.html (for the US stamps). This site gives you a good estimation of the increase of value of the Swedish souvenir sheets.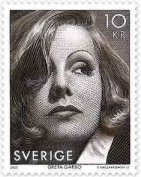 ---
April 25, 2011
The page "1st quarter 2011" was created and data about the (few) joint issues released during the first three months of the year are now displayed on our web site.
---
April 25, 2011
The newest issue of the French philatelic journal Timbres Magazine N° 123 from May 2011 published on pages 34 to 41 an illustrated article about joint issues authored by your webmaster and entitled "Un tour du monde des émissions conjointes 2010 (A world journey of the 2010 issued joint stamps)". It corresponds to a full description of the 2010 joint issues released during the year 2010.
---
April 25, 2011
Bruno Mazzini (Chiavari, Italy) enquired about two similar stamps related to the Baku (Azerbaijan) - Tbilissi (Georgia) - Ceyhan (Turkey) pipeline. The two stamps issued by Azerbaijan and Georgia look very similar. But is this sufficient to claim them as joint?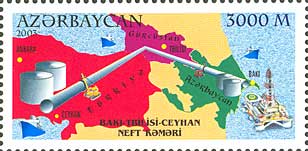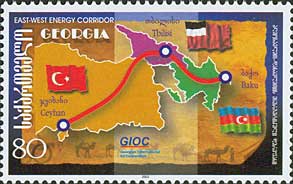 Let us look at their description:
Azerbaijan: date of issue: 2003 (April 8); [2x5] - printed 25,000
Georgia: date of issue: 2003 (November); [5x5] - printed 20,000
Turkey: to our knowledge no stamp related to this issue has been released
Two very different dates of issue, two different designs (even if both represent similar maps - although the Georgia stamp is reported in some catalogues as representing the silk road - see dromedars at the bottom of the stamp), absence of claim from postal administrations as being a joint issue, no mixed first day document: this cannot be a joint issue, even if the Yvert and Tellier catalogue reports it as such. So classification will be [N20030408]
---
April 24, 2011
Jurgen Klein (Coswig, Germany) discovered analogies between two stamps issued by Portugal and Cape Verde. These stamps were issued at the occasion of the 20th anniversary of the AICEP, the association of Portuguese speaking countries. The AICEP includes 9 members which are Angola, Brazil, Cape Verde, Guinea Bissau, Macau, Mozambique, Portugal, Sao Tome and Timor Leste.
A larger screening of the stamps issued by these countries resulted in some further discoveries:
- Angola (), Cape Verde (), Mozambique () and Portugal (October 25, 2010) issued almost identical stamps. except for Portugal, dates of issue of these stamps are not known with accuracy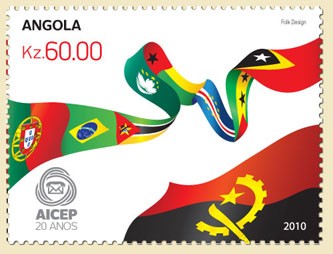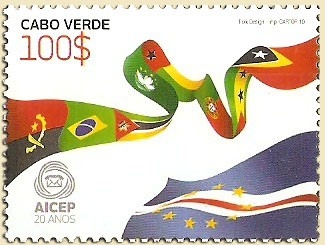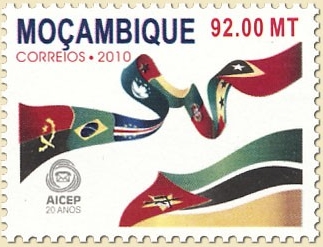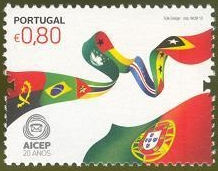 - by end of March Brazil and Macau had not issued a stamp connected to this event
- and no information is available for Guinea Bissau, Sao Tome and Timor Leste
Of course any data (picture and date of issue) to complete this information is welcome and will help to define the category in which this newly discovered joint issue should be filed.
In the meantime, congratulations to Juergen for this JI discovery that was not reported yet in the catalogue.
---
April 23, 2011
I recently discovered the following illustrated Pakistan postal stationery (cover). As it bears a stamp similar to the ones issued at the occasion of the centenary of the death of Syed Ahmad Khan, celebrated with a joint issue between India and Pakistan [T19980327], I was wondering if this item was not part of this issue. To demonstrate this, I need to know the date of issue of this cover. Any information is welcome.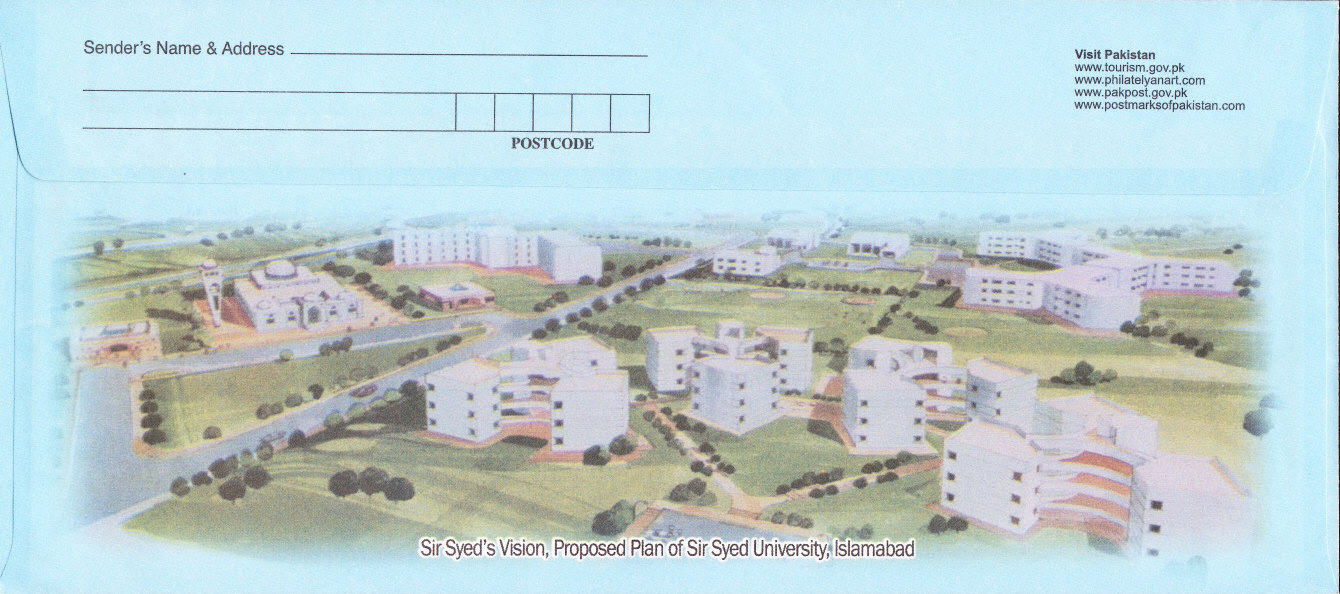 ---
April 21, 2011
The non-issued block of 10 stamps containing flower seeds that had the same design and was supposed to be issued at the same date as the identical Dutch miniature sheet in 2007 is now reported as non-issued and depicted in the Michel Catalogue Austria 2011 (and the Michel Rundschau 2011/3 page 23), value € 10,000 (!). This description was made necessary as some of the Austrian stamps reached the market and were sold through auctions.
The initial description (Catalogue supplement 2008, page 19) is now to be replaced by the following:
2007 (May 1) - [T20070501]
Austria (May 2 - not issued) - Netherlands (May 1)
Spring issue in form of a issued at the occasion of the Mother's day. Aborted series [T1/N1] from a twin issue.
Identical sheets with 10 different stamps. Different types of flowers; labels were supposed to contain five different type of flower seeds. Multicolored.
The seed mix on the stamps contains pinks, petunia's, snapdragons and lobelia's seeds. It appeared that these seeds (at least in Austrian tests) never succeeded in growing and although the sheets were printed, the Austrian Post decided to withdraw the project. Initially scheduled to be released in March 2007, only the Netherlands did bring their miniature sheet on the market by May 1, 2007, with seeds!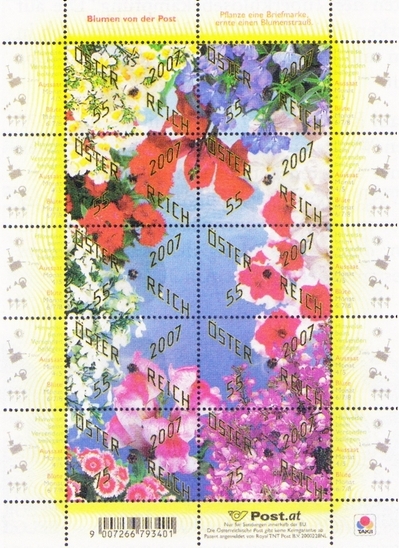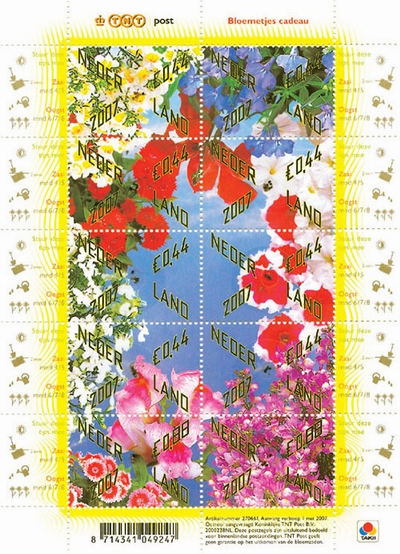 ---
April 21, 2011
The philatelic programme of France for the second half of 2012 was recently published. It announces a joint issue with the United States and another with Hong Kong. Topics and exact date of issues are not yet known.
---
April 21, 2011
Question from Charlie Bugeya (Toronto, Canada): Its about the upcoming marriage of the Prince William of Britain on April 29th. I have seen pictures of these stamps, from Britain and Canada. They look identical, and they are coming out on the same day. I am also assuming that there will be other countries issuing the same stamps. Have they been declared as 'joint'?
Answer: The Royal wedding scheduled on April 29, 2011 between the Prinz Williams of England and Catherine Middleton will definitely generate a lot of issues among the Commonwealth countries. However, at this stage no joint issue has been announced. It might be possible that some island states will issue an equivalent of an omnibus series.
Here is a non yet complete list of countries having scheduled at least one stamp at this occasion:
Canada (April 29) - Cook Islands () - Gibraltar (January 21) - Great Britain (April 21) - Isle of Man () - Jersey () - New Zealand (March 23) - Niue (March 23)
In terms of design one can already report that Great Britain and New Zealand (but also Canada and Great Britain) have used the same official picture of the couple.
So far all stamps I have seen regarding this topic have been or will be issued without postal administration concerting each other. In the case of identical pictures, e.g. Gret Britain, Canada, New Zealand, I will consider them as accidental (i.e. they took the best image they were given in the press book, the "official pictures") as long as there is no claim of a joint issue or a mixed first day document.
Does someone have another opinion?
---
April 3, 2011
On March 30, I got the following message from Carolina Gómez-Zarzuela Irigoyen, representative of the Spanish Postal administration, sub-direction Philately in Madrid:
"I have seen in your web page that you announce a joint issue Spain-Vatican for this year and I must inform you that this information in not correct. There is no such an issue with the Vatican neither in 2011 nor in 2012.
The joint issue scheduled for 2011 is Spain-Morrocco. "
I would like to thank Carolina a lot. This information is really relevant for all of us and was updated in the site of course. This tells us that postal administration care about what we publish on our site and of course it is better that all this information is the most accurate.
I would like to invite all postal administrations throughout the world to contact us without hesitation in providing the latest news about joint issues involving their country or in correcting published information. We will of course post the link to the site whenever it is possible.
For example recent contacts with the Aland post provided some complementary information about the most recent joint issues involving this country. Thanks a lot also to Kristine Sund from Aland Post Stamps.
---
Previous information reported in this section is now to be found in the News Archives.