Archives Quarter I, 2019
This page is the archived News Page from the January to March 2019 period. All contents have been dispatched in the respective stamp description pages. However there may still remain open questions. Any complementary information is welcome. As soon as an information is archived, the text will not be changed anymore. So if additional information are linked to the below, this will be displayed as a new heading in the currently open News page.
---
February 28, 2019
Don Birschel (USA) found these two stamps issued by Bosnia Herzegovina and Bosnia Herzegovina Sarajevo at the occasion of the European Youth Olympic Festival (EYOF) 2019 to be held in Baku, Azerbaijan, between July 20 and 27, 2019. Both stamps have been issued in February 2019, the BH stamp on February 7, 2019. At this stage we are unable to say if this is a joint issue as there is no official claim from the postal authorities and the illustrations are only taken from the symbols of the event. These stamps refer to the winter game part which apparently took place between February 9 and 16, 2019. Any additional information will be appreciated.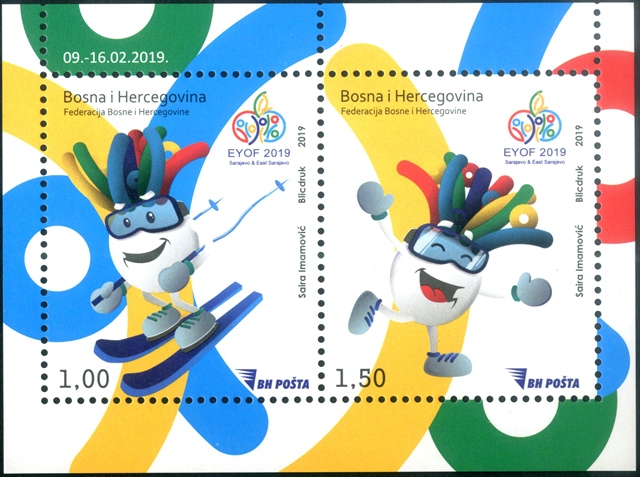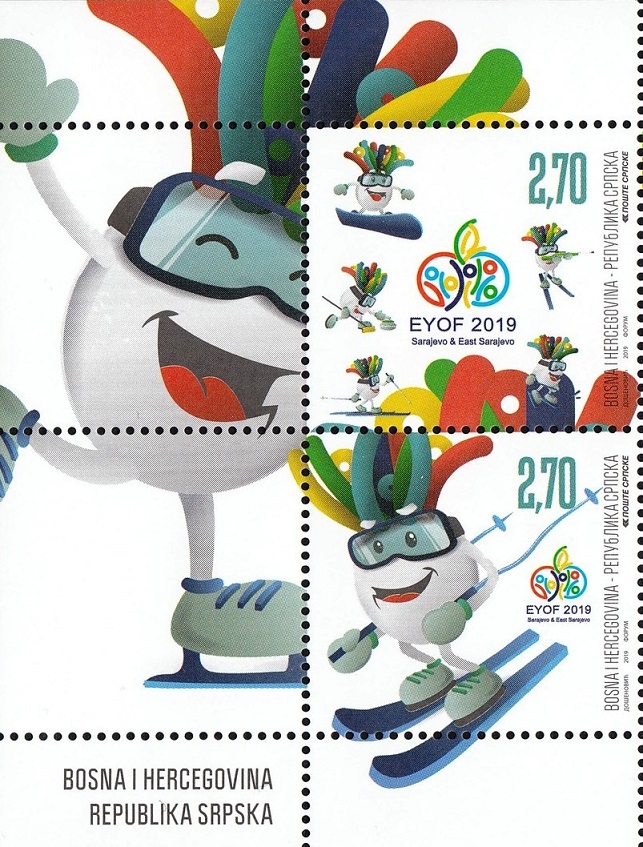 March 20, 2019: Jaap Sarelese, The Netherlands, inquired more information with both postal administration and got the confirmation that these stamps are not part of a joint issue. Thanks Jaap.
---
February 18, 2019
Finally information about the the Iranian stamps from the October 23, 2018 Iran - South Korea issue appeared. Iranian first day covers and maximum cards became available very recently under Delcampe, confirming this issue as a twin issue [T1].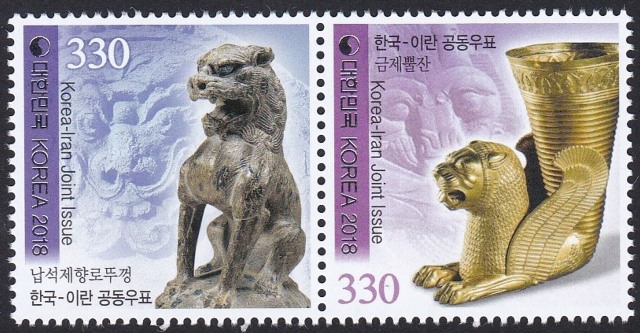 Algeria issued on November 15, 2018 a souvenir sheet (110x90 mm) dedicated to the 30th anniversary of the proclamation of the State of Palestine in Alger, but we have no news from Palestine similar stamps. The general sale date was November 18, 2018.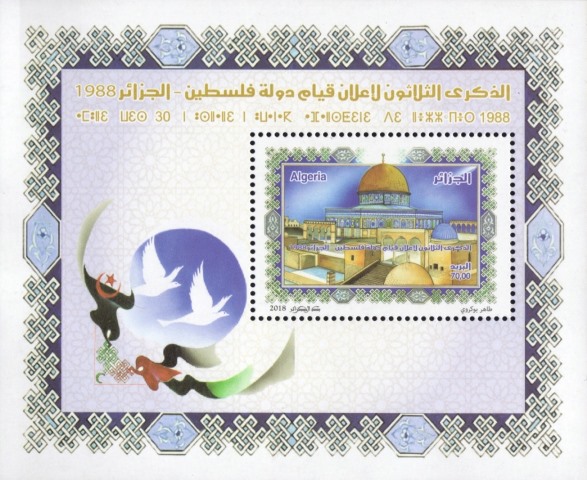 ---
February 12, 2019
Don Birschel (USA) provided the images of the Italy - Vatican stamps released on February 11, 2019.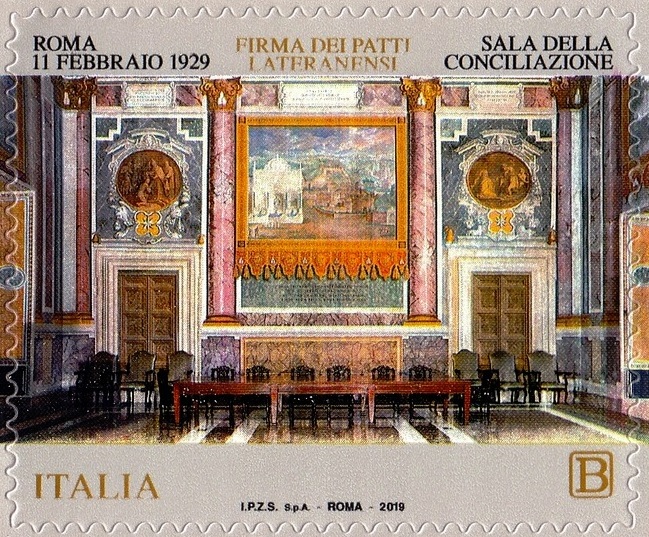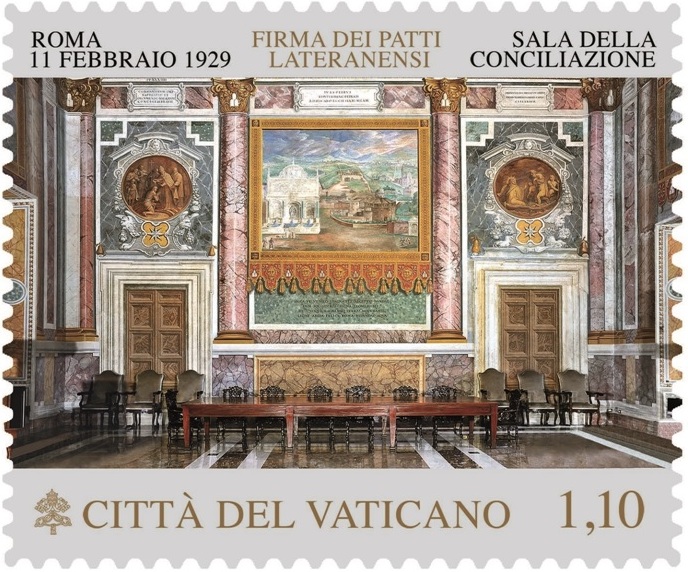 ---
February 10, 2019
Additional information was provided by Benjamin Busch (France) regarding the Africa Mandela issue dated July 18, 2018:
- The siamese souvenir sheet including Central Africa, Djibouti, Niger, Sierra Leone and Togo was also produced with a red background instead of grey and different denominations, as perforated and non-perforated souvenir sheets.
- These stamps are also available as perforated and imperforate stamps in miniature sheets of 6 stamps [2x3] as well as souvenir sheets with one stamp.
Date of issues of the latest issued stamps are also known: Central Africa, December 20, 2018; Djibouti, December 13, 2018; and Sierra Leone, December 28, 2018. A mixed first day cover with five stamps from these same five countries involved in the siamese souvenir sheet became also available.
An exhaustive list of all items available in this series will be available as soon as all information will be complete. It seems that the list of 13 countries involved is now complete.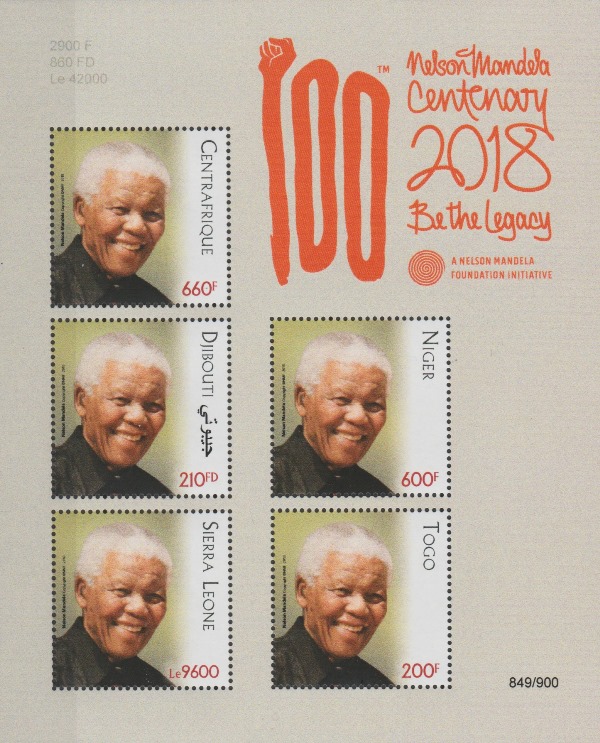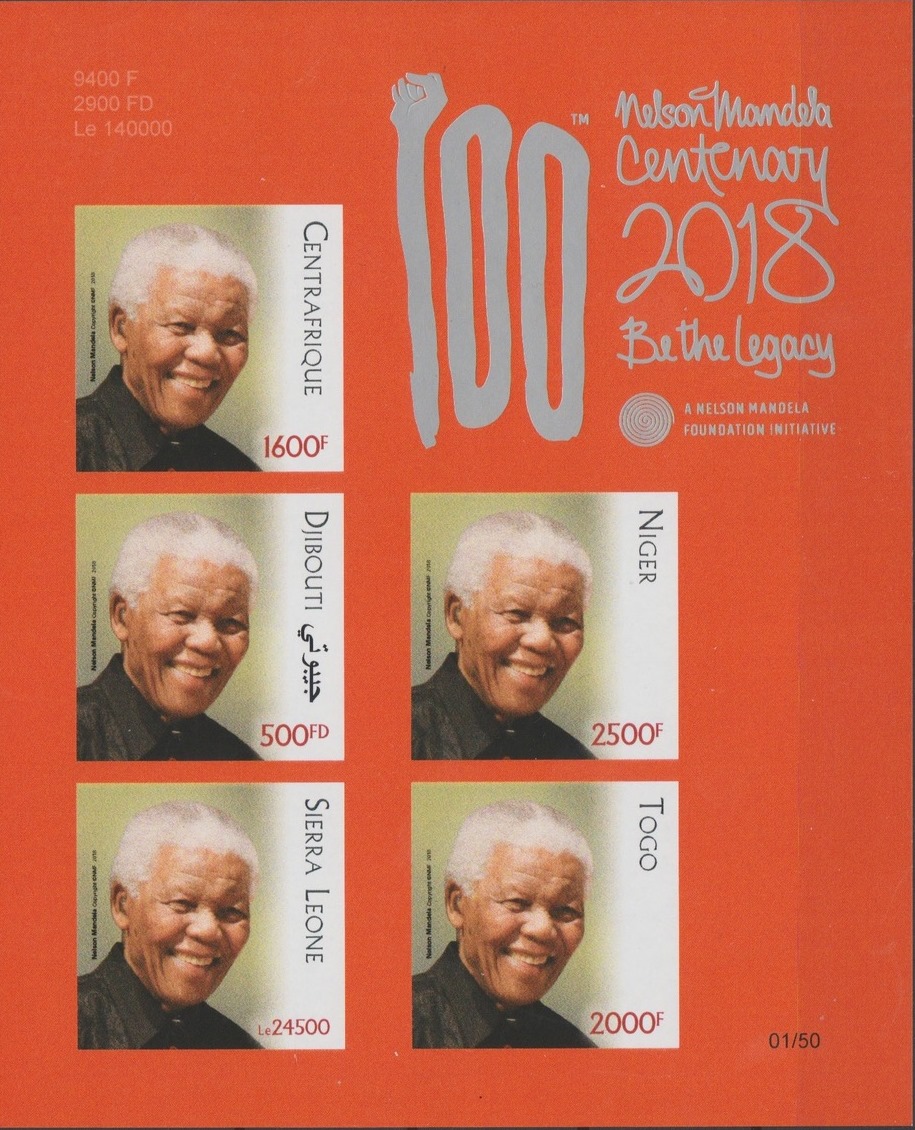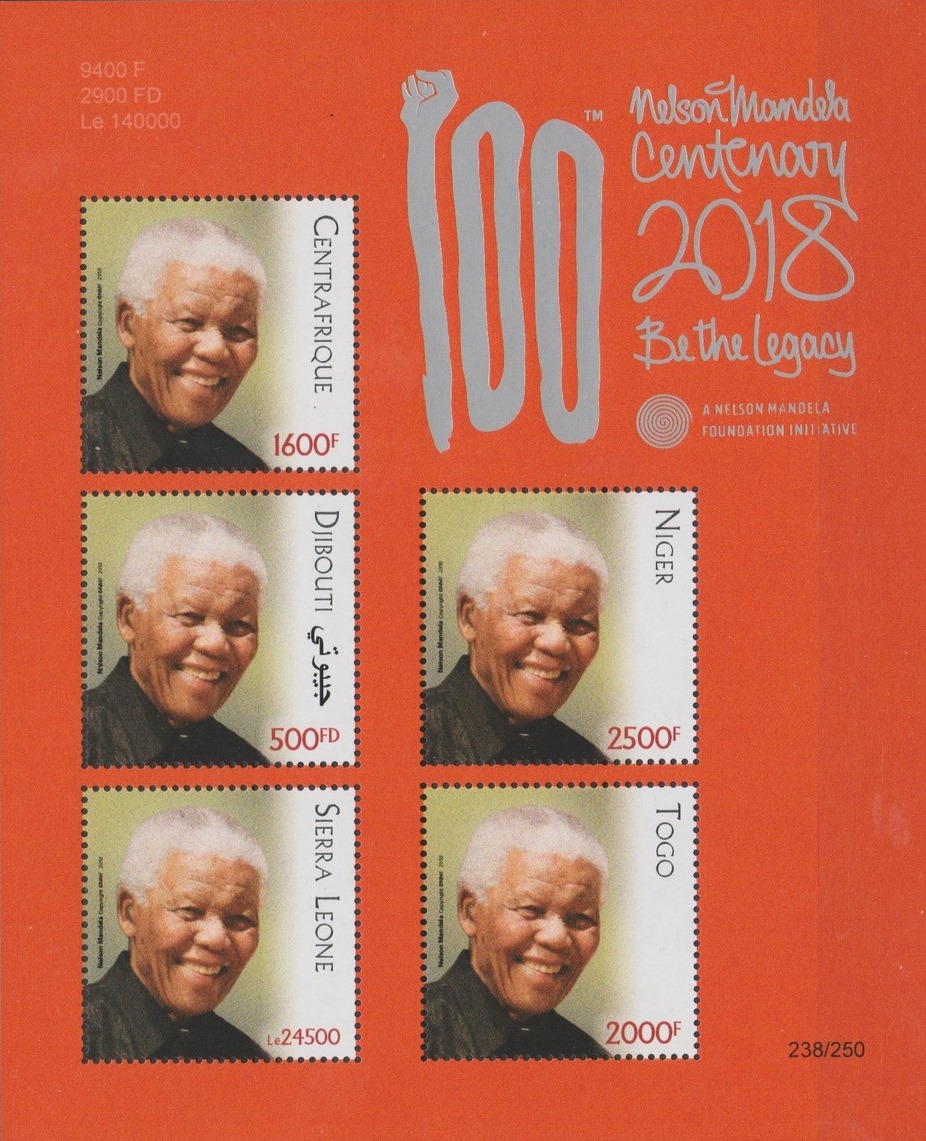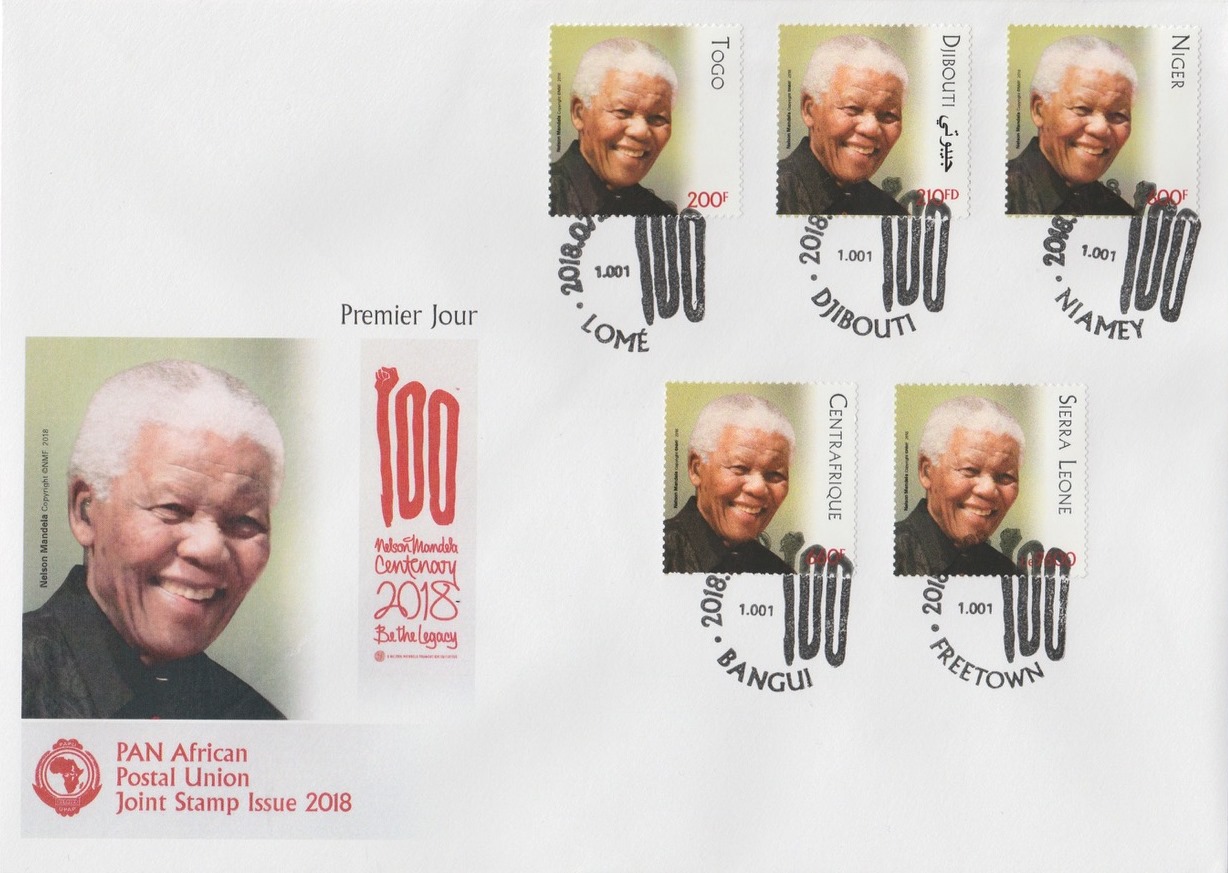 Enzo Cafaro (Italy) found the image of the Azerbaijan souvenir sheet from the June 9, 2018 Azerbaijan - Pakistan joint issue. Don Birschel (USA) found a FDC dated December 28, 2018. This issue becomes then a Concerted Joint Issue [C1].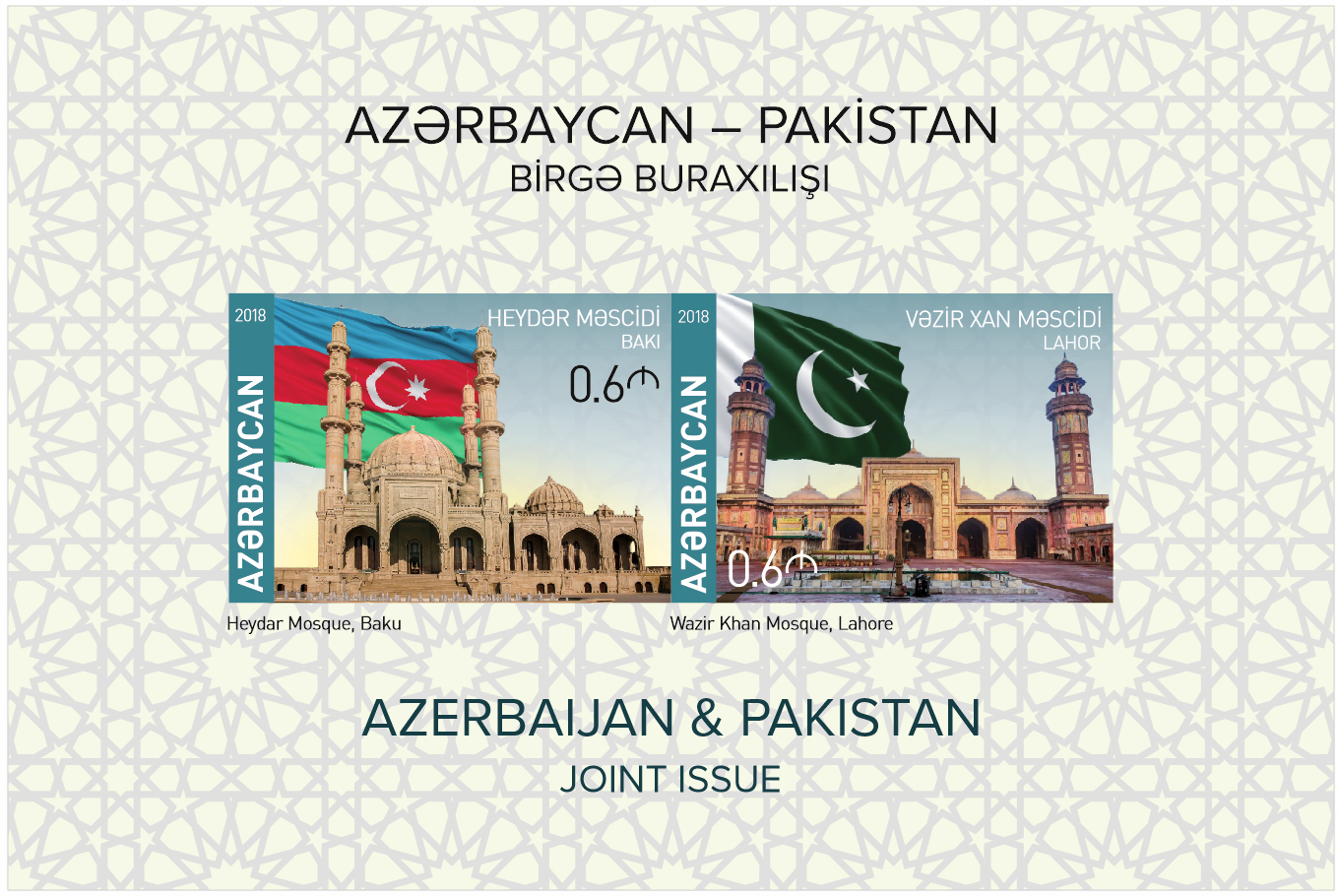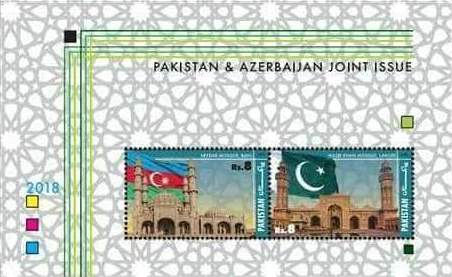 On February 8, 2019, the 40th anniversary of relationship between China PR and Portugal was also celebrated with the emission of two stamps showing tea pots (information and images first provided by Enzo Cafaro). We know that the Chinese stamps are identical, but we have not found yet sufficiently clean pictures.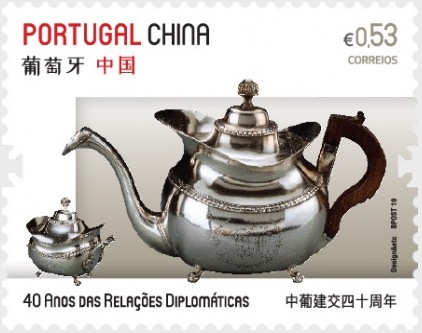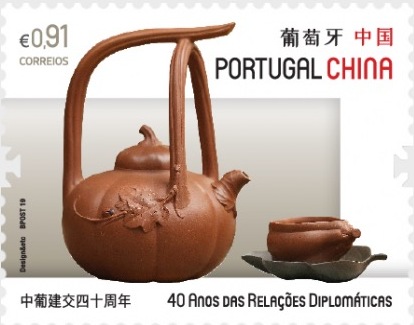 Grzegorz Omelanczuk (Poland) provided also additional links to the designs of the Slovakia stamps from the Slovakia and Slovenia joint issue to be released on March 22, 2019.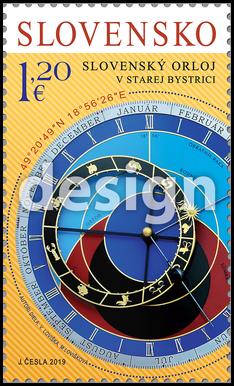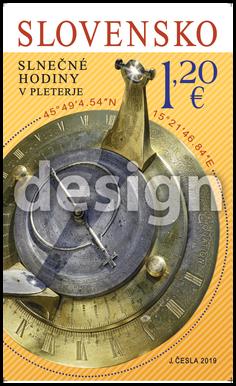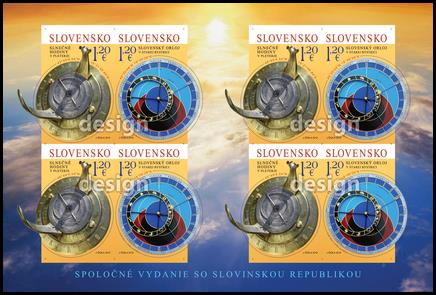 Jaap Sarelse (The Netherlands) provided some precisions regarding the October 30, 2018 siamese issue between China RP, Hong Kong and Macau and in particular the presentation packs. Apparently each postal entity printed its own folder:
- The covers of the three folders are slightly different: the texts on the pages 1 (title), 2 and 4 are different. The text on page 1 is in Chinese, English and Portuguese on the folder from China and Macao. On the folder from Hong Kong it is only in Chinese and English. There are also differences in shines.
- The text on page 2 is in Chinese, English and Portuguese (China and Macao folders); at first glance the text is identical, but the space between the words is different, therefore the first words of each matching line in the English and the Portuguese text of both folders are different. The folder from Hong Kong has only a text in Chinese and English.
- Page 4: on each folder differences in the 3 logos. On the folder from Hong Kong also a small barcode appears. On the Chinese folder also a barcode and a QR code are printed.
- The souvenir sheets are identical, but on each sheet a number is printed, starting with the letter A, B or C. This is the only difference for souvenir sheets and correspond to the sheet attribution respectively to China RP, Hong Kong and Macau.
---
January 6, 2019
The Moldova Ukraine stamps were issued on December 26, 2018 in the form of souvenir sheets showing two church bells (first images provided by Enzo cafaro, Italy).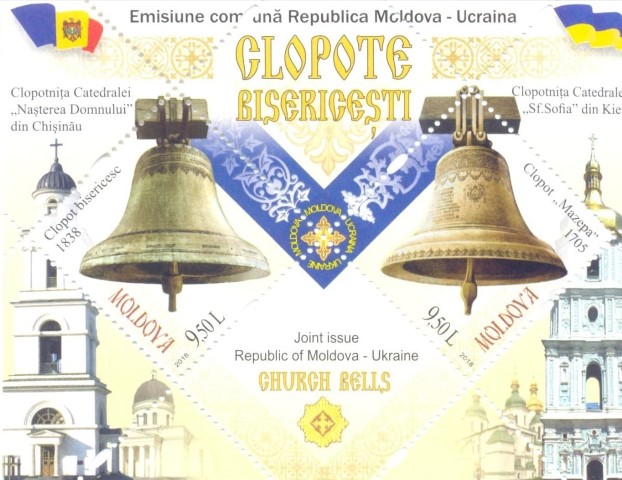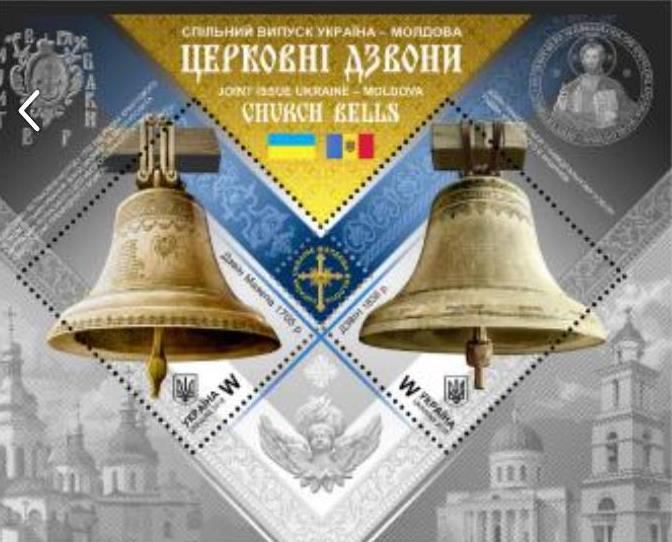 Benjamin Busch (France) discovered a siamese souvenir sheet gathering five countries from the July 18, 2018 Nelson Mandela joint issue and including Central Africa, Djibouti, Niger, Sierra Leone and Togo. This souvenir sheet was produced at only 900 samples and is also available as non perforated item. This souvenir sheet adds three new countries to the already identified countries involved in this series namely Central Africa, Djibouti and and Sierra Leone. The exact date of issue of this souvenir sheet is not known. Additionally Benjamin found also an identical stamp from Libya which brings the total number of countries having issued similar stamps for this occasion to 13 for the time being: Algeria - Burkina Faso - Central Africa () - Djibouti () - Gambia - Kenya (October 9) - Liberia - Libya - Niger - Sierra Leone () - South Africa - Togo - Tunisia. We are missing the exact dates of issue for the countries followed by empty brackets. All other countries without brackets had their stamps issued on July 18, 2018. It seems that Equatorial Guinea and Zimbabwe have also participated but stamps have not been seen so far. Originally all African countries were invited to participate to this joint issue and this could bring the number of involved countries up to 50. Any help for completing the information about this series is welcome. Most of these stamps can be obtained via Benjamin through https://buschcollectibles.com/.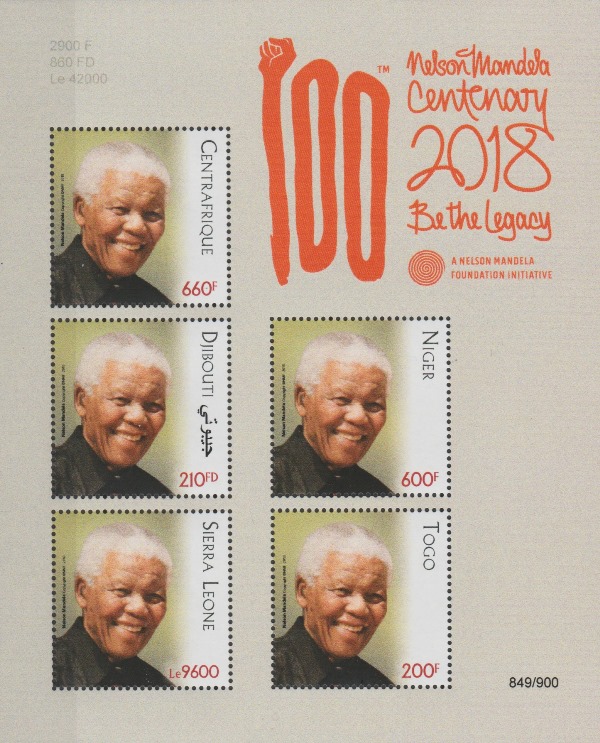 News from Niket Bubna (USA): Singapore will possibly issue two joint issues in May 2019, one with Israel and the other with Philippines. Dates and subjects are not fully known yet. There is a possibility of another ASEAN omnibus in August 2019. News for Indian joint issues is not available yet, but some updates speak about a possible joint issue between India and South Korea in July 2019.
On another note, Niket has seen a couple of stamp sellers with the South African version of the India - South Africa joint issue that was released in June 2018. South Africa post office continues to say the stamps are delayed in printing and shipping from India, but these are now available from other vendors. More when the stamps will be really seen.
---
January 1, 2019
The News from the period October to December 2018 have been archived.
---
All previous information reported in this section is to be found in the News Archives.