Archives Quarter I, 2016


This page is the archived News Page from the January to March 2016 period. All contents have been dispatched in the respective stamp description pages. However there may still be open questions. Any complementary information remains welcome. As soon as an information is archived, the text will not be changed anymore. So if additional information are linked to the below, this will be displayed as a new heading in the currently open News page.
Back to list of Archived Pages
---
March 18, 2016
Don Birschel (USA) reported that India is also releasing a souvenir sheet related to the March 8, 2016 joint issue with the United Nations and he provided the first illustration.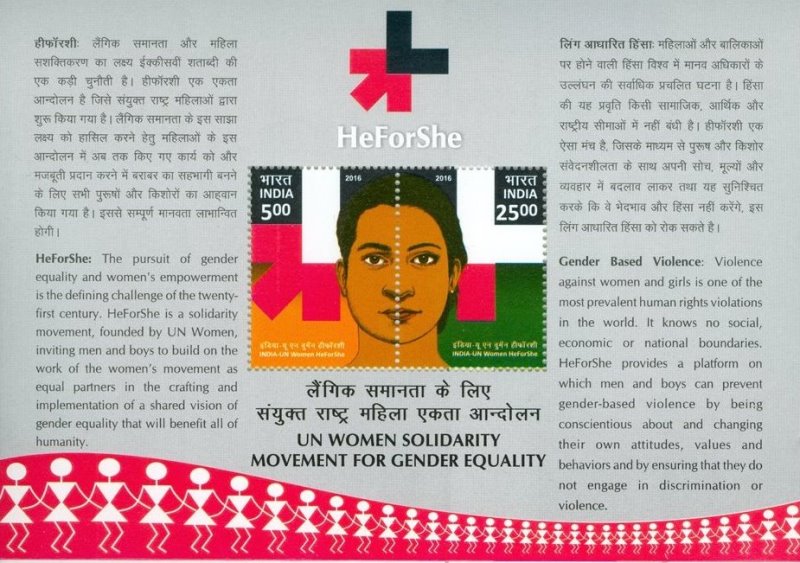 ---
March 11, 2016
Our friend and joint stamp issues collector Wayne Chen (USA) reminded us that the World Stamp Show New York 2016 is approaching soon (May 28 - June 4). As he is living in this area he thought it would be a nice opportunity to meet other joint stamp issues collectors who would also attend the show. Of course it would be great to meet up in person, and potentially exchange some joint issue duplicated items. So he proposed to coordinate information with those traveling from out of town (and other parts of the world!) to New York and even assist with local recommendations. If you are attending the show please email him at: chenyuwen@gmail.com.
It happens that I will be in the US during that period and I managed to be able to attend the show on May 30th. So we are already two of us on site on that day. Anyone else?
---
March 4, 2016
Grzegorz Omelanczuk (Poland) provided the link with the Belarus postal website which contains information and picture of the next joint issues involving this country: on May 12, 2016, with Azerbaijan (topic Eagles) and on June 22, 2016 with Russia (Brest fortifications):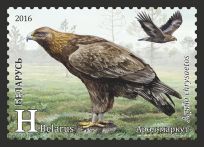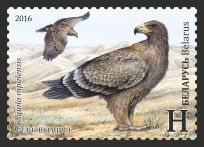 as well as the common Europa stamp to be released on April 5, 2016.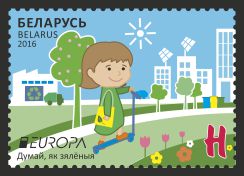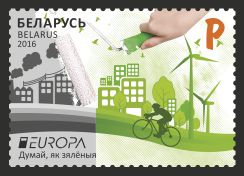 ---
March 3, 2016
The month of February was quite busy with the writing of the Catalogue Supplement X - 2016 that is now under proof reading and could be available within one month or so. Also, we had the opportunity to write a new article about the joint issues released during 2015 that will appear in two parts in the Timbres Magazine issues of April and May 2016 (in French).
In the mean time we got some news from all over the world.
As already mentionned earlier, the 2016 Europa issue will not only have the same topic as usually, but all countries will use the same design. Common topic is "Think Green". This is now confirmed with the pictures of the first stamps already released since January, among which Sweden (January 10), Azerbaijan (January 16), Liechtenstein (March 7) and San Marino (March 10).
This issue will be filed as a concerted [C] issue and the exact reference date will depend upon the day on which the largest number of countries will issue their stamp (probably around May 9, 2016 so filed as [C20160509]).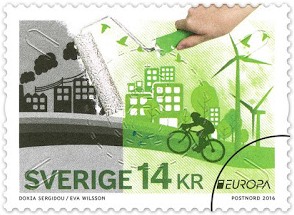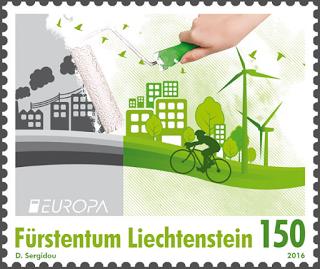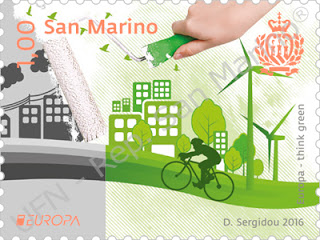 Wayne Chen (USA) was the first to provide information about a joint issue to be released between the United Nations and India on March 8, 2016. Topic is 'Equality between genders' within the #HeForShe solidarity movement. Similar to COP21 joint issue with France on November 24, 2015, UNPA will have a ready-made mixed cover quadruple cancelled with Indian stamps available for sale. Pictures of the Indian stamps have been released very recently. They are made by the same artist as for the UNPA stamps, so with the same design but showing a different picture. This issue will be filed as parallel issue.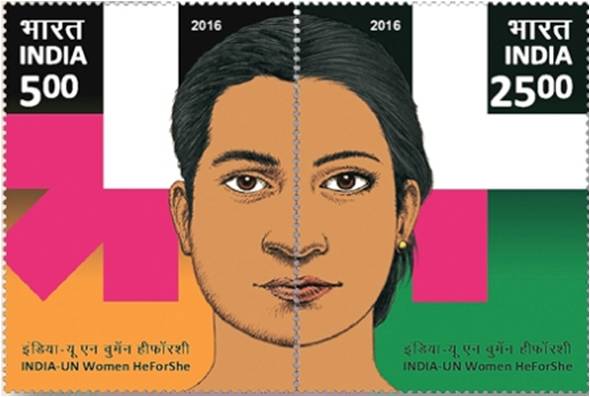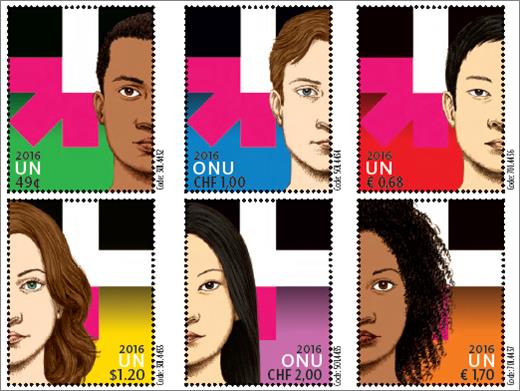 Grzegorz Omelanczuk (Poland) found information about a series of joint issues to be released during 2016 by Thailand together with Indonesia (May 5), Vietnam (August 5) and Iran (exact date not yet known).
And finally the Greece - Israel joint issue was released on February 9 as planned. Here are the images. The Israel stamps was issued in miniature sheets of 15 stamps [5x3] among which five with tabs. Greece released a souvenir sheet with a single stamp and a tab. mixed FDCs and mixed maxi-cards are available.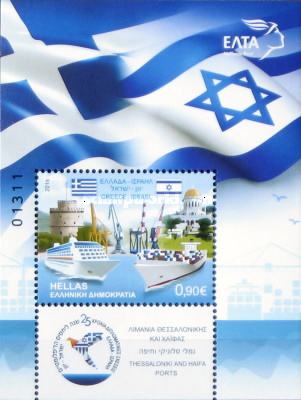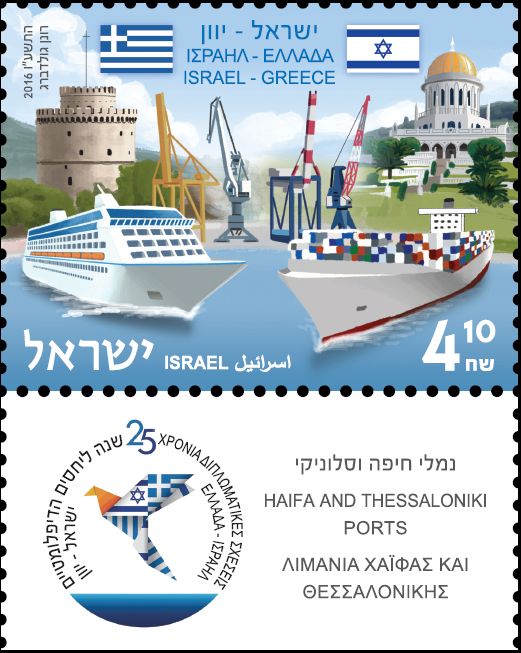 ---
February 7, 2016
Last year, we reported a discovery by Roland Montagne (France) of a special mixed item related to the African troops [D19570720] and bearing both stamps se-tenant of French Equatorial Africa and French Western Africa as part of a (kind of) souvenir sheet (in fact French so-called 'Epreuve de Luxe'). Very recently Jean Goanvic (France) reported a similar item related to the 10th anniversary of liberation issue [D19540606] and involving 6 countries (among the 14 that participated). This specific item includes stamps from Cameroon, French Equatorial Africa, French Western Africa, India (French), Madagascar and New Caledonia. Thanks Jean for having reported this nice item. Unfortunately we have not been able yet to find a high quality and complete picture of this item. This item also transforms the catalogue entry for this issue in a Siamese Territorial Issue [SD].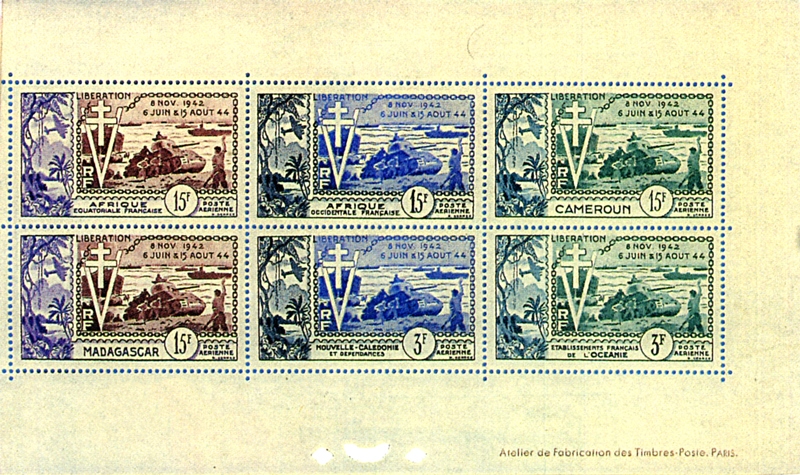 ---
February 7, 2016
The new issues yearly pages have been updated and all the information that was so far still available in the Upcoming Issues pages is now fully described in the Yearly News page 2015 (separated in quarters).
---
February 7, 2016
We start receiving information about additional countries releasing their stamps in the frame of the December 8, 2015 ECOWAS/CEDEAO series involving 15 African countries. So far stamps from Senegal, Burkina Faso and Nigeria could be acquired. Apparently all stamps from this series have been printed at only 5,000 samples each by the Dutch company Enschede. Some countries have also released a special imperforate cardboard item (Information provided by Benjamin Bush, France).
Niket Bubna (USA) wanted to let us know that a joint issue between India and Portugal celebrating 500 years of Indo-Portuguese relations is likely to be released in 2016 (exact date of issue still unknown). Portugal's stamp program lists the stamp issue along with two other joint issues. Portugal will also commemorate 500 years of relations with Vietnam (July 1, 2016) and 950 years of relations with France (exact date still unknown) by using joint stamps this year. India Post on the other hand could also release joint issues with United Nations and Papua New Guinea in 2016. The United Nations joint issue is likely going to be on international women's day on March 8, 2016.
A stamp featuring 60 years of diplomatic relations between the Philippines and Japan will be issued within the year also to mark the historic visit of Emperor Akihito on January 26, 2016. Both postal administrations failed to issue a common stamp at the date of the visit, but are now working on a joint issue with a common topic to be released during the year 2016 (information provided by Grzegorz Omelanczuk - Poland).
Grzegorz pointed out also the two stamps that will be released by Brazil and Portugal (probably on April 26, 2016) at the occasion of the 50 years of the philatelic exhibition Lubrapex. This could result in a joint issue. If this is the case, we should not be surprised that other portuguese-speaking countries would participate as well.
---
January 16, 2016
Charlie Bugeya (Canada) made a very interesting discovery. Back to 1950, Poland and Hungary issued both a stamp dedicated to the 100th anniversary of the death of General Jozef Bem (1794-1850). The stamps represent a portrait of the hero, different for each stamp, with an identical background showing a lithography from Marie Alexandre Alophe (1812-1883) and a painting from Jan Matejko (1838-1893) representing the battle of Piski (February 9, 1849). Stamps from both countries have been issued on December 10, 1950. Poland issued one stamp (color deep blue). Hungary issued three stamps with different colors (brown, red or deep blue) and denominations, but also a non-peforated souvenir sheet with the same design (violet color) at the occasion of the day of the stamp in Hungary.
We are missing information about collaboration between the two postal administrations and we have not seen mixed documents. However, as the concept of joint issue was not defined at that time, alike all potential joint issues before 1970, we will consider this issue as a true parallel issue [P1] and report it in the catalogue.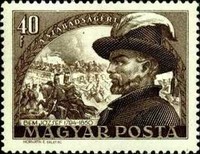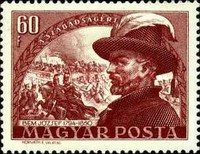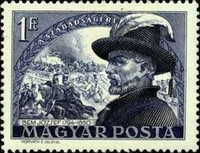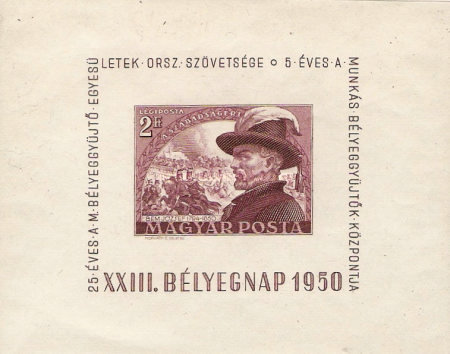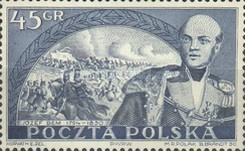 ---
January 6, 2016
Jaap Sarelse (The Netherlands) provided information about a special mixed folder produced at the occasion of the opening of the Porta Santa on December 8, 2015 by Pope Francis. On this day, Pope Francis proclaimed the Anno Santo della Misericordia. Italy and Vatican issued stamps (Italy 4 stamps, Vatican 2 stamps) with different designs. Poste Italiane and Poste Vaticana produced a mixed folder with (only) one mint stamp from each country and both December 8, 2015 cancelled covers bearing those stamps. In fact, these covers are not FDCs as Italian stamps had officially been issued on December 7, 2015 and Vatican stamps on November 19, 2015. As stamps have not been issued with the aim of creating a common issue, this series will be mentionned in the catalogue only under the heading [N] non-approved.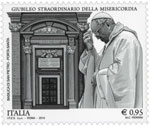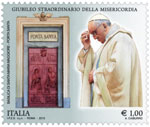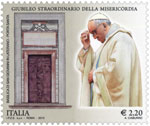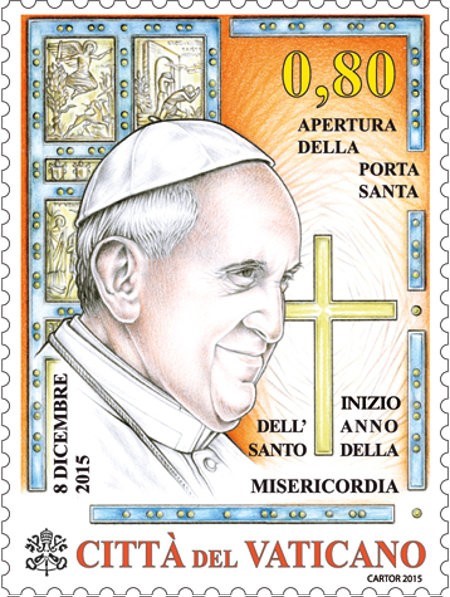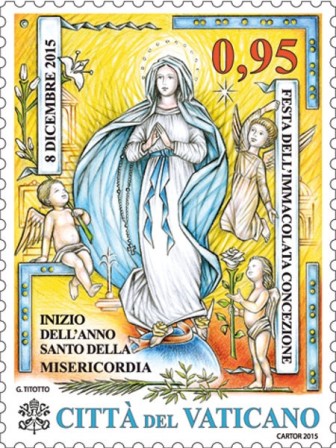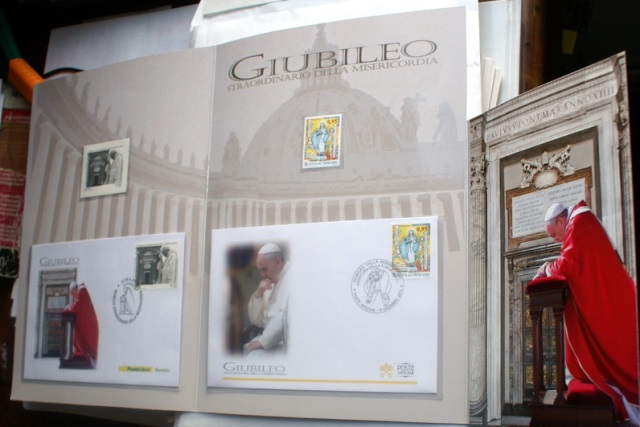 ---
January 6, 2016
News collected in the past three weeks about stamps issued in December 2015 or to be issued soon:
The Brazil - Romania joint issued with topic sculpture was issued on December 22, 2015. Both countries issued two stamps but note that the highest denomination stamp from Romania was issued only at about 7,600 samples, ten times less than the lower denomination stamp (information provided by Grzegorz Omelanczuk, Poland).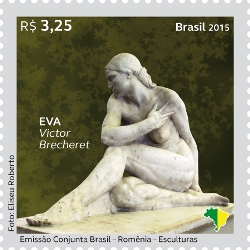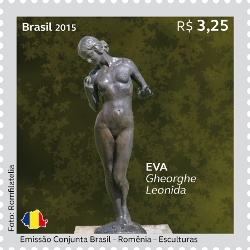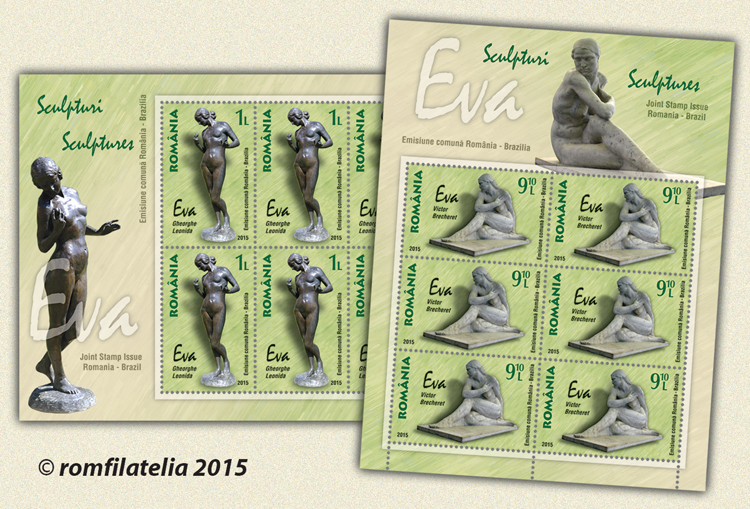 On December 17, 2015, an official ceremony in Abuja, Nigeria unveiled the design of a stamp that will be issued by all ECOWAS/CEDEAO (Economic Community of West African States - Communauté Economique Des Etats de l'Afrique de l'Ouest) countries at the occasion of the 40th anniversary of this institution. The joint series should include the following 15 countries (i.e. all the members of ECOWAS): Benin - Burkina Faso - Cape Verde - Ivory Coast - Gambia - Ghana - Guinea - Guinea Bissau - Liberia - Mali - Niger - Nigeria - Senegal - Sierra Leone and Togo . However exact dates of issue for each country are not known at this stage. We just observed that the Nigeria FDC already for sale on Delcampe and eBay is cancelled from December 7, 2015 (so prior to the ceremony) and bears a pre- first day cancellation date of May 28, 2015 (the exact anniversary date - ECOWAS was created on May 28, 1975) telling us that this stamp has been in preparation for a long time. Also the Central African Republic has already issued stamps at this anniversary occasion, but this country is not member of this structure. We learned also that Nigeria has issued only 5,000 stamps with this design which will probably limit the number of complete series. We need to explore this issue in details, but in the meantime we can already provide a picture of the ceremony taken from Sebphilatélie's blog and the Abidjan.net web site and on which are shown (almost) all stamps (information also discovered by Grzegorz).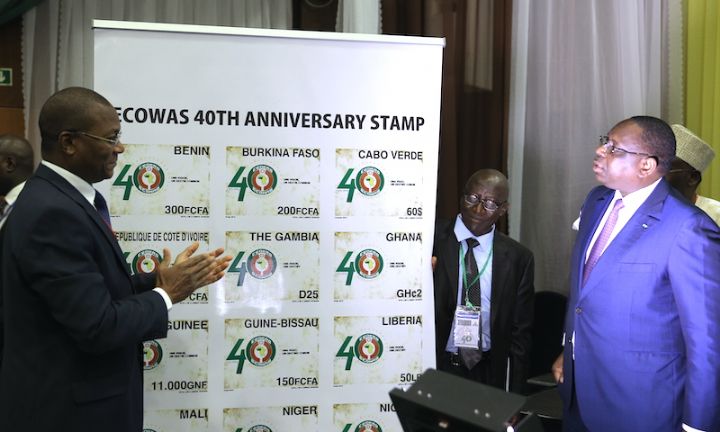 ---
January 6, 2016
Information about New Issues to come. These data have also been updated in the "Upcoming issues" page.
Grzegorz Omelanczuk (Poland) pointed to a special edition of the German Philapress available on line (in German) that reports the 2016 issuing programs of almost all European postal administrations and a few other countries. More than 20 joint issues to come are reported there and all of them have been integrated in the "Upcoming issues" page. It is interesting to note that Russia plans seven joint issues this year involving Malta (March 23), Spain (May 26), Slovenia (May 27), Belarus (June 22), Kazakhstan (June 22), Macedonia (October 5) and Argentina (October 6). As in 2015, the RCC stamps will probably not result in a joint series, so they are not reported here.
Here are also the first pictures of the next Greece - Israel joint issue to be released on February 9, 2016: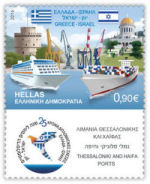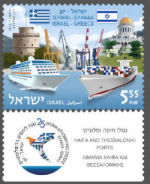 ---
January 4, 2016
At the occasion of this new year 2016, we introduce a major modification for acceeding your web site. You may probably not have noticed it yet as the older link "www.jointstampissues.net" transfers automatically your request to the new site, but since about six months the access to the Joint Issues philatelic web site is obtained through a new provider and the direct address is now:
Please update your links as the automatic transfer will work only for a few other months and then will be deactivated. Nothing else has been modified or needs to be modified. The search tools (e.g. Google) have already taken in account these changes. Thanks for your understanding.
---
January 1, 2016
The News from the period October to December 2015 have been archived.
---
All previous information reported in this section is to be found in the News Archives.