New Issues 2020 (July - September)
This page collects only issues released during the year 2020, period July to September.
As it is not such obvious as it looks to find this information, this list is probably not yet complete. In certain countries, joint issues are often announced on the day of the issue and sometimes it takes months before this information and the corresponding stamps reach us. Data on missing issues or supplementary information, particularly for countries, which are producing joint issues exceptionally, will be highly appreciated.
Most recent update of this section on January 27, 2020.
---
2020 (July 13) - [P20200713]
Croatia - Cyprus (July 9) - France (July 10) - Greece (July 20) - Lebanon (July 17) - Malta (July 9) - Morocco - Portugal (July 10) - Slovenia (July 9) - Spain - Tunisia (July 15) - Turkey
Euromed issue - Traditional gastronomy in the Mediterranean. Parallel issue [P1].
Different stamps. Croatia: Rab cake; Cyprus, Kolokasi; France: ingredients for the Bouillabaisse (fish soup); Greece: (4 stamps also in a souvenir sheet and a booklet), Octopus, Green pie, Lamb, Moussaka; Lebanon: (4 se-tenant stamps also in a souvenir sheet), Kibbeh, Tabbouleh, Hummus, Manousheh; Malta: Biskuttini tar-Rahal or Rustic Biscuits, Qaghaq tal-Gunglien or Biscuit rings with sesame seeds, Pasta Roza bil-Gewz tal-Indi or Coconut Lamington; Morocco: Bissara, Tagra Tajine; Portugal: citrus and orange; Slovenia: Olive oil, Istrian jota, Gulf, Refosco, Malvasia; Spain: Espeto (skewered sardines); Tunisia: Chakchuka, Borzguene; Turkey: (souvenir sheet with 3 stamps), tea, buns and coffee. Multicolored.
1 to 4 stamps per country - FDCs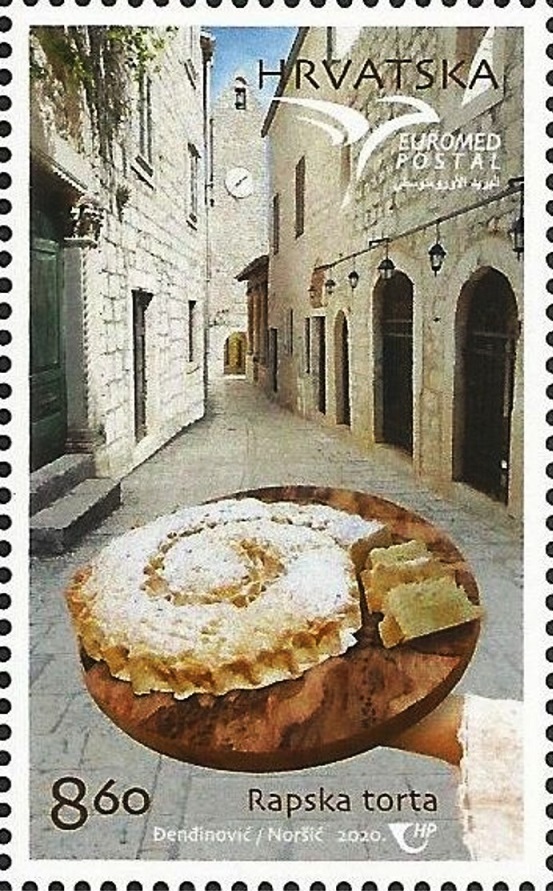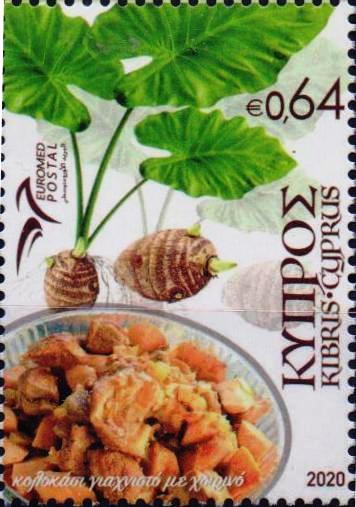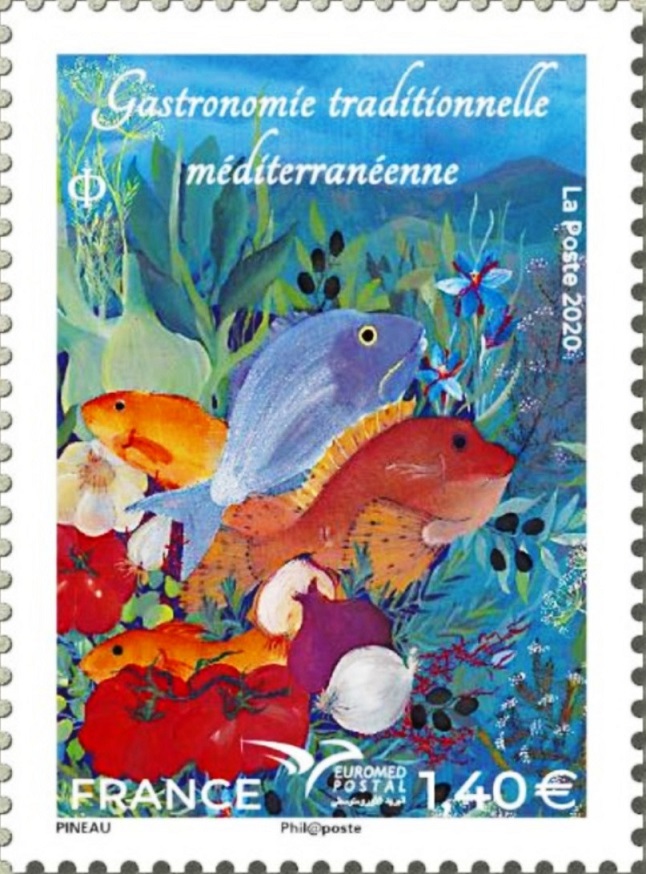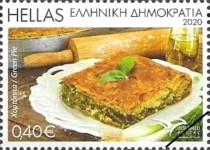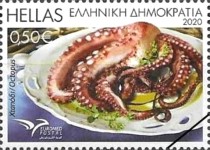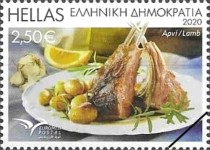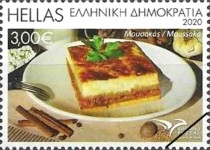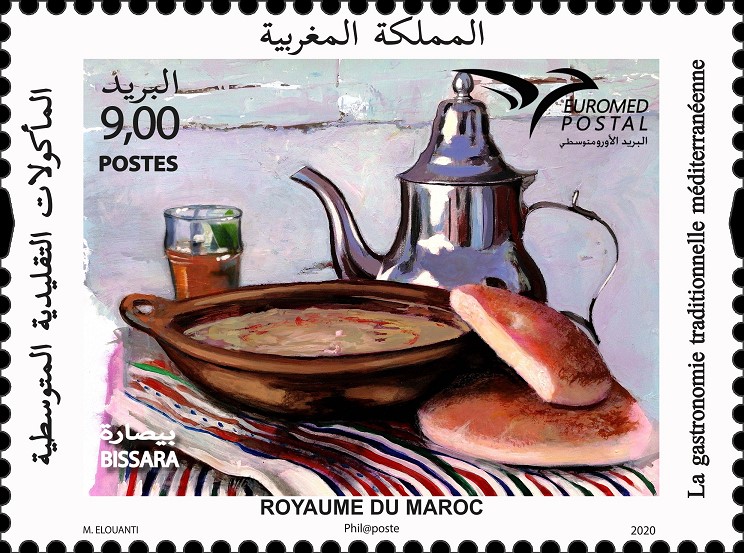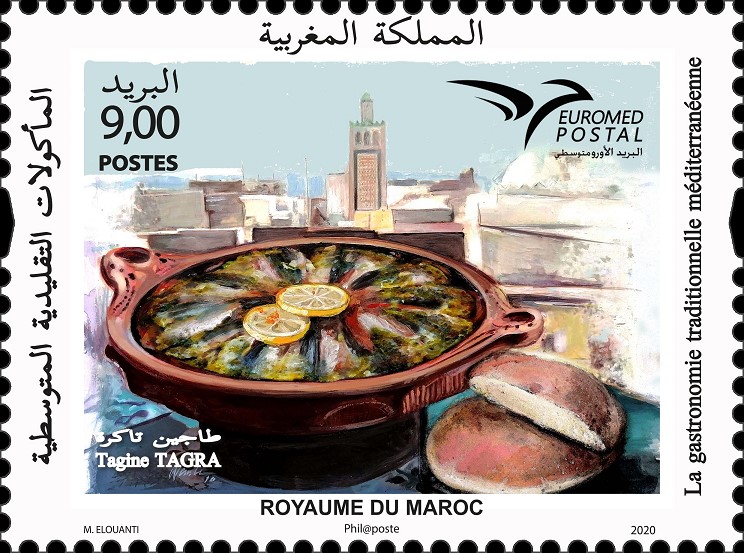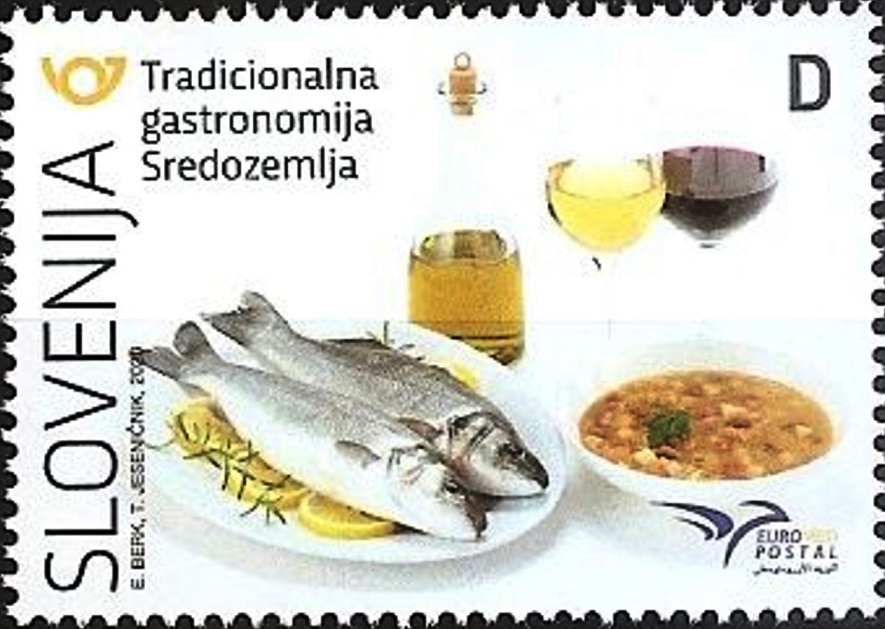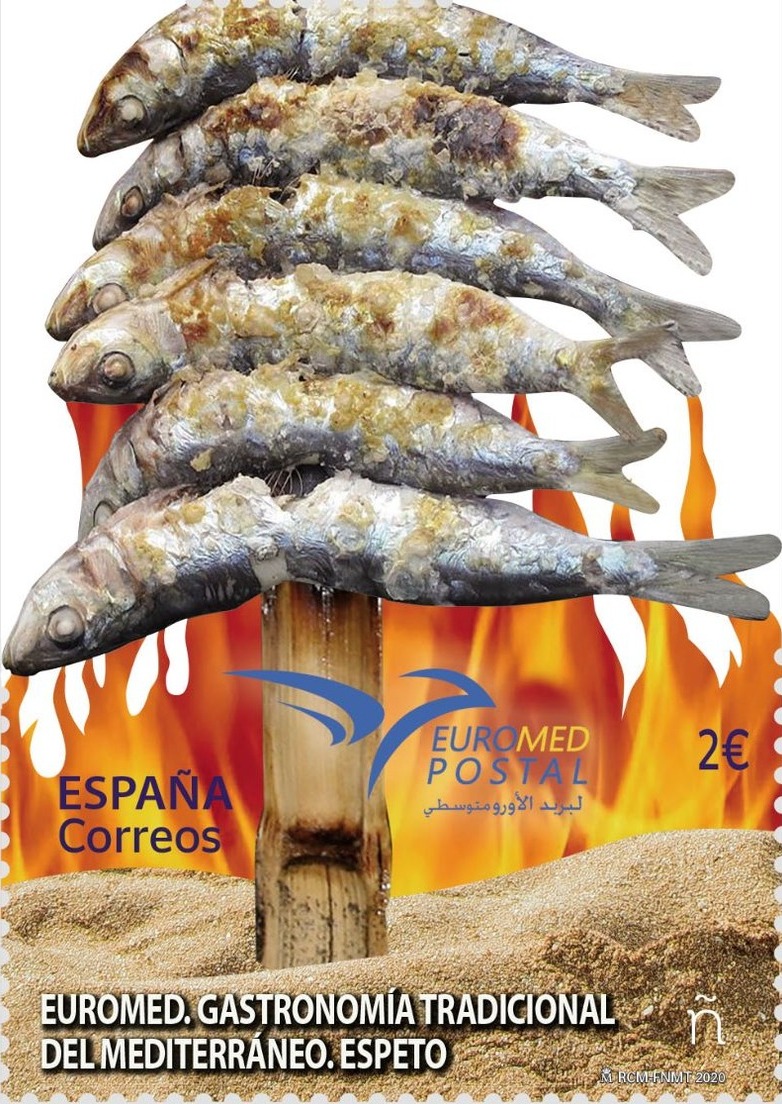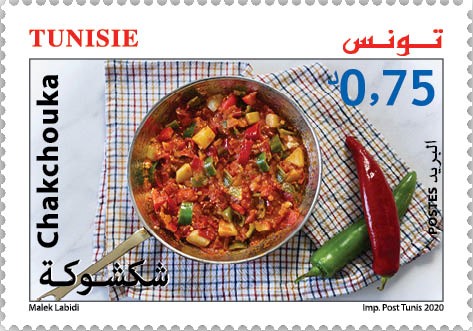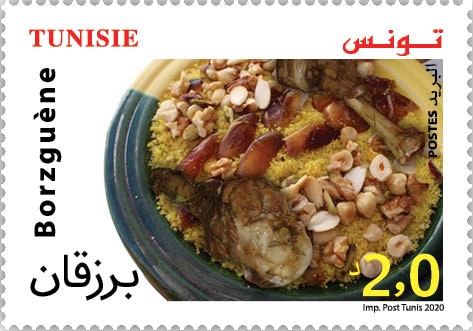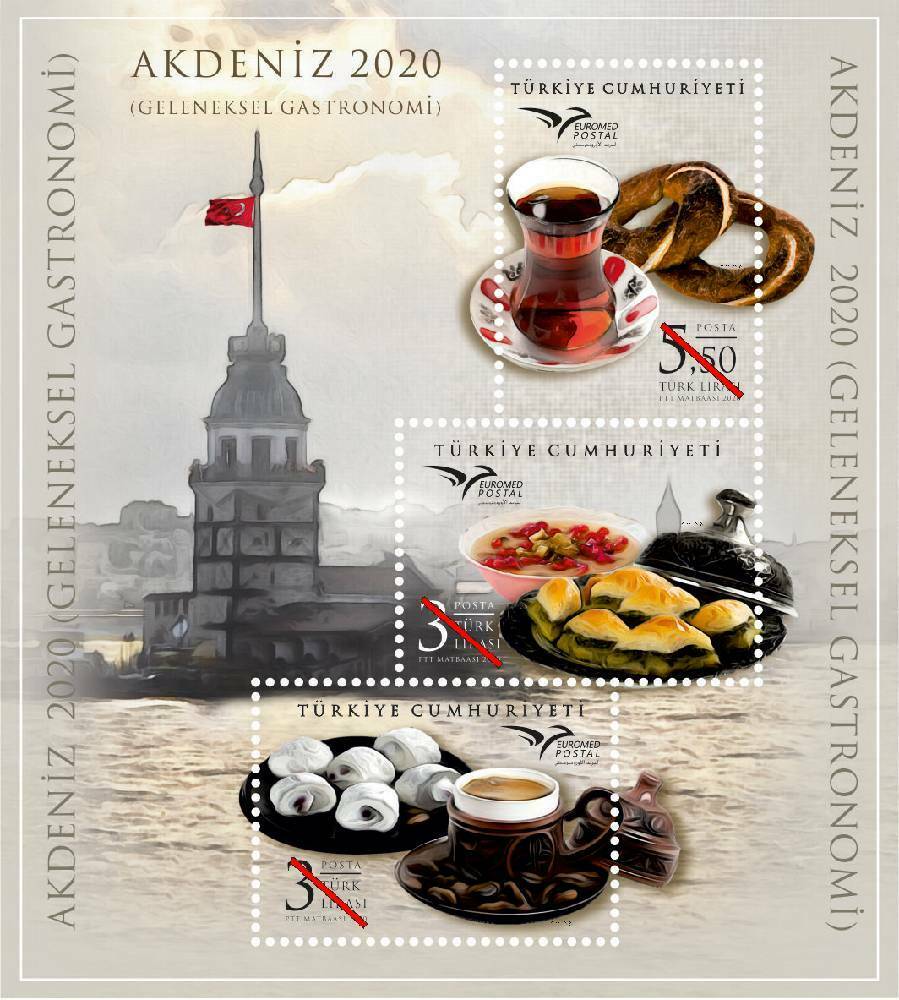 ---
2020 (August 1) - [T20200801]
Lithuania - Poland
500th anniversary of the birth of Sigismund II Augustus Grand Duke of Lithuania and King of Poland (1520-1572). Twin issue [T1].
Identical stamps. Portrait of Sigismund Augustus and Barbora Radvilaite (Barbara Radziwiłł - 1520-1551) painting from Jan Mateika (1838-1893) "Sigismund Augustus and Barbora at the Radvilas Manor in Vilnius". Multicolored.
1 stamp per country - FDCs - mixed FDC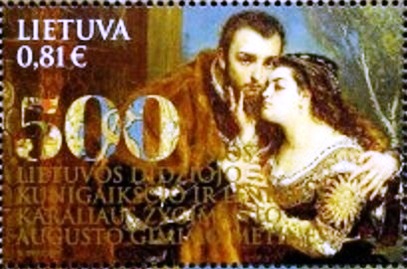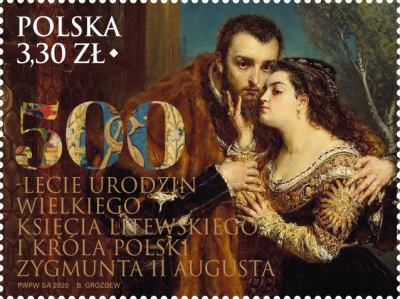 ---
2020 (August 11) - [S20200811]
United Nations (Geneva - New York - Vienna)
COVID-19 - Combat Corona campaign. Territorial se-tenant issue [SD].
Different stamps all in the same souvenir sheet. Miniature sheet issued - 6 different stamps, 2 from each office all se-tenant; vertical se-tenant pair (New-York), A, "Personal Hygiene", washing hands, yellow; B, "Myth busting", questionmark, blue; vertical se-tenant pair (Geneva), C, "Distance physique" (Physical distance), arrows between two persons, red; D, "Bienveillance" (Benevolence), smiling face, orange; vertical se-tenant pair (Vienna), E, "Erkenne die Symptome" (Recognize symptoms), cross, green; F, "Solidarität" (Solidarity), two hands, violet. Nurse with mask in the margin, "We are all in this together - Help stop the spread of COVID-19". Multicolored.
1 se-tenant miniature sheet with stamps from the 3 UN offices - mixed FDC (each stamp specifically cancelled)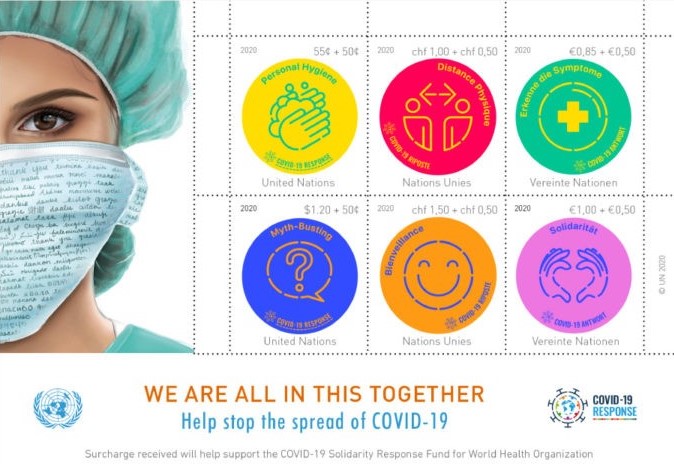 ---
2020 (September 8) - [T20200908]
Brazil - Israel
Relationship. Twin issue [T1].
Identical stamps. Stamps showing on one half the strand of Jaffa-Tel Aviv, Israel, on the other one the strand of Olinda-Recife; the Israeli stamp tab represents flags of both countries. Multicolored.
1 stamp (stamp with tab for Israel) - miniature sheets - FDC - mixed FDC - mixed Souvenir Leaf (Israel)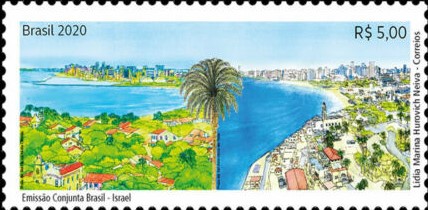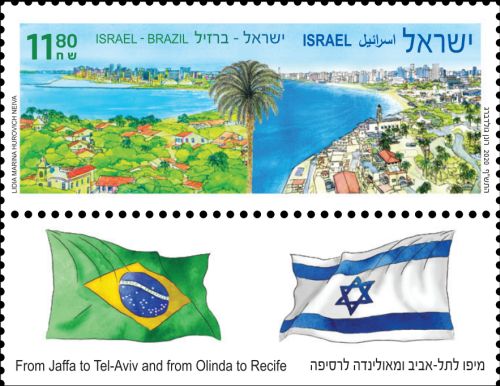 ---
2020 (September 10) - [T20200910]
Ivory Coast - Vatican
50th anniversary of relationship. Twin issue [T1].
Identical stamps. Portraits of Pope Francis (1936- ) and president of Ivory Coast Alassane Ouattara (1942- ); Basilica of Yamoussoukro, built in 1986-1989 on the basis of St Peter's basilica in Rome. Multicolored.
Ivory Coast: 3 stamps - 1 miniature sheet of 10 stamps - 3 panes of 25 stamps - 3 'Epreuve de luxe' non-perforated - 1 souvenir sheet - FDCs;
Vatican: 1 stamp - miniature sheet with 10 stamps - FDC; mixed FDC
One Ivory Coast stamp (denomination 500F) became available on the first day of issue and for sale by the Vatican Philatelic Office. Once already on sale, the Ivory stamp, which is actually a simple copy of the Vatican state stamp showing only a different denomination, was identified as a stamp containing a major error, namely the country name was missing. It is quite astonishing that only when on sale, philatelists discovered such a gross mistake. The stamp was withdrawn from sale but sales resumed on September 28, 2020, almost at the same time the other Ivory stamps became also available. It was anyway too late to correct the printing error. Vatican philatelic office had only 6,000 stamp units for sale before it became officially available from Ivory Coast. On September 21, 2020, the Ivory Coast stamps were officially presented in the country by the president. As a consequence, this issue should normally be considered as a Concerted issue, but as Ivory Coast stamps became available as early as September 10, 2020 from the Vatican philatelic office, we will keep this stamp considered as a Twin issue. Additionally, available FDCs from Ivory Coast are anyway dated from September 10, 2020. Vatican State has mentioned that they will consider only the 500F value as part of the joint issue, but collectors will themselves define which stamps belong to this joint issue, knowing that mixed FDCs with all three Ivory Coast stamps and dated from September 10, 2020 do exist.
The 10-stamp miniature sheet with denomination 500F from Ivory Coast was intended to become a booklet but the cover was never printed.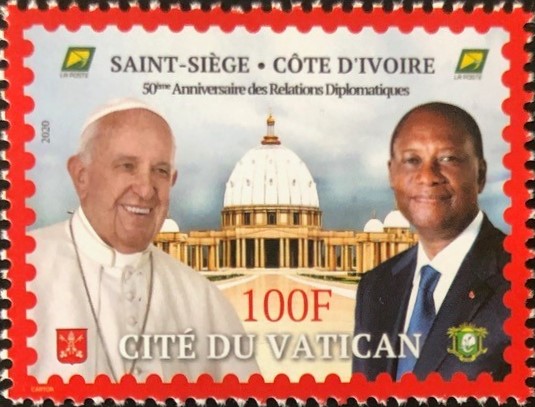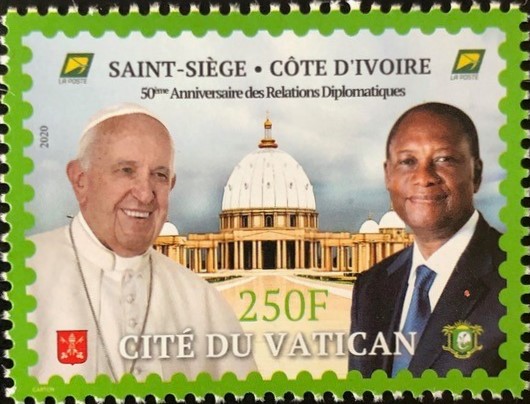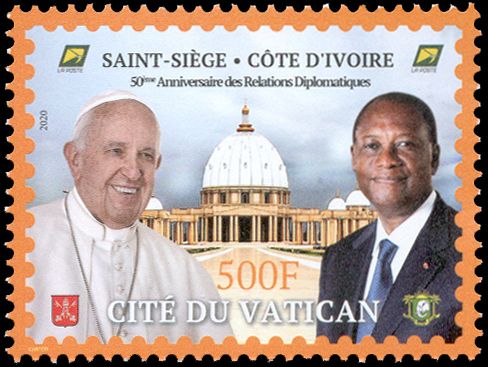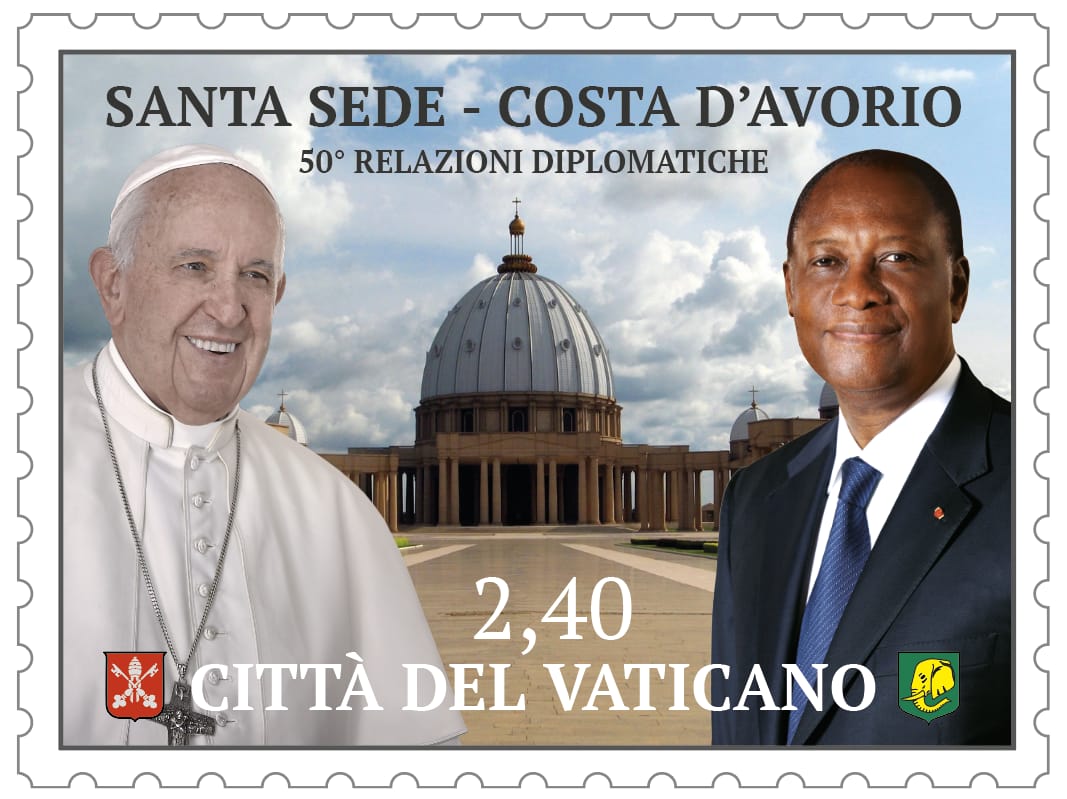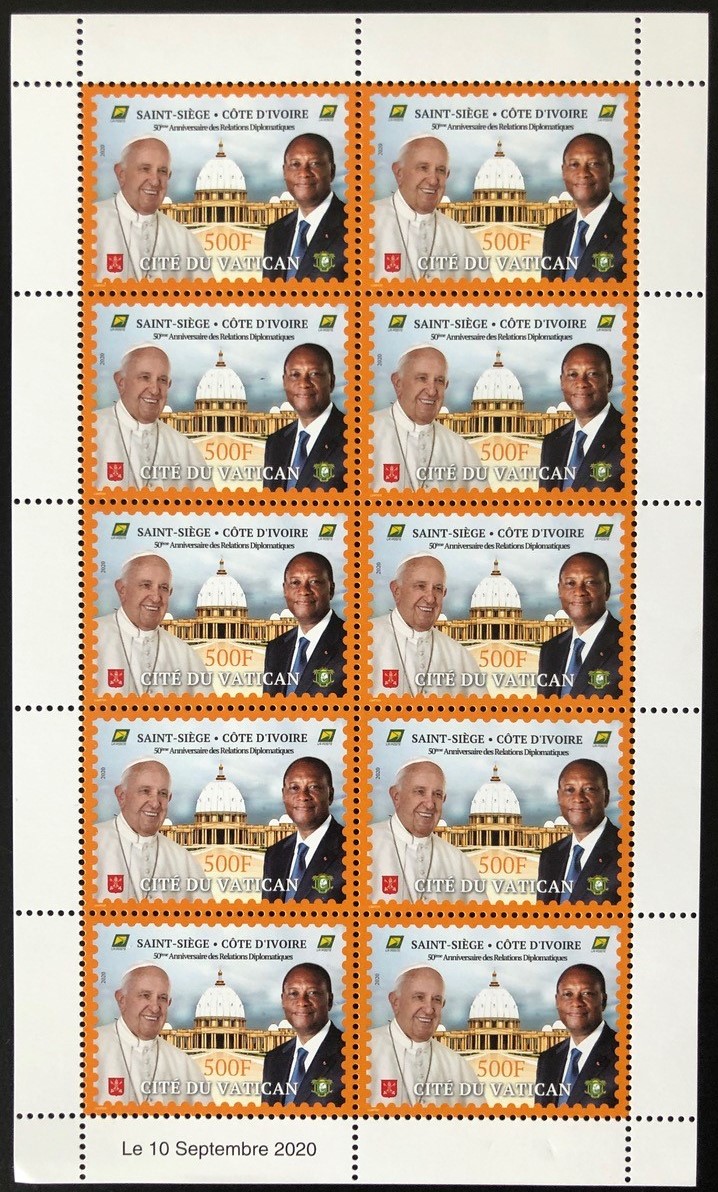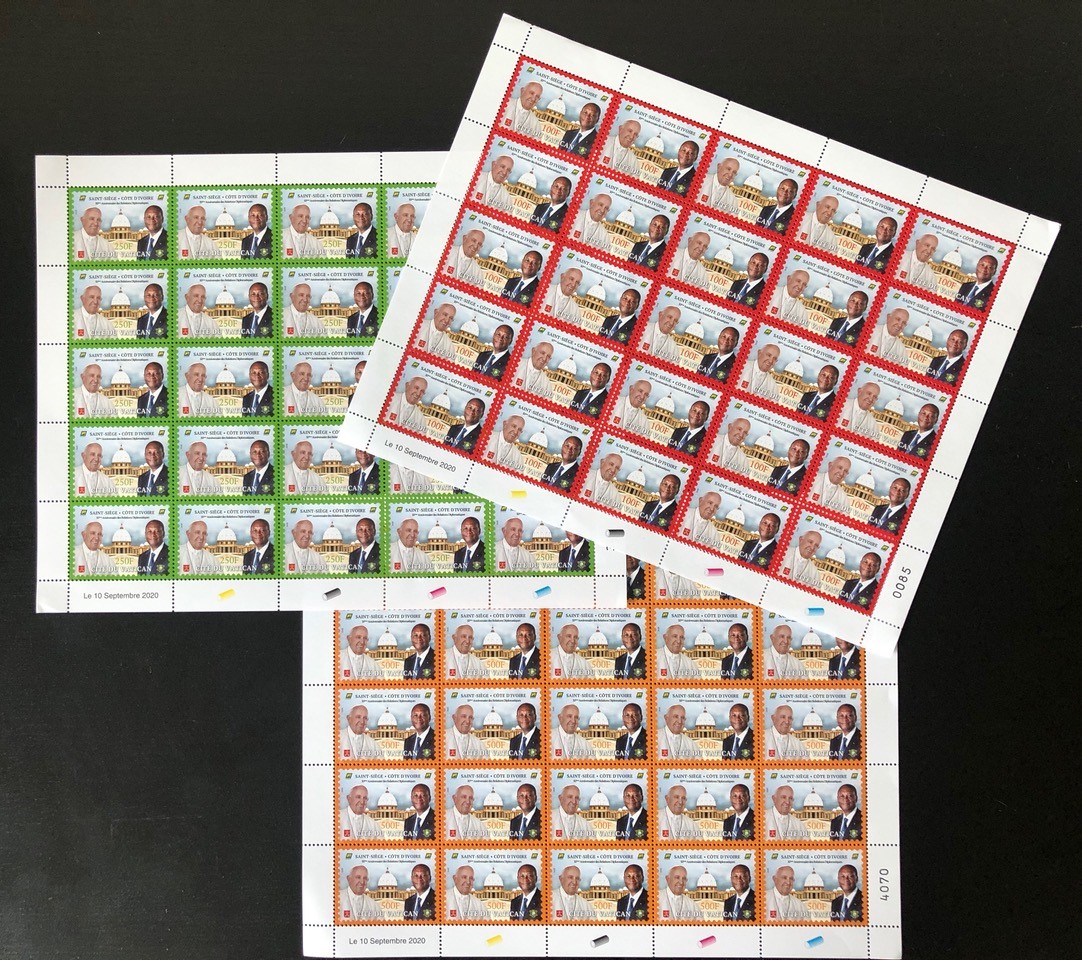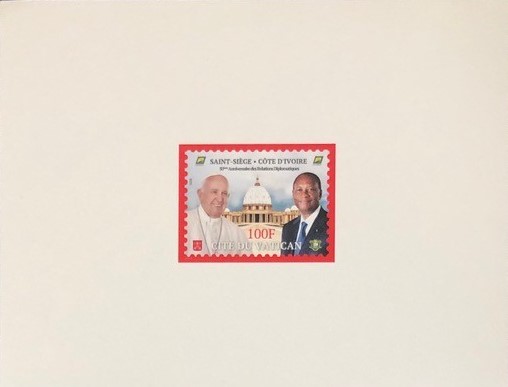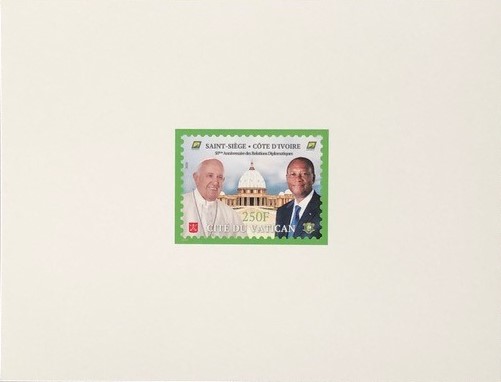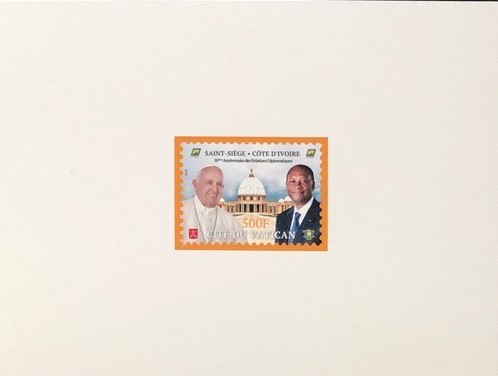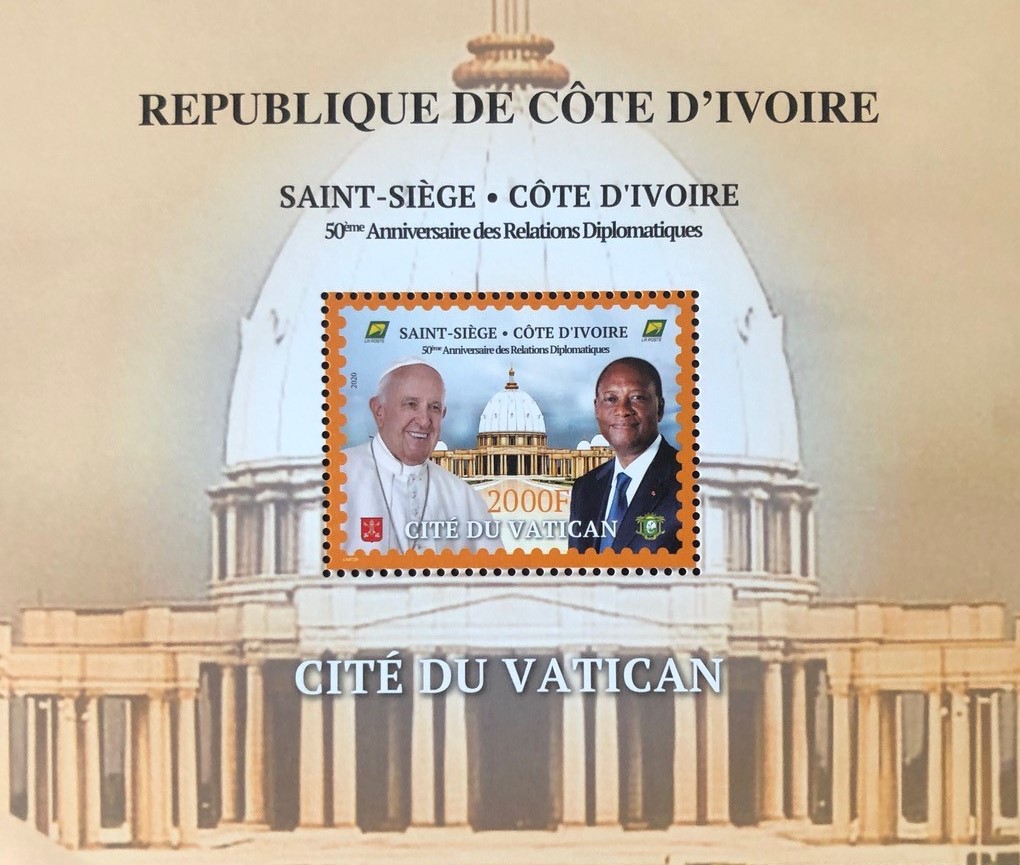 ---
2020 (September 15) - [T20200915]
Colombia - Indonesia
40th anniversary of relationship. Twin issue [T1].
Bloc of 4 identical stamps. Birds (A: Multicolored Tanager, Chlorochrysa nitidissima and B: Lesser Bird-of-Paradise, Paradisaea minor) and handcraft, C: Indonesian batik cloth or D, Colombian Mola cloth. Multicolored.
2 souvenir sheets with block of 4 stamps - FDCs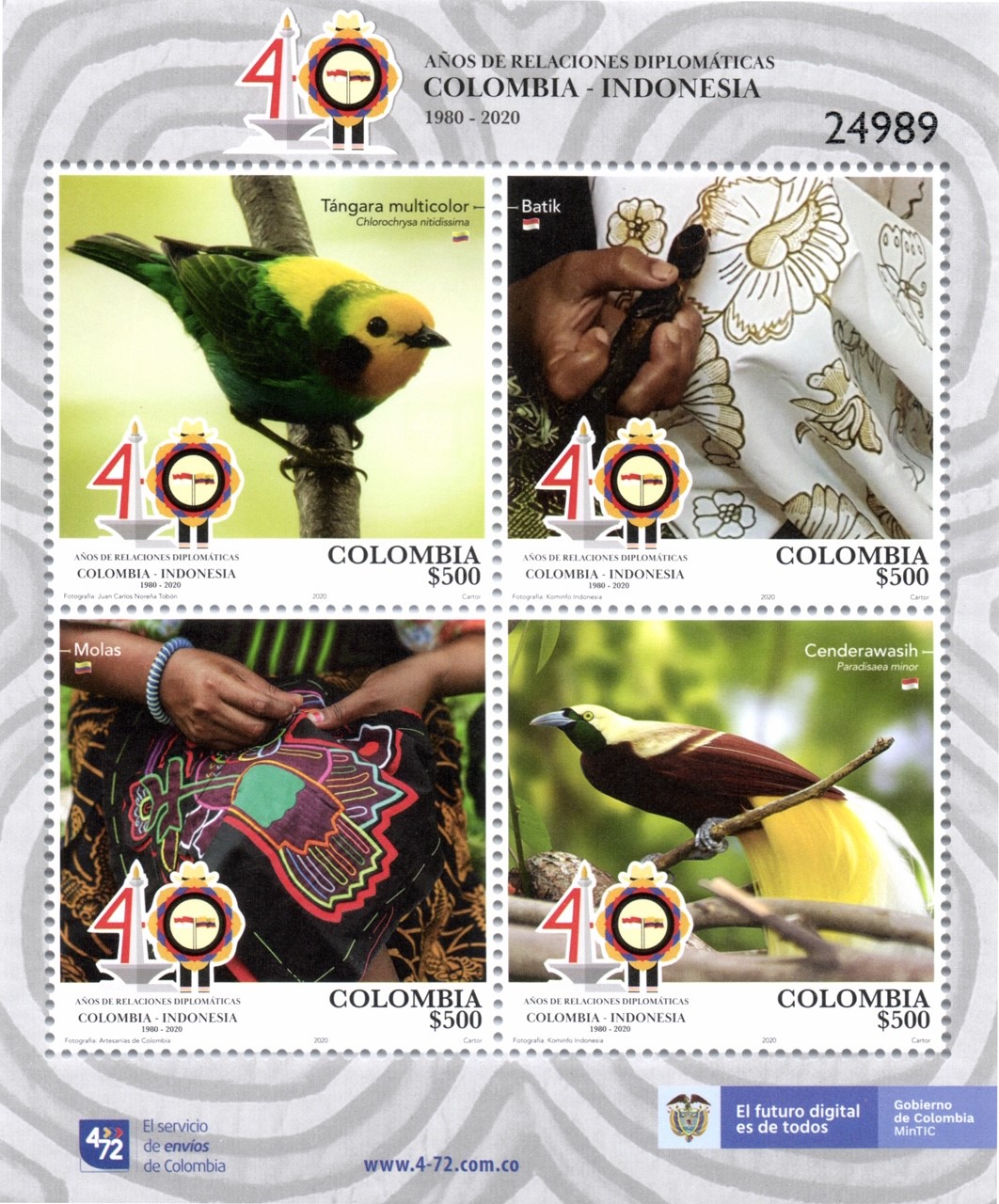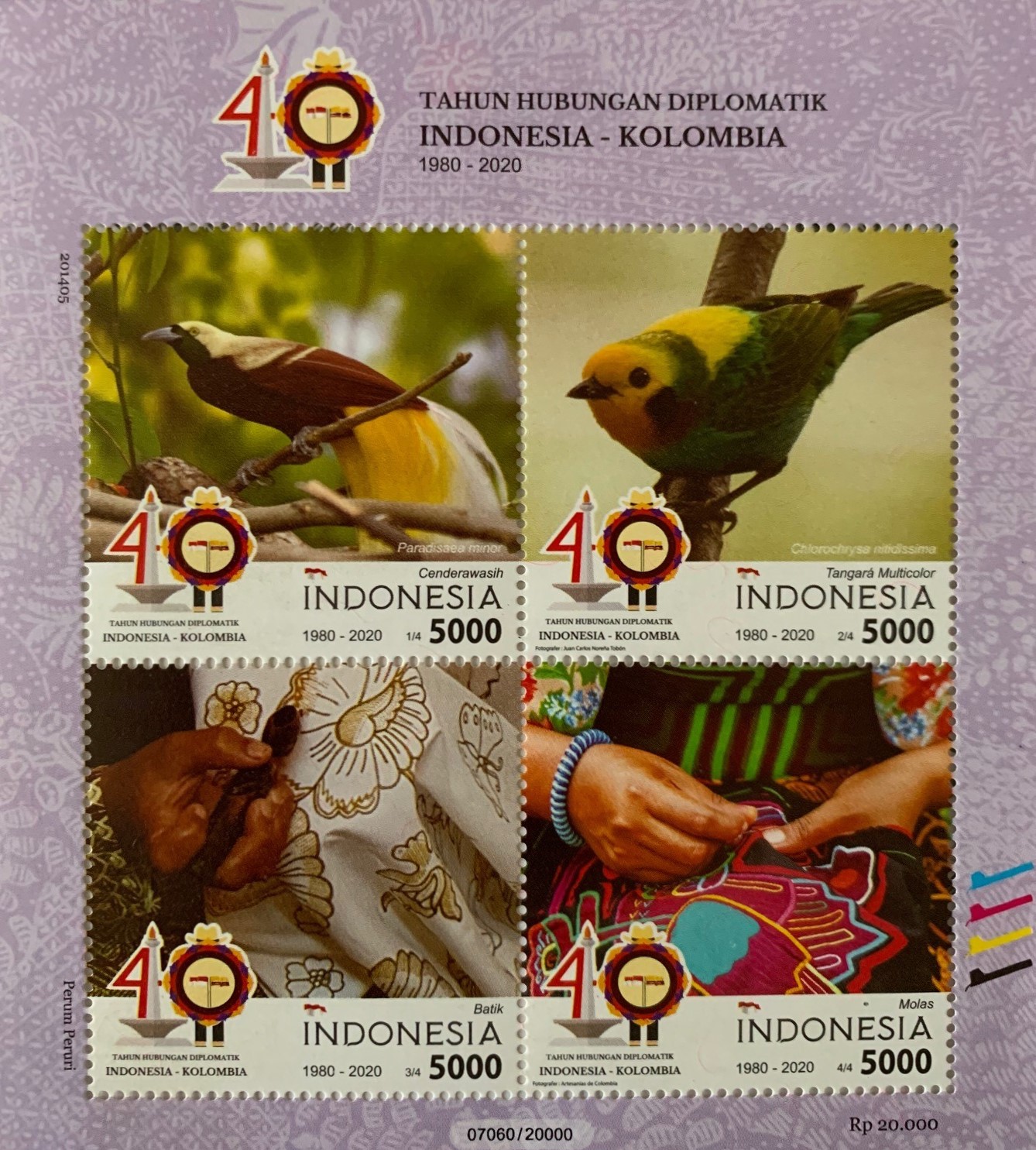 ---
2020 (September 25) - [T20200925]
Australia - Mauritius
50th anniversary of relationship (1970-2020). Twin issue [T1].
Identical stamps; for Australia, indicium of a postal stationery (cover); for Mauritius issued in sheets of two panes. Flowers, 'Boucle d'oreille' (Trochetia Boutoniana), endemic to Mauritius, national flower of Mauritius since 1992; Golden Wattle (Acacia pycnantha) from Australia. Multicolored.
1 stamp (Mauritius) - 1 cover (Australia) - FDCs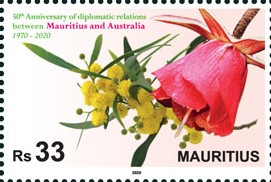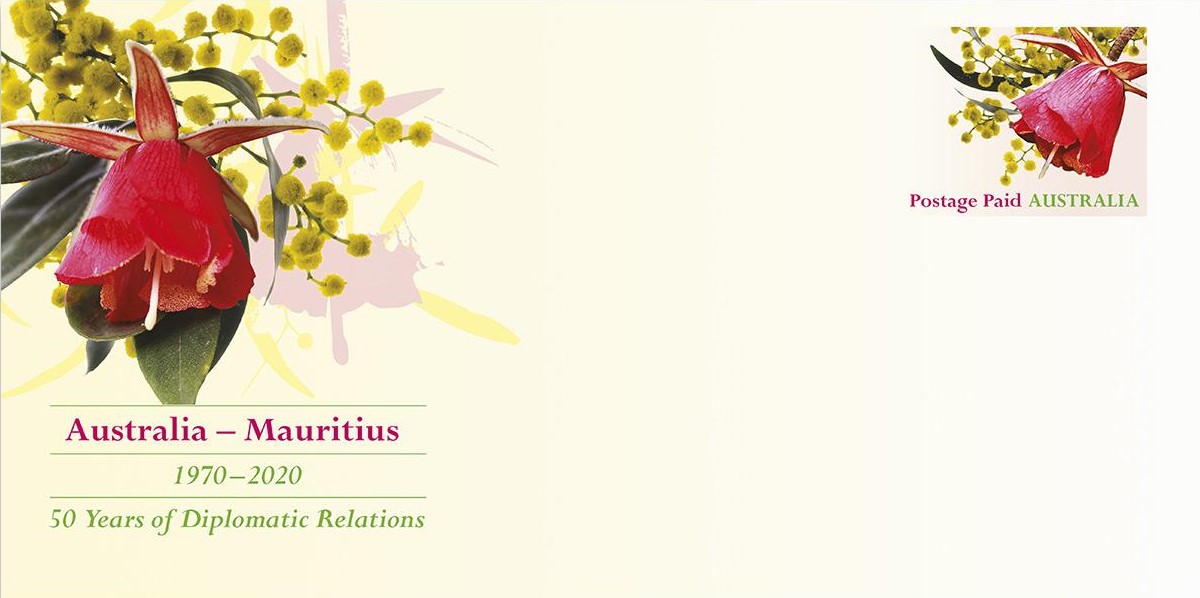 ---
2020 (September 28) - [T20200928]
Italy - Vatican
75th anniversary of the Vatican Public Security Inspectorate. Twin issue [T1].
Identical stamps. Two police agent with car in front of the Saint Petrus Basilica; coat of arms of the State Police. Multicolored.
1 stamp per country - FDC - mixed FDC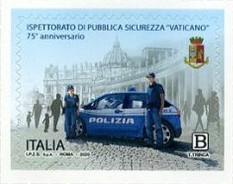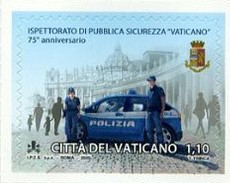 ---
2020 (September 30) - [T20200930]
Lebanon - Mexico
75th anniversary of relationship. Twin issue [T1].
Identical stamps. A, Grand Temple and Metropolitan Cathedral in Mexico City; B, Temple of Bacchus in Baalbek, Lebanon. Multicolored.
Pair of se-tenant stamps - FDCs
These stamps, initially scheduled for August 26, 2020, were delayed probably as a consequence of the terrible blast that happened on August 5, 2020 in Beirut, destroying part of the town and the pandemic situation that continued affecting traveling.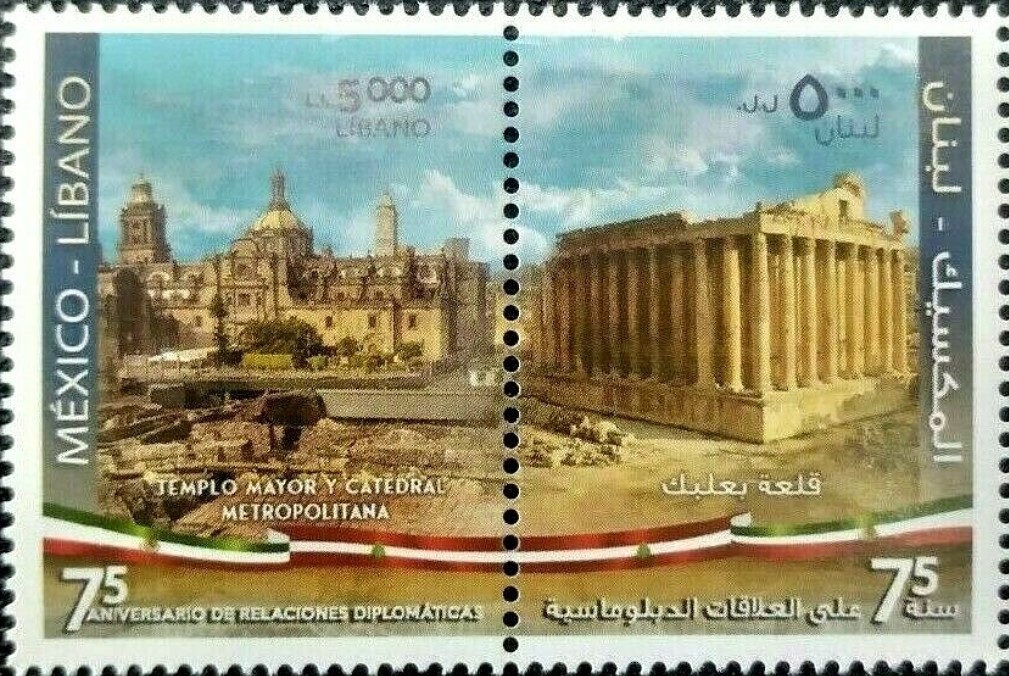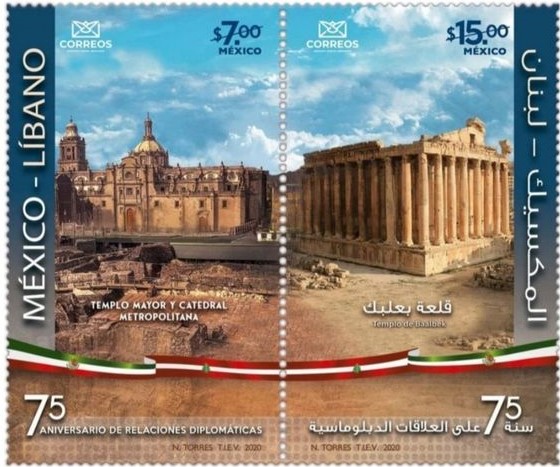 ---
2020 (September 30) - [N20200930]
Antigua and Barbuda - Gambia - Grenada - Guyana - Marshall - Nevis - Tuvalu
75th anniversary of the VE day. Non-accepted issue [N].
Identical or very similar stamps. Souvenir sheets with 4 to 6 stamps showing portraits of head of states or military heads involved in the end of WWII. Multicolored.
These stamps have been produced privately and centrally without real involvement of the postal administrations of the different countries.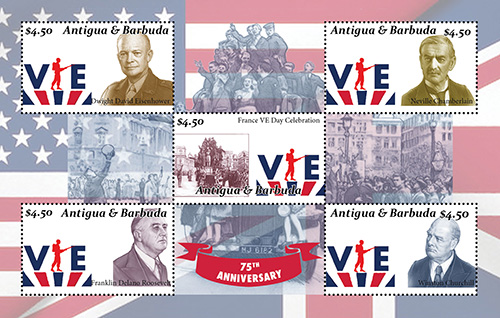 ---