New Issues 2010 (July - September)
This page collects only issues released during the year 2010, period July to September.
As it is not such obvious as it looks to find this information, this list is probably not yet complete. In certain countries, joint issues are often announced on the day of the issue and sometimes it takes months before this information and the corresponding stamps reach us. Data on missing issues or supplementary information, particularly for countries, which are producing joint issues exceptionally, will be highly appreciated.
Most recent update of this section on January 15, 2012.
---
2010 (July 25)
Afghanistan () - Iran - Tajikistan (Afghanistan to be confirmed)
Philosopher Khajah Abdullah Ansari. Twin issue [T1].Identical stamps. Portrait of the philosopher Abu Ismaïl Abdullah ibn Abi-Mansour Mohammad or Khajah Abdullah Ansari of Herat (1006-1088). Multicolored.
One stamp per country - FDCs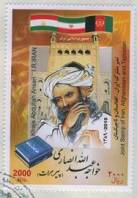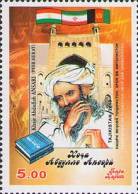 ---
2010 (July 28) - [C20100728]
Iran - Pakistan (August 29, 2011)
Joint stamp issue. Concerted issue [C1].
Identical stamps. Buildings. Multicolored.
Two stamps per country - FDCs
The Iranian stamps can be found with a first day cancellation dated July 28, 2010, but apparently these stamps became really available only on January 10, 2011.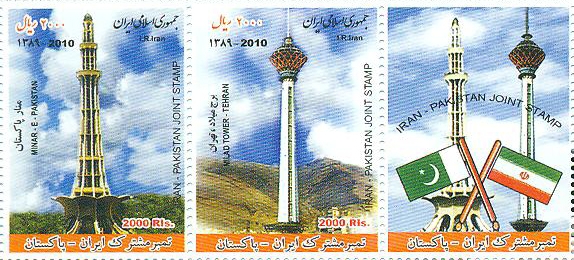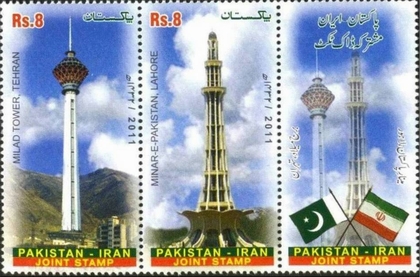 ---
2010 (August 12)
Argentina (August 14) - Germany
Book and literature fair in Frankfurt: Argentina as honor guest. Twin issue [T1].
Identical stamps. Portrait of Jorge Luis Borges (1899-1986), Argentinean writer, behind a maze forming the letter "B". Black and red, plus blue for Germany
One stamp per country - FDCs - mixed FDC (German ETB)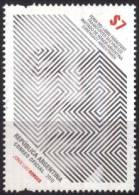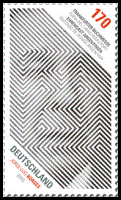 ---
2010 (August 13)
Bosnia (Serbia) - Serbia
50th Guca Trumpet player's gathering. Twin issue [T1].
Identical stamps. Trumpets, trumpet player. Multicolored.
One stamp per country - FDCs
---
2010 (August 14)
Argentina - Romania
80th anniversary of diplomatic relations; Mountain lakes. Twin issue [T1].
Two identical stamps. A, Balea sea, Romania and B, Nahuel Huapi sea, Argentina. Multicolored.
Two stamps per country - Romanian stamps issued in 2 (1x8) miniature sheets with 12 different labels - FDCs - mixed FDC

---
2010 (August 26)
Albania - Kosovo - Macedonia
100th birthday anniversary of Mother Theresa (Agnes Gonxha Bojaxhiu; 1910-1997), Albanian-Indian catholic order founder; Peace Nobel Prize winner 1979. Twin issue [T1].
Identical stamps. Portrait of Mother Theresa. Multicolored.
One stamp per country - FDCs - mixed FDCs

---
2010 (August 26)
Ireland - Sweden
Czeslaw Slania (1921-2005), engraver; 5th death anniversary. Twin issue [T1].
Identical stamps: the Swedish stamp is part of a souvenir sheet containing two other stamps. A, "Romeo and Juliet" ballet, the preferred stamp of Slania (this stamp was issued for the first time by Sweden on October 11, 1975); other stamps in the Swedish souvenir sheet: B, metal bowl, 10th century; C, Eric XIV suit of armor. Yellow and black.
One identical stamp per country (souvenir sheet for Sweden)- FDCs - mixed FDC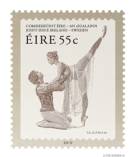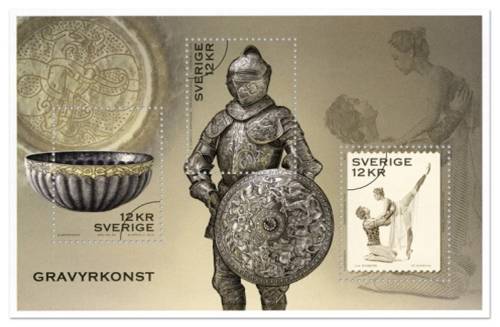 ---
2010 (August 30)
Aland - Macao
Church windows. Twin issue [T4].
Similar stamps adapted from the miniature sheet; identical miniature sheets but only the one from the corresponding country is perforated. A, stained glass window (1968) from the St Olaf church of Jomala (Aland), 13th century; B, stained glass from the St Lawrence church in Macao; same miniature sheets but only the concerned country stamp is perforated and shows a denomination. Multicolored.
Two stamps and one souvenir sheet per country - FDCs

---
2010 (September 6)
Austria - Romania
Relationship - Orient express train. Twin issue [T1].
Identical souvenir sheets and stamps. Stamps: historic locomotives and references to Salzburg (Austria) and Sinaia (Romania); background: map with Orient express line between Paris and Istanbul; Paris East station, Vienna great wheel, Istanbul Hagia Sophia mosque. Multicolored.
One miniature sheets with two stamps per country - Romania issued stamps also in panes - FDCs - mixed FDCs

---