New Issues 2009 (July - September)
This page collects only issues released during the year 2009, period July to September.
As it is not such obvious as it looks to find this information, this list is probably not yet complete. In certain countries, joint issues are often announced on the day of the issue and sometimes it takes months before this information and the corresponding stamps reach us. Data on missing issues or supplementary information, particularly for countries, which are producing joint issues exceptionally, will be highly appreciated.
Most recent update of this section on January 12, 2013.
2009 (July 7)
Iran - Portugal
Birds of prey - Twin issue [T1].
Identical stamps. White tailed Eagle (Haliaetus albicilla); Osprey (Pandion haliaetus). Multicolored.
2 stamps per country - FDCs

---
2009 (August 3)
Egypt - Iraq (August 2) - Jordan (December) - Kuwait (March 28, 2010) - Lebanon (September 17) - Libya - Morocco () - Qatar - Saudi Arabia (October 24) - Syria - United Arab Emirates
Day of the Earth - Issue for the benefit of Palestine; Palestine Day. Twin issue [T1].
Similar design stamps. Symbol of Jerusalem "Al Quds", capital of Arab Culture. Multicolored.
One or two stamps per country - FDCs

---
2009 (August 4)
Brazil - Netherlands
Diplomatic relationship "Grenzeloos Nederlands & Brazilië" (Netherlands and Brazil without borders) - Parallel issue [P1].
Different stamps. Brazil, Dutch presence in Brazil: A, portrait of John Maurice of Nassau-Siegen; B, …; Netherlands: stamps: A1 and A2, Historia Naturalis Brasiliae pages, from the collection of the Leiden University Library; B1, Dutch agricultural colonies in Brazil, sugar plantation in Brazil; B2, view of Olinda; C1 and C2, Capoeira: painting by Albert Eeckhout, dancing Tapuya. Border illustrations: on all sheetlets, portrait of John Maurice of Nassau-Siegen and flags of both countries; sheetlet A, Historia Naturalis Brasiliae, guinea pig photo; sheetlet B, map of Recife and Mauritsstad by F. Post; sheetlet C: Capoeira: two paintings by Albert Eeckhout, Tapuya Woman and Tapuya Man; priority labels on each stamp. Multicolored.
6 stamps per country in miniature sheets - 3 different miniature sheets for the Netherlands - FDCs

---
2009 (August 4)
Australia - Australian Antarctic Territory - Christmas Island - Cocos (Keeling) Islands - Norfolk Island
Species at risk in joint territories. Siamese territorial issue [S2].
One stamp per country, different. Animals: A, the Bridled Nailtail Wallaby (Onychogalea fraenata), B, the Subantarctic Fur-seal (Arctocephalus tropicalis), C, the Christmas Island Blue-tailed Skink (Cryptoblepharus egeriae), D, the Green Turtle (Chelonia mydas) and E, the Norfolk Island Green Parrot or Norfolk Island Red-crowned Parakeet (Cyanoramphus cookii). Multicolored.
2 stamps for Australia and 1 per Australian territory, with gum or auto-adhesive - 5 stamps in a strip for Norfolk - miniature sheet with one stamp per country/territory (siamese) - FDCs - mint folder - mixed FDC

All stamps from Australian Antarctic Territory, Christmas Islands and Cocos (Keeling) Islands are valid in Australia for postage. Norfolk although being linked to Australia is in fact an independent postal administration since 1947 and Norfolk stamps are not valid in Australia. This explains why this issue is ranked as Siamese issue and not as a Territorial (siamese) issue. On top of this, the miniature sheet contains 4 Australian stamps and the Norfolk stamp, which makes this miniature sheet a true mixed siamese issue.
(1) The Australian postal administration issued the 2009-year pack in two forms (normal and executive, respectively sales prices of AU$ 99.95 and AU$ 134.95). These books containing all stamps issued during the year 2009, including also this miniature sheet that shows the head of the parrot over the 5 labels forming the central cross. This miniature sheet was exclusively sold with the year collection.

---
2009 (August 14)
China - Ukraine
Architecture monuments of Ukraine and China. Twin issue [T1].Sep
Identical stamps. Stork Tower, China, 6th century; Golden Gate, Ukraine, 11th century. Multicolored.
2 se-tenant stamps per country - FDC

---
2009 (August 28)
Philippines (August 29) - Singapore
40th anniversary of diplomatic relationship; Bridges. Twin issue [T1].
Identical stamps. Bridges: Henderson Waves (2008) and Alexandra Arch (2008) and Cavenagh Bridge (1868) from Singapore; Bamban Bridge (1998) and Marcelo Fernan Bridge (1999) from the Philippines. Multicolored.
4 stamps in block of four - souvenir sheets - FDC - mixed FDC

---
2009 (September 10)
Austria (September 10) - Germany (September 3) - Hungary (September 10)
20 years anniversary of the opening of borders between Austria and Hungary. Twin issue [T1].
Identical stamps. Figure "20" formed with the colors of the flags of all three countries. Multicolored.
1 stamp per country - FDCs - only private mixed FDCs

---
2009 (September 11)
Austria - Slovakia
Carnuntum - Limes Romanus Gerulata: archaeology, roman excavations. Twin issue [T1].
Identical stamps in a souvenir sheet. A, Roman legion soldier in front of the arch (gate) Heathen Gate, 4th century AD, built by Emperor Constantinus II (337-361) at Carnuntum (now village of Petronell in Austria); B, horse rider and sculpture from a tombstone of an older Roman graveyard (4th century AD) found in Gerulata (close to today's Bratislava, Slovakia); miniature sheet shows an old map showing roads from the Roman empire between Spain and India, in the background. Multicolored.
Souvenir sheet with 2 stamps - FDCs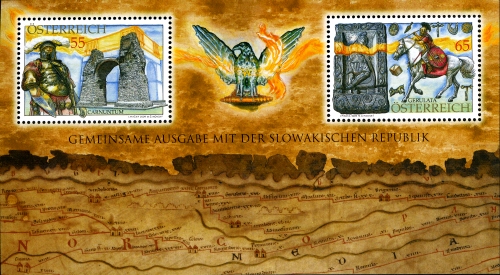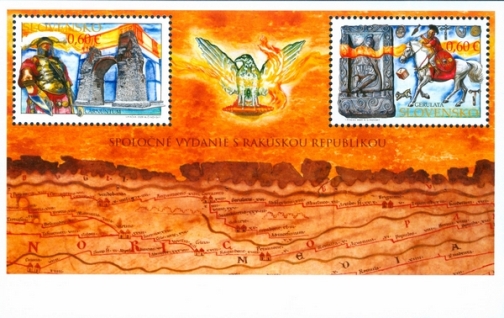 ---
2009 (September 16)
Aland - Faeroe Islands - Gibraltar - Greenland - Guernsey - Iceland - Isle of Man - Jersey - Liechtenstein - Luxemburg - Malta - Monaco
Small European Postal Administration Cooperation (SEPAC) issue (12 countries; San Marino declined participation). Nature of beautiful corners of Europe. Parallel issue [P1].
One stamp per country, specific for each one. Aland, Saltvik area, Ordalsklint, Hammarland; Faeroe Islands, landscape, Leynar, dawn; Gibraltar, landscape of rock of Gibraltar; Greenland, landscape, glacier; Guernsey, strand; Iceland, Vatnajökull glacier in the area Skaftafell in the Jökulsá á Fjöllum; Isle of Man, painting from Archibald Knox; Jersey, St. Aubin Harbour; Liechtenstein, Oberland; Luxemburg, Castle of Vianden; Malta, landscape; Monaco, town hall place, old town, watercolor. A special common folder containing all issued stamps from all 12 countries (one stamp at international standard rate per country) was also available by September 16, 2009. Multicolored.
Only one stamp with SEPAC inscription - up to 6 stamps per country - FDCs - mixed folder with mint stamps

---
2009 - Bosnia Herzegovina (October 9) - Turkey (September 17)
relationship. Mosque. Concerted issue [C1]
Identical stamps. Mosques of Sarajevo (Ghazi Husref Bey Mosque) and Edirne (Selimye). Multicolored
One stamp - FDCs
---
2009 (September 25)
Croatia - Slovenia
Diplomatic relationship: Kazun - Hiska (dry stone shelters). Twin issue [T1].
Identical souvenir sheets. Stone houses. Multicolored.
Souvenir sheets with 2 stamps - FDCs
---