New Issues 2008 (January - April)
This page collects only issues released during the year 2008, period January to April.
As it is not such obvious as it looks to find this information, this list is probably not yet complete. In certain countries, joint issues are often announced on the day of the issue and sometimes it takes months before this information and the corresponding stamps reach us. Data on missing issues or supplementary information, particularly for countries, which are producing joint issues exceptionally, will be highly appreciated.
Most recent update of this section on April 06, 2009.
2008 (January 1)
Cyprus - Malta
Introduction of the new currency Euro. Twin issue [T1].
Identical souvenir sheets containing two stamps. Sculptures: The Sleeping Lady from the Halsaflieni Hypogeum; bust of Aphrodite, goddess of love an beauty who was born of the sea foam off the coast of Paphos, Cyprus; sign Euro "€"; margins show Euro coins. Multicolored.
One miniature sheet per country - FDCs
---
2008 (January 22)
Brazil - Portugal
200th anniversary of the arrival of King John VI in Brazil. Twin issue [T1].
Identical stamps. Portrait of John VI (1769-1826), King of Portugal and Brazil; boat and Portuguese court arriving in Rio de Janeiro. Multicolored.
Two stamps se-tenant per country - FDCs
---
2008 (January 27)
Israel - United Nations (Geneva - New York - Vienna)
Holocaust Remembrance Day - Thoughts for the future. Twin issue [T1].
Identical stamps. Barbed wire and flower; Israeli stamps are printed in sheetlets of 9 stamps among which the 3 stamps from the bottom line bear a tab. Multicolored.
One stamp per country/office - FDCs - mixed FDC - mixed Israeli souvenir leaf
---
2008 (February 8)
Algeria - Tunisia
50th anniversary of the French air attack on the Tunisia border town Sakiet Sidi Youcef. Twin issue [T1]. Identical stamps. Symbols and doves with the colors of the national flags. Multicolored.
One stamp per country - FDCs
---
2008 (March 3)
Austria - Liechtenstein
Painting: Portrait of the two-year old sleeping Princess Marie Franziska of Liechtenstein (1835-1909), Friedrich von Amerling (1803-1887). Twin issue [T1].
Identical stamps. Painting dated 1836 exhibited in the Liechtenstein Museum at Vienna (fourth joint issue of a series of five). Multicolored.
One stamp per country - FDCs - mixed FDC - mixed maxi card
---
2008 (March 8)
Kyrgyzstan - Iran
Mountains. Concerted issue [T1].
Identical stamps. Sabalan Peak and Khan Tengri Peak; stamps separated by a label showing the flags of the two countries. Multicolored.
One triplet for Iran (2 stamps and one label) - souvenir sheet for Kyrgyzstan - FDC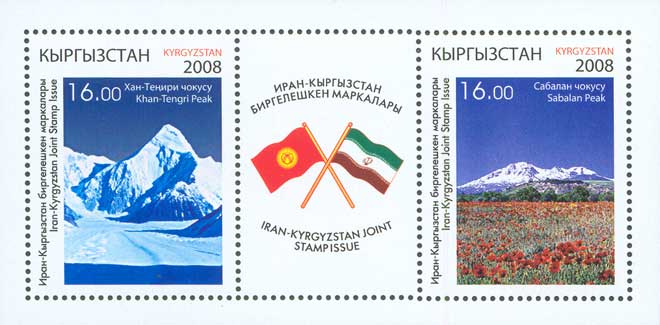 ---
2008 (March 15)
Estonia - Latvia - Lithuania
Baltic countries issue: Highest States Awards. Twin issue [T1].
Identical stamps. One stamp per country and one souvenir sheet containing 3 stamps with the designs of the three countries. Medals; Estonia: coat of arms medal; Latvia: three stars medal; Lithuania: Vytautas the Great medal. Multicolored.
One stamp and one souvenir sheet with three different stamps per country - FDCs
---
2008 (March 27)
Åland - Denmark - Faeroe - Finland - Greenland - Iceland - Norway - Sweden
Nordic Mythology - Top of the World package Part III; one or two souvenir sheet per country. Norden parallel issue [P1].
Different souvenir sheets. Multicolored.
One souvenir sheet per country - for Greenland also two stamps in panes - FDC - mixed folder with all souvenir sheets, mint
---
2008 (April 15)
Indonesia (April 15) - Japan (June 23)
50th anniversary of diplomatic relationship. Concerted issues.
10 identical stamps issued in miniature sheets. Mountains, temples, flowers, music instruments and fishes: A, Kelimutu Mountain/Lake, B, Fuji Mountain; C, Borobudur Temple; D, Pagoda of Toji; E, Corpse Flower (Rafflesia arnoldii); F, Sakura (Cherry Blossoms); G, Angklung; H, GakuBiwa; I, Red Arowana (Selerophages formosus); J, Colored Carp Fish (Cyprinus carpio). Indonesia issued also the same stamps in sheetlets containing four pairs of different stamps, chessboard ordered (except for the music instrument pairs. Multicolored.
One miniature sheet per country with 10 different stamps - Indonesia: series of 5 miniature sheets containing each 4 pairs of stamps - FDC