New Issues 2007 (January - April)
This page collects only issues released during the year 2007, period January to April.
As it is not such obvious as it looks to find this information, this list is probably not yet complete. In certain countries, joint issues are often announced on the day of the issue and sometimes it takes months before this information and the corresponding stamps reach us. Data on missing issues or supplementary information, particularly for countries, which are producing joint issues exceptionally, will be highly appreciated.
Most recent update of this section on June 24, 2007.
2007 (January 10)
Canada (February 12) - Denmark (January 10) - Finland (January 24) - Greenland (January 15) - Iceland (February 15) - Norway (February 21) - Sweden (January 25) - USA (February 20)
International Polar Year 125th anniversary - Parallel issue with common folder (issued on February 22) including all souvenir sheets (among all involved Arctic postal administrations, only Russia did not want to participate to this issue) - Delayed parallel issue [R1]. Different souvenir sheets containing two stamps each. Canada: A, male king eider duck (Somateria spectabilis), B, deep sea jellyfish (Crossota millsaeare); Denmark: C, three sculptures from the Norse, Late Dorset and Thule cultures which inhabited Greenland around 1200 AD, D, Twin Otter aircraft carrying a laser scanner used to measure the thickness of the ice cap over the Arctic Ocean; Finland: E, F, landscape, snowflakes, northern light as well as an hologram shaped like a snowflake; Greenland, G, ice core drilling, H, urbanization and life in towns; Iceland: I, volcanic eruption in the Vatnajökull glacier (largest European one), J, radio-glaciology equipment for ice cap thickness measurement; Norway: K, L, laboratory and field research in the Arctic; Sweden, M, artwork Stenfragment I etched by Svenerik Jakobsson, N, artwork Arctic Ocean 2001 88°N 145°E painted by Johan Petterson - the souvenir sheet background shows a neutrino reaction registered by the AMANDA telescope 1,500 meters down into the glacier ice at the South pole and a topographical map of the Arctic Ocean seabed; United States, O, Aurora Borealis or northern lights in the Arctic, P, Aurora Australis in the Antarctic. Multicolored.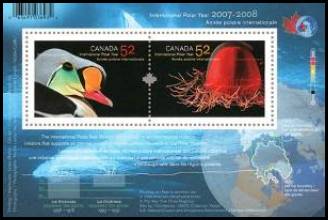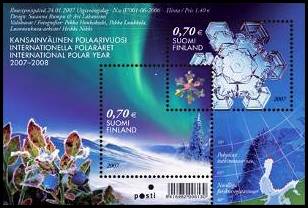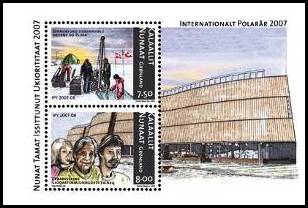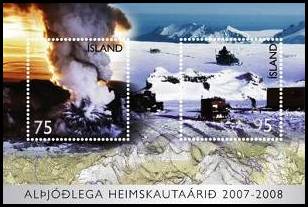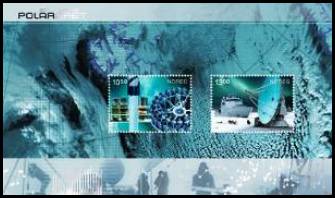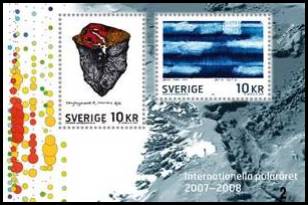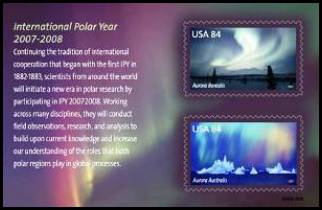 ---
2007 (January 15)
Faeroe Islands (February 12) - Greenland (January 15) - Iceland (February 15)
Environmentally friendly energy - 10th year of the West Nordic Cooperation. Delayed joint issue [R1]. Different stamps. A, wave energy; B, hydro energy - power plant at Buksefjorden, near Nuuk; C, geothermal energy. Multicolored.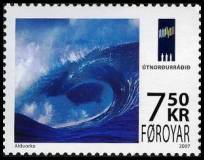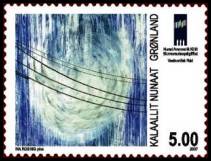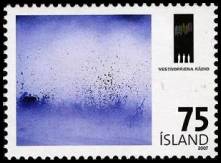 ---
2007 (February 6)
Brunei - Malaysia
Fishes and shells (stamps initially scheduled in 2006). Twin issue [T1]. Four identical stamps, two in panes, two in miniature sheets. A, Spotted Boxfish (Ostracion meleagris), B, Orange-striped Triggerfish (Balistapus undulates) to be found in the waters of Brunei; C, Chambered Nautilus (Nautilus pompilius) and D, Leaf Scorpionfish (Taenianotus triacanthus), from Malaysian waters. Multicolored.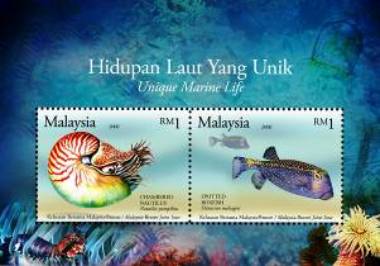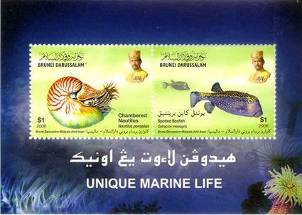 ---
2007 (March 5)
Austria - Liechtenstein
Painting: Portrait of a Lady, around 1500, Bernardino Zaganelli da Cotignola (1460-1510). Twin issue [T1]. Identical stamps. Painting exhibited in the Liechtenstein Museum at Vienna (third joint issue of a series of five). Multicolored.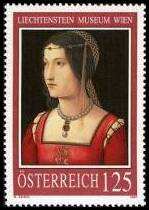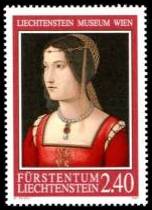 ---
2007 (March 17)
France - French Arctic and Antarctic Territories - French Polynesia - Mayotte - New Caledonia - Saint Pierre and Miquelon - Wallis and Futuna
Bicentennial of the Cour des Comptes (French Government Accountability Office), an institution created by Emperor Napoleon I - Territorial twin issue [TD]. Identical stamps. One stamp per country, Palais Cambon building from Constant Moyaux, around 1900, national flag, dates "1807-2007". Multicolored.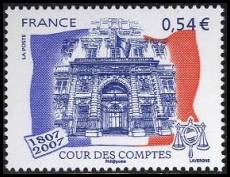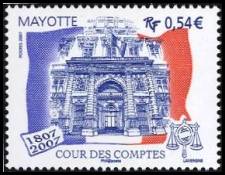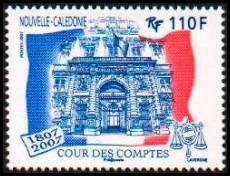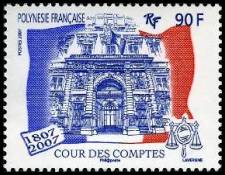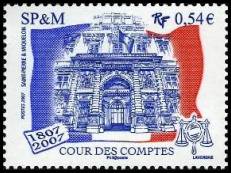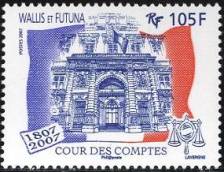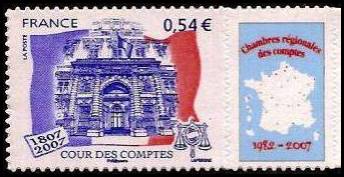 ---
2007 (March 26)
Belgium - Czech Republic
Stoclet Palace in Brussels by Moravian architect Josef Hoffmann (1870-1956). Twin issue [T1]. Identical stamps. Pictures of the Stoclet Palace, in Woluwe Saint Pierre. Multicolored.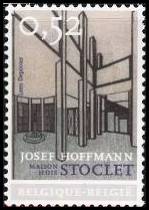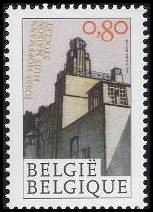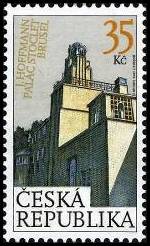 ---
2007 (March 30)
Korea (South) - Singapore
Relationship between both countries. Traditional wedding costumes. Twin issue [T1]. Identical stamps. Eight different stamps per country. Four stamps representing the wedding costumes of the four main ethnic races present in Singapore, namely Chinese, Malay, Indian and Eurasian. Four stamps representing Korean wedding costumes (Joseon dynasty 1392-1910) with different symbols in the background (sun, moon and five mountains for health, longevity and harmony; peony for wealth, prosperity, longevity and purity; ducks for success and prominence; mandarin ducks for love and harmony). The eight stamps are printed se-tenant in a block of 4x2 stamps and in panes containing two blocks. Multicolored.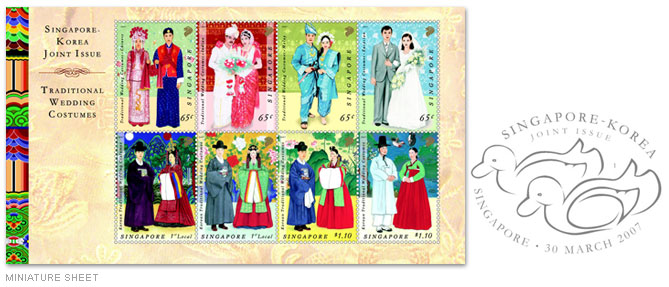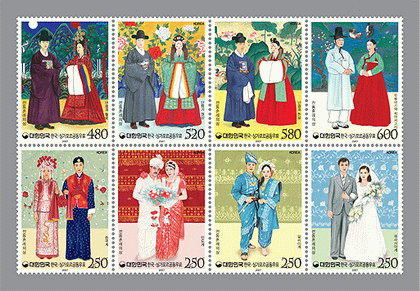 ---
2007 (March 30)
China (PR) - Indonesia
Traditional dances - Twin issue [T1]. Identical stamps. Dragon dance and Lion dance. Multicolored.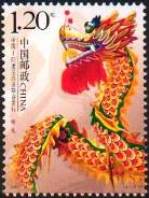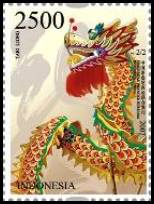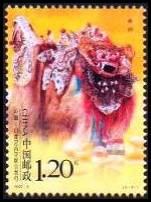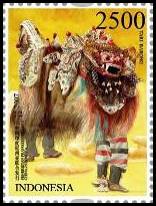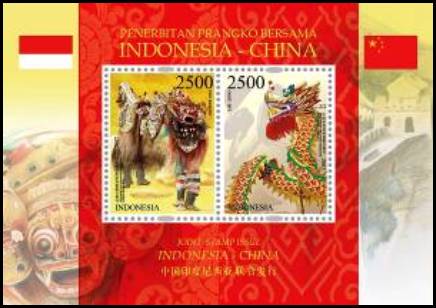 ---