New Issues 2006 (September - December)
This page collects only issues released during the year 2006, period September to December.
As it is not such obvious as it looks to find this information, this list is probably not yet complete. In certain countries, joint issues are often announced on the day of the issue and sometimes it takes months before this information and the corresponding stamps reach us. Data on missing issues or supplementary information, particularly for countries, which are producing joint issues exceptionally, will be highly appreciated.
Most recent update of this section on February 25, 2007.
2006 (September 7)
Germany - Sweden
650 years of Hanseatic towns - Shipping and trade. Twin issue [T1].
Identical stamps. A, ship from the Hanseatic towns around 1380. Sweden issued a booklet containing two identical stamps and two supplementary different stamps: B, harbor of Visby, C, scene of trade and seal. Multicolored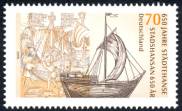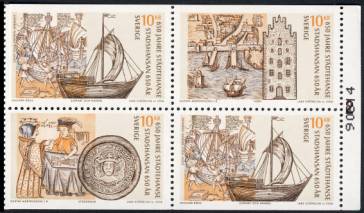 2006 (September 11)
India (September 11) - Mongolia (September 28)
50 years of diplomatic relations - Ancient art: horses. Concerted issue [C1].
Identical stamps and souvenir sheets. A, early 20th century bronze replica of the equestrian deity Rao Dev from Bastar, Madhya Pradesh; B, ancient sculpture of a horse from Mongolia, an archeological finding from the Bronze age found in the city of Murun of Khuvsgul, province of Mongolia; the souvenir sheet contains the same stamps se-tenant. Multicolored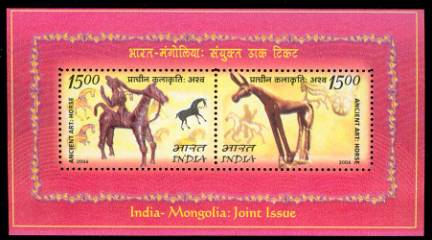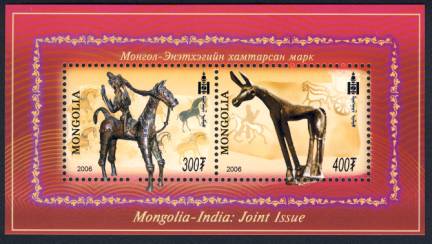 2006 (September 12)
Kiribati - Nauru - [O20060912]
150th anniversary of the Victoria Cross, the highest military decoration in the Commonwealth. Six stamps in a miniature sheet showing act of heroism for which Victoria Cross was awarded. Multicolored
2006 (September 14)
Portugal - Spain
Iberian bridges. Twin issue [T1].
Identical stamps. A, Puente internacional de Ayamonte (Huelva) over the Guadiana River (1991); B, Puente de Alcantara over the Tajo River in Caceres (105 AD). Multicolored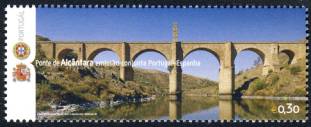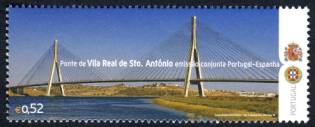 2006 (September 15)
Iran (September 20) - Kazakhstan (September 15)
Economic Cooperation Organization (ECO), third meeting of the ECO Postal authorities held in Ankara (Turkey), September 20-22, 2006. Twin issue [T1].
Identical stamps. Map of the area showing the 10 participating countries, flags of the ten countries, large figure "3". Initially the meeting had to take place in Istanbul. Kazakhstan released a second stamp on September 22, which has the name of the initial place Istanbul covered by a gold foil embossing and showing the word Ankara. Multicolored.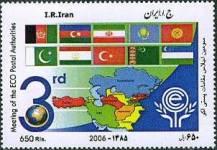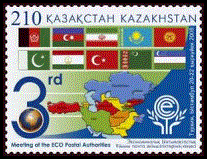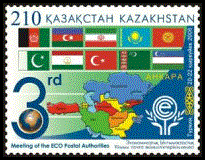 2006 (September 25)
France - Romania
French Speaking countries summit in Bucharest - Constantin Brancusi (1876-1957). Twin issue [T1].
Identical stamps. Sculptures from Brancusi: A, Sleeping Muse, bronze sculpture representing baroness Renée Irana Frachon (1910), Center Pompidou, Paris, B, The Sleep, marble sculpture (1908), National Museum of Art, Bucharest. Multicolored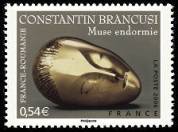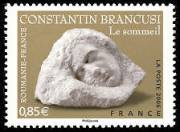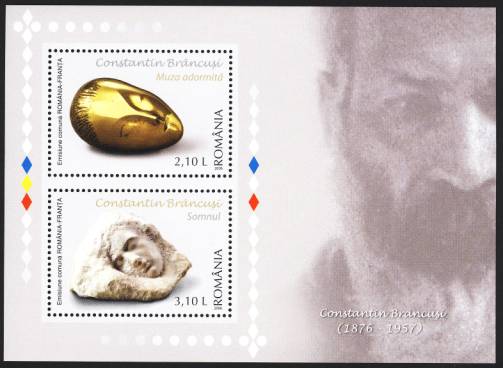 2006 (September 26)
Austria - China (PR)
Musical instruments - Mozart. Twin issue [T1].
Identical stamps. Bösendorfer piano, company established in Vienna in 1828, background referring to the Year of Mozart and depicting the city of Salzburg, Mozart's birth place, as well as a sheet of music from Mozart's Marriage of Figaro; Guqin, a seven string Chinese zither, Beijing Palace Museum, Tang Dynasty (618-907 AD), background showing the Guqintai monument in Wuhan and a verse of the poem by Song Xiang (1748-1826) of the Qing Dynasty. Multicolored
.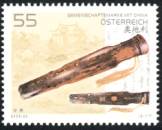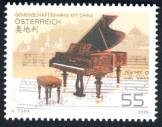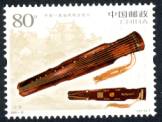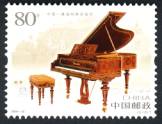 2006 (September 27)
Indonesia - Slovakia
Puppet theatre. Twin issue [T1].
Identical stamps. A, Gasparko, Silly Billy, from the Slovak comical puppet theatre; B, Semar or Sang Hyang Ismoyo, from Indonesian puppet theatre. Multicolored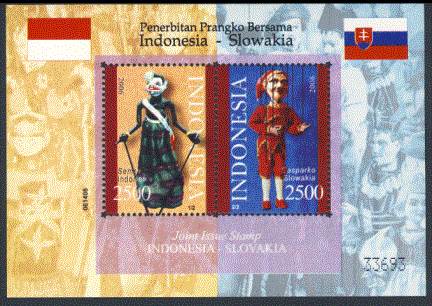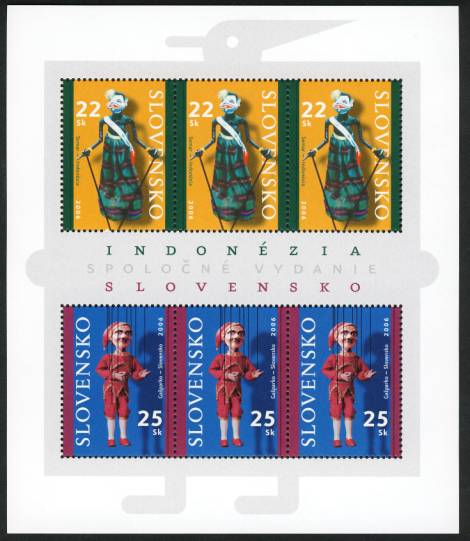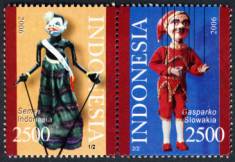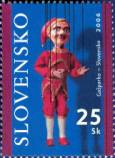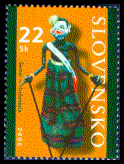 2006 (October 3)
Japan - Singapore
40th anniversary of the diplomatic relationship and international letter writing week ion Japan - Flowers. Twin issue [T1].
Six identical stamps. Flowers, Singaporean orchids: A, Vanda Mimi Palmer and B, Renanthera Singaporeans, C, Vanda Miss Joaquim (Singapore National flower) and D, Mokara Lion's Gold; paintings Flowers and birds of the Four Seasons Drawing on a Folding Screen by Hoitsu Sakai, E, summer with hollyhocks and heron, F, summer with iris and moorhens. Japanese stamps are only available in a miniature sheet in which stamps A and B as well as C and D are se-tenant. Multicolored and hot stamp technique (gold foil for Singapore).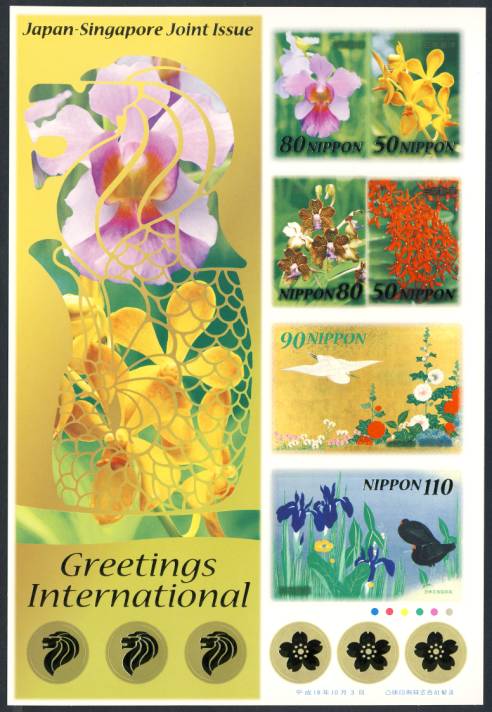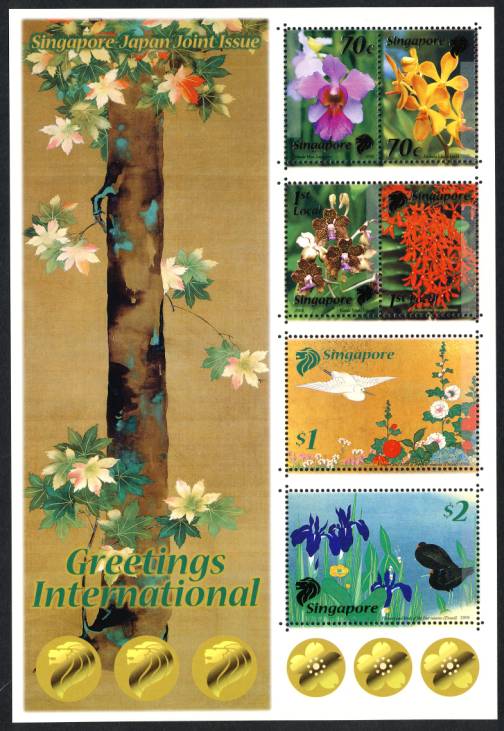 2006 (October 6) - Austria - Germany
Austrian and German philatelic day. Non accepted parallel accidental issue [PA].
Different stamps. Austria: Bad Reichenhall, mountains, building, statue; Germany: letter, stamp, cancellation. Multicolored. None of the two postal administrations have claimed these issued being joint.
2006 (October 12)
Singapore - Vatican
25th anniversary of diplomatic relationship between both countries 1981-2006. Twin issue [T1]
Identical stamps. A, Dome of Saint Peter's, Vatican and the Merlion, an animal half lion, half fish of Singapore; B, flags of both countries. Multicolored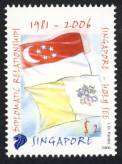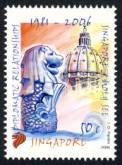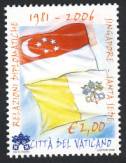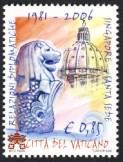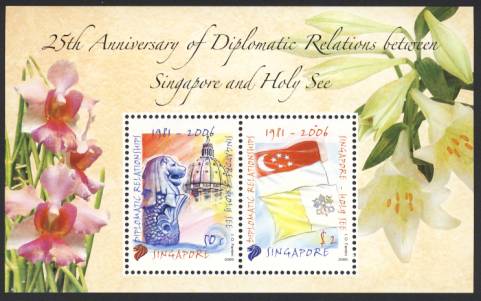 2006 (October 25)
Chile - Estonia
Fauna of Antarctica. Twin issue [T1]
Identical stamps. A, Emperor penguin (Aptenodytes forsteri); B, Minke whale (Balaenoptera acutorostrata); flags of both countries on all stamps. Multicolored



2006 (November 10)
Belgium (November 17) - Denmark (November 10)
CoBrA (Copenhagen - Brussels - Amsterdam) artist group (1948-1951); paintings. Twin issue [T1].
Two identical stamps, se-tenant in a souvenir sheet. A, painting from Pierre Alechinsky (1927- ), Belgium painter, New skin, 1950; B, painting from Asger Jorn - in fact Oluf Jørgensen (1914-1973), Danish painter, Without title, 1951. Denmark issued two supplementary stamps: C, painting from Else Alfelt (1910-1974), Night landscape; D, painting from Egill Jacobsen (1910-1998), Olive eater. Multicolored.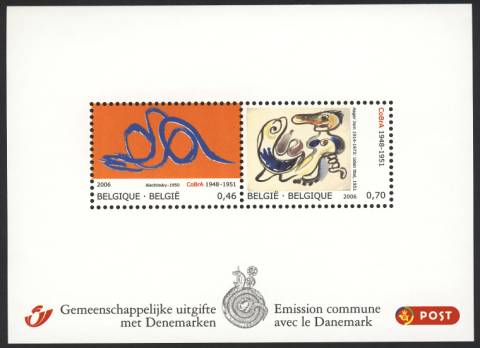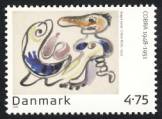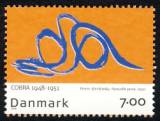 2006 (November 29)
Bulgaria - Romania
Integration in the European Union on January 1, 2007. Twin issue [T1].
Identical stamps. Symbols and flags, colors of both countries and the European Community. Multicolored.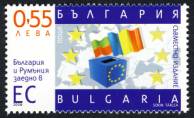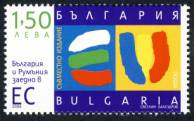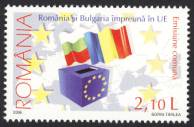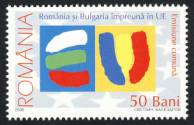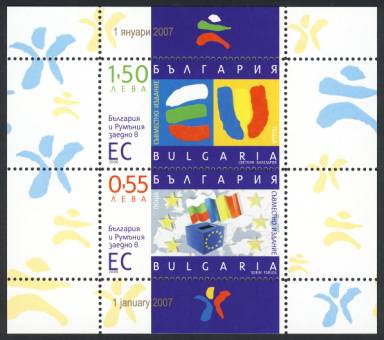 2006 (December 1)
Austria - Ukraine
750th anniversary of the city of Lemberg (Lwiw in Ukrainian). Twin issue [T1].
Identical stamps. Representation of the town, Ferdinand place in 1840; miniature sheet of 10 stamps presented in triptychs with central labels (5 different labels). Multicolored.



2006 (December 12)
Laos - Thailand
Second Friendship Bridge over the Mekong. Twin issue [T1].
Identical stamps. Pair of se-tenant stamps representing the bridge, night view. Multicolored.