New Issues 2006 (May - August)
This page collects only issues released during the year 2006, period May to August.
As it is not such obvious as it looks to find this information, this list is probably not yet complete. In certain countries, joint issues are often announced on the day of the issue and sometimes it takes months before this information and the corresponding stamps reach us. Data on missing issues or supplementary information, particularly for countries, which are producing joint issues exceptionally, will be highly appreciated.
Most recent update of this section on July 14, 2013.
2006 (May 4)
Finland - Sweden
Fortresses Suomenlinna (Sveaborg) by Helsinki. Twin issue [T1].
Identical stamps se-tenant available in booklets. Frigate Pajama, the King's Gate Kuninkaanportti; Frigate Turkoma and fortress Tenaille von Fersen; Frigate Undenma and the Bastion Hjärne. Multicolored.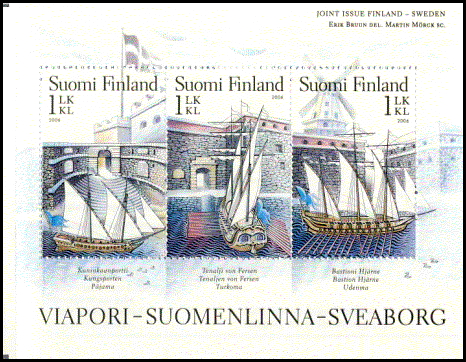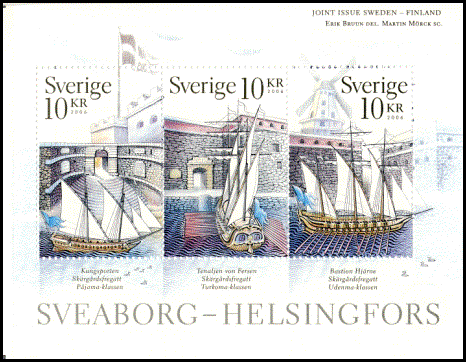 2006 (May 9) - Europa CEPT stamps - [N20060509]
Åland (May 4) - Albania () - Andorra (French) (May 9) - Andorra (Spanish) (May 16) - Armenia (March 28 or October 17) - Austria (July 1) - Azerbaijan (March 1) - Azores (May 9) - Belarus (May 4) - Belgium (April 5) - Bosnia Herzegovina (April 5) Bosnia Herzegovina (Croatia) (April 5) - Bosnia Herzegovina (Serbia) (April 5) - Bulgaria (April 25) - Croatia (May 9) - Cyprus (May 4) - Czech Republic (May 3) - Denmark (23 August) - Estonia (May 3) - Faeroe (June 12) - Finland (May 4) - France (April 30) - Georgia (July 10) - Germany (May 4) - Gibraltar (June 30) - Great Britain (October 3) - Greece (May 15) - Guernsey (May 20) - Hungary (May 9) - Iceland (May 18) - Ireland (May 9) - Italy (May 8) - Jersey (March 7) - Kazakhstan (May 3) - Kosovo (May 9) - Latvia (May 3) - Liechtenstein (March 6) - Lithuania (April 15) - Luxembourg (May 16) - Macedonia (May 9) - Madeira (May 9) - Malta (May 9) - Man (October 11) - Moldavia (May 6) - Monaco (May 5) - Montenegro (August 30) - Norway (November 17) - Poland (May 5) - Portugal (May 9) - Romania (May 4) - San Marino (June 19) - Serbian Republic and Montenegro (May 4) - Slovakia (May 5) - Slovenia (May 19) - Spain (September 12) - Sweden (May 4) - Switzerland (May 9) - Turkey (May 30) - Turkish Cyprus (May 18) - Ukraine (April 28) - Vatican (March 16)
Topic: integration as seen by young people. One to three stamps per country. Multicolored.
2006 (May 12)
Belgium (May 12) - China (People's Republic) (November 6) - Hungary (October 27) - Netherlands (May 1)
Belgica 2006, philatelic exhibition, November 16-20, 2006. Identical stamps, actually use of the same logo on all stamps. Borrowed design.
Two stamps issued by Belgium (one with water activated gum, one self adhesive) on May 12, 2006, and a postal stationery (card) issued on November 17, 2006. The Hungarian stamp is on a postal stationery (card). China issued a normal stamp se-tenant with a label representing the logo. Multicolored.
2006 (May 25)
Bahrain - Kuwait - Oman - Qatar - Saudi Arabia - United Arab Emirates
25th anniversary of the Gulf Cooperation Council. Special twin issue [T4].
Triangular stamps representing each the flag of the country. Each country issued only one stamp with its own flag, but this stamp without denomination is part of a miniature sheet showing all flags (i.e. all stamps without country names) from all participating countries. The local stamp with the local flag is framed in the miniature sheet, but remains non-perforated and without denomination. Multicolored, silver edges of triangular stamps and souvenir sheets.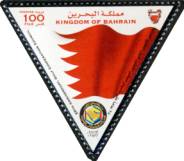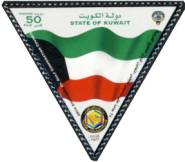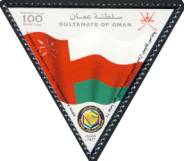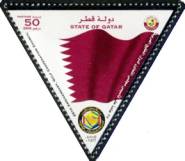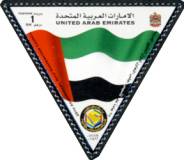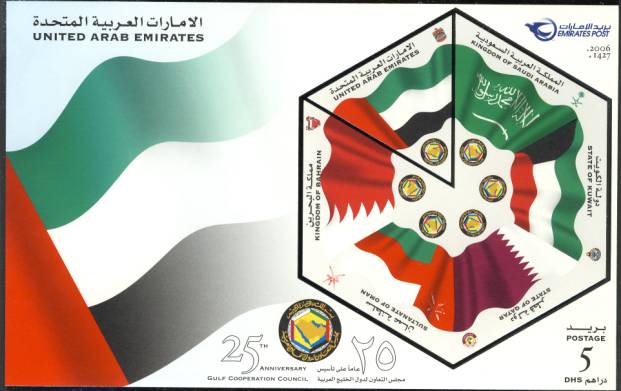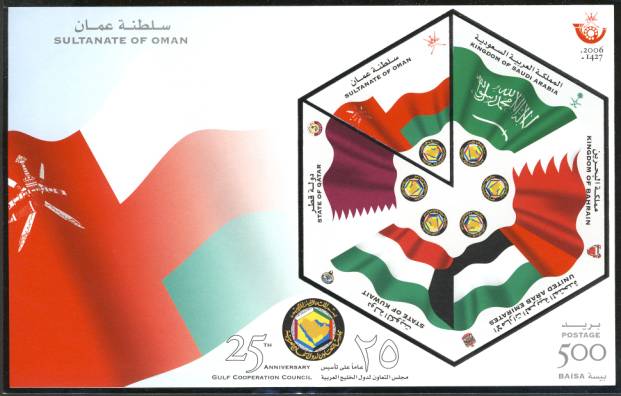 2006 (May 27) - [O20060527]
Ascension (July 24) - Kiribati - Nauru - Solomon Islands (2006)
Exploration and innovation; 200th anniversary of the birth of Brunel and 175th anniversary of Darwin's voyage on the Beagle. Omnibus series [PO].
Different stamps part of 8 stamp panes (up to 6 per country as this series integrates also other subjects such as Columbus, Edison, Halley, Mozart, Stephenson and even Concorde) in the same style. Portraits. Multicolored.
2006 (May 28)
Canada - United States
400th anniversary of Samuel Champlain' survey of the coast extending from Nova Scotia to Massachusetts. Released during the Washington Philatelic exhibition. Siamese souvenir sheet [S1].
Identical stamps. Samuel Champlain (1567-1635). Multicolored.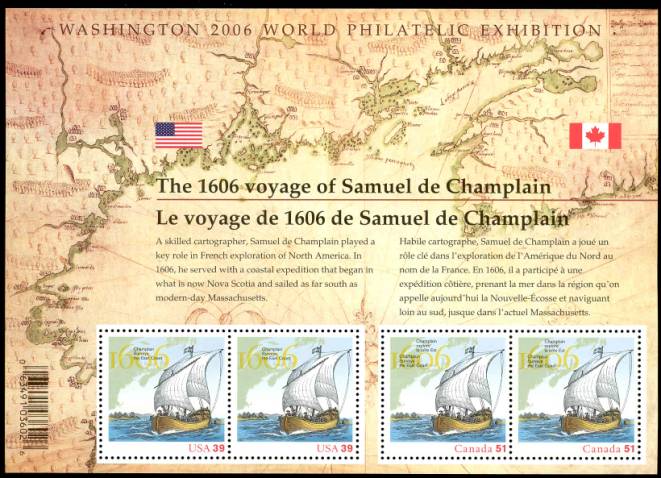 Canadian souvenir sheet with bar code on the left side

Bottom part of the US souvenir sheet, without bar code
2006 (May 28)
Tanzania (October 25) - Zambia (May 28)
30th anniversary of the Tanzania - Zambia railway TAZARA. Concerted issue [C1].
Identical stamps and miniature sheets containing each six different stamps. A, inauguration of the train and map of the two countries; B, presidents of both countries; C and D, train stations of capital cities, E and F train on bridge; margin, flags of Tanzania, China (PR) and Zambia. Multicolored.
For each country, six stamps in a miniature sheet of 2x3 different stamps - FDC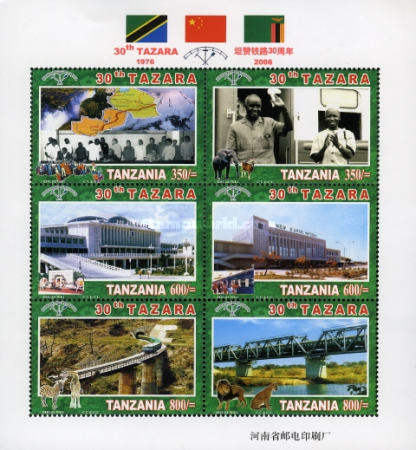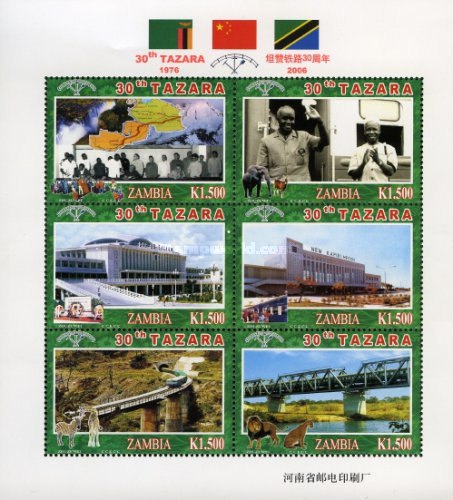 2006 (June 7)
Norfolk - Pitcairn
150th anniversary of the arrival of the Pitcairners at Norfolk Island. Parallel issue [P1].
Four se-tenant stamps issued by Pitcairn, five by Norfolk. Ships and people. Multicolored.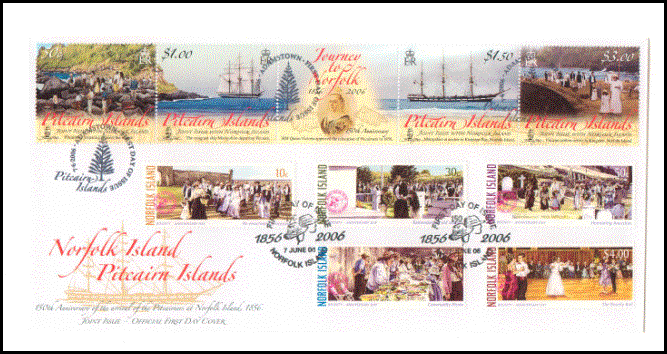 2006 (June 8)
Hungary - Romania
60th anniversary of relationship between both countries. Famous composers: 125th birthday of Béla Bartok and George Enescu. Twin issue [T3].
Similar stamps, portrait used are not exactly the same for matching pairs. A, Béla Bartok (1881-1945), Hungarian composer; B, George Enescu (1881-1955), Romanian composer; portraits. The Romanian stamps were issued in pairs available in panes, in miniature sheet of 6 pairs and in souvenir sheets; the miniature sheets and the panes are available in two sub-types, either in order A,B or B,A; all pairs of Romanian stamps in panes and miniature sheets are alternating normal and upside down (per pair) offering the possibility to create pairs of tête-bêche of the same type A or B or tête-bêche pairs. Multicolored.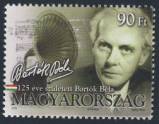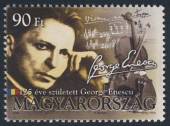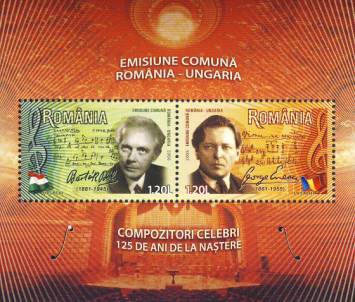 2006 (June 9)
Nauru - Solomon Islands
Soccer world cup in Germany. Omnibus series [PO].
Different stamps (4 panes of 10 stamps) in the same style. Various historic games. Multicolored.
2006 (June 17)
France - United Nations
UNESCO World heritage sites - French towns. Twin issue [T1].
Two identical stamps. A, Fortified town of Provins; B, Mount Saint Michel; C, Banks of the Seine; D, Roman Aqueduct over the Gard; E, Fortified town of Carcassonne; F, Chambord Castle; all United Nations stamps show also the Eiffel Tower. The United Nations issued also the same stamps with reduced denominations in mixed booklets containing 16 pages of text (each office issued the booklet in its local language) and 6 pages of a block of 4 identical stamps each, with a total of 24 stamps per booklet. Multicolored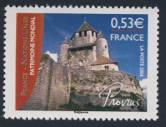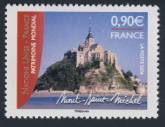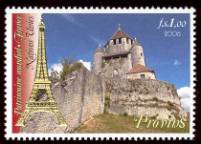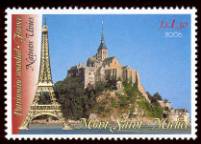 2006 (June 19)
San Marino - Sovereign Military Order of Malta
Cooperation. Parallel issue [P1], but in fact Non Approved [NR]. If SMOM would be recognized by the UPU, this class of stamps with different cuts exists would be classified as [T4]. If separated they become stamps of type [P1]. Therefore the final classification will be [NR/T4].
Different stamp with label, the label showing the design of the stamp of the partner country; A, doctor examining a child, statue of Liberty, Palazzo Pubblico, State hospital, Institute for social security and label with the design of B, coat of arms of both administrations and a quotation from Johann Wolfgang Goethe "Concrete gestures alone show the force of love"; B, child, nurse, doctor, Magliana Gate in Rome and label with the design of A, coat of arms of both administrations and a quotation from Matthew, the Beatitudes "Blessed are those who mourn, for they will be comforted". Multicolored.



2006 (June 20)
China (People's Republic) - Poland
Gold and silver plates. Twin issue [T1].
Identical stamps. Cup from the manufacturing of the Manchurian Qing dynasty (Emperor's Palace in Beijing; mug produced in the period 1660-1680) and a baroque partially gilded mug with two biblical scenes depicted on it by Peter Rode (National collection of the Museum of Warsaw). Multicolored.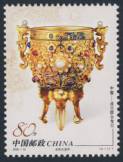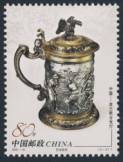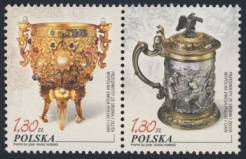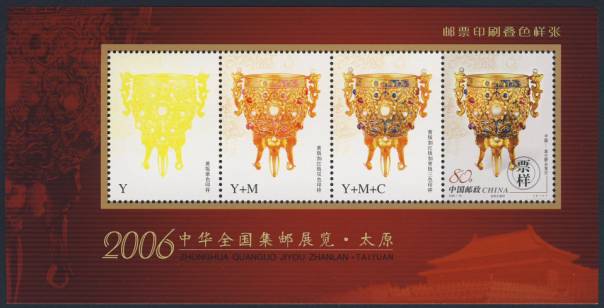 2006 (June 21)
Argentina - France
Tango (music and dance); remembrance to the Argentinean most popular tango artist Carlos Gardel (1890-1935), born in France. Twin issue [T1].
Identical stamps. Stylized dancers and bandoneón (accordion) player. Multicolored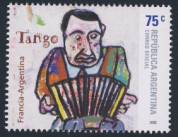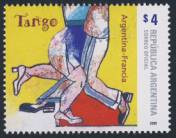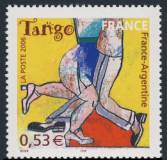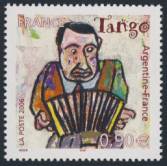 2006 (July 13)
Germany (July 13) - Netherlands (July 15)
400th Birthday of Rembrandt Harmenszoon van Rijn (July 15, 1606 - October 4, 1669). Twin issue [T1].
Identical stamps. A, Portrait of Saskia van Uylenburgh with red hat, first wife of Rembrandt (1612-1642), presently in the collection of the State Museum in Kassel; B, Men with beard (probably Rembrandt's father); C, Sitting old woman (probably Rembrandt's mother); D, Rembrandt's son Titus; E, Woman at a door opening (probably Hendrickje Stoffels, Rembrandt's second wife); F, Self-portrait with Saskia, 1636. The Dutch booklet contains the several Dutch stamps: two sheets with stamps B,C,D, se-tenant, one sheet with two stamps E, but also one sheet with the Dutch and the German identical stamps A (*); A,D,E,F are multicolored, B and C are black and white.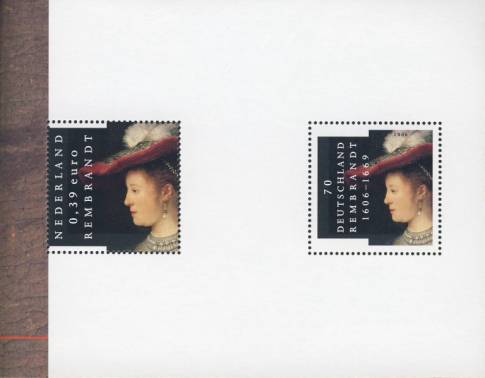 (*) The "copy" of the German stamp that is printed in the booklet next to the identical Dutch stamp is not exactly the same as the German stamp. Of course it was printed by the Dutch printing house Johan Enschedé in Haarlem and not the German Bagel Security Print in Mönchengladbach, but it shows some slight differences: printing definition is different, phosphor L-shape tag instead of full phosphorescent paper. This issue created a big sensation among collectors, as it was not announced that Dutch postal administration would print a German stamp. On the other side, Dutch administration would never have printed a German stamp without German authorization and above all, without the German stamp design. Both postal administrations took a long time before reacting and from a forgery, then to a misunderstanding, finally this stamp had to be considered as a simple label. An official common statement issued August 11, 2006 is supposed to clarify the situation and describes this stamp as a label without postage value. Dutch post even proposed to reimburse the booklet to those collectors who found to be fooled. On this basis the Michel catalogue decided not to report this stamp in the German catalogue pages. It will remain a pure Dutch product. Nevertheless, once affixed on a mail, postmen will not recognize this stamp as being different from a normal German stamp. Therefore, exceptionally this "false" German stamp was tolerated on Dutch national mail.
Due to the official deny from both postal administrations, this pairs will not be classified as a [S] siamese series.
2006 (August 22)
Austria - Hong Kong
Fireworks. Twin and siamese issue [S2][T1]
Souvenir sheet containing two stamps. Fireworks over the Pratel attraction park (Vienna) and the Hong Kong skyline. Multicolored with included crystal glass powder (Swarovski crystals) on all souvenir sheet stamps.