New Issues 2004 (September - December)
This page collects only issues released during the year 2004, period September to December.
As it is not such obvious as it looks to find this information, this list is probably not yet complete. In certain countries, joint issues are often announced on the day of the issue and sometimes it takes months before this information and the corresponding stamps reach us. Data on missing issues or supplementary information, particularly for countries, which are producing joint issues exceptionally, will be highly appreciated.
Most recent update of this section on January 31 , 2005.
2004 (3 September)
Poland - Slovakia
Raftsmen on the Dunajec River. Twin issue [T1].
Identical stamps. Local raftsmen in Goral folk costumes sailing down the river, the national historic landmark Cervený Kláštor (Red Monastery) that symbolizes the Slovak side and the Tri koruny (Three Crowns) peak located on the Polish side. Multi-colored.
1 stamp per country - FDCs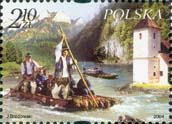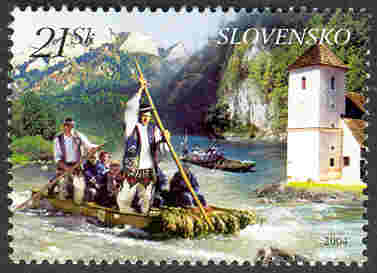 2004 (9 September)
Marshall Islands - United States of America
25th anniversary of the death of actor John Wayne (1907-1979). Parallel issue [PA].
Different stamps. Portrait of the actor. Marshall stamps were printed in mini-sheets of 12 stamps with the same portrait shown on the right side at a larger scale. The US stamps were printed in mini-sheets of 20 stamps, also with a larger portrait and a text on the right side. Multi-colored.
The USA stamp was printed in the frame of the series "Legends of Hollywood". John Wayne was born on May 26, 1907 and died on June 11, 1979. The date of issue is therefore not related with any of these dates. The release of the Marshall stamps "coincides" (official term used by the Postal administration of this country) with the issuance of the USA John Wayne stamp. Apparently Marshall has used this opportunity to create an item that is similar to the US stamp and issued it at the same date. The designers for both countries are different. It cannot be considered as a true joint issue as the US Postal administration did not give its agreement, nor was allowed to veto it.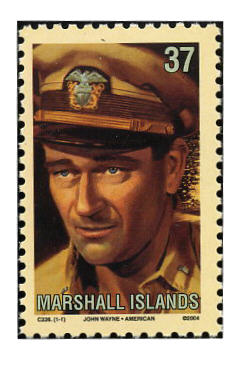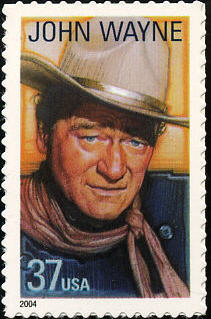 2004 (18 September)
Fiji - Vanuatu
25th anniversary of the Musket Cove to Port Villa Yacht Race. Parallel isssue [P1].
Different stamps and souvenir sheets. Four stamps and one souvenir sheet for each country showing different pictures of sailing ships and the yacht race. All stamp bear the mention "Joint issue with …" followed by the name of the partner country. Multi-colored.
4 stamps and one souvenir sheet per country - FDCs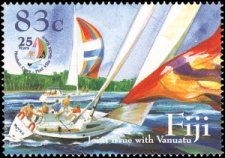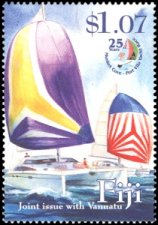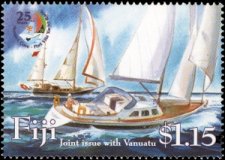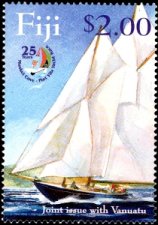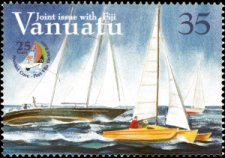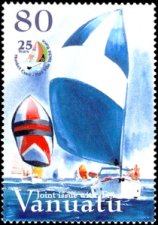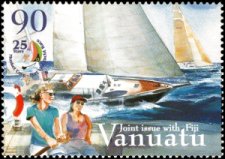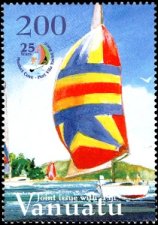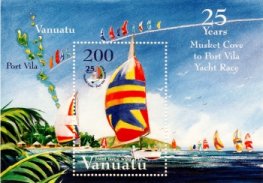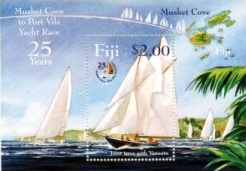 2004 (20 September)
Belgium - Romania
Sculptor Idel Iancheleveci (1909-1994). Twin issue [T1].
Two identical stamps. A, Statue "L'Appel (The call)", 4 meter high statue showing a man streching out his arm to the sky; B, "Perennis perdurat poeta (the perpetuity of the poet)" (1970), man lying on two horses. Multi-colored.
2 stamps per country - FDCs - mFDC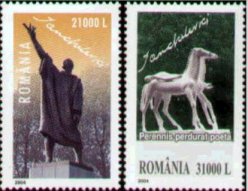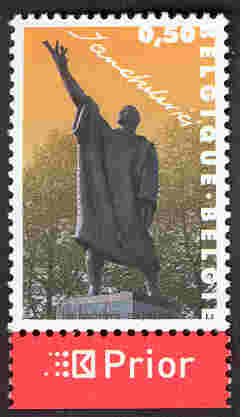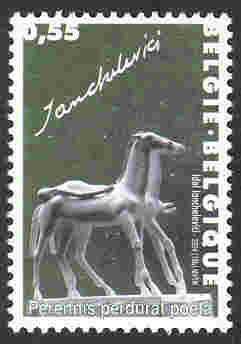 2004 (21 September)
Niuafo'ou - Tonga
Fruit trees. Territorial twin issue [TT].
Four stamps among which two are identical. Trees. Multi-colored.
4 stamps per country - FDCs


2004 (22 September)
China - Romania
55th anniversary of diplomatic relationship between China and Romania. Ceramic objets. Twin issue [T1].
Identical stamps. A, Chinese music instrument; B, Romanian ceramic vase. Multi-colored.
2 stamps per country - FDCs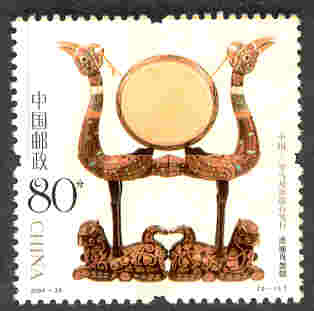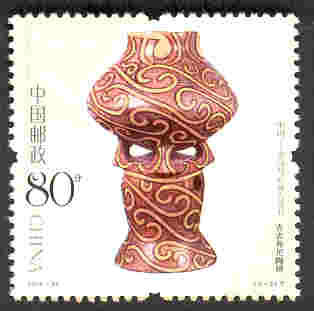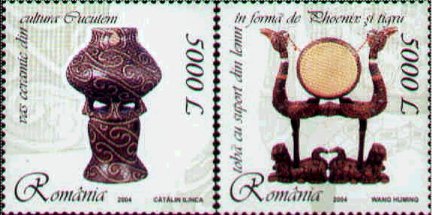 2004 (1 October)
Ireland - Sweden
Irish Literary Nobel Laureates. Twin issue [T1].
Identical stamps. Portraits of the 4 Irish Nobel Literary Laureates beside an illustration symbolizing their work: William Butler Yeats (1865-1939), Georges Bernard Shaw (1856-1950), Samuel Beckett (1906-1989) and Seamus Heaney (born 1939) who were recognized for their talent by being awarded the Nobel Prize for literature respectively in 1923, 1925, 1969 and 1995. Multi-colored.
4 stamps per country - FDCs - mFDC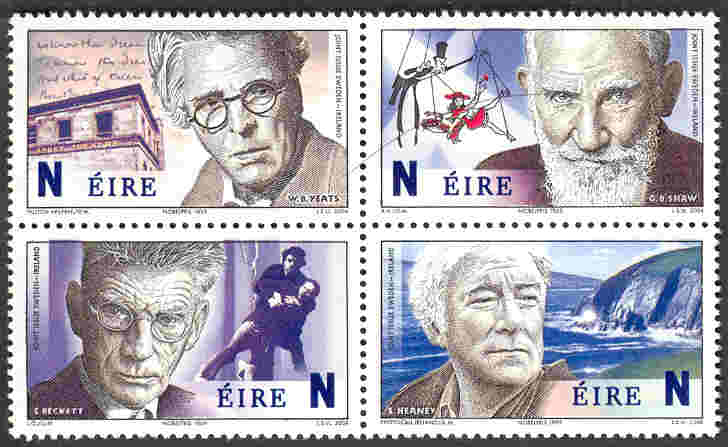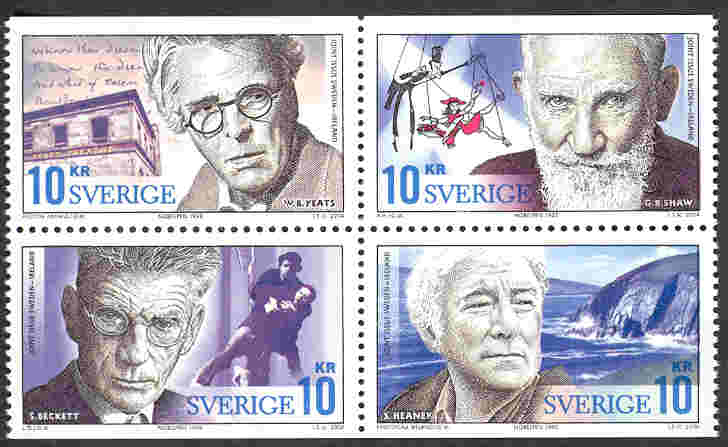 2004 (8 October)
China - Spain
Urban architecture: Güell Park, Barcelona and Jinmao Tower, Shangai. Twin issue [T1].
Identical stamps. A: Stylized tower of the left entrance pavilion in the Parc Güell in Barcelona (constructed between 1900 and 1914 by the architect Antoni Gaudi); B: Shanghai's Jin Mao Tower building, China's tallest skyscraper, 4th highest in the world (420 meters, built 1989). Multi-colored.
2 stamps per country - mini-sheets - FDCs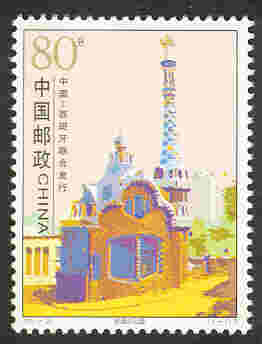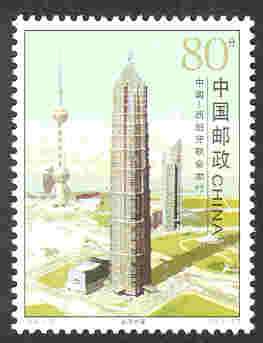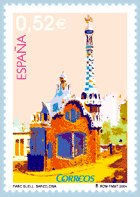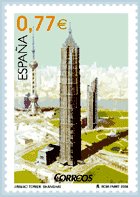 2004 (11 October)
Angola - Botswana (9 October) - Malawi - Namibia - South Africa - Swaziland - Zambia - Zimbabwe
Southern African Postal Operators Association (SAPOA) joint issue; Twin issue [T1].
Identical miniature sheets. The miniature sheets contain 8 hexagonal stamps representing each one specific bird of each participating country. Three representations of the African Fish Eagle (Halieaatus vocifer - Namibia, Zambia and Zimbabwe bird), the Peregrine Falcon (Falco peregrinus - Angola), the Cattle Egret (Bubulcus ibis - Botswana), the Purple-crested Lourie or Turaco (Tauraco porphyreolophus - Swaziland), the Blue Crane or Stanley Crane (Anthropoides paradisea - South Africa) and the Bar-tailed Trogon (Apaloderma vittatum - Malawi), the only bird that not found in South Africa.
One miniature sheet per country containing 8 stamps - FDCs with a single stamp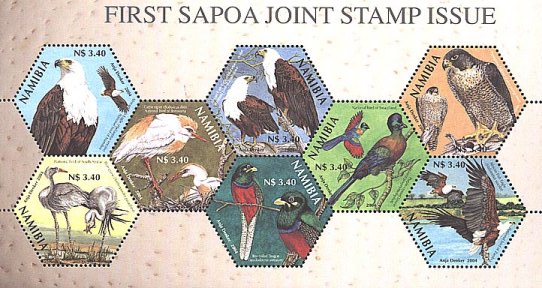 2004 (25 October)
Andorra (French) - Andorra (Spanish)
Postal code. Twin issue [T1].
Identical stamps, different colors. Postal codes. Red, black and yellow.
1 stamp per country - FDCs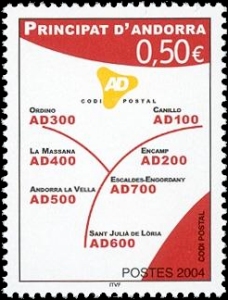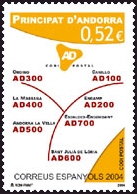 2004 (4 November)
Belgium (22 November) - Germany (4 November)
Christmas 2004: Paintings. Twin issue [T1].
Identical stamps. Painting from Peter Paul Rubens born in Siegen in Germany (1577-1640); A, "The worship of the Magi" (1617), exhibited in the St. John church of Malines, Belgium; B, "The Flight to Egypt" (1614) displayed in the Gemäldegalerie Alte Meister - Staatliche Museen Kassel (Old Masters Painting Galery from the State Museum in Kassel, Germany. Multi-colored.
2 stamps - FDCs - mFDC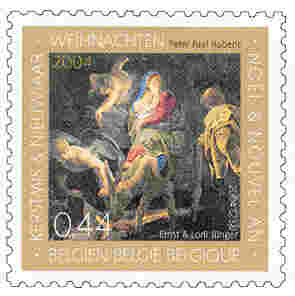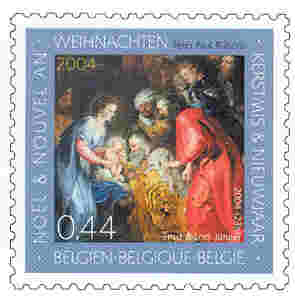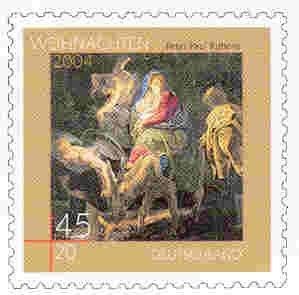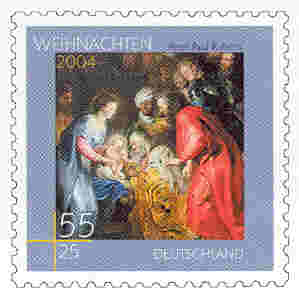 2004 (16 November)
Iran (28 November) - Venezuela (16 November)
Relationship between both countries. Mountains. Concerted issue [C1].
Identical stamps. Mountain peaks of Damavand (Iran) and from Bolivar (Venezuela). Iranian stamps are issued se-tenant. In sheets with central label showing the flags of both countries. Multi-colored.
2 e-tenant stamps per country - FDCs

2004 (23 November)
International Olympic Committee - Switzerland - United Nations (Geneva)
2005 International Year of Sport and Sport Education. Unique issue [U1].
One single stamp for all three postal administration, bearing their names "Nations Unies | Comité International Olympique | Helvetia" and valid for postage from all of them. Children and sport. Multi-colored.
1 stamp - FDCs - mFDCs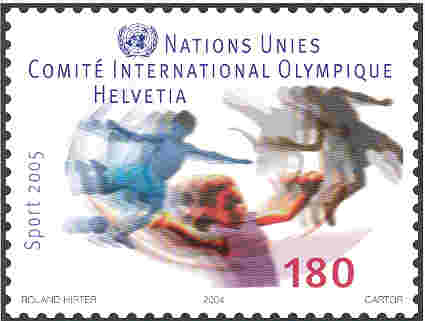 2004 (26 November)
Ascension - Bahamas (7 December) - Kiribati (25 October) - Solomon Islands (11 October) - South Georgia (10 November) - Saint Helena (4 November) - Tristan da Cunha ( 9 November)
Merchant ships. Parallel omnibus series. 4 to 6 stamps per country. Multi-colored.
2004 (29 November)
Kazakhstan (29 November) - Tajikistan ()
National music instruments. Twin issue [T1].
Identical stamps. Adyrna and Gizhak. Multi-colored.
2 se-tenant stamps per country - FDCs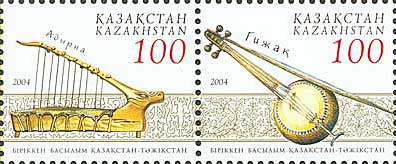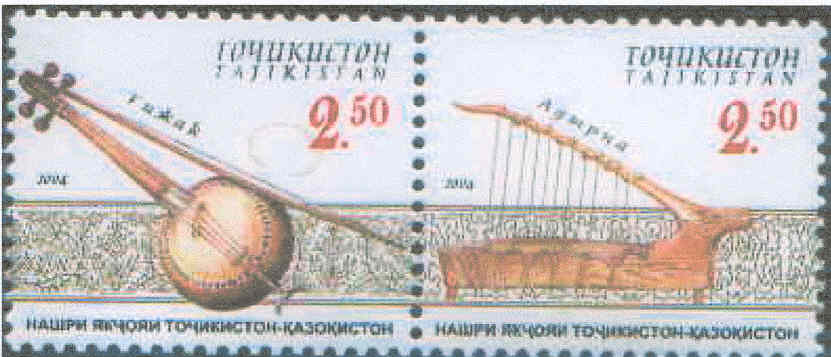 2004 (30 November)
Iran - Ukraine
Relationship between both countries. Airplanes. Twin issue [T1].
Identical stamps. Central label showing flags from both countries. Airplanes: Antonov-140; Iran-140. Multi-colored.
2 se-tenant stamps per country - FDCs

2004 (30 December)
Kazakhstan (30 December) - Mongolia (December)
Women costumes. Twin issue [T1].
Identical stamps. Multi-colored.
2 se-tenant stamps per country - FDCs