New Issues 2002 (September - December)
This page collects only issues released during the year 2002. For issues to come (announced) see the latest information.
As it is not such obvious as it looks to find this information, this list is probably not yet complete. In certain countries, joint issues are often announced on the day of the issue and sometimes it takes months before this information and the corresponding stamps reach us. Data on missing issues or supplementary information, particularly for countries, which are producing joint issues exceptionally, will be highly appreciated.
Most recent update of this section on January 20, 2003.
2002 (6 September)
Kazakhstan - Ukraine
Endangered species - Twin issue
Identical stamps - Black Sea Beluga (Huso huso ponticus) and Caspian Seal (Phoca caspica)
2 se-tenant stamps and booklets of 4 pairs - FDCs


2002 (18 September)
New Caledonia - Norfolk
Whales. Marine connections. Twin issue.
Identical stamps. Pair of two stamps se-tenant separated with a vignette.
2 stamps - FDCs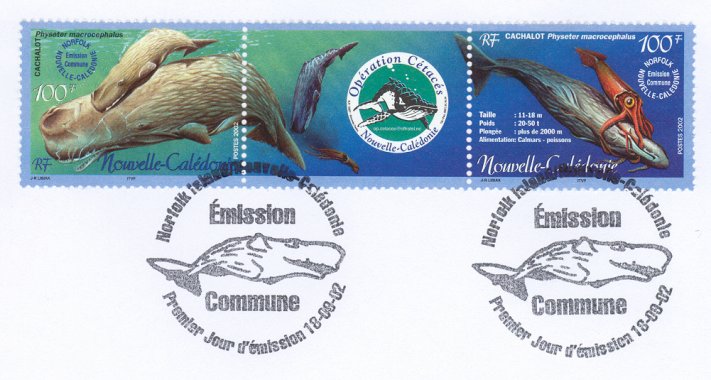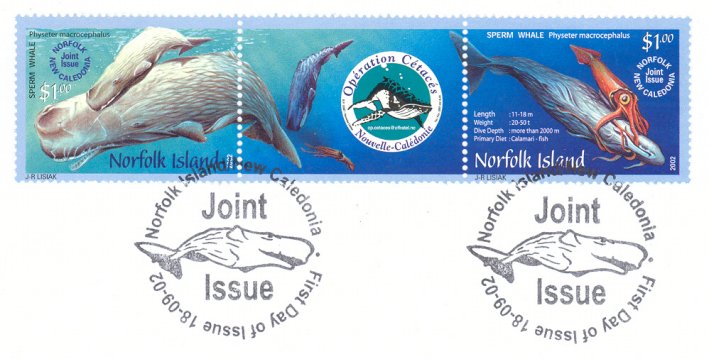 2002 (23 September)
Denmark (25 September) - Feroe Island (23 September) - Groenland (21 October)
International Council for the Exploration of the Seas (ICES). Joint issue.
Two different stamps per country, however all six stamps are reproduced on a common souvenir sheet but only the specified countries have their name printed and are perforated; Denmark: boat and fishes; fishes and lighthouse of Hirthals; Faeroes: island and fishes; boat "Magnus Heinason" and fishes; Greenland: iceberg and Greenland shark; F, exploration boat "Paamiut" and fishes.
2 stamps and a souvenir sheet containing both stamps per country - FDCs


2002 (5 October)
Sweden - Thailand
Buildings. Twin issue.
Two identical stamps. Dusit Maha Prasat Throne Hall; Royal Castel (Kungliga Slottet) Stockholm
2 stamps - FDCs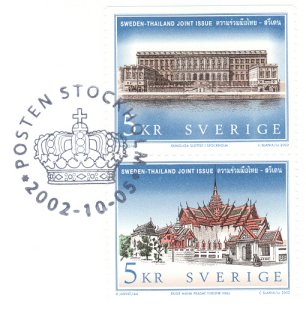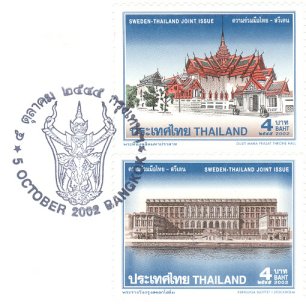 2002 (10 October)
United States
The Hannukah stamp issued previously on 22 October 1996 with a denomination of 32¢ and later with increasing values (8 October 1999, 33¢, 19 October 2001, 34¢) is reissued on October 10, 2002 with a value of 37¢.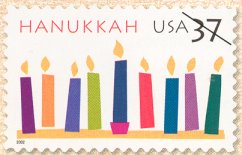 2002 (12 October)
China - Slovakia
Castels. Castel in China and Castel of Bojnice (Slovakia). Twin issue.
2 stamps - FDCs - mixed FDC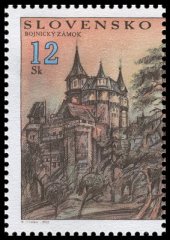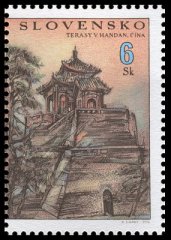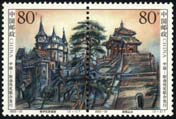 2002 (20 November)
China - South Korea
2002 - The year of people's exchange between the Republic of Korea and the People's Republic of China. Tenth anniversary of the diplomatic relationship dated August 24, 1992. Twin issue.
Korea's martial art Taekwondo and China's martial art Wushu. Multi-colored.
Two identical stamps - FDCs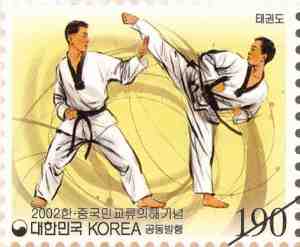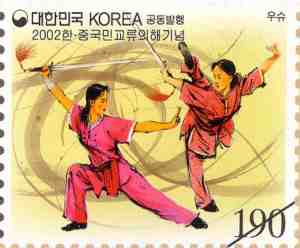 2002 (21 November)
New Zealand - Vatican
Christmas. Nativity scene, crib. Twin issue.
Identical stamps - FDCs - mixed FDC.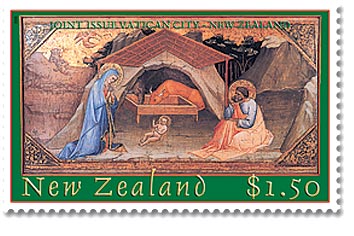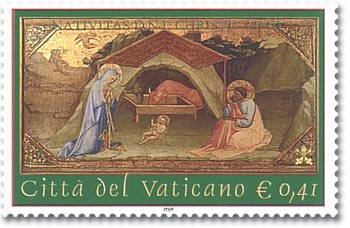 2002 (5 December)
Hungary - Turkey
Relationship. Twin issue (?)
Identical stamps (?). Two stamps se-tenant in a souvenir sheet. Mosque of the XVIth century at Pecs; Rackoczi house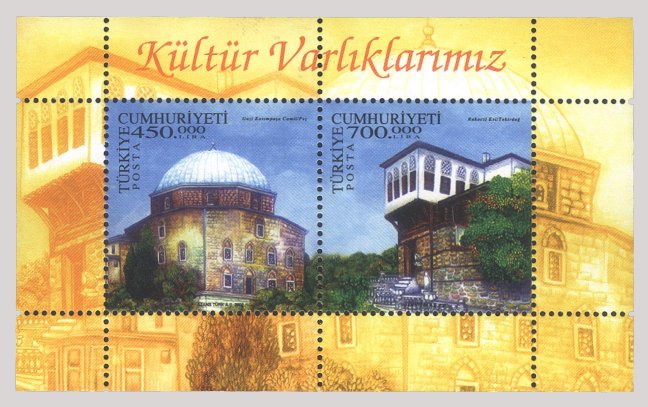 2002 (15 December)
Brazil - Iran
100th anniversary of the Brazil - Iran Diplomatic Relationship. Twin issue.
Artisanat, pots.
Two identical stamps - FDCs



2002 (21 December)
South Korea - Vietnam
Tenth anniversary of the Korea - Vietnam Diplomatic Relationship. Twin issue
Two identical stamps. Pagodas: One Pillar (Mot Cot) Pagoda in Hanoi (Vietnam); Dabo Pagoda, east to the Daewoongjeon (Main Hall) of the Bulguk Temple in Gyeongju city (South Korea). Multi-colored.
2 stamps per country - FDCs