New Issues 2000 (January - April)
This page collects only issues released during the year 2000 (period between January and April). For issues to come (announced) see the latest information.

As it is not such obvious as it looks to find this information, this list is probably not yet complete. In certain countries, joint issues are often announced on the day of the issue and sometimes it takes months before this information and the corresponding stamps reach us. Data on missing issues or supplementary information, particularly for countries, which are producing joint issues exceptionally, will be highly appreciated.
Most recent update of this section on May 26, 2002.
2000 (January 5) - Belarus - Russia - Ukraine
2000 years Christendom. Twin issue.
Souvenir sheet containing three postage stamps featuring the work of Old Russian art: "Our Lady of the Orants", 11th-century, mosaic of St. Sophie's cathedral in Kiev, Ukraine; "Jesus Christ, the Pantocrator", 12th-century, fresco of Spaso-Preobrazhenskaya church in Polotsk, Belarus; "Our Lady of Vladimir", 12th-century, Tretyakov State Gallery in Moscow, Russia. Multi-coloured.
Souvenir sheets (one per country) - FDCs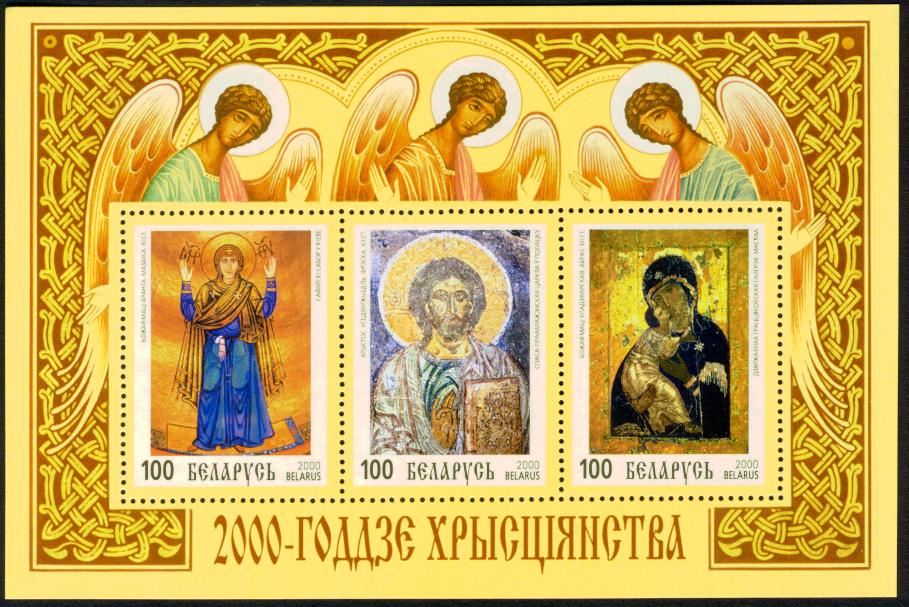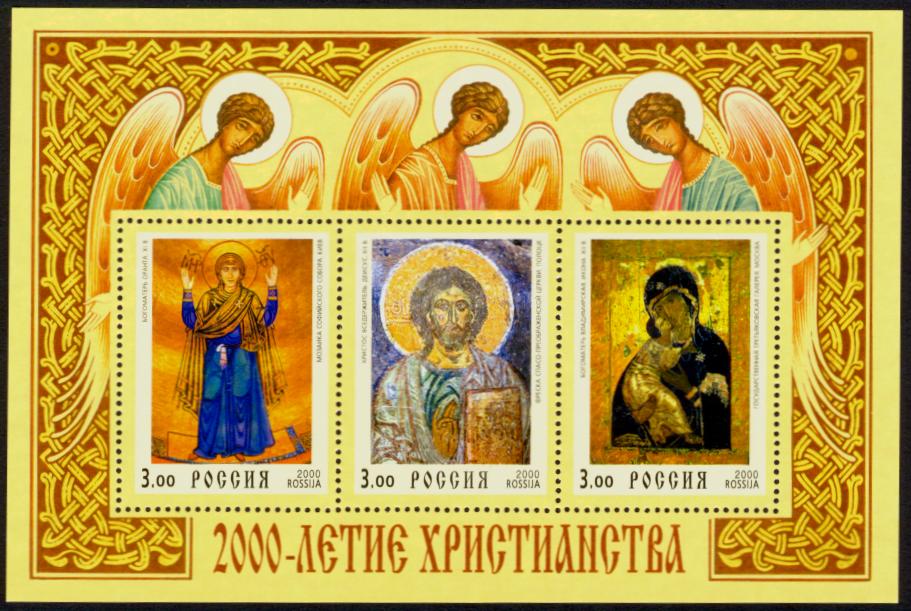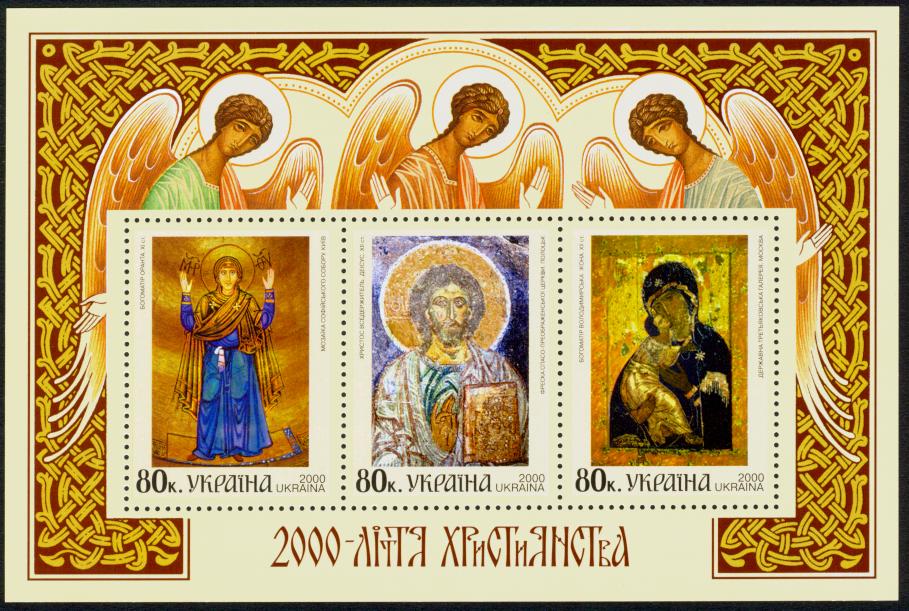 2000 (January 12) - Estonia - Finland
Joint Estonian-Finnish song and dance festival. Joint issue.
Stationery. Stamps are different but contain both flags of the involved countries. Multi-coloured.
Postal cards - FDCs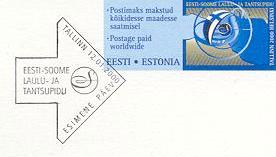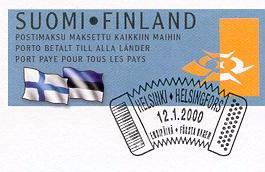 2000 (February 4) - Iceland - Vatican
Thousand years of Christianism in Iceland. Twin issue.
Stamp representing the embroidered altar frontal from the Cathedral of Holar showing Icelandic bishops Guomundur Arason, Jon Ogmundsson, Porlakur Porhallsson. Iceland issued also a souvenir sheet with 40sk stamp, showing people singing hymn "Give us peace, Lord" and musical notes and Iceland scene. The border shows Crucifix (Designer, Tryggvi T. Tryggvason). Only the stamp is common to both countries. Multi-coloured.
Identical stamps - FDCs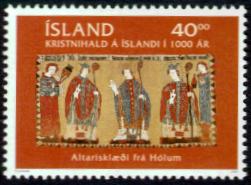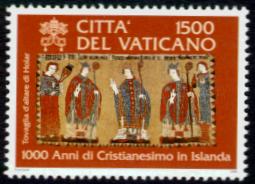 2000 (February 10) - British Antarctic Territory - Falkland Islands - South Georgia and South Sandwich Islands
Antarctic expedition (1914-1916) from Sir Ernest Shakelton (1874-1922), British South Pole explorer. Joint issue.
British Antarctic Territory: A, boat "Endurance" on ice (1915); B, temporary camp on ice (1915); C, departure of the boat "James Caird" from Elephant Island to South Georgia; Falkland Islands: D, discovery of the Caird coast (16 January 1915); E, "Endurance " is wintering on ice; F, Shakelton saves the "Endurance" crew with the steamboat "Yelcho" from Elephant Island, portrait of Shakelton; South Georgia and South Sandwich Islands: G, Shakelton's journey through the Scottish sea to South Georgia (1916); H, Shakelton, Crean and Worsley in South Georgia; I, Shakelton's grave in Hope Point, South Georgia. Multi coloured.
Stamps are different. 3 stamps per country. FDCs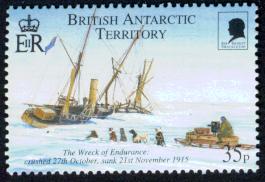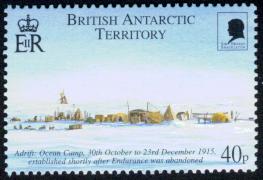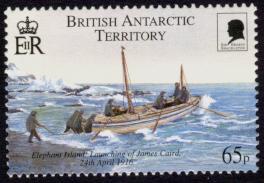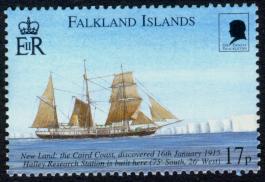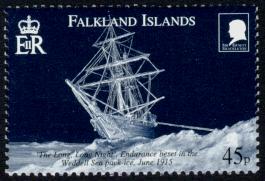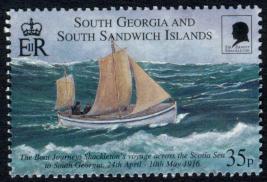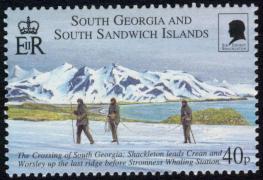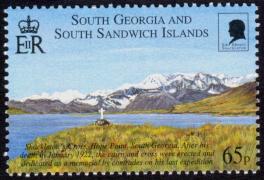 2000 (February) - Belgium (February 19) - Spain (February 24)
500th anniversary of Charles the 5th. Twin issue
Two stamps representing the King Charles V and a souvenir sheet representing the king on a horse and a map of the world. Multi-coloured.
2 identical stamps per country - souvenir sheet containing each a third stamp - FDCs - mixed FDC - special mixed card - Belgian souvenir sheet also available overprinted "ESPANA 2000"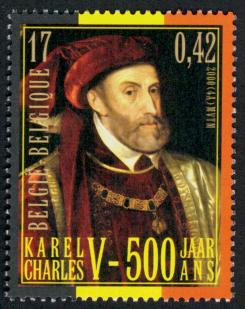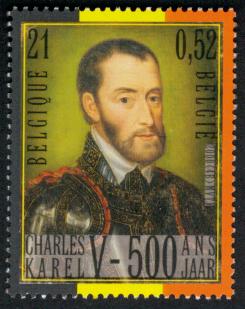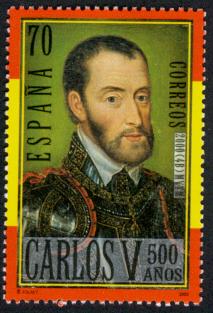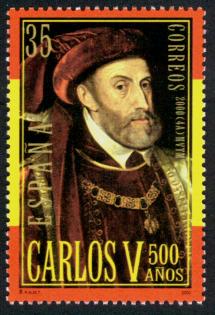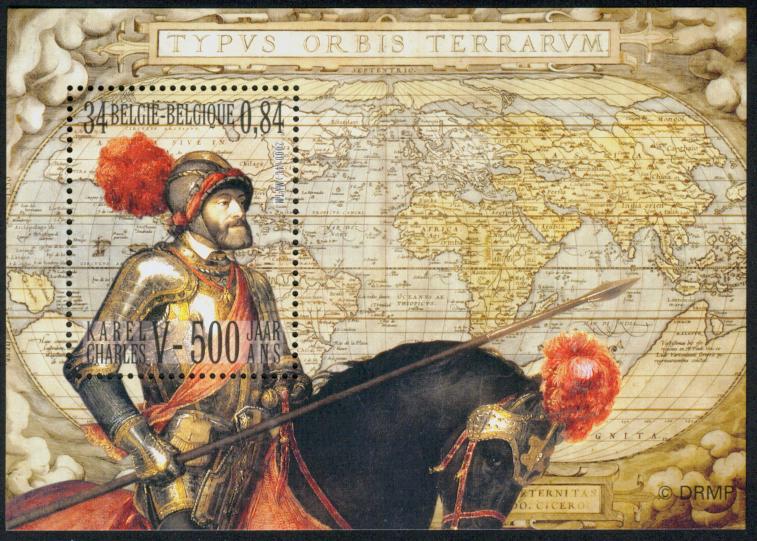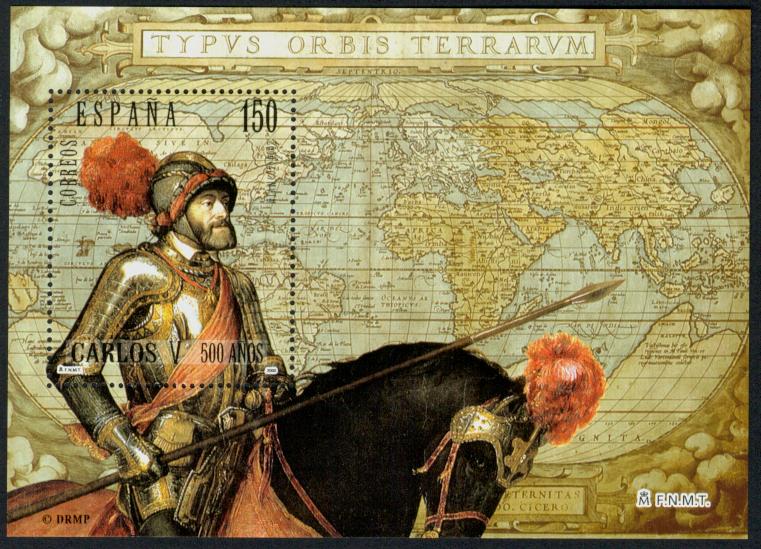 2000 (March 25) - Belgium - The Netherlands
European Soccer Championship organized jointly by Belgium and the Netherlands. Twin issue.
Se-tenant pair of stamps with crowd scene in background and soccer ball. Multi coloured.
Two se-tenant stamps per country - booklet and self adhesise stamps (The Netherlands) - FDCs - mixed FDC - mixed special card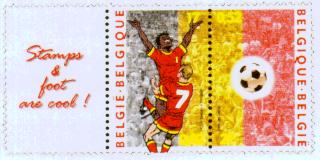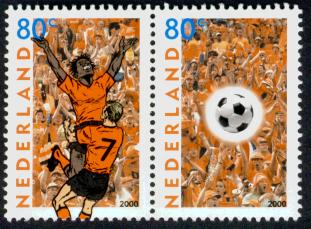 2000 (April 11) - Brazil - Portugal
500th anniversary of the discovery of Brazil and Philatelic exhibition LUBRAPEX 2000. Twin issue.
Block of four stamps, showing landscapes and scenes involving native people. Multi coloured.
Four stamps se-tenant - FDCs