Joint stamp issues released during the year 1998 are collected in the following listing. As it is not such obvious as it looks to find this information, this list is probably not yet complete. In certain countries, joint issues are often announced on the day of the issue and sometimes it takes months before this information and the corresponding stamps reach us. Data on missing issues or supplementary information, particularly for countries, which are producing joint issues exceptionally, will be highly appreciated.
Most recent update of this section on January 25, 2015.
1998 (February 26) - Aruba - Dutch Antilles
Total sun eclipse. Non concerted issue.
Stamps are different. Dutch Antilles, three stamps and one mini-sheet (hologram); Aruba, two stamps; all topics represent either the sun, or the area covered by the eclipse darkness on a map. Multicolored.
1998 (March 18) - New Zealand - Turkey
A new start: Sculptures to the memory of the soldiers fallen during the Dardanelles war (1915). Twin issue.
A: Turkish soldier carrying a wounded ANZAC soldier; memorial designed by Tankut Oktern and displayed in the cemetery of Çanakkale, Turkey; B, mother with children, sculpture from Lyndon Smith displayed at the war museum of Wellington, New Zealand. Multicolored.
Two identical stamps per country - First day covers - Mixed FDC containing the 4 stamps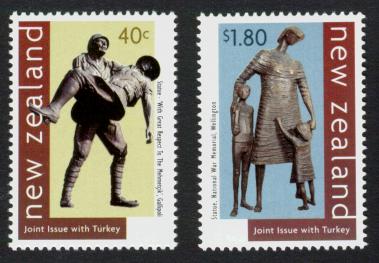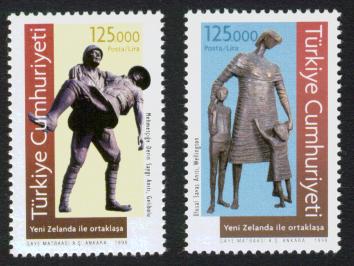 1998 (March 31)
Ascension - Bahamas - Barbados (May 18) - Belize - Bermuda - Botswana (June 1) - British Antarctic Territory (March 17) - British Indian Ocean Territory - Cayman Islands - Falkland Islands - Fiji - Gibraltar - Kiribati - Malawi (November 30) - Namibia - Niuafo'ou (May 29) - Niue - Norfolk (April 28) - Papua New Guinea (April 29) - Pitcairn (August 31) - Saint Helena (April 4) - Saint Kitts - Samoa - Seychelles - Solomon Islands - South Georgia and South Sandwich Islands - Tokelau - Tonga (May 29) - Tristan da Cunha (May 15) - Tuvalu - Vanuatu - Virgin Islands
Diana, Princess of Wales (1961-1997). Parallel omnibus series [PO]
Series of four stamps (pictures) issued se-tenant in a souvenir sheet (145x70mm) with (or without) a surtax to the benefit of the Princess Diana Foundation (the surtax can be indicated either on the stamps, or only on the souvenir sheet). Some countries issued one or two complementary stamps in panes. The pictures are different for all countries. Multicolored.
On September 4, 2012, Tonga and Niuafo'ou reissued their souvenir sheet with a black overprint "In Loving Memory of Diana Princess of Wales | 31 August 1997 | Her Legacy will live on for Ever | William and Kate, Duke and Duchess of Cambridge | First Anniversary of their Royal Wedding, 2011", new value "$4" on each stamp with three horizontal bars crossing the previous denominations and three large black rectangular areas covering the two texts in the lower margin and the additional fees on the right margin.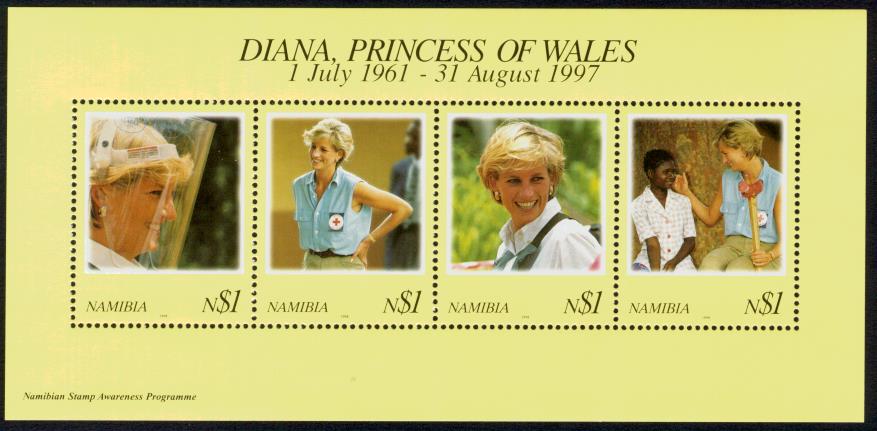 1998 (April 1)
Ascension - Bahamas - British Territories in the Indian Ocean - Cayman Islands - Fiji - Gibraltar - Samoa - Trinidad and Tobago - Tuvalu - Virgin Islands
80th anniversary of the Royal Air Force. 4 stamps and one mini-sheet containing 4 stamps, representing different airplanes. Omnibus joint issue. Multicolored.
1998 (April 15 to December 14)
Anguilla () - Bahamas (April 15) - Barbados (July 20) - Belize (July 22) - Jamaica (July 27) - Saint Kitts (July 20) - Saint Lucia (November 16) - Turks and Caicos (July 30) - Virgin Islands (December 14)
50th anniversary of the West Indies University, created in Jamaica in 1948. One to four different stamps per country. Non concerted issue. Multicolored.
1998 (April 16) - Mexico - United States
"Cinco de Mayo", victory of the Mexican army directed by general Ignacio Zaragoza, over the French troop during the battle of Puebla, the 5th May 1862. Twin issue.
About one year later (April 27, 1999), the US post office issued a second stamp at a 33 cents postage value instead of 32.
Identical stamps, different sizes. Pair of Mexican dancers. Multicolored.
One stamp per country - FDC - mixed FDC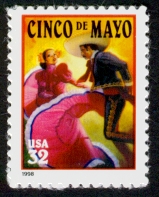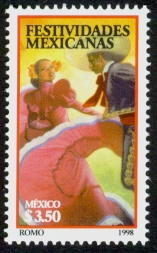 1998 (April 18) - Belgium - France
Centenary of the Birthday of Rene Magritte (1898-1967), painter. Twin issue.
Identical stamps. Painting from Rene Magritte, "Coming back". Multicolored.
One stamp per country - FDC - mixed FDC - official mixed document from the Belgian postal administration - maxi-cards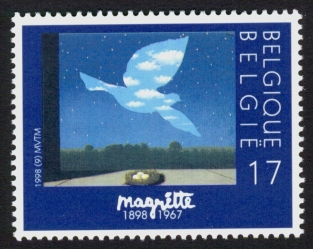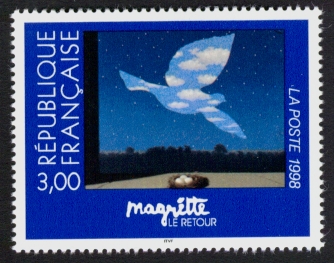 1998 (June 1 to August 1) - Brazil (June 1) - Capo Verde (June 1) - Guinea-Bissau () - Mozambique (June 1) - Sao Tome (August 1)
Second meeting of the Portuguese speaking countries. Topic: cooking, culinary culture. Joint issue.
Different stamps, up to 5 per country
1998 (June 3 to 12) - Mexico (June 3) - Philippines (June 12) - Spain (June 12)
Centenary of the independence of the Philippines; centenary of the friendship between the three countries. Twin issue.
Identical stamps between the Philippines and Spain and between the Philippines and Mexico. Philippines - Spain, wooden sculpture, statue of Santa Nino de Cebu, front wall of the basilica of Cebu, flags of both countries; Mexico - Philippines, galleon, flags; Philippines stamps have been also grouped in a mini-sheet containing 3 vignettes with the flags of the three countries.
Mexico: one stamp - mini-sheet - FDC; Philippines: three stamps - mini-sheet - FDC; Spain: one stamp - FDC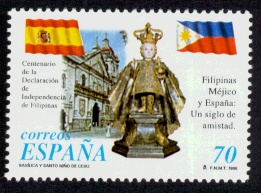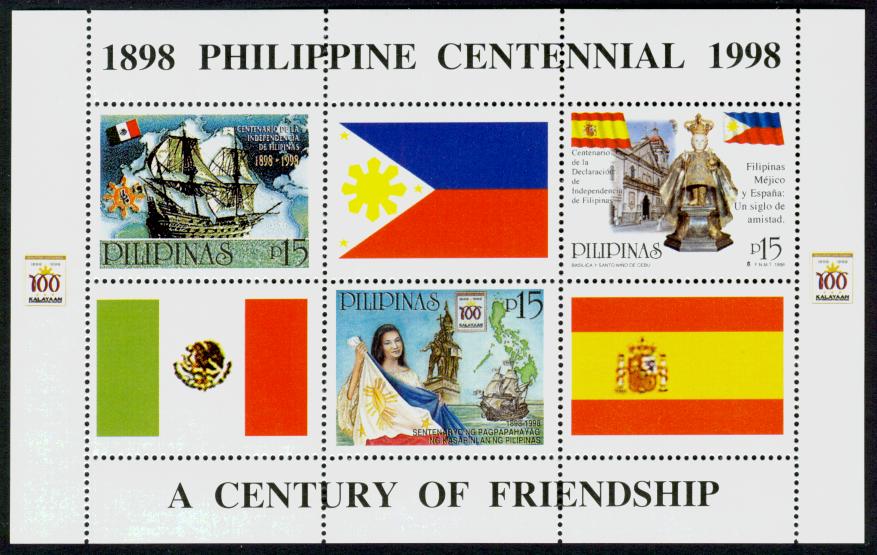 1998 (July 4) - Niuafo'ou - Tonga
80th Birthday of His Majesty King Taufa'ahau Tupou IV. Siamese issue.
Souvenir sheet containing stamps from both countries. Multi coloured
One stamp per country, different - one souvenir sheet containing both stamps - FDC with souvenir sheet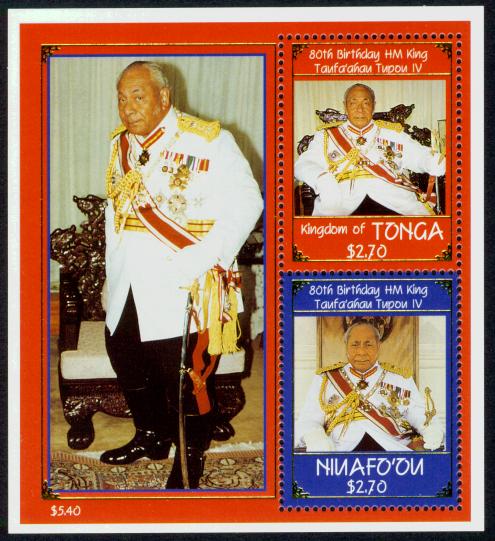 1998 (August 8) - Australia - Singapore
Orchids. Twin issue.
Identical stamps and blocs. Different species of orchids: Phalaenopsis rosenstromii, Arundina graminifolia, Grammatophyllum speciosum, Dendrobium phalaenopsis;
4 stamps per country - one mini-sheet - FDC with stamps - FDC with mini-sheets - Mixed covers with stamps or mini-sheets - Maxi-cards - Official document with mint stamps (Australia postal administration)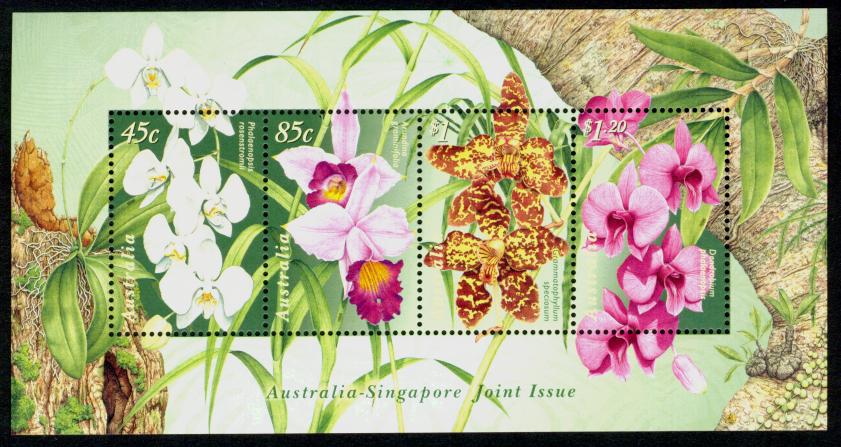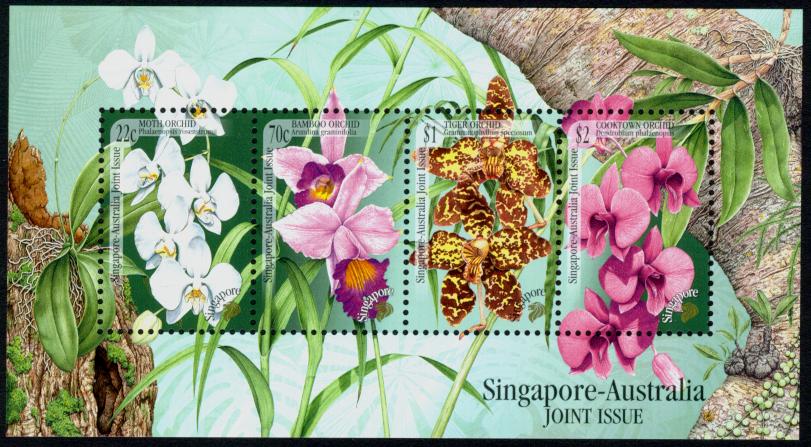 1998 (August 12) - Italy - Venezuela
Fifth centenary of the discovery of Venezuela (named in 1498 "Little Venice") by Christopher Columbus (1451-1506) and exploration by Amerigo Vespucci (1451-1512). Twin issue.
Identical stamps. Portraits of the explorers, ships. Multicolored.
One stamp per country - mini-sheet of 10 stamps (Venezuela) - FDC - Mixed FDC covers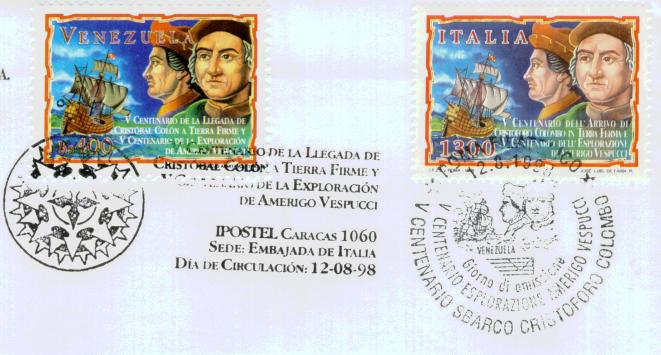 1998 (August 20) - China - Germany
UNESCO world's heritage. Twin issue.
Puning temple in Chengde (China) and the Wurzburg residence (Germany). Multicolored and gold.
Two identical stamps - FDC - Mixed first day covers and cards - Maxi cards - mini-sheet of 10 stamps (Germany) - Postal stationary (envelope) with the stamp of the Wurzburg residence (Germany -issued October 8, 1998)